I'm welcoming October with these Pumpkin Spice Latte cupcakes. Fluffy and moist pumpkin spice cupcakes, topped with silky latte buttercream, cinnamon sugar and candied ginger.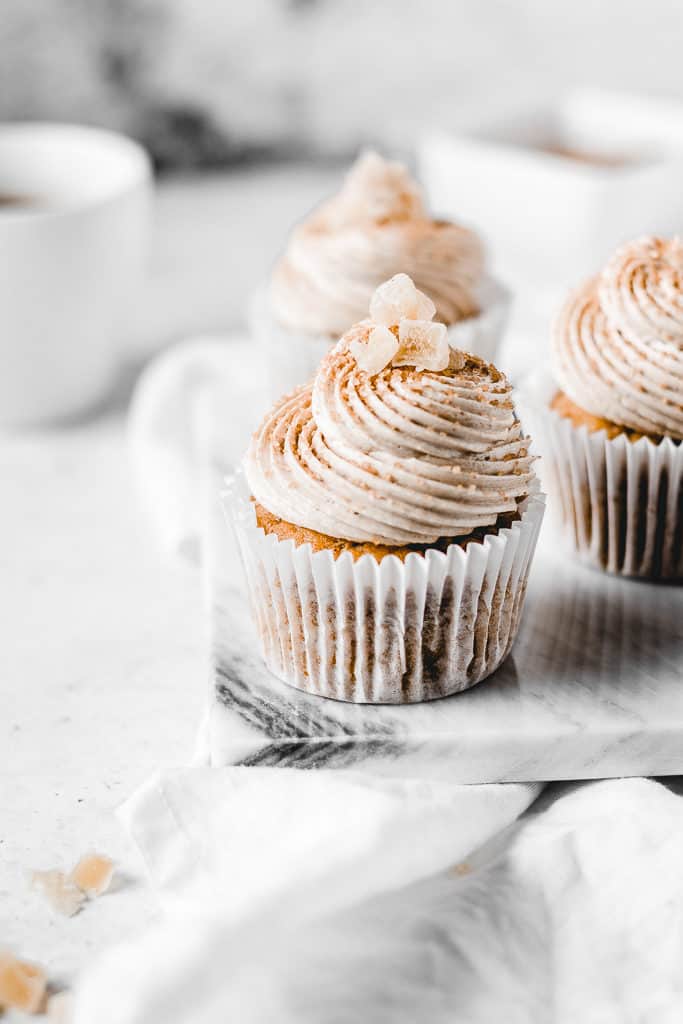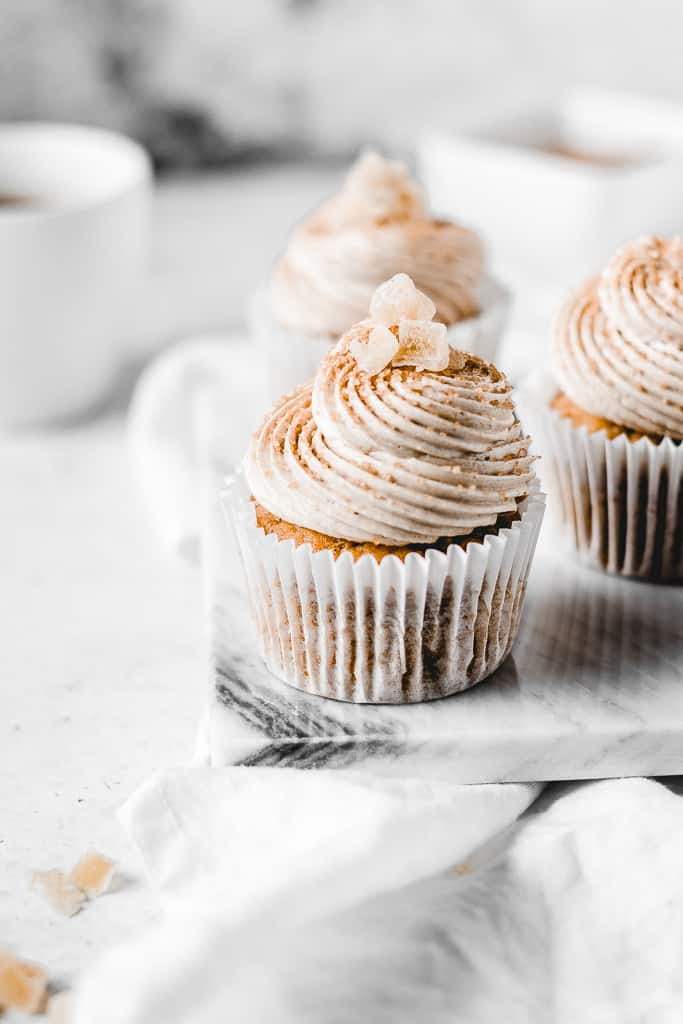 People often ask me what do I do with my bakes, who eats all of that? The majority of my food I bring to work.
My colleagues are thrilled, as am I - my food doesn't get wasted and I get a lot of feedback. It's a win-win situation!
Same thing happened with these lovely Pumpkin Spice Latte cupcakes. I share the office with two of my colleagues. They're always the first to try whatever I bring - their rule, not mine. 😉
One of them has visited the US a couple of times now and we agreed that PSL has to be the USA national flavour.
When she tried these cupcakes, she told me: "This tastes like America, yum!". That's when I knew I really got the flavours right, yass!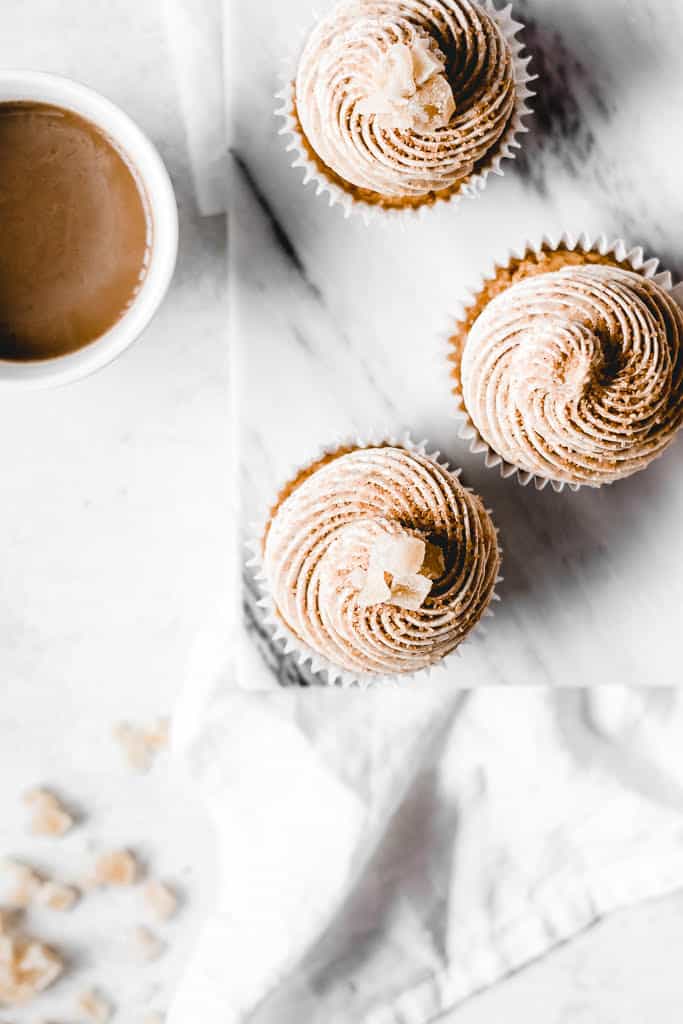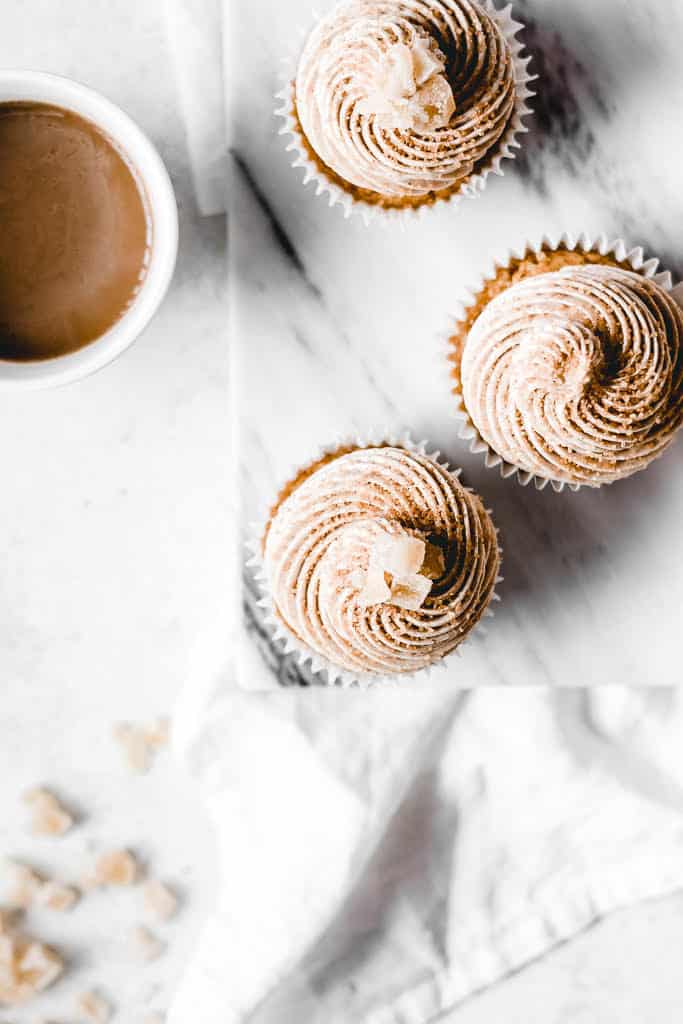 HOW TO MAKE PUMPKIN SPICE LATTE CUPCAKES
I've seen a lot of delicious PSL recipes on Pinterest, but they are mostly PUMPKIN SPICE without a lot of that LATTE element - that is, coffee.
I reeally LOVE coffee flavoured desserts, so I knew I wanted that LATTE to stand out.
I made soft and moist cupcake base, using homemade pumpkin puree and vegetable oil for extra moistness.
For the pumpkin spice - I combined cinnamon, ginger, nutmeg and cloves. But if you want to use premade pumpkin spice, that's totally fine. Just use 2 teaspoons, instead of ingredients listed below.
If you want a spicier cupcake, add some more - you do you! 🙂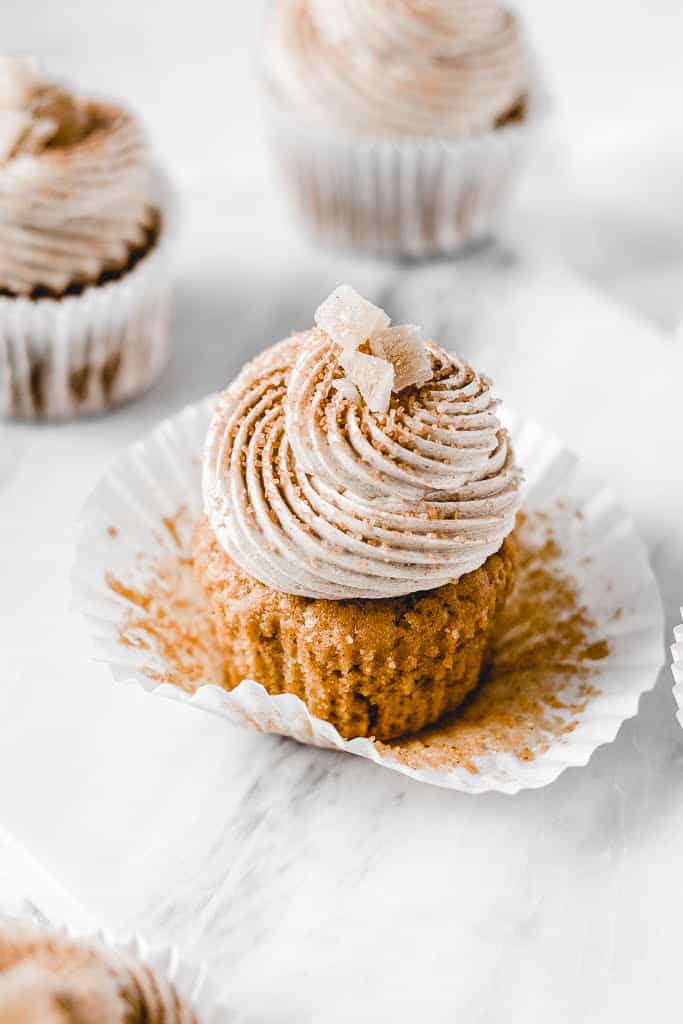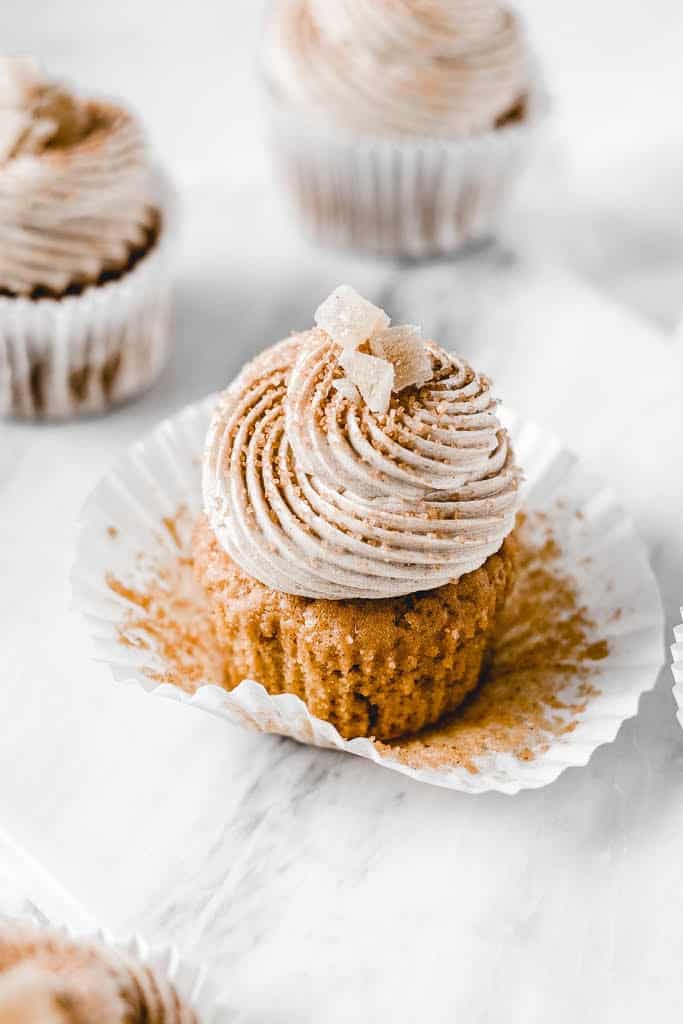 Now for the best part... Cafe latte buttercream! Hell yeah. It's so smooth and silky and it really gives you that PSL flavour.
I used 2 teaspoons of instant coffee and it was just right. After all, latte is coffee with lots of milk, so it's not supposed to be too strong.
For an extra kick (and decorating purposes) I decided to sprinkle the cupcakes with demerara cinnamon sugar and diced candied ginger.
But by all means, leave it out if you're not a fan.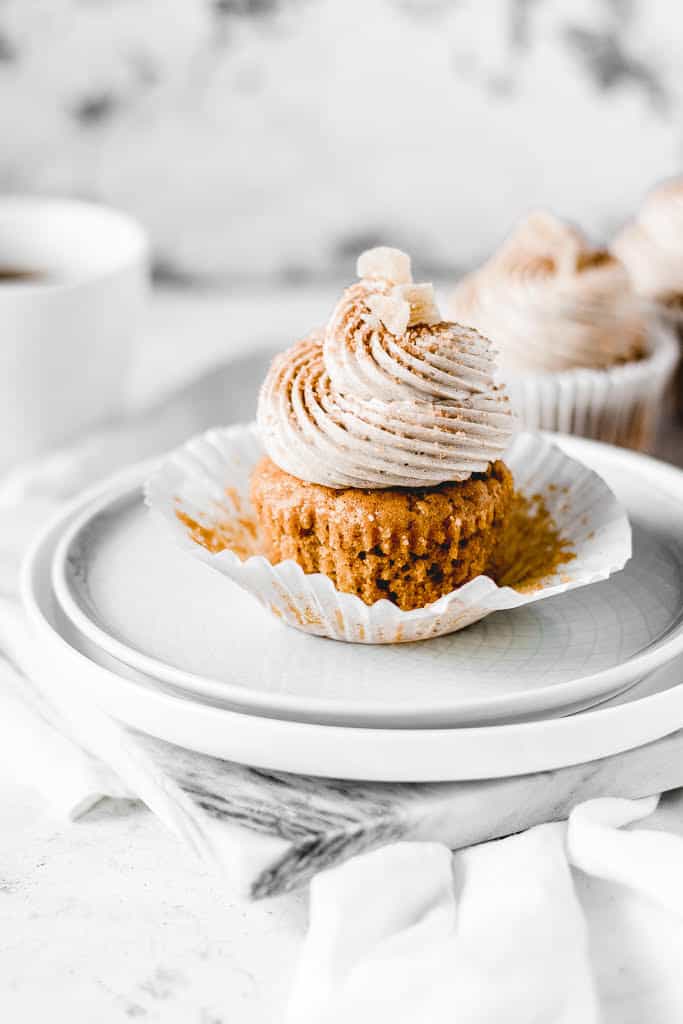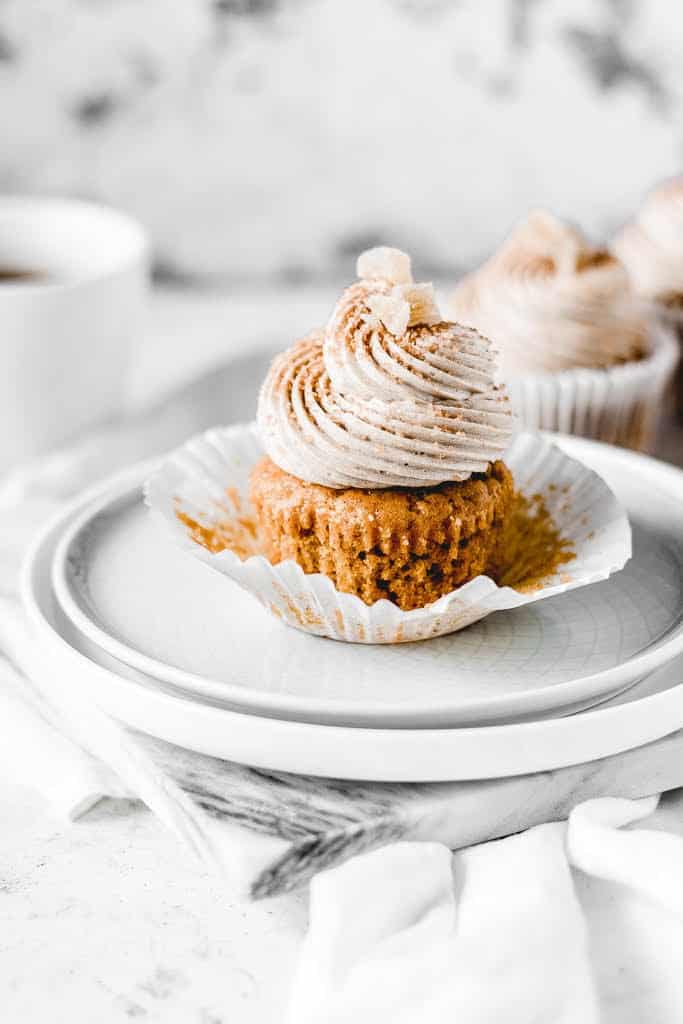 HOW TO MAKE HOMEMADE PUMPKIN PUREE
I cheated a little bit here. I actually use butternut squash puree. But the two are extremely similar in flavour and butternut squash is way easier to cut and puree, than those big pumpkins. I photographed every step of making the pumpkin puree, you can check it out in this separate post.
But here's a little recap:
Cut each butternut squash (or pumpkin) in half, lenghtwise. (I used two medium sized squashes to have extra).
Remove the seeds with the spoon. Put it on a baking tray lined with baking paper, with cut side facing down.
Bake them at 180˚C or 350˚F for about an hour. It really depends on their size and how hot is your oven. You want the squash to be so soft, that when you press it with your finger, it leaves an indentation.
After that, just leave them to cool a little bit, otherwise you will burn yourself, and scoop it out with a spoon to a bowl.
For an extra smooth finish, blitz the puree with a hand blender.
Keep in a jar or an airtight container in the fridge for up to 10 days.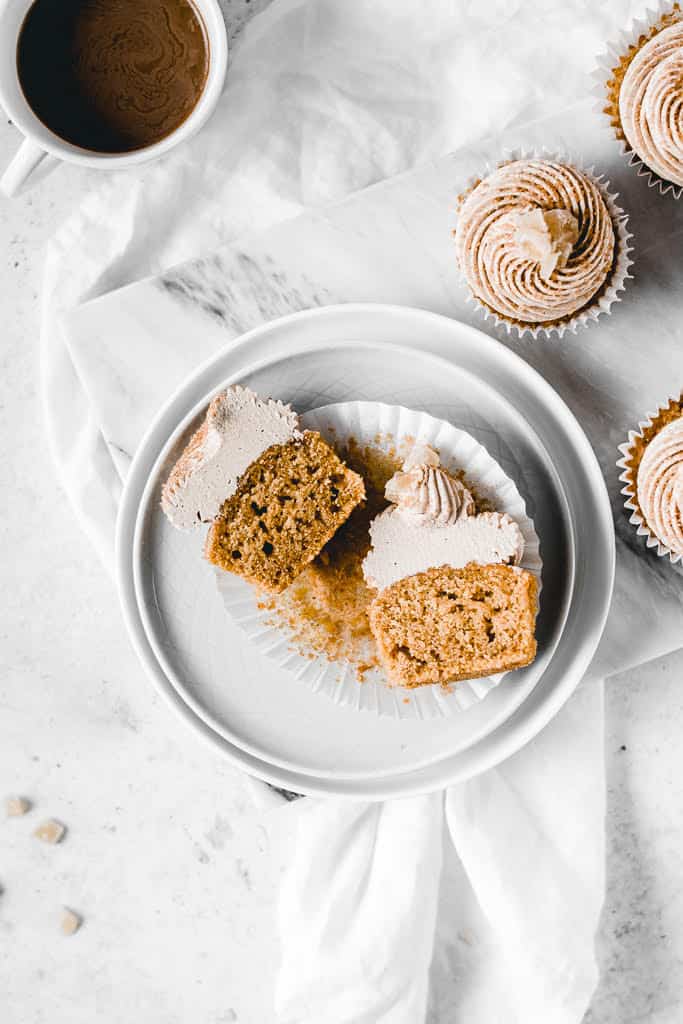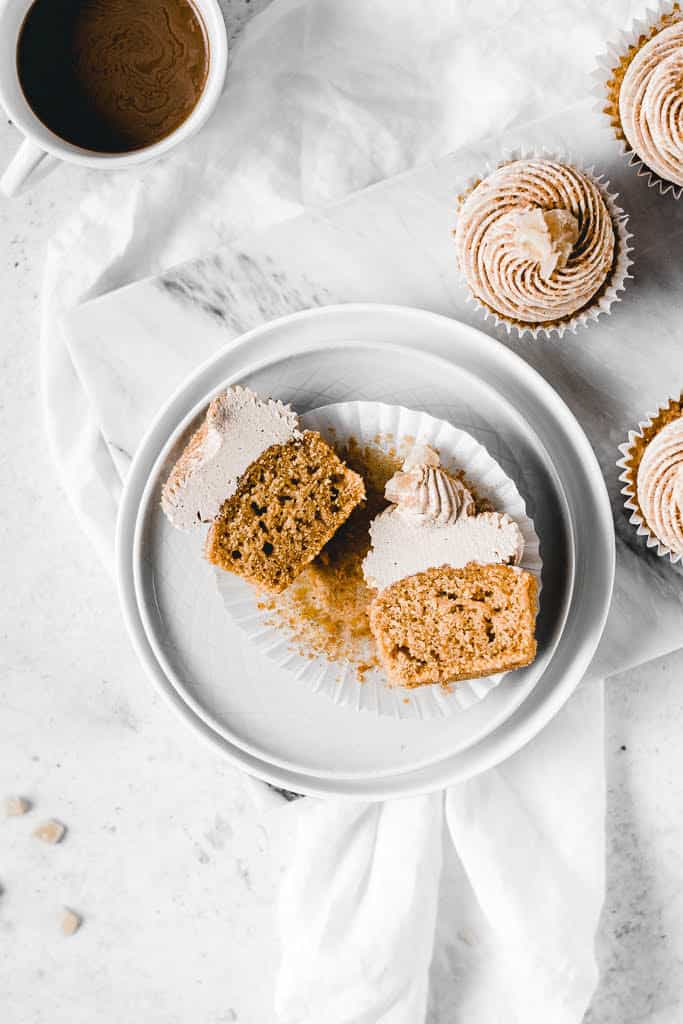 IF YOU'RE LOOKING FOR MORE FALL DESSERTS, TAKE A LOOK AT THESE:
The Softest Homemade Cinnamon Rolls
Pumpkin Spice Tiramisu
Homemade Chocolate Brioche Babka
Apple Crumble Cheesecake
Caramel Applesauce Cupcakes
Dulce de Leche Banana Layer Cake
Chocolate Chip Pumpkin Bundt Cake
If you make these lovely autumnal cupcakes, let me know by tagging me on Instagram @anasbakingchronicles or tell me all about it in the comments section down below. I love seeing your creations! If you have any questions, don't hesitate to ask. Happy baking!
Love,

📖 Recipe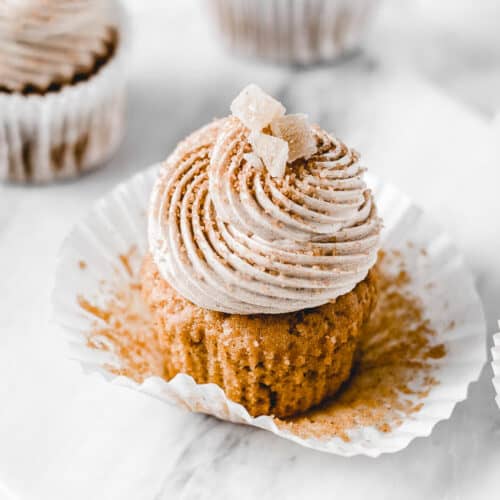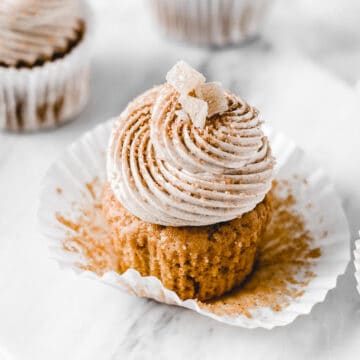 Pumpkin Spice Latte Cupcakes
Description
I'm welcoming October with these Pumpkin Spice Latte cupcakes. Fluffy and moist pumpkin spice cupcakes, topped with silky latte buttercream, cinnamon sugar and candied ginger.
ingredients
Cupcakes
2

large

eggs

(room temperature)

180

g

all-purpose flour

120

g

granulated sugar

60

g

light soft brown sugar

110

g

sunflower oil

200

g

pumpkin/butternut squash puree

(room temperature)

1

teaspoon

cinnamon

½

teaspoon

ground ginger

¼

teaspoon

nutmeg

⅛

teaspoon

cloves

1 + ½

teaspoon

baking powder

¼

teaspoon

salt

½

teaspoon

vanilla extract
Latte Buttercream
35

g

all-purpose flour

160

g

granulated sugar

280

g

whole milk

2

teaspoon

instant coffee granules

((4-5 grams))

¼

teaspoon

salt

250

g

unsalted butter

(room temperature)

½

teaspoon

vanilla extract
Garnish
50

g

demerara sugar

½

teaspoon

cinnamon

diced candied ginger
Instructions
for the cupcakes:
Preheat your fan oven to 160°C (325°F) or 175°C (350°F) if you're not using a fan assisted oven. Line your cupcake pan with 12 paper cases.

In a bowl of a standing mixer sift and combine flour, salt, baking powder, cinnamon, ginger, nutmeg and cloves.

In a separate bowl, using a whisk, mix together oil, eggs, both sugars and pumpkin puree until it's all incorporated. It doesn't need to get fluffy or anything. Add to flour mixture and mix until everything is thoroughly combined. You can mix it by hand using a whisk, too.

Divide the batter evenly among the paper cases, filling them ¾ of the way full. Bake for 18-22 minutes or until they're springy on the top.

Once they're done, let them cool completely before frosting.
for latte buttercream:
In a small saucepan (I always use heavy-bottomed one to prevent burning) combine flour, sugar, salt, instant coffee granules and milk. Cook over medium-high heat, stirring constantly with a whisk until it thickens. This can take about 10 minutes. When it reaches boiling and there are bubbles on top, cook for another 2 minutes.

Once it's done, transfer it to a bowl, put a cling film over it touching the surface to prevent "skin" forming and let it cool to room temperature. This is your pudding base. You can do this in a fridge, but before using it let it come to room temperature.

Using a stand mixer fitted with the paddle attachment, beat the butter for 5 minutes until it's pale and fluffy. Then add spoonful by spoonful of previously made pudding. Mix until it's all nicely incorporated and with no lumps. Add the vanilla extract and beat for another 30 seconds.
Assembly:
Put the buttercream in a piping bag fitted with 6B tip (or whichever you prefer 🙂 ) and frost the cupcakes.  Sprinkle with mixture of demerara

They are best eaten at room temperature. You can keep them in an airtight container at room temperature for 2 days or longer in the fridge. Just let them come to room temperature before eating them. Fridge makes cakes and cupcakes drier so bear that in mind.
Notes
You can use a hand mixer if you don't have a stand mixer.
If you still don't own one, I advise you to buy a kitchen scale - they're cheap and easy to use, and always guarantee the same results in baking! 🙂
Not all ovens are the same. I suggest to check the cupcakes at 18 minute mark and then adjust the baking time accordingly. Get to know your oven! 😉
IMPORTANT
All the recipes are developed and tested using only metric measurements and a kitchen scale. The U.S. cup and spoon measurements are provided for your convenience, but I highly recommend getting a digital kitchen scale and measuring in metrics. It's easy and always guarantee the same results in baking!
Nutrition
Nutrition Facts
Pumpkin Spice Latte Cupcakes
Amount per Serving
% Daily Value*
* Percent Daily Values are based on a 2000 calorie diet.
The nutritional information and US conversions are calculated automatically. I cannot guarantee the accuracy of this data. If this is important to you, please verify with your favourite nutrition calculator and/or unit conversion tool.
Have you tried this recipe?
Tag me on Instagram @anasbakingchronicles or use the hashtag #anasbakingchronicles - I love seeing your creations!