If you're looking for a quick and easy fall inspired dessert, I got you covered! This Pumpkin spice tiramisu is a delicious combination of coffee, rum and warm flavours of pumpkin and spice. It's a crowd pleaser and you can make it under one hour!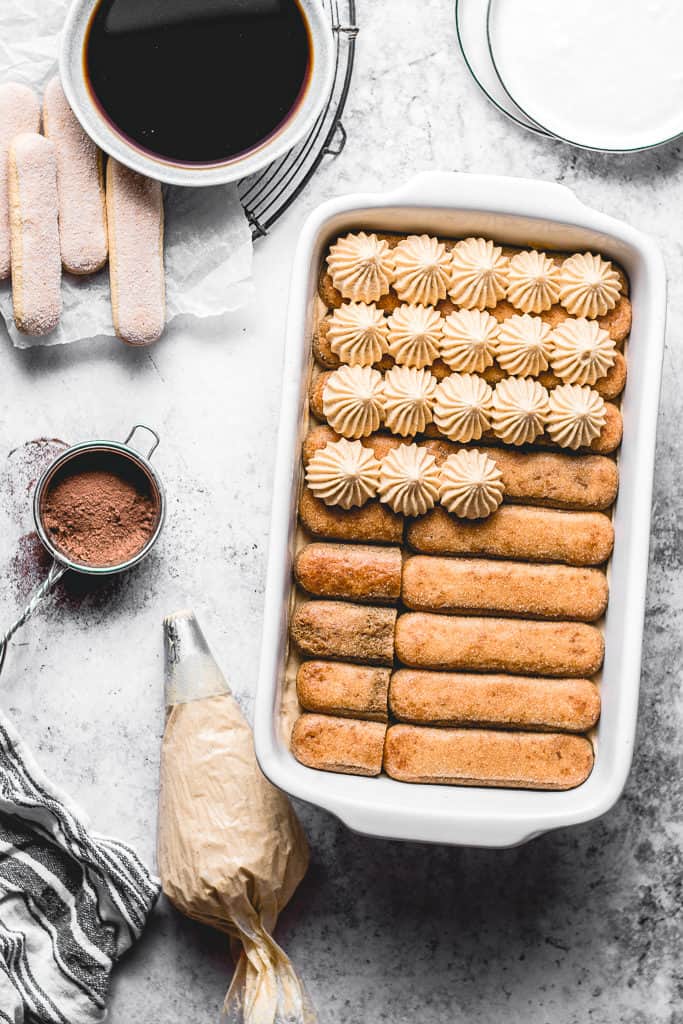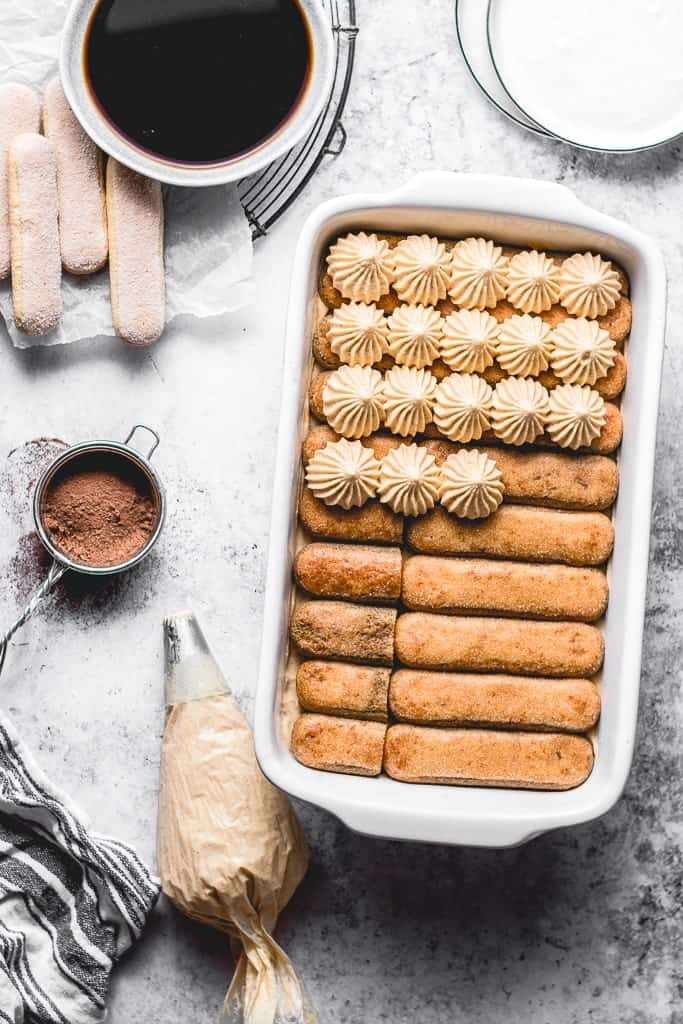 I got burnt out over the weekend with all the baking prep I've been doing because of my trip to Thailand. (I spilled the beans over on Instagram, so if you don't follow me already give it a go! 🙂 )
I'm sipping my fourth tea of the day at the moment, thinking of all the cookie doughs waiting for me in the fridge to transform them into cookies and pushing myself to write this recipe for you guys, because you deserve to try it.
My bed also casually slips in my mind now and then, but oh well. Sleep is for the weak! Lol.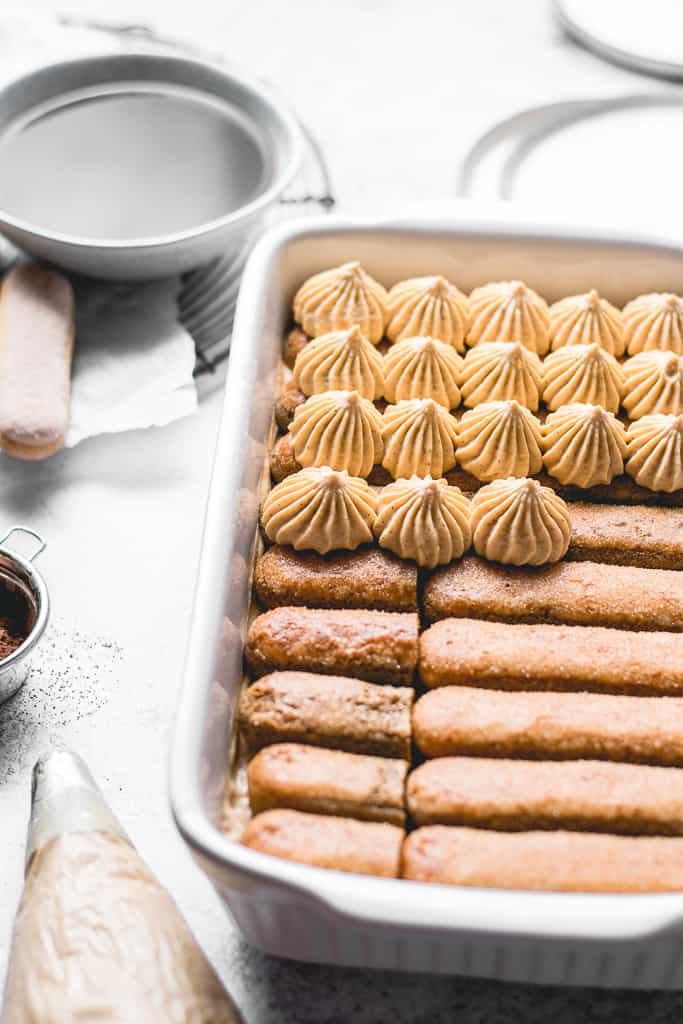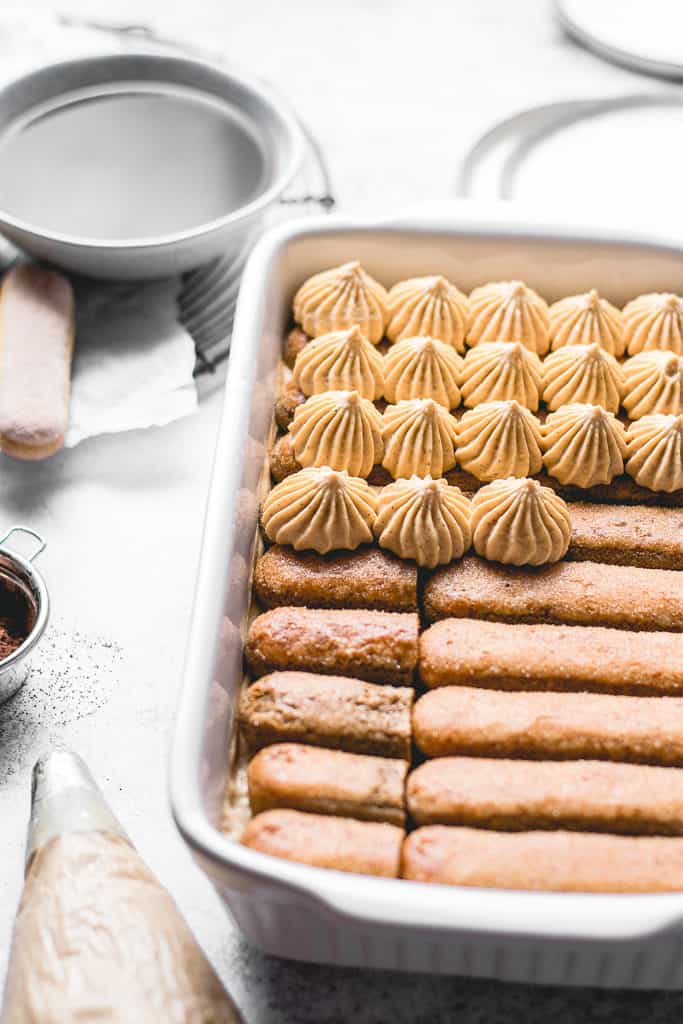 Can you see all the gorgeous spice specks in that mascarpone cream? So delicious and pretty looking!
I'm also very obsessed with backlight food photography at the moment. I love all the texture and three dimensionality that it creates. Hope you like it, too!
HOW TO MAKE THIS PUMPKIN SPICE TIRAMISU
It's simple!
We're basically enhancing what is already an amazing dessert. Thanks Italy!
You're going to start the process by mixing the egg yolks and sugar over a pot of simmering water (a bain marie).
You're doing this to ensure the eggs are safe to eat. I don't usually have a problem with eating raw eggs, but some people do and this is always a good practice if your eggs aren't fresh.
Next up, you need some mascarpone cheese, heavy cream, spices and, of course, pumpkin puree.
As you may already know, I use homemade butternut squash puree. There's only one store in all of Croatia that sells canned pumpkin puree and honestly, I like the homemade stuff better.
Why butternut squash? Because it's easier to cut than pumpkin - I'm a simple gal.
If you want to learn how to make butternut, or any other squash puree, then check out this detailed post on that matter. Hope it will help you!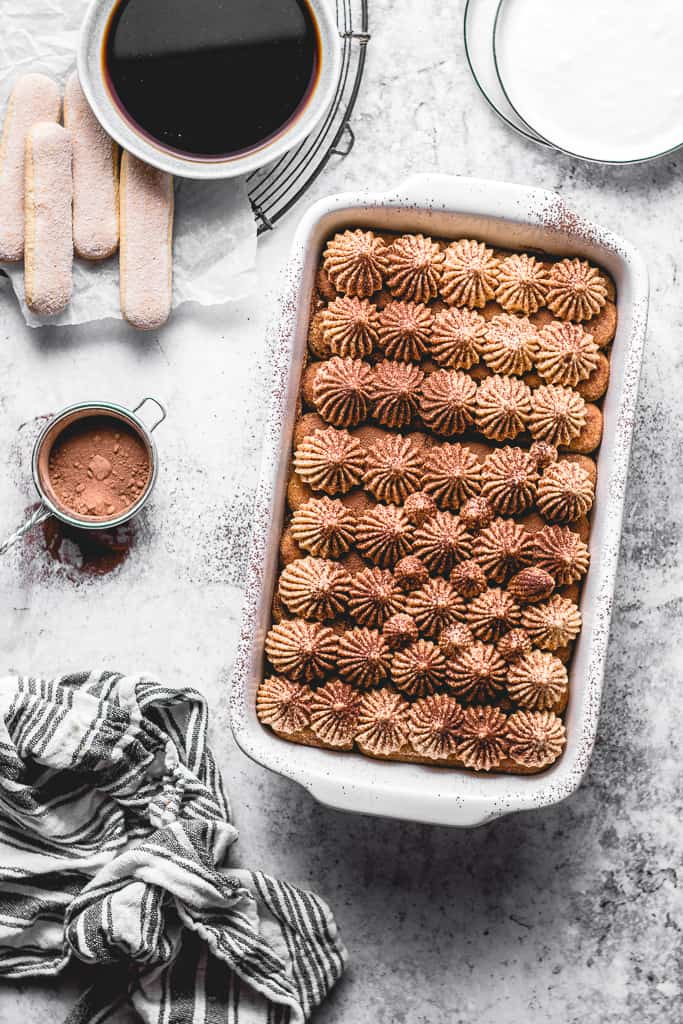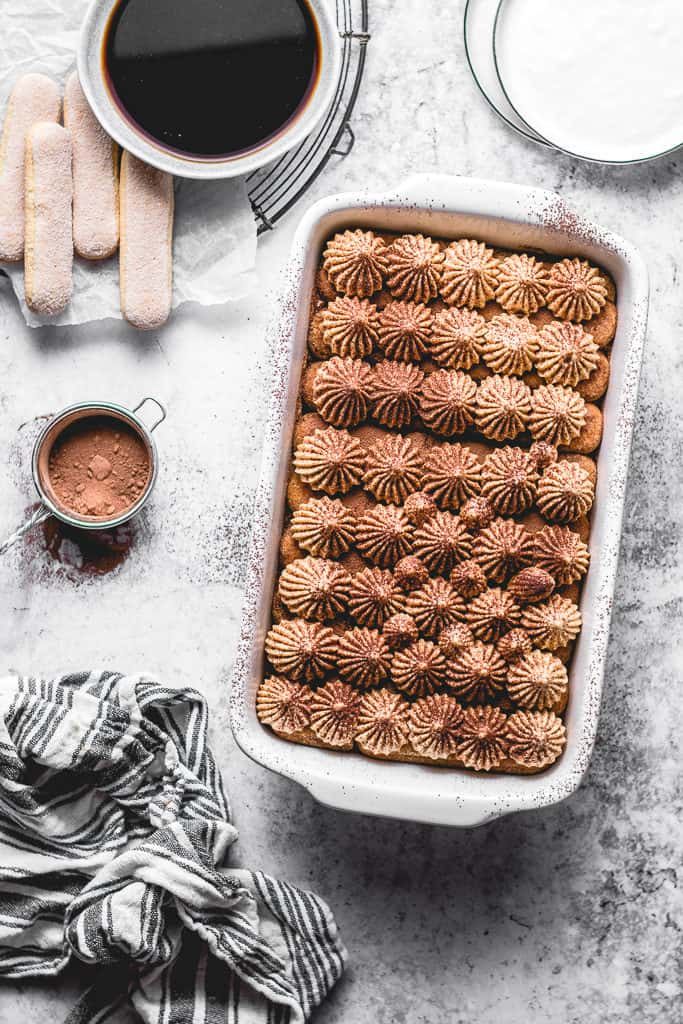 The building material in tiramisu are ladyfingers, or as Italians call it SAVOIARDI. If you want the best tasting tiramisu, go for the tastiest storebought ladyfingers, preferably an italian brand.
Then it's all about dipping in boozy coffee and layering, baby! I used a piping bag with a Wilton 6B nozzle to make the top pretty, but you can just spread the frosting over it with a knife, it'll still taste incredibly delicious.
Of course, dusting of unsweetened cocoa powder is a must finishing touch 🙂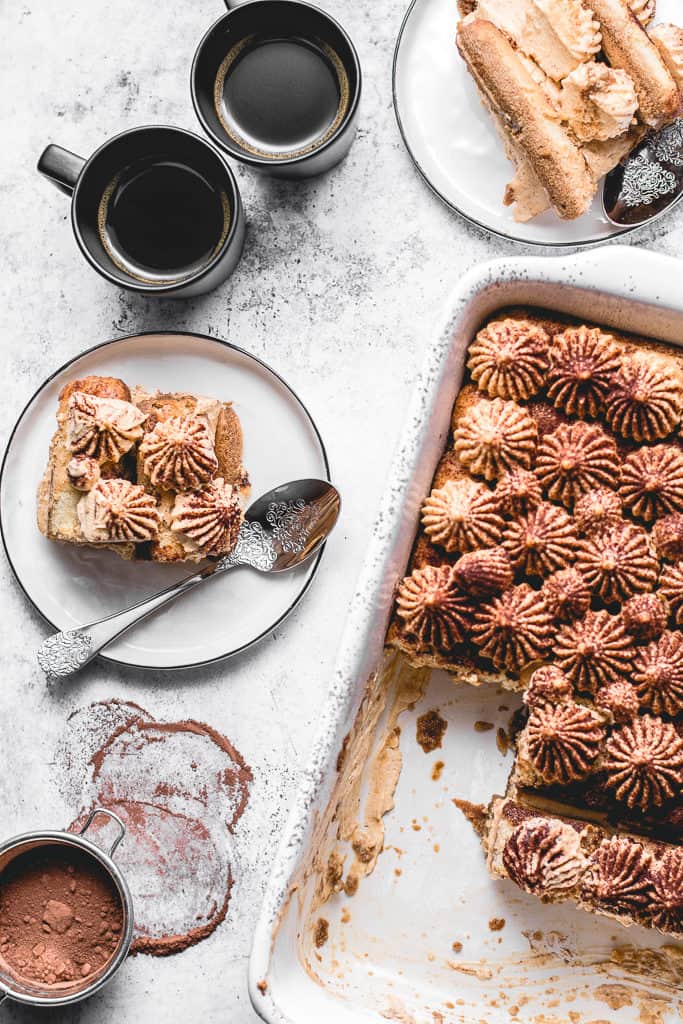 FOR MORE PUMPKIN & FALL RECIPES, CHECK OUT THESE:
Pumpkin Spice Latte Cupcakes
Chocolate Chip Pumpkin Bundt Cake
Apple Crumble Cheesecake with Salted Caramel Sauce
Carob Apple Chocolate Cake with Rum frosting
Homemade Chocolate Brioche Babka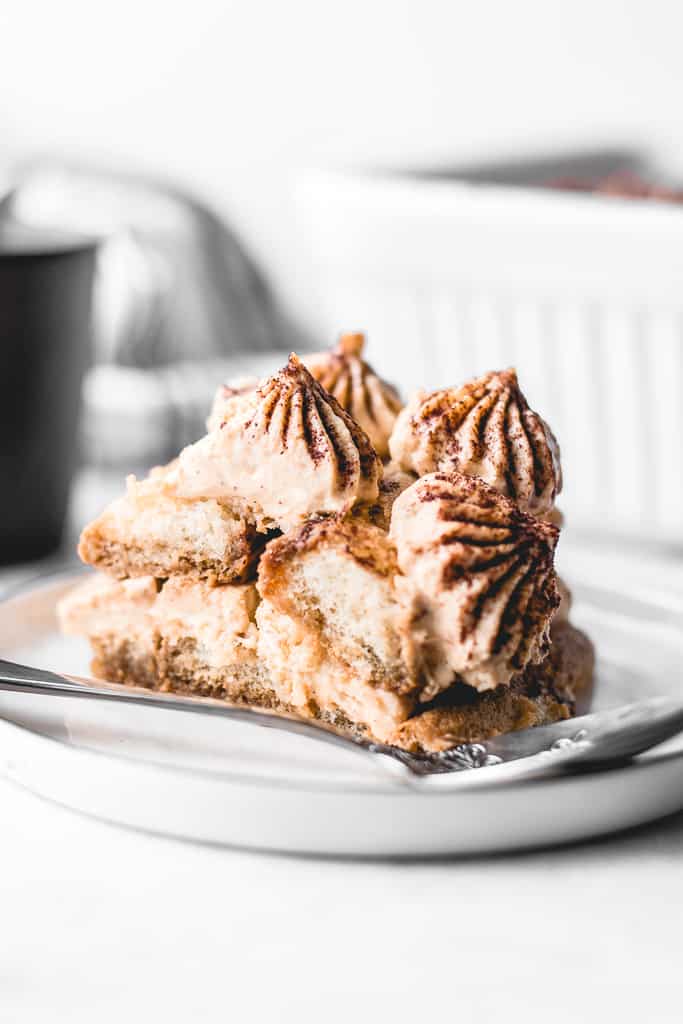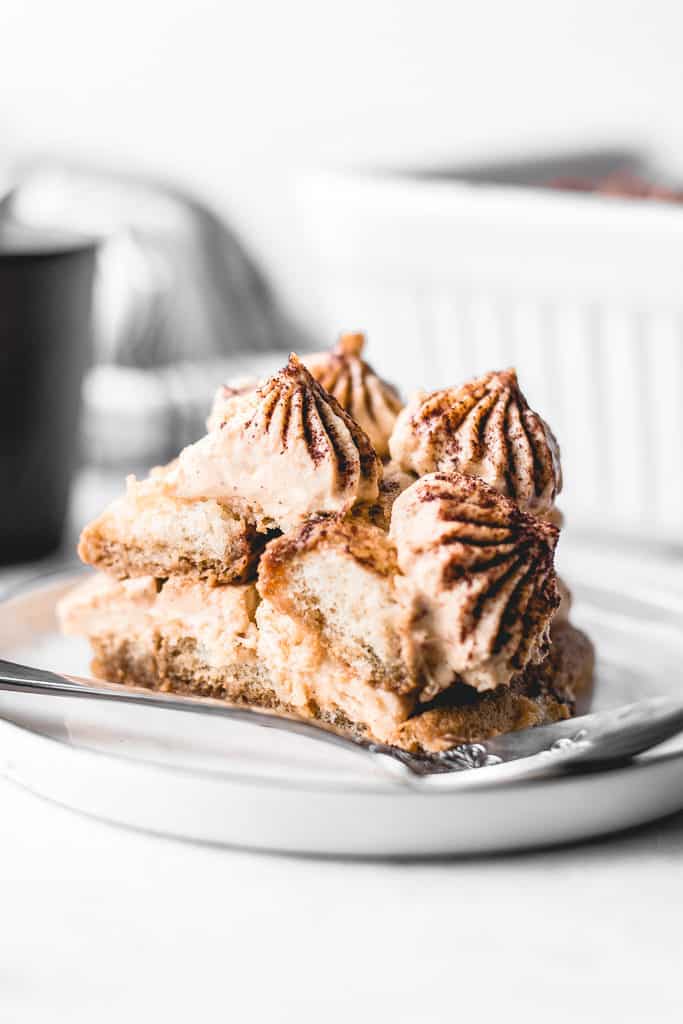 If you make this amazing pumpkin spice tiramisu, let me know by tagging me on Instagram @anasbakingchronicles or tell me all about it in the comments section down below. I love seeing your creations! If you have any questions, don't hesitate to ask. Happy baking!
Love,

📖 Recipe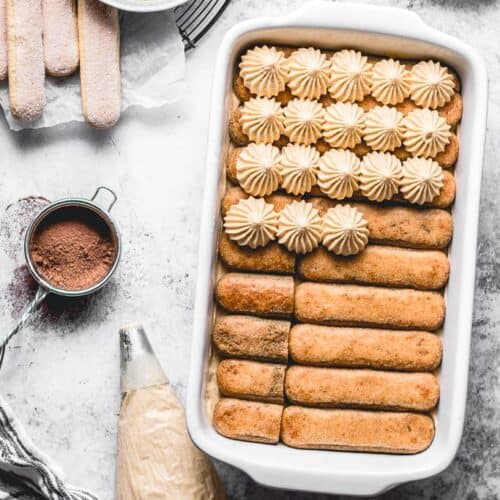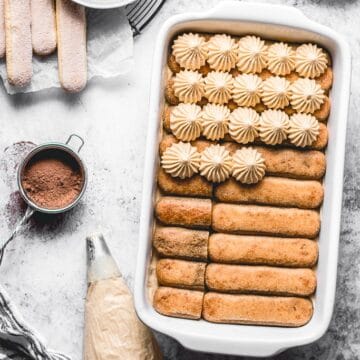 pumpkin spice tiramisu recipe
Description
This Pumpkin spice tiramisu is a delicious combination of coffee, rum and warm flavours of pumpkin and spice. It's a crowd pleaser and you can make it under one hour!
ingredients
200

g

savoiardi (ladyfingers)

300

ml

strong coffee/espresso

4

tablespoons

rum

500

g

mascarpone cheese

3

large

egg yolks

120

g

caster sugar

250

g

butternut squash puree

(or canned pumpkin puree)

300

g

heavy cream

(min. 36% milk fat)

pinch

of

salt

1 + ½

teaspoon

ground cinnamon

¾

teaspoon

ground ginger

½

teaspoon

ground nutmeg

¼

teaspoon

ground cloves

cocoa powder for dusting
Instructions
Firstly, we want to make sure the eggs are safe to eat. Combine egg yolks and sugar in a medium sized bowl and put it over a pot of simmering water (a bain marie), whisking continuously with a whisk or an electric hand mixer. The mixture should become pale and fluffy, the sugar should be dissolved and it should be fairly hot when you dip your fingertips in. If you have a thermometer, the mixture should reach just up to 70˚C (140˚F) to be considered pasteurized and safe to eat. Anything above that and your egg yolks will start to cook.

In a bowl of a standing mixer combine cold mascarpone, egg/sugar mixture, pumpkin puree, spices and vanilla extract. Mix on medium-high speed until it's all nicely incorporated. Add cold heavy cream and mix until everything is combined. Transfer to a large piping bag fitted with Wilton 6B nozzle.

Make strong coffee, transfer it to a shallow plate and let it cool, then add the rum and stir it all together. Dip one ladyfinger at a time, letting it soak 1-2 seconds on each side. Don't leave it for too long, otherwise they will turn into a mushy mess.

Place them in a 10-11 inch rectangle dish to cover the base. Then spread with half of mascarpone cream. Repeat the process of dipping again and then pipe the mascarpone cream on top. Dust with cocoa powder and put in the fridge for at least 4 hours to cool.
Notes
You can add more or less spices, to your liking. 
This is the only recipe where all the ingredients don't need to be room temperature. It's actually better for mascarpone and heavy cream to be cold, because the cream won't whip up properly otherwise.
I use homemade butternut squash puree, but you can use whatever you have on hand. 🙂
IMPORTANT
All the recipes are developed and tested using only metric measurements and a kitchen scale. The U.S. cup and spoon measurements are provided for your convenience, but I highly recommend getting a digital kitchen scale and measuring in metrics. It's easy and always guarantee the same results in baking!
Nutrition
Nutrition Facts
pumpkin spice tiramisu recipe
Amount per Serving
% Daily Value*
* Percent Daily Values are based on a 2000 calorie diet.
The nutritional information and US conversions are calculated automatically. I cannot guarantee the accuracy of this data. If this is important to you, please verify with your favourite nutrition calculator and/or unit conversion tool.
Have you tried this recipe?
Tag me on Instagram @anasbakingchronicles or use the hashtag #anasbakingchronicles - I love seeing your creations!