Refreshing and tangy, these Yogurt Lemon Pie Bars will win your heart! They're incredibly easy to make, you don't need any special ingredients and they're good for any occasion!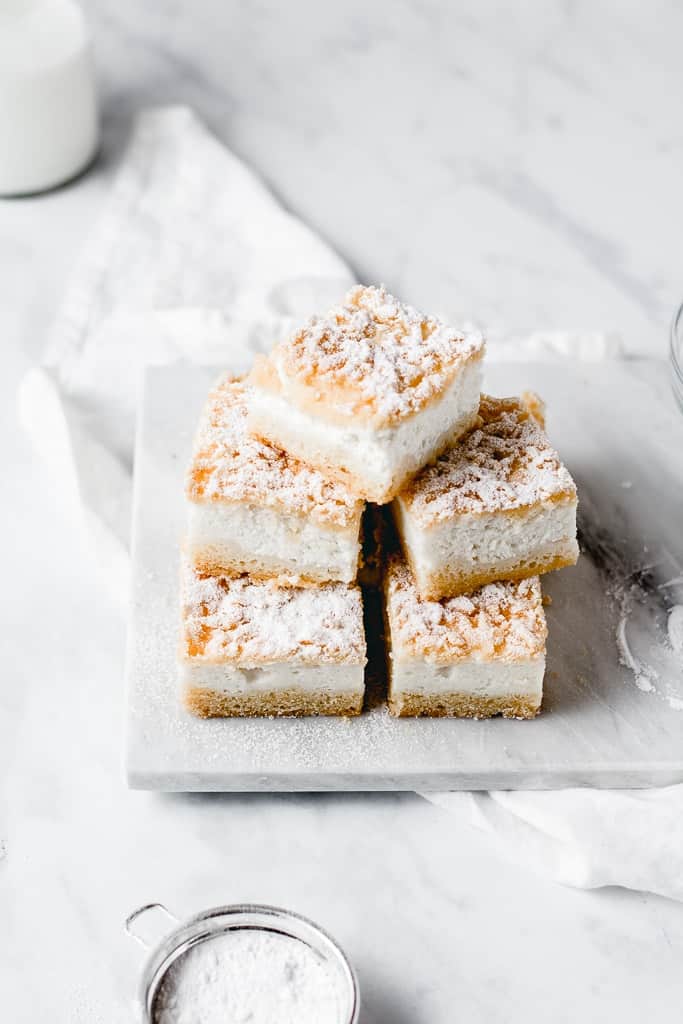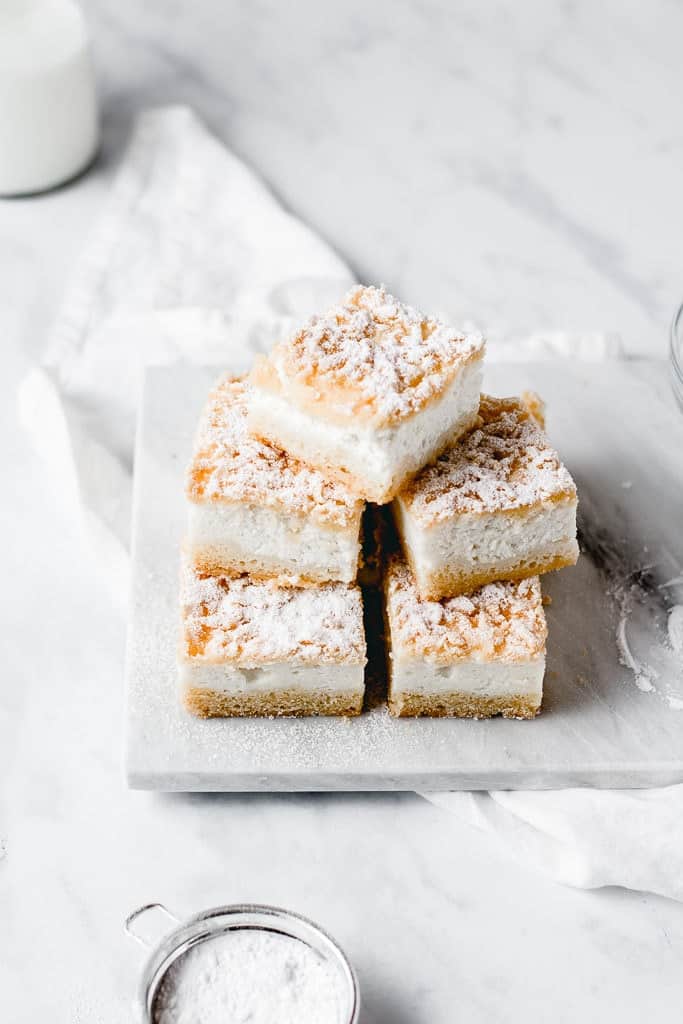 I'm absolutely stoked to share this Yogurt Lemon Pie Bars recipe with you. It's my all time favourite, the one my grandma used to make every Christmas or Easter. Or just because I asked her to, as her first born grandchild (privileges).
She would always make at least 10 types of baked goods for the holidays. Be it cookies, cake bars, pie bars, you name it. Anything you can eat with your hands. To make more portions, she would always cut them in small, narrow rectangle shapes - basically bite sized, and serve them on a big, heavy glass serving plate.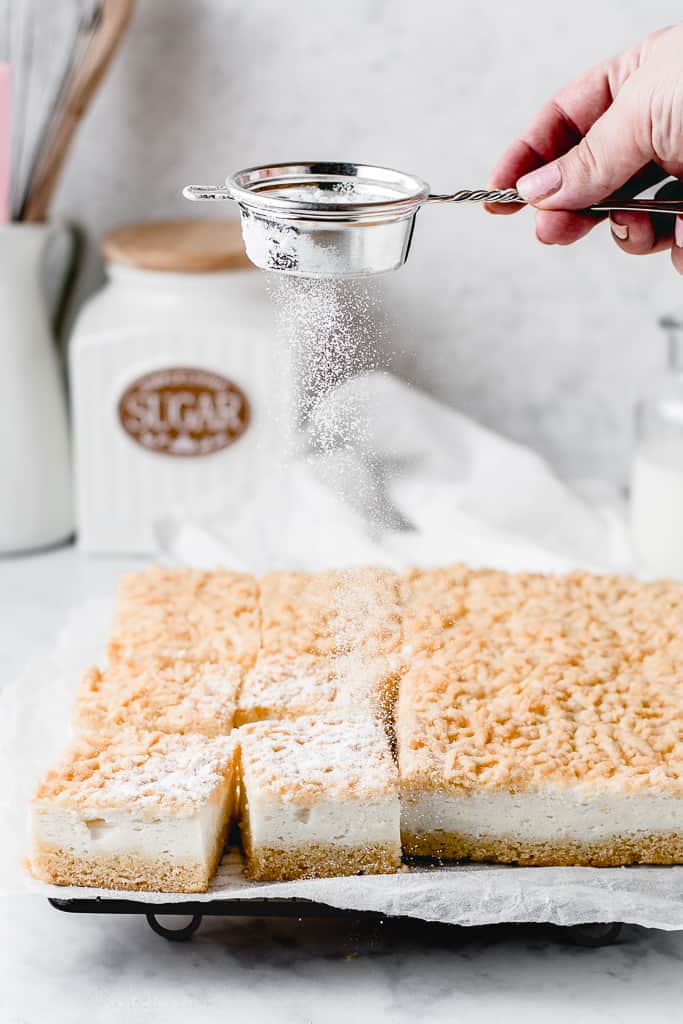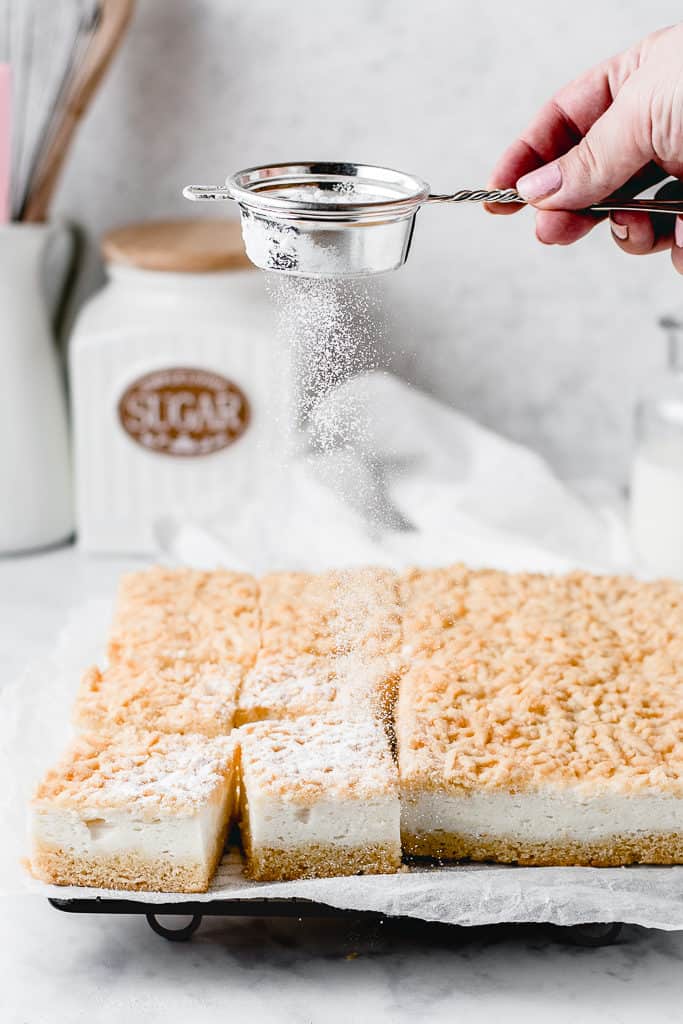 You can imagine how many of these bite sized pieces I'd eaten. And I'm not even ashamed to admit that. 😀 Yogurt Lemon Pie Bars FTW!
HOW TO MAKE THESE YOGURT LEMON PIE BARS
It's one of the simplest and easiest recipes, I promise. The dough that makes these Yogurt Lemon Pie Bars is like fluffy, enriched pie crust. Kind of like a fluffy, cakey cookie. It's gorgeous, but also really sticky when on room temperature.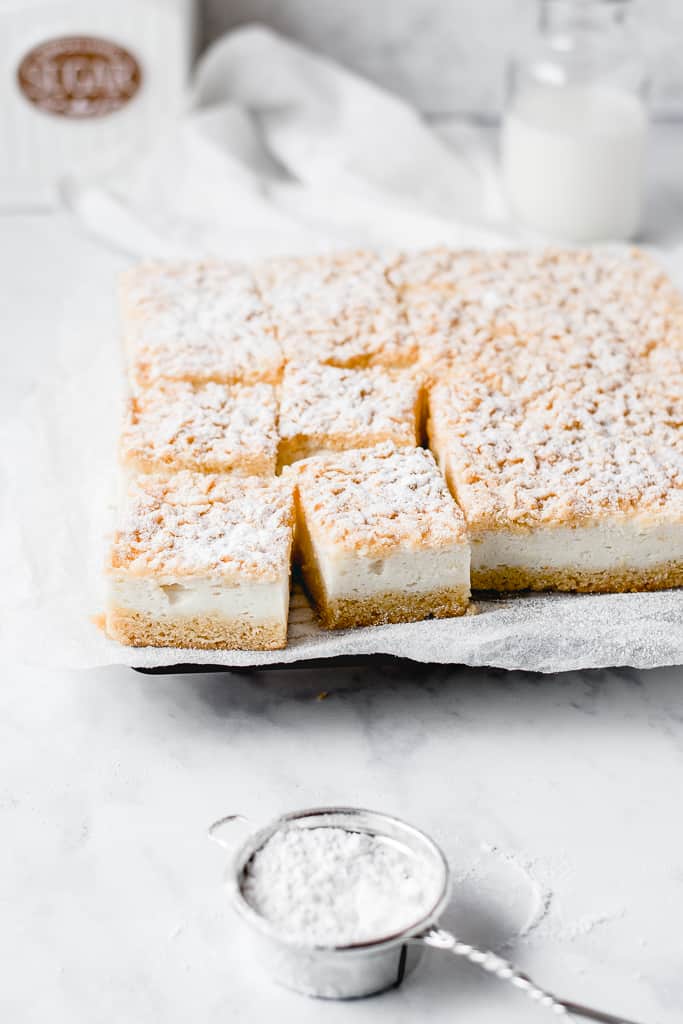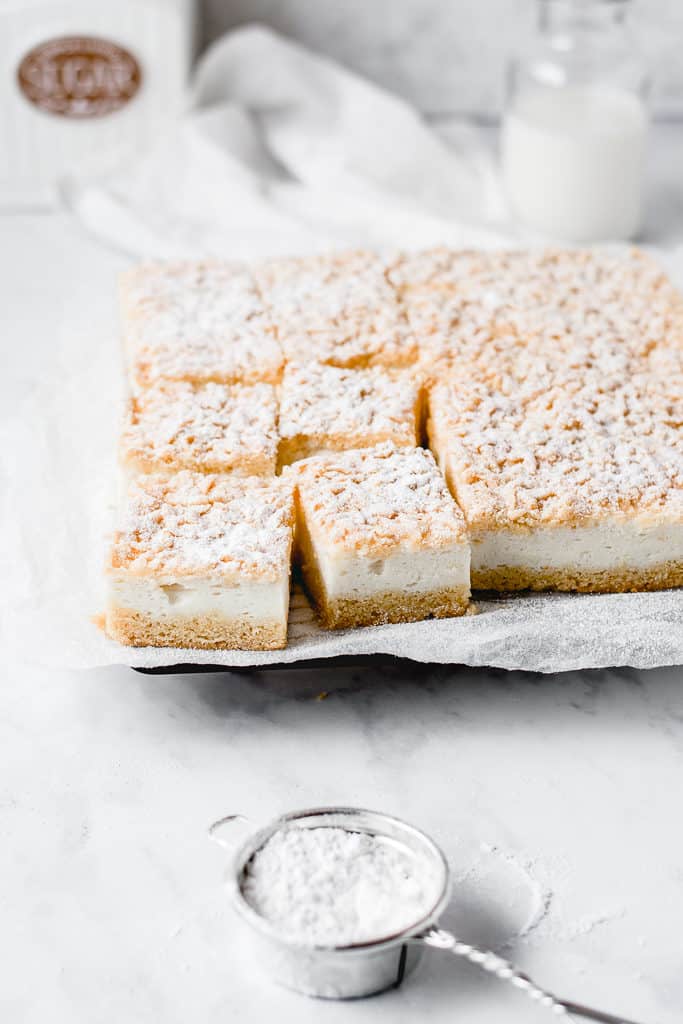 The trick is to split the dough in two and put the part that's going on top in the freezer. Because we want that rustic, shaggy look - we're going to grate in top of our filling. The bottom part is going in the fridge, so you can roll it out easier.
TIP: Try to roll the dough between two sheets of baking paper and then just flip it to your prepared pan. Don't worry if your dough sticks, cracks, tears... it's all normal, happens to me literally EVERY TIME. I just use my clean fingers then and patch it all up. Nobody will ever know! 🙂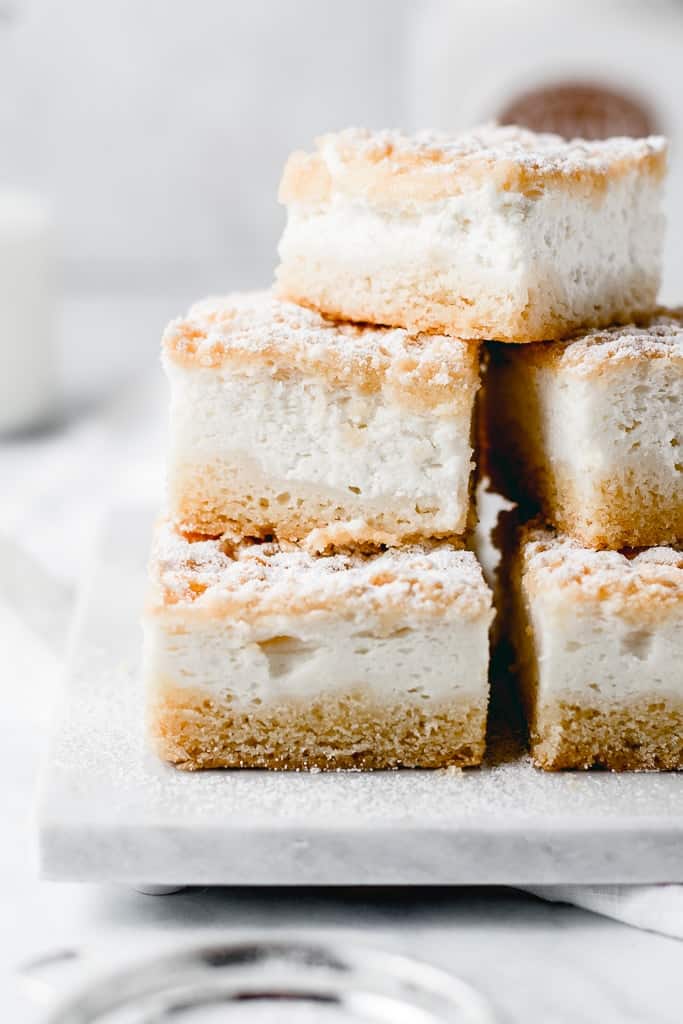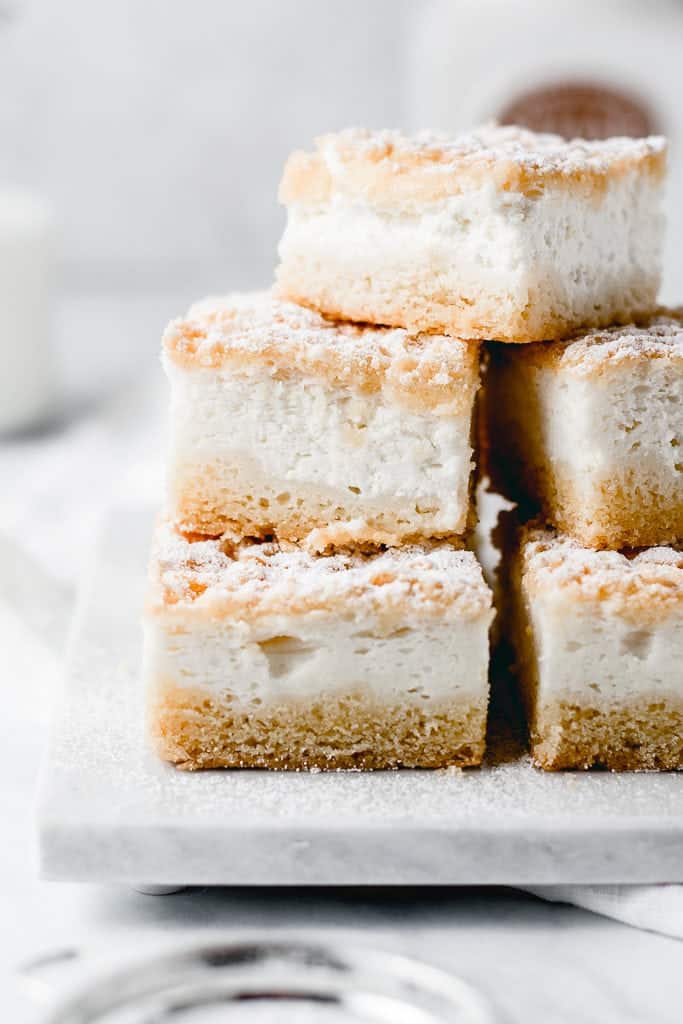 The Yogurt Lemon filling is like the softest, fluffiest cloud. I'm not even joking. It's that way because it's made from meringue mixed with yogurt and sour cream (and some other additions). Yes, it's fluffy and tangy meringue goodness.
Just make sure to use thick yogurt. I tried to google types of yogurt, so I can find the best translation of the one we use in Croatia, which is "čvrsti jogurt". I found out that there is Mediterranean thick type of yogurt, perfect for tzatziki sauce - and I bet that's pretty similar, if not the same, as the one I use. If it's really a thing, because Google lies sometimes.
TIP: I'm pretty sure Greek yogurt would totally do the trick. Just be sure not to use yogurt that's in pretty liquid state, like you could drink it. Use the thickest you can find and without any added flavouring.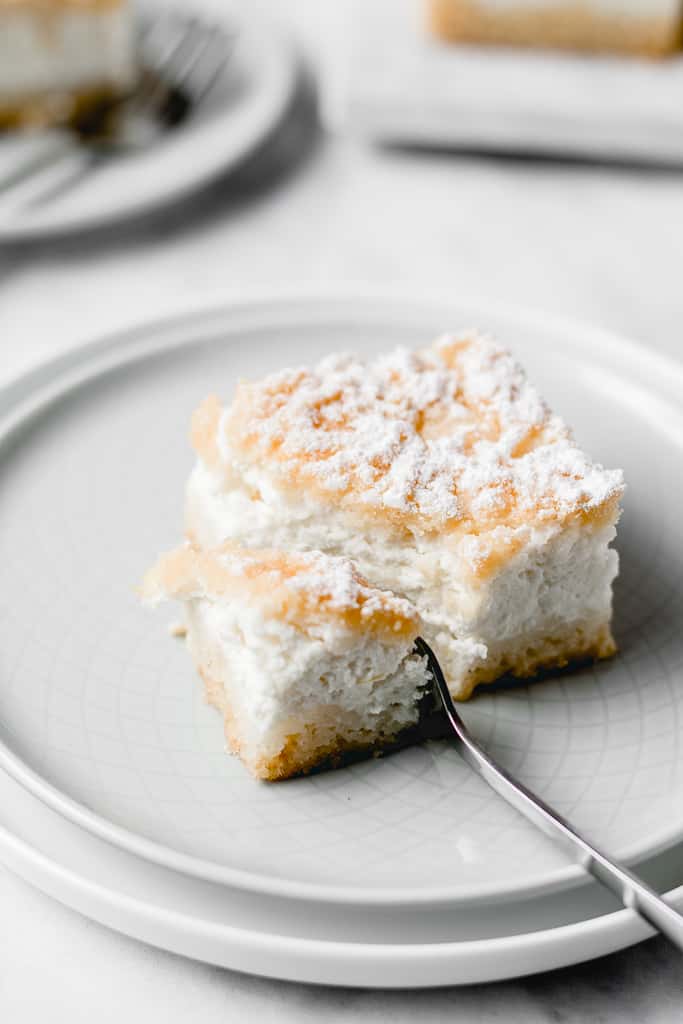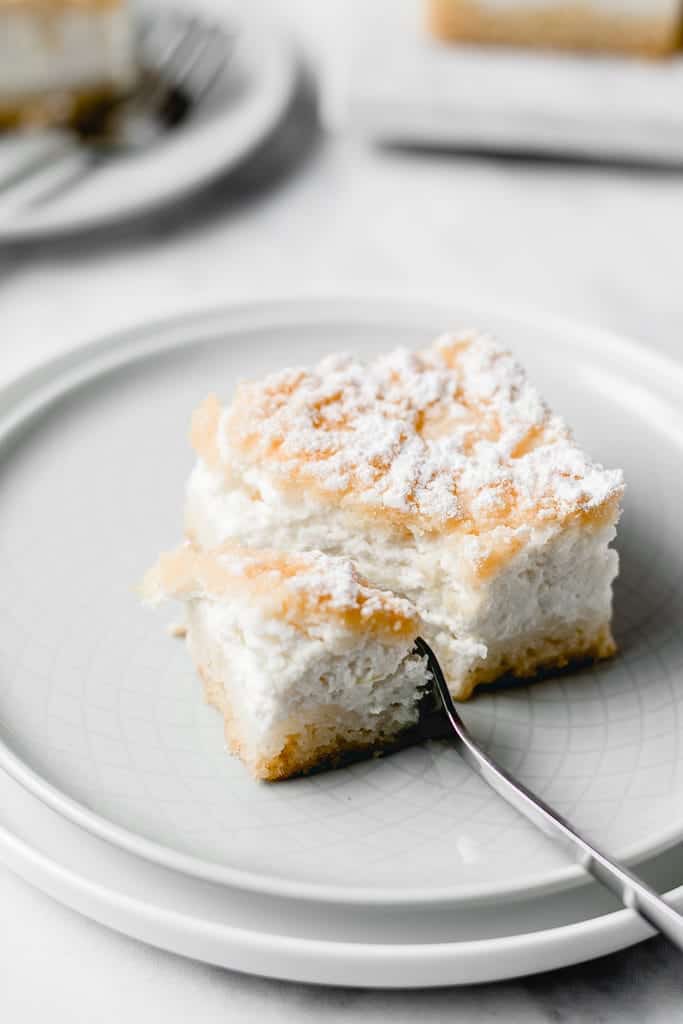 FOR MORE DELICIOUS, LEMONY GOODNESS, CHECK OUT THESE:
Lemon Elderflower Cake
The Perfect Lemon Cheesecake
Almond & Lemon Cake
Lemon & Poppyseed cake with Blueberry glaze
Strawberry Lemonade Macarons

If you make these, let me know by tagging me on Instagram @anasbakingchronicles or tell me all about it in the comments section down below. I love seeing your creations! If you have any questions, don't hesitate to ask. Happy baking!
Love,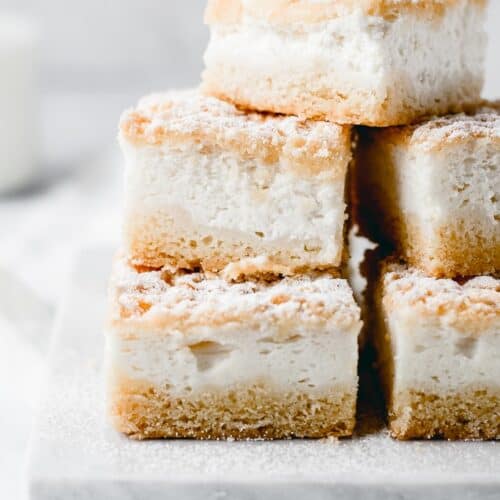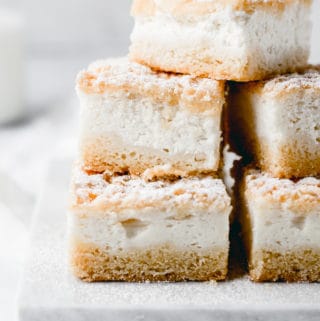 Yogurt Lemon Pie Bars
Refreshing and tangy, these Yogurt Lemon Pie Bars will win your heart! They're incredibly easy to make, you don't need any special ingredients and they're good for any occasion!
Ingredients
Dough
4

large

egg yolks

300

g

all-purpose flour

175

g

unsalted butter

room temperature

100

g

caster sugar

2 ½

teaspoon

baking powder

¼

teaspoon

salt
Yogurt Lemon Filling
4

large

egg whites

560

g

thick yogurt

room temperature

400

g

sour cream

room temperature

175

g

caster sugar

45

g

all-purpose flour

zest of one lemon

1/2

teaspoon

vanilla extract
Instructions
Preheat your oven to 175˚C (350˚F). Grease and line with baking paper 10 inch (25 cm) square tin or 9x13 inch (22x33 cm) tin. Either will work just fine.

In a medium sized bowl, beat together butter and sugar using a hand mixer, until lighter in colour and combined. Add egg yolks and beat until incorporated.

Next, sift together flour and baking powder, then add it to the butter mixture. Mix on low with hand mixer until it becomes crumbly, then knead it a little bit with your hands until all comes together.

The dough will be very soft. Divide it in two, with one part being just a little bit bigger than the other. Wrap the bigger part in cling film forming a disk of dough and place it in the fridge for an hour. That's the base of your pie bars.

The smaller part just wrap in cling film, don't flatten it or form a disk, and put it in the freezer. You'll use that to grate it on top of the filling.
for the yogurt lemon filling
Clean the bowl of your stand mixer (or any stainless steel bowl if you're using a hand mixer) using some vinegar/lemon juice and a paper towel. Do the same for the whisk attachment.

Place the egg whites in the bowl and mix on medium speed until it becomes frothy, then start to add spoonful by spoonful of caster sugar. When you're done adding sugar, whack the speed on medium high and mix it until you get a stiff peak meringue, just a couple of minutes. You don't want to overmix the eggwhites, so they end up split.

In a medium sized bowl, combine yogurt, sour cream, all purpose flour, lemon zest and vanilla extract using a whisk. Then pour that mixture over the meringue and fold everything carefully (you don't want to lose the air beaten into meringue) until it incorporates into smooth filling.
assembly
Roll the dough from the fridge between two sheets of baking paper (or on a lightly floured surface if you prefer it that way) to fit your pan, then transfer it to the pan. There's a big possibility that the dough will crack and tear when you try to transfer it to your pan. That's okay. Just patch it with your fingers - I do it all the time!

Pour the prepared filling evenly over the dough. Grab the leftover dough from the freezer and grate it all over the filling.

Bake in a preheated oven for 35-40 minutes, until the top is golden and a bit puffed up. When it's done, it will be slightly wobbly, just a bit, that's fine.

Leave it to cool in the pan to room temperature, then transfer it to the fridge to cool completely before serving.
Notes
Keep these pie bars in the fridge in an air tight container or in a pan you baked it in, but wrapped in cling film. They're the best straight from the fridge - refreshing!
If you don't have a stand mixer, you can use hand mixer. 
If you don't have thick Mediterranean style yogurt, you can use greek yogurt instead. Just don't use liquid, drinking type of yogurt. 
If you still don't own one, I advise you to buy a kitchen scale – they're cheap, easy to use and always guarantee the same results in baking!
Nutrition
Nutrition Facts
Yogurt Lemon Pie Bars
Amount Per Serving
Calories 249
Calories from Fat 108
% Daily Value*
Fat 12g18%
Cholesterol 68mg23%
Sodium 70mg3%
Potassium 153mg4%
Carbohydrates 29g10%
Protein 6g12%
Vitamin A 392IU8%
Vitamin C 1mg1%
Calcium 83mg8%
Iron 1mg6%
* Percent Daily Values are based on a 2000 calorie diet.
Have you tried this recipe?
Tag me on Instagram @anasbakingchronicles or use the hashtag #anasbakingchronicles - I love seeing your creations!