I'm welcoming autumn with these Caramel Applesauce Cupcakes. Fluffy and moist applesauce spice cupcakes filled with delicious salted caramel and topped with light vanilla buttercream. Is there a better flavor combination?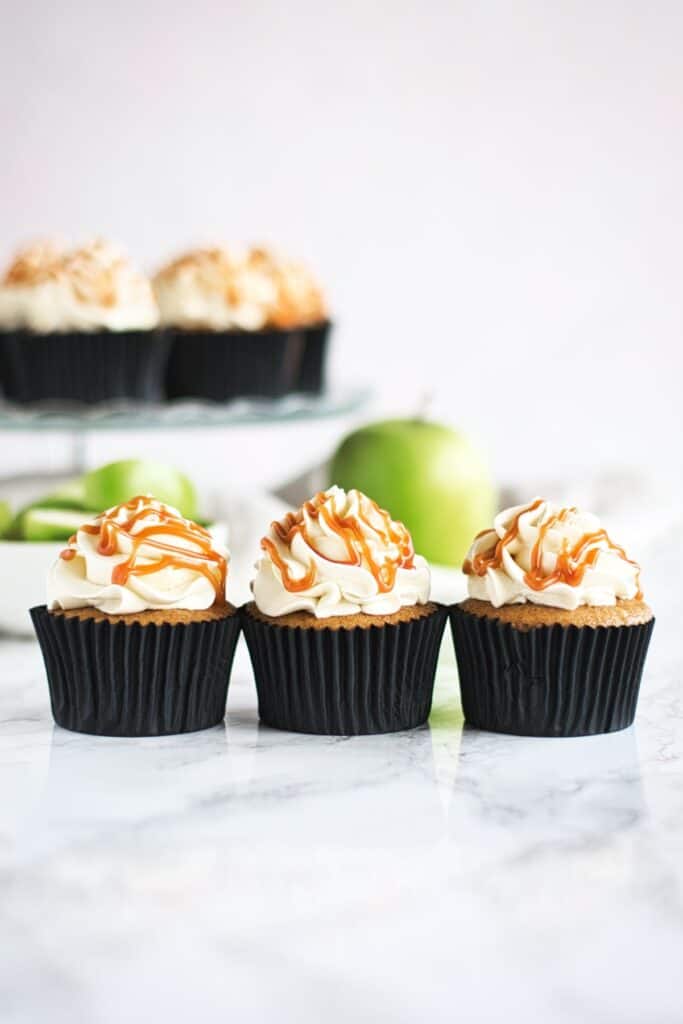 Autumn is by far my favourite season of the year, so I was sad that I "missed" September. You might have noticed I've been absent for... OMG, almost two months now. Time does fly by.
To make a long story short, I was away because duty called. I had to prioritize my studies and finish my paper. It took longer than I expected, it was very stressful and I worked really hard - but I got that Master's Degree in Economics and I feel very proud and relieved at the same time. 🙂
I missed my kitchen, I missed interacting with you guys on Instagram - I was afraid that my absence would somehow ruin all my blogging related work from the last couple of months. I lost some followers and for a second there I felt sad and disappointed, mostly at myself - for not being able to do all the things I wanted at the same time. But then I realized what a toll Instagram and other social media takes on us. To feel that kind of pressure, like the world would fall apart if I didn't post a photo - sounds silly, right? Right. So we agree.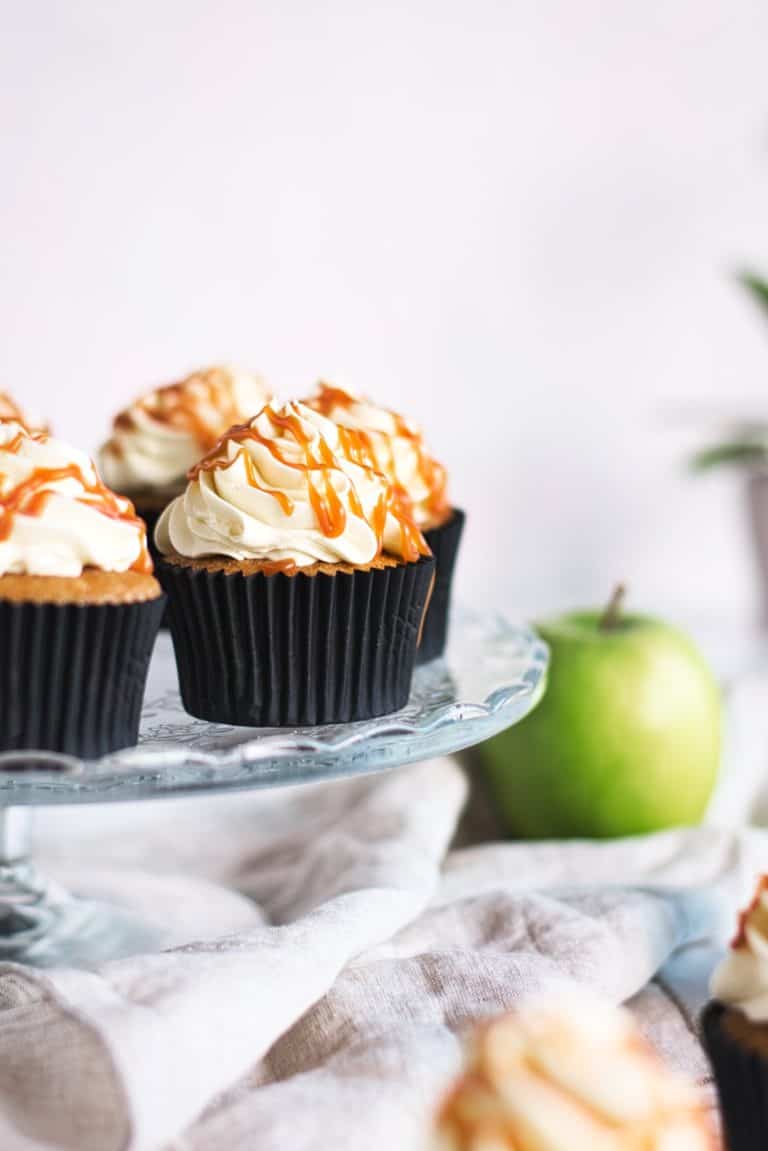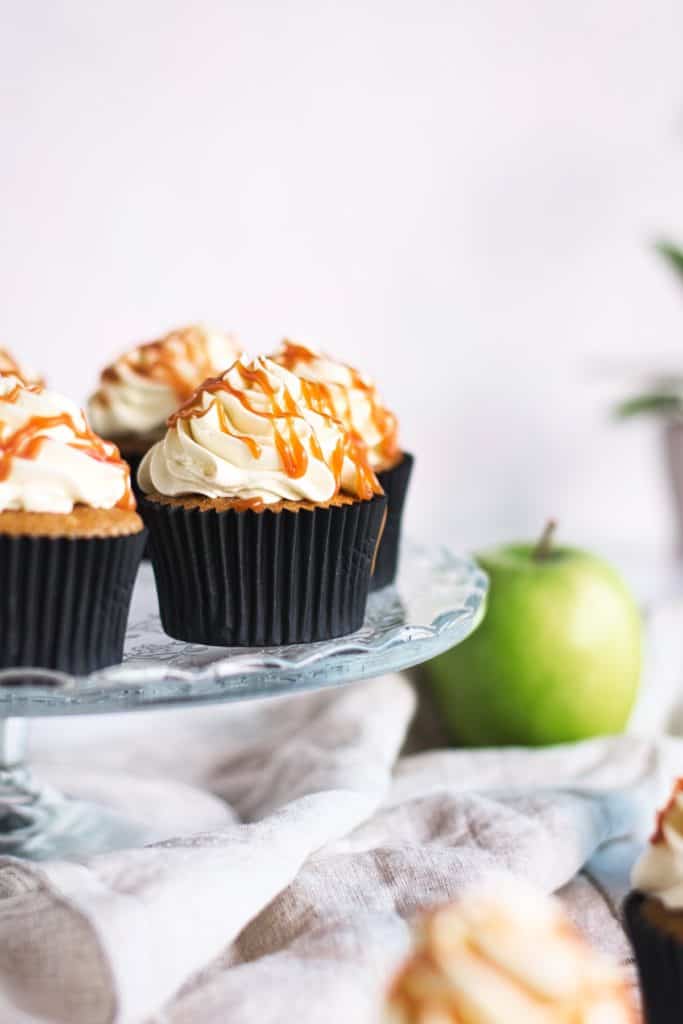 Time was passing by and I realized that nothing bad happened while I was away. There were no sudden changes, hurricanes, world collapsing or any of the sort, lol.
I reckon everyone needs a break from social media, some time for actually living in the present.
Especially when it starts to feel like a chore and not something you enjoy and want to do. So, I took a break, got my degree, went on a couple of trips and now I'm good as new. All fueled up for baking time! 😉
After all, autumn is really all about practice baking for Christmas. Am I right? 😛 I
t's like, if you start early enough, you're really prolonging the most wonderful time of the year. I love me some Christmas. And autumn. And winter. Lol.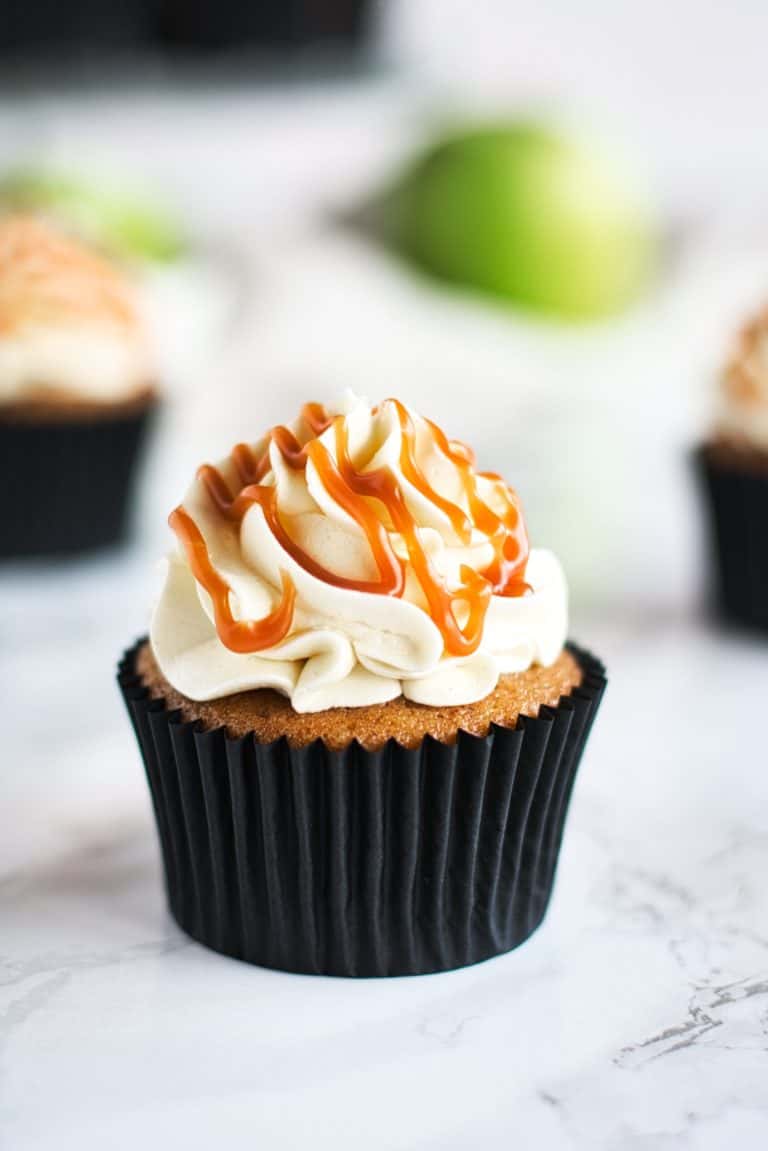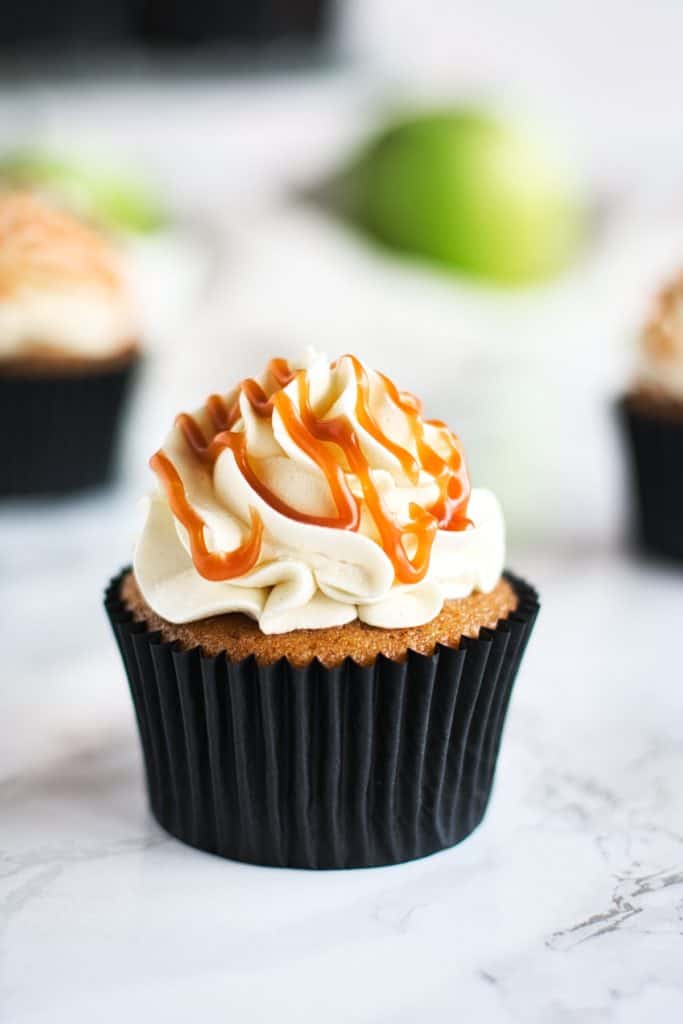 Making homemade applesauce
Apple and spice is one of my favourites flavour combinations. I could eat it any day, especially during autumn and winter.
It just gives you that cozy, warm feeling that I love. I'm sure you're with me.
For these cupcakes, I decided to bring the apple flavour by adding homemade applesauce to the batter.
Everything homemade is usually 10 times better than store bought, but if you're feeling lazy you can just buy a jar of applesauce and it'll be okay.
I peeled, cored and sliced some granny smith apples and, alongside some cinnamon, lemon juice and a bit of sugar (to keep them from spoiling too soon), cooked them for about 15 minutes with some water until they went all mushy and soft.
Mmm... I'm imagining the smell as I write, yum! After they're done, I just mashed it using a hand blender and put it in a clean jar. It will last for a week in a fridge.
I decided to use use half oil and half butter to make the cupcakes extra moist. And boy were they moist and fluffy!
As for the spices, I kept it simple - mostly cinnamon, but with some hints of nutmeg and cloves. Sometimes, there is just no need to change something that is already awesome as it is 😉
They are filled with the most amazing caramel sauce (explained down below) and topped with my favourite - ermine vanilla buttercream.
You can read more on how silky and gorgeous it is here or you can let pictures speak for themselves 😉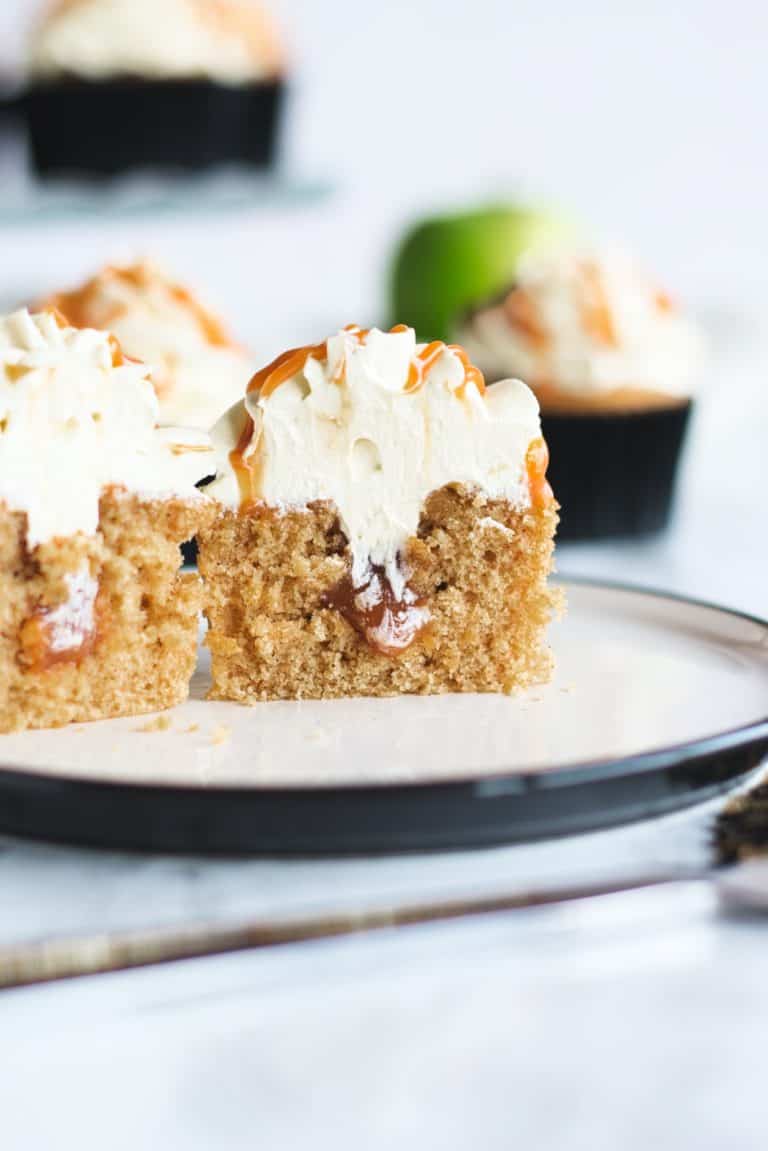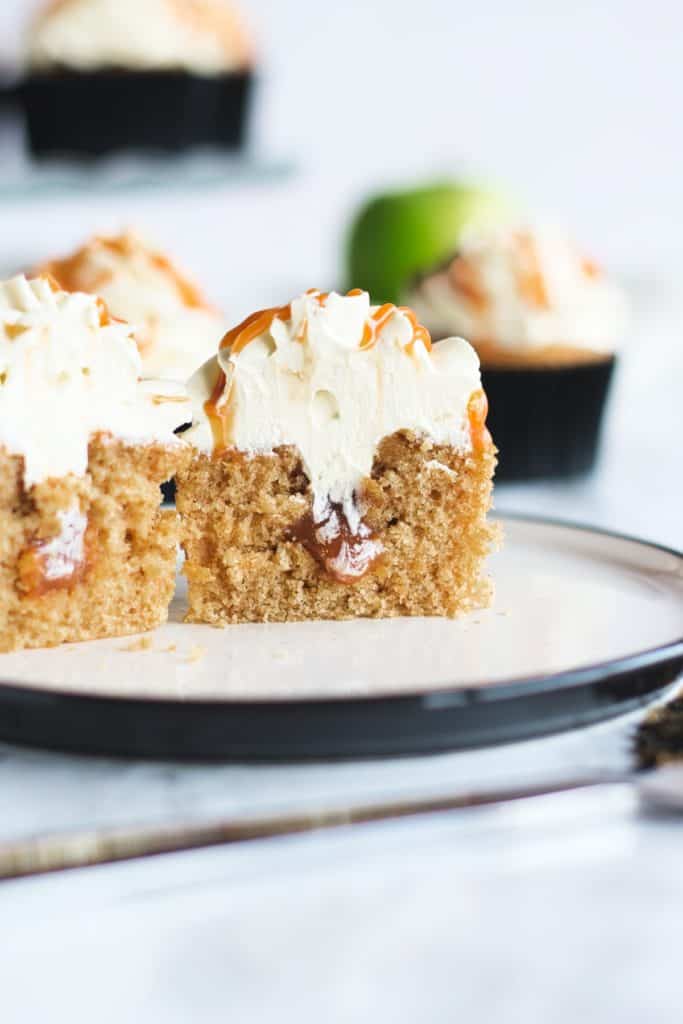 How to make homemade caramel sauce
Now, I know some people stay away from it as far as possible. Poor caramel, everyone is afraid of you! But I'm here to change that 🙂
Before I've made my own caramel sauce, I was pretty convinced that I'm really not a caramel fan. Terrible, I know.
I mean, I love snickers and some other confections containing caramel, but I just never could get past that awful caramel candy.
That is, not until I tried making my own. Oh. My. God. I couldn't stop eating it - straight from the jar. With a spoon. Lol. That's just how good homemade things are. 😉
I use the wet caramel method, where I mix sugar with some water. It's imperative that you do not stir it while heating it up, because there's a big chance of crystallizing and then you can throw it in the bin.
Alternatively, you can use dry method where you're heating up sugar without water. Only this time you NEED to stir it all the time to prevent burning.
Now, I like to minimize the chance of burning my caramel so I always make wet caramel, and it has never failed me. You just need to remember that you MUSTN'T STIR.
Also, it's really good to use a pan with thick bottom because it gradually heats up the sugar and it keeps the temperature more even, so there is less chance of burning.
You want to heat up sugar and water until it gets to a golden amber colour. The darker the colour - the higher the chances are that you burnt your caramel, so be careful and don't leave your pan unattended. This takes about 10-15 minutes.
Once you get to your desired colour, slowly pour heavy cream in your caramel while stirring with a silicone spatula. Be aware, things will get quite hot and steamy, there will be bubbles everywhere.
I always heat up my heavy cream before mixing it with sugar to minimize all the bubblying, but it will still occur because of the temperature differences.
When all the bubblying has subsided, take it back on the stove for another two minutes, stirring all the time. I like to add some salt at the end, but that's optional.
Be careful, do not try to lick it once it's done because you will burn your tongue or fingers. It'll be painful, so... try to resist the temptation.
Put it in a clean jar with a lid and leave it to cool to room temperature and then in the fridge. If it's too stiff when you take it out of the fridge, you can heat it up a bit in the microwave or over a bain marie. Your choice. 🙂
You can keep it in the fridge for about 2 weeks, but I'm pretty sure it won't last that long, lol.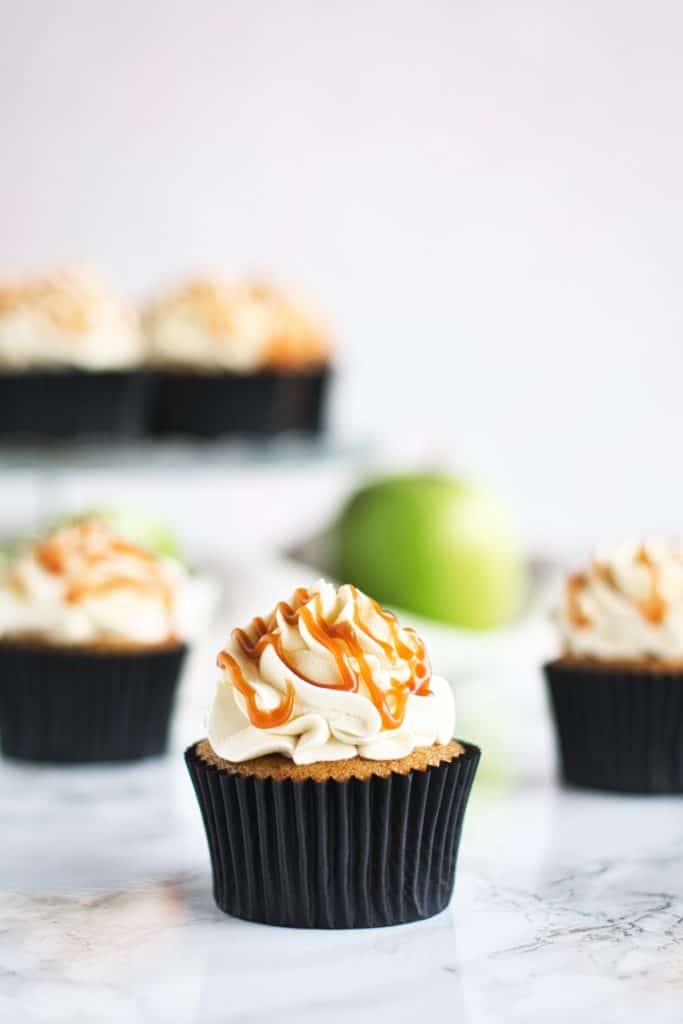 I hope you'll make this recipe and love it as much as I do! It's quick and easy and makes 12 cupcakes, which means you can make a lot of people happy! 🙂 If you do bake it, make sure to take a photo and tag me on Instagram so I can see it! Happy baking!
📖 Recipe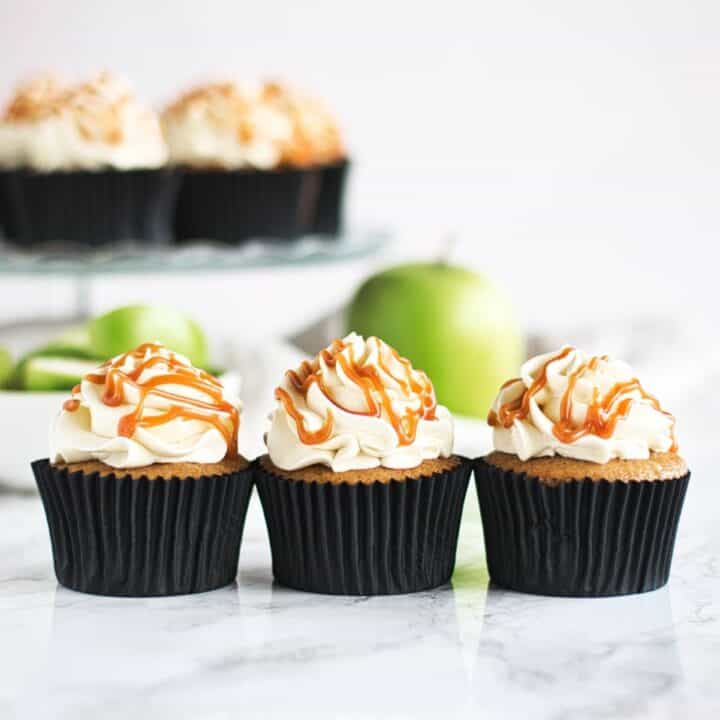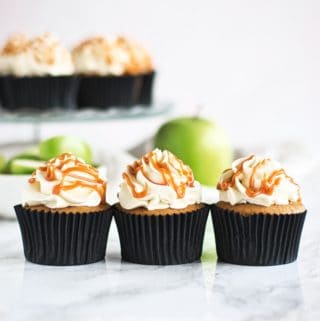 Caramel Applesauce Cupcakes
Description
I'm welcoming autumn with these Caramel Applesauce Cupcakes. Fluffy and moist applesauce spice cupcakes, filled with delicious salted caramel and topped with light vanilla buttercream. Is there really a better flavour combination?
ingredients
Cupcakes
2

large

eggs

(room temperature)

180

g

all-purpose flour

120

g

granulated sugar

60

g

light soft brown sugar

60

g

unsalted butter

(softened)

50

g

sunflower oil

200

g

applesauce

(room temperature)

1

teaspoon

cinnamon

¼

teaspoon

nutmeg

⅛

teaspoon

cloves

1 ½

teaspoon

baking powder

¼

teaspoon

salt

½

teaspoon

vanilla extract
Caramel Sauce
150

g

granulated sugar

40

g

water

120

g

heavy cream

¼

teaspoon

salt

(optional)
Vanilla Buttercream
30

g

all-purpose flour

150

g

granulated sugar

250

g

whole milk

¼

teaspoon

salt

225

g

unsalted butter

(softened)

1 ½

teaspoon

vanilla extract
Instructions
For the cupcakes:
Preheat your fan oven to 160°C or 325°F. Line your cupcake pan with paper cases.

In a bowl of a standing mixer sift and combine flour, both sugars, salt, baking powder, cinnamon, nutmeg and cloves. Add butter and mix for a minute, until you get sand-like texture.

Add oil, eggs and applesauce and mix everything until just combined. Don't overmix it. In the end, add vanilla extract.

Divide the batter evenly among the paper cases, filling them ¾ of the way full. Bake for 18-22 minutes or until they're springy on the top.

Once they're done, let them cool completely before frosting.
Caramel Sauce:
In a thick bottom saucepan combine sugar and water. Make sure every sugar granule is covered with water. Heat it up over medium to high heat, until it reaches golden amber colour. DO NOT STIR IT. This will take about 15 minutes.

While the sugar is dissolving, heat up the heavy cream to a simmer.
Once the sugar syrup reaches a desired colour, pour the heavy cream over it a steady stream, stirring constantly with a silicone spatula. There will be a lot of bubbles and steam, be careful not to burn yourself.

Once all the bubbles have subsided, put the saucepan back on the stove and cook it for 2 minutes, stirring constantly. When it's done, put the caramel sauce in a clean jar and leave it to cool to room temperature.
Vanilla Ermine Buttercream:
n a small saucepan combine flour, sugar, salt and milk. Cook over medium-high heat, stirring constantly with a whisk until it thickens. After it has boiled, cook for another 2 minutes.

Once it's done, transfer it to a bowl, put a cling film over it touching the surface to prevent "skin" forming and let it cool to room temperature. This is your pudding base. You can do this in a fridge, but before using it let it come to room temperature.

Using a stand mixer fitted with the paddle attachment, beat the butter for 5 minutes until it's pale and fluffy. Then add spoonful by spoonful of previously made pudding. Mix until it's all nicely incorporated and with no lumps. Add the vanilla extract and beat for another 30 seconds.
Assembly:
Using an apple corer, core the middle of each cooled cupcake and fill it with caramel sauce. Put the buttercream in a piping bag fitted with 1M tip (or whichever you prefer 🙂 ) and frost the cupcakes.


They are best eaten at room temperature. You can keep them in an airtight container at room temperature for 2 days or longer in the fridge. Just let them come to room temperature before eating them. Fridge makes cakes and cupcakes drier so bear that in mind.
Notes
You can use a hand mixer if you don't have a stand mixer.
For tips on caramel making read the post above.
If you still don't own one, I advise you to buy a kitchen scale - they're cheap and easy to use, and always guarantee the same results in baking! 🙂
Not all ovens are the same. I suggest to check the cupcakes at 18 minute mark and then adjust the baking time accordingly. Get to know your oven! 😉
IMPORTANT
All the recipes are developed and tested using only metric measurements and a kitchen scale. The U.S. cup and spoon measurements are provided for your convenience, but I highly recommend getting a digital kitchen scale and measuring in metrics. It's easy and always guarantee the same results in baking!
The nutritional information and US conversions are calculated automatically. I cannot guarantee the accuracy of this data. If this is important to you, please verify with your favourite nutrition calculator and/or unit conversion tool.
Have you tried this recipe?
Tag me on Instagram @anasbakingchronicles or use the hashtag #anasbakingchronicles - I love seeing your creations!