Choux à la crème is a French classic adored across the world and known under different names and variations depending on the country. I'm sharing with you the foolproof recipe for the classic choux pastry filled with delicious creme diplomate.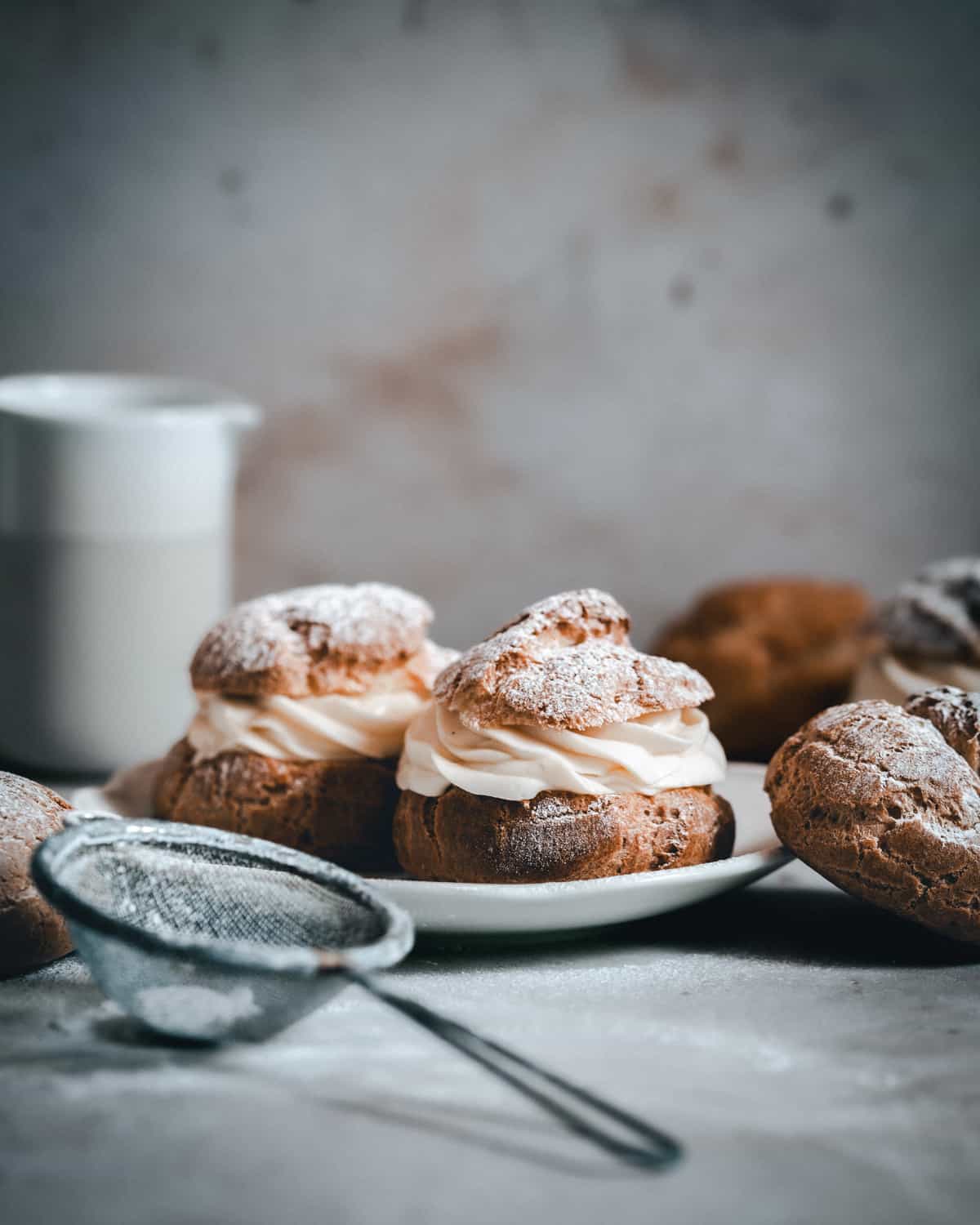 This is one of those recipes you can use for different purposes. Did you know that using the choux pastry you can make choux au craquelin, profiteroles, eclairs, paris brest, chouquettes, crullers and churros? The french call it Pâte à Choux.
Choux stands for cabbages and pâte for paste. Why cabbages you ask? Well, I assume that's because choux buns look like little cabbages once baked. They puff up and are full of little crinkles and cracks. So cute!
What is choux pastry?
Choux pastry (pronounced: shoe) is a weird crossover between a dough and a batter that needs to be cooked twice. That might sound intimidating, but believe me when I say that with the right recipe and a few tips, this will be one of the easiest pastries you'll make. Just like a French pro!
Jump to:
Why you'll love this recipe
Metric measurements. A kitchen scale is your best friend and measuring the ingredients by weight is a great start to a successful recipe recreation.
Step-by-step images. A little bit of visual aid goes a long way and here you have eveything you need to help you make choux a la creme.
Can be made by hand or a stand mixer. I love using my stand mixer for making choux pastry, but don't worry if you don't have one. A bowl and a wooden spoon is all you need to make this recipe work!
Ingredient notes
Flour: I use regular all-purpose (plain) flour, which I'm sure most of the home bakers have at home and it works great.
Liquid: I like to use the combination of milk and water. The milk helps with getting the deep, golden brown color of the crust. I always use full-fat milk. However, if you don't have any, you can use all water for the liquid.
Butter: Good quality, European-style butter with at least 82% fat is the best choice.
Salt: My favorite is fine sea salt and it won't make the choux salty, it just gives the pastry some flavor so it's not bland.
Vanilla: it's the filling's main flavor, so don't sacrifice it by using artificial vanilla. Extracts, pastes and vanilla pods are the best to use in order to get the best flavor.
Heavy cream: You'll need it for the vanilla cream filling. I use the one with min. 36% milk fat. More fat = more stability = more flavor.
How to make choux à la crème (step-by-step)
Note: You have the fully written recipe with measurements and detailed instructions at the end of the post. However, I advise you to read all the helpful tips and FAQs.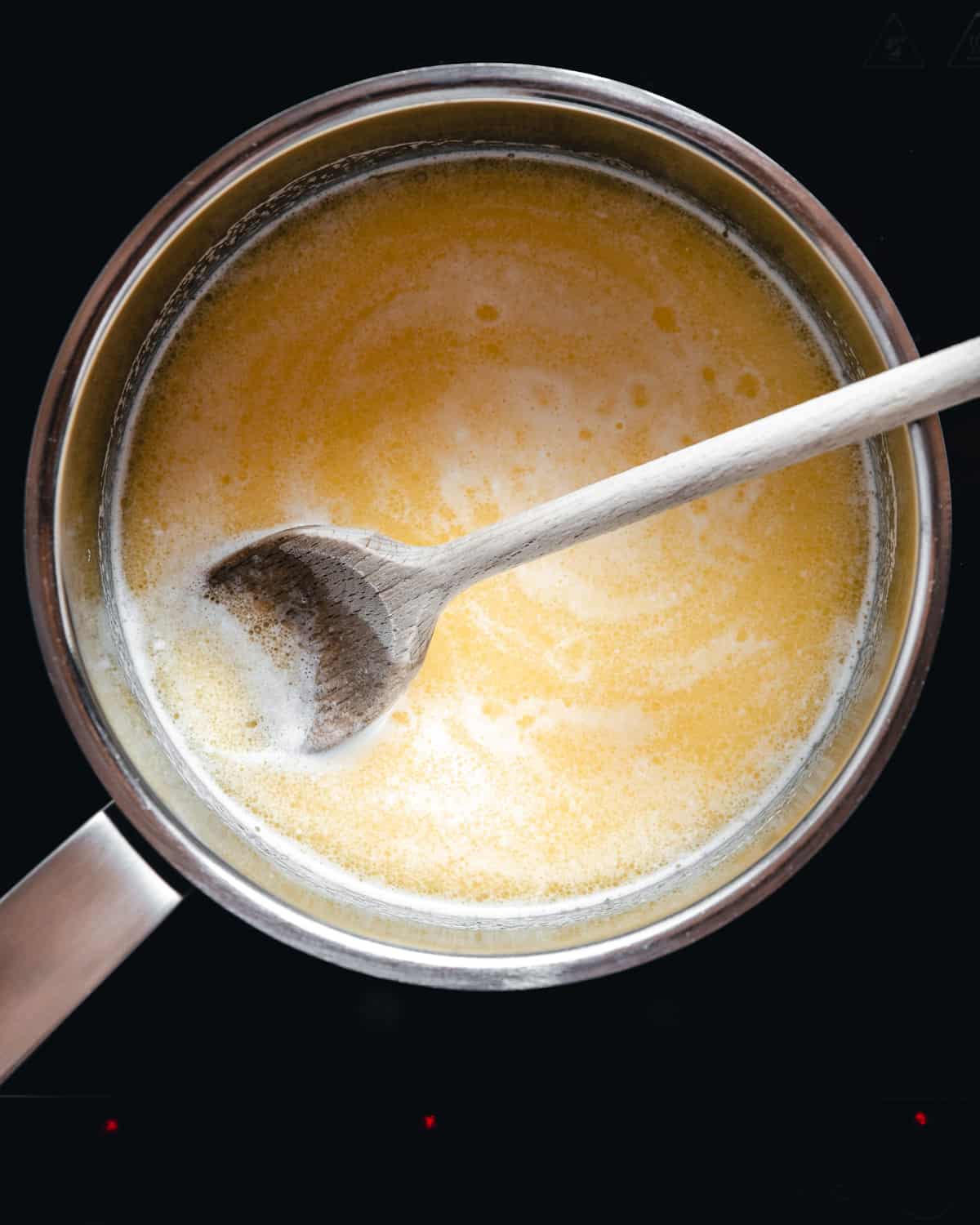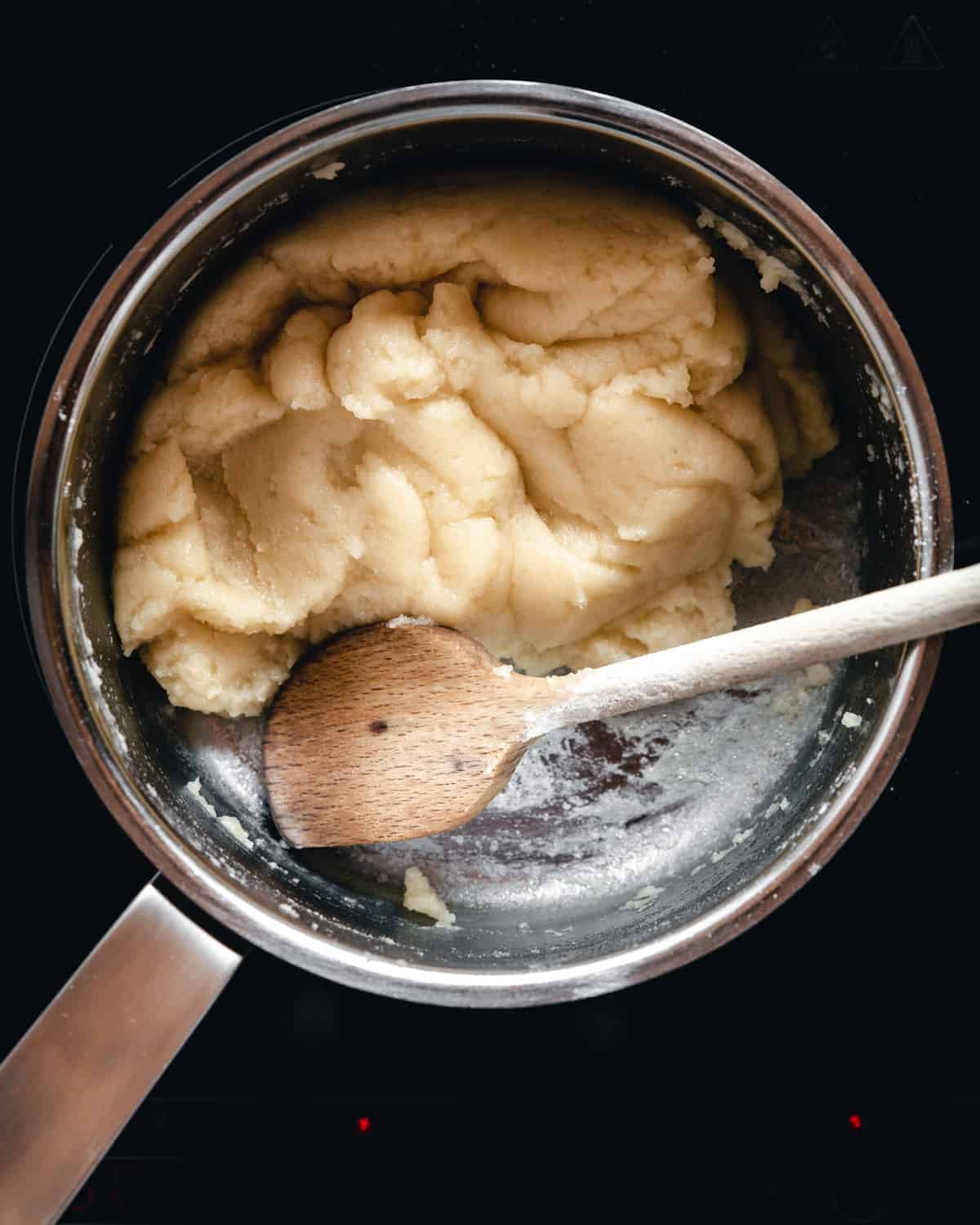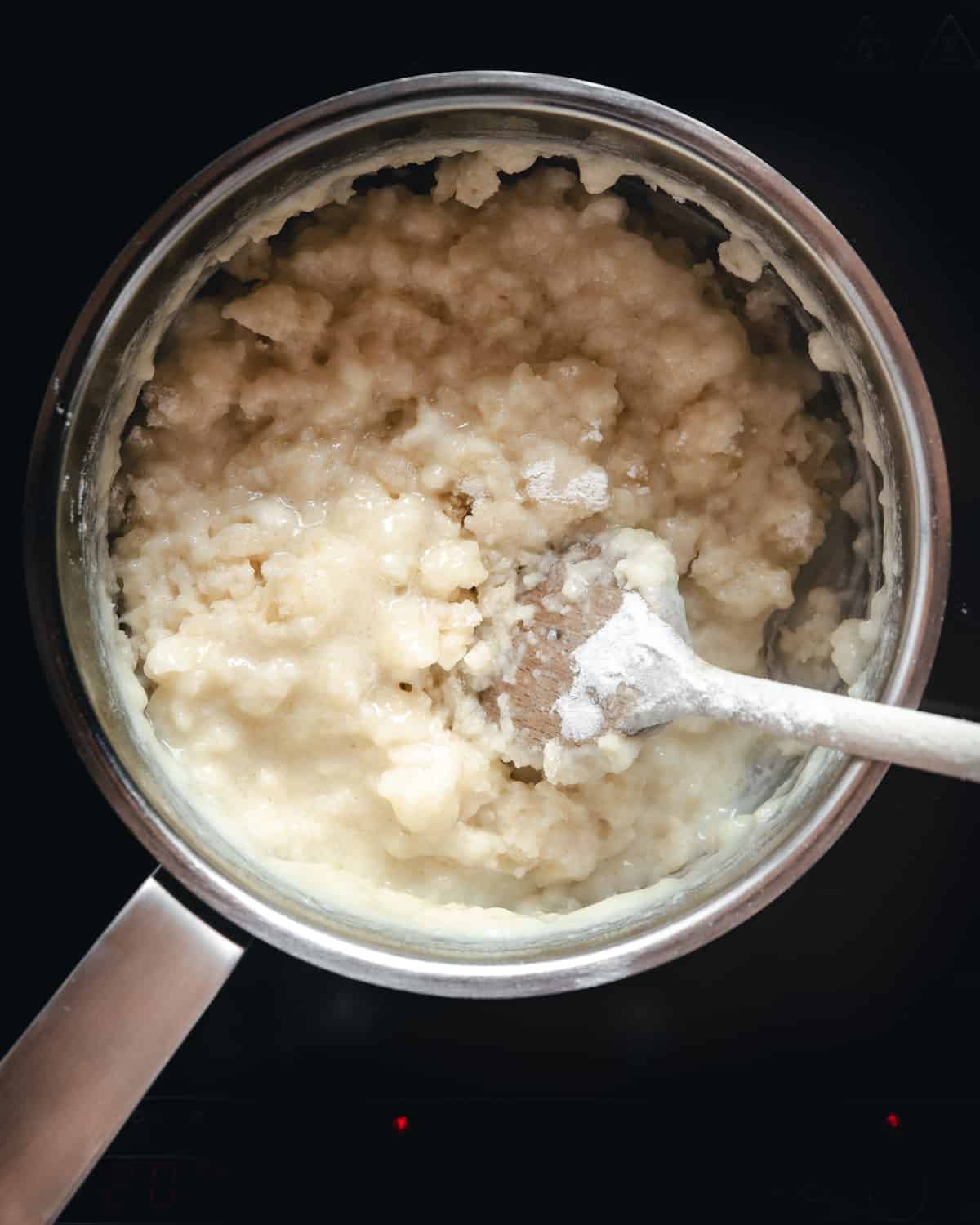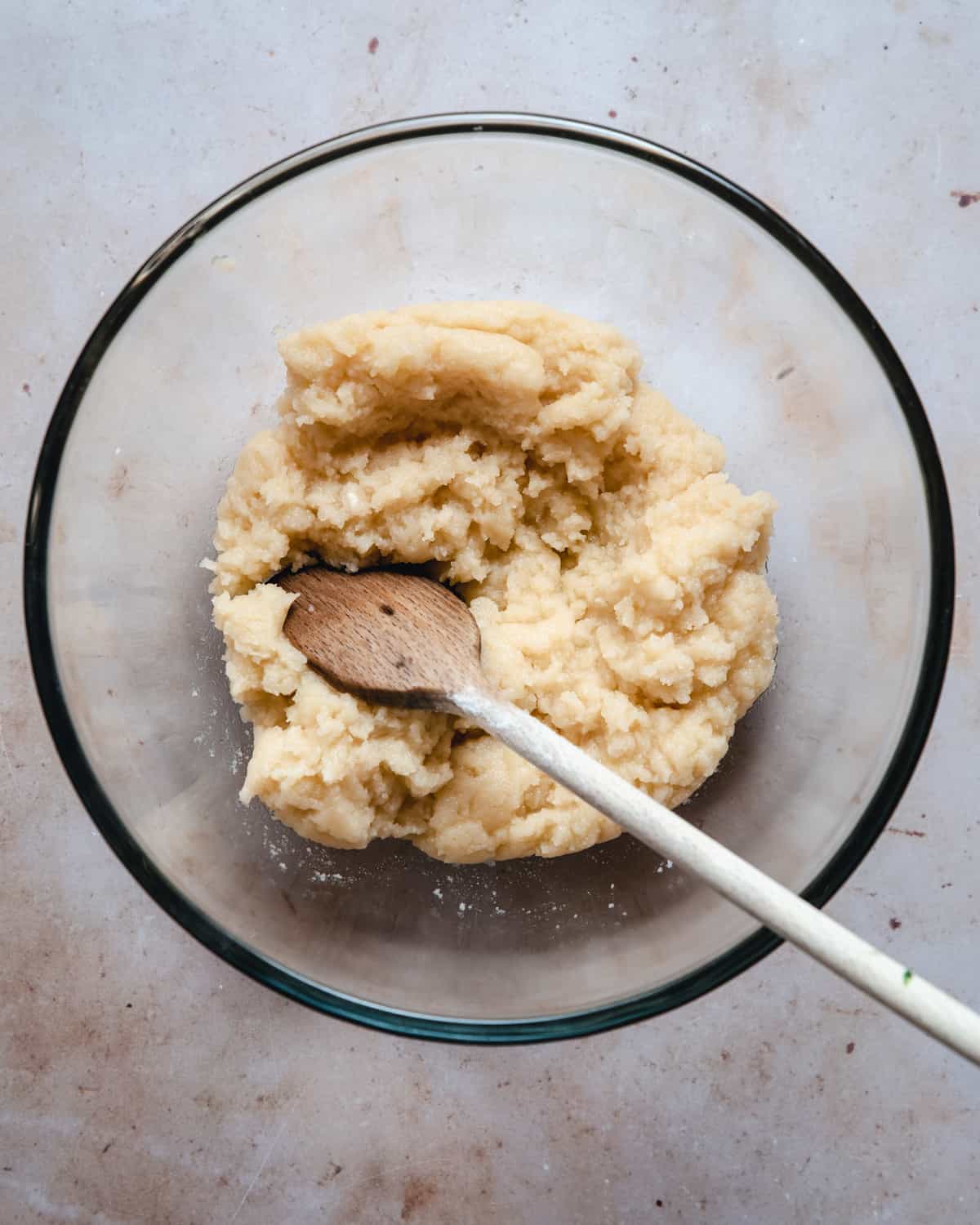 To make the choux pastry, start by combining the water, milk, sugar, salt and butter in a small saucepan over medium heat. Let the butter melt and the mixture come to a simmer.
Next, add the flour and beat it with the wooden spoon until there are no lumps and the mixture forms a clump. Continue cooking for a few minutes, stirring constantly, to let the starch in the flour gelatinize. Usually, seeing a film forming on the bottom of the pan is a good sign, but sometimes the pan is too thin so the paste sticks to it even before it's done.
Once the cooking is done, transfer the flour paste to a bowl and let it cool slightly, giving it a stir every now and then.
Cooking the flour paste (fr. panade) is an important step because it helps with some liquid evaporation and gelatinization of the starch (a process where starches and water are subjected to heat); both of which are crucial for thickening the choux once the eggs are added and expanding later in the oven.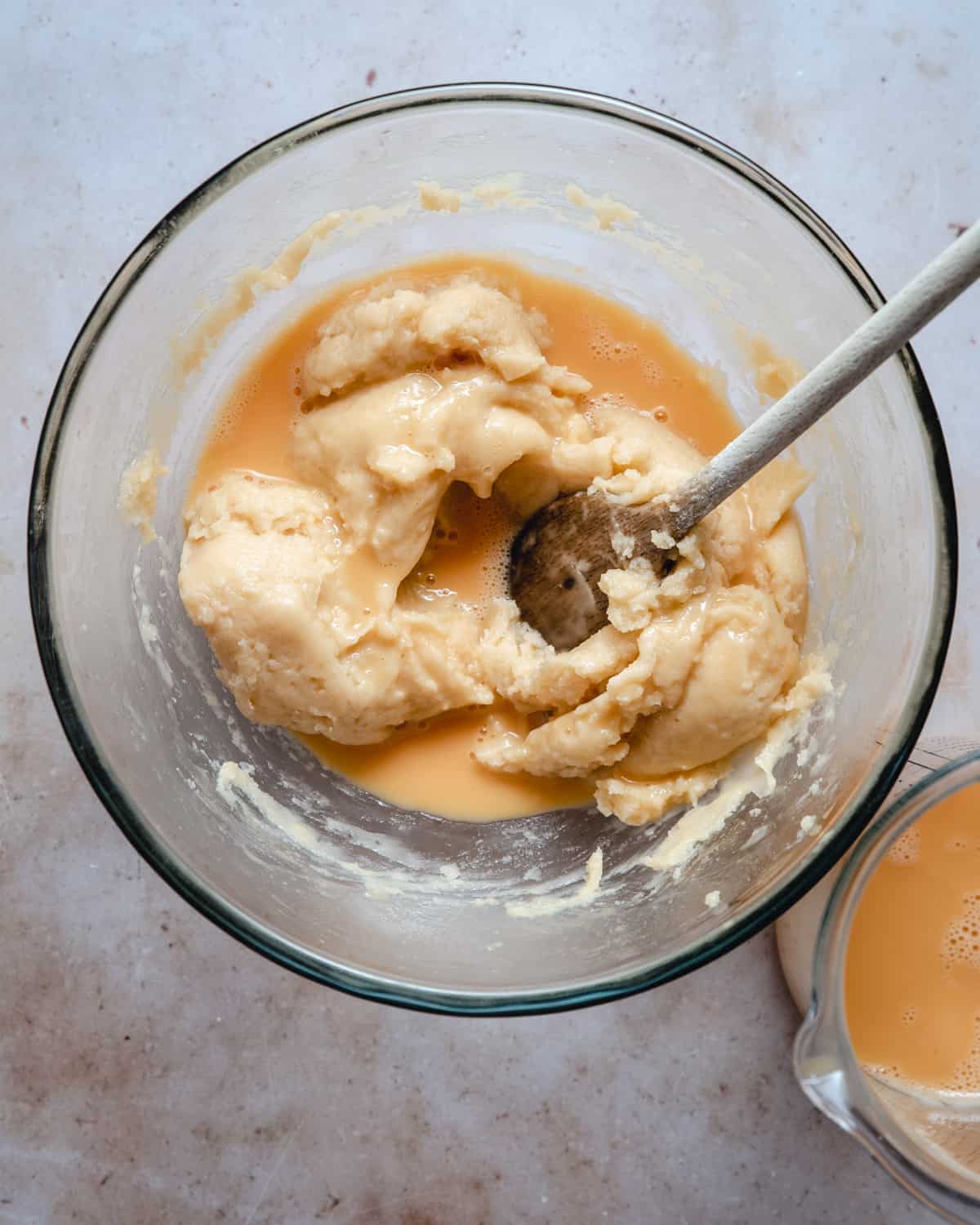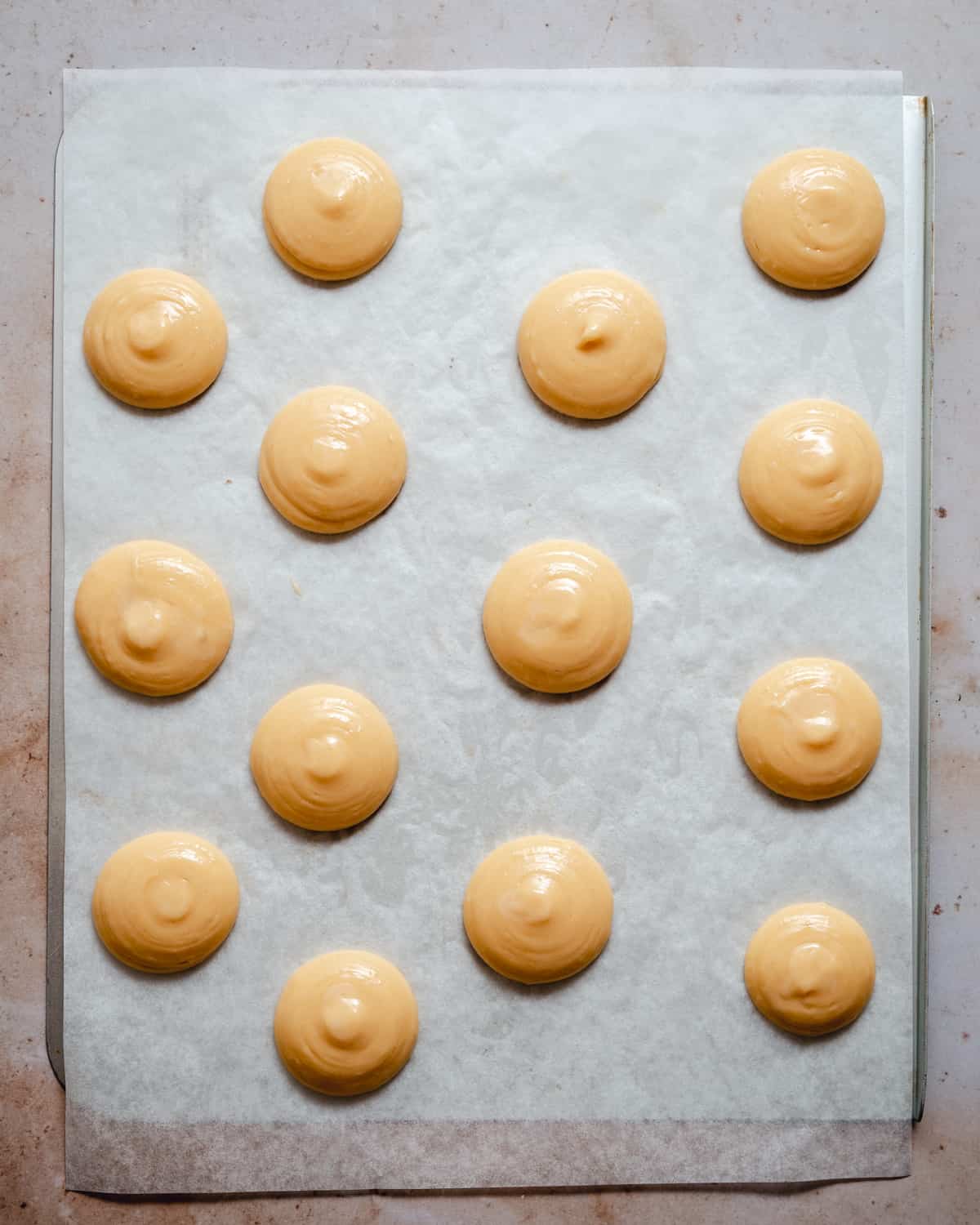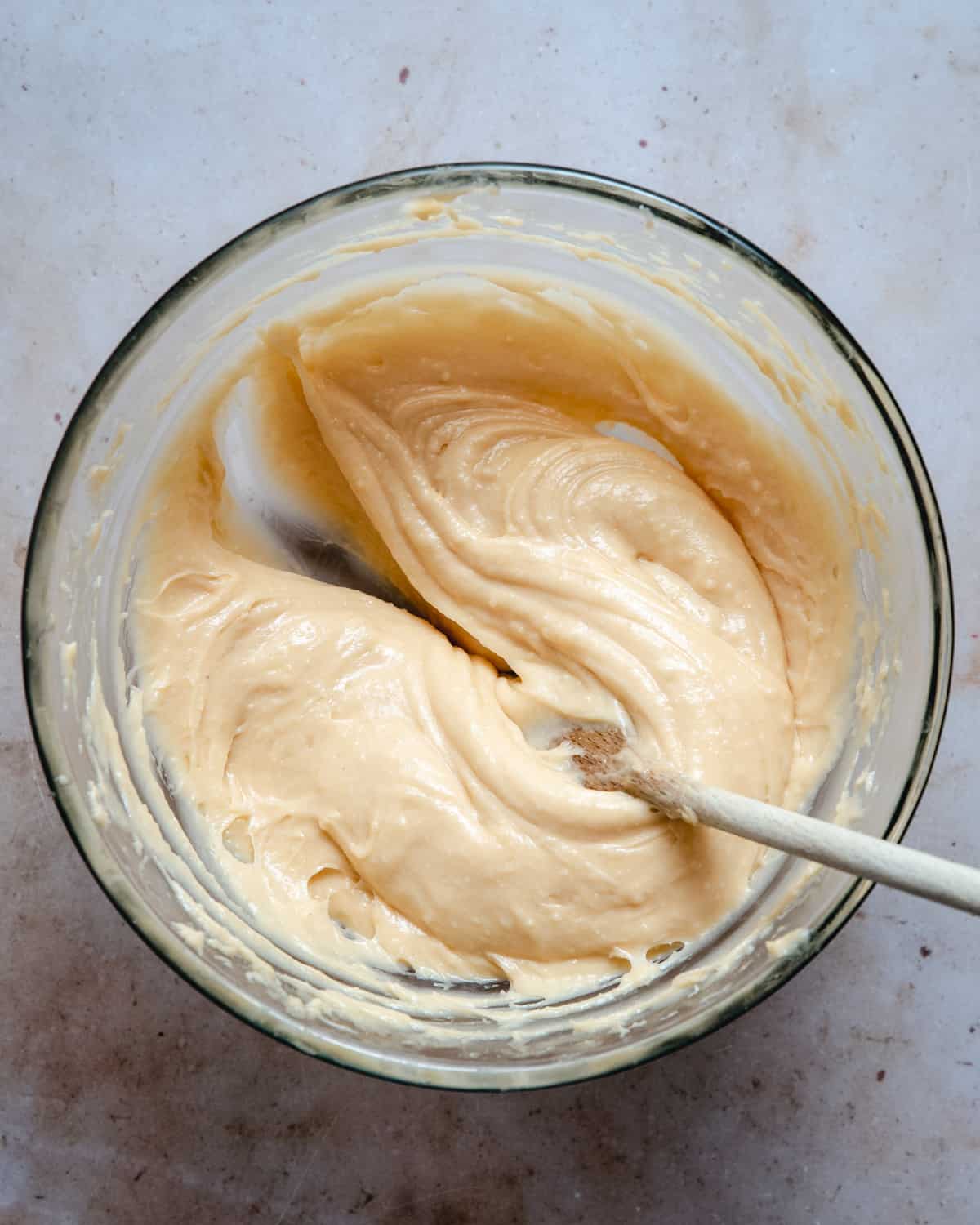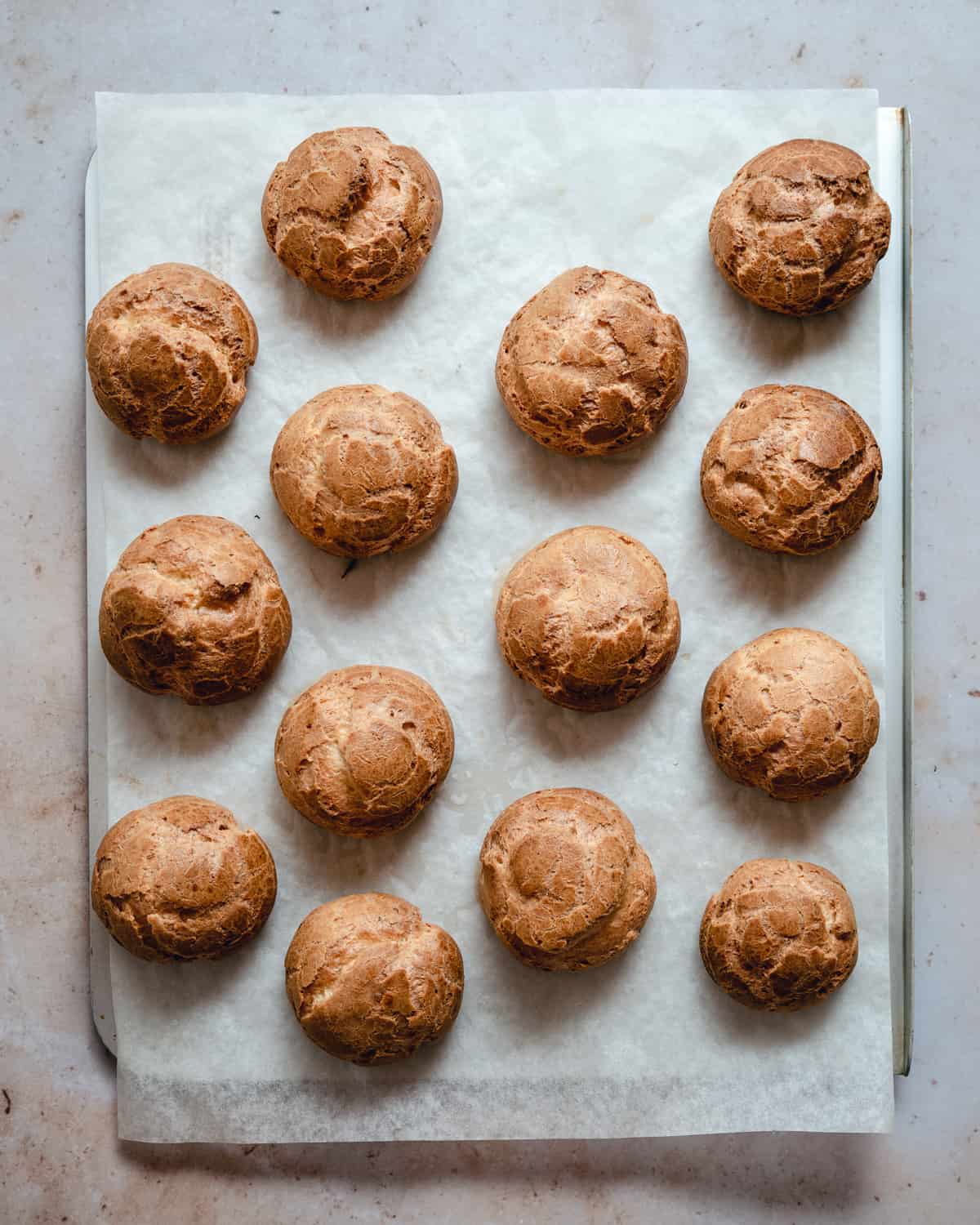 When the panade has cooled down enough to avoid cooking the eggs, start adding the eggs gradually, one portion at a time (3-4 times). Do this either with a wooden spoon or in a stand mixer with a paddle attachment. Make sure that each addition is thoroughly incorporated before adding the next.
The choux pastry is done when you can draw a line with a wooden spoon and it slowly comes together; or when you stick a wooden spoon/spatula/paddle attachment and pull it up, it forms a loose 'V' shape.
Place the choux pastry in a piping bag fitted with a round nozzle (I like to use Wilton 2A) and pipe little mounds of pastry on a baking sheet lined with baking paper. Leave enough space between the buns because they will expand quite a bit. Dip a finger in some warm water and tap the mound peaks so they're more round and bake more beautifully.
Bake in a preheated oven for 30-35 minutes, or until deep golden brown.
Depending on the flour and eggs you're using, as well as how much you've cooked the panade, you might need more or fewer eggs than it's stated in the recipe. That's why it's important to add the eggs gradually and check the consistency.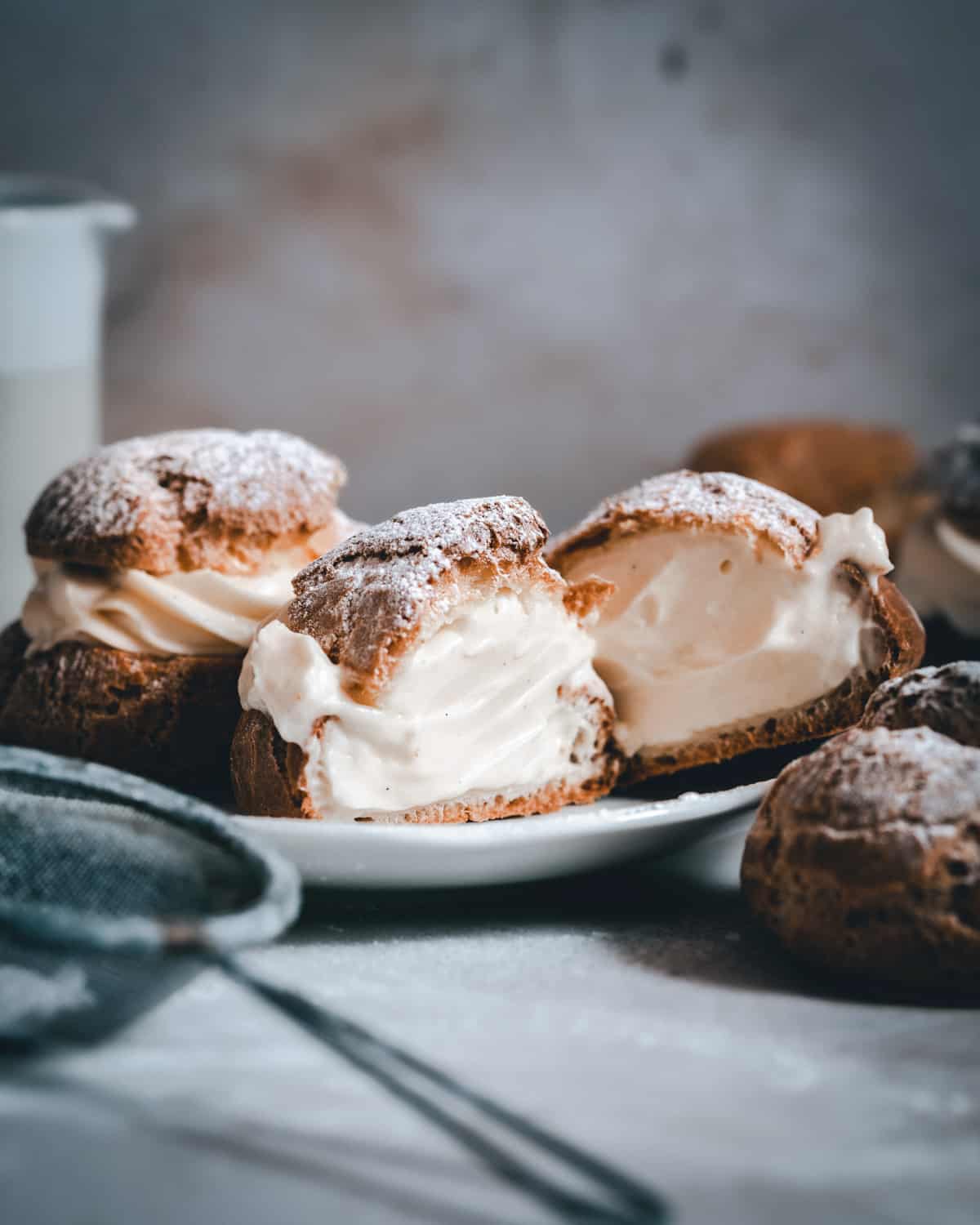 Choux à la crème vanilla filling
As the name suggests, chou à la crème is a small puffed choux bun filled with some kind of cream. Traditionally, you'll find that the buns are filled with vanilla creme pâtissière, whipped cream or crème chantilly.
However, my favorite filling is Diplomat cream, which is pastry cream lightened with whipped cream. It's light, creamy, full of vanilla flavor and a joy to your tastebuds.
I have a detailed, foolproof guide on how to make Creme Diplomate to help you nail this recipe like a pro on your first try.
Yield and serving
This recipe makes 22 to 24 average-sized choux buns. You can always pipe smaller or bigger mounds of choux pastry, but you'll need to pay attention to the baking time (less or more depending on the size you choose).
💡Tips and tricks
Use a kitchen scale and metric measurements. Being accurate with measuring ingredients means you'll halfway there.
You can use a stand mixer instead of a bowl and a wooden spoon. That's actually my preferred way of making pâte à choux, but I wanted to show here that you don't need any special equipment to make this recipe.
To reduce lumps in the dough, sift the flour before adding it to the liquid.
Whisk the eggs in a measuring jug and add it in batches to the flour paste (fr. panade). Mix to thoroughly combine before adding the next batch of eggs.
Let the panade cool slightly before adding the eggs to avoid cooking the eggs.
The choux pastry is ready when you stick a wooden spoon/spatula/paddle attachment and pull it up, it forms a loose 'V' shape.
For a more round, uniform look of the buns, tap each mound of pastry with a wet finger to get rid of the peaks.
Don't open the oven door while the choux buns are baking. Since we don't use any raising agents such as yeast or baking powder, we rely on the water content and steam to make the little buns rise and puff up. If you open the oven door too early, before the pastry had its chance to form any structure, your choux buns will collapse and look rather unpleasant.
Poke the baked choux buns with a toothpick to let the steam out. This is a small step to ensure even further that your buns won't collapse.
Storing
Keep the baked, empty choux buns in an air-tight container at room temperature for a couple of days.
When it comes to the filled choux a la creme, they're the best on the same day, but you can keep them in a fridge for a couple of days (because of the dairy filling). However, be aware that they will soak up the moisture from the filling and become soggy eventually.
As for the choux pastry, covered tightly is okay for a few hours at room temperature. That's great news for those of you that can't bake two or more trays at once in your oven. Everything will be fine with your pastry waiting for its turn to be piped and baked.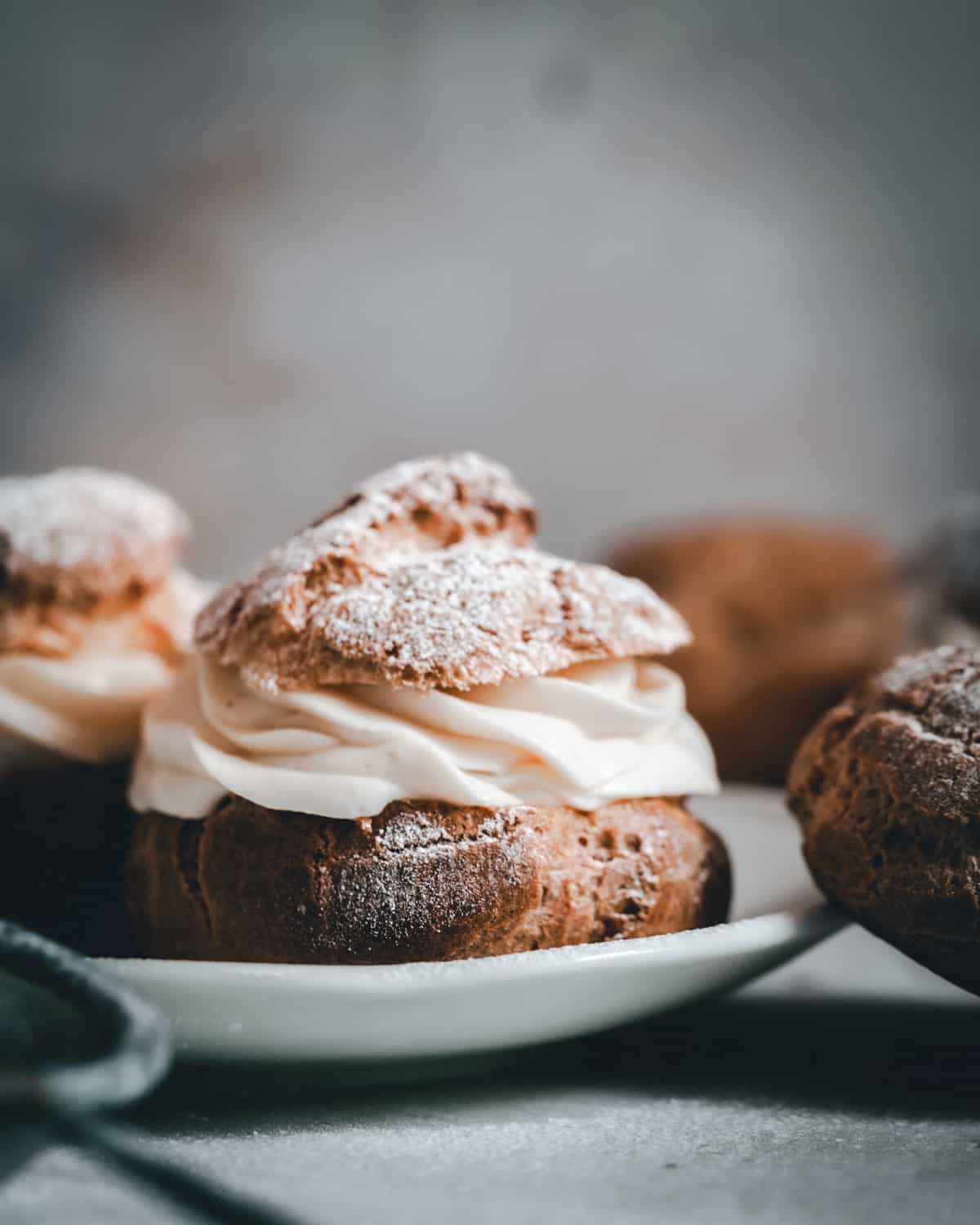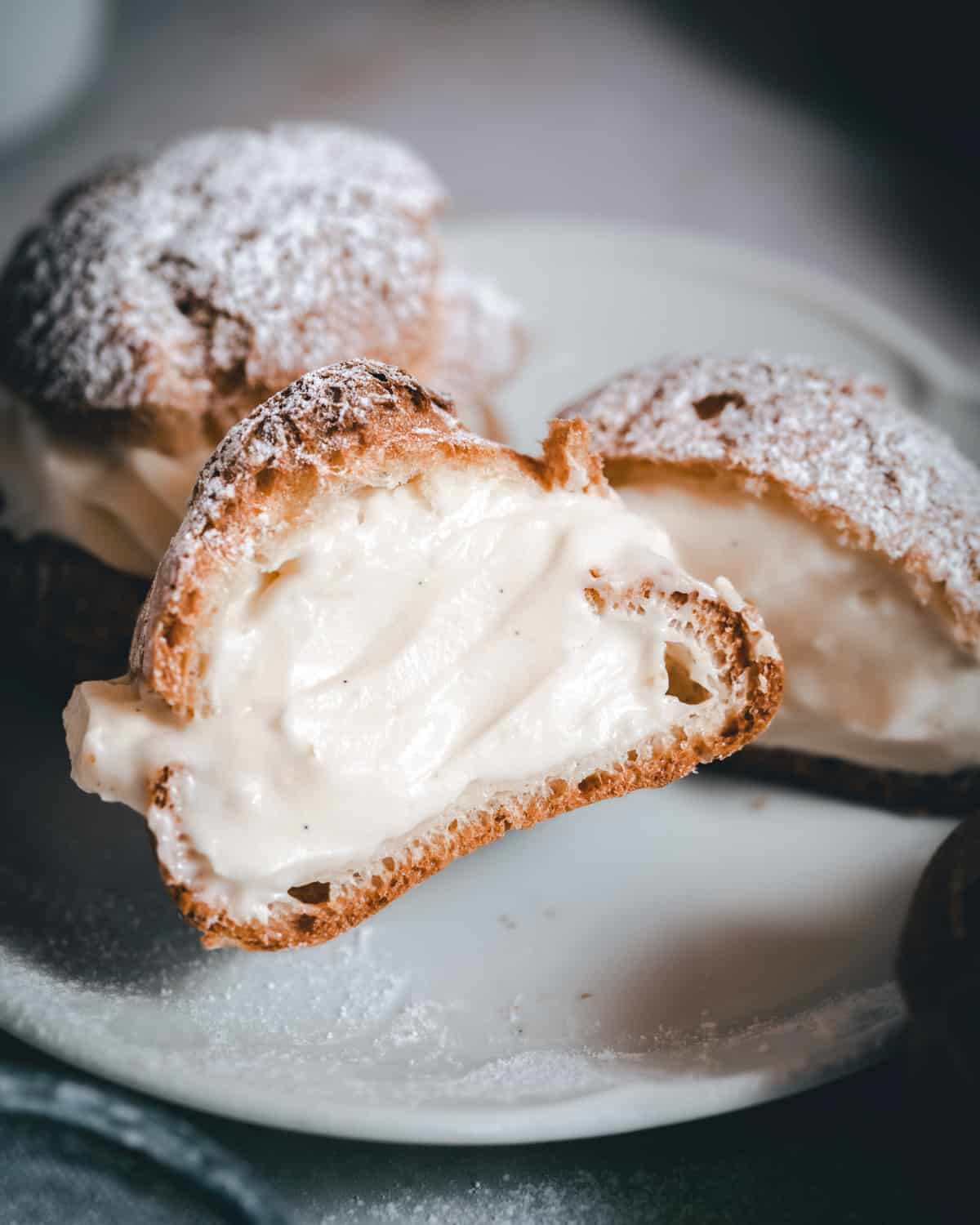 FAQs and Troubleshooting
Why did my cream puffs collapse?
There could be a few reasons for your choux buns to deflate or collapse.

1. You didn't cook the flour paste (panade) enough to dry it out and gelatinize the starch, which caused less thickening and lack of structure when mixed with eggs.

2. Your choux pastry might've been too runny or too stiff as a result of not adding too many eggs, or not enough. If it's too runny then it's the lack of structure issue, if it's too stiff then there isn't enough water content to puff up.

3. You opened the oven door too soon or you just didn't cook them long enough. That way the steam escaped before the choux buns were baked enough to hold their shape.

Can you freeze baked choux buns?
Yes! Place them on a baking tray lined with parchment paper and freeze for a few hours. After that, place them in an air-tight container or a bag and keep in the freezer for a couple of months.

When you're ready to defrost them, place them on the baking tray again and leave for an hour or so. If they look soft, wet or soggy then bake them for a few minutes to help with drying and crisp.
If you have any other questions that I didn't cover, please let me know in the comments section down below - I'd love to help you out!

And if you make these choux à la crème, tag me on Instagram @anasbakingchronicles so I can see it or feel free to e-mail me your pictures and thoughts! I love seeing your bakes!
Happy baking,
Ana
📖 Recipe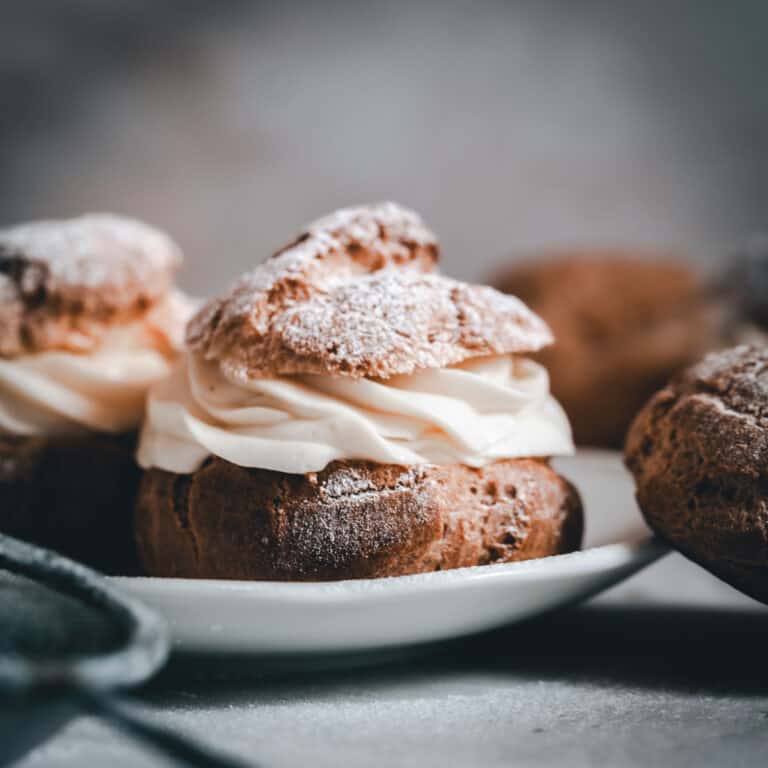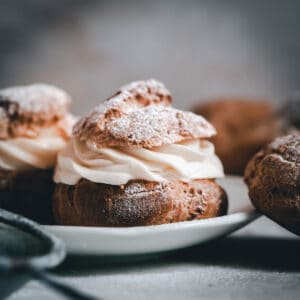 Choux à la Crème (Vanilla Cream Puffs)
Description
Choux à la crème is a French classic adored across the world and known under different names and variations depending on the country. I'm sharing with you the foolproof recipe for the classic choux pastry filled with delicious creme diplomate.
ingredients
Choux pastry
230

g

eggs*

(room temperature, approx. 4 large eggs)

115

g

unsalted butter

100

g

whole milk

130

g

water

125

g

all-purpose flour

1

tablespoon

caster sugar

¼

teaspoon

fine sea salt
Vanilla cream filling
500

g

whole milk

4

large

egg yolks

1

large

egg

150

g

granulated sugar

½

teaspoon

fine sea salt

1

teaspoon

vanilla extract

(or 1 vanilla pod)

45

g

cornstarch

30

g

unsalted butter

200

g

heavy cream

(cold)
Instructions
To make the choux pastry:
Preheat your oven to 190˚C (350˚F) and line two baking trays with parchment paper.

In a medium saucepan combine water, milk and butter with sugar and salt, then bring to a boil, making sure the butter has melted. After the mixture has reached the boiling point, remove the saucepan from the heat and add the flour, mixing quickly with a wooden spoon to combine and form a thick paste.

Return to heat and stirring constantly, cook for a couple of minutes to dry it. When it's done, it should clump into a ball and there will be a thin film on the bottom.

Transfer the dough to the bowl of a standing mixer fitted with a paddle attachment and mix on medium speed to cool it down before adding the eggs.

In a small bowl mix the eggs (230 g) using a whisk and then slowly pour it into the cooled dough in batches. Make sure all of it is thoroughly incorporated. At this point, you need to test the consistency of the batter. Dip the paddle attachment and pull it up. If the batter forms a loose "V" shape, then your choux pastry is done. If it's too stiff, beat another egg and add some to the batter.

Once your choux pastry is ready, put it in a large piping bag fitted with a round nozzle. I use Wilton 2A. Keeping your piping bag vertically, pipe little mounds approx. 3 cm in diameter. Leave room between each mound, because they will rise quite a lot once baked.

Bake in a preheated oven for approx. 30 to 35 minutes. Don't open the oven door, because choux buns could collapse. They're done when they're golden brown. Poke each one with a chopstick to help steam escape and place them on a cooling rack to cool completely.
To make vanilla cream filling:
In a medium sized saucepan, heat the milk just until boiling point. In the meantime, in a separate bowl, combine the egg yolks, egg, cornstarch, sugar and salt using a whisk. 

Once the milk has reached scalding point, pour ⅔ of it to the egg mixture, in a slow and steady stream, whisking continuously so you don't cook the eggs.

Once you tempered the egg mixture, return it to the saucepan with the remaining milk and continue cooking, whisking constantly, until it thickens.

Cook for another 1-2 minutes to make sure there isn't any cornstarch aftertaste.

When it's done, add in the vanilla and butter and whisk until everything is combined, silky and smooth.

Strain the pastry cream into a clean bowl through a sieve, to get rid of any cooked egg bits and lumps.

Cover with cling film (plastic wrap) touching the surface to prevent skin forming. Let it cool at room temperature for about an hour, then place it in the fridge to cool completely.

Transfer the cold pastry cream to a mixing bowl (it will be stiff, gelatinous-like) and give it a mix with an electric hand mixer to make it creamy again.

In a separate bowl, whisk the cold heavy cream to stiff peaks and add it to the pastry cream. Mix everything together at medium-high speed until fully combined and smooth.
To assemble:
Using a sharp serrated knife, cut the tops of the cream puffs, approx. ½ to ⅔ of the way up. Place the vanilla cream into a piping bag fitted with preferred nozzle and fill the bottom half. Cover with the top and sprinkle with powdered sugar if desired.

They're the best eaten the same day. Keep them in the fridge before serving.
IMPORTANT
All the recipes are developed and tested using only metric measurements and a kitchen scale. The U.S. cup and spoon measurements are provided for your convenience, but I highly recommend getting a digital kitchen scale and measuring in metrics. It's easy and always guarantee the same results in baking!
Nutrition
Nutrition Facts
Choux à la Crème (Vanilla Cream Puffs)
Amount per Serving
% Daily Value*
* Percent Daily Values are based on a 2000 calorie diet.
The nutritional information and US conversions are calculated automatically. I cannot guarantee the accuracy of this data. If this is important to you, please verify with your favourite nutrition calculator and/or unit conversion tool.
Have you tried this recipe?
Tag me on Instagram @anasbakingchronicles or use the hashtag #anasbakingchronicles - I love seeing your creations!