This amazing Chocolate Babka is made from soft and rich brioche dough, which is filled with luscious chocolate filling. Perfect recipe for fall baking!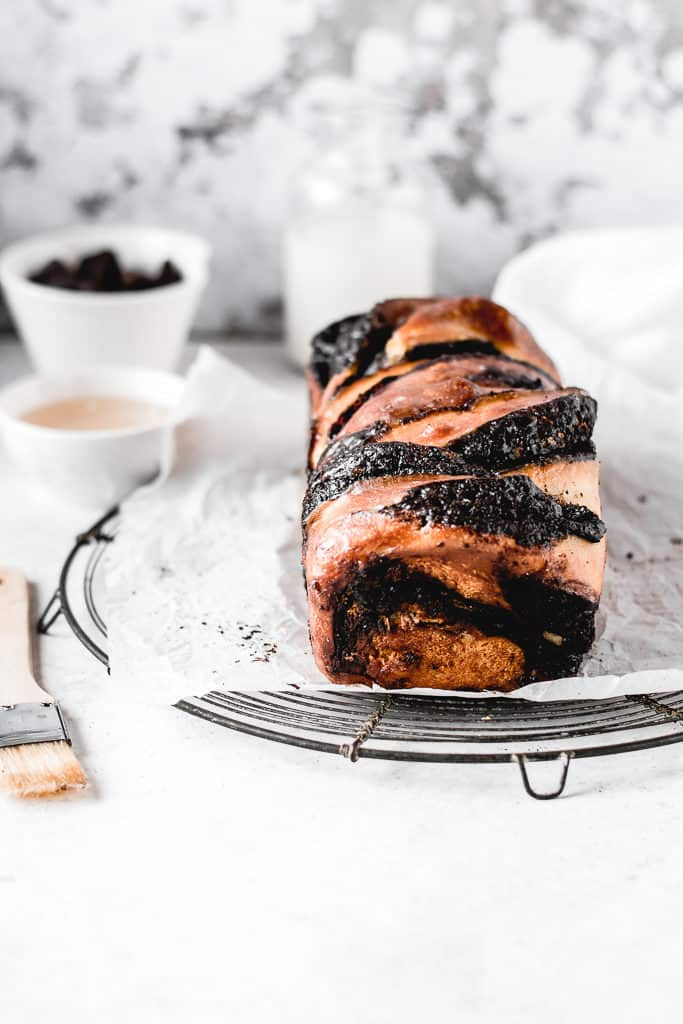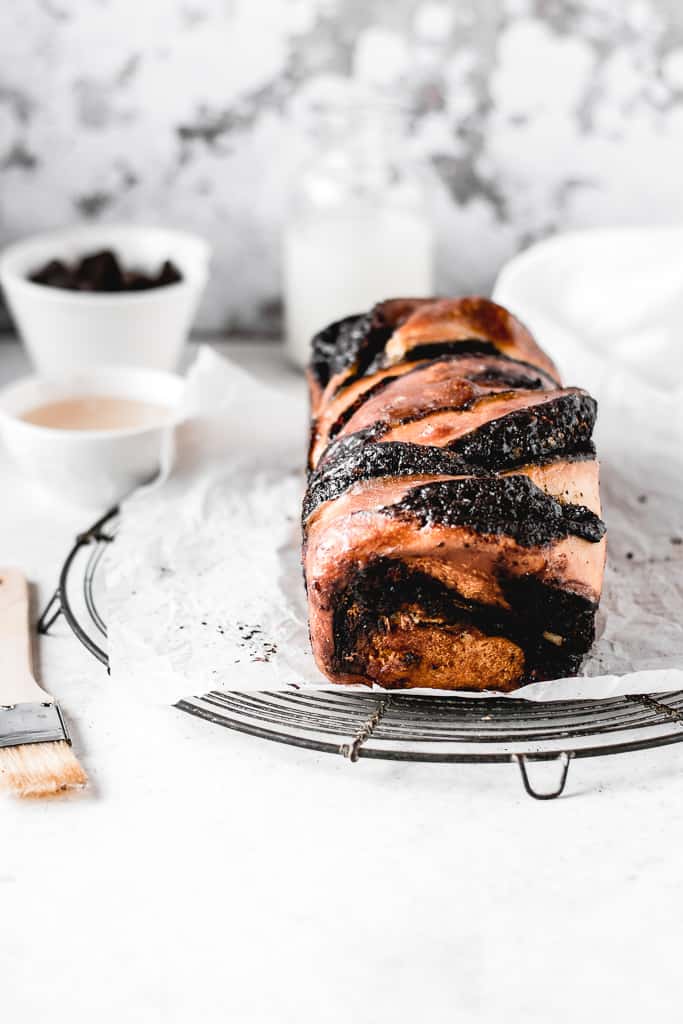 It's official. I'm in love with yeast leavened baked goods, because I finally nailed the recipe for sweet brioche dough! And frankly, these desserts are perfect for fall. Just imagine having this gorgeous chocolate babka, with a cup of tea or coffee, curled up in a blanket while it's pouring rain outside. That sounds like a perfect day to me!
HOW TO MAKE THE BEST BRIOCHE DOUGH
Brioche is a yeast leavened dough, enriched with the addition of eggs, butter and sugar. I wasn't very successful with making doughs in the past, but this summer I decided to change that! Tackling things I'm not very good at, and succeeding at them, is one of my favourite things to do! I love that ah-ha feeling when you finally get something right, do you? 🙂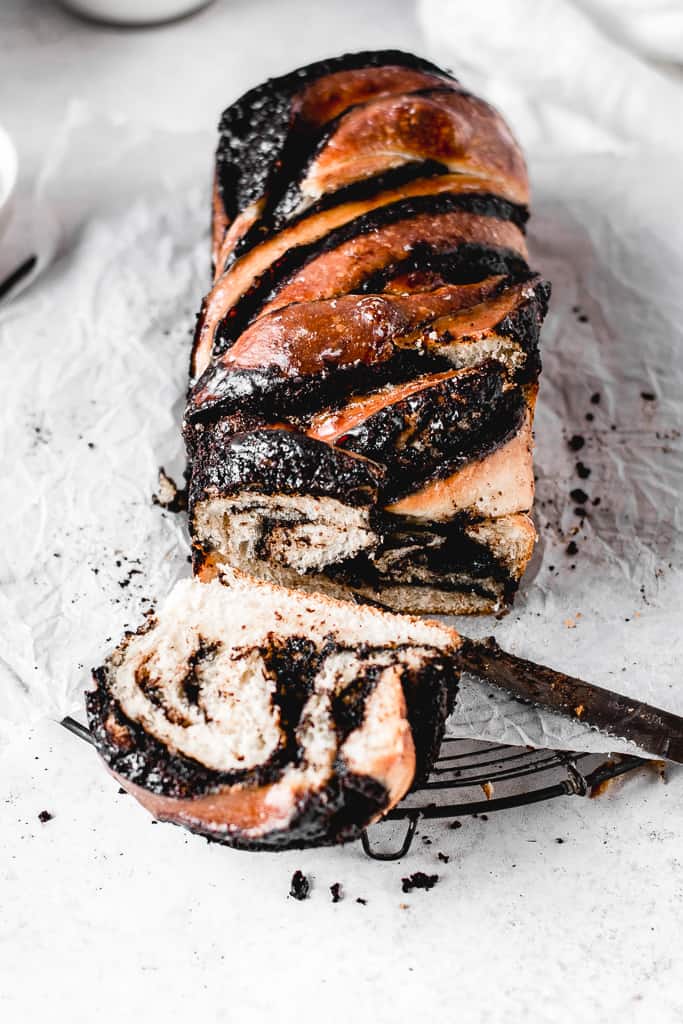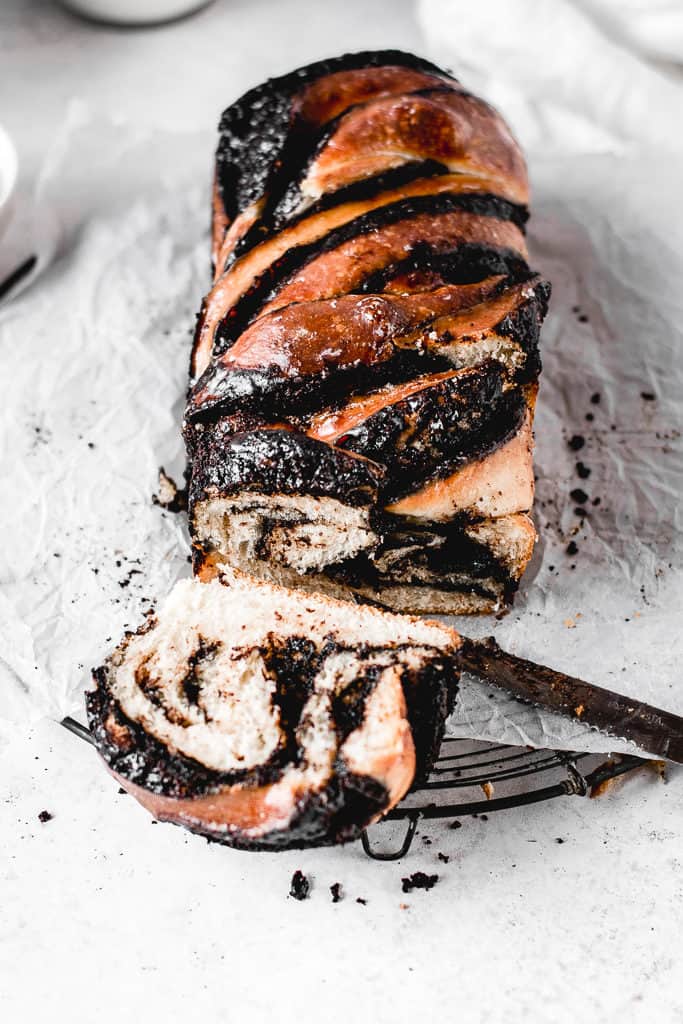 Same thing happened with this brioche dough. I've realized that getting a proper stand mixer has helped immensely, because I finally got that elastic texture and a proper kneaded dough. That doesn't mean you can make it with a wooden spoon or electric mixer. Seeing how the dough should look like when kneaded correctly has helped me see what I was doing wrong in the past. Since kneading the dough using your hand and a wooden spoon is quite a challenging task, I often left it unfinished, with not enough gluten developed. I'm a cake maker and cakes need to be tender, without stretchy gluten involved. With that in mind, it was hard to go the other way around and actually want gluten. But that is what you need 😉
Firstly, you need to knead the heck out of "the base". That is, flour, sugar, salt, yeast, eggs and liquids. Butter comes later because all the fat slows down the gluten development. And we want gluten, in order to have that fluffy texture. Once you got your base kneaded enough to start pulling off the sides of the bowl and look very compact, you then add butter one cube at the time. Let it knead for another 10-15 minutes until it becomes smooth and compact again.
That's why a stand mixer comes in very handy!
Brioche dough is best when you let it rise overnight in the fridge. It's also really easy to manage when it's cold. You can keep it rising in the fridge for up to two days!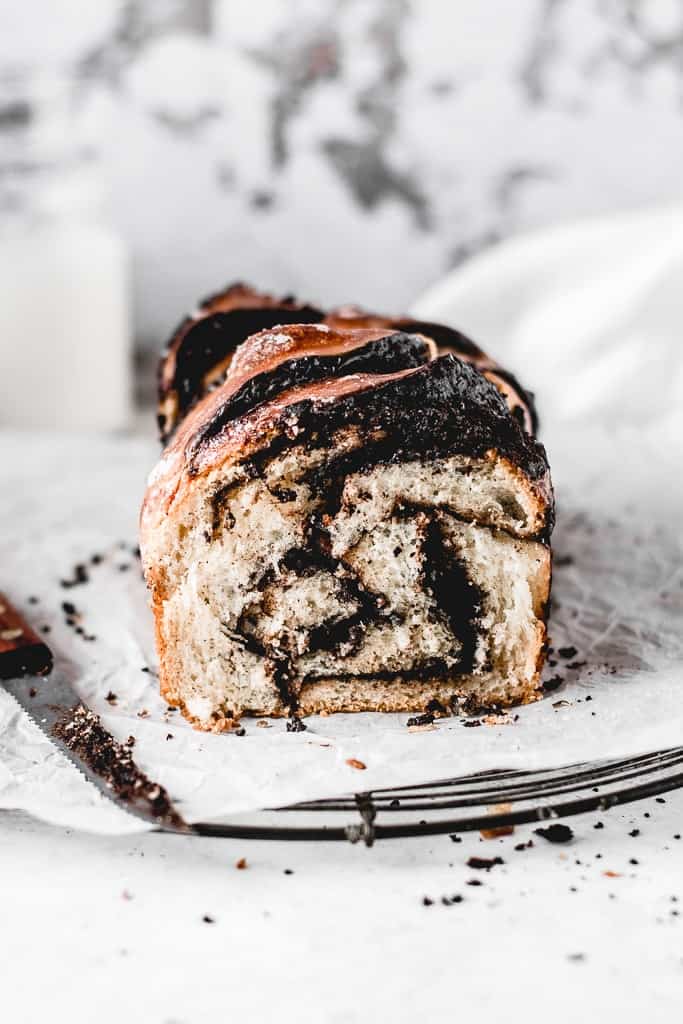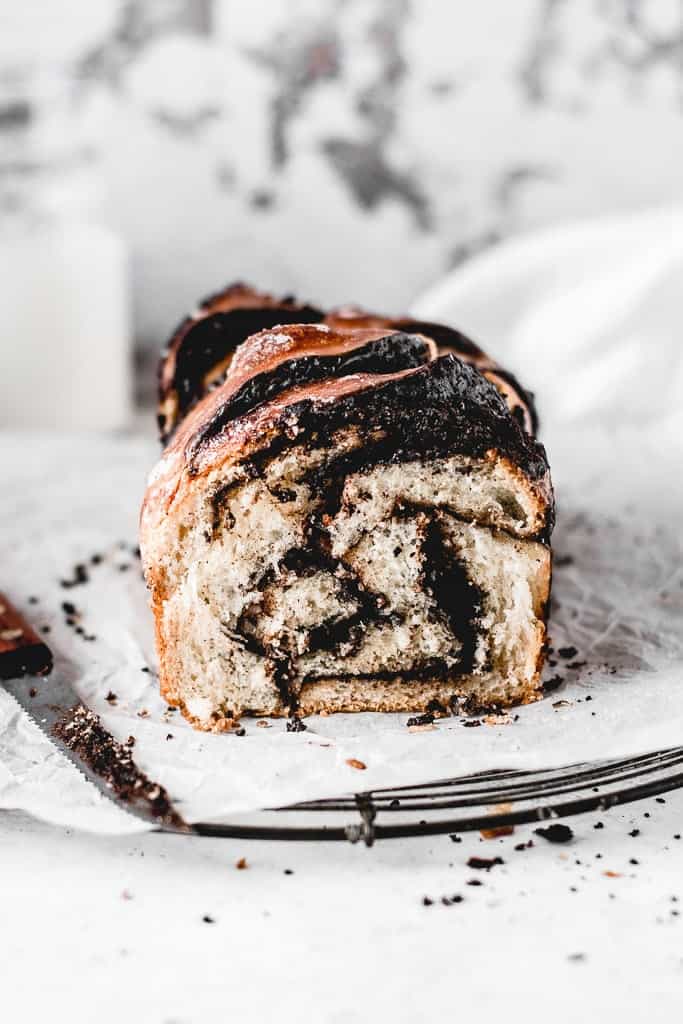 HOW TO SHAPE CHOCOLATE BABKA
Shaping the babka is one of the easiest things, although it looks super complicated! One thing though - this process can get messy if your dough is not cold enough or if your filling is not thick enough. But messy is fine!
To get that babka shape, you need to roll the dough on a lightly floured surface to a rectangle with roughly 30x40 cm (16x12 inch) dimensions, with long side being closest to you. Spread that delicious chocolate filling using an offset palette knife, leaving about 2 cm (¾ inch) thick border along the end. All the while being careful not to damage the dough.
To make sure the dough sticks when you roll it, brush that border you left unfilled with some water.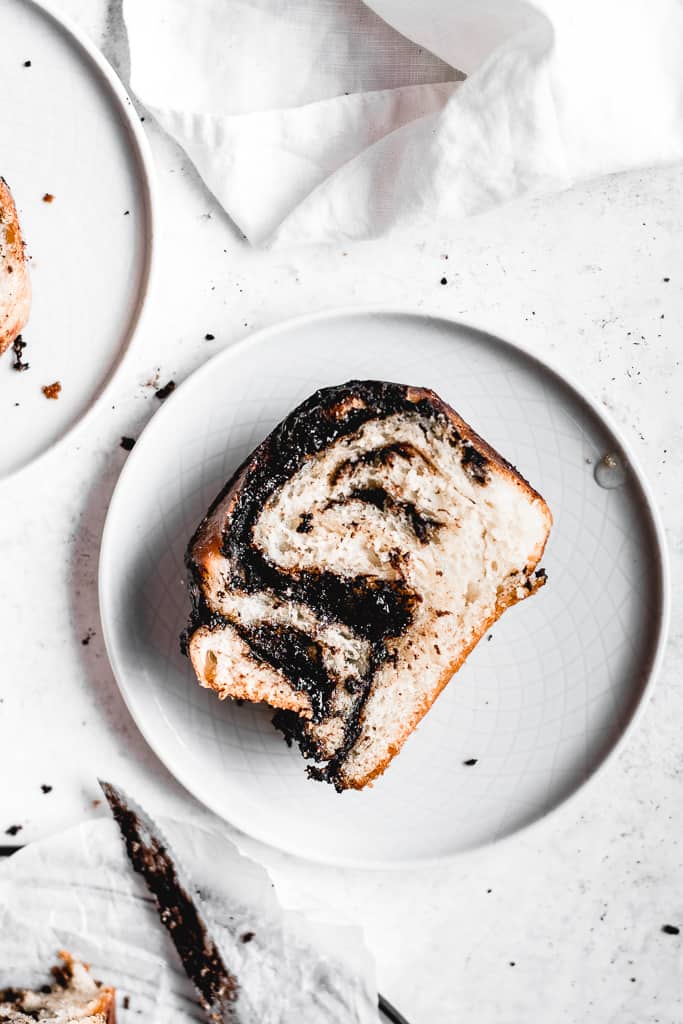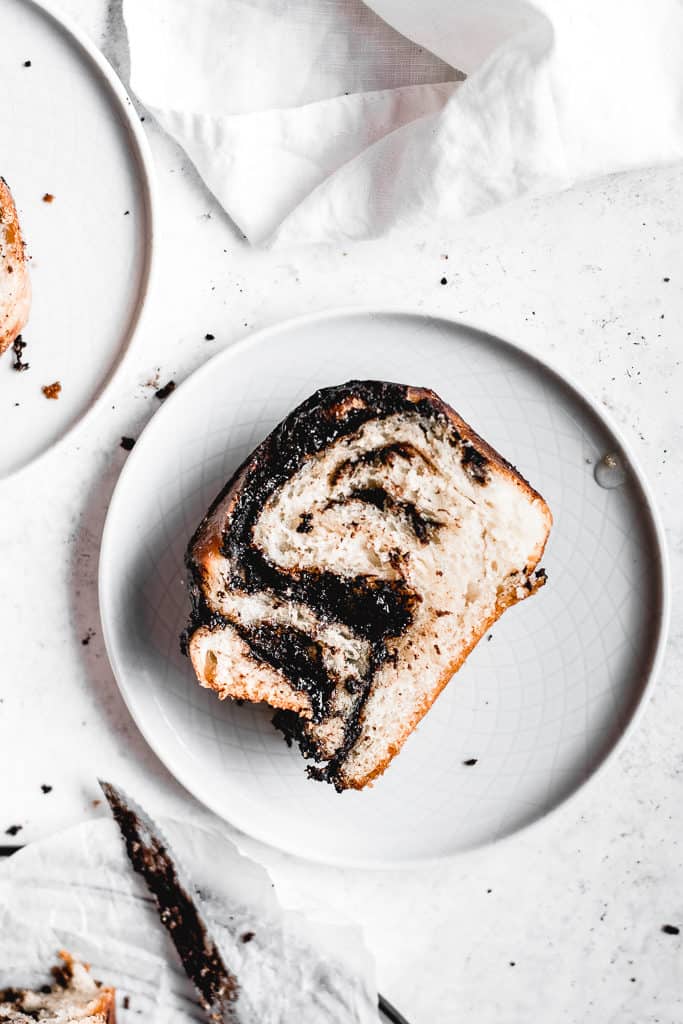 Using both of your hands, roll the dough tightly into a log, starting from the long side closest to you. Press it a little bit with your hands to form a nice and even log shape. Using a sharp knife, cut the log in half lenghtwise, creating two long roulades.
Then, all you need to do is braid them! It's best if you don't start at the top, but in the middle. Just place one piece over the other in the middle and then braid the top and bottom. Then make it come together a little, by pushing the ends towards the middle.
Here's the video that can help you understand what I'm talking about. I love Edd's recipes and I actually used his chocolate filling in this babka - it's amazing!
CAN I FREEZE BAKED CHOCOLATE BABKA?
Yes! This recipe yields two babkas. If you wish to save one for some time later, let it cool completely (after brushing it liberally with sugar syrup) before double wrapping it tightly in cling film. I like to double wrap my baked goods before freezing to avoid getting that freezer smell from other food.
You can keep the babka frozen for up to three months. When you decide to defrost it, place it on a wire rack at room temperature for a few hours, still wrapped in cling film to avoid condensation on the babka.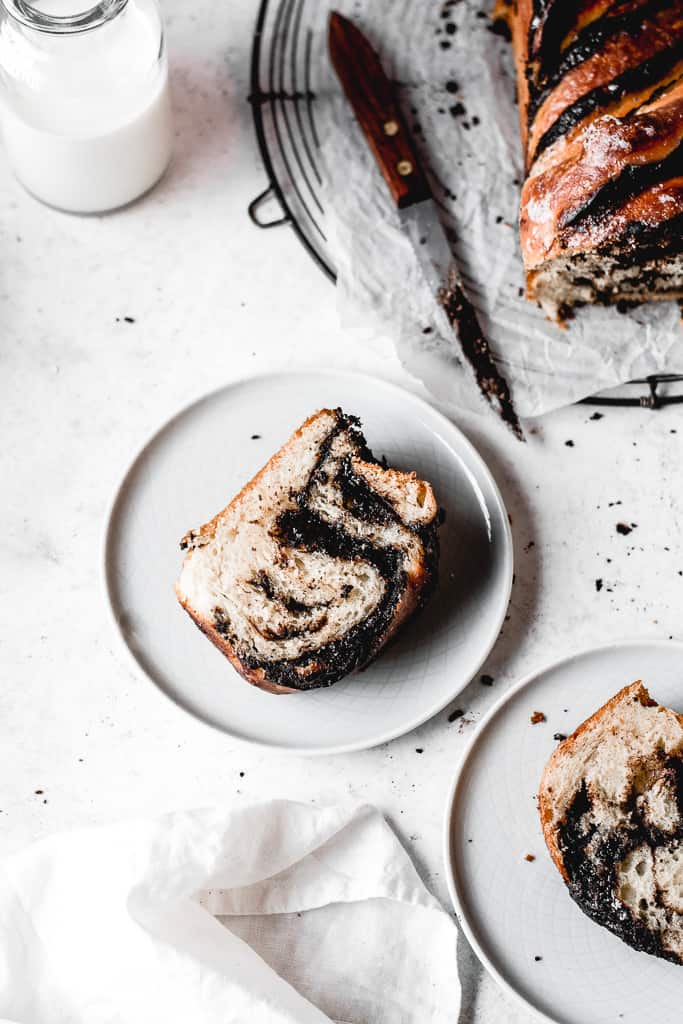 ARE YOU LOOKING FOR MORE FALL BAKING RECIPES? TAKE A LOOK AT SOME OF MY FAVOURITES!
Soft Chocolate Cookies with White Chocolate Chunks
The Softest Homemade Cinnamon Rolls
Pumpkin Spice Latte Mini Bundt Cakes
Apple Crumble Cheesecake with Salted Caramel sauce
Fluffy Doughnuts filled with Orange Pastry Cream
If you make this recipe, let me know by tagging me on Instagram @anasbakingchronicles or tell me all about it in the comments section down below. I love seeing your creations! If you have any questions, don't hesitate to ask. Happy baking! 
Love,

📖 Recipe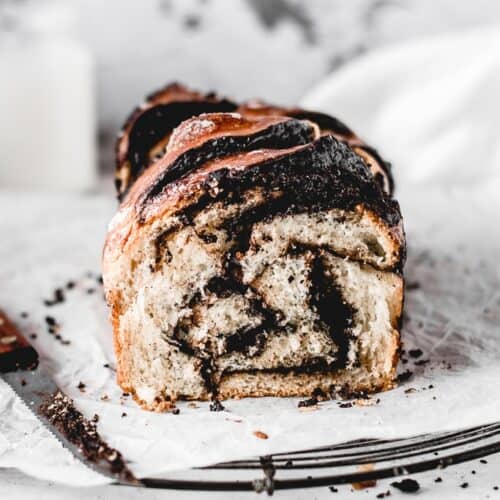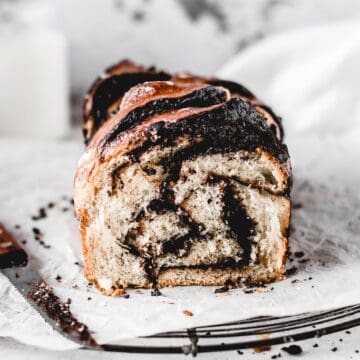 homemade chocolate brioche babka
Description
This Chocolate Babka is made from soft, rich brioche dough and luscious chocolate filling. It can be made overnight for a warm and cozy breakfast!
ingredients
for the brioche dough
550

g

all-purpose flour

(sifted)

3

large

egg

(room temperature)

130

g

warm water

((45-50C))

50

g

warm milk

1

packet

active dry or instant yeast

((9 or 7 g))

120

g

caster sugar

150

g

unsalted butter

(room temperature)

1

teaspoon

salt
for the chocolate filling
150

g

unsalted butter

(cubed)

150

g

good quality dark chocolate chips

(min. 55% cocoa solids)

65

g

light muscovado sugar

(or any light soft brown sugar)

40

g

unsweetened cocoa powder

(dutch-processed)
for the syrup
200

g

caster sugar

125

g

water
Instructions
for the brioche dough
Preheat your fan oven to 160°C (325°F) or 175°C (350°F) if you're not using a fan oven. Grease and line with parchment paper (for easier handling later) a 9x5 or 10x5 inch (25x12 cm) loaf tin.

In a bowl of a stand mixer sift together flour, salt and sugar. Set aside while you prepare the rest.

If you're using active dry yeast (like me), you need to activate it first. Heat your milk and water over a medium heat until it reaches about 50°C. Put active dry yeast in a small bowl and cover with a couple of tablespoons of that warm milk and water mixture and a teaspoon of sugar. Mix it with a teaspoon and leave it to rest for 5 minutes or until it becomes all frothy and bubbly on top.

Cut your butter into cubes and set aside.

Once you got everything ready, pour your yeast and milk/water mixture to the flour. Add three eggs. Using your stand mixer fitted with the dough hook, knead it on low-medium speed for about 10-15 minutes or until it starts pulling from the sides and is elastic.

With the mixer still running, add the butter one cube at a time and mix until fully incorporated into the dough. Then continue mixing for a further 10-15 minutes or until it's elastic and no longer sticking to the bowl. On a lightly floured surface, knead the dough a little bit to form a ball and place into a lightly greased bowl. Cover with cling film and let it rise slowly in the fridge, overnight or up to 48 hours.
for the chocolate filling
Place all of the ingredients into a medium bowl and melt it over a bain marie (a pan of simmering water), stirring with a whisk occasionally until it all melts and incorporates.

Set aside and let it cool and thicken slightly while you prepare the dough.
assembling babkas
Remove the dough from the fridge onto a lightly floured surface and divide into two equal sized pieces. Using a floured rolling pin, roll out each piece (one at a time) into a rectangle roughly 30x40cm (17x12 inch).

Using a small offset palette knife, spread half of the chocolate mixture all over the dough, leaving a small border around the outside. Roll the dough, along the long edge, into a tight log.

Using a very sharp knife cut through the middle, cutting the dough into two long pieces. Place one piece of dough over the second forming an "X" then braid together the two pieces of dough.

Gently place the babka into the prepared loaf pan. Cover the pan with cling film and place in a warm place for about an hour and a half to two hours or until the dough has about doubled in size. Repeat with the second piece of dough. 

*You can leave the other babka to rise in the fridge overnight, so you can have it fresh the next day.

When your babka has risen, bake it in a preheated oven for about 35 minutes or until golden brown on top.
for the syrup soak
While the babka is baking, prepare the sugar syrup for soaking. Place sugar and water in a small saucepan and bring to a simmer. Once the sugar has fully dissolved, turn off the heat and set it aside until you need it. *This is enough for two loaves.

Once the babka is done, brush it liberally with the sugar syrup. Use all the syrup (half for each babka), the babka will soak it up although you'll think it's too much. It's not, trust me.

Leave the babka to cool completely before cutting it, to avoid being doughy and dense.
Notes
Not all ovens are the same. If you experience browning at the top and are afraid it's too much, put a baking paper sheet over it or cover in aluminium foil. Just be careful when pulling the pan out of the oven - aluminium foil gets really hot!
They are best eaten the same day. I suggest keeping them in an airtight container if you wish to eat them the next day as well. If you don't have an airtight container, tightly wrapped cling film would also do the trick. 
If you still don't own one, I advise you to buy a kitchen scale – they're cheap and easy to use, and always guarantee the same results in baking! 
Recipe for the chocolate filling is adapted from TheBoyWhoBakes.
IMPORTANT
All the recipes are developed and tested using only metric measurements and a kitchen scale. The U.S. cup and spoon measurements are provided for your convenience, but I highly recommend getting a digital kitchen scale and measuring in metrics. It's easy and always guarantee the same results in baking!
Nutrition
Nutrition Facts
homemade chocolate brioche babka
Amount per Serving
% Daily Value*
* Percent Daily Values are based on a 2000 calorie diet.
The nutritional information and US conversions are calculated automatically. I cannot guarantee the accuracy of this data. If this is important to you, please verify with your favourite nutrition calculator and/or unit conversion tool.
Have you tried this recipe?
Tag me on Instagram @anasbakingchronicles or use the hashtag #anasbakingchronicles - I love seeing your creations!