This Dulce de leche Banana Cake is a dream come true! Rich and moist banana cake layers are filled with luscious dulce de leche and coated in the most beautiful vanilla bean frosting! Perfect for Mother's Day!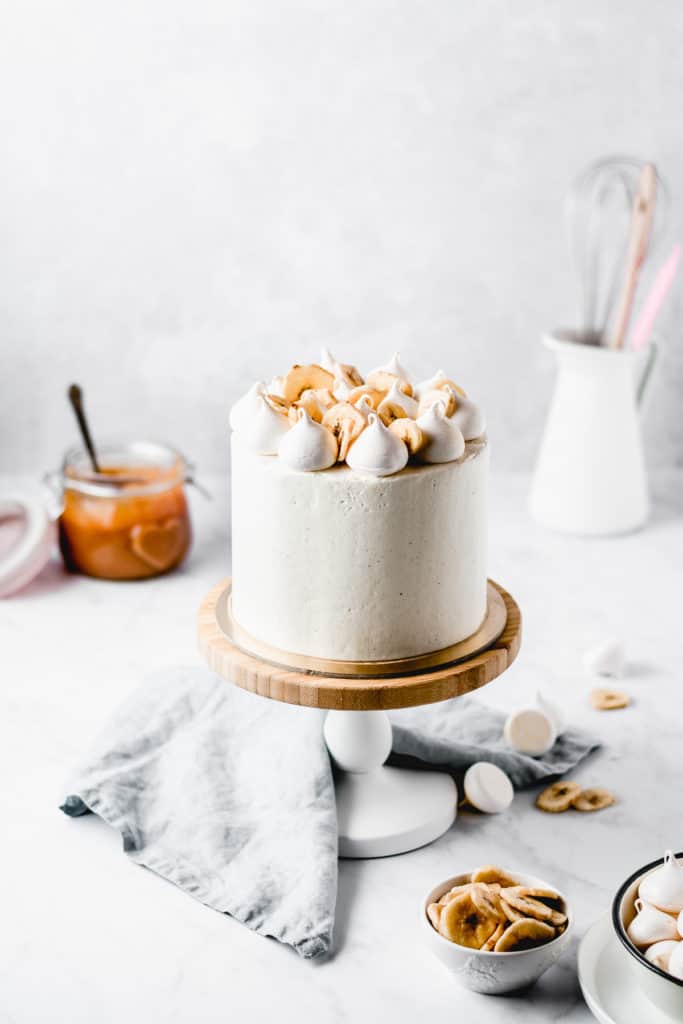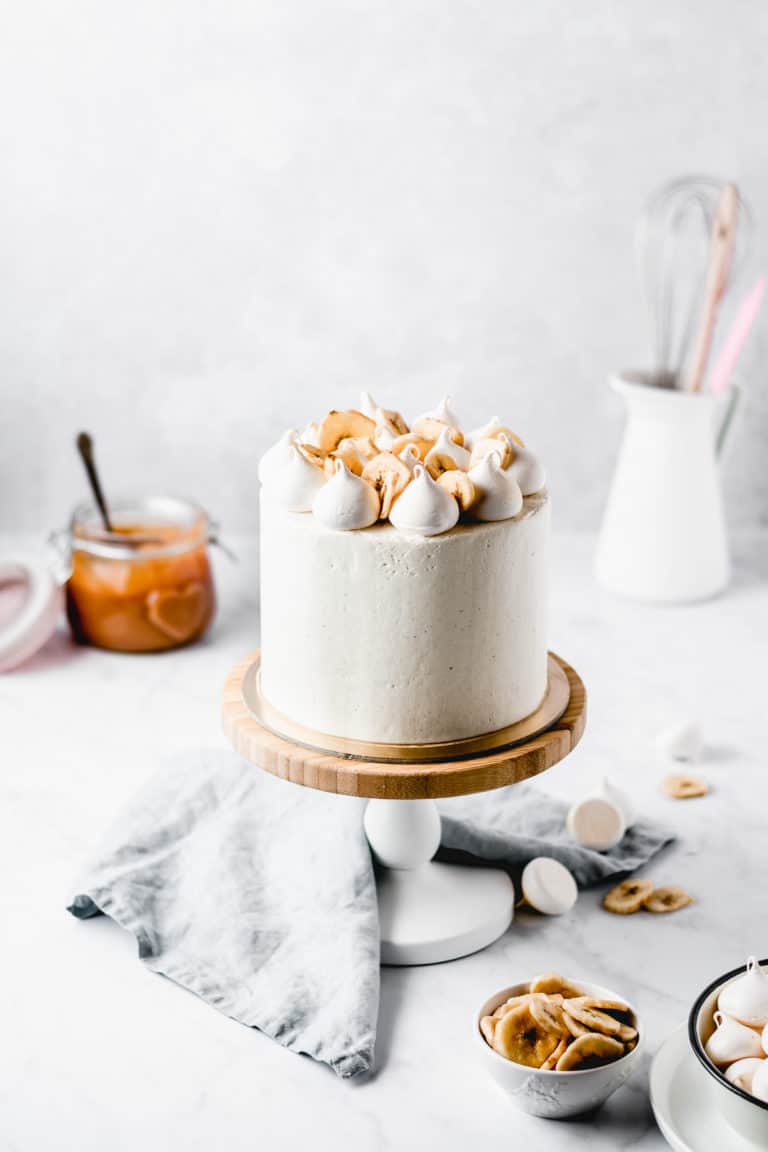 I wanted to make this cake for sooo long. Actually, I made something similar last year, but didn't have a blog at the time.
Those black bananas on the counter were calling my name and I knew it was time for this delicious Dulce de leche Banana Cake - yum!
To be honest, I planned to make it for Easter. I actually baked the cake layers on Saturday, but just didn't have the time to assemble it with all the other Easter things going on.
So this poor cake was sitting in my fridge for 4 days before I actually decorated it.
All three layers were individually double wrapped in cling film and I kept the baking paper on them to minimize drying. I
admit, I was a little bit scared of how those banana cake layers were going to taste. But alas, I was worried for nothing! They were super, super moist!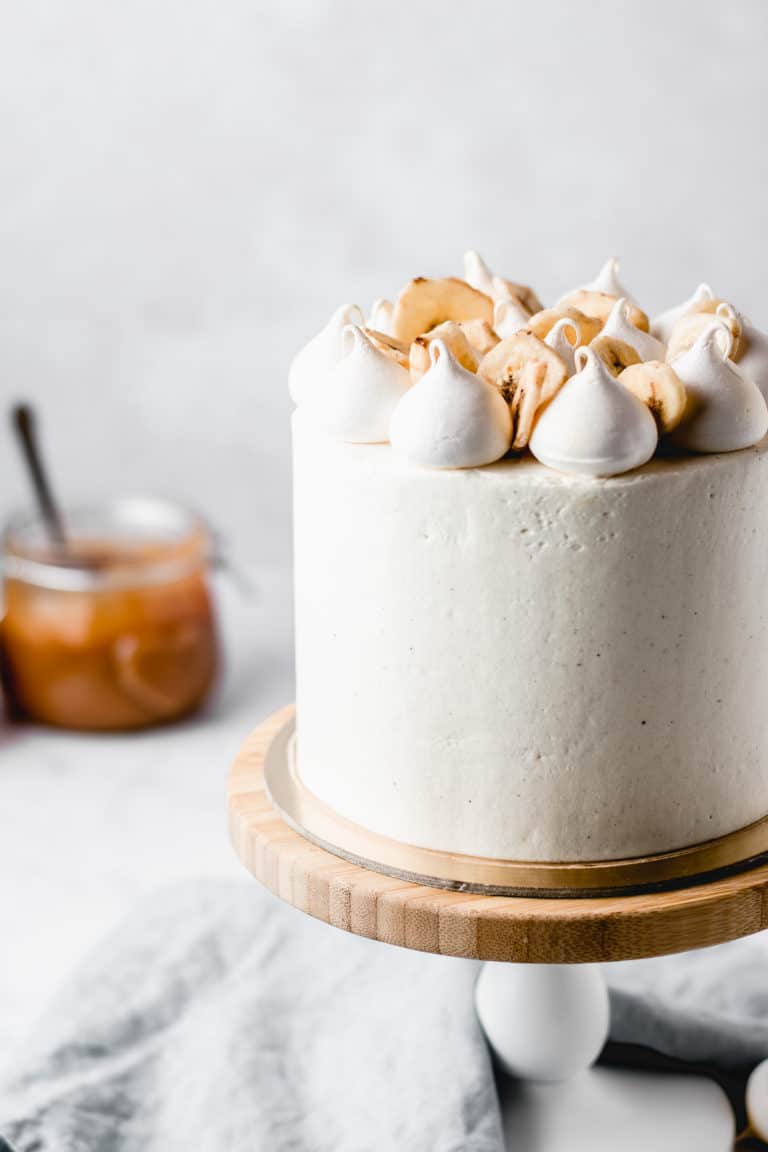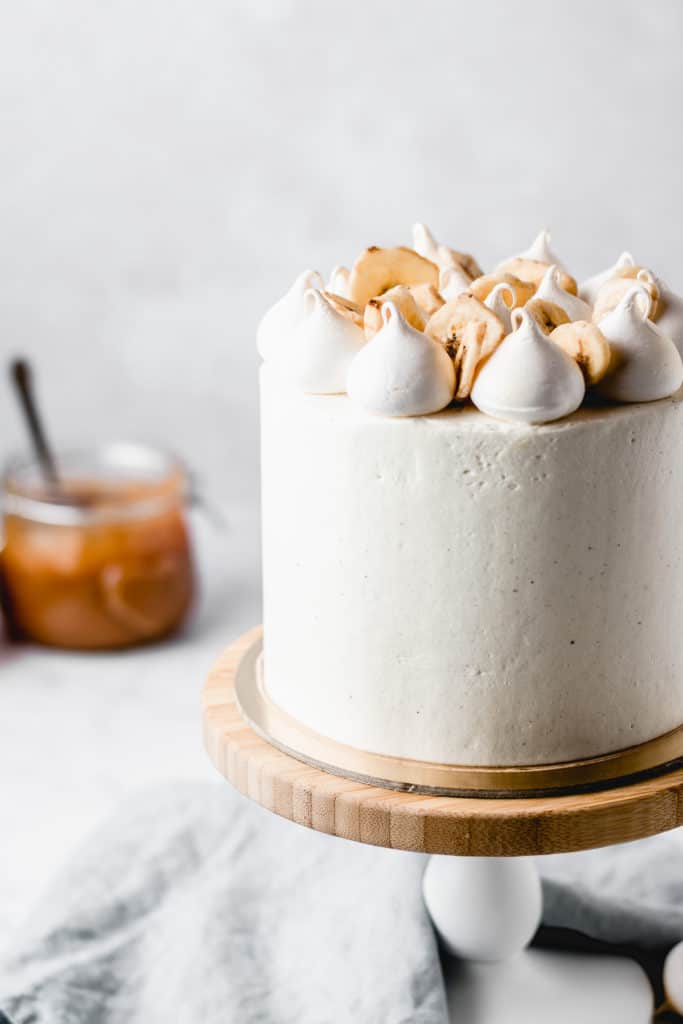 I added some cinnamon to my banana cake layers because I think it just enhances that sweet banana flavour.
With that in mind, I had to put some cinnamon in my dulce de leche as well.
Do you know what dulce de leche is? It comes from Latin America and Argentina and its literal translation is: candy of milk. That's why I call it milk caramel!
And now you see how I got the idea to put some cinnamon in it. Milk and cinnamon? Dream combo!
For this cake, I adapted the recipe for dulce de leche from Bigger Bolder Baking. But if you don't feel like making your own, by all means use the storebought dulce de leche - it will still be so amazing!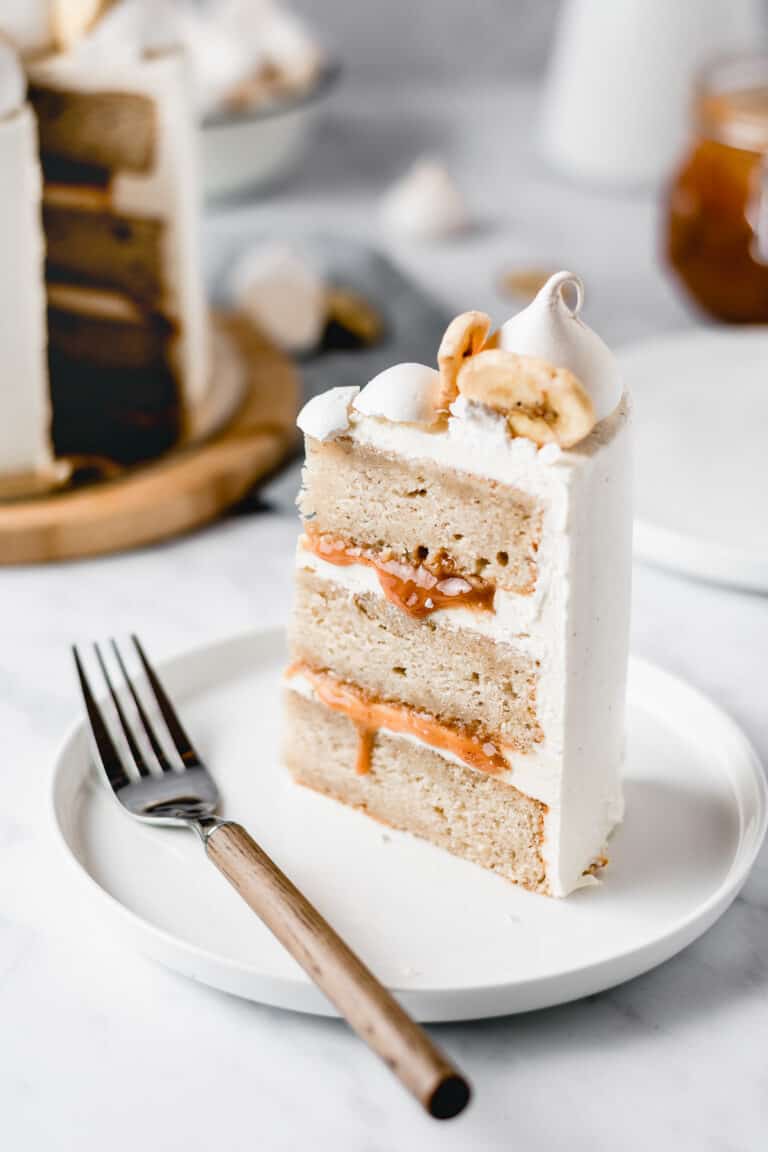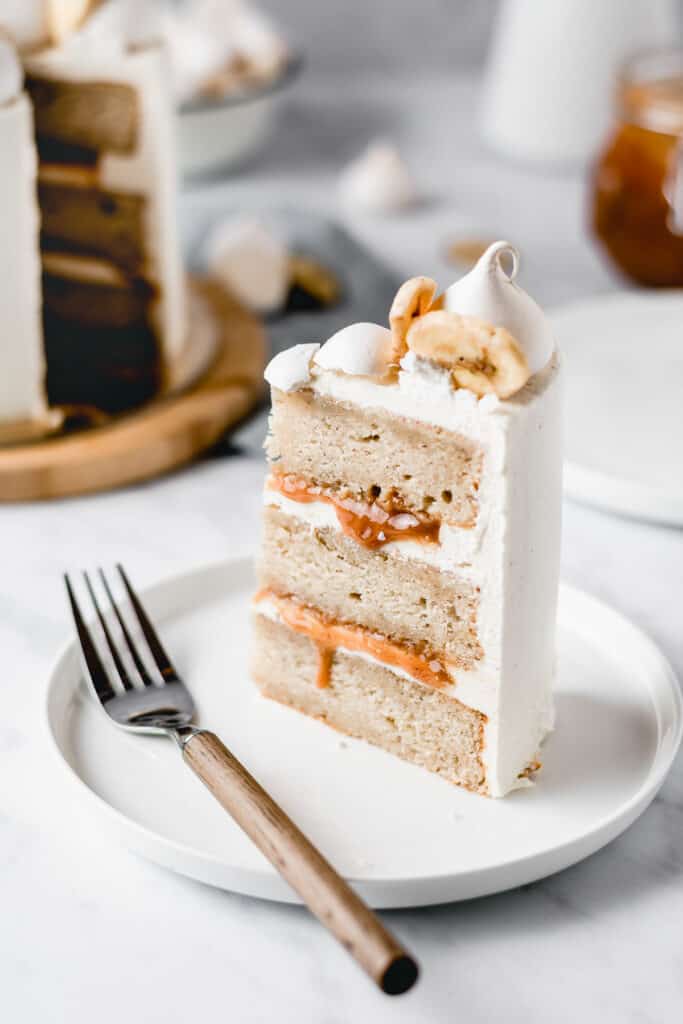 HOW TO MAKE DULCE DE LECHE
Googling will give you two answers to this question.
Use a can of condensed milk and boil it for 3 hours.
Make it from scratch by cooking milk and sugar for at least an hour.
Condensed milk is not widely available here in Croatia. Actually, there are some things that claimed to be unsweetened condensed milk - but I think that's just evaporated milk.
Either way, I opted for making dulce de leche from scratch. How hard can it be? Well, at least that's what I thought at the moment.
Although it's not hard to make, it is time consuming and you might end up with a total catastrophe in you kitchen.
Why you ask? Well, I'll tell you.
Milk is fiddly and boiling it can cause a milk volcano eruption. Funny thing is - I know that. But, nevertheless, it has surprised me.
There I was, stirring my milk and sugar, keeping an eye on it for at least 10 minutes... then I decide to turn away to get something and BOOM. Game over. I turned away for a second! Literal second.
It erupted, it went all the way down into my oven... gross. Sticky. Complete catastrophe.
Lesson to be learned here? Never, ever, EVER take your eyes from milk that you're trying to boil. NEVER.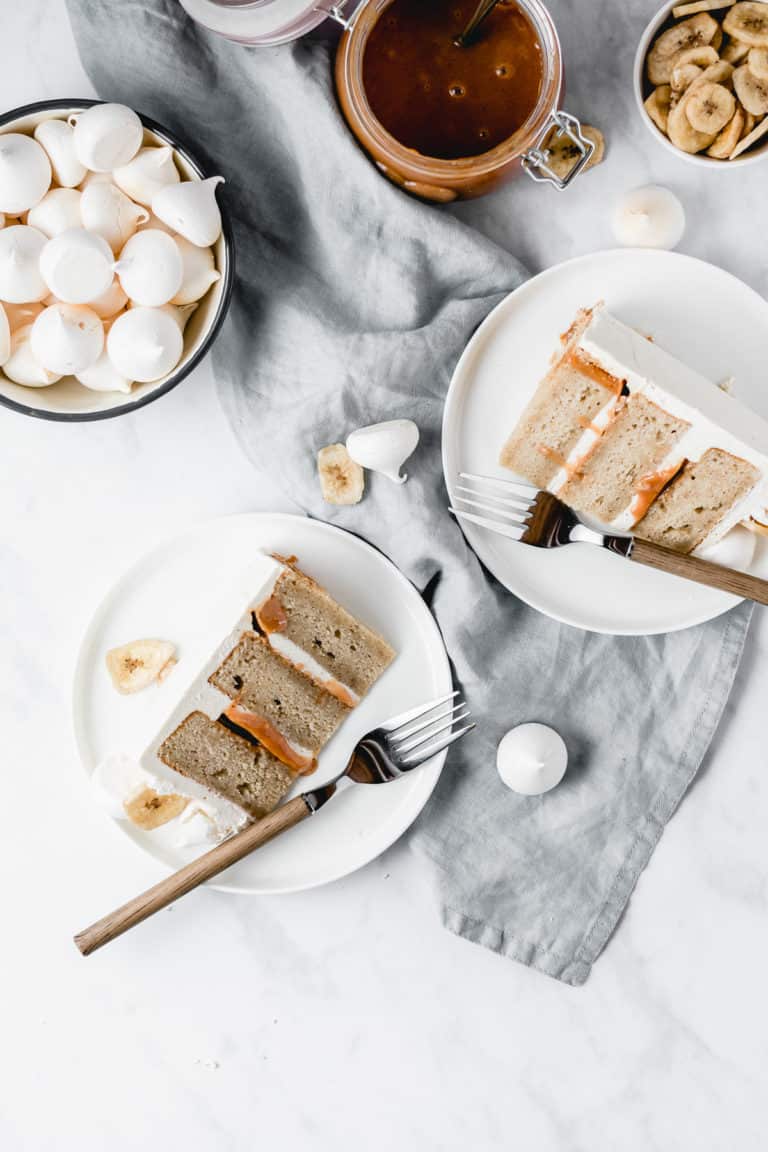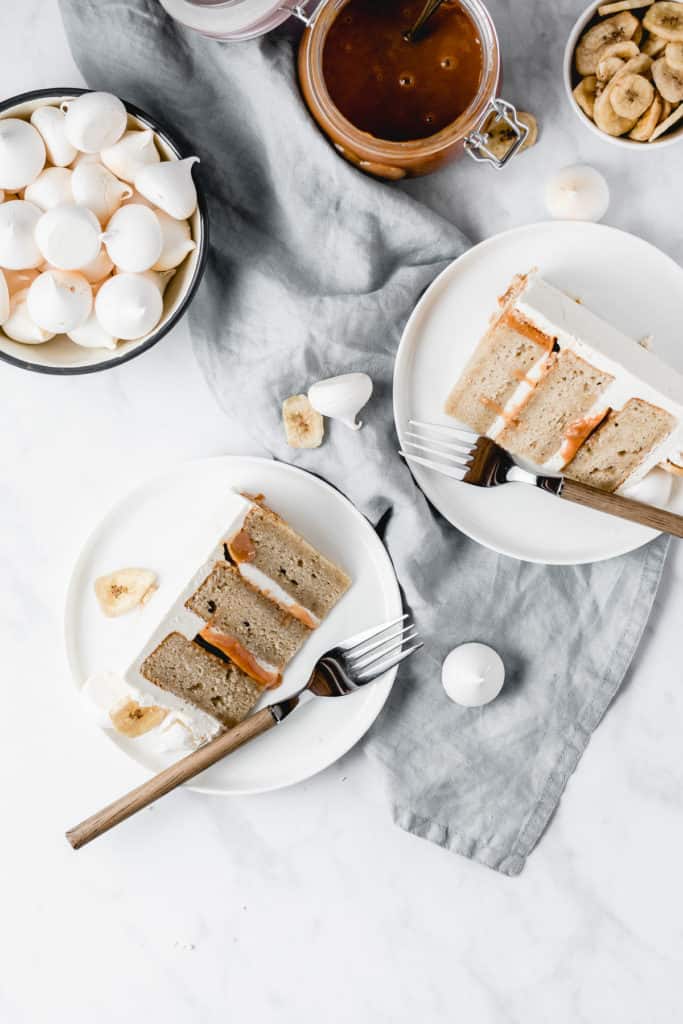 DECORATING THIS DELICIOUS CAKE
I kept it really simple. I made my vanilla buttercream frosting, only this time I added some powdered vanilla in it so I can see all those beautiful specks. But that thing is so expensive! A pack of 5 grams is 10 dollars, phew!
Nevertheless, it gives the frosting a beautiful flavour and looks.
When I think of decorating my cakes, I always think of things that are relevant to the cake. For example, I didn't just choose vanilla bean frosting because it's pretty.
No, I've chosen it because it goes so well with punchy flavours such as banana and dulce de leche.
Vanilla compliments those flavours beautifully by providing a sense of balance.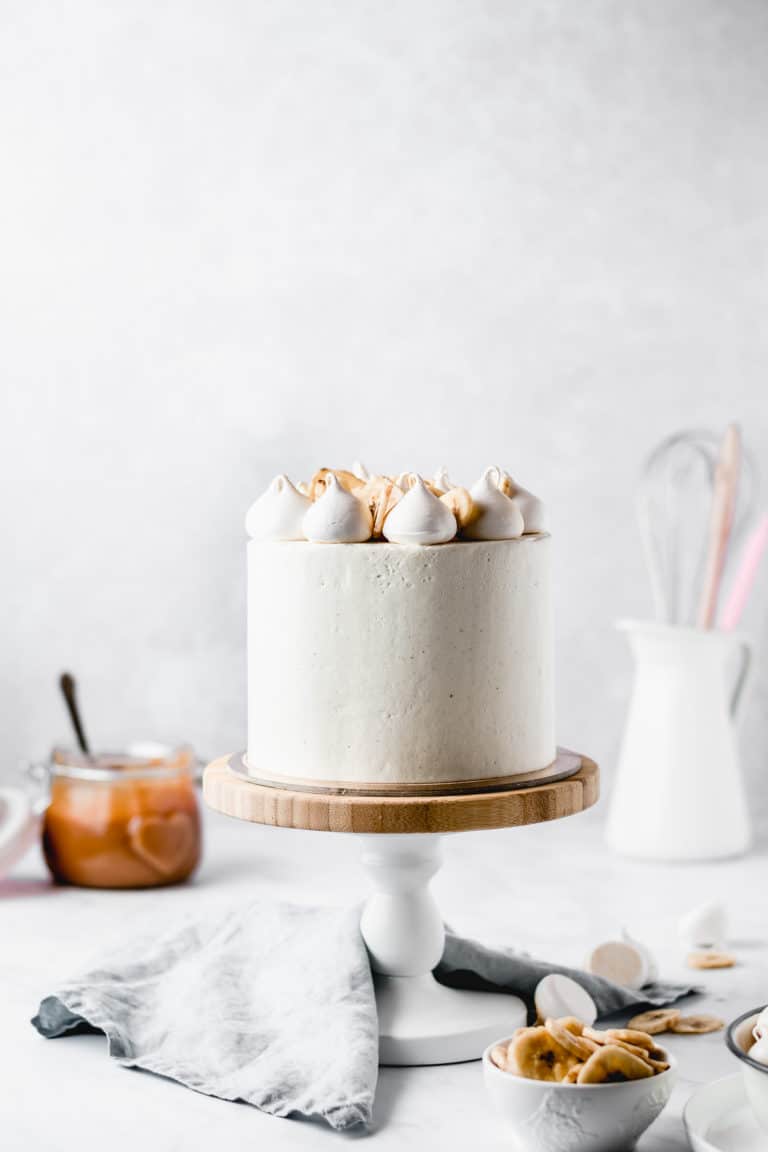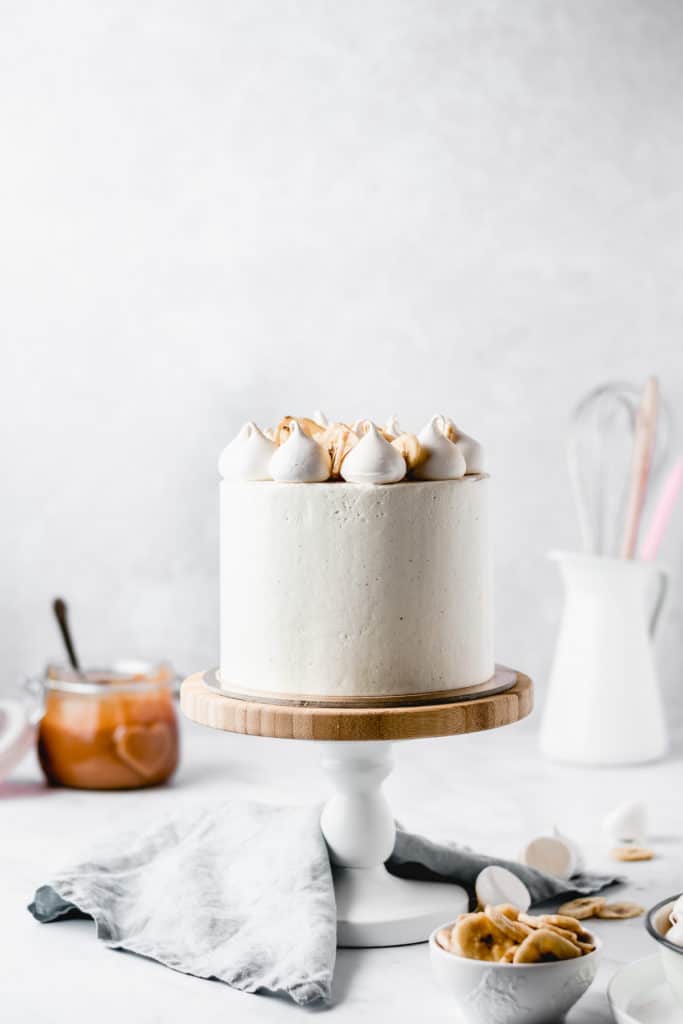 For making it extra cute, I made meringue kisses. I just love using them as a decoration because they are pretty and edible! And kids adore them.
I actually lightly sprayed them with edible gold spray but you can't really see it in the image. For a hint of what's hiding inside, I decided to put sweet banana chips on top. They also give a little bit of crunch to the cake! 🙂
LOOKING FOR MORE LAYER CAKES? HERE ARE SOME OF MY FAVES:
Raspberry Vanilla Layer Cake
Lemon Elderflower Cake
Earl Grey Tea Layer Cake
Ultimate Triple Chocolate Cake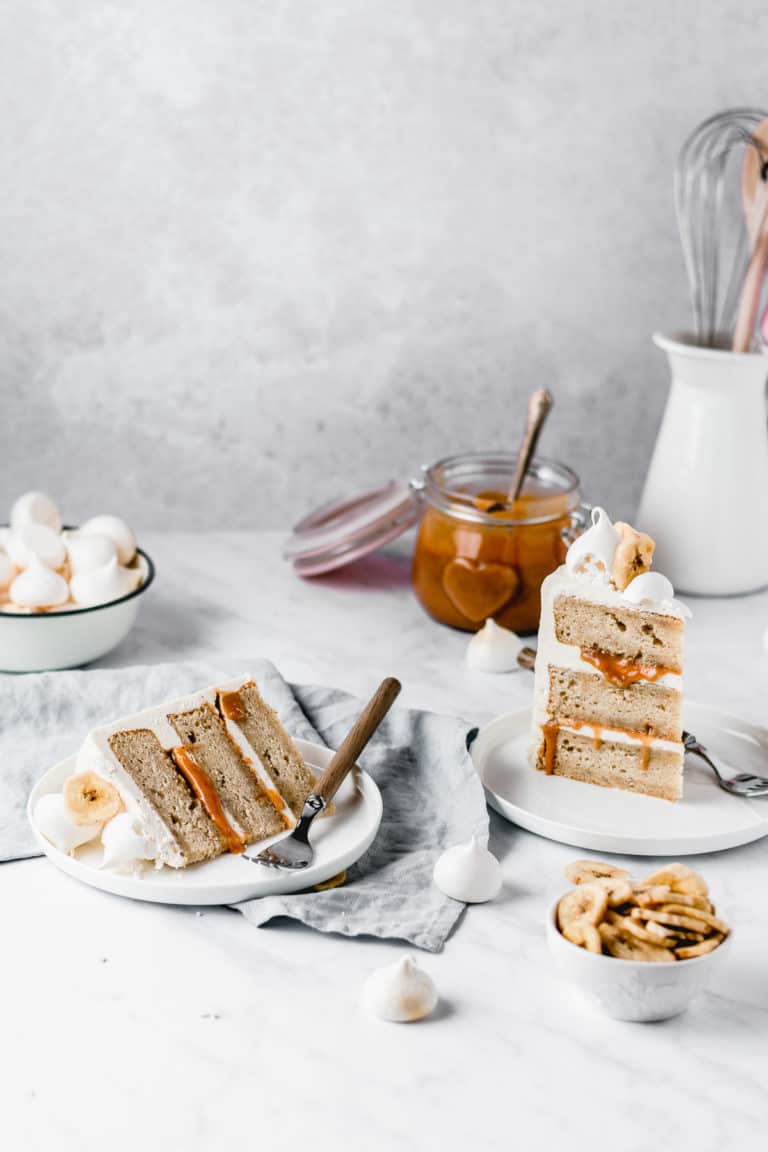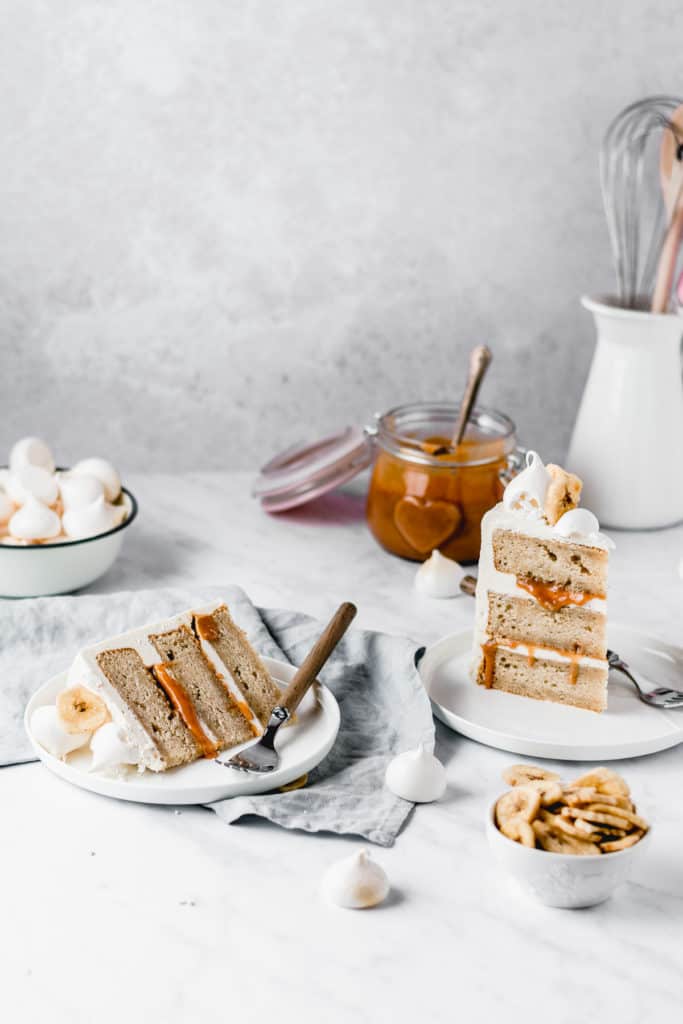 If you make this cake let me know by tagging me on Instagram @anasbakingchronicles or tell me all about it in the comments section down below! I love seeing your creations! If you have any questions, don't hesitate to ask! Happy baking! 🙂
Love,

📖 Recipe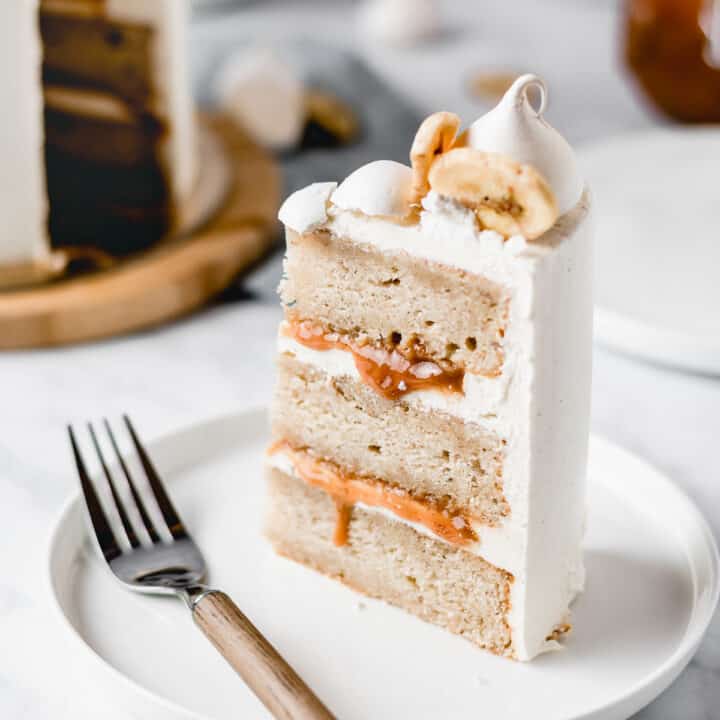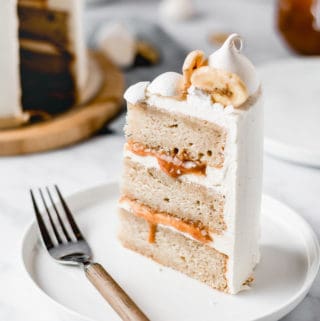 Dulce de leche Banana Cake
Description
This Dulce de leche Banana Cake is a dream come true! Rich and moist banana cake layers are filled with luscious dulce de leche and coated in the most beautiful vanilla bean frosting! Perfect for Mother's Day!
ingredients
banana cake
2

large

eggs

(room temperature)

240

g

all-purpose flour

2

teaspoon

baking powder

¼

teaspoon

salt

⅓

teaspoon

cinnamon

180

g

ripe banana

(mashed)

50

g

vegetable oil

(I used sunflower)

80

g

unsalted butter

(room temperature)

220

g

white granulated sugar

150

g

sour cream

(room temperature)

50

g

full fat milk

(room temperature)

1

teaspoon

vanilla extract
homemade dulce de leche
1

litre

full fat milk

300

g

white granulated sugar

¼

teaspoon

baking soda

½

teaspoon

cinnamon
vanilla bean buttercream
55

g

all-purpose flour

225

g

white granulated sugar

⅓

teaspoon

salt

390

g

full fat milk

½

teaspoon

vanilla bean powder

2

teaspoon

vanilla extract

350

g

unsalted butter

(room temperature)
Instructions
for banana cake layers
Preheat your fan oven to 160°C (325°F) or 175°C if you're not using a fan oven. Grease and line with parchment paper three 6″ round cake tins. Alternatively, you can use two 8″ cake tins.

In a medium bowl sift together flour, baking powder, cinnamon and salt. Whisk until combined and set aside.

In a measuring jug combine sour cream, milk and vanilla extract. These are your wet ingredients.
Mash the ripe banana in a separate bowl.

In a medium sized bowl, using a hand mixer, cream the butter, oil and sugar on a medium-high speed until pale and fluffy. (approx. 3 min). Add eggs one at a time – making sure it's fully incorporated after each addition. Next in, add mashed ripe banana and mix until everything is combined.

Add your dry and wet ingredients, alternating between one another, starting and finishing with dry ones. (3 additions of dry and 2 of wet ingredients)

Divide the batter evenly among the 3 tins and bake for 20-25 minutes or until skewer inserted in the middle comes out with few moist crumbs. Do not overbake it.

Once they're done, let the cakes cool for 10-15 minutes on a wire rack before removing them from the pans to cool completely. They will continue to cook in the pan, so it's important that the skewer is not entirely clean, but it shouldn't be mushy and wet.
for homemade dulce de leche
In a heavy bottomed saucepan combine milk, sugar, baking soda and cinnamon. Over a medium to high heat bring it to a boil – do not take your eyes off of it, otherwise it might erupt all over your stove.

After it has boiled, remove the foam with a spoon, reduce the heat to low and let it simmer for around an hour, hour and a half – stirring occasionally. When it thickens, then stir it more often to prevent burning. You want it to be quite thick, but bear in mind it will thicken more as it cools. We want it to be a spreadable consistency. Mine was a little looser.
When it's done, transfer it to a jar and put in the fridge to cool completely before using.
for vanilla bean buttercream
In a small saucepan (I always use heavy-bottomed one to prevent burning) combine flour, sugar, powdered vanilla, salt and milk. Cook over medium-high heat, stirring constantly with a whisk until it thickens. This can take about 15 minutes. The moment you realize it's thicker, cook for another 3-4 minutes.

Once it's done, put a cling film over it touching the surface to prevent "skin" forming and let it cool to room temperature. This is your pudding base. You can do this in a fridge, but before using it let it come to room temperature.

Using a stand mixer fitted with the paddle attachment, beat the butter for 5 minutes until it's pale and fluffy. Then add spoonful by spoonful of previously made pudding. Mix until it's all nicely incorporated and with no lumps. Add vanilla extract and mix until everything is combined.
assembly
Using a cake leveler or a long serrated knife level the tops of your cakes if needed.

In the middle of your cake board or a serving plate put some buttercream to stop the cake from moving around.

Place one cake layer on a cake board or a serving plate. Using a small offset palette knife or a piping bag, spread the frosting over the cake and make a buttercream dam/border. Fill it with dulce de leche, but be careful not to overfill it, otherwise it will seep out on the sides. Top it with the next cake layer and repeat the process.

Place final layer on top, upside down, and do a thin crumb coat on the cake. Chill for 20-30 minutes in the fridge before final decorating.

Once cooled, frost and smooth the sides with vanilla buttercream. Decorate with banana chips and meringue kisses – or whatever you feel like!
Notes
Not all ovens are the same. I suggest to check the cakes at 18 min mark and then adjust the baking time accordingly. Get to know your oven! 
If you still don't own one, I advise you to buy a kitchen scale – they're cheap and easy to use, and always guarantee the same results in baking!  
Cake is best eaten at room temperature. You can keep it in a fridge, wrapped in cling film, but take it out of it at least half an hour before serving. 
Make sure not to overfill your cake with dulce de leche if it's a bit runny - you will experience leakage. It's better to add a little bit and then drizzle it over a cut slice 🙂
IMPORTANT
All the recipes are developed and tested using only metric measurements and a kitchen scale. The U.S. cup and spoon measurements are provided for your convenience, but I highly recommend getting a digital kitchen scale and measuring in metrics. It's easy and always guarantee the same results in baking!
The nutritional information and US conversions are calculated automatically. I cannot guarantee the accuracy of this data. If this is important to you, please verify with your favourite nutrition calculator and/or unit conversion tool.
Have you tried this recipe?
Tag me on Instagram @anasbakingchronicles or use the hashtag #anasbakingchronicles - I love seeing your creations!