Apples are in season and one of the best way you can use them is by making this delicious Apple Crumble Cheesecake with salted caramel sauce. It's rich, but not overly sweet, perfect to enjoy cold with a warm cup of tea!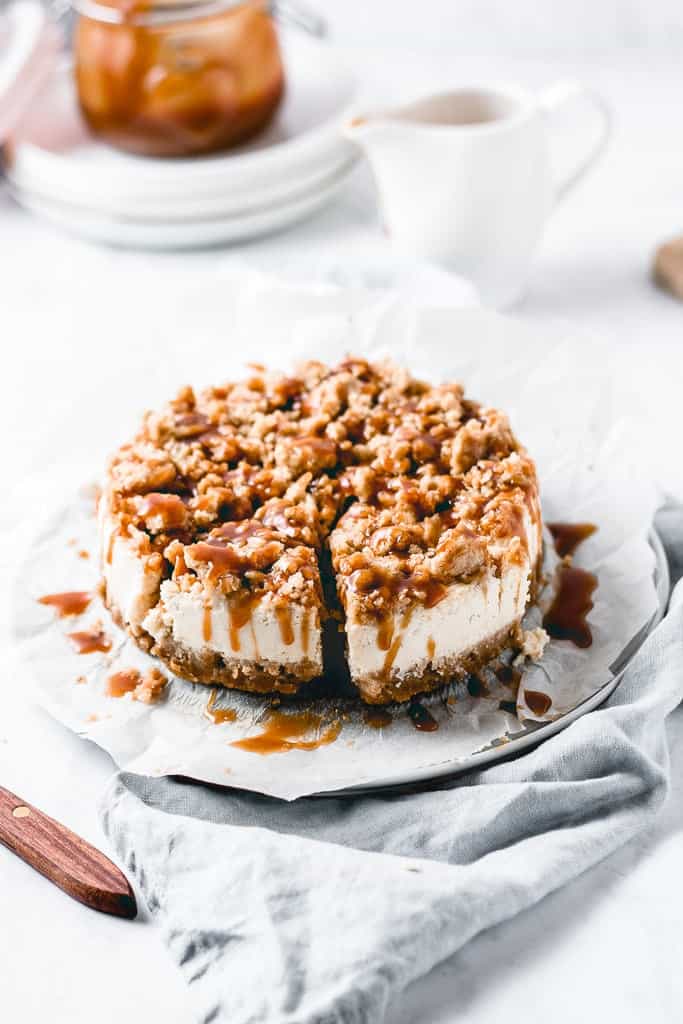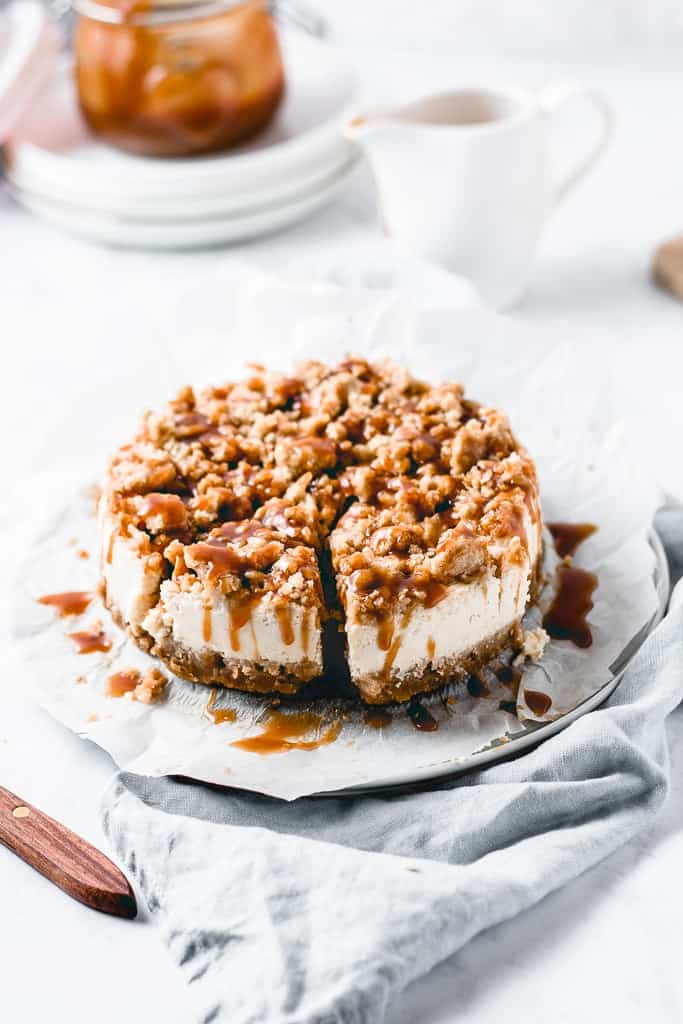 You guys went absolutely nuts about this Apple Crumble Cheesecake with salted caramel sauce when I posted it on Instagram two weeks ago! And honestly?
My heart was just so full, I couldn't be happier. Even @thebakefeed shared it on their IG feed - gahh! It's insanely good and incredibly easy to make, I'm sure you'll absolutely love it.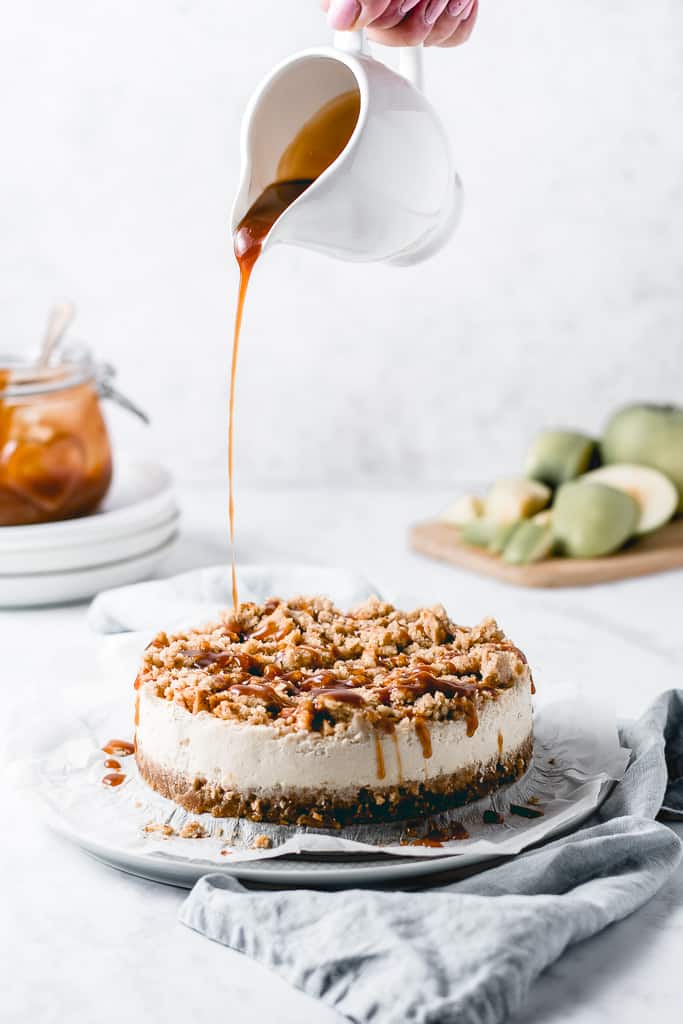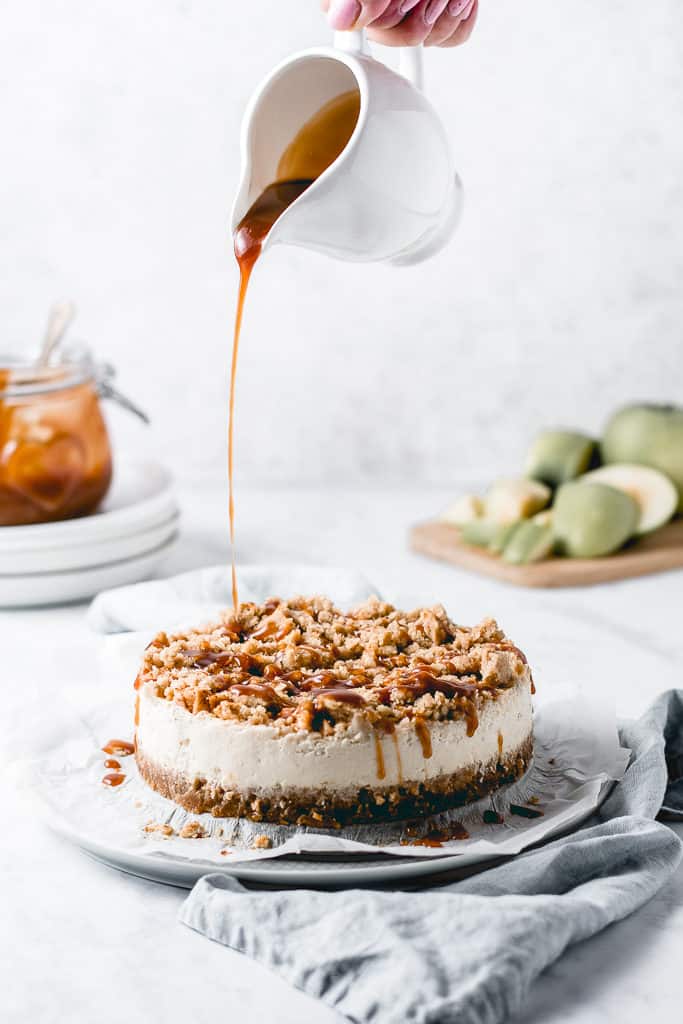 ---
My latest videos
---
How to make apple crumble cheesecake?
For this recipe, I adapted my Perfect Lemon Cheesecake recipe.
For the base, I kept a classic cookie crust using Digestive biscuits. You can use Graham Crackers or anything similar, that isn't too sweet or overpowering.
To get more of an apple pie vibe, you can make a pie crust and blind bake it before pouring the filling in. You can check my favourite all-butter pie crust recipe here.
I always add lemon in my cheesecakes, because I love to enhance that tanginess of the cream cheese.
Since my original cheesecake batter is quite thin and I wanted to top it with apples and streusel, I had to adapt it a little bit.
Hence, I used just two tablespoons of lemon juice and instead of using large eggs, I opted for medium sized ones. It worked like a charm!
The cheesecake batter was still creamy enough to get that fluffy texture, but not too thin so it can't hold the toppings.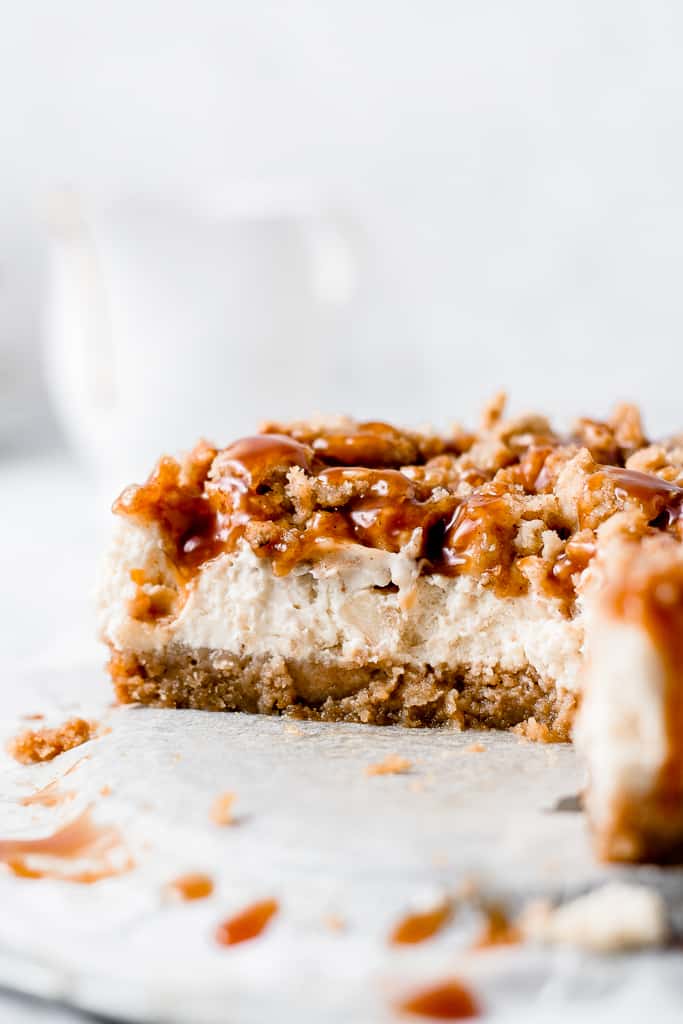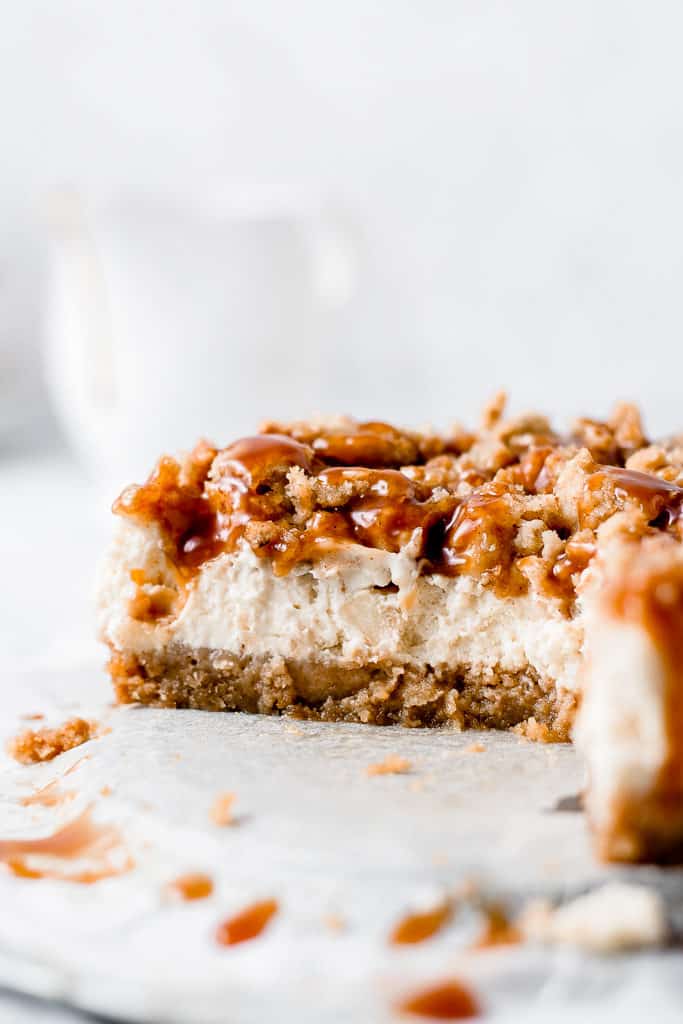 Now, for the best part. Apple Crumble topping!
I used Granny Smith apples because they are slightly tart and hold their shape really well while baking.
If you don't have these, then use the ones most similar to these. Since you're drizzling caramel sauce over the cheesecake, you don't want it to be too sweet using sweet apples.
How to make salted caramel?
I've talked about caramel on several of my other recipes. The most in depth explanation of how to make salted caramel sauce you can find in my Caramel Applesauce cupcakes recipe.
I really should do a separate post just for caramel sauce, but somehow I never have enough time for all the process shots. Fingers crossed I find some extra time for that - SOON!
Anyways, you shouldn't be afraid of caramel sauce. If it fails, don't get discouraged, just practice and make another one. Luckily, sugar is cheap. 🙂
You want to get your sugar to golden amber colour.
Anything too dark and you probably burned your caramel. On the other hand, if it's too light you won't get enough flavour.
Then all you have to do is mix it with some heavy cream et voila - you made your own caramel sauce! 🙂
But be sure to read more helpful information here.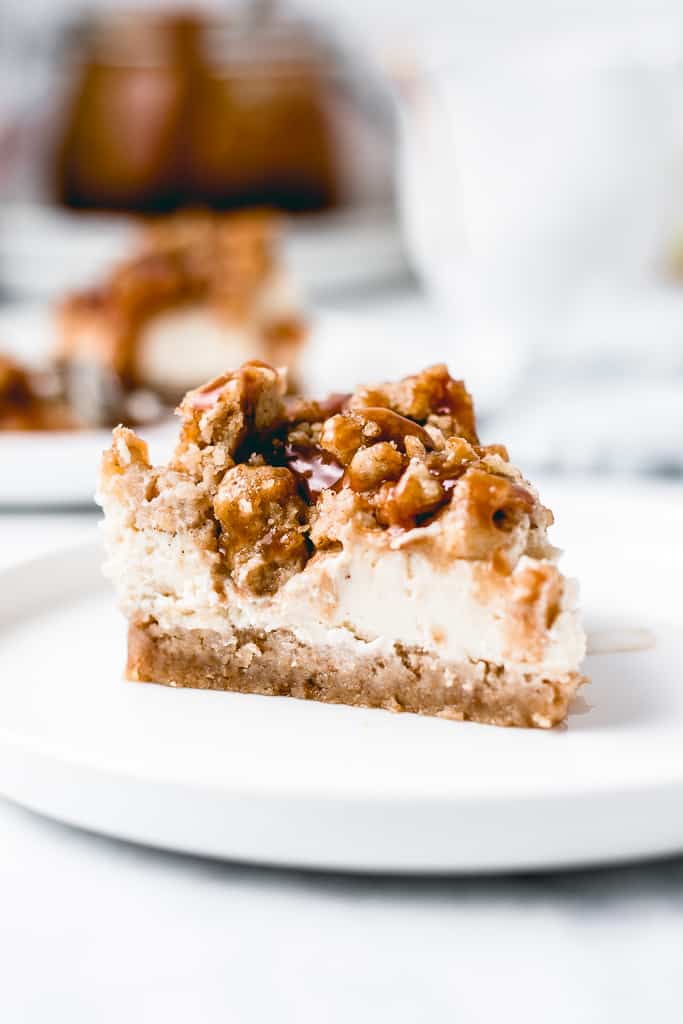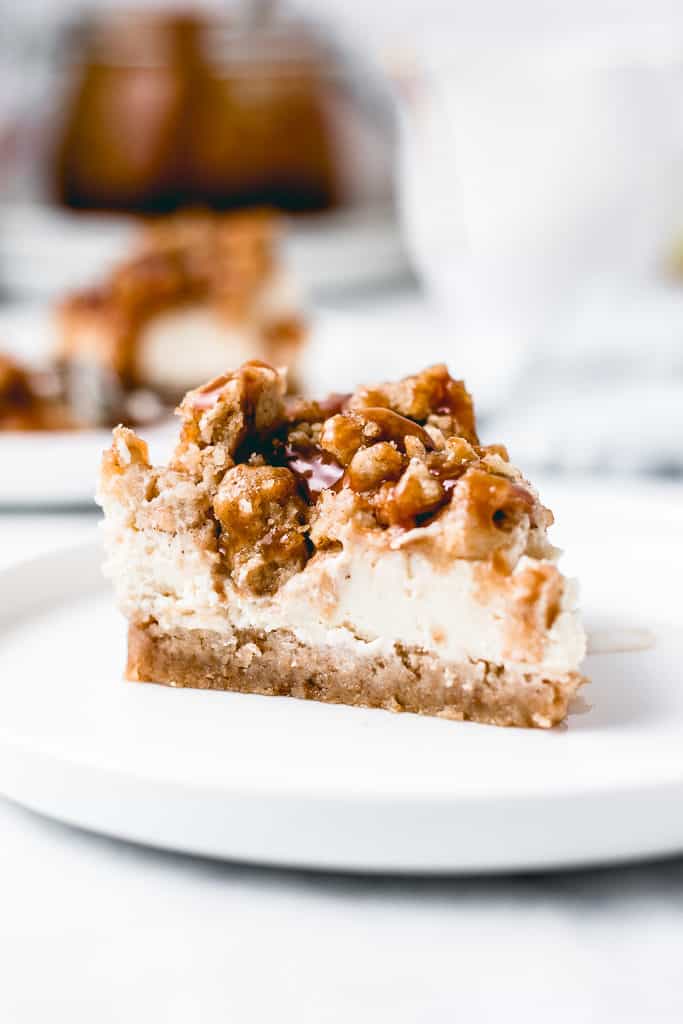 looking for more fall desserts?
The Softest Homemade Cinnamon Rolls
Fluffy doughnuts with orange vanilla pastry cream
Walnut Baklava with Citrus Syrup
Rocky Road Baked Donuts
Pumpkin Spice Tiramisu
If you make this gorgeous cheesecake, let me know by tagging me on Instagram @anasbakingchronicles or tell me all about it in the comments section down below. I love seeing your creations! If you have any questions, don't hesitate to ask. Happy baking!
Love,
Ana
📖 Recipe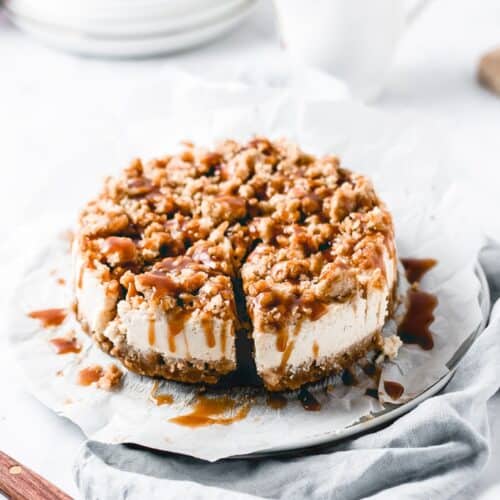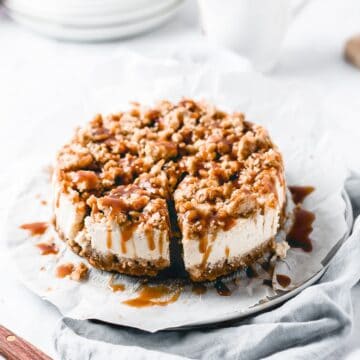 apple crumble cheesecake with salted caramel sauce
Description
Insanely good and incredibly easy to make, this Apple Crumble Cheesecake with Salted Caramel sauce will become your favourite fall dessert!
ingredients
cookie crust
80

g

Digestive cookies

(crumbs)

40

g

melted butter

(unsalted)

⅛

teaspoon

cinnamon

1

tablespoon

brown sugar
cheesecake filling
300

g

cream cheese

(room temperature)

70

g

granulated sugar

35

g

lemon juice

(freshly squeezed)

2

medium

eggs

(room temperature)

½

teaspoon

vanilla extract
apple crumble topping
2

medium

granny smith apples

(peeled and diced)

30

g

granulated sugar

pinch

of

nutmeg

¼

teaspoon

cinnamon

45

g

all-purpose flour

30

g

rolled oats

60

g

unsalted butter

(room temperature)

60

g

brown sugar
salted caramel sauce
150

g

caster sugar

40

g

water

120

g

heavy cream

½

teaspoon

salt
Instructions
Preheat your fan oven to 150°C (300°F) or 165°C if you're not using a fan oven. Line the bottom of a 18 cm (7 inch) springform pan with baking paper. Set aside.

Using a food processor ground your cookies. In a separate bowl, combine them with melted butter, cinnamon and granulated sugar using a spoon. Press the mixture into the bottom of the pan. Bake for 5-6 minutes then set aside to cool.

In a large bowl, using a hand mixer, mix together the cream cheese, sugar, vanilla extract and lemon juice until combined and smooth. Add one egg at the time, scraping the sides of the bowl to make sure everything is thoroughly combined. Set aside while you prepare the topping.

Peel and dice apples. You should have around 130 g of diced apple. If you put too much, the filling might not support the topping. In a small bowl, combine apples with sugar, cinnamon and nutmeg.

Make streusel topping by mixing together all-purpose flour, rolled oats, unsalted butter and sugar. Squeezing it with your hands, you should be able to form small clumps to scatter over apples.

Pour the filling over a cooled and baked cookie crust. Smooth it out with a small offset spatula. Sprinkle with prepared apples, then with streusel topping. You might not need all of it. Bake for 25-30 minutes in a preheated oven.

Once it's done, place the pan on a cooling rack and leave it to cool to room temperature. Then put the cheesecake in the fridge to cool completely, at least 4 hours.

Before serving, generously drizzle over caramel sauce. Enjoy!
for the salted caramel sauce
In a thick bottom saucepan combine sugar and water. Make sure every sugar granule is covered with water. Heat it up over medium to high heat, until it reaches golden amber colour. DO NOT STIR IT. This will take about 15 minutes.

While the sugar is dissolving, heat the heavy cream to a simmer. Once the sugar syrup reaches a desired colour, pour the heavy cream over it in a steady stream, stirring constantly with a silicone spatula. There will be a lot of bubbles and steam, be careful not to burn yourself.

Once all the bubbles have subsided, put the saucepan back on the stove and cook it for 1-2 minutes, stirring constantly. When it's done, put the caramel sauce in a clean jar and leave it to cool to room temperature.
IMPORTANT
All the recipes are developed and tested using only metric measurements and a kitchen scale. The U.S. cup and spoon measurements are provided for your convenience, but I highly recommend getting a digital kitchen scale and measuring in metrics. It's easy and always guarantee the same results in baking!
Nutrition
Nutrition Facts
apple crumble cheesecake with salted caramel sauce
Amount per Serving
% Daily Value*
* Percent Daily Values are based on a 2000 calorie diet.
The nutritional information and US conversions are calculated automatically. I cannot guarantee the accuracy of this data. If this is important to you, please verify with your favourite nutrition calculator and/or unit conversion tool.
Have you tried this recipe?
Tag me on Instagram @anasbakingchronicles or use the hashtag #anasbakingchronicles - I love seeing your creations!