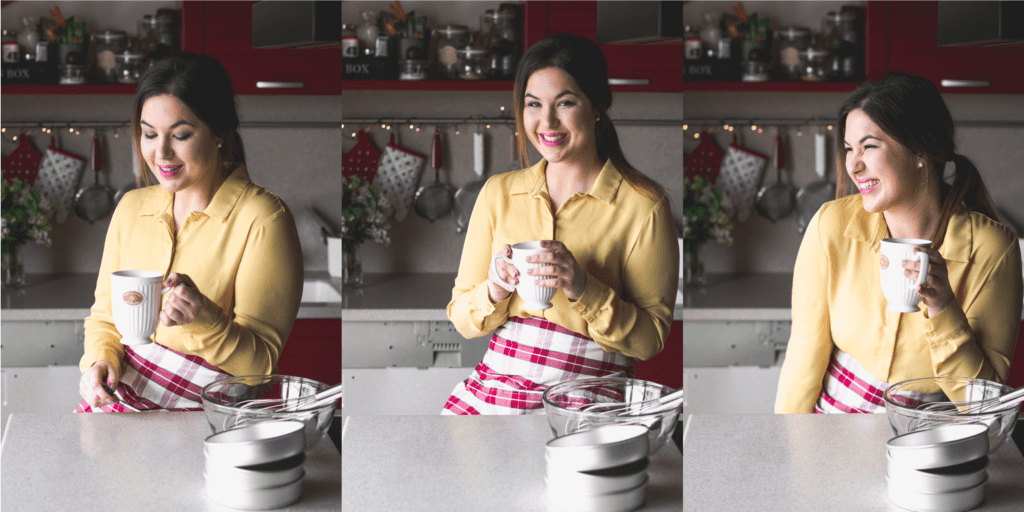 Welcome!
Hi, there. I'm happy you're here.
I'm Ana – a self-taught baker, recipe developer and passionate food photographer eager to learn more.
If you are a lover of all things sweet, consider baking a creative outlet of your imagination or you just want to bake something really yummy for the people you love – then you've come to the right place!
My mission here?
To provide delicious and tested recipes with detailed and simple instructions so anyone can make them – a beginner or an experienced baker - with the same desire to bake from scratch as I have.
I'm going to share with you all the knowledge I have or I've yet to acquire and help whenever I can. Simultaneously, I want to learn from YOU, too!
About me
I love food and cooking in general, but there's just something about baking that makes my heart skip a beat. And it's not just about making cakes look pretty – oh, no. I actually ENJOY all the science behind baking. *Nerd alert*

Yes, I'm a nerd – guilty as charged. I like to get to the bottom of a recipe and truly understand which role each ingredient exactly plays in a recipe. If you're anything like me, then be sure to stick around! I'll be making a series of posts regarding Baking Science where I'll share all of my current and future knowledge that might help you become a better home baker.
I've realized that I spend the majority of my time in the kitchen or thinking about recipes, trying to learn as much as I can about EVERYTHING baking-related. I knew that time has come for me to start writing it all down and share it with people. To make it real.
I firmly believe that - in order to enjoy it the most - food should be shared with others.
With this in mind, I have decided to share my recipes with you (since I can't really share the finished baked goods). The mere thought of someone making my recipe - and loving it - makes me really happy.
So here we are! Launching this blog was not an easy task, I learnt a lot and I cried a lot - but it was a dream come true and I can't wait to see what happens next.
Here are some random facts about me
I was born in Dubrovnik but now live in Zagreb, Croatia.
I'm a 24-year-old economics student currently working on getting my Master's Degree. Update - I'm 26, I got that Master's Degree and now have a 9-17 job as a business analyst. 😉
My favourite thing to bake is a layer cake.
Dough is my nemesis but we're slowly accepting and learning to love each other. (Thank you, cinnamon rolls!)
I love Disney. Their Disney Princesses songs compilation is my jam whenever I'm feeling low. Lol.
That said, I love music and singing.
Favourite show: The Office US
I love history.
I'm definitely a dog person.
I am a hard core Harry Potter fan, I grew up with it and could watch it anytime, anywhere.
I also love Game of Thrones, DC and Marvel superhero movies, basically anything that falls in the category of GEEKY stuff.
My favourite season is autumn.
I hope to visit Africa someday with my bf.
I love musicals. I've seen Hamilton in London and was blown away with perfection - what a masterpiece!
Keeping in touch
There are plenty of ways we can get in touch. If you have any questions feel free to contact me via contact form or send me a message directly to hello[at]anasbakingchronicles.com . I'd love to hear from you! If you enjoy my recipes, and don't want to miss any in the future, then subscribe via email - IT'S FREE!
You can also follow me on Instagram, Pinterest or Facebook.
Happy baking!
Love,
Ana