Homemade pumpkin puree is one of the easiest things to make. You can use it both in sweet and savoury dishes and I'm going to show you how to make it!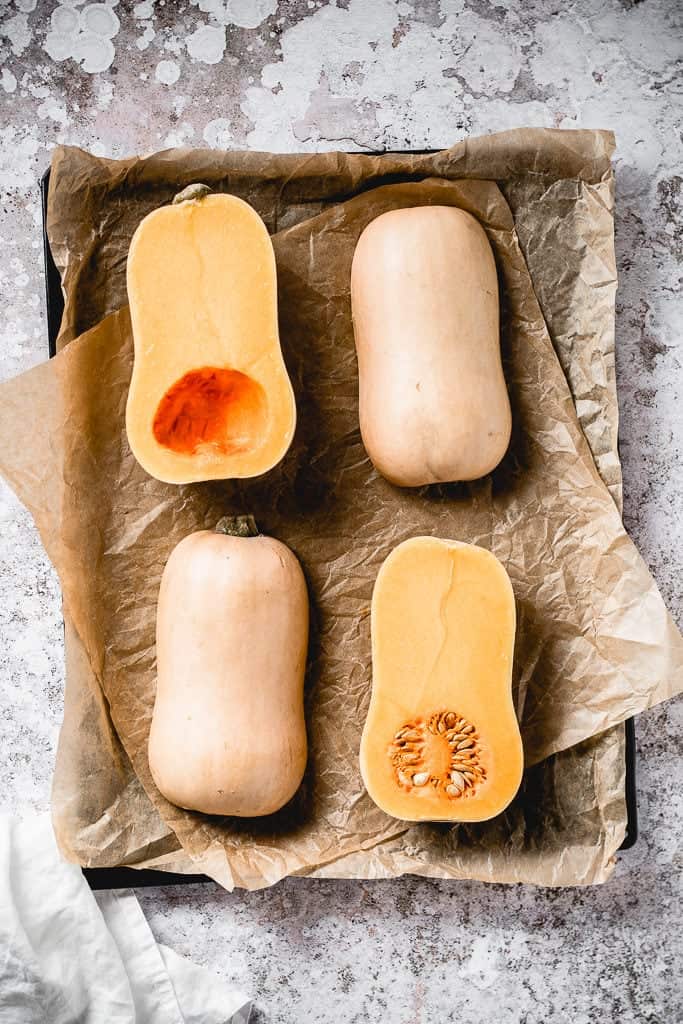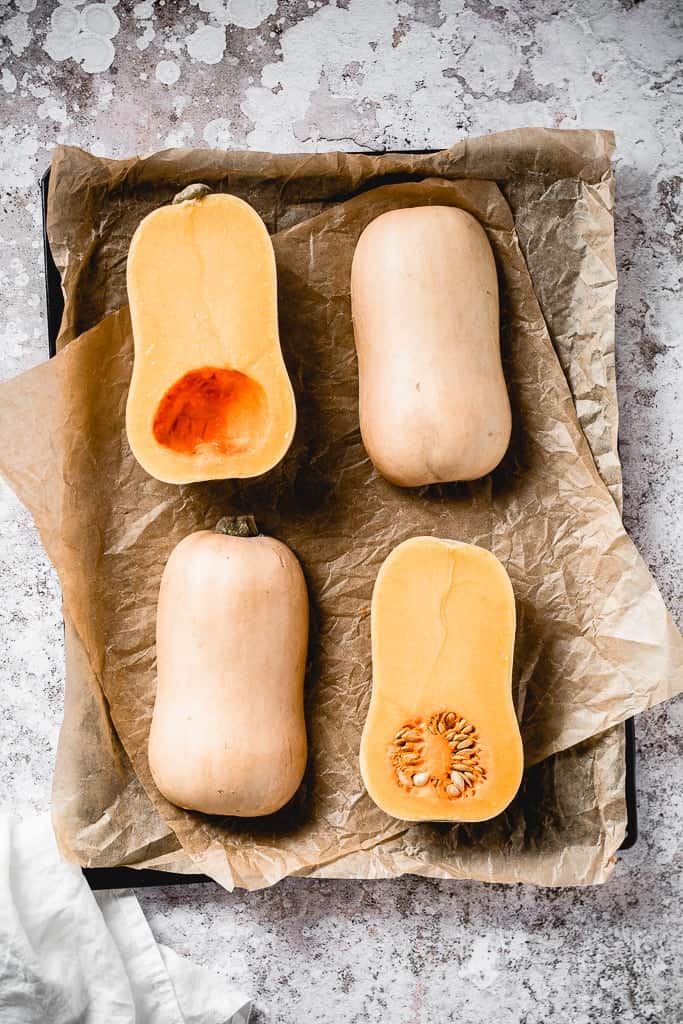 Yes, you are right - I cheated a little. It's not pumpkin puree, but butternut squash one. They are both type of winter squashes and extremely similar in flavour, with butternut squash having sligthly sweeter and nuttier flavour. I always choose butternut squash for two reasons:
Butternut squashes are more available in Croatia.
They are significantly smaller than pumpkins, thus easier to cut. 😉
By all means, use pumpkin or any other winter squash that has similar flavour.
HOMEMADE PUMPKIN PUREE STEP-BY-STEP
Preheat your oven to 180˚C or 350˚F (no fan). Line a big baking tray (the size of your oven rack) with baking paper. I like to double line it to avoid liquid seeping through (which will happen a little bit).
Get your squashes and cut them in half lenghtwise, like shown in the images. Using a spoon, remove the seeds and face the cut side down.
Bake in a preheated oven for about an hour, hour and a half. It depends on how big your squashes are and how hot is your oven.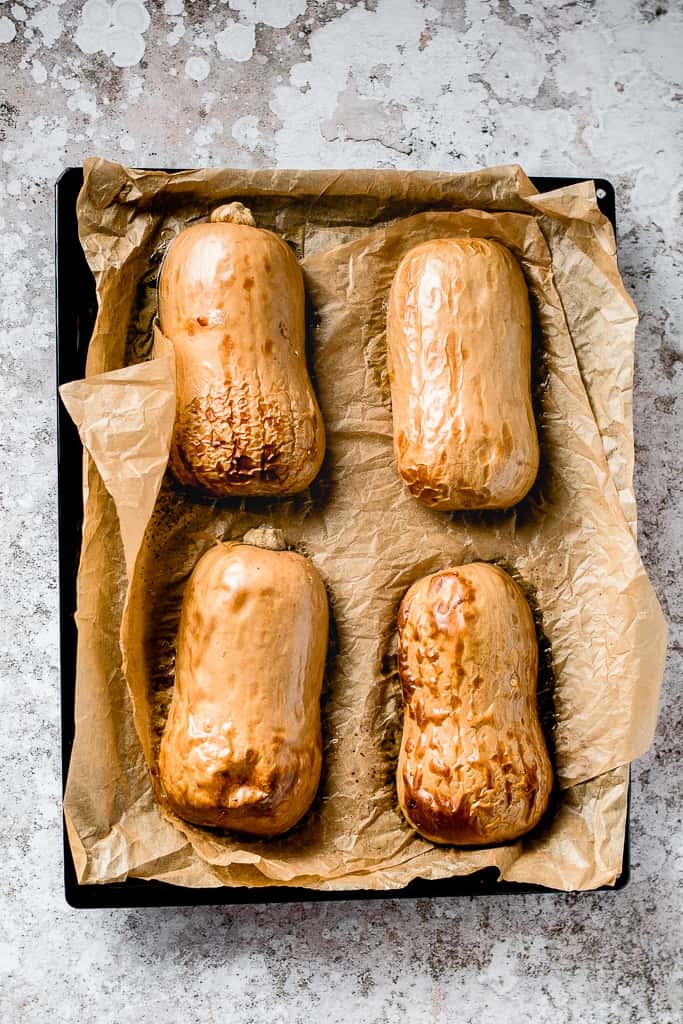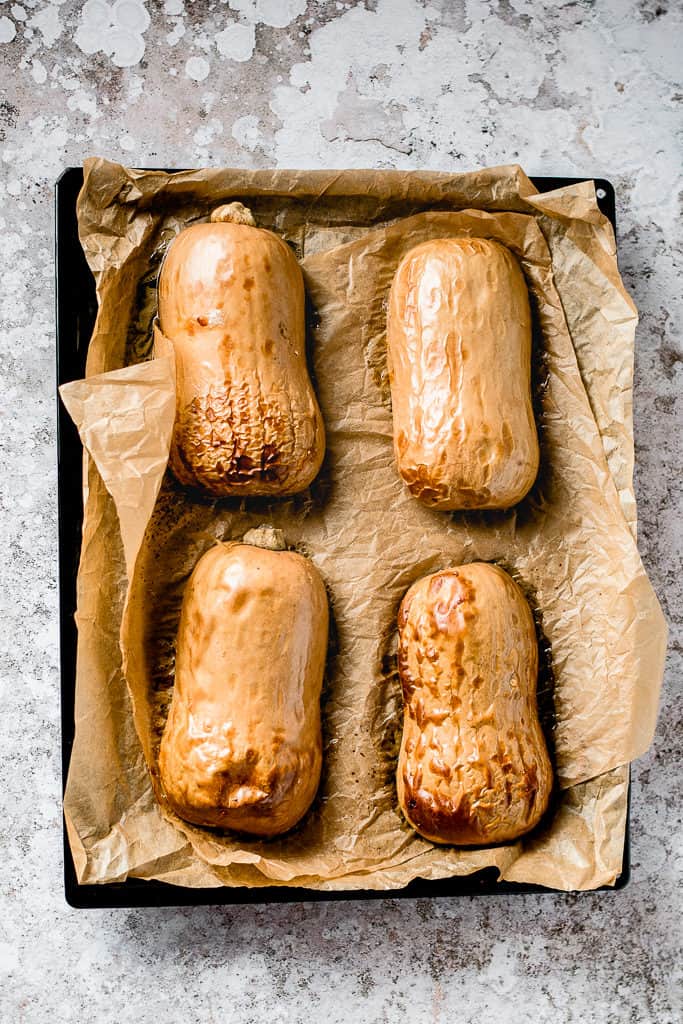 4. You'll know your pumpkin or squash is done when it looks something like the image above. It's going to be really soft, you will be able to leave an indentation by pressing it with your finger. There will be some water residue from the squashes, that's fine.
5. Leave them for about 5 minutes, to slightly cool down down before you turn them over. Nevertheless, be careful not to burn yourself because they will still be hot. Grab a spoon and just spoon it out! It's really simple!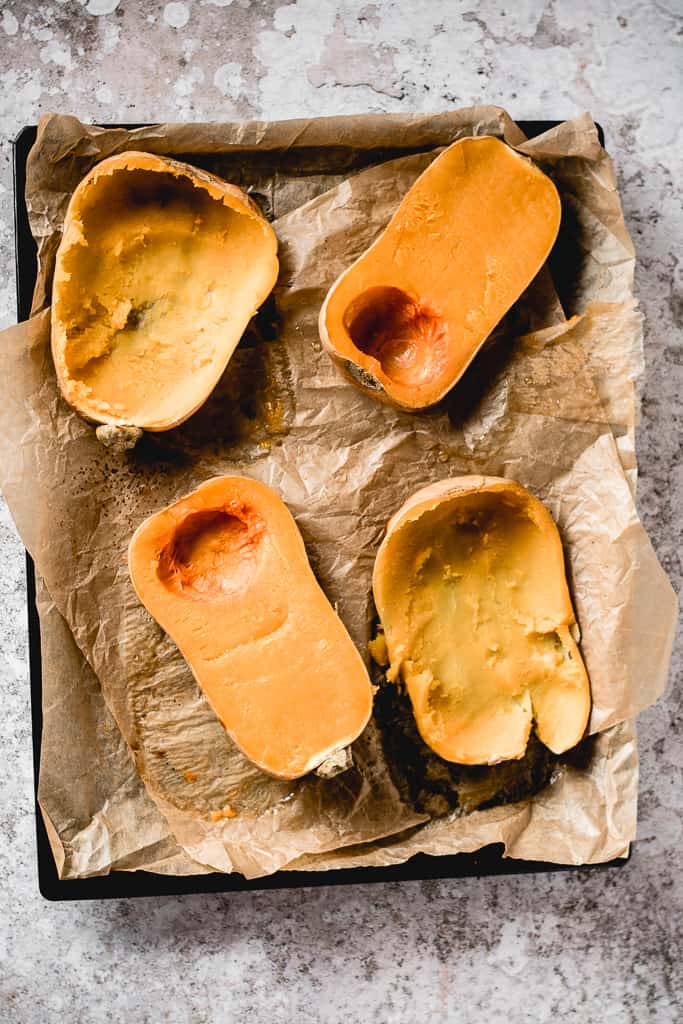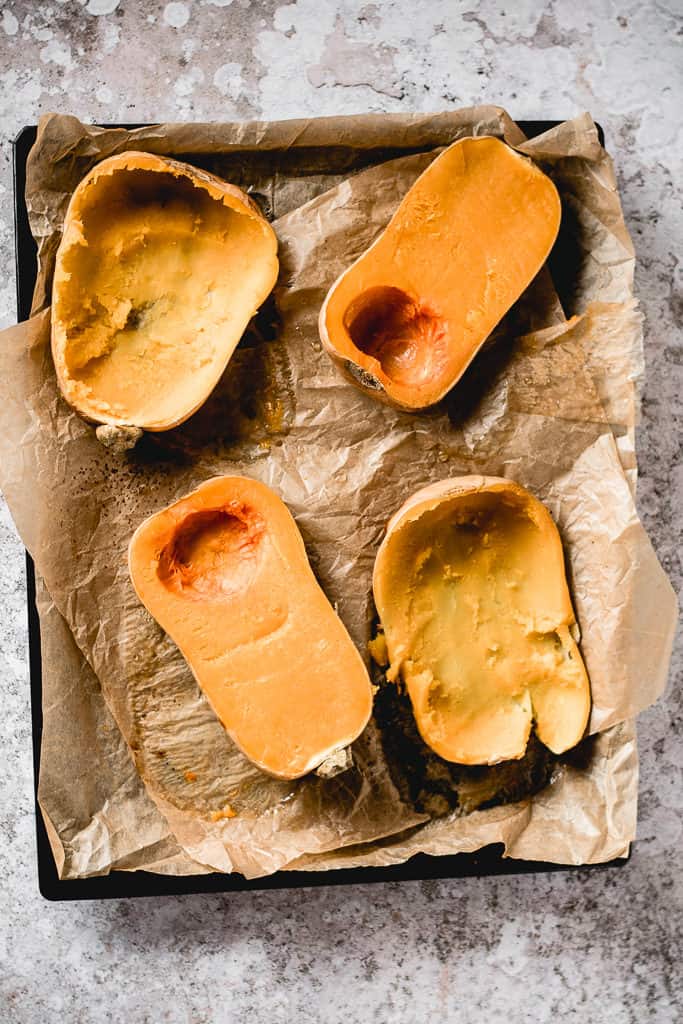 6. When you're done spooning it into a bowl, it'll look like the image below.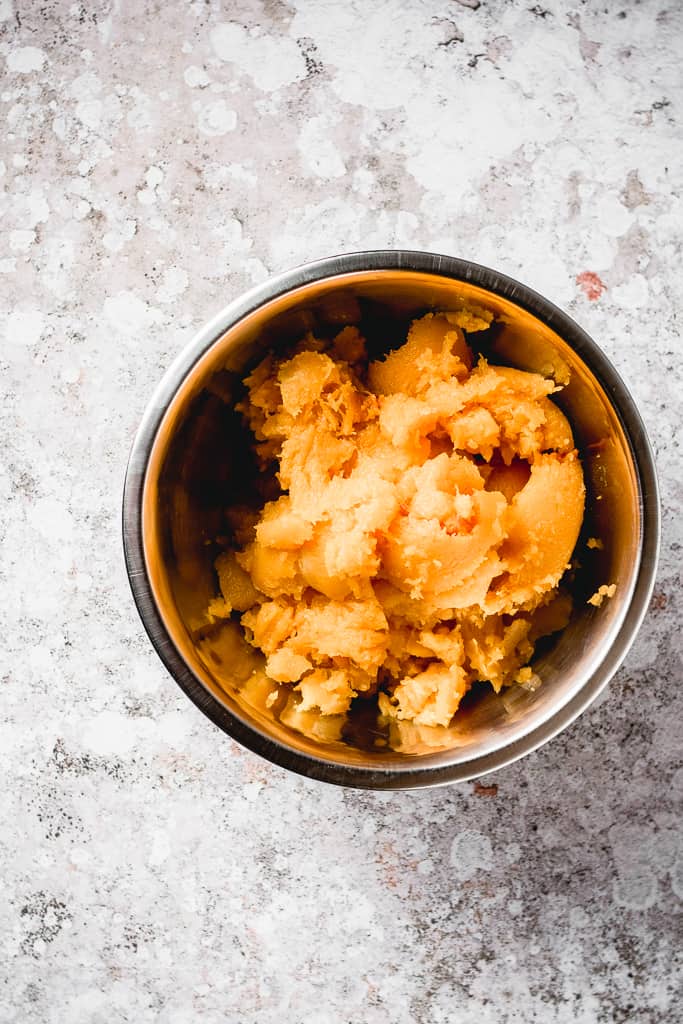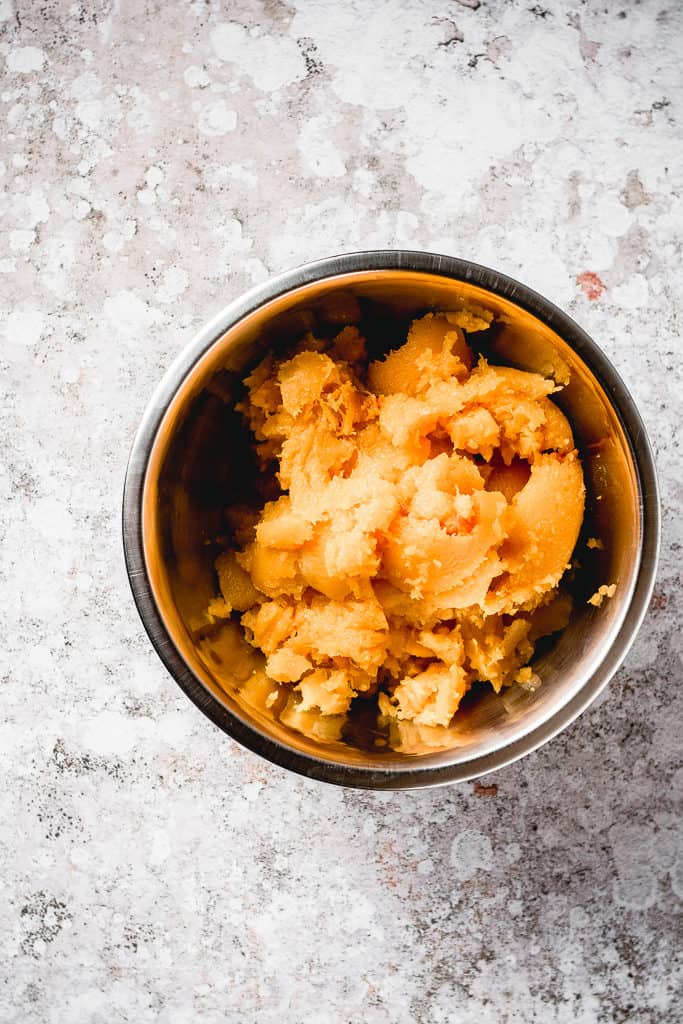 7. After that, you can mash it with a potato masher to make it smoother, ooor... do what I do! Get a stick/immersion blender and blend it until you get a smooth and creamy texture. Yummy!
8. Your pumpkin puree is done, woohoo!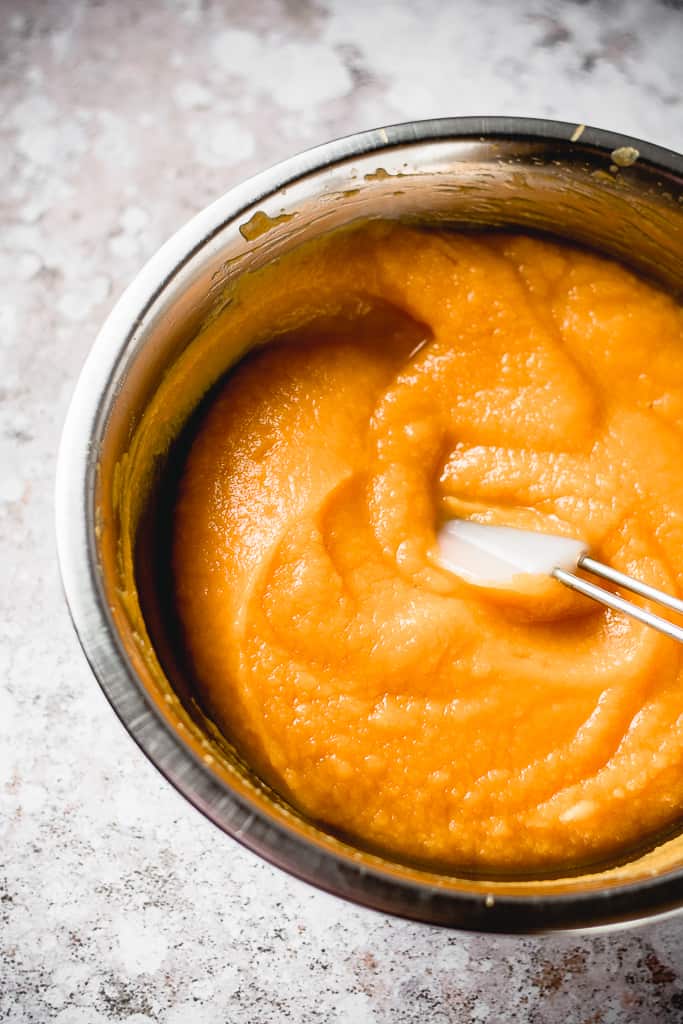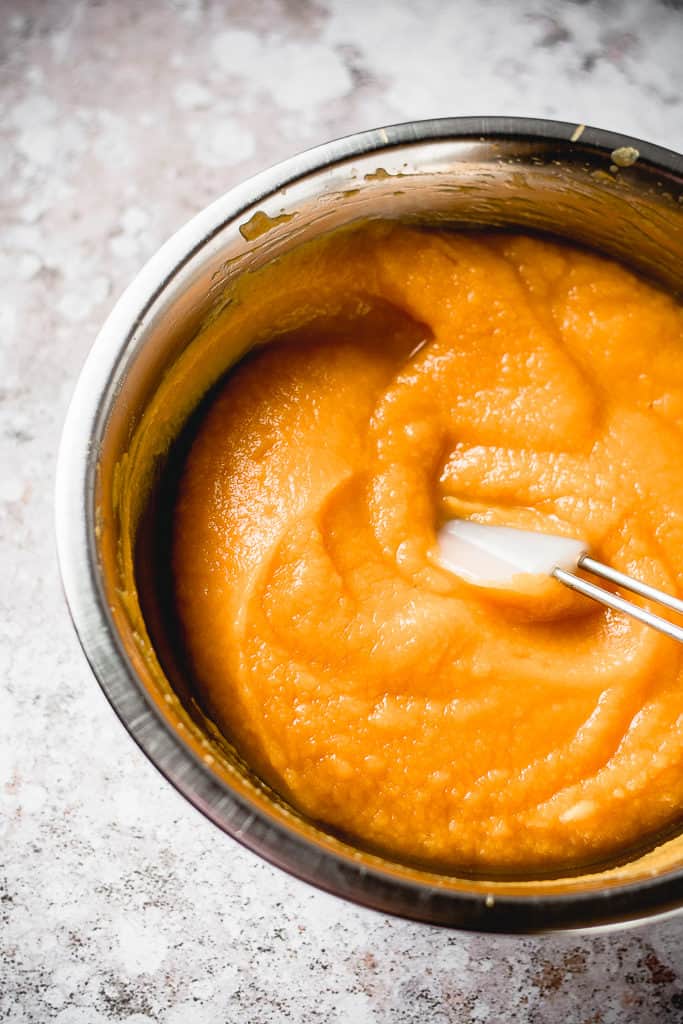 You may notice some water separation if the puree sits for awhile, without stirring. That's fine.
HOW TO STORE BUTTERNUT SQUASH PUREE
When you're done, store the puree in a clean glass jar (or multiple), seal it with a lid and keep in the fridge for up to three weeks. *This only works if you haven't contaminated the puree with a dirty spoon or some other food.
YOU CAN USE IT HERE:
Pumpkin Spice Latte Cupcakes
Chocolate Chip Pumpkin Bundt Cake
Pumpkin Spice Latte Mini Bundt Cakes
Hope this helps you make lots of yummy, fall desserts! If you make some of mine tag me on Instagram @anasbakingchronicles or tell me all about it in the comments section down below, so I can see your creations! If you have any questions, don't hesitate to ask. Happy baking!
Love,