This delicious, juicy blueberry apple pie is made with all-butter pie crust, spiced with gorgeous scents of cinnamon and cardamom and topped with buttery streusel for a perfect Fall dessert.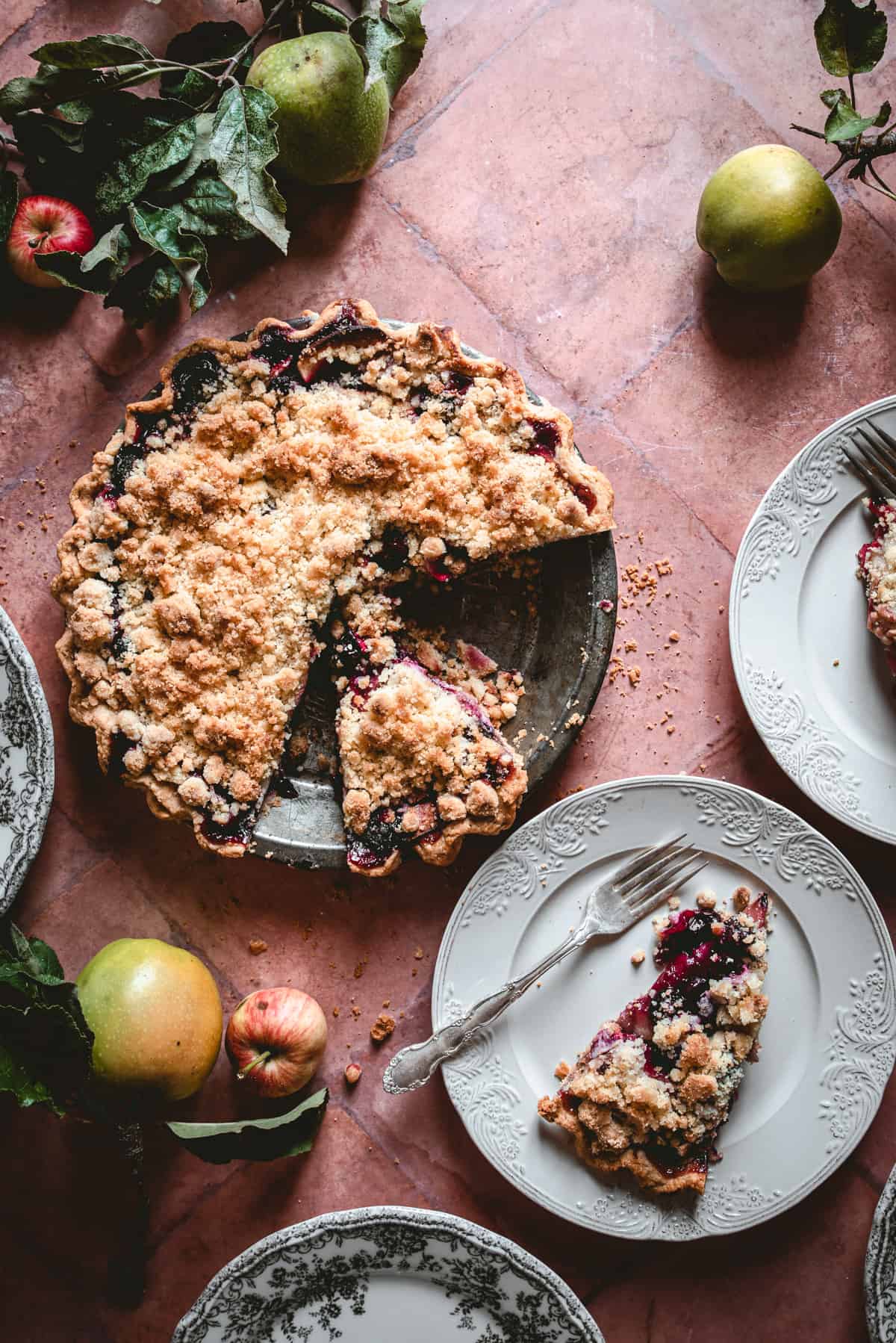 While you know that I adore making cakes, pies are a great contender for being my favorite dessert to eat. But the competition is tough! Pies are also a great way for making the most out of seasonal fruit because they really make the fruit shine.
However, there is no reason to deprive yourself of pie during winter because that's when the frozen fruit comes in handy—like my Sour Cherry Pie that is made with frozen sour cherries!
Of course, we can't forget about the deliciousness of no-bake pies, like my Caramel Coconut Cream Pie. They're not only reserved for warmer months! 🙂
Jump to:
Why you'll love this recipe
When asked to choose between an apple and blueberry pie, my IG followers found themselves in a big dilemma (the results were almost 50-50). So, in this Blueberry Apple Pie, I'm combining the best of both worlds!
You'll love this recipe because:
it's very simple to make, even for beginners
there's no faffing around with lattice top, because streusel topping is super easy to make
for maximum flavor I use both ground cinnamon and cardamom, accompanied with some lemon zest for freshness
it can be made in advance
you can easily make a vegan version for your friends that follow a plant-based or dairy-free diet!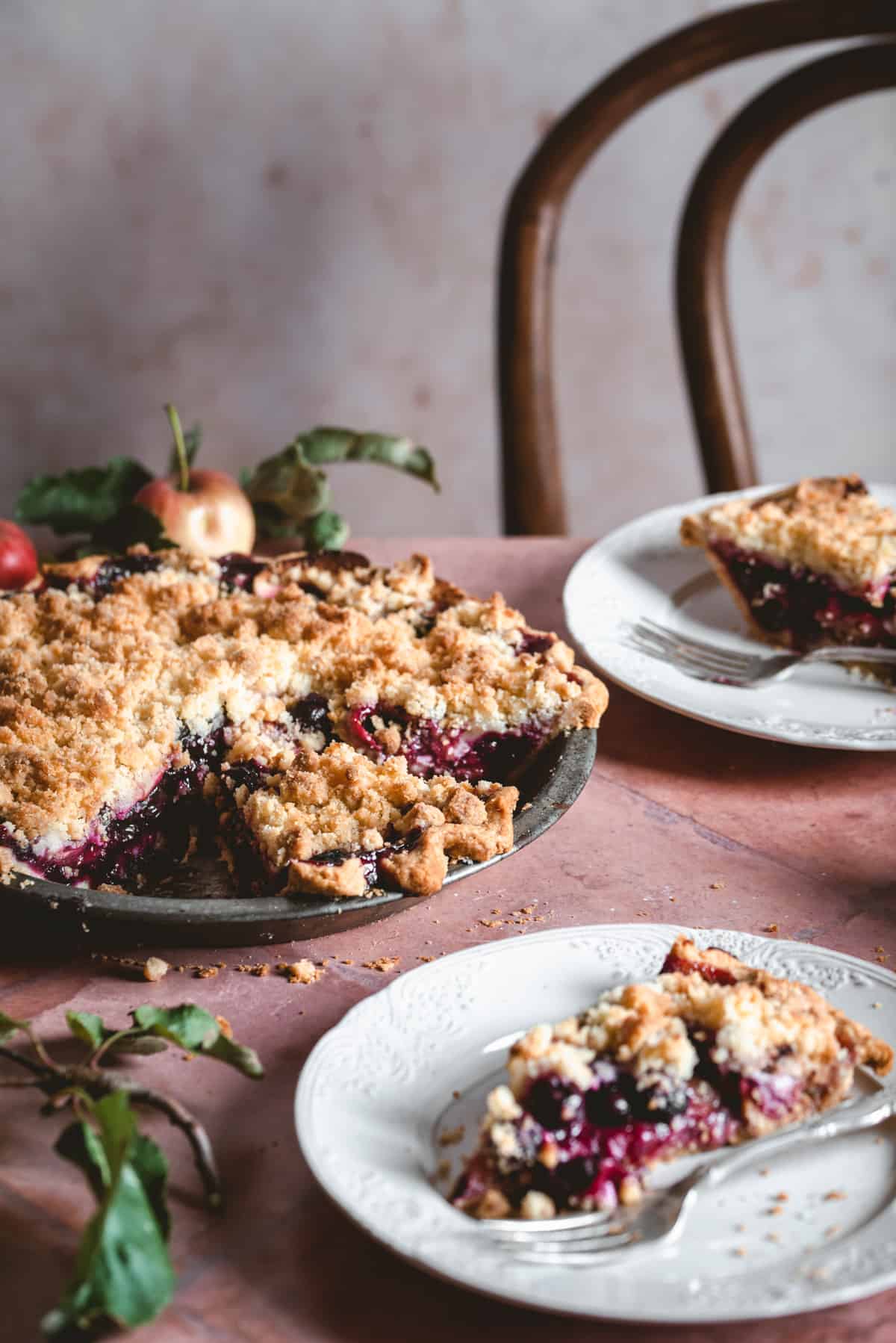 How to make blueberry apple pie (step-by-step)
Note: You have the fully written recipe with measurements and detailed instructions at the end of the post. However, I advise you to read all the helpful tips and FAQs.
Start with making the all-butter pie crust. You can use the traditional method of rubbing the cold butter into the flour with your fingers, but I prefer using a food processor because it's much easier and quicker.
You'll only use the 'pulse' action, because you don't want to overwork the dough or melt the butter. Short quick bursts are perfect. You're looking for a mixture that still has pea-sized chunks of butter, because that will give your dough that flakiness we all love.
Next, you'll add the ice cold water into the flour mixture and continue with a few, short and quick 'pulse' bursts until the dough starts clumping together. If you're not using a food processor, then use two forks in this stage to combine the water, butter and flour to form crumbly clumps of dough.
Note: Since I was trying to capture all the important process shots, in all the rush I accidentally added 1 extra tablespoon of water, so my dough isn't as crumbly as it could be. The extra water also directly impacts the flakiness of the dough. However, this was not a major mistake. 🙂
Turn the dough over on a prepared sheet of plastic wrap and loosely cover it on all sides. We're doing this so that you can either press the dough with your hands or using a rolling pin, to get a smooth dough disc that fills the plastic wrap entirely.
Place the wrapped dough in the fridge to chill for at least an hour.
Roll the chilled dough on a lightly floured surface to a 4-5mm thickness and transfer to the pie plate. Cut the extra dough overhanging the plate with scissors, but leave just enough to crimp the edges. (I still have a lot of work to do when it comes to my crimping skills. If you're like me, don't worry—it doesn't affect the taste! 🙂 )
If your pie plate doesn't have holes on the bottom, make sure to poke the dough with a fork a few times.
To make sure the dough doesn't shrink while baking, freeze the crimped pie dough for at least 15 minutes before filling it with fruit and streusel.
Prepare the filling. Peel and slice the apples very thinly. I like to use an apple corer and slicer to make my work easier. Then I proceed slicing each slice into lots of thinner ones. You can also use a food processor if you have the right attachment.

Mix the spices and cornstarch with sugar, this way it will be evenly distributed among the fruit.
Add the lemon zest and juice to the apples, along with blueberries and sugar mixture. Carefully stir it a few times with a spoon until every piece of fruit is coated evenly.
Transfer the pie filling into the pie crust. I like to use a big spoon for this to have better control. Make sure to use all the filling, you want to create a dome of fruit because it will shrink later on as the water evaporates.
Make the streusel by combining the flour, salt and sugar with melted butter, using a fork. Sprinkle the streusel over the blueberry apple pie filling.
I like to cover the pie with a lot of streusel, but feel free to use a lighter hand if that's your preference.
Bake for 20 minutes on a higher temperature to help the pastry get cooked quickly, then reduce the heat and continue baking for another 50 minutes or so. The pie is done when it's golden and there is bubbling visible from the fruit.

You can also poke the pie with a skewer to see if the fruit has been cooked through.
If you'd like to make a lattice top instead of a streusel topping, double the crust recipe.
Best apples for baking
Generally speaking, apples that are firm and have a good balance of tart and sweet are the best for baking. My favorites are Granny Smith apples because they're almost always available and they don't turn to mush once baked.
Aside from them, great choices are Pink Lady (Cripps Pink), Honeycrisp, Gala, Jonagold and Bramley apples.
I would avoid soft apples that don't have a very strong flavor, such as Red Delicious.
💡My top tips for success
Cube the butter in advance and keep it like that in the fridge before using.
All the ingredients for pie crust need to be very cold. You can put a glass of water in the fridge the night before and just before using add a few ice cubes into the water.
Plan ahead. Since the dough needs to chill in the fridge, you can prepare the pie crust a couple of days in advance. This will make all the process easier and less stressful. 🙂
"Overfill" the pie tin. It might seem like the measurements are wrong and you'll have leftover filling, but it's not! While filling the pie crust, you want to create a little dome of filling because it will shrink while baking. Trust the process! 🙂
Bake the pie on a baking sheet. This will prevent the juices oozing out all over your oven.
If you notice the top getting too brown too quickly, cover it with a sheet of baking paper.
To avoid getting a soggy bottom, brush the pastry with an egg wash, leave to dry for a couple of minutes and then put the filling in.
If your blueberries are quite tart, add up to 50 g (¼ cup) additional sugar to filling. Adding any more than that can make the filling too liquidy, so you need to add more cornstarch as well.
Substitutions
If you don't have fresh blueberries on hand, you can use frozen ones. I wouldn't bother defrosting them, though. However, you can add an additional teaspoon or two of cornstarch (thickening agent) to accommodate for possible extra liquid the frozen blueberries might release while baking.
For a vegan version, feel free to substitute the butter in the crust with vegan butter. Choose the firm one, block-style. Spreads won't work for pie crust.
Storing and serving
I like a warm pie, however, it's worth mentioning that reheating the pie will make the crust softer, so keep that in mind before proceeding. You can serve it as is, with a scoop of vanilla ice cream or a warm vanilla custard sauce. All three options are delicious!
This Blueberry Apple Pie will keep covered for up to three days at room temperature or longer in the fridge.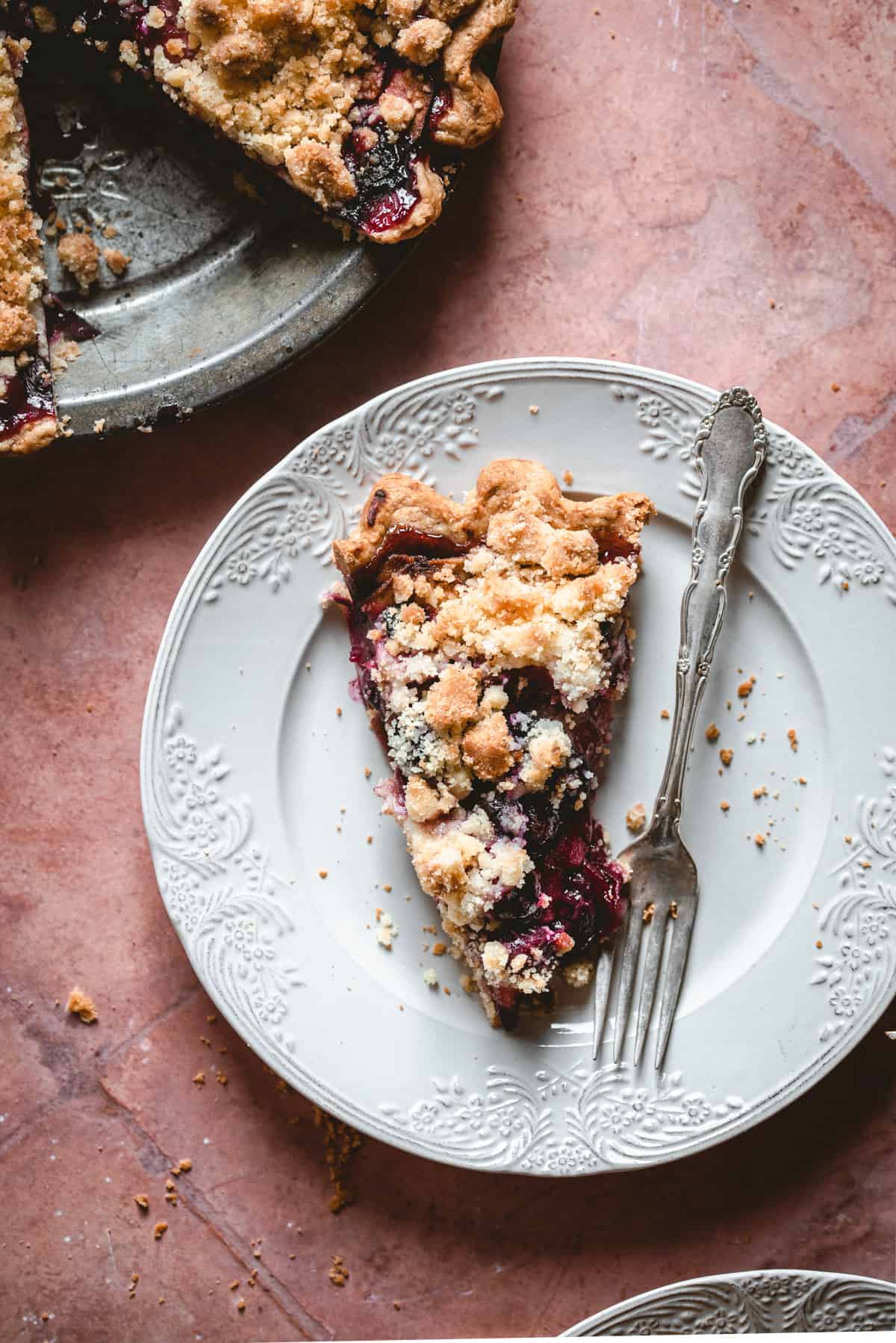 FAQs + Troubleshooting
Can I freeze the baked pie?
I haven't tried it myself because there wasn't a necessity for freezing. However, I've found a lot of resources online that claim it's totally doable. See this BHG post to learn more. If you try freezing the pie, let me know how it went in the comments section! 🙂
Why is my pie liquidy?
You didn't bake it for enough time or you didn't use enough cornstarch to thicken the filling. If you used flour instead of cornstarch in a 1:1 ratio, that's the culprit because you need a bigger amount of flour compared to cornstarch to get the same thickening effect.
How do you keep the bottom of a pie from getting soggy?
I say, follow the instructions to the T. Using two different oven temperatures, placing the pie on the lower third of your oven and baking all the way through is a recipe for success.

However, if you need a little bit more assurance, I have a trick for you. Lightly brush the assembled pie crust (in the pie plate) with an egg wash. Leave it too dry for a little bit, which creates sort of a protective film. Then proceed with filling the pie and baking. 🙂
📖 Recipe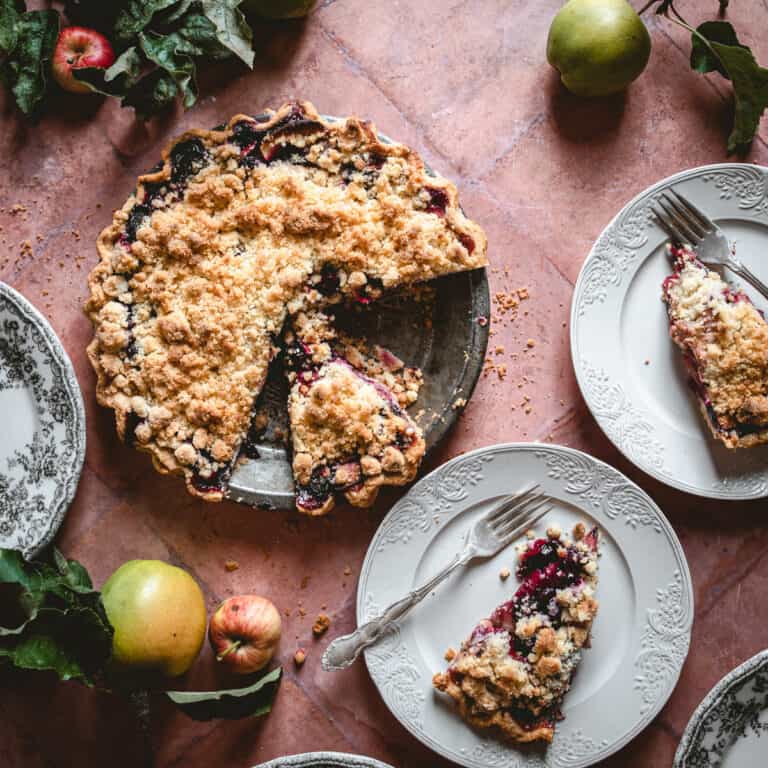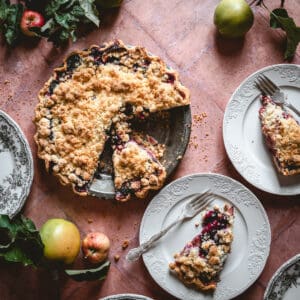 Blueberry Apple Pie with Streusel Topping
Description
This delicious, juicy blueberry apple pie is spiced with gorgeous scents of cinnamon and cardamom and topped with buttery streusel for a perfect Fall dessert.
ingredients
all-butter pie crust
190

g

all-purpose flour

125

g

unsalted butter

(cold)

½

teaspoon

fine sea salt

20

g

powdered sugar

3

tablespoon

ice cold water
blueberry apple filling
550-600

g

sliced apples

300

g

blueberries

100

g

granulated sugar

25

g

cornstarch

2

teaspoon

ground cinnamon

½

teaspoon

cardamom

2

tablespoons

lemon juice

zest of ½ a lemon
streusel topping
125

g

all-purpose flour

90

g

granulated or caster sugar

75

g

unsalted butter

(melted)

a pinch of salt
Instructions
to make the pie crust
In a food processor, sift the flour, salt and powdered sugar. Add cold cubes of butter. Pulse until the mixture is like coarse sand, with a few bigger chunks of butter.

Add 3 tablespoons of ice-cold water and pulse a few times, until the dough starts clumping together, not more than that. If it doesn't start coming together, then add another tablespoon of ice-cold water.

When it's done, it should form crumbly clumps of dough - that's fine because you'll combine it together in the next step.

Transfer the dough onto a sheet of plastic wrap, loosely wrap it and then gently press it with your hands or a rolling pin to flatten it to a smooth disc.

 Leave it in the fridge for at least an hour or up to four days.
to make the streusel topping
Sift and combine the flour, salt, and sugar into a small bowl. Gradually add the melted butter while stirring with a fork, until the mixture starts clumping together. Add the rolled oats, stir to combine, and set aside until needed.
to make the blueberry apple pie filling
Start with peeling and slicing the apples to approx. 3-mm (⅛-inch) thickness. Place the sliced apples to a large bowl and add the lemon zest, juice and blueberries.

In a small bowl, combine together the sugar, cornstarch, cinnamon and cardamom with a fork until every granule is evenly coated.

Add the sugar mixture to the fruit and gently stir everything with a spoon until completley incorporated.
to assemble the pie
Roll the chilled pie dough on a lightly floured surface to approx. 4-5mm (¼-inch) thickness. Turn it every now and then so it doesn't stick and it rolls evenly.

Transfer the dough to a 23-cm (9-inch) pie plate and gently press it with your knuckles to fit the pan smoothly.

Trim the overhanging excess dough using scissors, but leave approx. 2.5-cm (1-inch). Tuck the overhanging dough under itself to create a thicker edge. Chill the pie crust for 15-20 minutes in the fridge. Remove from the fridge and crimp the edges as desired.

Freeze the pie crust for at least 15 minutes until completely firm before filling with fruit.

Preheat the oven to 220°C (425°F) or 200°C (390°F) if you're using a fan-assisted oven.

Add the prepared fruit filling to the chilled pastry using a large spoon. Make sure to use all the fruit and tuck it in densely. Pour over all the juices from the bowl.

Sprinkle the top with prepared streusel. Transfer the pie plate on a baking tray lined with parchment paper.

Bake on a lower oven rack for 20 minutes, then reduce the temperature to 190°C (375°F) and bake for additional 50 minutes or so. The pie crust needs to be a deep golden brown color with bubbles from the fruit filling peeking through the crumble.

When it's done, remove the pie from the oven and let it cool to room temperature before slicing and serving.
Notes
You can use frozen blueberries instead of fresh ones.

To make sure the dough doesn't shrink while baking, freeze the crimped pie dough for at least 15 minutes before filling it with fruit and streusel.

Read all the tips mentioned in the post!
IMPORTANT
All the recipes are developed and tested using only metric measurements and a kitchen scale. The U.S. cup and spoon measurements are provided for your convenience, but I highly recommend getting a digital kitchen scale and measuring in metrics. It's easy and always guarantee the same results in baking!
Nutrition
Nutrition Facts
Blueberry Apple Pie with Streusel Topping
Amount per Serving
% Daily Value*
* Percent Daily Values are based on a 2000 calorie diet.
The nutritional information and US conversions are calculated automatically. I cannot guarantee the accuracy of this data. If this is important to you, please verify with your favourite nutrition calculator and/or unit conversion tool.
Have you tried this recipe?
Tag me on Instagram @anasbakingchronicles or use the hashtag #anasbakingchronicles - I love seeing your creations!
Similar recipes you might enjoy
If you have any other questions that I didn't cover, please let me know in the comments section down below - I'd love to help you out! And if you make this recipe, tag me on Instagram @anasbakingchronicles so I can see it or feel free to e-mail me your pictures and thoughts! I love seeing your bakes!
Happy baking,
Ana