Perfectly crunchy cream puffs, filled with delicious and silky pistachio crème mousseline and homemade raspberry jam for a tangy kick!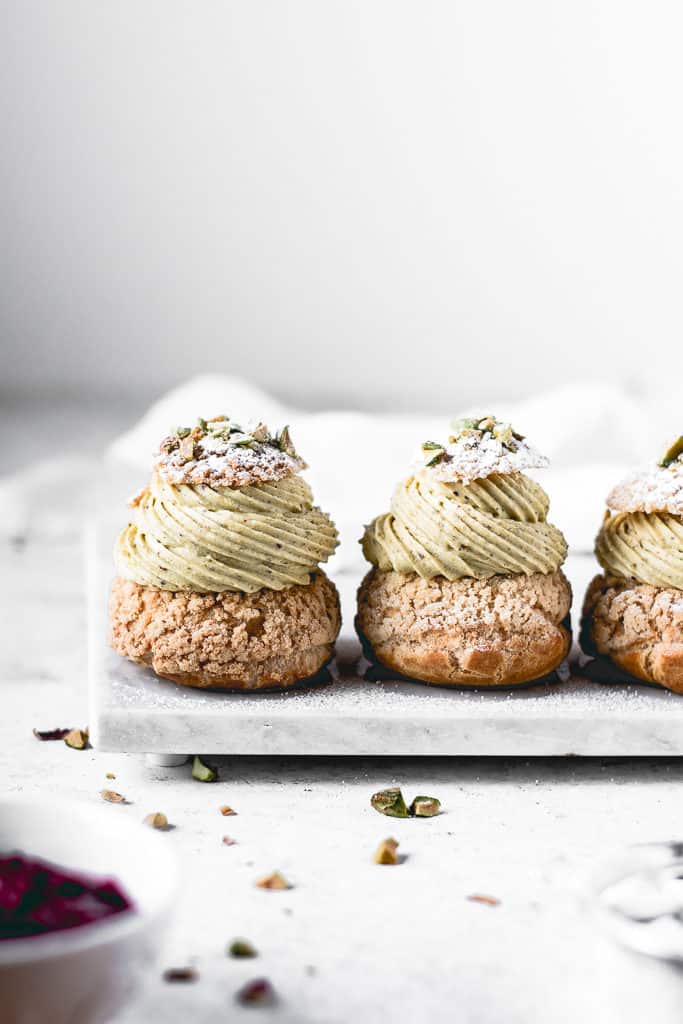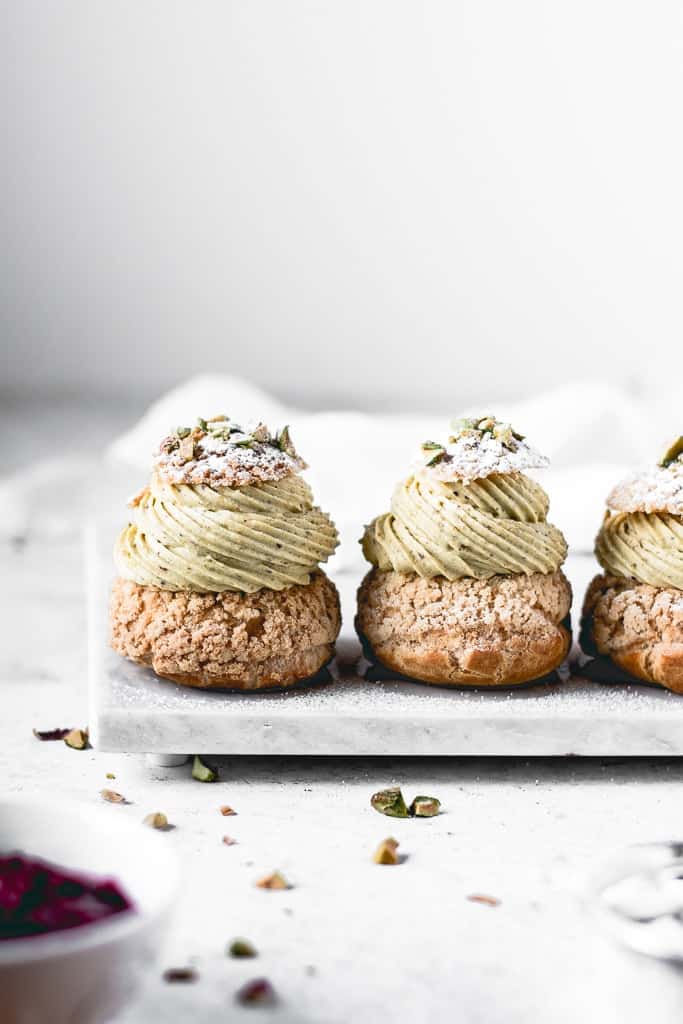 There's a new pastry shop in Zagreb called Jolie Petite Patisserie and everyone went nuts about it, including my colleague at work. When I looked at their delicious french desserts, I realized what all fuss is about. I haven't tried them myself yet, but I decided to take on a challenge to recreate their Pistachio Raspberry Chou with only having my friend's description and and image. Results? Yup, I nailed it. 😉 Check out the recipe below, with all the tips on how to make choux pastry at home!
---
My latest videos
---
What is choux au craquelin?
Choux au craquelin is basically a crunchy choux (pronounced: shoe) pastry. It's crunchy because of the frozen cookie dough disc that goes on top of the piped cream puff. It's made out of almost equal parts of butter, sugar and flour. It makes these delicious ball of happiness even yummier!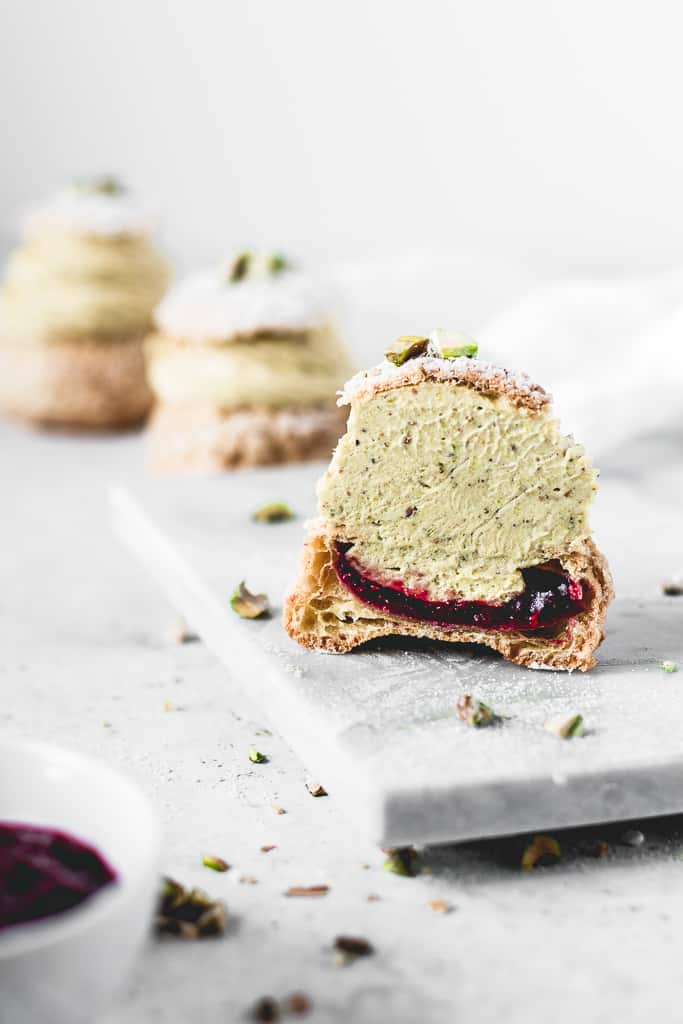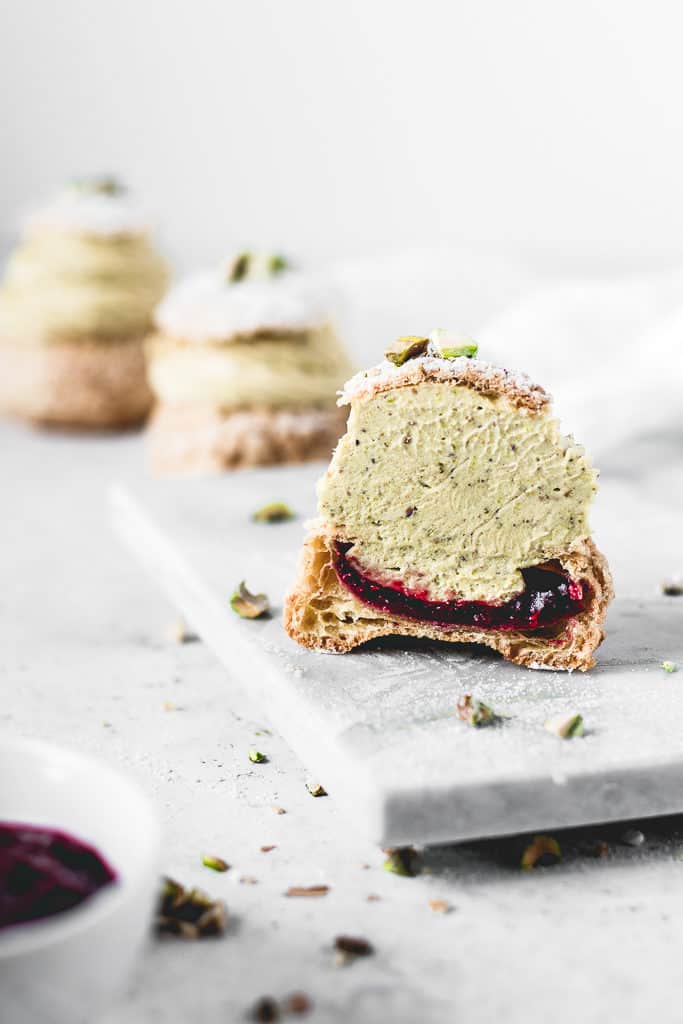 How to make choux pastry?
This is one of those recipes you can use for different purposes. Did you know that using the same pastry dough you can make profiteroles, eclairs, paris brest, chouquettes, crullers and churros? The french call it Pâte à Choux. Choux stands for cabbages and pâte for paste. Why cabbages you ask? Well, I assume that's because profiteroles, or choux buns, look like little cabbages once baked. They puff up and are full of little crinkles. So cute!

Ingredients you'll need: liquid (milk or water or combined), butter, flour, eggs. The rule of thumb is to use twice as much eggs and liquid as oppose to flour and butter. So the ratio would be like this: 2:1:1:2.
Choux pastry is the only dough that needs to be precooked. The process goes like this: in a medium pot you mix together water, milk, butter, sugar and salt, then bring it to the boil. Then you remove the mixture from the heat and add flour, stirring constantly with a wooden spoon. It needs to form a clump of dryish dough. When it cools down a little bit, you just add some eggs et voilà! You've made pâte à choux.
But... here comes the tricky part.
Let's talk about EGGS. For this recipe you'll need around 4 eggs or 230 g. But even the quantity given in grams isn't always accurate. Why is that so? Well, there are a couple of reasons. Believe it or not, the flour you are using isn't always the same, even if you buy the same brand you always do. Sometimes the flour can soak up more liquid, sometimes less. The same goes for the pre-cooking process. Maybe you've let it dry more, maybe less. And eggs aren't always the same either. Some have more water content, some less, regardless of the weight.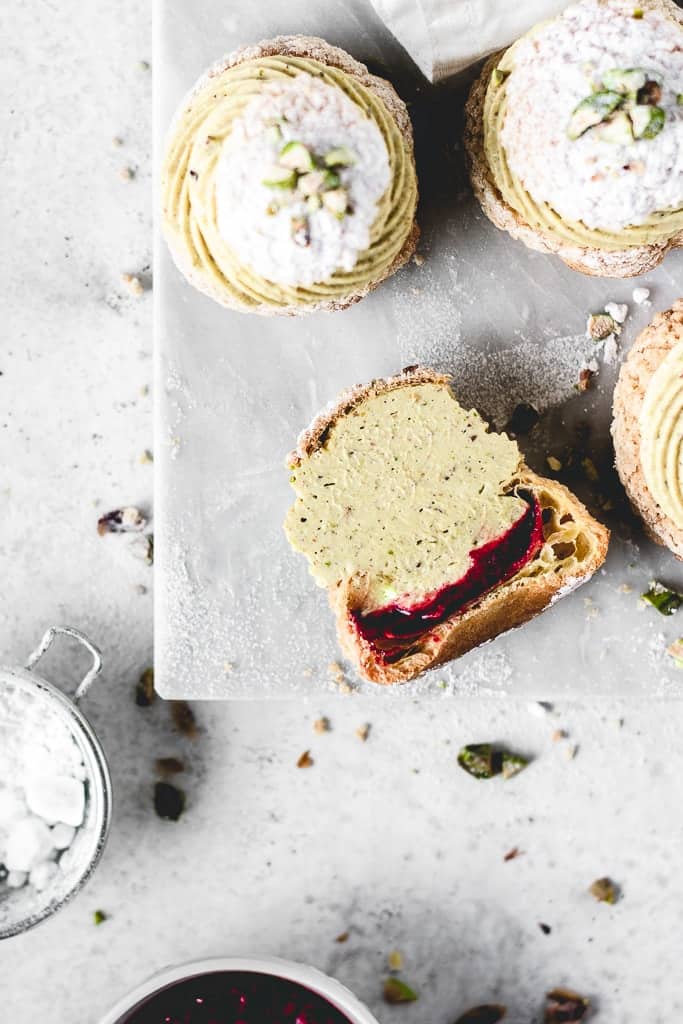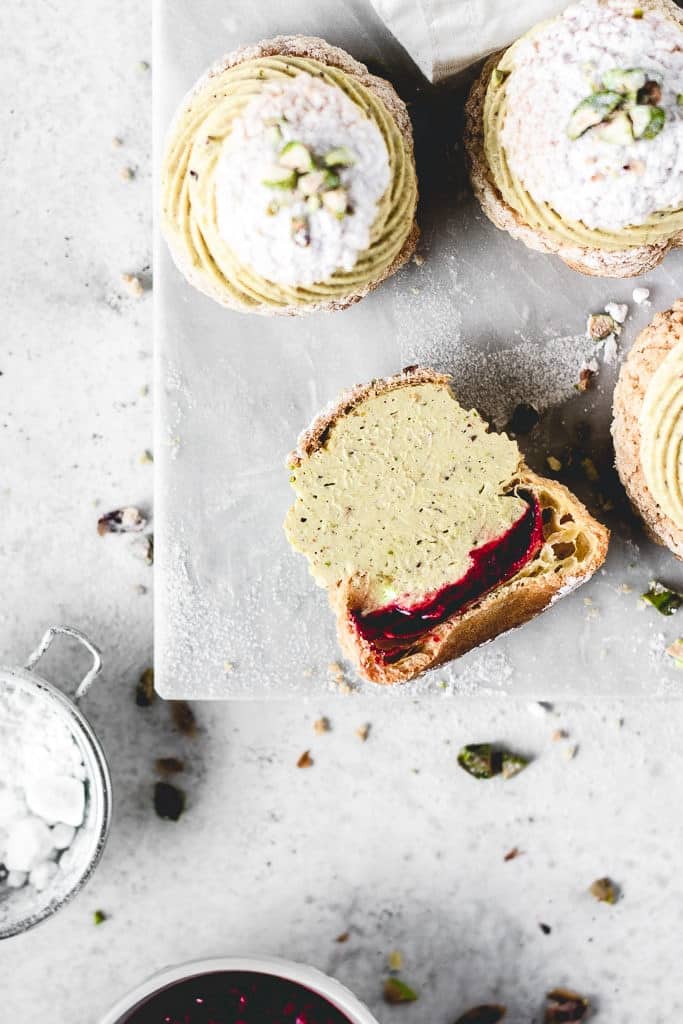 The most important thing you need to master is the RIGHT CONSISTENCY AND TEXTURE. The choux pastry is ready when you stick a wooden spoon/spatula/paddle attachment and pull it up, it forms a loose 'V' shape. So, you need to add as much eggs needed to get that consistency. If this is your first time making choux pastry, I suggest you look up some YT videos.
There is, however, one important rule: DO NOT OPEN THE OVEN DOOR WHILE IT'S BAKING.
Since we don't use any raising agents such as yeast or baking powder, we rely on the water content and steam to make the little buns rise and puff up. If you open the oven door too early, your choux buns will collapse and look rather unpleasant. Cabbage-y.
Cream puff pistachio filling
Now we're getting to the good stuff. I'm a massive fan of salted & roasted pistachios. I could snack on these any time, anywhere. That's why I like to use them to make a pistachio paste/butter. I like the salty contrast they give to already sweet filling.
The filling is traditional french choux filling - crème mousseline. It's basically pastry cream mixed with beaten butter. That simple! It's often used in lots of european desserts, as well as croatian ones.

The addition of pistachio paste makes it the most delicious filling ever, especially combined with tart raspberry jam. What's not to love?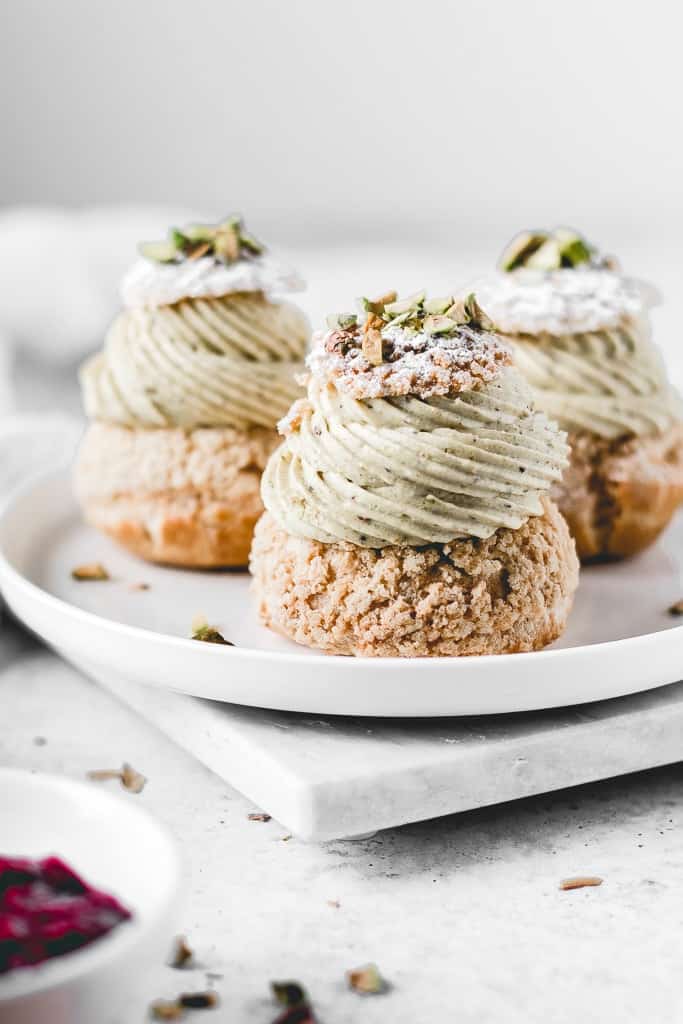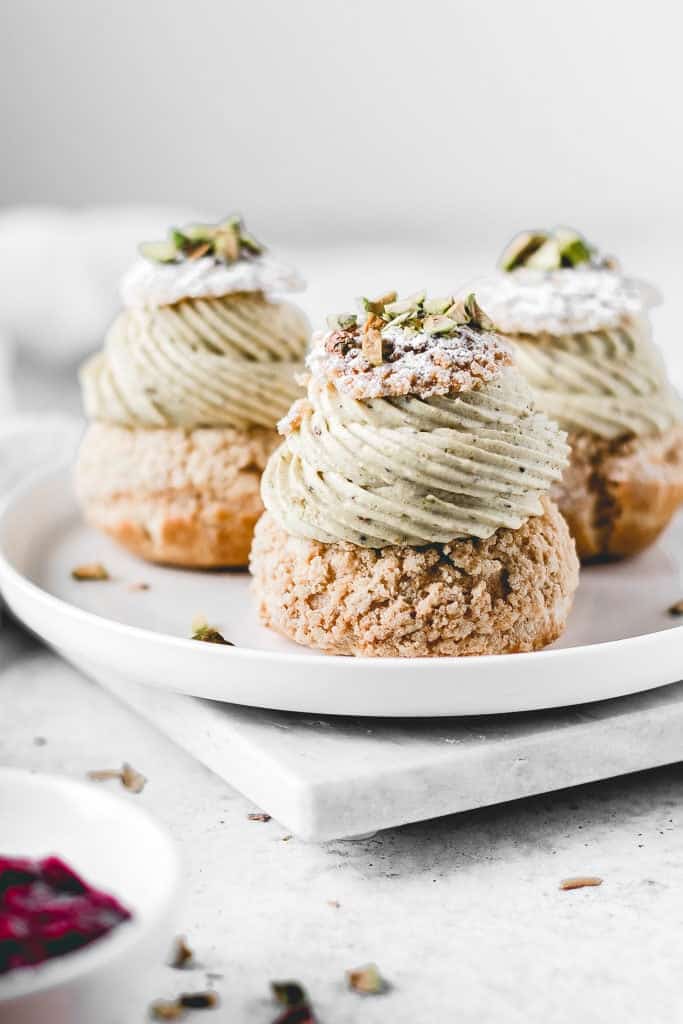 More recipes you might enjoy
Soft Chocolate Cookies with White Chocolate Chunks
The Softest Homemade Cinnamon Rolls
Easy Yogurt Lemon Pie Bars
Homemade Chocolate Brioche Babka
Lamingtons with homemade strawberry jam
If you make these amazing pistachio raspberry choux au craquelin, let me know by tagging me on Instagram @anasbakingchronicles or tell me all about it in the comments section down below. I love seeing your creations! If you have any questions, don't hesitate to ask. Happy baking!
Love,

📖 Recipe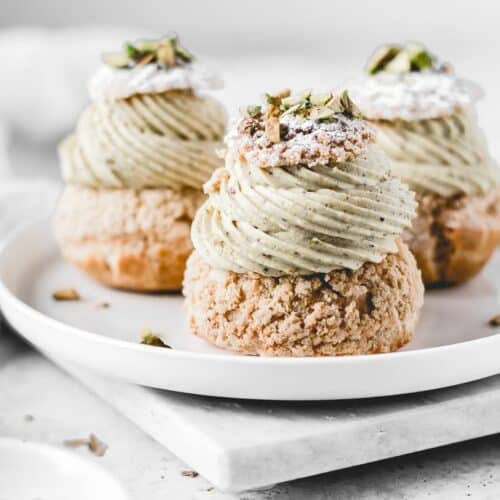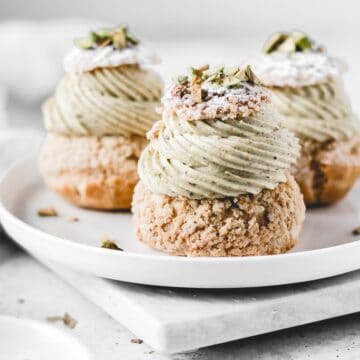 Cream puffs with Pistachio creme mousseline and raspberry jam
Description
ingredients
for choux pastry
230

g

eggs*

(room temperature (4-5 eggs))

115

g

unsalted butter

100

g

whole milk

130

g

water

125

g

all-purpose flour

1

tablespoon

caster sugar

½

teaspoon

salt
for craquelin
75

g

butter

100

g

caster sugar

100

g

all-purpose flour
for pistachio crème mousseline
4

large

egg yolks

(room temperature)

1

large

egg

(room temperature)

500

g

whole milk

160

g

caster sugar

¼

teaspoon

salt

1

teaspoon

vanilla extract

45

g

cornstarch

150

g

pistachio paste/butter

250

g

unsalted butter

(room temperature)
for raspberry jam
500

g

frozen raspberries

125

g

caster sugar
Instructions
for the choux pastry
Preheat your oven to 190˚C (350˚F) and line two baking trays with parchment paper.

In a medium saucepan combine water, milk and butter with sugar and salt, then bring to a boil, making sure the butter has melted. After the mixture has reached the boiling point, remove the saucepan from the heat and add the flour, mixing quickly with a wooden spoon to combine and form a thick paste.

Return to heat and stirring constantly, cook for a couple of minutes to dry it. When it's done, it should clump into a ball and there will be a thin film on the bottom.

Transfer the dough to the bowl of a standing mixer fitted with a paddle attachment and mix on medium speed to cool it down before adding the eggs.

In a small bowl mix the eggs (230 g) using a whisk and then slowly pour it into the cooled dough in batches. Make sure all of it is thoroughly incorporated. At this point, you need to test the consistency of the batter. Dip the paddle attachment and pull it up. If the batter forms a loose "V" shape, then your choux pastry is done. If it's too stiff, beat another egg and add it to the batter. For more information on this, check the post above.

Once your choux pastry is ready, put it in a large piping bag fitted with a round nozzle. I use Wilton 2A. Keeping your piping bag vertically, pipe blobs approx. 3 cm in diameter. Leave room between each blob, because they will rise quite a lot once baked.

Remove the craquelin from the freezer and using a round cookie cutter, cut rounds the size of the piped choux pastry. Place on top of each mound of pastry. Since you have two trays, place the craquelin on the other tray just before baking.

Bake in a preheated oven for approx. 35 minutes. Don't open the oven door, because cream puffs could collapse. They're done when they're golden brown. Poke each one with a chopstick to help steam escape and place them on a cooling rack to cool completely.
for the craquelin
Place all the ingredients in a stand mixer fitted with the paddle attachment. Beat on medium-hight speed until combined. Turn out the sticky dough on to a large piece of parchment paper then top with another piece. Using a rolling pin, roll out the dough 2-3 mm thick. Place the dough, still between the parchment sheets, in the freezer for an hour or until you are ready to use it.
for the pistachio paste/butter
In a small, sharp food processor mix shelled, salted and roasted pistachios for approx. 15 minute until it transforms into a butter/paste. If it seems like it's not coming together, add a teaspoon or two of vegetable oil to help it combine into a smooth paste. DO NOT ADD WATER.
for the pistachio crème mousseline
In a medium sized saucepan, heat the milk just until boiling point. In the meantime, in a separate bowl, combine the egg yolks, egg, cornstarch, sugar and salt using a whisk. 

Once the milk has reached scalding point, start pouring it SLOWLY to egg mixture, whisking continuously, so you don't cook the eggs. About half to ⅔ of hot milk will do. Once you tempered the egg mixture, add it to the pot with remaining milk and continue cooking, whisking constantly, until it thickens.

Once it's done, stir in vanilla extract and whisk until everything is combined. Strain the pastry cream to a clean bowl through a sieve, to get rid of any cooked egg bits and lumps. Cover with cling film touching the surface to prevent skin forming. Leave it to cool on room temperature, or put it in the fridge to speed up the process. Just make sure it's room temperature prior to using.

In a bowl of a stand mixer fitted with the paddle attachment, beat the butter until pale and fluffy (approx. 5 minutes). Then add spoonful by spoonful of previously made pastry cream. Mix until it's all nicely incorporated and with no lumps. Add pistachio paste and mix until everything is combined.
for raspberry jam
Cook frozen raspberries with sugar over a medium-high heat until it reaches boiling. Turn the heat down and let it simmer for approx. 15 minutes or until it thickens. It's better to be thicker than looser, the plan is to lose a lot of water content and have concentrated flavour. Strain the jam through a sieve to get rid of raspberry seeds and make it smooth and beautiful. Cover it with cling film and leave it to cool in the fridge.
assembly
Using a sharp serrated knife, cut the tops of the cream puffs, approx. ¾ of the way up. Place pistachio creme mousseline into a piping bag fitted with preferred nozzle (Wilton 1A or 6B). On the bottom of each cream puff put 1-2 teaspoons of raspberry jam then top it with pistachio creme mousseline. Cover with cream puff tops and sprinkle with powdered sugar.

They're the best eaten the same day. Keep them in the fridge before serving.
IMPORTANT
All the recipes are developed and tested using only metric measurements and a kitchen scale. The U.S. cup and spoon measurements are provided for your convenience, but I highly recommend getting a digital kitchen scale and measuring in metrics. It's easy and always guarantee the same results in baking!
Nutrition
Nutrition Facts
Cream puffs with Pistachio creme mousseline and raspberry jam
Amount per Serving
% Daily Value*
* Percent Daily Values are based on a 2000 calorie diet.
The nutritional information and US conversions are calculated automatically. I cannot guarantee the accuracy of this data. If this is important to you, please verify with your favourite nutrition calculator and/or unit conversion tool.
Have you tried this recipe?
Tag me on Instagram @anasbakingchronicles or use the hashtag #anasbakingchronicles - I love seeing your creations!