This Gingerbread Orange layer cake is just the dessert you need this winter! Three layers of soft and moist Gingerbread cake, paired with delicious and tangy Orange Cream Cheese frosting.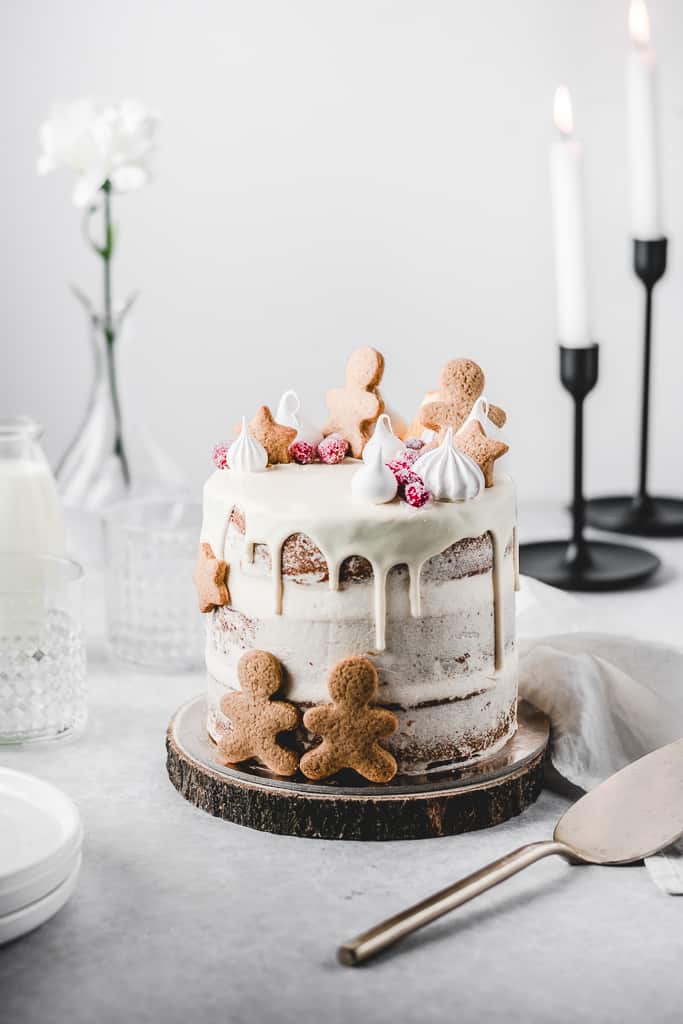 Happy new year, guys! Hope you had wonderful holidays and you're ready to rock this 2020. 🙂 I always take some time to reflect on the past year and see what can I do to make this one better. Or at least not to make the same mistakes again.
If I were to describe 2019 in one word, I'd probably choose EXHAUSTING. There was a lot going on, in different aspects of my life. Work, health, friends, family, relationship, blog... Some changes were good, some were very much needed and some were difficult and sad.
To be honest, I couldn't wait for 2019 to end. As if new year would change anything, hah. But I love new beginnings. A new chance to finally do right by you. You might think: "Oh, Ana, don't be naive" or "That's so cliché". And you're probably right, but one of my goals this year is to finally accept myself and not think of others' opinions. So, whatever it is that pushes you forward and gives you motivation to be the best version of you - stick with it. No matter how corny it is to some, it's YOU that matters the most. I'm cheering for you!
Okay, okay, enough with the personal c*ap. Let's get to important stuff - Gingerbread Orange layer cake. *swoon*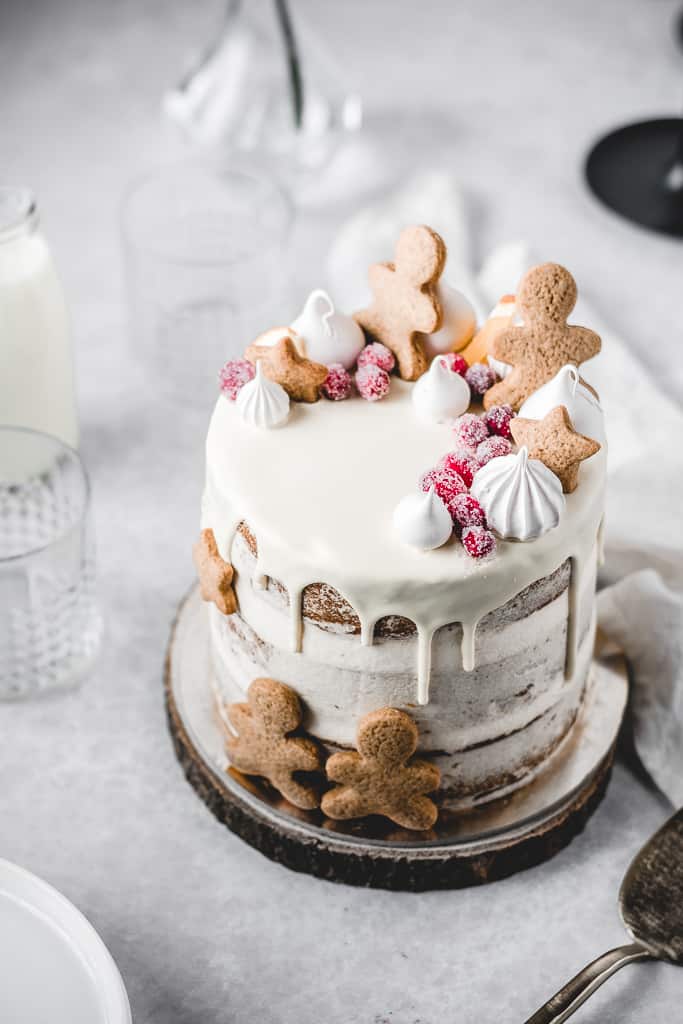 HOW TO MAKE THIS GINGERBREAD ORANGE LAYER CAKE
You might also think that I'm a bit late posting this recipe in January. But lemme tell you something - winter has just begun. And gingerbread should be eaten through all winter. There, I said it. It's the coziest flavour of them all, absolutely perfect for curling up on your couch with a cup of tea. Are you with me?
All my cake recipes are fairly simple and this one is no exception. When creating a new recipe I always go from flavour and the ingredients I need to bring the most of it out. Then, I try to incorporate these ingredients into my vanilla cake recipe to see if it's going to work, or I need to begin entirely from scratch. Luckily, my vanilla cake recipe is amazing and customizable, so I don't need to faff a lot when bringing new recipes to life. 🙂
Add a little bit of molasses and some gorgeous, warm spices and you have it! Oh, I almost forgot, orange zest is essential with all my gingerbread bakes. That's why I paired this wonderful spiced cake with tangy orange frosting, perfection if you ask me. (and another 30ish people who tried it 😉 )
For tips on making this Orange Cream Cheese frosting, check out my Earl Grey Tea Layer Cake recipe - which is the most popular and most tried recipe on the blog! 🙂
QUICK NOTE: Being in Croatia, we only have two brands of molasses available. I did my research on real American molasses, to find out the flavour or nutrition label and compare it with what I have. I'm not 100% sure, but the one I used might be blackstrap, or at least a lot thicker and darker in colour. It's a little bit bitter, too, although it says to have 70% sugar.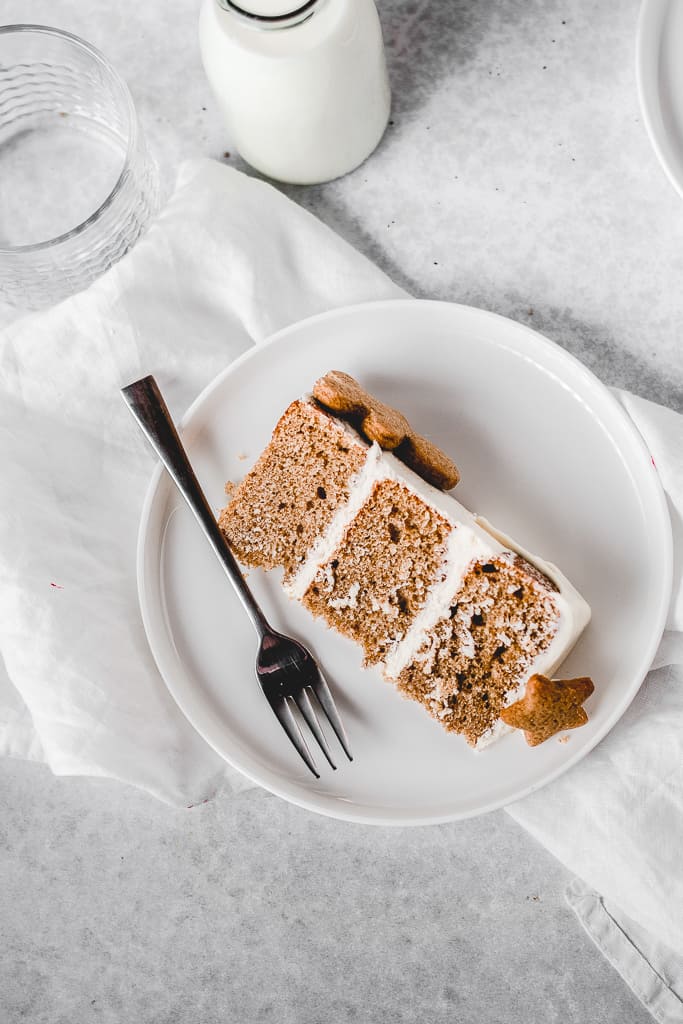 CHECK OUT SOME OF MY FAVOURITE RECIPES FOR THIS WINTER...
The Softest Homemade Cinnamon Rolls
Caramel Popcorn Chocolate Cake
S'mores Banana Blondie
Fluffy doughnuts with Orange pastry cream filing
Cookie Butter Swirl Brownie
Dulce de Leche Banana Cake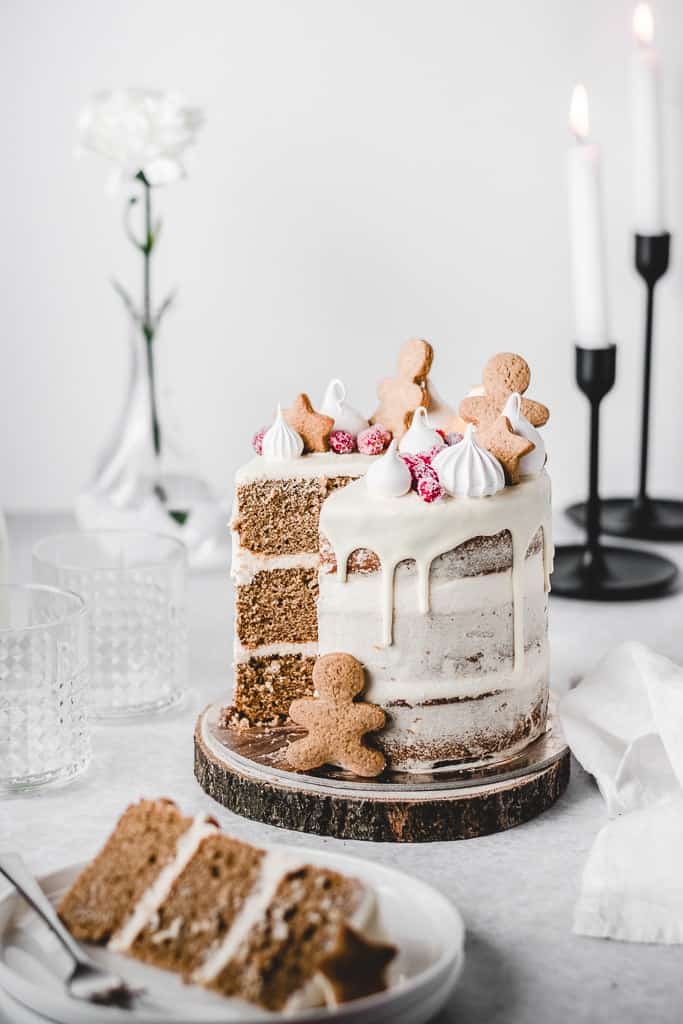 If you make this amazing Gingerbread Orange layer cake, let me know by tagging me on Instagram @anasbakingchronicles or tell me all about it in the comments section down below. I love seeing your creations! If you have any questions, don't hesitate to ask. Happy baking!
Love,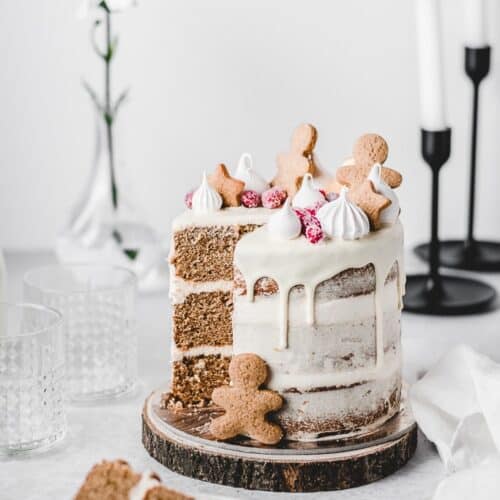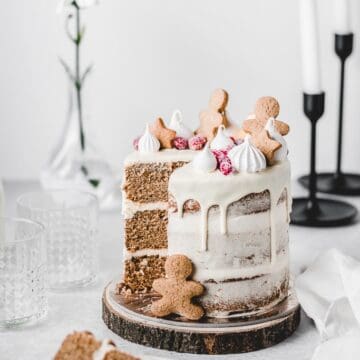 gingerbread layer cake with orange cream cheese frosting
Description
ingredients
gingerbread cake
3

large

eggs

(room temperature)

250

g

all-purpose flour

125

g

light muscovado sugar

115

g

caster sugar

140

g

unsalted butter

(room temperature)

2

teaspoons

baking powder

½

teaspoon

salt

1

teaspoon

vanilla extract

180

g

sour cream

(room temperature)

75

g

molasses

1 + ½

teaspoon

ground cinnamon

1

teaspoon

ground ginger

½

teaspoon

ground nutmeg

¼

teaspoon

ground cloves

orange zest
orange cream cheese frosting
35

g

all purpose flour

150

g

granulated sugar

280

g

whole milk

¼

teaspoon

salt

250

g

unsalted butter

(room temperature)

75

g

cream cheese

(room temperature)

zest of one orange
white chocolate ganache drip
75

g

good quality white chocolate

35

g

heavy cream
Instructions
gingerbread cake
Preheat your fan oven to 160°C (325°F). Grease and line with parchment paper three 6 inch (15 cm) round cake tins. Alternatively, you can use two 8 inch (20 cm) cake tins, for a slightly less tall cakes.

In a medium bowl sift together flour, baking powder, spices and salt. Whisk until combined and set aside.

In a measuring jug combine sour cream and vanilla extract.

In a bowl of a stand mixer fitted with a paddle attachment, cream butter, orange zest and both sugars on a medium-high speed until pale and fluffy. (approx. 3 min) Stop the mixer and scrape down the bowl.

Turn the mixer to medium-low speed and add eggs one at a time - making sure it's fully incorporated after each addition. Stop the mixer and scrape down the bowl. Add molasses and mix until everything is combined.

Add your dry and wet ingredients, alternating between one another, starting and finishing with dry ones. (3 additions of dry and 2 of wet ingredients)

Divide the batter evenly among the 3 tins and bake for 22-25 minutes or until skewer inserted in the middle comes out with few moist crumbs.

Once they're done, let the cakes cool for 10-15 minutes on a wire rack before removing them from the pans to cool completely.
orange cream cheese frosting
In a small saucepan combine flour, sugar, salt and milk. Cook over medium-high heat, stirring constantly with a whisk until it thickens.

Once it's done, put a cling film over it touching the surface to prevent "skin" forming and let it cool to room temperature. This is your pudding base. You can do this in a fridge, but before using it let it come to room temperature.

Using a stand mixer fitted with the paddle attachment, beat the butter for 5 minutes until it's pale and fluffy. Then add spoonful by spoonful of previously made pudding. Mix until it's all nicely incorporated and with no lumps. Add room temperature cream cheese, orange juice and zest, vanilla extract and mix until everything is combined.
white chocolate ganache drip
Place finely chopped chocolate in a bowl. Bring heavy cream just barely to a simmer and pour over chopped chocolate. Cover it with a plate and leave it 1-2 minutes. Stir with a spatula until combined and smooth.

Alternatively, you can do this in a microwave for 30 seconds.

Make it 10 minutes before pouring over the chilled cake so it has time to cool and thicken a bit.
assembly
Using a cake leveler or a long serrated knife level the tops of your cakes if needed.

In the middle of your cake board or a serving plate put some buttercream to stop the cake from moving around.

Place one cake layer on a cake board or a serving plate. Using a small offset palette knife or a piping bag, spread the frosting over the cake. Top it with the next cake layer and repeat the process.

Place final layer on top, upside down, and frost the sides of the cake. Then, smooth it with a cake scraper, scraping until you have a beautiful looking naked cake.

 Chill the cake for a half an hour to an hour before putting the chocolate drip on top. It has to be cold so the drip doesn't go all the way down.

Pour 50-75% of your white chocolate ganache in the middle of your cake, then slowly push it towards the ends using a small offset palette knife. If your ganache is too loose, then make sure to spread it in forward-backward manner on the top of your cake, in order to cool it a little bit, before pushing it over the top.

Decorate the cake with meringues, candied orange peel (or candied cranberries) and some gingerbread men.
Notes
If you don't have a stand mixer, you can use a hand mixer.
Not all ovens are the same. I suggest to check the cakes at 18 min mark and then adjust the baking time accordingly. Get to know your oven! 😉
If you still don't own one, I advise you to buy a kitchen scale - they're cheap and easy to use, and always guarantee the same results in baking! 🙂 
Cake is best eaten at room temperature. You can keep it in a fridge, wrapped in cling film, but take it out of it at least half an hour (preferably more) before serving. 🙂
If you want to make a three layer 8 inch (20 cm) or 2 layer 9 inch (23 cm) cake, then double the recipe. You can do that by moving the serving slider to 24. For three layer 9 inch (23 cm) cake, triple the recipe.
IMPORTANT
All the recipes are developed and tested using only metric measurements and a kitchen scale. The U.S. cup and spoon measurements are provided for your convenience, but I highly recommend getting a digital kitchen scale and measuring in metrics. It's easy and always guarantee the same results in baking!
Nutrition
Sodium:
225
mg
|
Calcium:
135
mg
|
Vitamin C:
1
mg
|
Vitamin A:
1147
IU
|
Sugar:
43
g
|
Fiber:
1
g
|
Potassium:
301
mg
|
Cholesterol:
145
mg
|
Calories:
595
kcal
|
Saturated Fat:
22
g
|
Fat:
37
g
|
Protein:
6
g
|
Carbohydrates:
62
g
|
Iron:
2
mg
The nutritional information and US conversions are calculated automatically. I cannot guarantee the accuracy of this data. If this is important to you, please verify with your favourite nutrition calculator and/or unit conversion tool.
Have you tried this recipe?
Tag me on Instagram @anasbakingchronicles or use the hashtag #anasbakingchronicles - I love seeing your creations!