You're searching for a light, easy-to-make, less sweet buttercream frosting that pipes beautifully AND tastes amazing? Then this is the recipe you've been waiting for!
This post has been updated from its original publish date of June 14th, 2020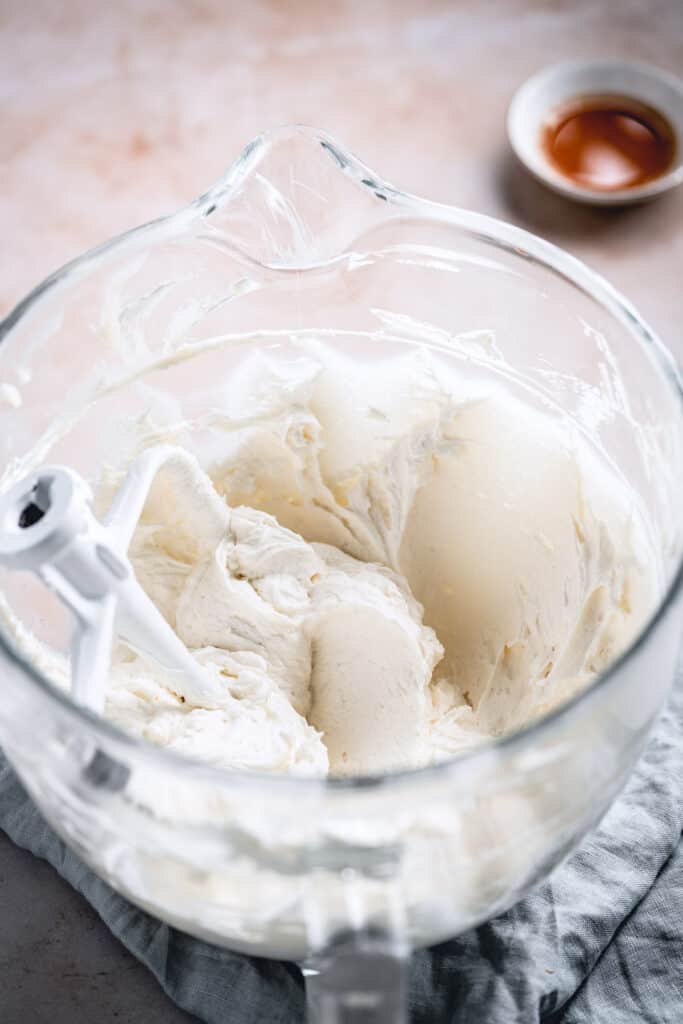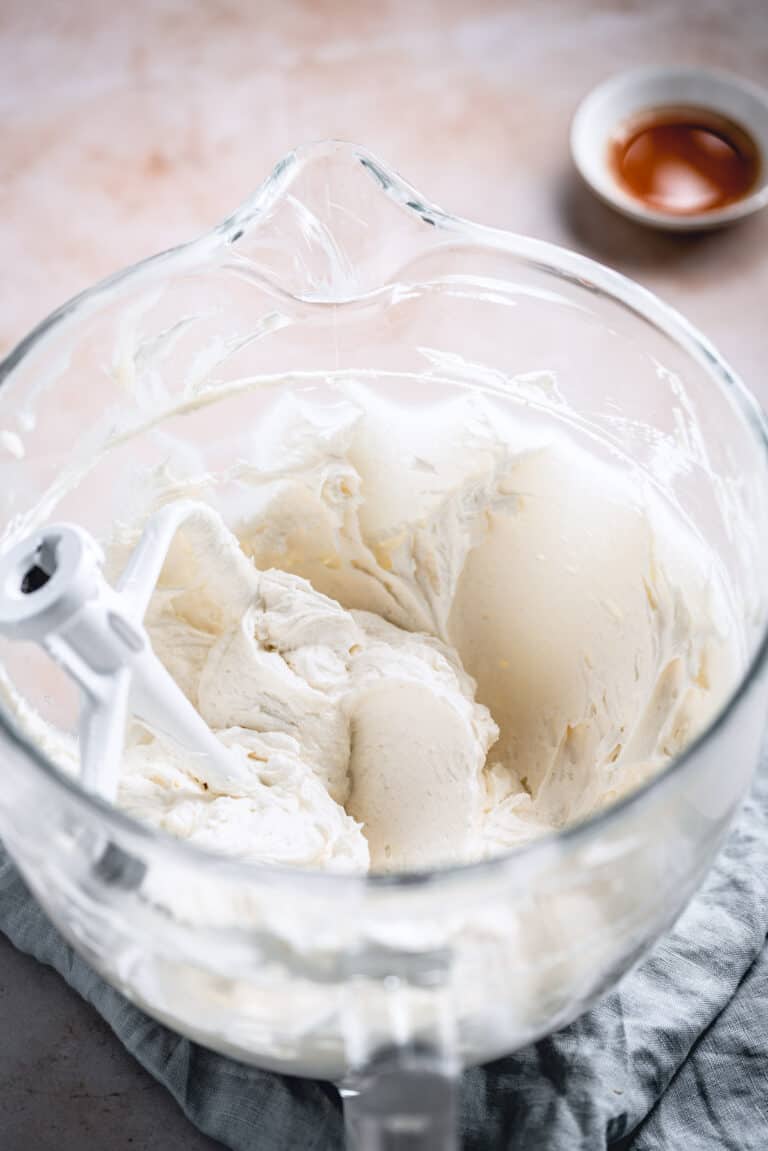 Jump to:
What is ermine buttercream?
Also known as flour buttercream, boiled milk frosting and heritage frosting - this buttercream is made with a milk pudding base (milk, flour, sugar, salt) and unsalted butter. Since there are no eggs in this recipe, it's significantly easier and cheaper to make than meringue-based recipes. Not to mention the better flavor you're getting.
It's similar to German Buttercream frosting which is the holy grail of frostings in Croatia, but much easier and again - doesn't require eggs to make a custard, which then gives you a delicious, but yellow frosting.
On my quest to find the best less sweet buttercream frosting - more than three years ago - I'd discovered a blog called The Tough Cookie. I'll forever be grateful to Nila for introducing me to this wonderful frosting, which had some of my cake testers confused for whipped cream+mascarpone frosting. Yes, it's that light! 🙂
Since my first encounter with Nila's base recipe, I adapted it to suit my needs and preferences, but also made a lot of different flavors, such as chocolate ermine buttercream, raspberry buttercream and pistachio buttercream. There are more to come in the cake cookbook I'm currently writing, so stay tuned! 🙂
Why you'll love this frosting
It's egg free.
It has the perfect balance of sweetness - no more sacrificing flavour to get the consistency right.
Doesn't form a crust.
It's easy to whip up, you don't have to pay attention to reaching certain temperatures.
It colours and pipes beautifully.
Ingredients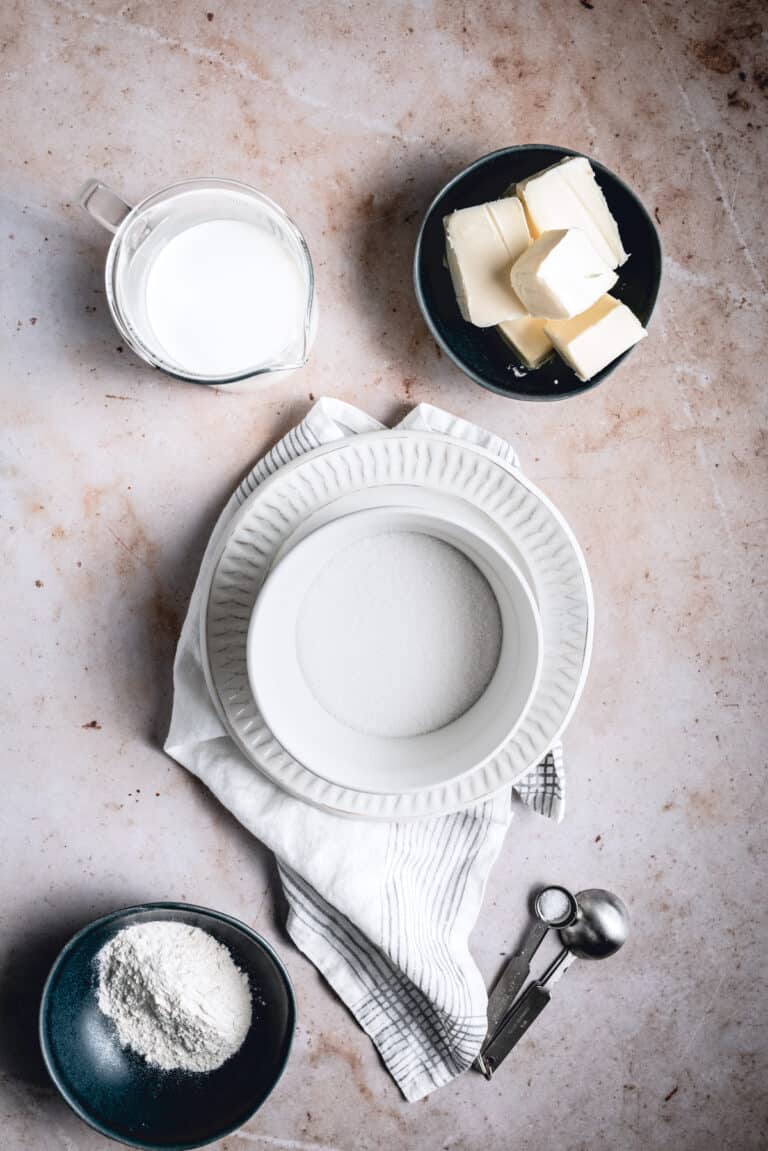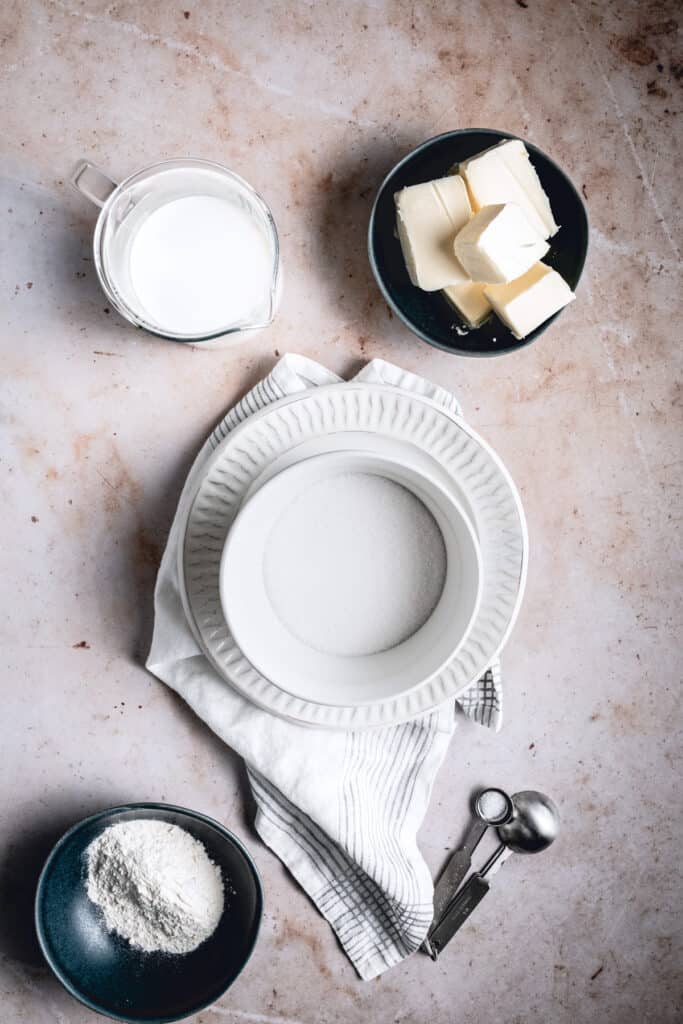 All-purpose flour
Caster sugar (granulated works, too)
Whole milk
Salt
Butter
*Vanilla (or other flavourings)
How to make ermine frosting (step-by-step)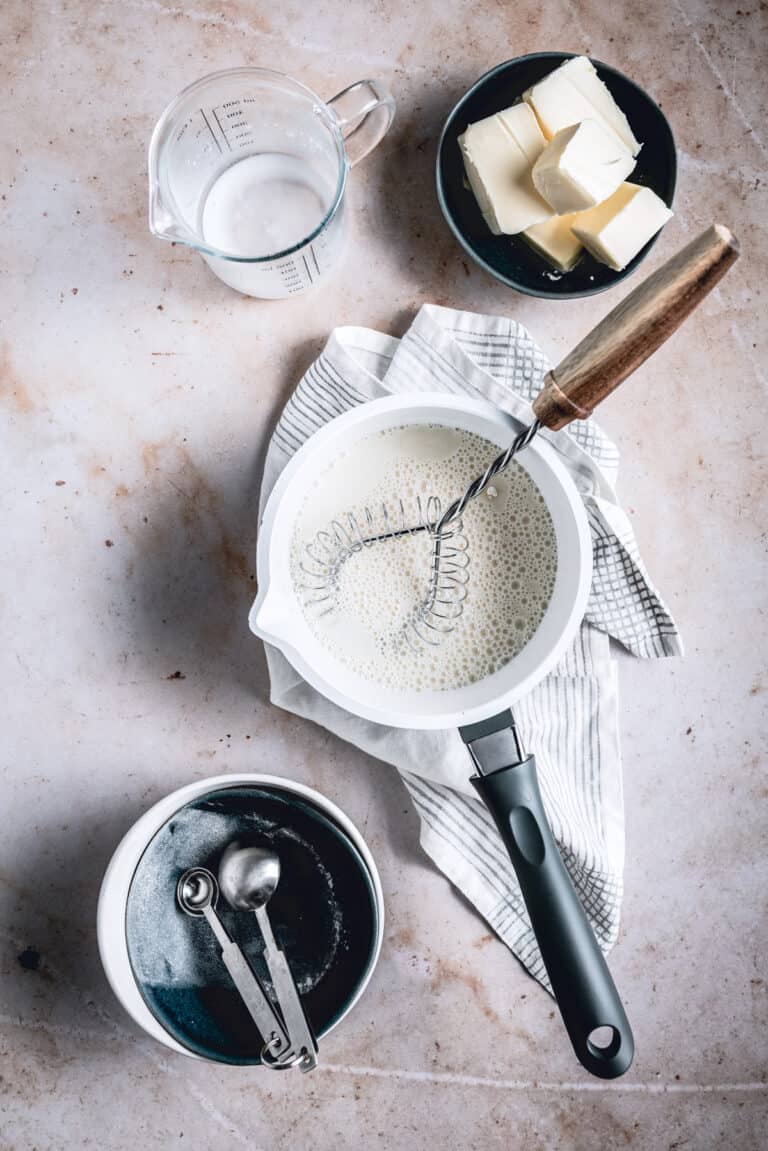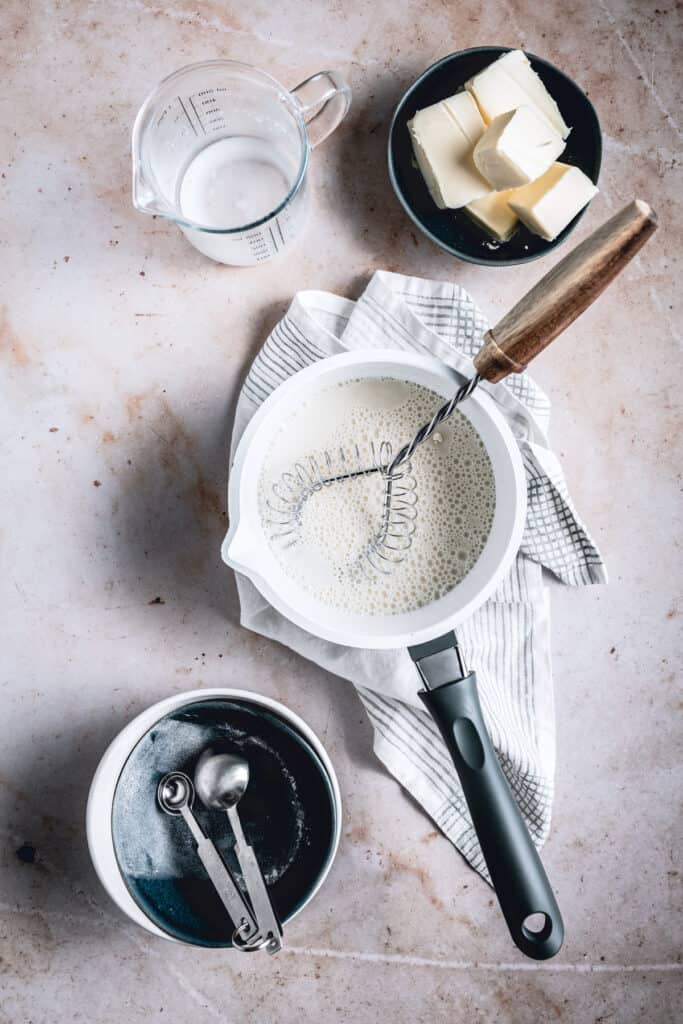 In a small heavy-bottom saucepan whisk together the flour, sugar and salt. Add the whole milk and whisk until everything is combined or until there are no lumps, or flour floating arount (like shown in the image).
Cook the mixture on a medium-high heat, whisking constantly so it doesn't catch on the bottom. Some prefer using a silicone spatula, but I get better results with no lumps using a whisk. The cooking is done when the mixture thickens quite a bit and bubbles appear on the surface, just like when making a pastry cream. From that moment on, cook for another 2-3 minutes to get rid of possible flour aftertaste and you're done.
3. Strain the pudding base through a fine-mesh sieve to make sure there are no lumps and you get a smooth texture. If you want it to cool quicker, use a larger, shallow plate. Cover with cling film touching the surface to prevent skin forming and leave to cool at room temperature.
You can let it cool in the fridge if you're in a hurry, but please make sure it's room temperature before mixing it up with butter.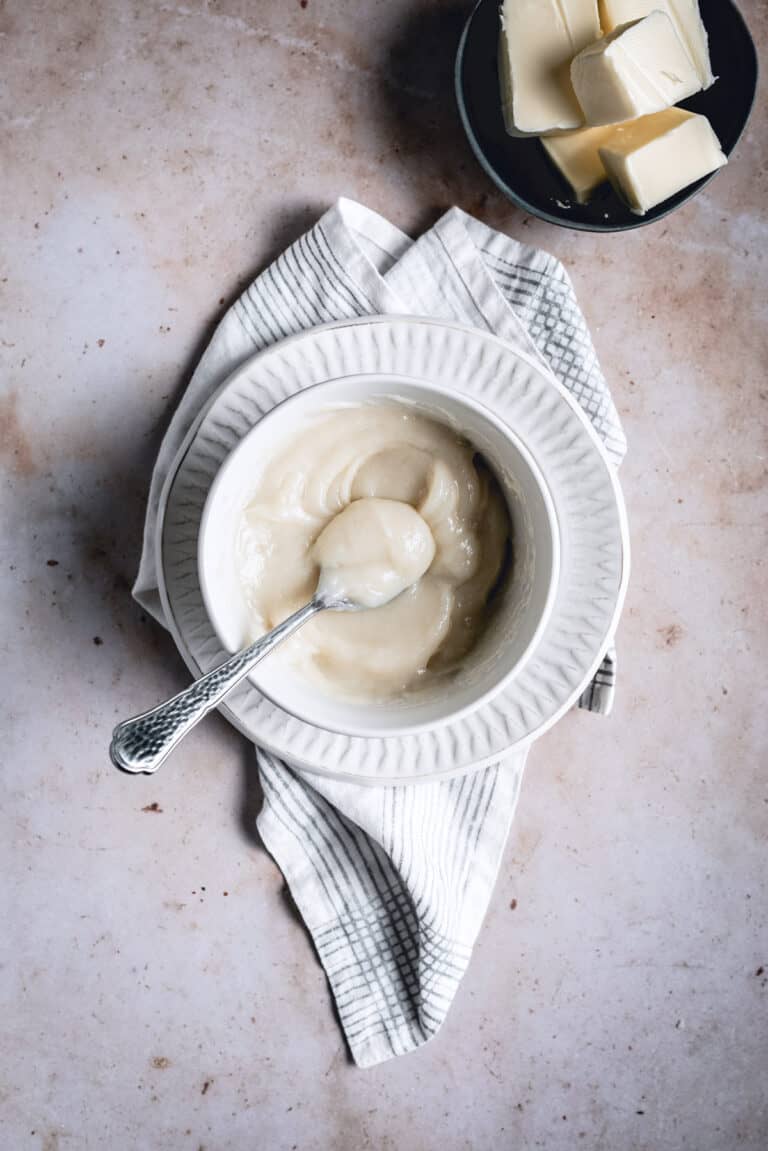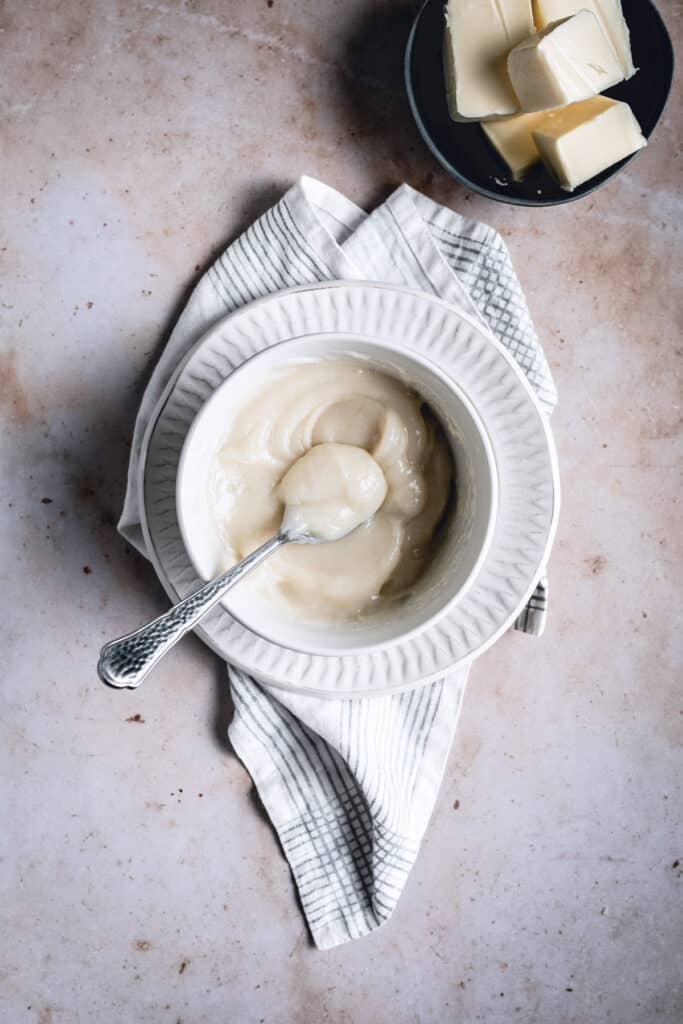 4. After your pudding base is cooled and ready, give it a stir with a silicone spatula or a spoon before incorporating it with butter. This is how your pudding base should look like when it's ready.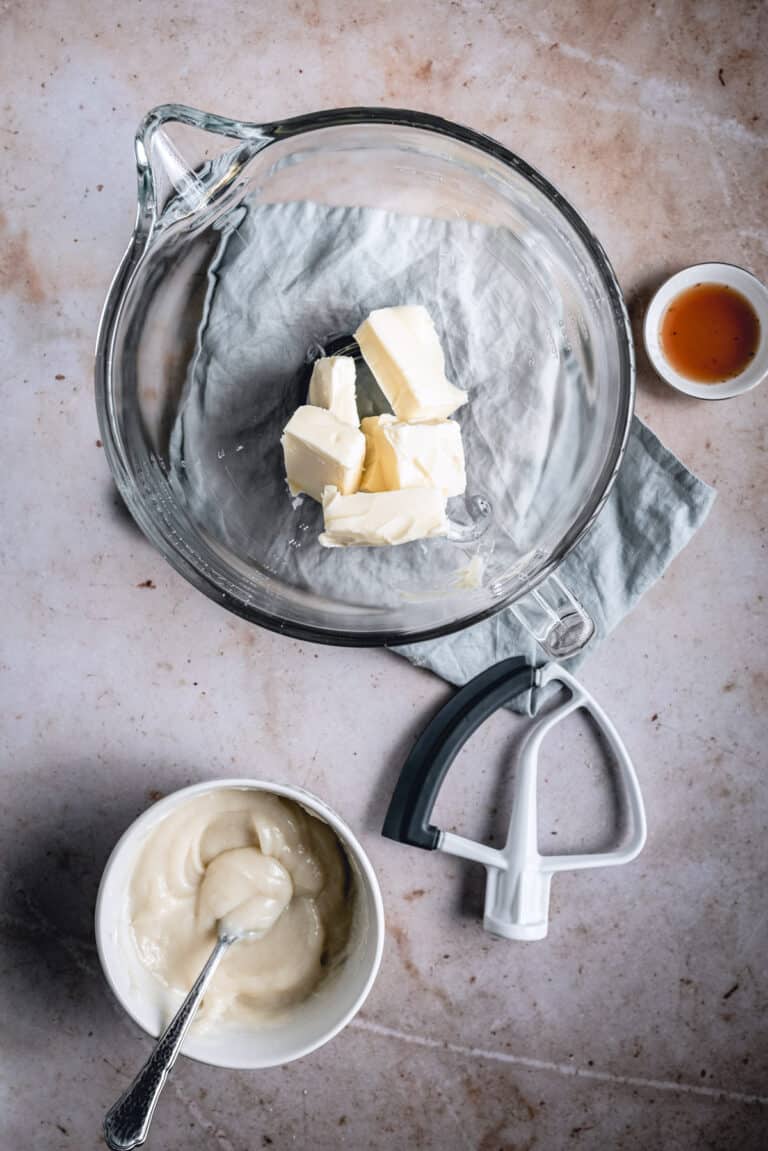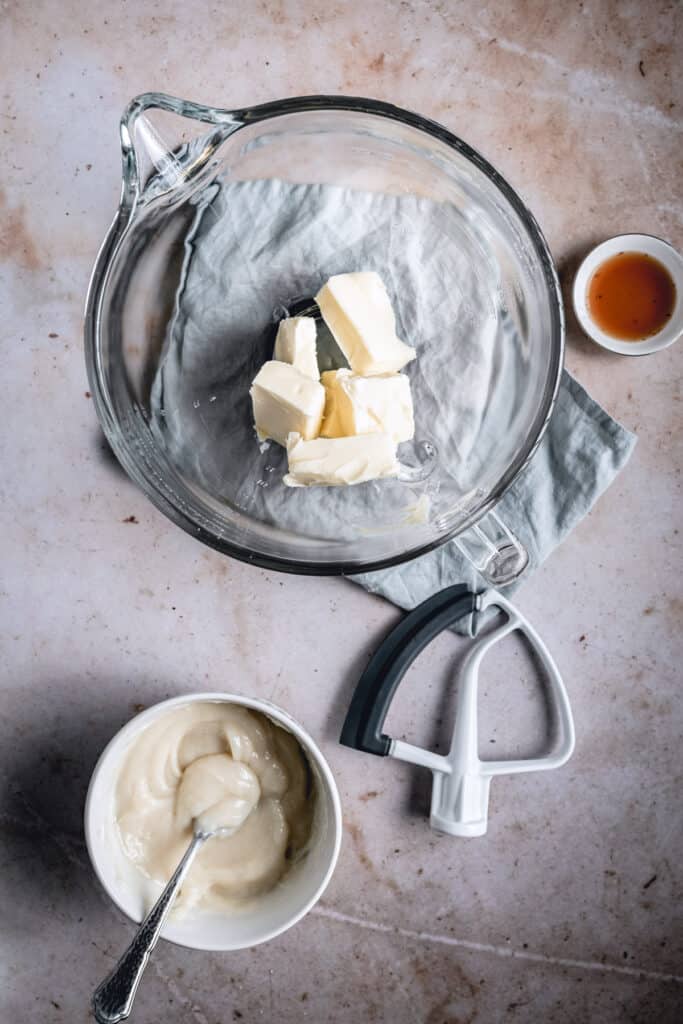 5. In a bowl of a stand mixer (or using an electric hand mixer), beat the butter for at least five minutes, until it becomes really pale (almost white) and fluffy.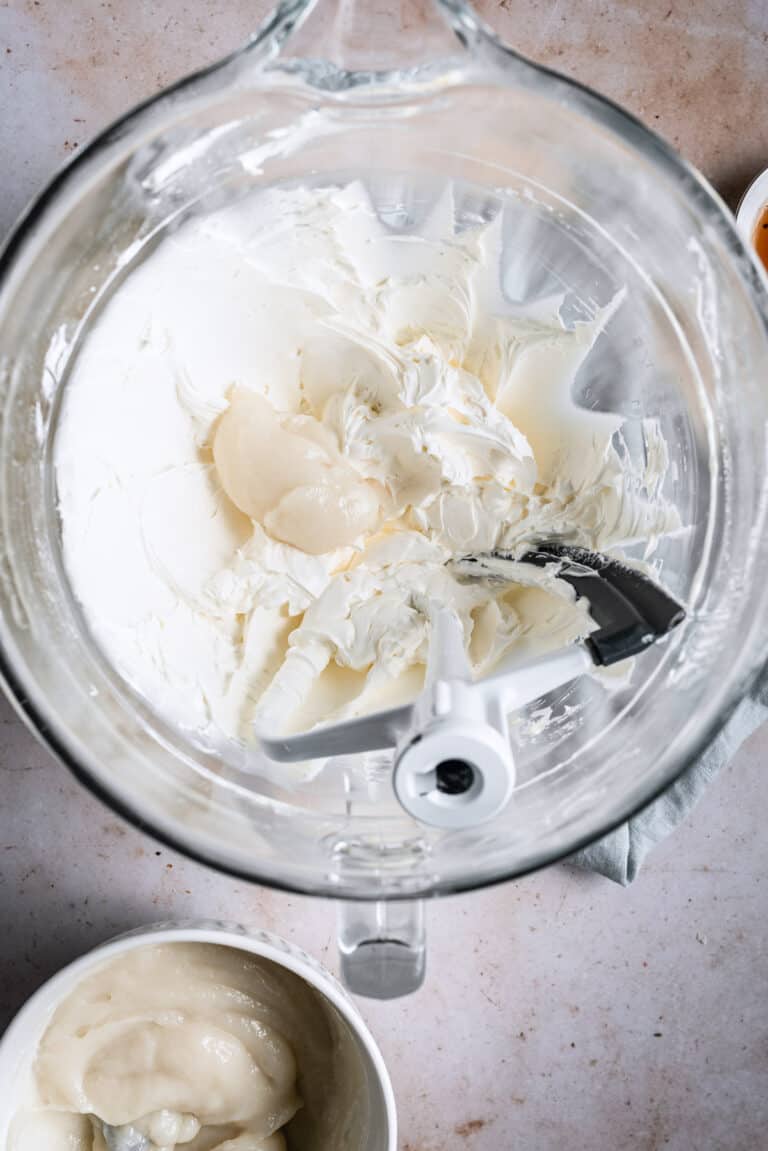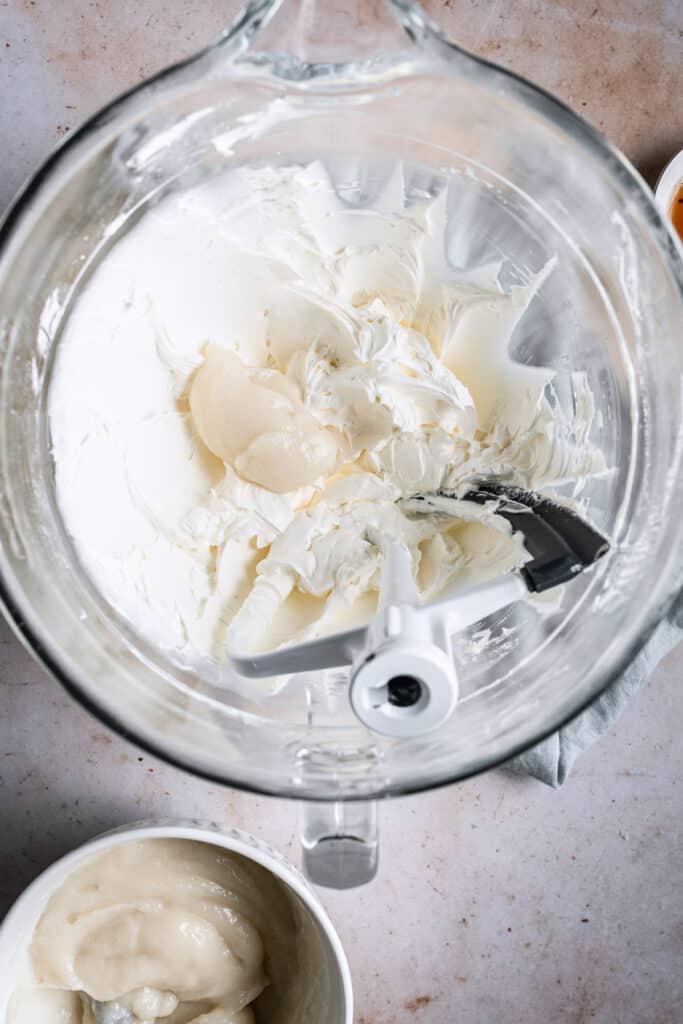 6. While the mixer is still running on a medium speed, add one tablespoon at the time of the pudding mixture, making sure it's nicely incorporated with the butter before proceeding to add another one.
Once you've added all of the pudding, beat on medium-high speed and scrape the bottom of the bowl once or twice to make sure everything is combined. Add in the vanilla and give it mix one last time.

That's it! You got yourself a delicious, fluffy, vanilla flour buttercream! 🙂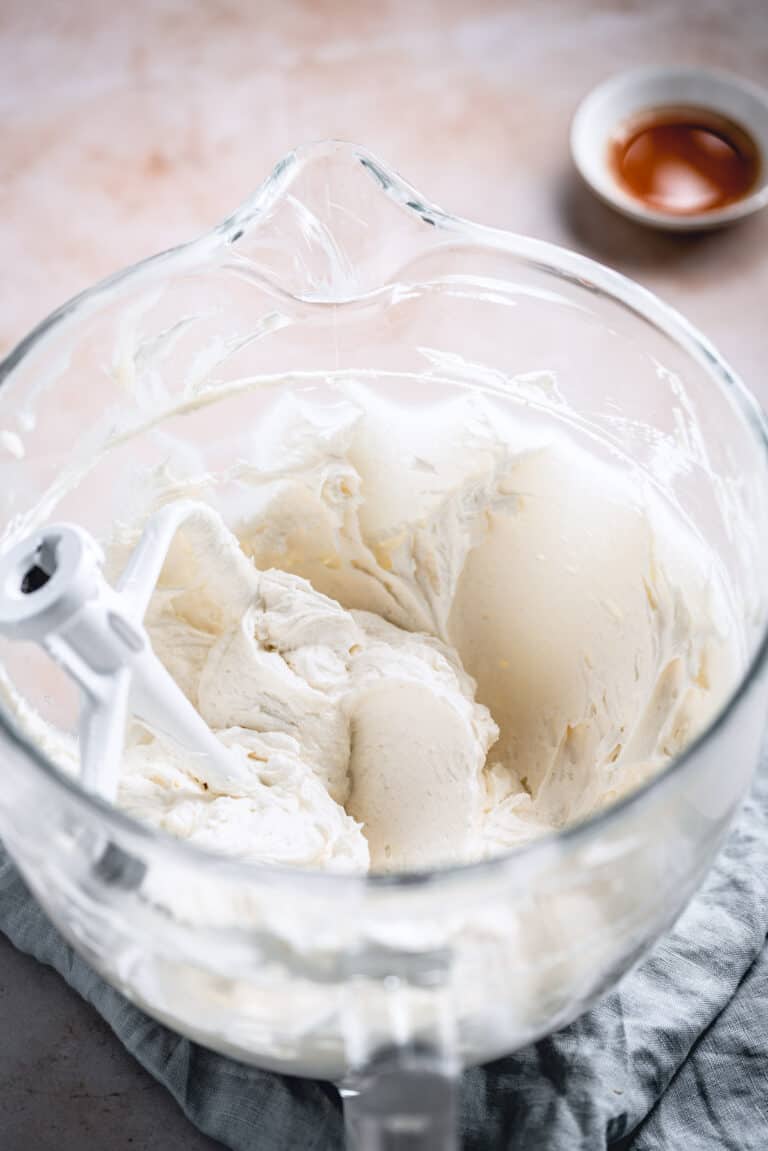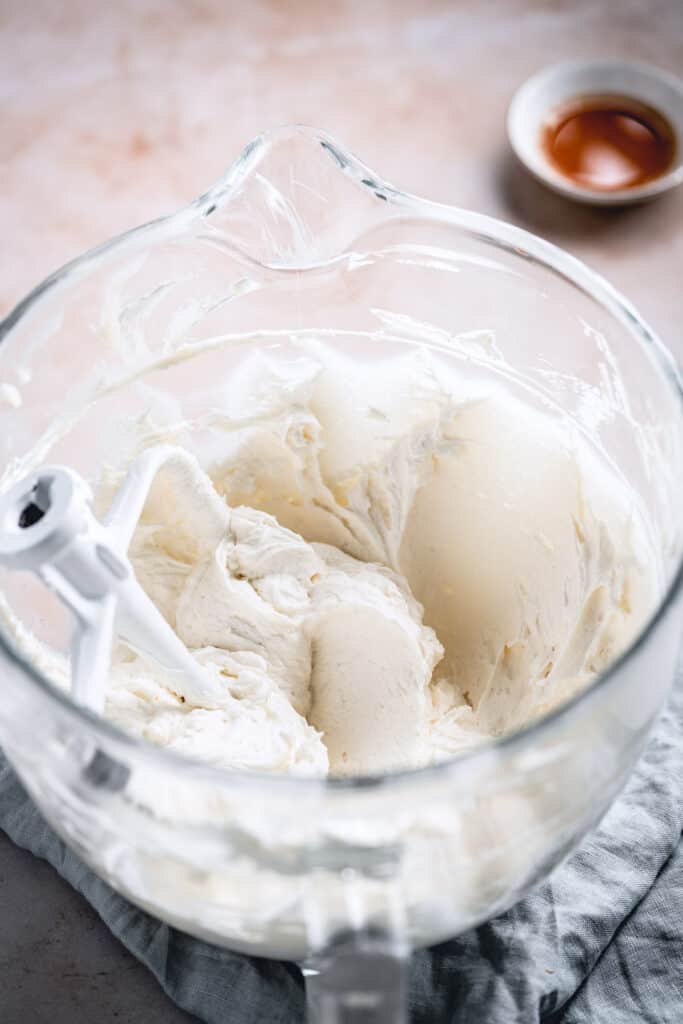 My top tips for success every time
Beat the butter for full 5 minutes, even longer if you're making a double batch. I know it seems a lot and your hands might hurt if you're using an electric hand mixer - but it will make all the difference in getting that light and WHITE frosting.

Scrape the bowl with a silicone spatula every now and then to ensure every bit of butter is thoroughly beaten.
Make the pudding base the night before the day you plan to complete the frosting and assemble the cake, so you don't end up panicking if it doesn't cool quick enough. Time management is everything. 😉
If you need to make a lot of frosting, I'd rather make one or double batch at the time , just because it's easier for the mixer and you won't risk messing up the ratios.
When I'm making a three-layer 6-inch cake and want to have enough buttercream to generously fill, frost and do various decorations (different colors etc.), I'll make a batch using 300 or 350g of butter. I'd rather have some leftover than not enough.

Just move the serving slider until you see that number and it automatically calculates the rest. 🙂
Some of my favourite recipes that use ermine frosting
Dulce de Leche Banana Cake
Funfetti Birthday Cake
Raspberry Vanilla Cake
Chocolate Berry Layer Cake
FAQ + Troubleshooting
My flour buttercream has curdled, what now?
Most likely one of your ingredients was too cold, either the pudding base or the butter. Not to worry, all you have to do is heat it up a little bit - I usually use a hairdryer outside of the bowl. Do it one bit at a time, so you don't melt the butter and keep whipping it until it comes together.
My buttercream is too soft.
Two situations might have occurred.
1. It's just too hot, so your ingredients were softer/hotter than needed. Whack the bowl in the fridge for 20-30 minutes and check again.
2. You tampered with measurements and possibly added more milk/sugar, which leaves you with a softer pudding base and ultimately softer buttercream.
I like sweeter frostings, can I just add more sugar?
You sure can, but adding more sugar will make the pudding base looser (and a softer buttercream), so you need to add some more flour too, to keep the consistency right.
The pudding base never thickened, what did I do wrong?
1. Are you sure you measured everything correctly?
2. You probably didn't cook it long enough. Although I always try to explain the process the best I can, the things you end up doing are beyond my comprehension. Maybe your hob runs colder than mine. Maybe you've used a different pan that needs more time to heat up.

Can I use plant-based milk instead?
Yes, you can. I've made the vegan version successfully using soy and rice milk. I've also tried using oat milk, but it leaves too much of an aftertaste. I suggest you use the one you like the taste of or the one that has the least noticeable taste. Plant-based kinds of milk are usually more watery than regular cow milk, so it's important to use more flour in order to get the same thickness of the pudding base, that is - roux.
Can I use flour buttercream under fondant?
This is also one of the most common questions I get asked by experienced home cake bakers. I don't use fondant, nor have I ever used it, so I can't speak from personal experience. That said, from what I've gathered, I don't see why not. Like every other buttercream, it firms up in the fridge because of the butter solidifying, so it can hold up fondant very well without collapsing.
Can I make ermine frosting ahead and keep it in the fridge?
You can, just make sure to bring it up to room temperature ( around 21˚C/70˚F) and then whip it up to bring back the fluffiness. However, if possible, make it fresh on the day of stacking the cake, because refrigerating might make it lose some of its volume.

That said, I've tested on multiple occasions leaving the buttercream in a bowl at room temperature overnight (tightly covered with plastic wrap) and didn't have any issues.
Can I freeze ermine buttercream frosting?
Custard-based desserts usually don't freeze well. I have never tried to freeze leftover ermine frosting, but since it has a milk base, I suspect it would split and curdle once thawed. However, I did manage to successfully freeze individual cake slices that were filled and coated in ermine buttercream.

I would assume that larger batches wouldn't do well with freezing and thawing.
If you have any other questions that I didn't cover, please let me know in the comments section down below - I'd love to help you out! And if you make this recipe, tag me on Instagram @anasbakingchronicles so I can see it or feel free to e-mail me your pictures and thoughts! I love seeing your bakes!
Happy baking,
Ana
📖 Recipe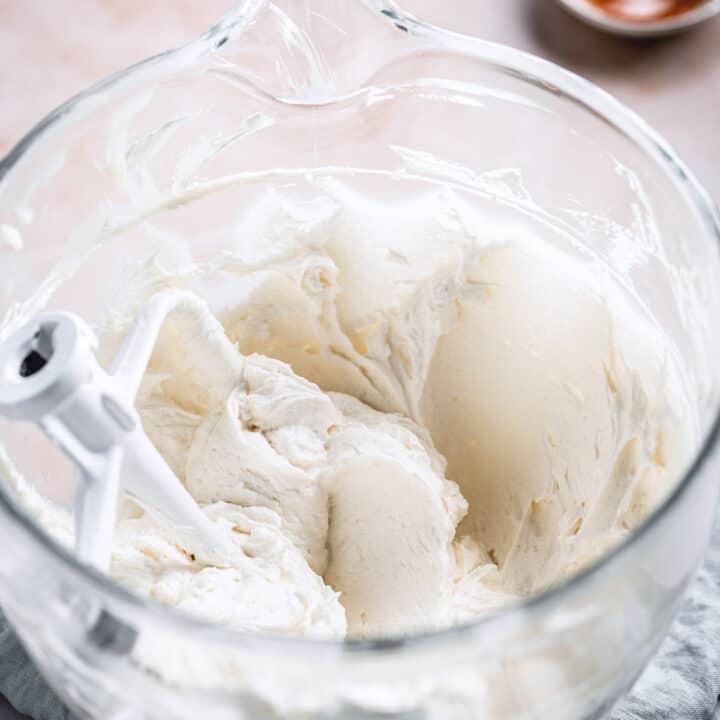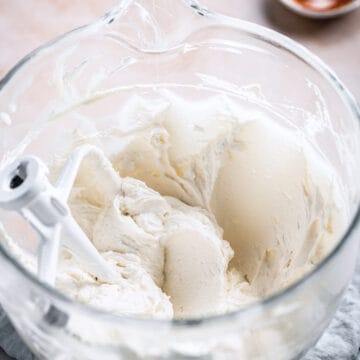 Ermine Buttercream Frosting (Flour Buttercream)
Description
You're searching for a less sweet buttercream frosting that pipes beautifully and tastes amazing? Then this is the recipe you've been waiting for! This quantity is enough to generously frost 12-14 cupcakes or to fill and frost a 3 layer 6-inch cake with no special decorating.
ingredients
Vanilla buttercream
35

g

all-purpose flour

160

g

white caster sugar

¼

teaspoon

salt

280

g

whole milk

250

g

unsalted butter

(room temperature)

2

teaspoons

vanilla extract
Instructions
In a small saucepan (I always use heavy-bottomed one to prevent burning) combine flour, sugar, salt and milk. Cook over medium-high heat, stirring constantly with a whisk until it thickens and bubbles appear on the surface. This can take about 15 minutes.

Once it's done, strain it through a fine mesh sieve into a shallow plate to get rid of any lumps. Put a cling film over it touching the surface to prevent "skin" forming and let it cool to room temperature. This is your pudding base. You can do this in a fridge, but before using it let it come to room temperature.

Using a stand mixer fitted with the paddle attachment, beat the butter for at least 5 minutes until it's pale and fluffy. Then add spoonful by spoonful of previously made pudding. Mix until it's all nicely incorporated and with no lumps.

Add vanilla extract and mix until everything is combined.
Notes
If you don't have a stand mixer, you can use a hand mixer.
If you still don't own one, I advise you to buy a kitchen scale - they're cheap and easy to use, and always guarantee the same results in baking! 
Originally published: June 14, 2020
IMPORTANT
All the recipes are developed and tested using only metric measurements and a kitchen scale. The U.S. cup and spoon measurements are provided for your convenience, but I highly recommend getting a digital kitchen scale and measuring in metrics. It's easy and always guarantee the same results in baking!
Nutrition
Nutrition Facts
Ermine Buttercream Frosting (Flour Buttercream)
Amount per Serving
% Daily Value*
* Percent Daily Values are based on a 2000 calorie diet.
The nutritional information and US conversions are calculated automatically. I cannot guarantee the accuracy of this data. If this is important to you, please verify with your favourite nutrition calculator and/or unit conversion tool.
Have you tried this recipe?
Tag me on Instagram @anasbakingchronicles or use the hashtag #anasbakingchronicles - I love seeing your creations!