Homemade pure vanilla extract takes just two ingredients to make and delivers the best vanilla flavour EVER!
Originally published: August 14th, 2018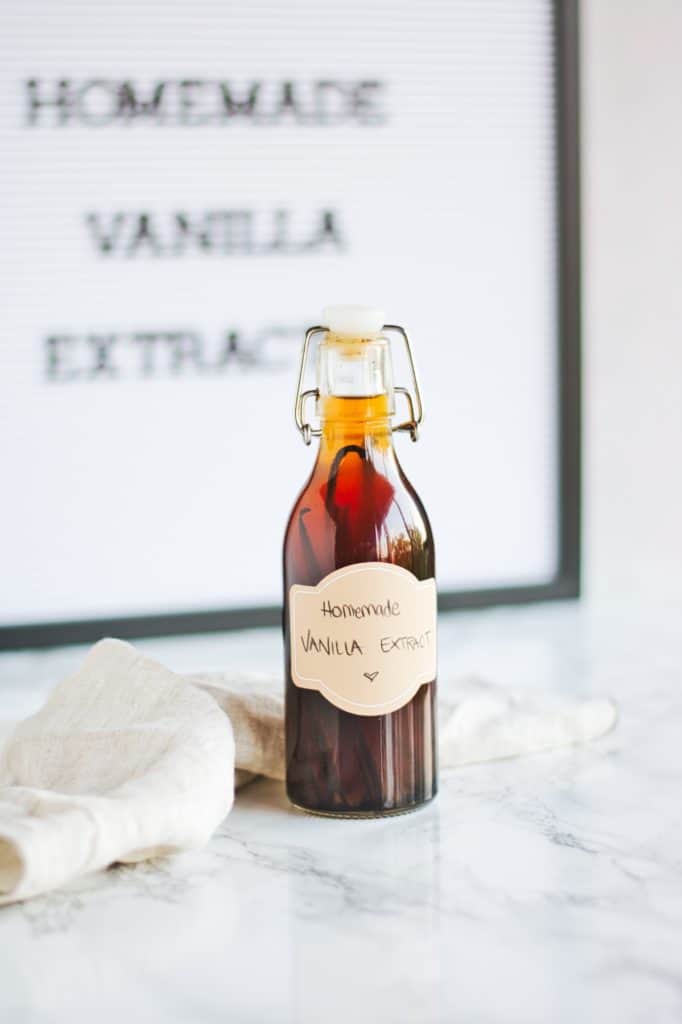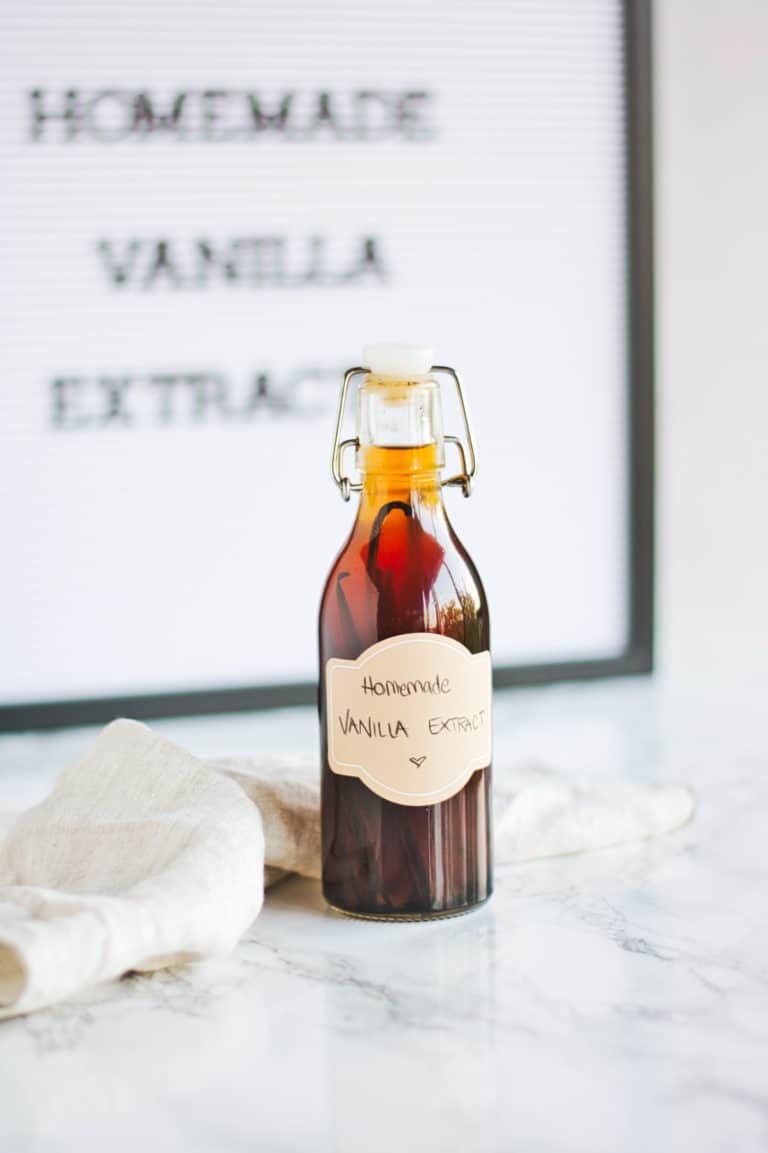 Vanilla is like the salt of sweet baked goods. Basic flavour that's just as good on its own, but also helps to enhance other flavours. Although, don't forget that every sweet treat needs a pinch of salt! 😉
When choosing between a vanilla or chocolate flavoured ice cream, I always go for rich and creamy vanilla, especially if it has those little black vanilla specks in it. YUM!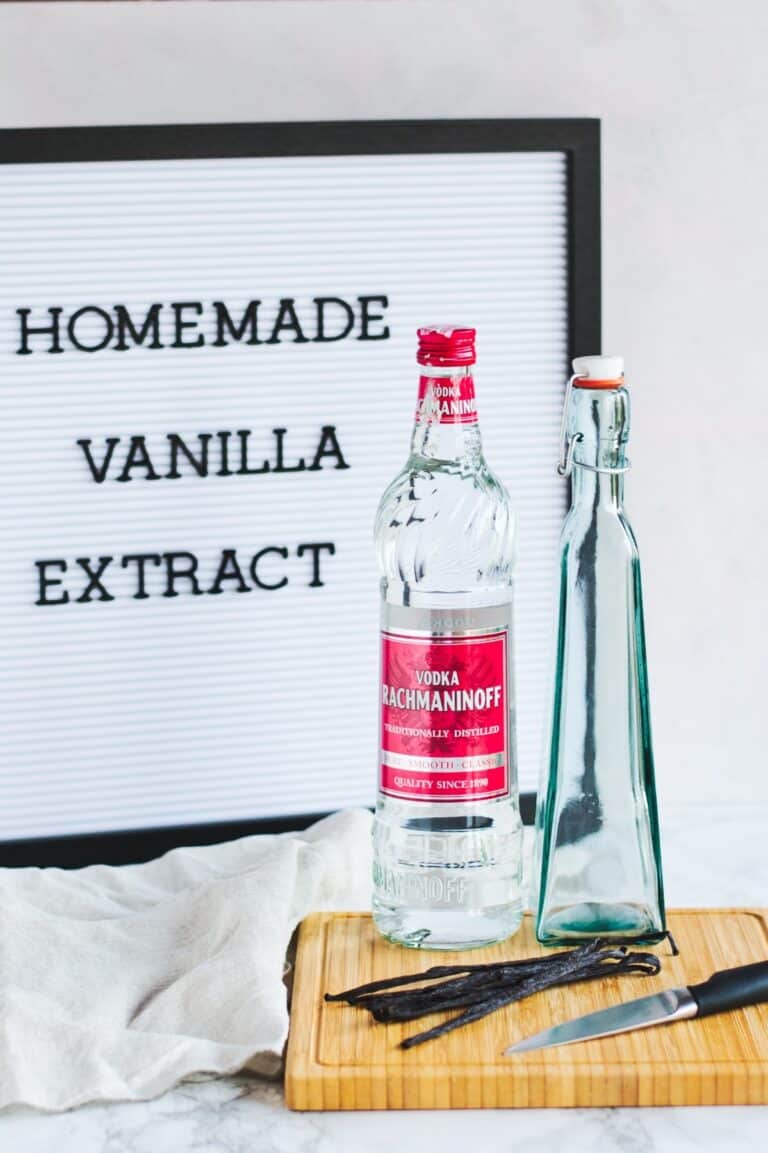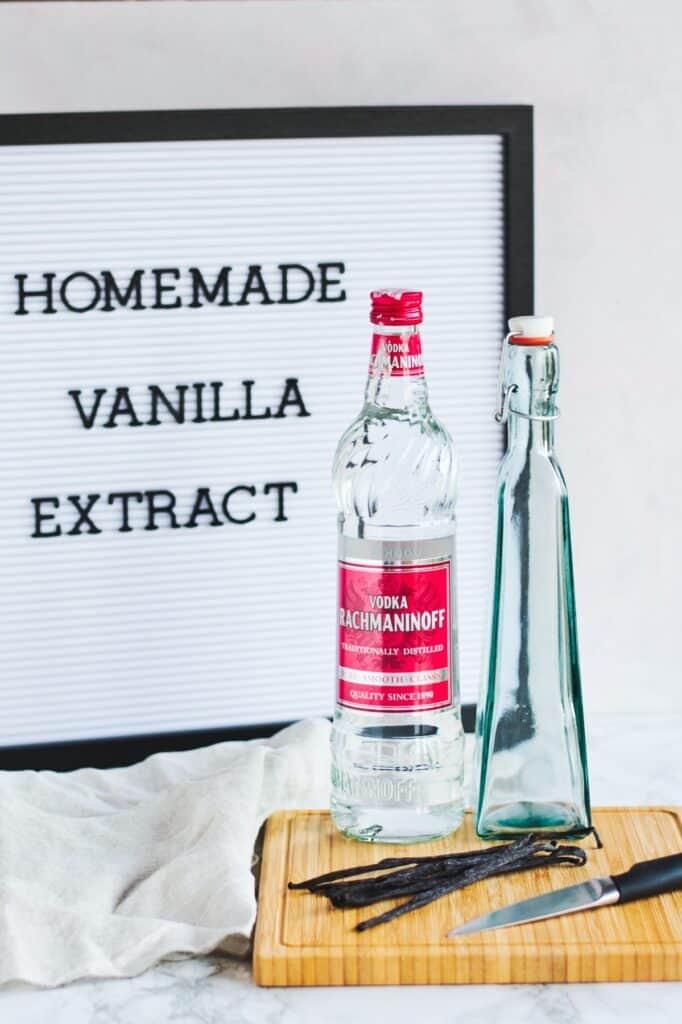 These are the ingredients you're going to need to make the best vanilla extract : vanilla beans, vodka and a jar. Simple as that! Oh, and a little bit of time. 🙂
Vanilla beans
As far as the vanilla beans are concerned, I use whatever the best I have on hand and you should too. Lately they have been very hard to find and ordering them online is currently not an option for me because of the high shipping cost. But if you don't have these issues, then go for it! Online shopping in bulk is definitely the most cost effective way to buy them.
There are a couple of varieties of vanilla beans and it mostly depends on their country of origin and looks. I use Madagascar Bourbon vanilla beans, and despite not being labeled, by the look of it I would say they were Grade B - which are considered the best for making extracts. They are around 10-15 cm long (4-6") and a little lest "meaty" and moist than the Grade A Vanilla beans (which chefs claim are the best for cooking) but don't think they're any less worthy - looks are not everything! The flavour is definitely there. Best thing ever is having your fingers smell like vanilla when you slice them in half haha. Nectar of gods, I'm telling you.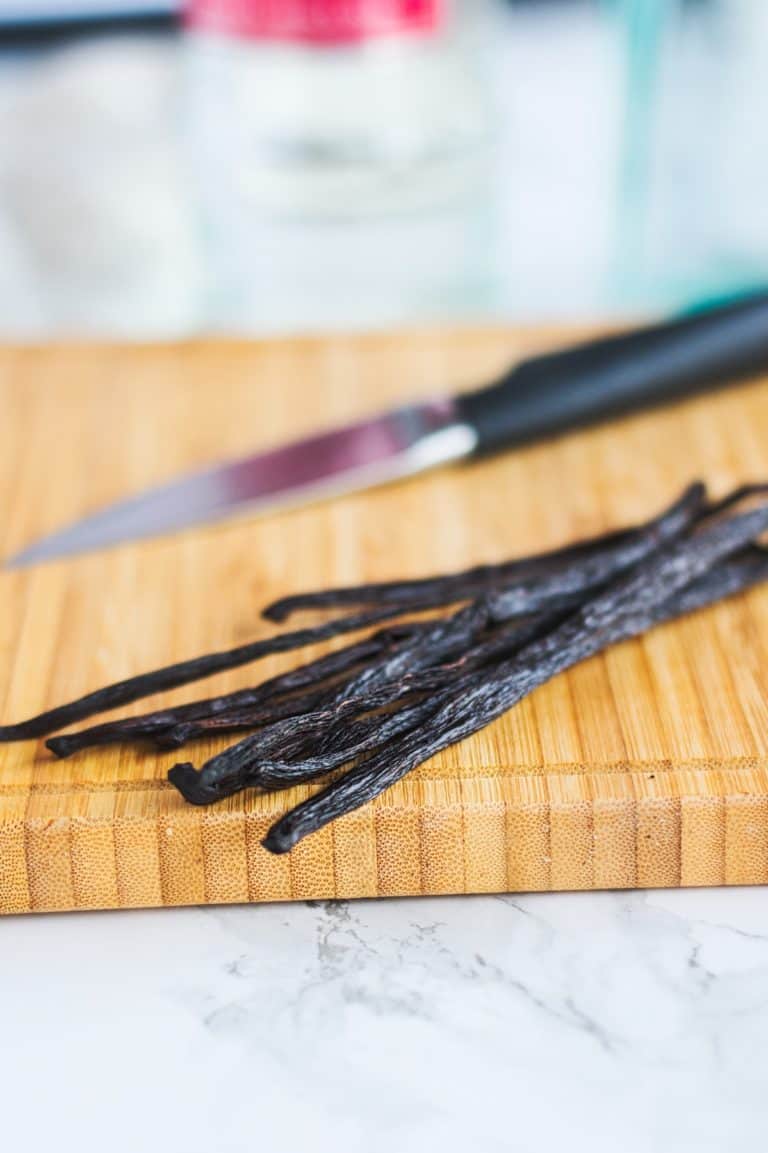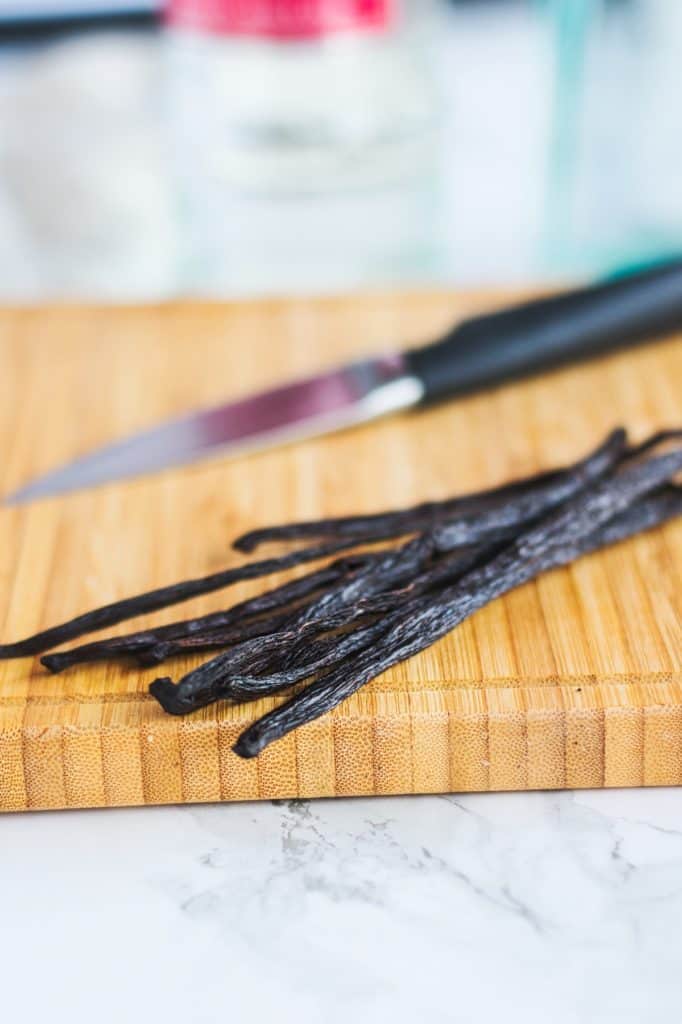 Madagascar vanilla is probably the one you all know and love, with its rich and creamy fragrance. Tahitian one is more floral with a fruity aroma, while Mexican has a little bit of spice in it.
Vodka
The best way to make an extract is by using alcohol. Vodka is the most popular (and my personal favourite) choice because it doesn't have any flavour or colour that can affect the end result. The quality of vodka is unimportant, cheapest one will do just fine, don't spend a lot of money on it, just make sure it has 37-40% of alcohol. The vanilla beans are the real star here.
Glass jars/bottles
Use clean glass jars or bottles that are fitted with a lid of your choice. It's recommended to use dark bottles to ensure no light interrupting the process of extracting, but that way it's hard to tell when your extract is ready or how intense it is. That's why I use just regular glass bottles, mostly 250 ml ones, and keep them in a cupboard - away from the light source. Only this time I used a 400ml bottle because I like to make a lot of vanilla.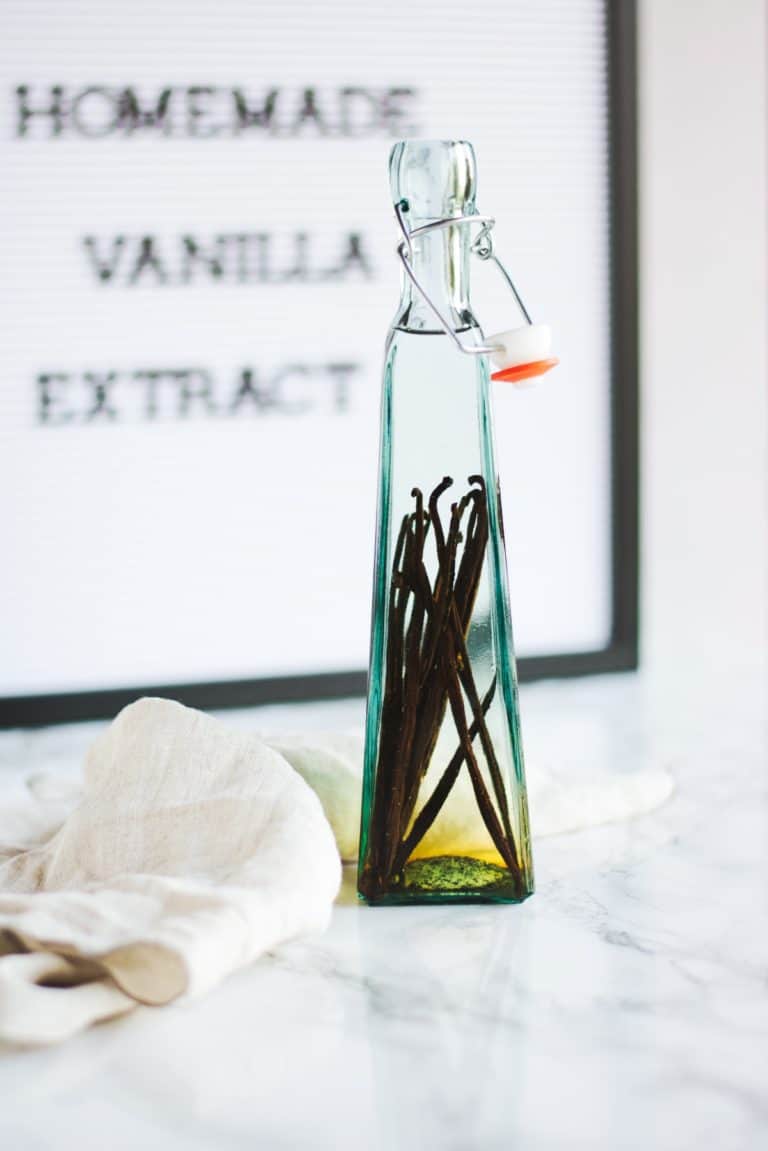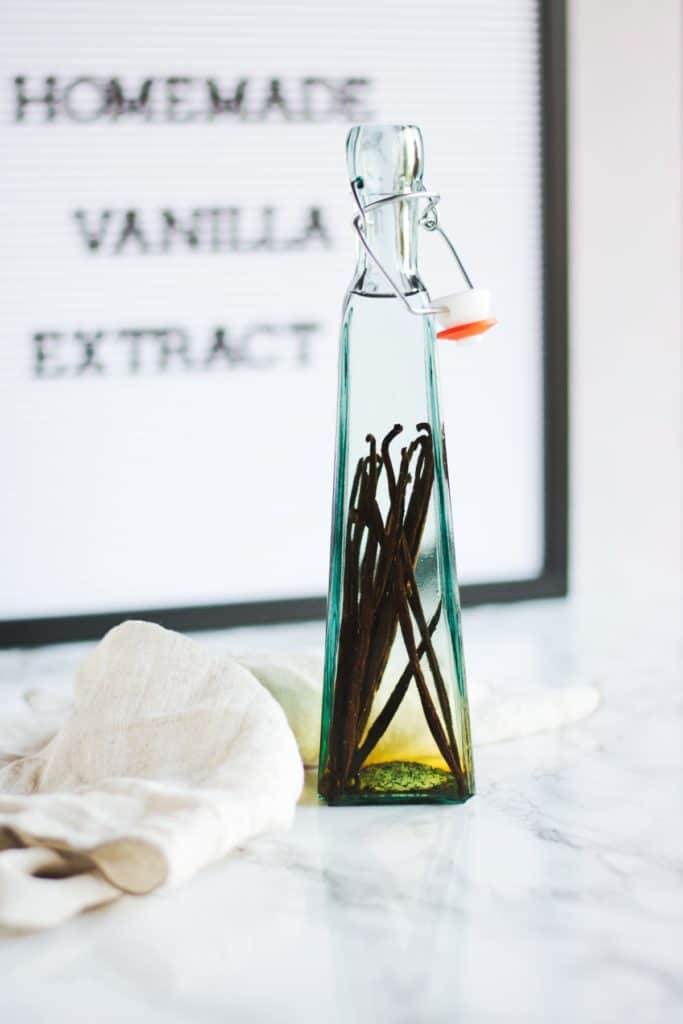 How to make vanilla extract
Slice your vanilla beans in half lenghtwise. The ratio of vanilla beans to vodka depends on their quality and size. It's usually recommended to use 2-3 vanilla beans per 200-250 ml of vodka but I like to use more to make a stronger vanilla flavour. This time, I used 8 vanilla beans for 400 ml of vodka.
If you don't have a jar that is tall as your beans, then cut them so they fit. Scraping the vanilla specks is optional. I don't do it because I feel that I leave a lot of them on the board, knife or my fingers. And since you need to shake the bottle every now and then, those specks are visible in the extract even if you didn't scrape them. 😉
Place the beans in a jar and cover with vodka. Make sure nothing is left uncovered. There should be at leas an inch of vodka above the vanilla beans.
Place the lid on top, shake it and put in a cupboard or other dark and cool place.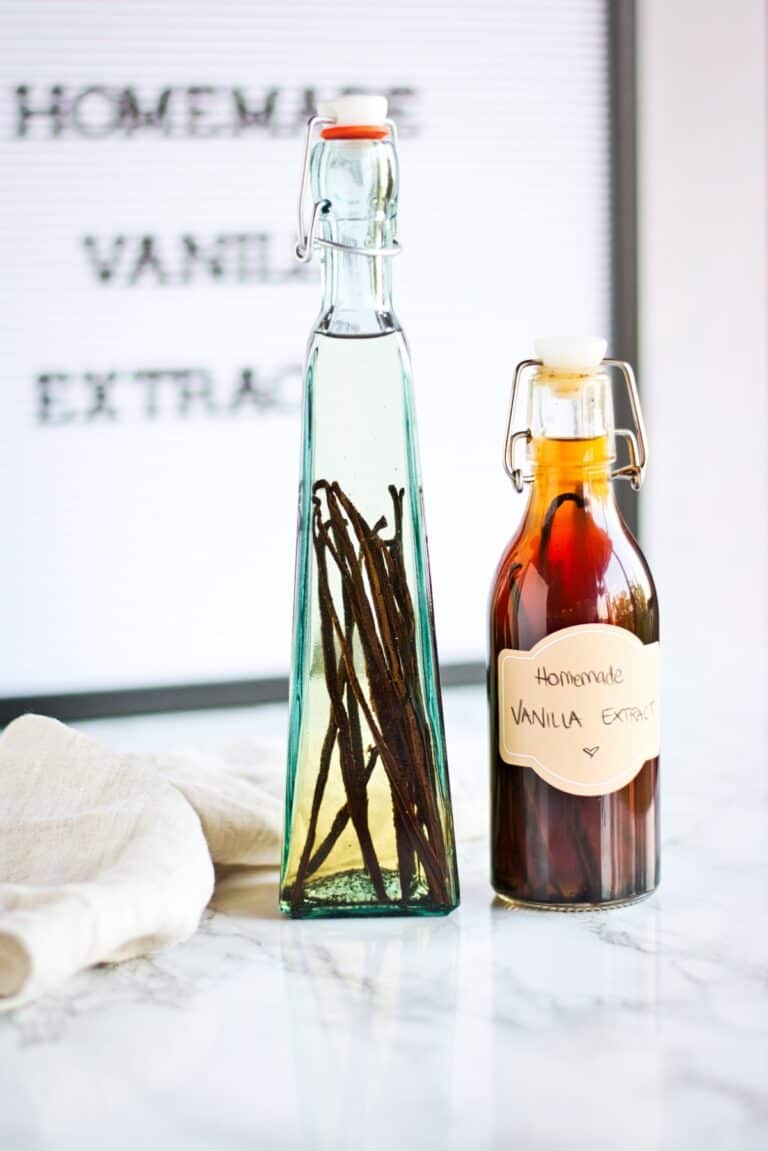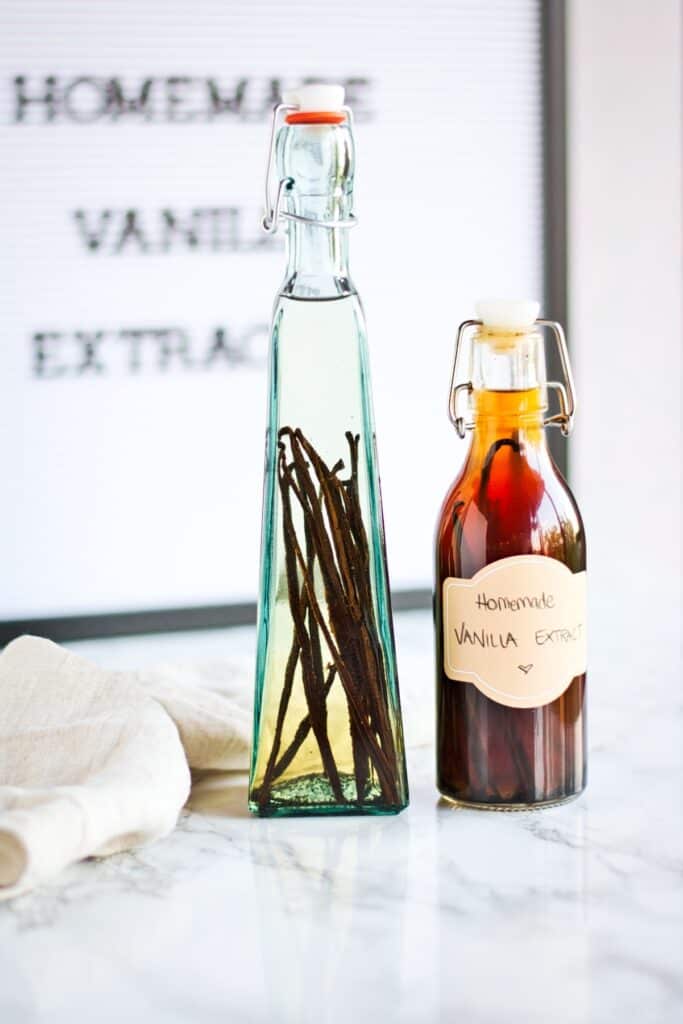 HOW LONG UNTIL YOUR EXTRACT IS READY?
Now this is the "difficult" part. Although it took you like 5 minutes to make it, the secret ingredient is TIME. In order to have an intense and strong flavour, you need to let it rest for at least 2 months in a dark and cool place, shaking the bottle from time to time. The longer you wait, the better the flavour. I usually wait for 4 to 6 months.
If you want to have a great vanilla extract to use in your holiday baking then this is the best time to make it! It also makes a great homemade and thoughtful gift. You can make a lot of extract which then you can transfer in small 60 ml bottles, using a funnel, and give to people as a Christmas present.
Tips for making vanilla extract:
1. You can leave the beans inside while using it, it'll only make your extract better. But, you can also get it out as soon as they start to get uncovered with alcohol and make another one! Only this time, I would use half of the amount of vodka I used in the first place, since I already extracted a lot of flavour. 🙂
2. Alternatively, you can leave the vanilla beans to dry and put them in sugar to make vanilla sugar.
I hope you make your own extract and see how much better it is than the shop-bought! No additives, no sugar, just pure vanilla! 🙂
Best recipes to use vanilla extract in
Raspberry Vanilla Layer Cake
Funfetti Birthday Cake
Homemade Cinnamon Rolls with Vanilla Bean Cream Cheese glaze
Dulce de Leche Banana Cake with Vanilla Bean frosting
If you need any questions or more clarification, leave a comment down below or send me a DM on Instagram! I'd love to help!
Happy baking!
Love,

📖 Recipe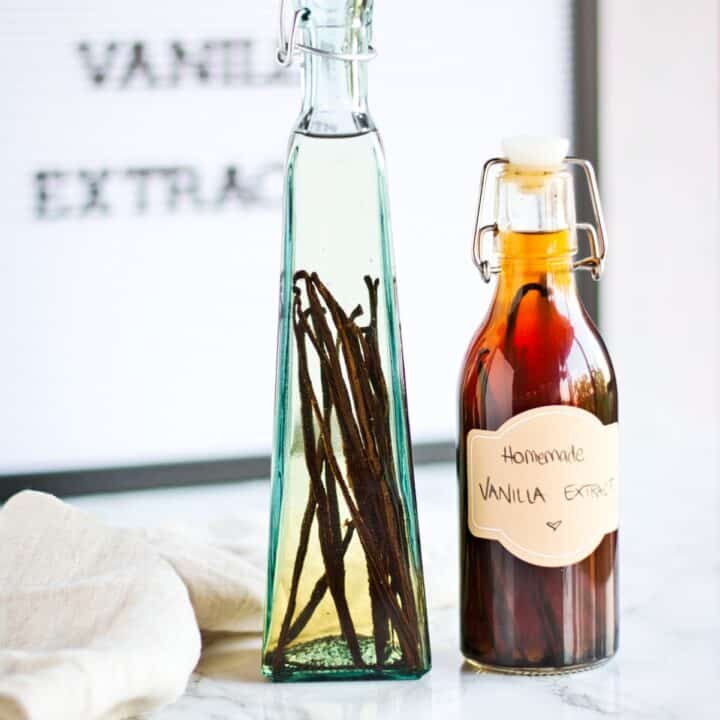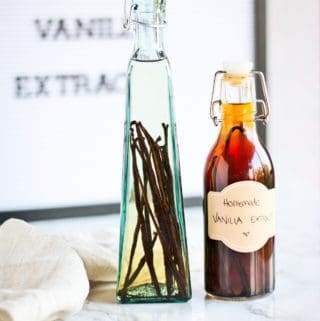 Homemade pure vanilla extract
Description
Homemade pure vanilla extract takes just two ingredients to make and delivers the best vanilla flavour EVER!
ingredients
VANILLA EXTRACT
8

GRADE B

vanilla beans

400

ml

vodka

one

400 ml

glass bottle/jar
Instructions
Split the vanilla beans in half lenghtwise. Scraping the seeds is optional. (See above)

Place in a jar/bottle fitted with a lid of your choice. Cover with vodka.

Shake it and put in a dark and cool place for at least 8 weeks. Optimally, 4 to 6 months.
IMPORTANT
All the recipes are developed and tested using only metric measurements and a kitchen scale. The U.S. cup and spoon measurements are provided for your convenience, but I highly recommend getting a digital kitchen scale and measuring in metrics. It's easy and always guarantee the same results in baking!
The nutritional information and US conversions are calculated automatically. I cannot guarantee the accuracy of this data. If this is important to you, please verify with your favourite nutrition calculator and/or unit conversion tool.
Have you tried this recipe?
Tag me on Instagram @anasbakingchronicles or use the hashtag #anasbakingchronicles - I love seeing your creations!