These S'mores Banana Blondies are the perfect combination of crispy cookie base, chewy blondie, runny chocolate and gooey marshmallows. Perfect for winter!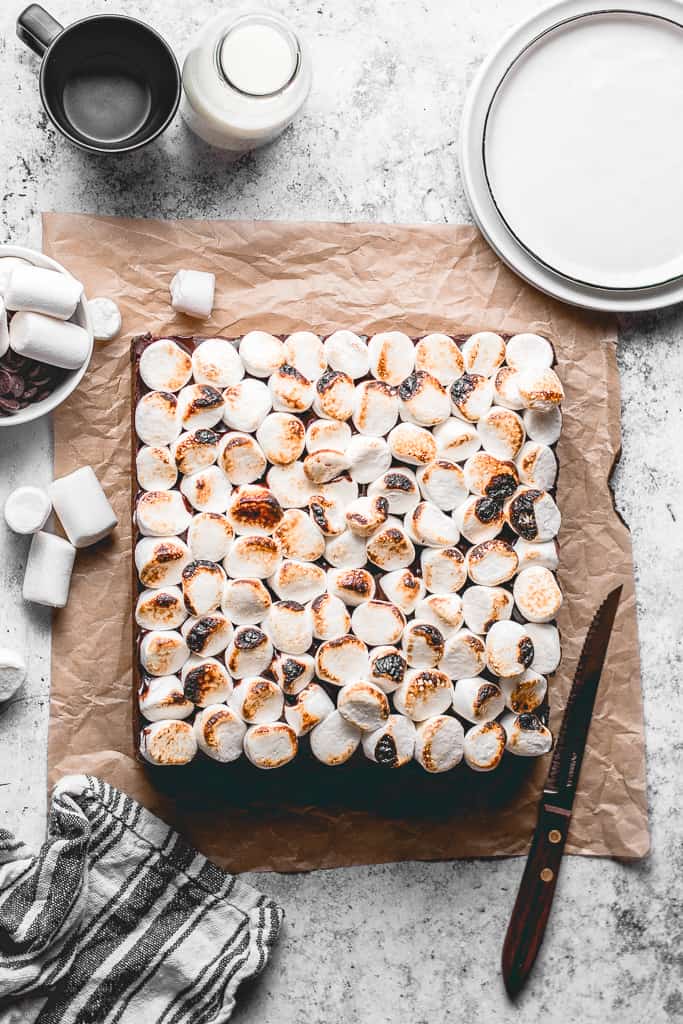 Nothing says winter more, than a s'more-ified dessert. Am I right? You know I am 😉 The delicious combination of gooey marshmallow, runny chocolate and crispy cookie wins every time. This time I decided to incorporate all these things in an easy tray bake, S'mores Banana Blondie. I'm all for quick and easy lately, because I want more people to enjoy homemade desserts, and this one couldn't be simpler. Don't be fooled by all the components, I promise it's so easy!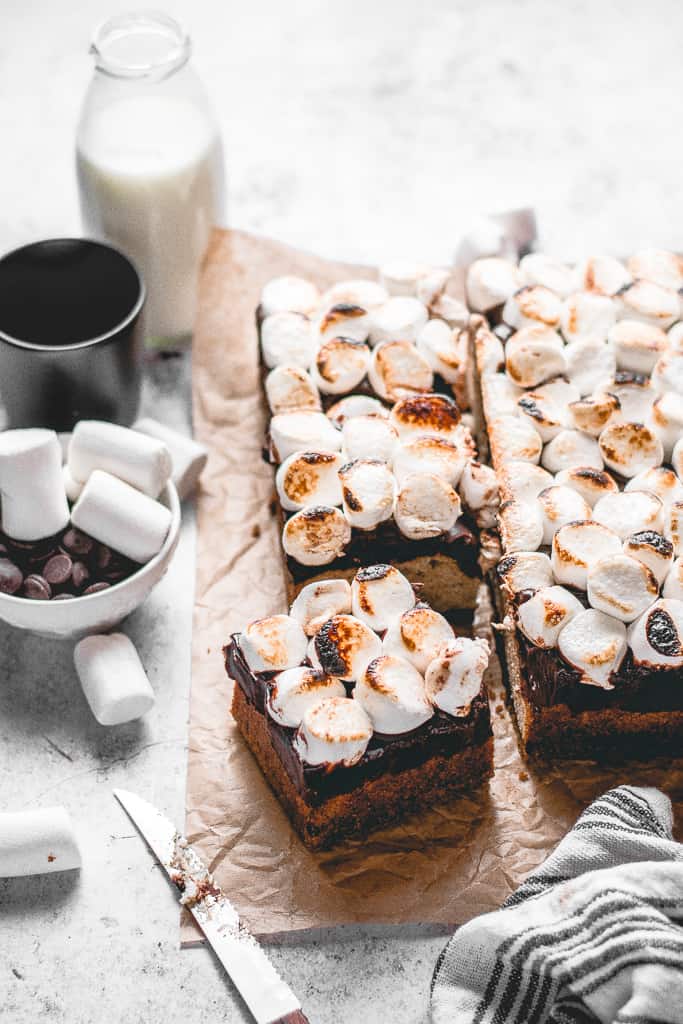 HOW TO MAKE THESE S'MORES BANANA BLONDIES
You start with melting the butter to make beurre noisette, that is browned butter. If you want to know more about that delicious goodness, then check out my Brown Butter Choc Chip Cookie recipe. Browning the butter is essential when making blondies, because it gives them beautiful, deep, nutty flavour. Delicious!
I went a little further and decided to enrich these blondies even more, by adding ripe bananas to the batter. And we all know how good bananas are when combined with chocolate and cookies. Try it as a pancake/crepe filling, you won't regret it! 😉
The good news is, you don't necessarily need an electric mixer for this! Since we want to keep these as chewy and fudgy as possible, there's no need for beating a whole lot of a air to the batter.
One note, though: these are a little cakey and that's the banana doing, but rest assure they're sill very moist and delicious - you're going to love them.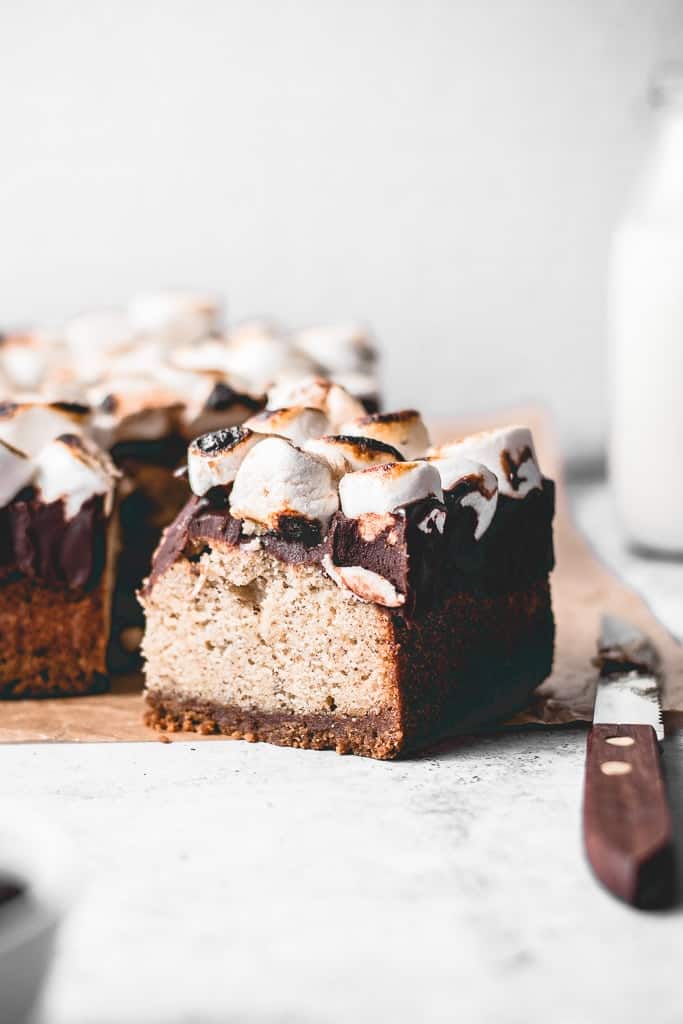 To bring the s'mores element of this blondie, I needed cookies, chocolate and marshmallows, of course. For the cookies, I went with Biscoff Lotus Cookies, because they are my favourite. But feel free to use Graham Crackers or Digestive biscuits instead. I love to sneak a little bit of cookie crust in my desserts whenever I can, because I just love the crunchy element they bring - SO GOOD!
For the chocolate element, I went with a classic - luscious chocolate ganache. A combination of chocolate and cream that couldn't be more simple, but it's so satisfying on so many levels. Yum! I recommend using good quality dark chocolate for this one, at least 55% cocoa solids - I used 60%.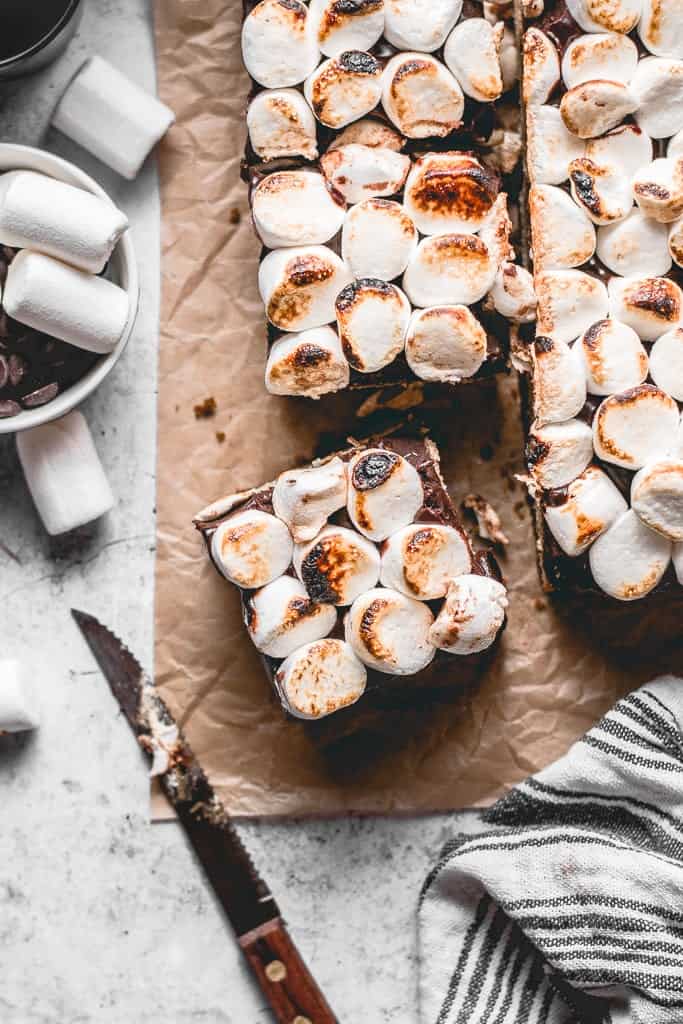 And the last component - marshmallows. I was thinking of doing an Italian Meringue as topping, but didn't have the time, to be honest. So, I went with good old store bought marshmallows. The best part of all of this? Blowtorching! Hell yeah, I definitely need to make more desserts that call for blow torching food, hehe.
LOOKING FOR MORE DELICIOUS AND EASY DESSERTS? CHECK OUT SOME OF MY FAVOURITES!
Cookie Butter Swirled Brownies
Homemade Chocolate Brioche Babka
Yogurt Lemon Pie Bars
Lamingtons with homemade strawberry jam
Soft Chocolate Cookies with White Choc Chunks
Apple spice sheet cake with Blackberry mascarpone frosting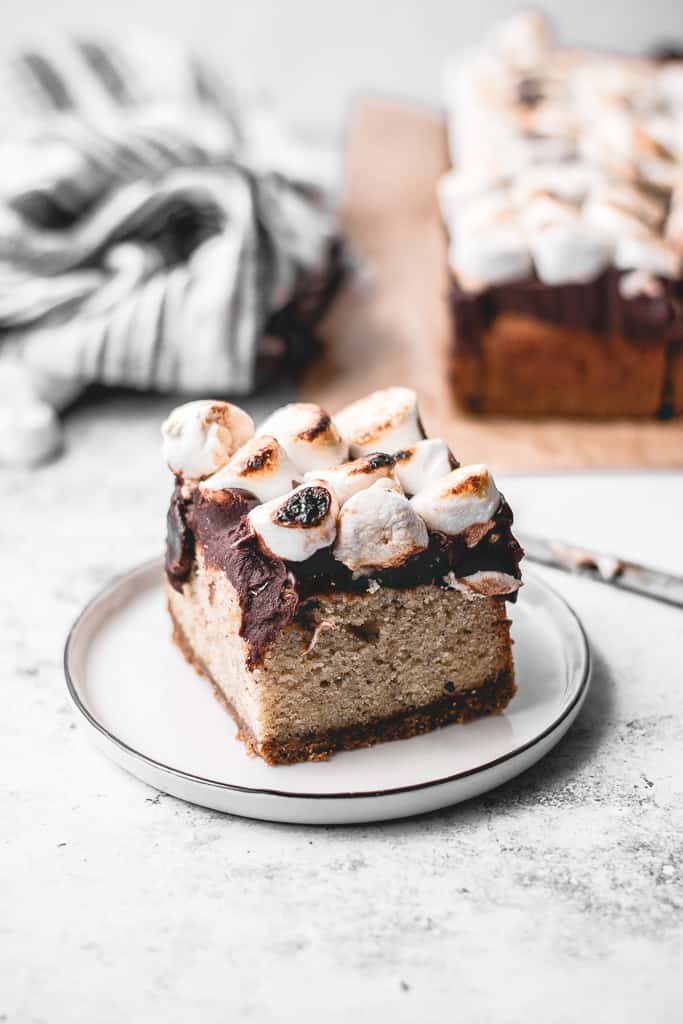 If you make these scrumptions S'mores Banana Blondies, let me know by tagging me on Instagram @anasbakingchronicles or tell me all about it in the comments section down below! I love seeing your creations! If you have any questions, don't hesitate to ask! Happy baking!
Love,

📖 Recipe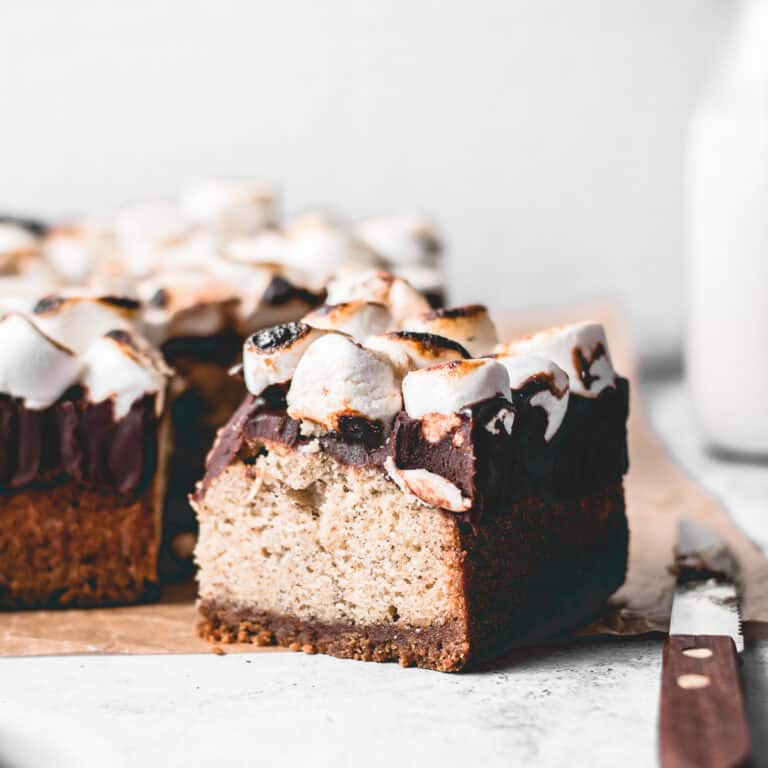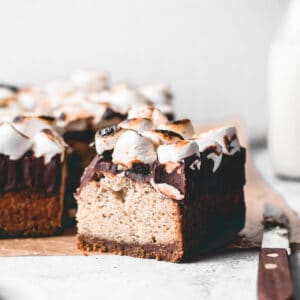 S'mores Banana Blondie
Description
ingredients
banana blondie
185

g

unsalted butter

2

large

eggs

200

g

light soft brown sugar

75

g

caster sugar

230

g

all-purpose flour

(sifted)

1

teaspoon

baking powder

½

teaspoon

salt

220

g

ripe bananas

(approx. 2 large bananas)

2

teaspoons

vanilla
biscoff cookie crust
250

g

biscoff cookies

100

g

melted butter
chocolate ganache topping
150

g

good quality dark chocolate

(60% cocoa solids)

150

g

heavy cream

(min. 36% milk fat)

marshmallows
Instructions
Cube the butter and melt it in a small saucepan, over a medium to high heat. Once melted, you want to keep heating it, stirring occasionally with a wooden spoon, until brown specks appear and you can feel that nutty aroma. It will become foamy, that's fine. Be careful not to burn the butter, but also don't "underbrown" it - it needs to be golden brown.

Once it's browned, transfer it to the bowl of a standing mixer and let it cool a bit, so it doesn't cook the eggs.

Preheat your fan oven to 160˚C (325˚F) or 175˚C (350˚F) if you're not using a fan oven. Grease and line with baking paper an 8×8 inch (20×20 cm) square cake pan. Make sure all the sides are covered with baking paper, as well.

Using a food processor grind the biscoff cookies. In a separate bowl, combine them with melted butter. Press the mixture into the bottom of the pan. Bake for 5-6 minutes then set aside to cool.

In a medium sized bowl, sift and combine flour, baking powder and salt. Set aside.

In the bowl of your standing mixer, fitted with the whisk attachment, combine brown butter and both of the sugars. Mix on medium-high heat until just combined, approx. 30-45 sec.

Mash the bananas using a fork and add to butter/sugar mixture, along with two large eggs and vanilla extract. Mix until everything is incorporated.

Lastly, add in your dry ingredients and mix on low speed until just combined.

Pour the batter into the prepared cake pan with cookie crust. Bake in a preheated oven for approx. 35 minutes.

It's done when you stick a skewer in the middle and it comes out with a few moist crumbs (not underbaked batter). Let it cool in the pan on a wire rack before covering with chocolate and marshmallows.

Place finely chopped dark chocolate in a medium sized bowl and pour over it almost boiling heavy cream. Cover it with a plate and leave it for 2-3 minutes. Stir with a silicone spatula to combine.

Pour over your cooled blondie. Leave to set a little bit, then cover with marshmallows.

Place the blondie in the freezer for 10-15 minutes, so it's easier to remove it from the pan and you get clean sides.

Place it on a serving plate, a wooden board or a wire rack and using a blow torch brown the marshmallows.

Cut into 16 smaller or 9 big pieces and enjoy! 🙂
Notes
If you don't have a stand mixer, you can use an electric hand mixer. 
If you still don't own one, I advise you to buy a kitchen scale – they're cheap and easy to use, and always guarantee the same results in baking!  
Not all ovens are the same, check the blondie at 30 minute mark, then adjust the time accordingly. Don't overbake it! 
If you don't have a blow torch, you can broil the blondie in the oven using a  broil/grill option.
IMPORTANT
All the recipes are developed and tested using only metric measurements and a kitchen scale. The U.S. cup and spoon measurements are provided for your convenience, but I highly recommend getting a digital kitchen scale and measuring in metrics. It's easy and always guarantee the same results in baking!
Nutrition
Nutrition Facts
S'mores Banana Blondie
Amount per Serving
% Daily Value*
* Percent Daily Values are based on a 2000 calorie diet.
The nutritional information and US conversions are calculated automatically. I cannot guarantee the accuracy of this data. If this is important to you, please verify with your favourite nutrition calculator and/or unit conversion tool.
Have you tried this recipe?
Tag me on Instagram @anasbakingchronicles or use the hashtag #anasbakingchronicles - I love seeing your creations!