Soft (and fluffy like a cloud) homemade doughnuts filled with light and silky orange vanilla pastry cream.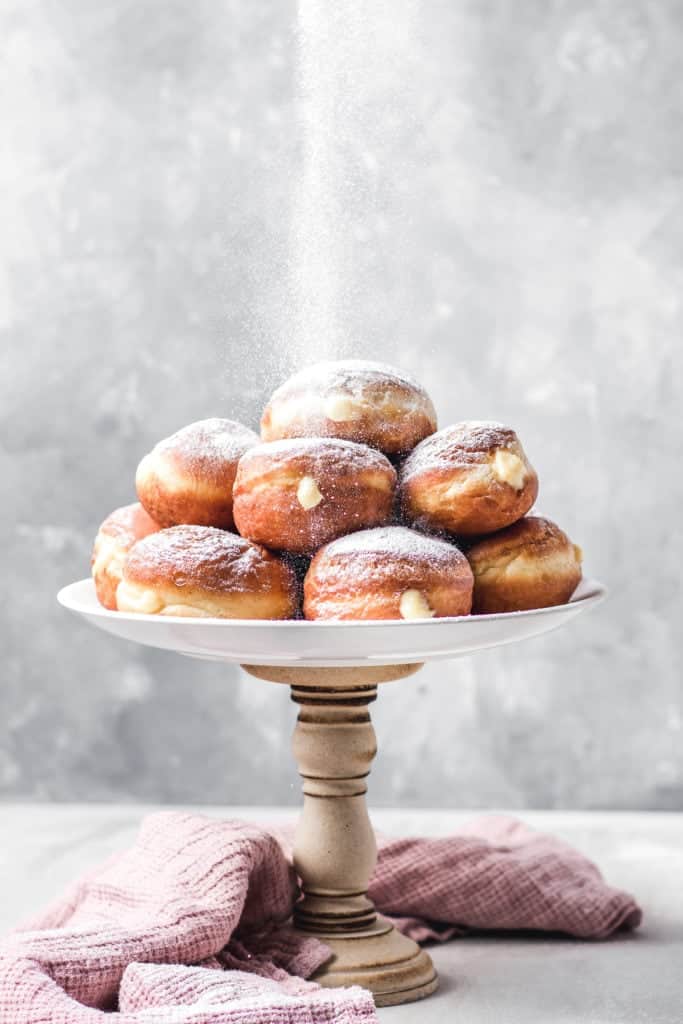 One of my (many) new year's resolutions was to finally conquer the art of DOUGH. First up are, obviously, doughnuts. The first time I actually made them was a year ago. Since then, I tried a couple of different recipes and read A LOT in order to really understand how to get what I'm looking for.
I'm happy to say that I, in fact, got exactly what I wanted! 🙂 Pillowy, fluffy, heavenly... I could go on an on, really. But these are THE BEST doughnuts I've ever made. No doubt about it. My brother went so far as to say that this may be the best thing I've ever made. But then again, he says that a lot so... let's not get my precious cakes sad because doughnuts have POTENTIALLY taken their place on the pedestal.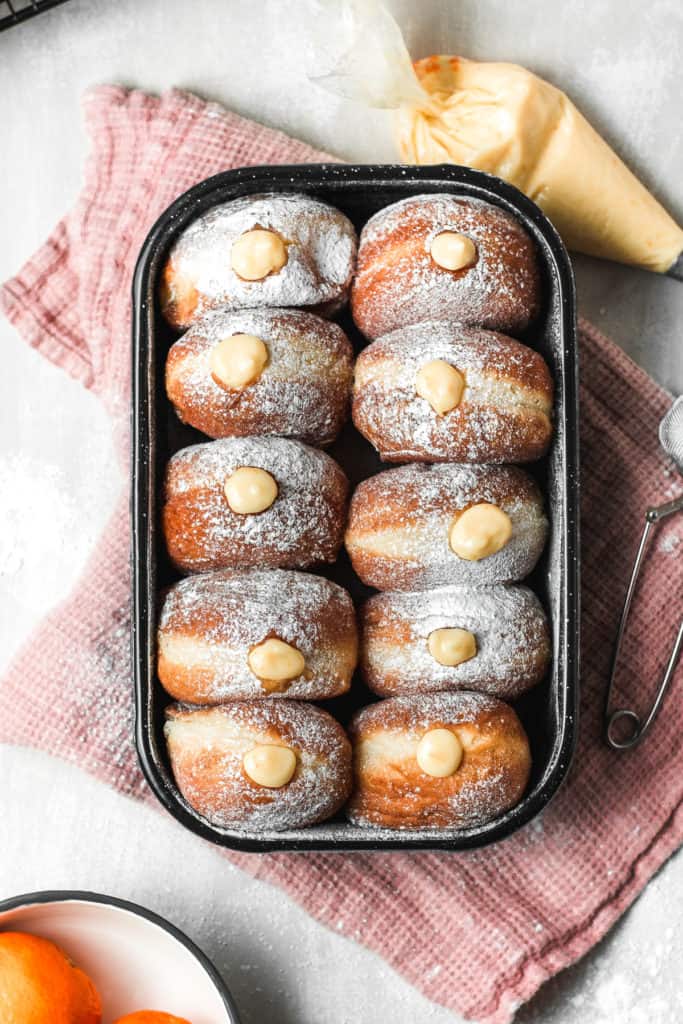 HOW TO MAKE PASTRY CREAM?
Pastry cream or crème patissière is kind of a staple when it comes to baking. It's one of the easiest things in the world to make and adored by many. It's used in many french desserts as filling, such as eclairs, profiteroles, paris-brest, macarons, tarts and pies etc. Mix it with some butter and you'll get German Buttercream. It's very versatile, not too sweet and a perfect filling for doughnuts!
To make pastry cream you'll need: egg (yolks), whole milk, sugar, salt, flour, vanilla, butter.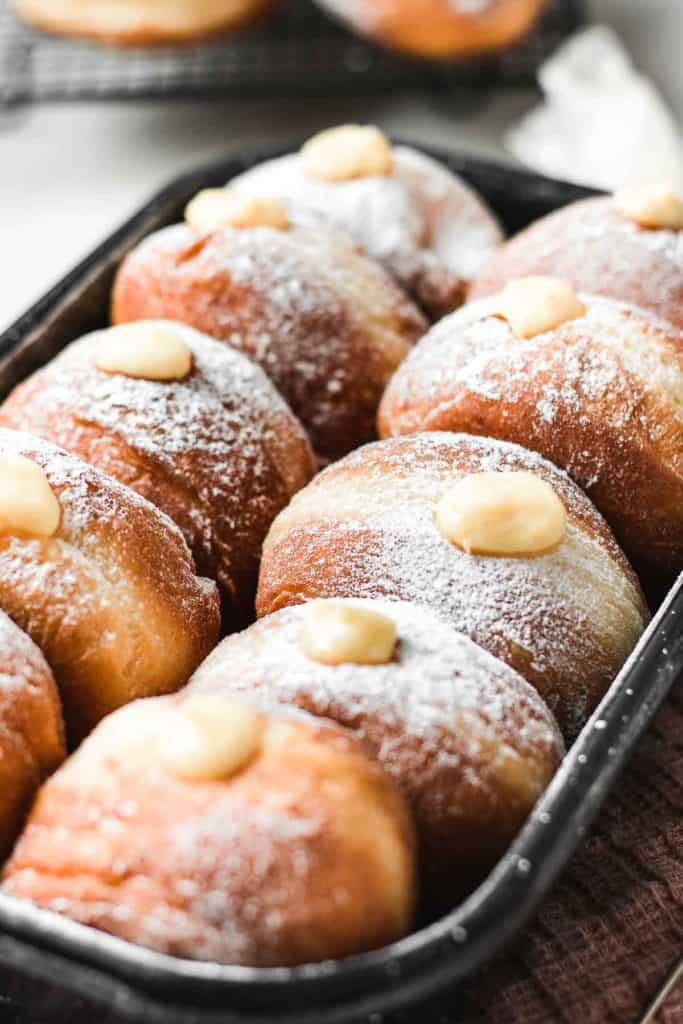 You'll often find cornflour in the list of ingredients. Personally, I don't like it. People tend to use it because it's said to give it a finer, silkier texture. All I got was a cream solid as a rock with a really yucky cornfloury flavour. So, instead, I use just regular, all-purpose flour. It works like a charm, I always have it at home and I can control it better. That is, I know how much to use in order to get the consistency I want.
For example, if you want to make German Buttercream, then you need to make your pastry cream a little thicker.
The addition of orange zest really punches up the flavour and makes it out-of-this-world delicious. But if you want just plain, classic, vanilla doughnuts - you can certainly leave it out.
If you make this recipe, let me know by tagging me on Instagram @anasbakingchronicles or tell me all about it in the comments section down below! If you have any questions, don't hesitate to ask! Happy baking!
Love,
A.
📖 Recipe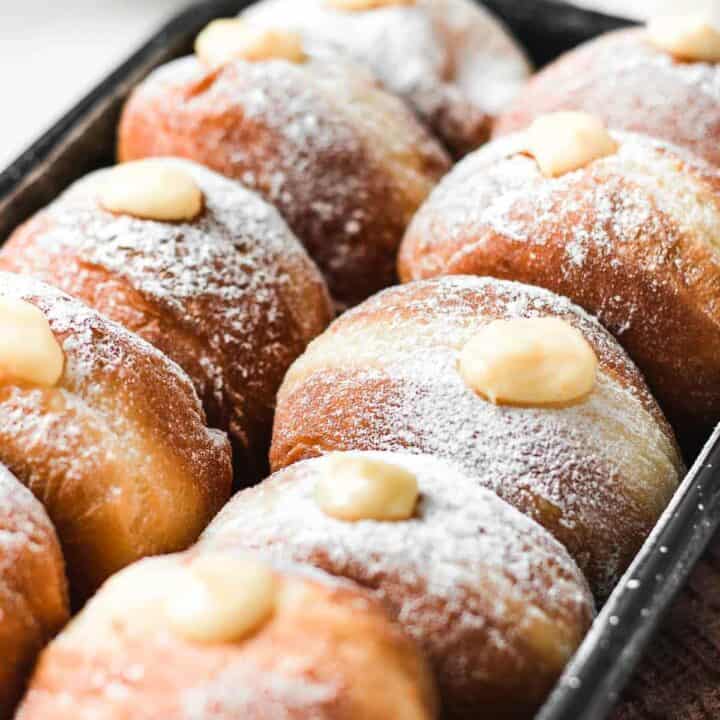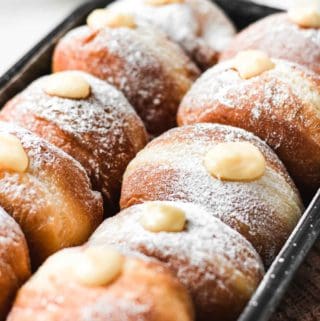 Fluffy doughnuts filled with orange vanilla pastry cream
Description
Little fluffy balls of happiness filled with amazing vanilla orange pastry cream.
ingredients
Dough:
550

g

all-purpose flour

¼

teaspoon

salt

¼

teaspoon

ground nutmeg

60

g

caster sugar

(( + 1 teaspoon ))

1

package

active dry yeast

(( 7g / ¼ ounce / 2 ¼ teaspoons))

2

large

egg yolks

(room temperature)

1

large

egg

(room temperature)

55

g

lukewarm water

((approx. 40°C))

280

g

warm whole milk

100

g

unsalted butter

orange/lemon zest

(optional)
Filling:
500

g

whole milk

4

large

egg yolks

(room temperature)

1

large

egg

(room temperature)

45

g

all-purpose flour

200

g

caster sugar

(white)

¼

teaspoon

salt

2

teaspoons

vanilla extract

(good quality)

orange zest from two oranges

30

g

unsalted butter
Instructions
For the dough:
In the bowl of your standing mixer sift and combine flour, salt, ground nutmeg and sugar. Set aside.

In a glass or a small bowl, combine active dry yeast, teaspoon of sugar and lukewarm water. Let it rest for 5 minutes until the top becomes frothy.

In the meantime, warm your milk (but don't let it boil) and pour it over the butter which you've previously cubed and put in a medium sized bowl. The milk should melt the butter and everything should be body temperature prior to using.

Now, add the whisked eggs, yeast and butter/milk mixture to the flour mixture, fit your standing mixer with a dough hook and let it knead on low speed for about 10 minutes. The dough is ready when it starts pulling away from the sides of your bowl and is soft to the touch.

Transfer the dough to a large bowl which you've previously floured or lightly greased so it doesn't stick. Cover with a clean tea towel or cling film and allow it to rise in a warm place for about an hour or until it doubles in size.

Once your dough is ready, punch it a little to deflate it, transfer on a clean, floured surface then roll the dough to about 1.5 to 2 cm thick. (around ½ inch to ¾ inch). Using a 5 cm (2 inch) round cookie cutter, cut the dough into cricles and place on a baking sheet lined with baking paper. Cover with clean tea towel and let them rest and rise for another 20 to 30 minutes.

You don't want to overproof your doughnuts, otherwise they will become hollow. When the dough is ready, heat approx. 1 litre of vegetable oil in a heavy-bottomed pan. Oil should be between 170 and 180 degrees Celsius. That's around 340 to 350F.

Fry 3-4 doughnuts at a time for a couple of minutes or until golden. Take them out to a plate covered with paper towels. Let them cool completely before filling and covering with powdered sugar.
For the pastry cream filling:
In a medium sized saucepan, heat the milk just until boiling point.

In the meantime, in a separate bowl, combine the egg yolks, egg, flour, sugar and salt using a whisk.

Once the milk has reached scalding point, start pouring it SLOWLY to egg mixture, whisking continuously so you don't cook the eggs. About half to ⅔ of hot milk will do. Once you tempered the egg mixture, add it to the pot with remaining milk and continue cooking, whisking constantly, until it thickens.

Once it's done, stir in vanilla extract, orange zest and butter and whisk until everything is combined.

Strain the pastry cream to a clean bowl through a sieve, to get rid of any cooked egg bits and lumps. Cover with cling film touching the surface to prevent skin forming. Put it in the fridge to cool completely.
IMPORTANT
All the recipes are developed and tested using only metric measurements and a kitchen scale. The U.S. cup and spoon measurements are provided for your convenience, but I highly recommend getting a digital kitchen scale and measuring in metrics. It's easy and always guarantee the same results in baking!
The nutritional information and US conversions are calculated automatically. I cannot guarantee the accuracy of this data. If this is important to you, please verify with your favourite nutrition calculator and/or unit conversion tool.
Have you tried this recipe?
Tag me on Instagram @anasbakingchronicles or use the hashtag #anasbakingchronicles - I love seeing your creations!