These lovely Pistachio Cranberry Linzer Christmas trees are going to be the star of your holiday table! With their festive looks and delicious flavour, they will win everyone's heart!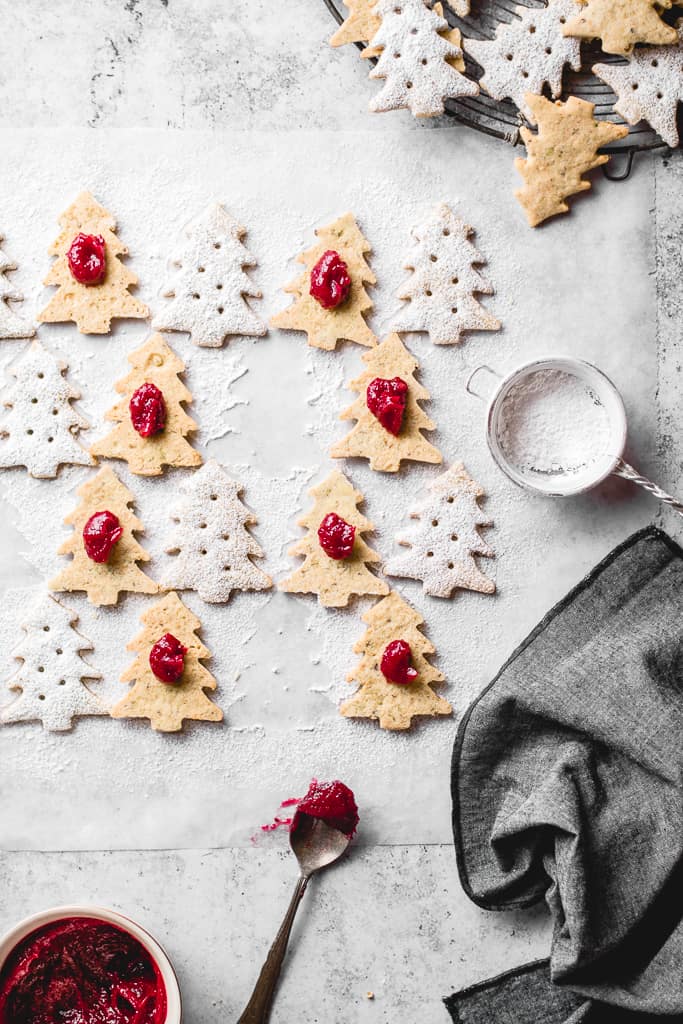 Christmas creeped in so quickly, don't you agree? I'm not ready yet! To be honest, the best part of Christmas is like a month of waiting and getting excited -- I want more of that, haha.
Holidays are always busy, both at work and at home, so I've made peace with the fact I'm *not* going to do everything I wanted for the blog. This provided just a little bit of stress relief, but important bit nevertheless. Maybe this time next year ABC will be my full-time job and I'll finally be able to accomplish anything I set my mind to. Maybe... One can hope. Keep your fingers crossed for me! 🙂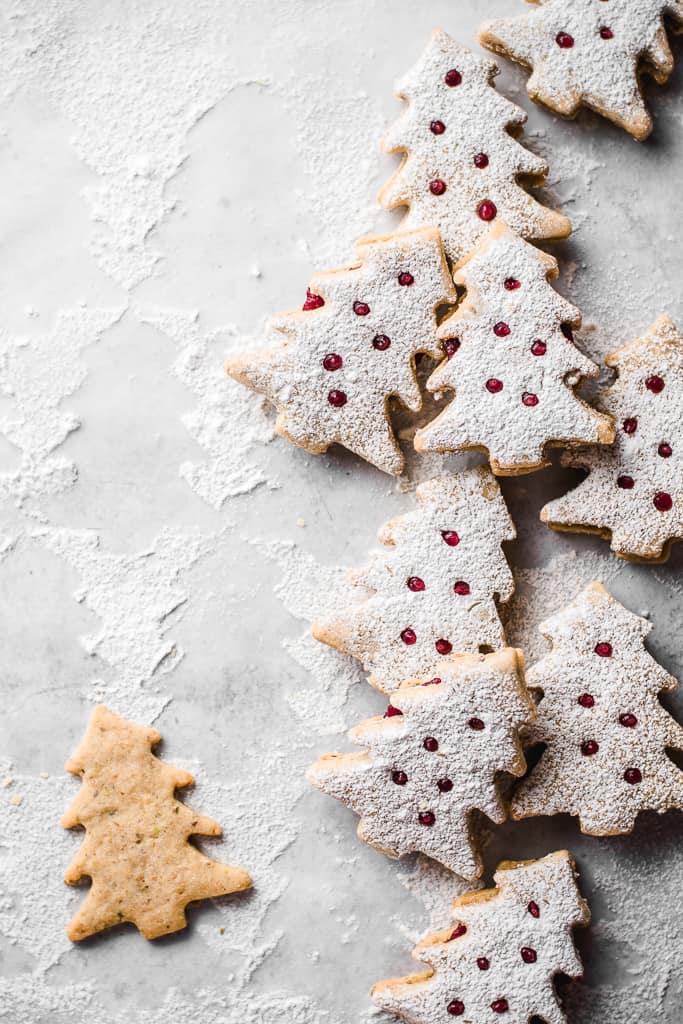 LET'S TALK ABOUT THESE PISTACHIO CRANBERRY LINZER CHRISTMAS TREES...
Aren't they the cutest? I *might* be biased, but I don't care. I had this idea of Pistachio Cranberry Linzer christmas trees with jam christmas ornaments going on in my mind for quite some time now and I'm so happy with how they turned out.
Linzers are a must during holidays, traditionally made with ground almonds. This time I decided to spice things up a bit, so I used ground pistachios. The king of nuts! Am I right? Its flavour is so festive, complex and special, I adore it. I added a little bit of cardamom to enhance the pistachio aroma - the two work so well together.
If you'd like to stick to the classic, though, then check out my Raspberry Linzers recipe - it's amazing! 🙂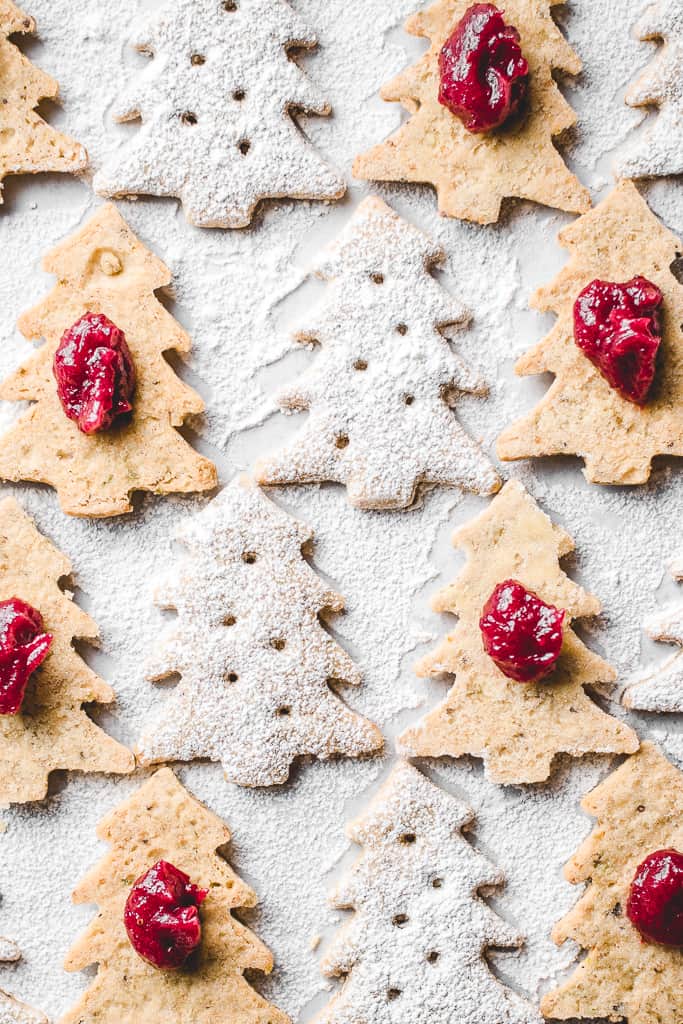 For the jam filling I opted for homemade cranberry jam. I used the classic ratio of 1:1 sugar to cranberries (well, almost). Since the cookies aren't too sweet, I don't mind the jam sweetness. And cranberries are pretty tart, but if you like them that way, then feel free to reduce the sugar. But I wouldn't go lower than 250 grams. I also added some orange juice - it goes lovely with cranberries.
TIPS:
I poked the cookies with a skewer to make the holes that will eventually become little baubles. There's a possibility that the jam doesn't show up when you sandwich the cookies together, because the holes are too small. Then just top it with some more jam.
If you want to keep the powdered sugar for messing up too much, then I suggest placing the cookies in an airtight container and covering each layer of cookies with baking/parchment paper, before topping it with another layer of cookies.
IF YOU'RE LOOKING FOR MORE CHRISTMAS COOKIE RECIPES, CHECK OUT SOME OF MY FAVOURITES!
Raspberry Linzer Cookies
Pistachio Macarons
Chocolate Orange Shortbread Cookies
Soft White Chocolate Chunk Chocolate Cookies
Brown Butter Chocolate Chip Cookies
Chocolate Kumquat Sandwich Cookies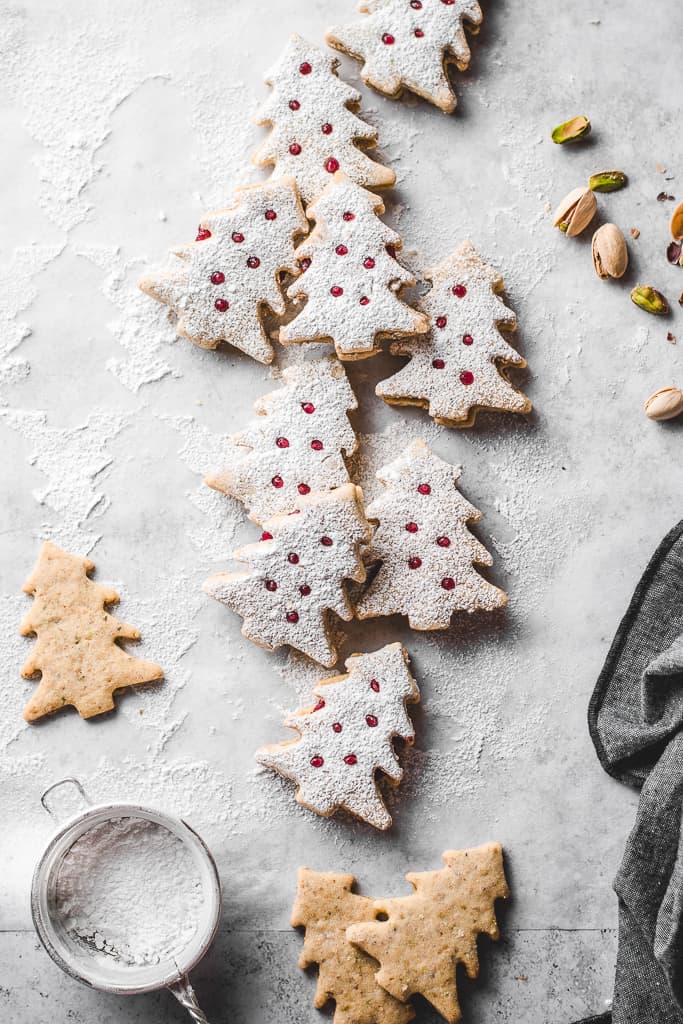 If you decide to make these Pistachio Cranberry Linzer Christmas trees during the holidays, let me know by tagging me on Instagram @anasbakingchronicles or tell me all about it in the comments section down below! I love seeing your creations! If you have any questions, don't hesitate to ask! Happy baking! 
Love,

📖 Recipe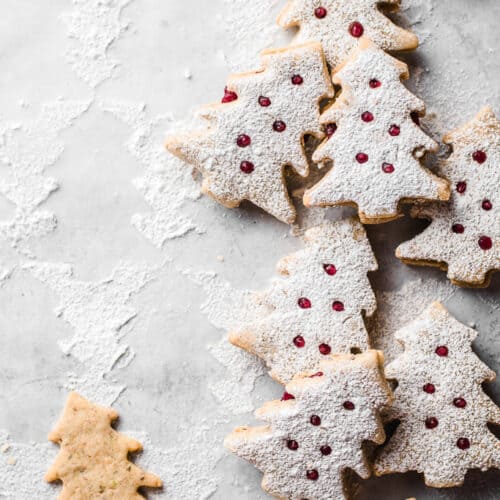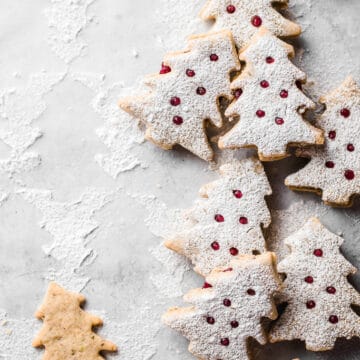 pistachio cranberry christmas tree linzers
Description
ingredients
Cookies
250

g

all-purpose flour

100

g

ground pistachios

(roasted, salted)

200

g

unsalted butter

(room temperature)

115

g

granulated sugar

1

large

egg

½

teaspoon

baking powder

½

teaspoon

vanilla extract

¼

teaspoon

cardamom
cranberry jam
450

g

frozen cranberries

400

g

granulated sugar

juice of one orange
Instructions
pistachio linzer cookies
Preheat your fan oven to 175˚C or 350˚F. Line your baking sheet with baking paper.

In a medium sized bowl, sift together flour, baking powder and cardamom. Add ground pistachios and thoroughly combine using a whisk.

In another bowl, using an electric hand or a stand mixer, mix together butter and sugar until pale and fluffy (approx. 2-3 min)

Add an egg and vanilla extract and mix until everything is combined.

Add your dry ingredients to butter, sugar and egg mixture in TWO batches, mixing just until everything is incorporated and there are no lumps of flour. You don't want to overmix it, otherwise your cookies will get tough.

Divide it in two, wrap up in cling film forming a disc and put it in fridge for an hour or up to a week.

Once you're ready to bake the cookies, leave the dough at room temperature for 15 to 20 minutes, until it's ready to roll.

On a floured surface roll out the dough to a ¼ inch thick rectangle and cut out Christmas trees using a cookie cutter. Mine was approx. 2 inch (5 cm) long. Using a skewer, poke out the holes in half of the cookies, so they look like Christmas ornaments.

Bake the cookies for about 10-12 minutes. They should be lightly soft in the middle and golden. Transfer them to a cooling rack to cool completely.
quick cranberry jam
In a medium sized non-stick saucepan place together frozen cranberries and sugar. Cook it on a medium-high heat until it starts to boil, stirring occasionally. Reduce the heat and let it cook for 15-20 minutes until it thickens. Once it's done, strain the jam through a sieve or blitz it with an immersion blender, add orange juice and put it a clean glass jar. Let it cool in the fridge before using.
Assembly:
Dust half of your cookies (the ones with holes) with powdered sugar. Put a teaspoon of jam in the middle of each cookie but be careful not to spread it all the way to the end, so it doesn't ooze out when you sandwich the cookies. Place the other cookie on top and enjoy! Keep them in an airtight container to prolong their freshness.
Notes
Not all ovens are the same. I suggest baking a couple of "test cookies" to find out the best baking time or temperature. Get to know your oven! 
If you still don't own one, I advise you to buy a kitchen scale - they're cheap and easy to use, and always guarantee the same results in baking! 
If you're not using salted pistachios, then add ½ teaspoon of salt to your cookie dough!
IMPORTANT
All the recipes are developed and tested using only metric measurements and a kitchen scale. The U.S. cup and spoon measurements are provided for your convenience, but I highly recommend getting a digital kitchen scale and measuring in metrics. It's easy and always guarantee the same results in baking!
The nutritional information and US conversions are calculated automatically. I cannot guarantee the accuracy of this data. If this is important to you, please verify with your favourite nutrition calculator and/or unit conversion tool.
Have you tried this recipe?
Tag me on Instagram @anasbakingchronicles or use the hashtag #anasbakingchronicles - I love seeing your creations!