I bring you a quick and easy recipe for the best chocolate cookies you've EVER had. They're rich, soft, and fudgy and perfect for any occasion. No chill time needed!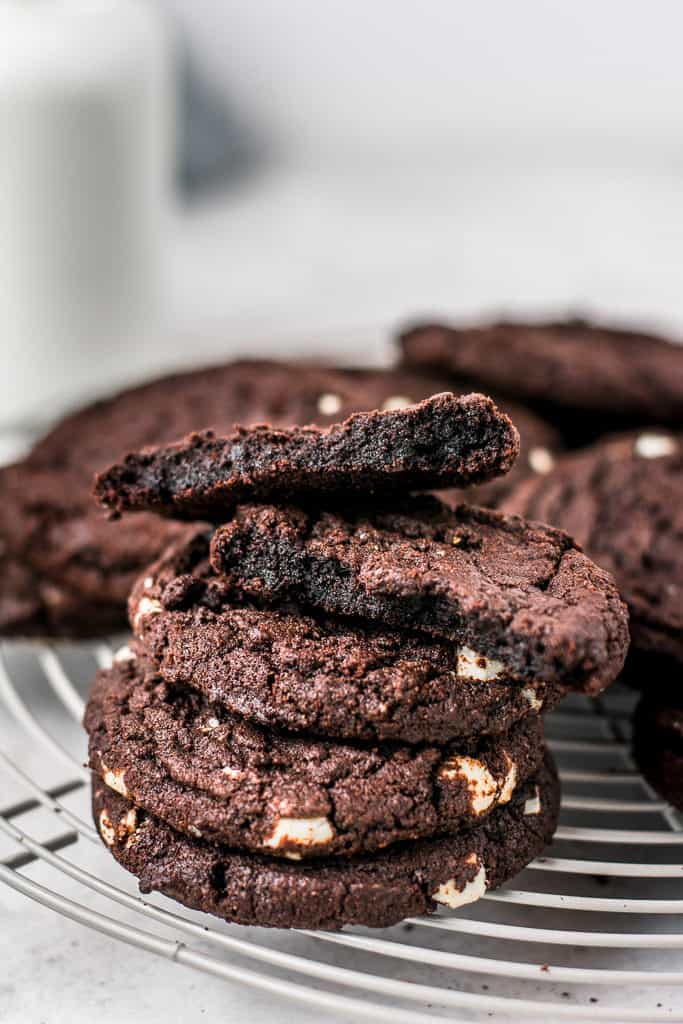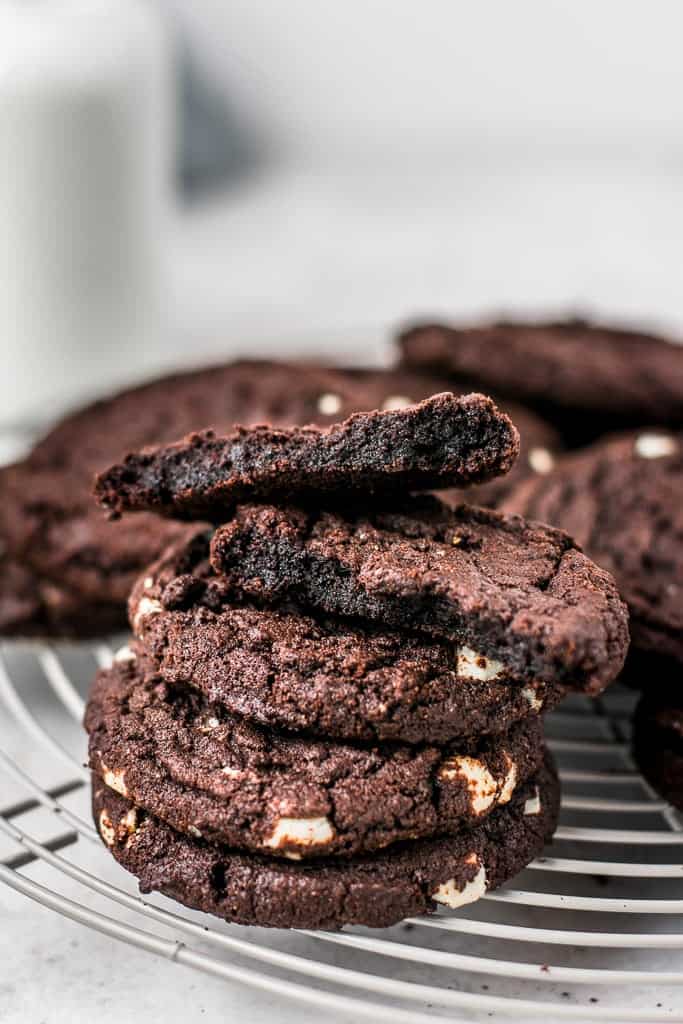 The other day on Instagram, I asked you what would you like to see on the blog. More cakes? Pies? Cookies? Traybakes? A lot of you mentioned cookies and here I am, listening and fulfilling your wishes! The holidays are going to come quicker than we imagine (trust me), so it's time to stock up on cookie recipes.
First up - soft and chewy chocolate cookies!
Some say that these are possibly the best thing I've ever made. And I quote: "Are you kidding? I'm not sharing these with anybody." - my bf when I suggested him to take the cookies to work. Lol.
I wouldn't go that far as to say they are the best thing ever, but maybe the best cookie I've ever made. Yes, I'm looking at you Chocolate Chip Cookies. You just got serious competition. Mainly because these don't need any fridge time.
Yes, you read that right. You don't need to chill this dough. Can I get a woot-woot?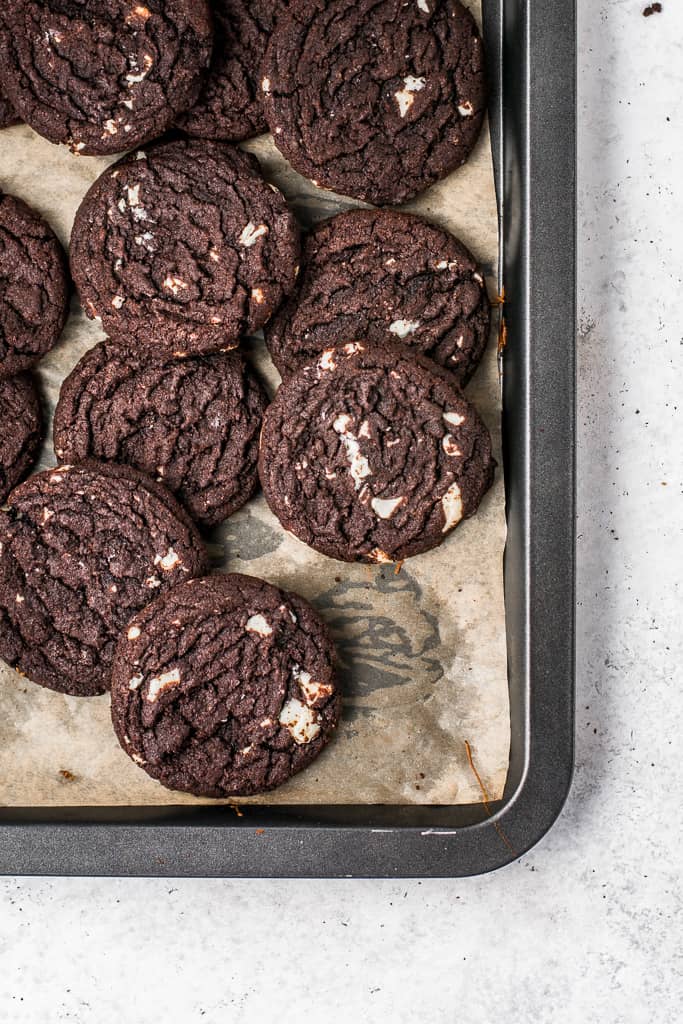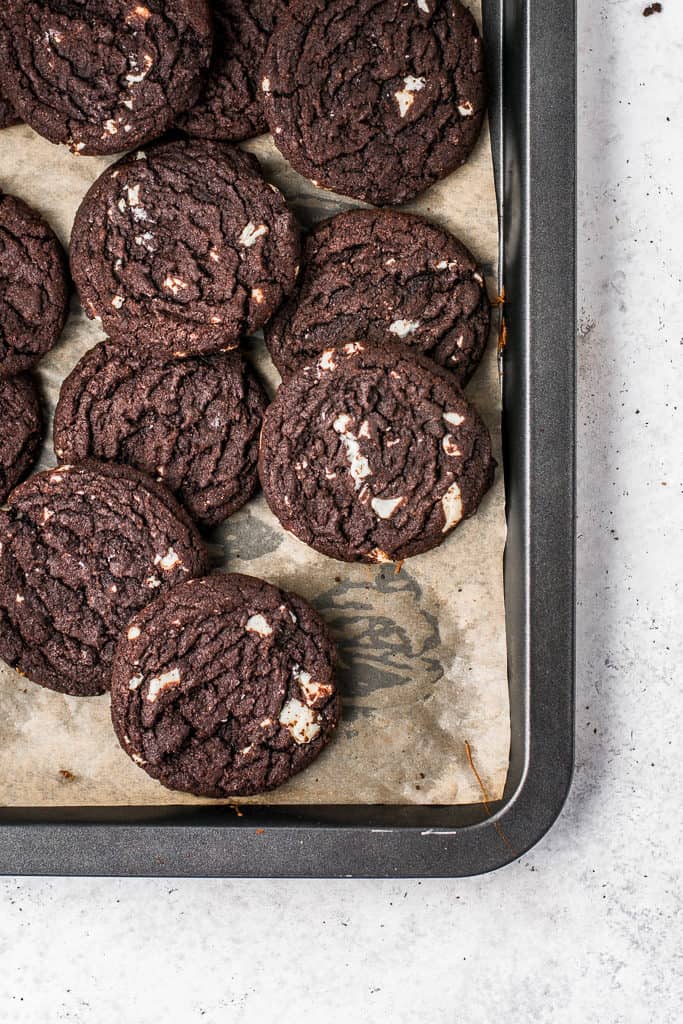 HOW TO MAKE THESE EXTRA CHOCOLATEY CHOCOLATE COOKIES
It's simple really. You can make these in a stand mixer or using an electric hand mixer OR just using a wooden spoon! First we need to cream together unsalted butter and sugars. For extra fudginess, I like to use mix of soft brown sugar and regular white sugar. There is no need to beat the heck out of the butter or eggs, because we don't want the cookies to be cakey and extra aerated. Just mix everything until it's combined, no more - no less.
Next, you need to beat some eggs into the butter/sugar mixture. Lastly, fold in flour and cocoa powder, with addition of salt and raising agents. I'm using both baking soda and baking powder just to get some tenderness and spread. As for the cocoa powder, use dutch-processed cocoa powder, not natural one. We want the rich flavour that comes from the dutch-processed one.
WHAT IF I DON'T LIKE WHITE CHOCOLATE?
That is absolutely fine. I know there are quite of you out there that don't like it because it's really sweet and not really a chocolate. Although I find it to be a nice addition to a really rich chocolate cookie, in terms of flavour balance, you CAN just leave them out.
If you're in for a "death-by-chocolate" cookie, then feel free to substitute dark chocolate chips or even milk one!
One thing to bear in mind when baking with white chocolate: It doesn't melt easily because of large sugar content. So, I don't advise to put extra chocolate chunks on top of your cookie dough, because there is a possibility of burning the chocolate.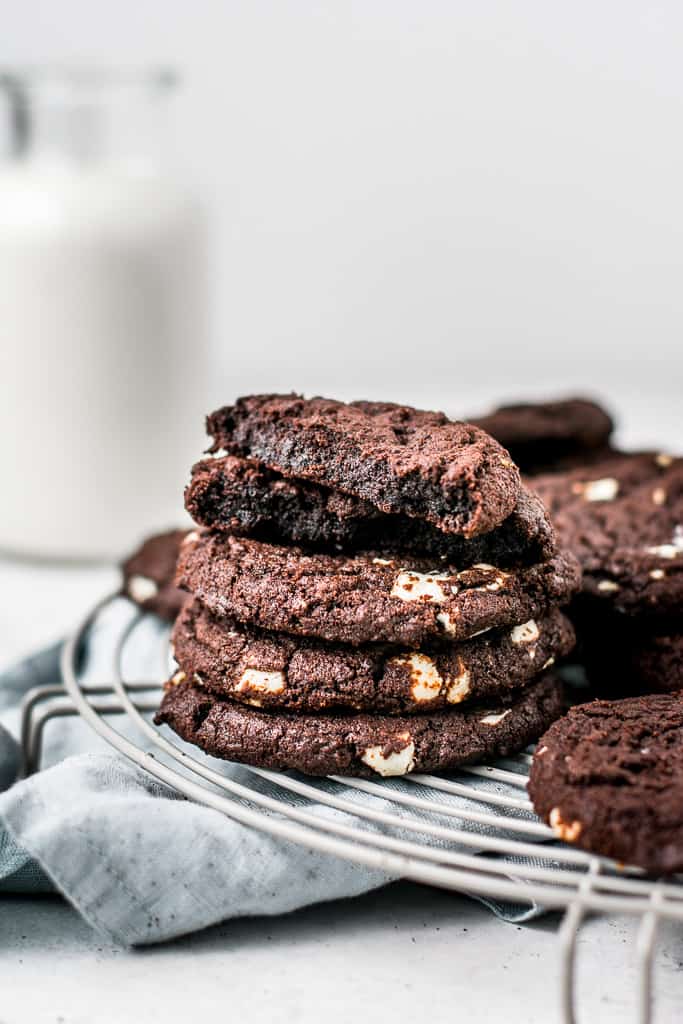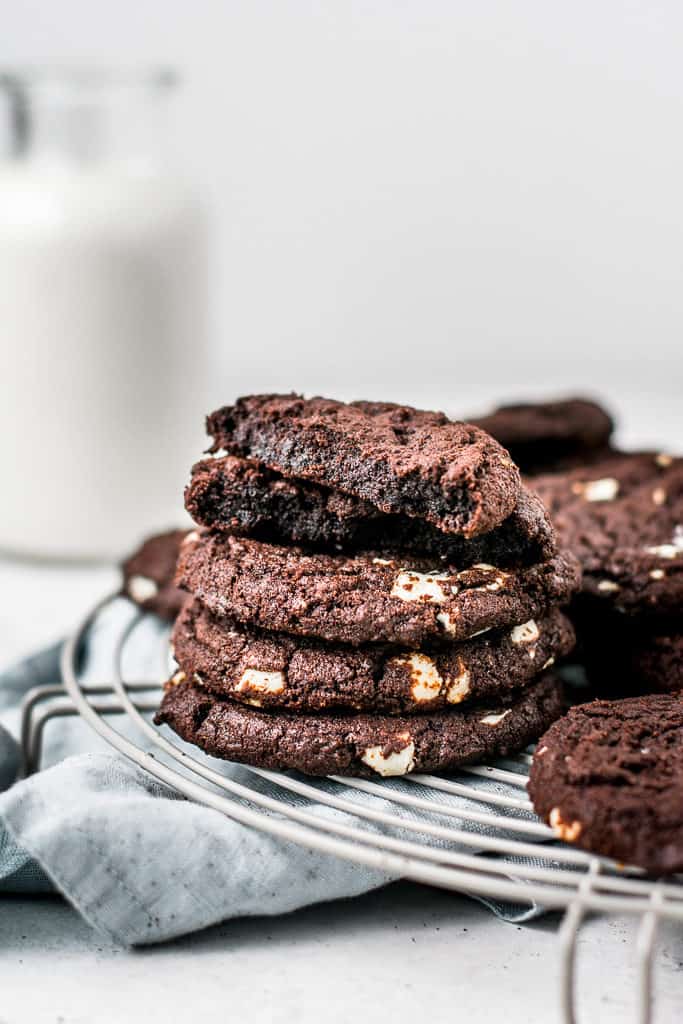 LOOKING FOR MORE RICH, CHOCOLATE DESSERTS? TAKE A LOOK AT MY FAVOURITES...
Peanut Butter & Chocolate Cupcakes with Salted Caramel
No bake Nutella Cookie Dough Cheesecake
Ultimate Triple Chocolate Cake
Chocolate Hazelnut 'Winter Wonderland' Cake
Chocolate Berry Cake
You're absolutely going to LOVE these cookies, because they're quick and easy to make, aaaand - extra chocolatey!
If you make them, let me know by tagging me on Instagram @anasbakingchronicles or tell me all about it in the comments section down below – I love seeing your creations! If you have any questions, don't hesitate to ask! Happy baking!
Big hugs,

📖 Recipe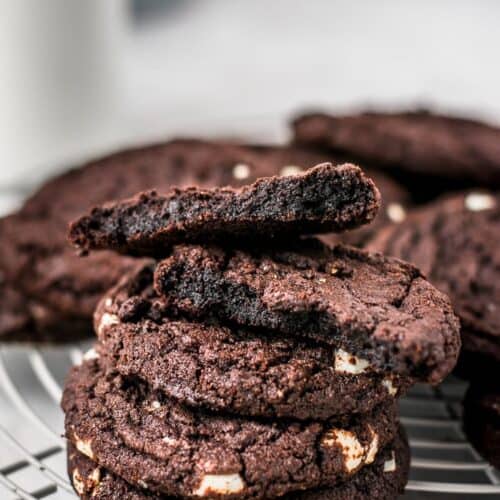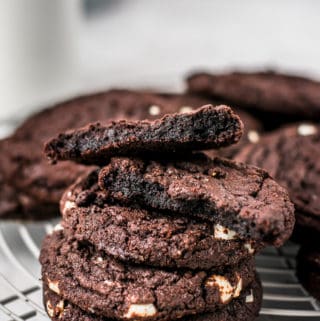 Soft and Chewy Chocolate Cookies
Description
Quick and easy chocolate cookies, with rich chocolate flavour and fudgy, melt-in-your-mouth texture. You'll absolutely love them!
ingredients
2

large

eggs

(room temperature)

225

g

unsalted butter

(room temperature)

225

g

light soft brown sugar

175

g

caster sugar

1

teaspoon

vanilla extract

300

g

all-purpose flour

90

g

dutch-processed cocoa powder

½

teaspoon

baking powder

½

teaspoon

baking soda

½

teaspoon

salt

150

g

white chocolate
Instructions
Preheat your fan oven to 160°C (325°F) or 175°C (350°F) if you're not using a fan oven. Line your baking sheet with parchment paper.

In a medium sized bowl, sift together flour, cocoa powder, baking powder, baking soda and salt. Set aside.

In a bowl of a standing mixer, beat together softened butter and sugars. It doesn't need to be extra pale and fluffy, just combine them. Add eggs, on at the time, vanilla extract and beat until everything is nicely incorporated.

Fold in your dry ingredients, either on lowest speed of your stand mixer or with a spatula. It should all come together into a soft cookie dough. Add finely chopped white chocolate chunks or chips.

Using an ice cream scoop, scoop balls of dough onto your prepared baking sheet, leaving couple of inches in between them, so they have room to spread. Bake for 10-12 minutes. They're supposed to be a little crispy on the outside, but soft in the middle.

Leave them to cool on the tray for 2 minutes, before transferring them to a cooling rack to cool completely. Store in an airtight container for prolonged freshness.
Notes
If you don't have a stand mixer, you can use a hand mixer or a wooden spoon.
If you're not a fan of white chocolate, you can definitely leave them out or substitute milk or dark chocolate for extra chocolatiness.
Not all ovens are the same. I suggest baking one cookie as a test run for the rest, to determine the best time. 🙂
If you still don't own one, I advise you to buy a kitchen scale – they're cheap and easy to use, and always guarantee the same results in baking! 
IMPORTANT
All the recipes are developed and tested using only metric measurements and a kitchen scale. The U.S. cup and spoon measurements are provided for your convenience, but I highly recommend getting a digital kitchen scale and measuring in metrics. It's easy and always guarantee the same results in baking!
The nutritional information and US conversions are calculated automatically. I cannot guarantee the accuracy of this data. If this is important to you, please verify with your favourite nutrition calculator and/or unit conversion tool.
Have you tried this recipe?
Tag me on Instagram @anasbakingchronicles or use the hashtag #anasbakingchronicles - I love seeing your creations!