These crispy chocolate cut out cookies are sandwiched together with sweet, yet tart kumquat jam. They're absolutely delicious and would make a great addition to your holiday table!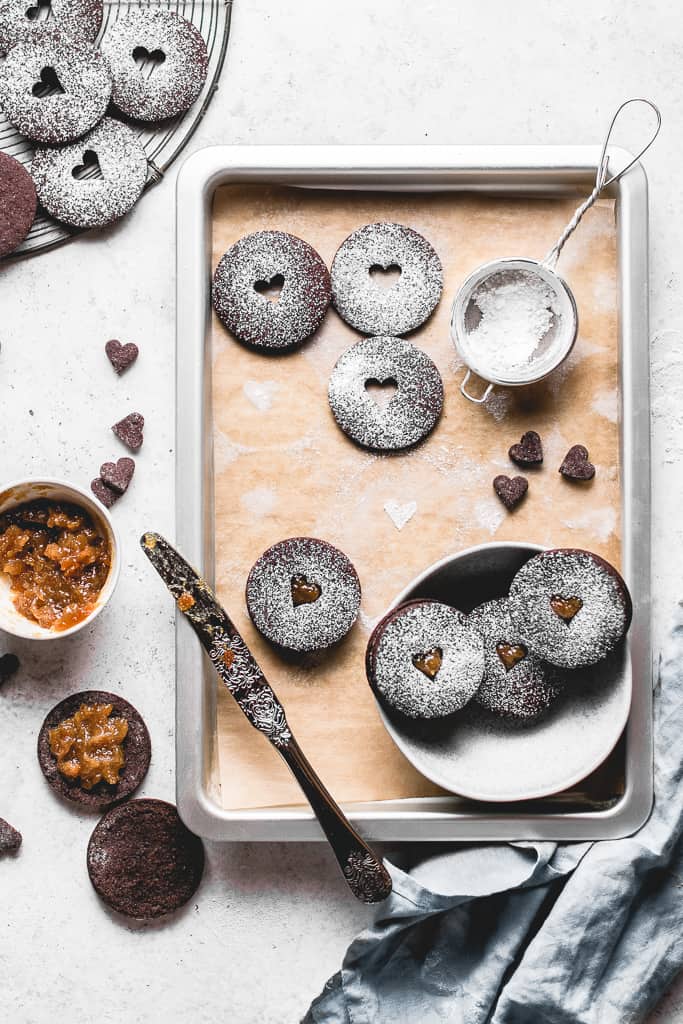 The COOKIE SEASON has officially begun and I'm opening it with these chocolate cut-out cookies sandwiched together with Kumquat jam!
It's December, the most beautiful and the most stressful time of the year. I had these big plans for the blog, but unfortunately they didn't really come true. It turns out when you put an insane amount of pressure to yourself, you're in fact limiting yourself and thus, you're unable to produce the best possible content.
Yes, people. It's true what they say - whatever you do, the most important thing is that it comes from a place of happiness, peace and love.
These definitely came from a place of love, but unfortunately the images came from a place of pressure.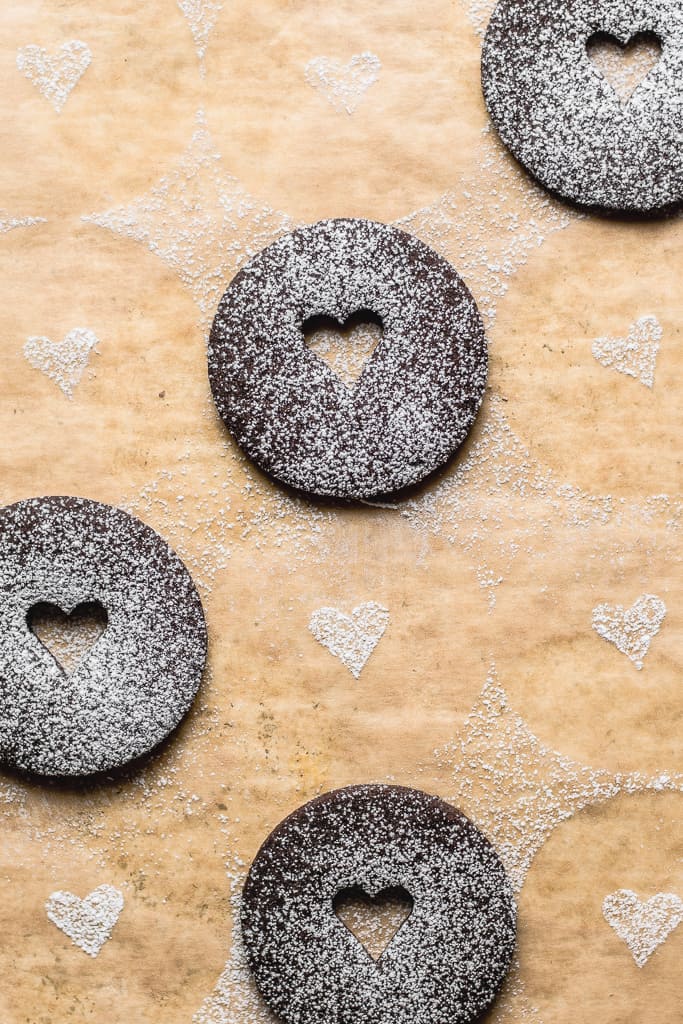 I PRESENT YOU THE BEST CUT-OUT CHOCOLATE COOKIE RECIPE
If you don't feel like sandwiching them together, that's totally fine. These chocolate cookies are perfect for cookie cutters of all different shapes and sizes. To give them a little extra sweetness and nice looks, I suggest then decorating them with royal icing. That also makes for a fun family activity during the holidays. I know my little sis loves to do it with me 🙂
For the filling I've chosen my grandma's kumquat jam. She makes a lot of it every year, so I thought - what a better way to use it, than in desserts?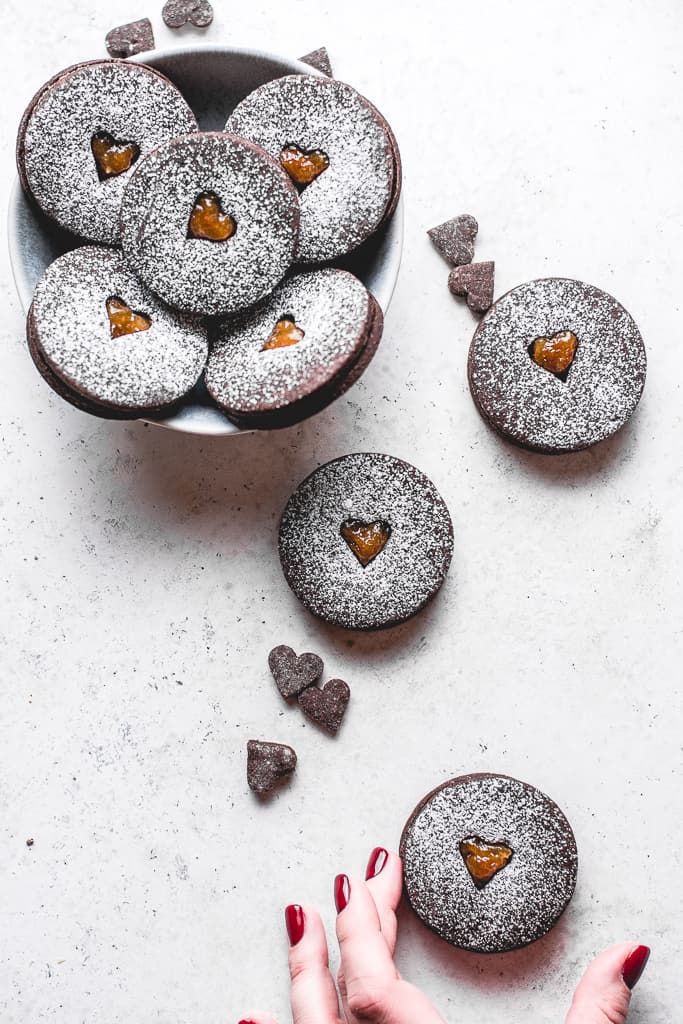 WHAT IS KUMQUAT, YOU ASK?
It's a small citrus fruit that resembles the orange, but has an edible sweet skin and a tart pulp. It's the size of an olive or a grape and very cute looking, if I may add. Check out this article for more information. Just like an orange, it goes perfectly with chocolate, so that's why I've decided to use kumquat jam as a filling for these crispy chocolate cookies. I've chosen well, because these were delicious!
Unfortunately, I still didn't get the chance to ask my grandma for her jam recipe, so I'll be making an update of this recipe soon. But for the mean time, feel free to substitute any jam you like. Orange or cherry jam would go amazing with chocolate!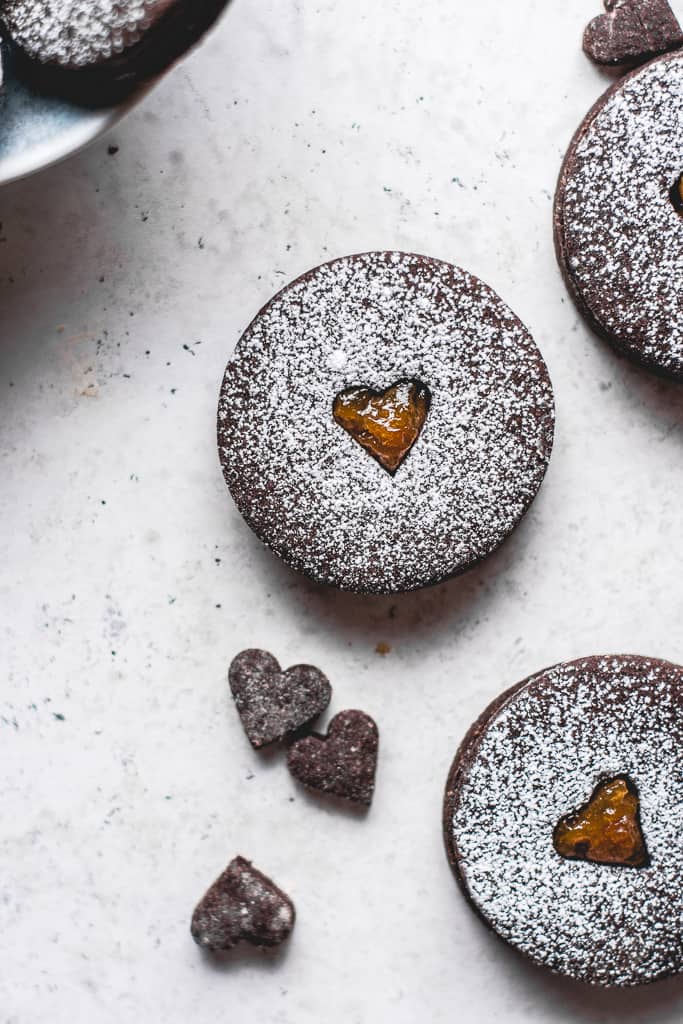 IF YOU'RE LOOKING FOR MORE DELICIOUS COOKIE RECIPES THESE HOLIDAYS, CHECK OUT MY FAVOURITES!
Raspberry Linzer Cookies
Pistachio Macarons
Chocolate Orange Shortbread Cookies
Soft White Chocolate Chunk Chocolate Cookies
Brown Butter Chocolate Chip Cookies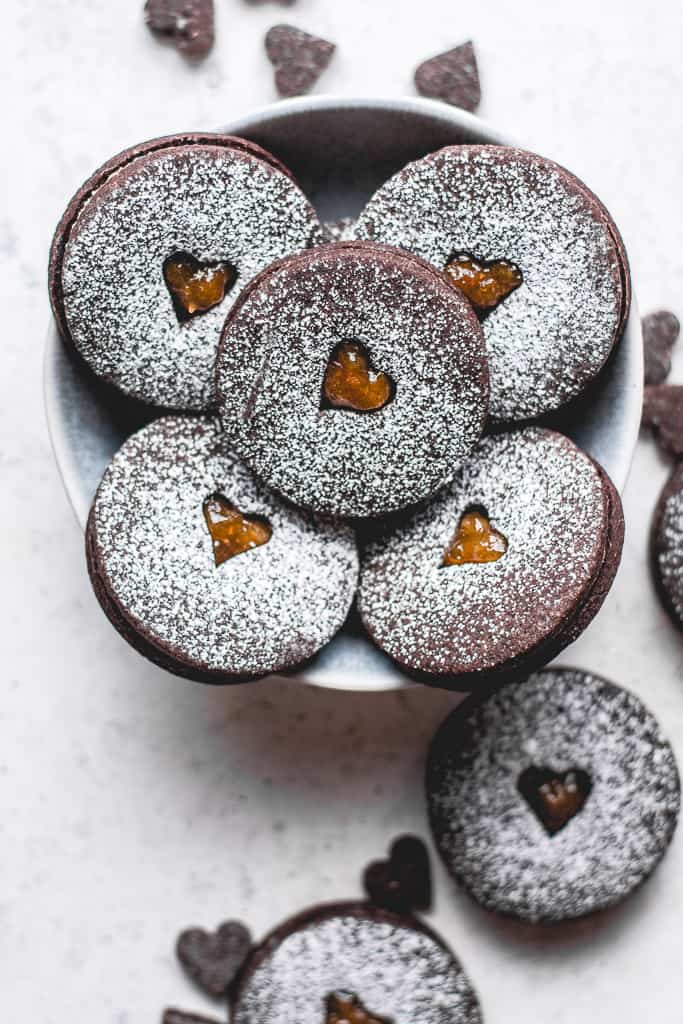 If you make these chocolate cookies, let me know by tagging me on Instagram @anasbakingchronicles or tell me all about it in the comments section down below! I love seeing your creations! If you have any questions, don't hesitate to ask! Happy baking!
Love,

📖 Recipe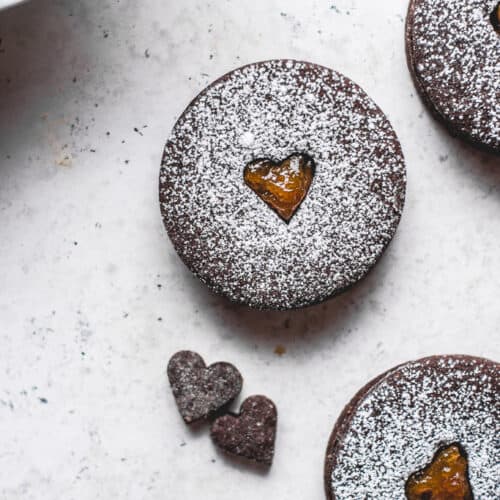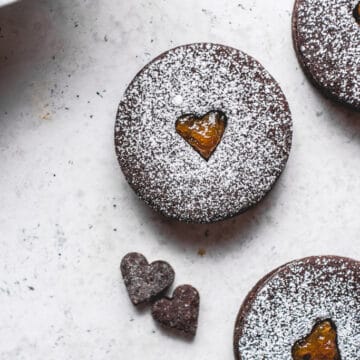 crispy chocolate cookies with kumquat jam
Description
Traditional Christmas cookies, soft but crumbly, sandwiched together with homemade raspberry jam.
ingredients
Cookies
230

g

all-purpose flour

45

g

unsweetened cocoa powder

140

g

unsalted butter

(room temperature)

155

g

granulated sugar

1

large

egg

¼

teaspoon

salt

¼

teaspoon

baking powder

½

teaspoon

vanilla extract

kumquat jam
Instructions
For cookies:
Preheat your oven to 175˚C or 350˚F. Line your baking sheet with baking paper.

In a medium sized bowl, sift together flour, baking powder, salt and cocoa powder.

In another bowl, using a hand or a stand mixer, mix together butter and sugar until pale and fluffy (approx. 2-3 min)

Add an egg and vanilla extract and mix until everything is combined.

Add your dry ingredients to butter, sugar and egg mixture in TWO batches, mixing just until everything is incorporated and there are no lumps of flour. You don't want to overmix it, otherwise your cookies will get tough.

Divide it in two, wrap up in cling film forming a disc and put it in fridge for an hour or up to a week.

Once you're ready to bake the cookies, leave the dough at room temperature for 15 to 20 minutes, until it's ready to roll.

On a floured surface roll out the dough to a ¼ inch thick circle and cut out 2 inch wide circles. There should be around 20-25 cookies. Using a smaller cookie cutter cut out the middle in half of your cookie circles. I used a small heart cookie cutter but you can use whatever you want, even a round nozzle! 🙂 

Bake the cookies for about 10 minutes. They should be lightly soft in the middle and crisp on the outside. Transfer them to a cooling rack to cool completely.
Assembly:
Dust half of your cookies (the ones without the middle) with powdered sugar. Put a teaspoon of jam in the middle of each cookie but be careful not to spread it all the way to the end, so it doesn't ooze out when you sandwich the cookies. Place the other cookie on top and enjoy!
Notes
Not all ovens are the same. I suggest baking a couple of "test cookies" to find out the best baking time or temperature. Get to know your oven! 
If you still don't own one, I advise you to buy a kitchen scale - they're cheap and easy to use, and always guarantee the same results in baking! 
IMPORTANT
All the recipes are developed and tested using only metric measurements and a kitchen scale. The U.S. cup and spoon measurements are provided for your convenience, but I highly recommend getting a digital kitchen scale and measuring in metrics. It's easy and always guarantee the same results in baking!
Nutrition
Nutrition Facts
crispy chocolate cookies with kumquat jam
Amount per Serving
% Daily Value*
* Percent Daily Values are based on a 2000 calorie diet.
The nutritional information and US conversions are calculated automatically. I cannot guarantee the accuracy of this data. If this is important to you, please verify with your favourite nutrition calculator and/or unit conversion tool.
Have you tried this recipe?
Tag me on Instagram @anasbakingchronicles or use the hashtag #anasbakingchronicles - I love seeing your creations!