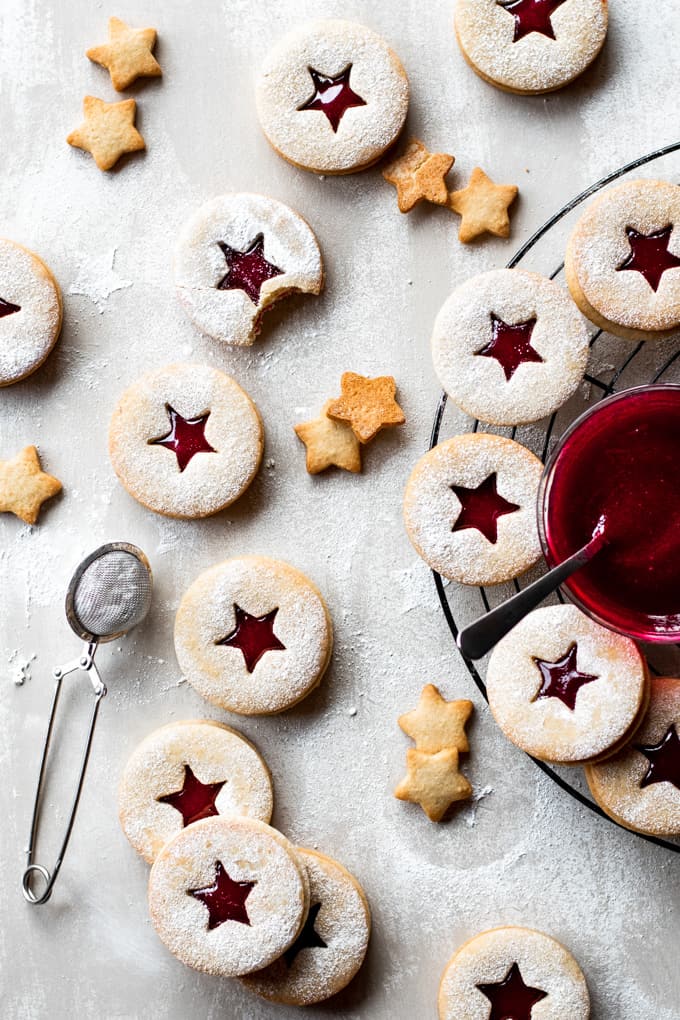 What are Linzer Cookies?
Here goes the story… Linzer cookies are named after Linzer torte, which originated in the small city of Linz, Austria. Yes, that's in Europe. We're nearly neighbors. Nearly. 😀
The torte is believed to have been created in the 17th century, while the cookie adaptation came in the 19th century. It's said that Linzertorte is the first cake in the world. At least according to Wikipedia and several other online resources.  To quote Michael Scott: "Wikipedia is the best thing ever. Anyone in the world can write anything they want about any subject. So you know you are getting the best possible information." I laughed so hard. Good one, Mr. Scarn.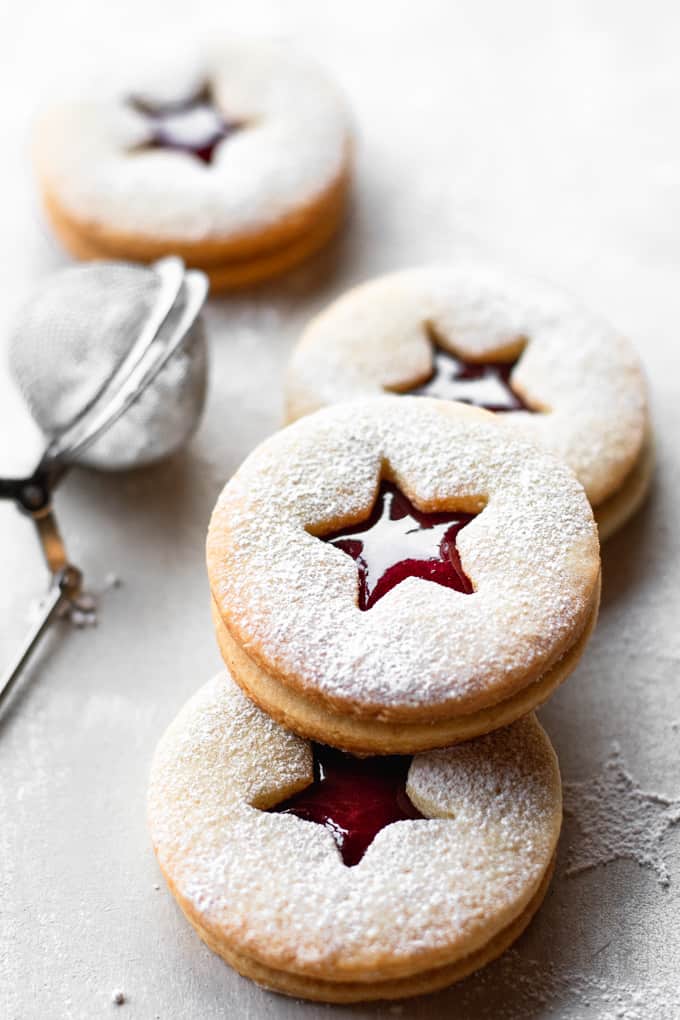 Linzertorte was more of a pie than a cake—coming from today's point of view. The main ingredients for making beautiful, crumbly pastry are flour, butter, some kind of nut (almonds, hazelnuts, or walnuts usually), egg yolk, some citrus zest, and spices like cinnamon.
After that, the only thing you need is to bake it, spread it with loads of delicious jam and cover with a pastry lattice. Yum!
Basically, Linzer cookies are a bitesize version of Linzertorte which are adored all over the world.
For me, traditional Linzer cookies are made with almonds. But you can use any nut you want.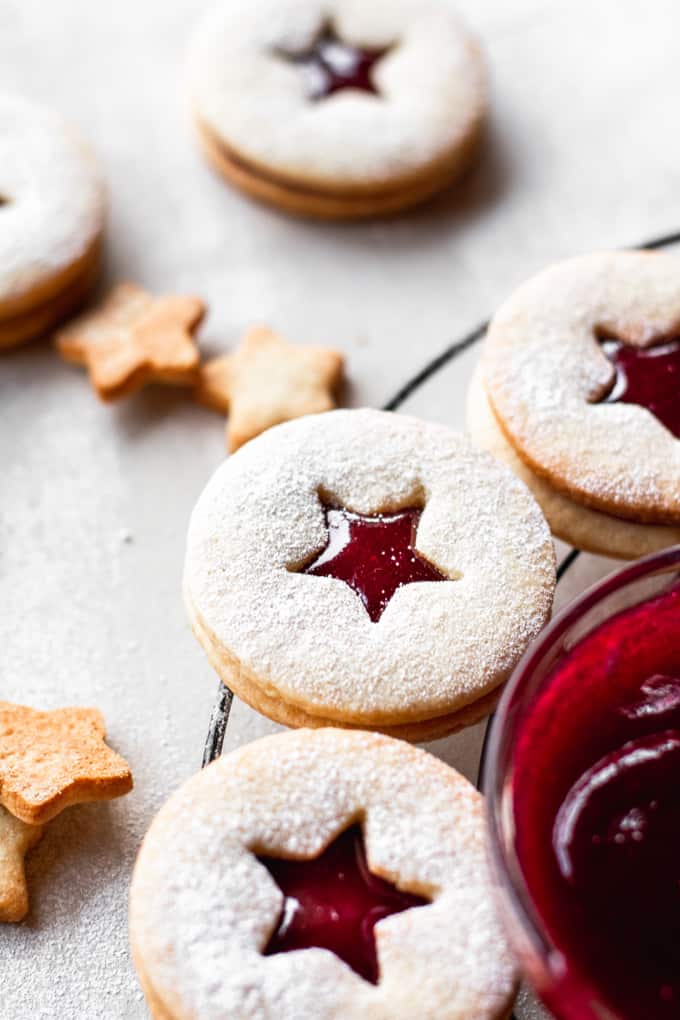 Why you'll love these Raspberry Linzer Cookies
Christmas is the time of giving and sharing. "For it is in giving that we receive.", said Francis of Assisi. So, in that spirit, I'll share my secret with you.
To get THE BEST possible flavor in your Linzer Cookies, you need to toast the almonds! 🙂
Generally speaking, when working with nuts you always want to toast them because that deepens their flavor and aroma. In other words, it makes them extremely delicious!
And to bring more of a home feel to it, I made a quick jam, as well. It's really super simple and you don't need to make a lot of it, just enough for the cookies.
Normally, you should use equal amounts of fruit and sugar when making jam. However, I decided to cut back on the sugar because I like a bit of tartness.
But, when I made it in 1:1 ratio for the first time and tried it with a spoon it was a little sweet, but sandwiched between cookies it was still absolutely fantastic! So you do you 🙂
I hope you'll make these a part of your Christmas table, I'm positive that everyone would love them! Happy holidays x
More cookie recipes you might enjoy
If you have any other questions that I didn't cover, please let me know in the comments section down below - I'd love to help you out! And if you make this recipe, tag me on Instagram @anasbakingchronicles so I can see it or feel free to e-mail me your pictures and thoughts! I love seeing your bakes!
Happy baking,
Ana
📖 Recipe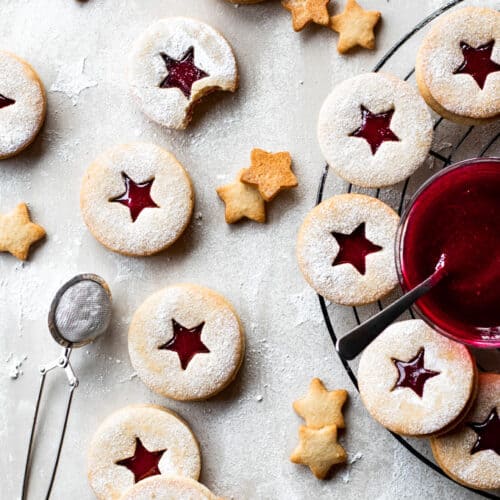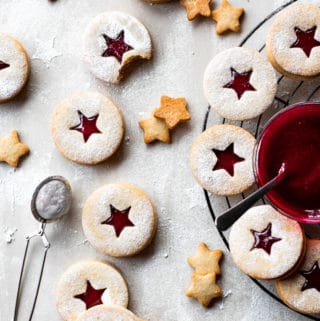 Linzer Cookies with homemade Raspberry Jam
Description
Traditional Christmas cookies, soft but crumbly, sandwiched together with homemade raspberry jam.
ingredients
Cookies
250

g

all-purpose flour

100

g

ground almonds

(toasted)

200

g

unsalted butter

(room temperature)

115

g

granulated sugar

1

large

egg

½

teaspoon

salt

½

teaspoon

baking powder

½

teaspoon

vanilla extract

¼

teaspoon

cinnamon
Raspberry Jam
500

g

frozen raspberries

350

g

granulated sugar

juice and zest of one lemon
Instructions
For cookies:
Preheat your oven to 175˚C or 350˚F. Line your baking sheet with baking paper.

Toast ground almonds until golden brown. You can use whole almonds as well, just blitz them afterwards until finely ground. Set them aside to cool a little bit.

In a medium sized bowl, sift together flour, baking powder, salt and cinnamon. Add toasted ground almonds once they're cool.

In another bowl, using a hand or a stand mixer, mix together butter and sugar until pale and fluffy (approx. 2-3 min)

Add an egg and vanilla extract and mix until everything is combined.

Add your dry ingredients to butter, sugar and egg mixture in TWO batches, mixing just until everything is incorporated and there are no lumps of flour. You don't want to overmix it, otherwise your cookies will get tough.

Divide it in two, wrap up in cling film forming a disc and put it in fridge for an hour or up to a week.

Once you're ready to bake the cookies, leave the dough at room temperature for 15 to 20 minutes, until it's ready to roll.

On a floured surface roll out the dough to a ¼ inch thick circle and cut out 2 inch wide circles. There should be 28-30 cookies. Using a smaller cookie cutter cut out the middle in half of your cookie circles. I used a small star cookie cutter but you can use whatever you want, even a round nozzle! 🙂

Bake the cookies for about 10-12 minutes. They should be lightly soft in the middle and golden. Transfer them to a cooling rack to cool completely.
Quick Raspberry Jam:
In a medium sized non-stick saucepan place together frozen raspberries, sugar and lemon juice and zest. Cook it on a medium-high heat until it starts to boil, stirring occasionally. Reduce the heat and let it cook for 15-20 minutes until it thickens. Once it's done, strain the jam through a sieve to get rid of raspberry seeds and put it a clean glass jar. Let it cool in the fridge before using.
Assembly:
Dust half of your cookies (the ones without the middle) with powdered sugar. Put a teaspoon of jam in the middle of each cookie but be careful not to spread it all the way to the end, so it doesn't ooze out when you sandwich the cookies. Place the other cookie on top and treat yo self!
Notes
Not all ovens are the same. I suggest baking a couple of "test cookies" to find out the best baking time or temperature. Get to know your oven! 🙂
If you still don't own one, I advise you to buy a kitchen scale - they're cheap and easy to use, and always guarantee the same results in baking! 🙂
IMPORTANT
All the recipes are developed and tested using only metric measurements and a kitchen scale. The U.S. cup and spoon measurements are provided for your convenience, but I highly recommend getting a digital kitchen scale and measuring in metrics. It's easy and always guarantee the same results in baking!
The nutritional information and US conversions are calculated automatically. I cannot guarantee the accuracy of this data. If this is important to you, please verify with your favourite nutrition calculator and/or unit conversion tool.
Have you tried this recipe?
Tag me on Instagram @anasbakingchronicles or use the hashtag #anasbakingchronicles - I love seeing your creations!
˚