Sweet and chewy macarons, the most decadent of French desserts, filled with rich Pistachio White Chocolate ganache. It's a match made in heaven!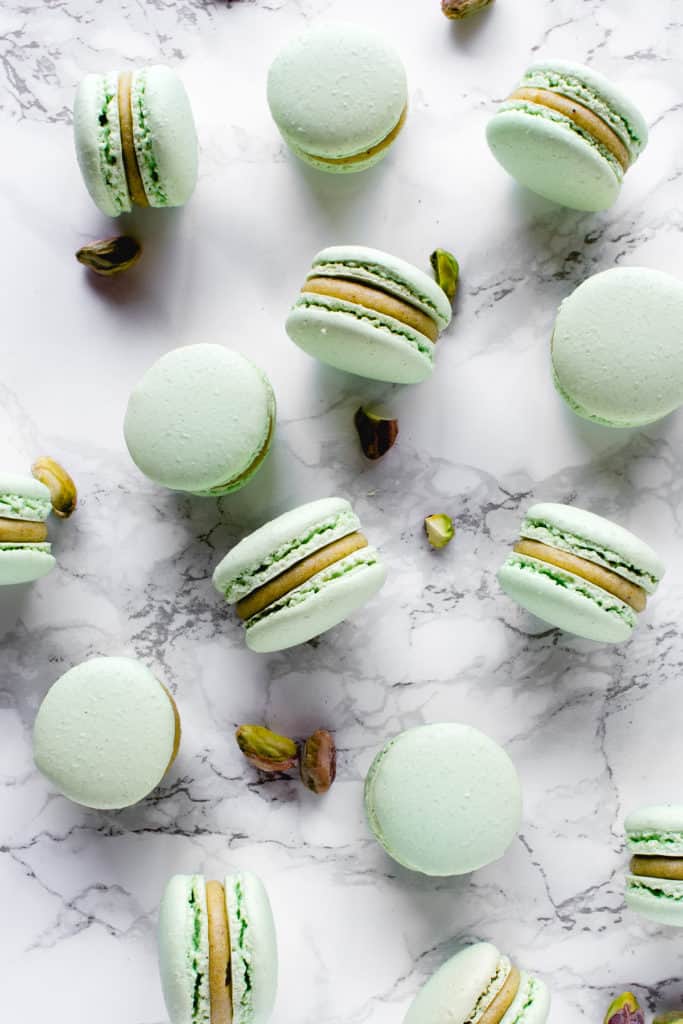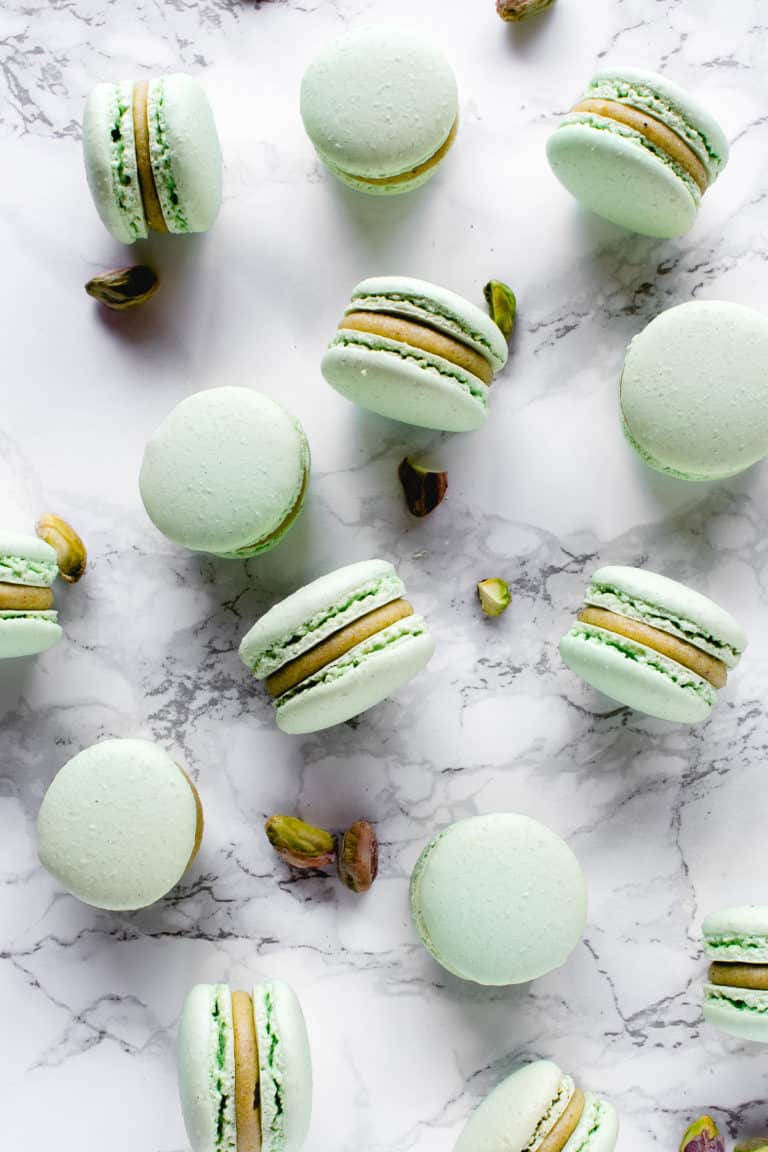 So, I planned to write this post last week, (it says that I last edited it 11/7/2018) but then Croatia beat England in World Cup semi finals and I just couldn't write no mo'. Lol.
I was amazed with all the happiness that could be felt throughout the country. That positive energy filled each and every one of us with utter joy, excitement and pride. We felt that togetherness which was very much needed because it gave us HOPE. We stood united, helping each other, celebrating together, feeling nothing but happiness and pride. It was amazing, the boys were writing history and I can only be grateful that I got to be a part of that history. Finally, a story I can tell my future kids lol 😀
Okay, enough rambling 😀
Let's talk MACARONS!
I remember making them for the very first time five years ago. Omg, FIVE YEARS - time really does fly by. Needless to say, they looked horrible, totally undermixed, they had no feet, with domed and cracked shells etc. But, in spite of all the se mistakes, we really enjoyed the flavour and I was proud.
Can you guess what was the outcome the second time I tried to make macarons? They were overmixed lol.
They had nice feet and didn't crack on the top (well, at least not all of them), but I consider that pure luck since the batter was way too thin and they spread too much.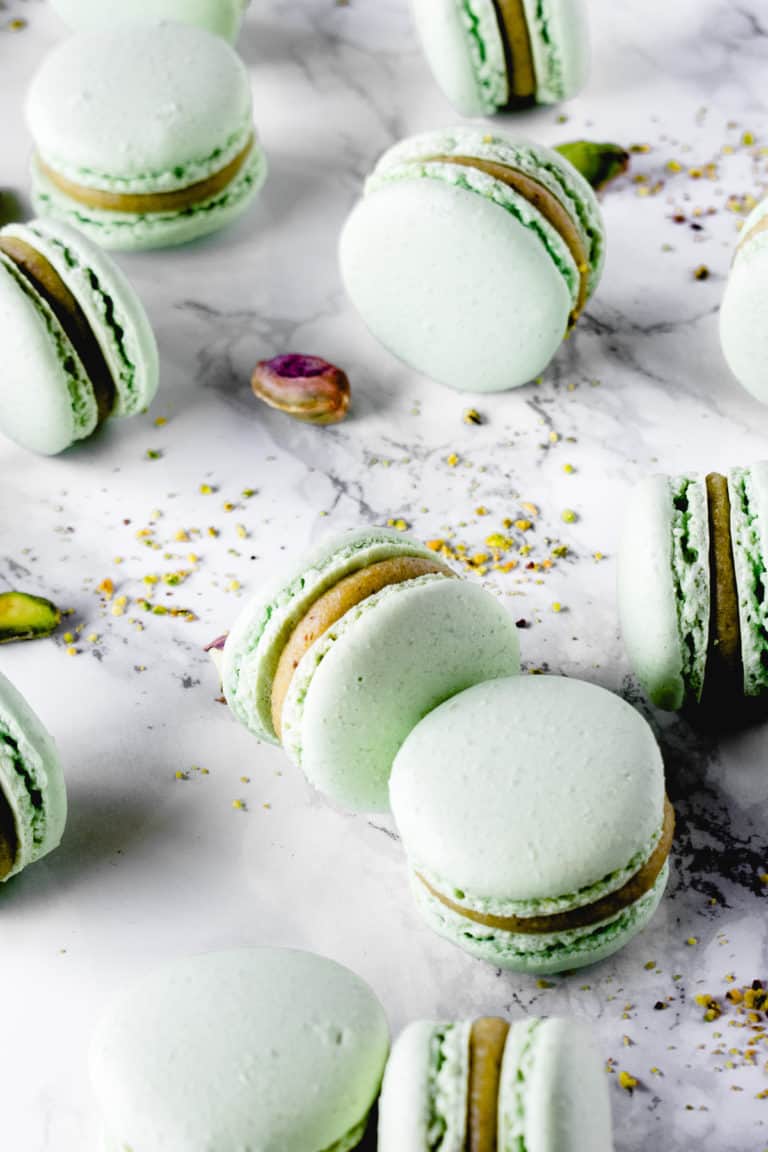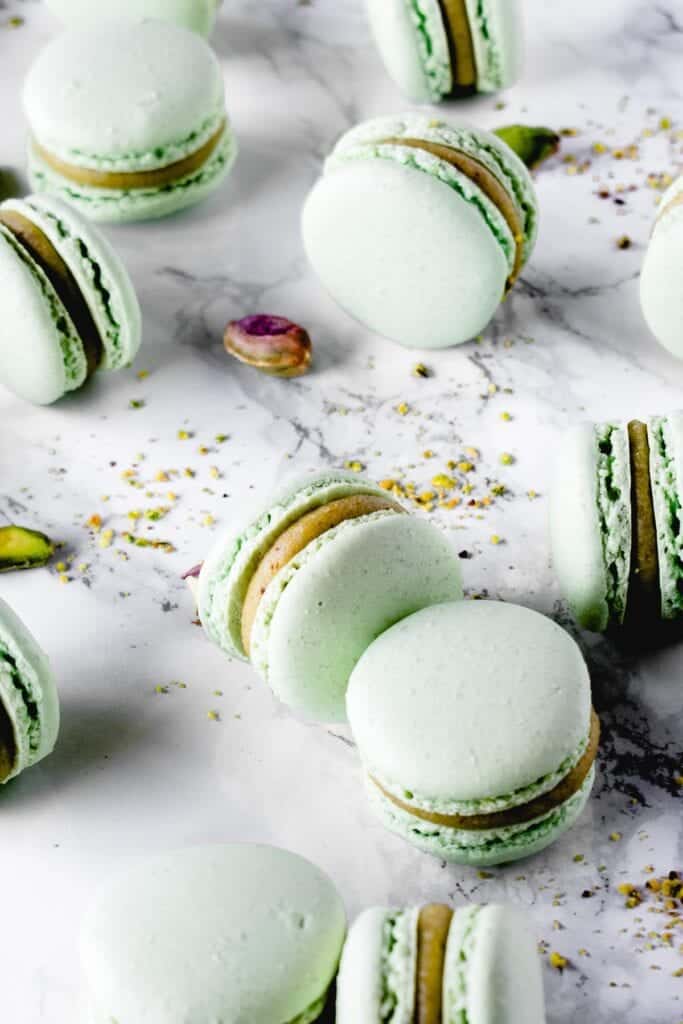 Now, I really don't know when they became almost perfect (and I say almost because I'm always questioning myself with these guys) or how many attempts I needed, but what I can tell you is that - PRACTICE MAKES PERFECT.
If I'm being honest, I gave up after a couple of tries because they were time consuming, never turned out right and making them did not make me happy.
So, suffice it to say, I was scared and didn't want to experience failure anymore - no one in their right mind wants to, right?
I waited a couple of years, did my research and when I felt ready and not at all intimidated by them, I went for it! 🙂
Tips for making Pistachio Macarons
You probably heard this one a hundred times - you need AGED egg whites in order to make macarons. That basically means that you need TO PLAN making macarons a couple of days before and - ain't nobody got time for that! Just use ROOM TEMPERATURE FRESH EGG WHITES and you'll be fine. I don't recommend using carton egg whites, though.
Meringue is an essential part of a macaron. There are 3 meringue making methods with which you can make these delicious cookies.
a) French meringue - or basic meringue. You whip up the egg whites until stiff peaks and then add spoonful by spoonful of caster sugar (superfine granulated sugar), very gradually, until the mixture is glossy, stiff and you can't feel any sugar grains. You can check that out by rubbing a little between your fingers.
b) Swiss Meringue - is made by heating egg whites and sugar in a heatproof bowl over a bain marie, that is, a pan of simmering water, until all the sugar is dissolved. Then you whisk the mixture until it comes to room temperature and has stiff and glossy peaks.
c) Italian Meringue - is made using a sugar syrup. I, personally, found the best results using Italian method, but that can be a problem if you don't have a sugar thermometer. The key is to bring the sugar syrup (sugar with a little bit of water) to 118°C and then in a very slow and steady motion, add it to stiff peak egg whites while the mixer is still going. This method produces the most stable meringue.
Don't overmix your meringue. That can likely happen when making French meringue, Italian meringue is forgiving because of the sugar syrup. If your meringue is "too dry" that will result in cracked shells.
Make sure your bowls and mixer attachment are GREASE FREE. I always wipe everything using a little bit of white vinegar and some paper towels.
Make sure you use ground almonds and not some almond flour that you might find in health food shops. The kind that has been rid of the fat content. I once used that kind of lchf/paleo almond flour and it absorbed the liquid so much that no matter how much I folded, it would't loosen up the batter. So, to sum up - you need finely ground skinless raw almonds! 🙂
USE YOUR KITCHEN SCALE. It's very important to be precise when making macarons. Well, any kind of dessert really - but you have to be especially careful when making macarons. Using cups just won't cut it.
It's better to slightly overbake your macarons than to underbake them. If you underbake your macarons, they will be very sticky and you won't be able to pick them up from the baking paper. Whereas, if you slightly overbake them (like 2-3 minutes tops), once they're filled and stored in an airtight container in the fridge - the moisture from the filling will soften them and they will be delicious! Chewy inside with a little bit of crunch on the outside. 🙂
That said, they really are better when you let them rest in an airtight container, in a fridge, for 24-48h. I usually fill them in the late afternoon and then let them rest overnight. That's at least 12h and it works!
Only use GEL/POWDERED food colouring because the liquid ones will change the consistency of the batter. They also aren't as strong enough as the others. It's recommended to add the colour in the last stage of mixing meringue. But that means that you get to have only one colour. I usually want at least two different colours that match the flavour. So, I mix the colour with almond/powdered sugar/egg white paste.
It's essential to sift ground almonds and powdered sugar! You can do this by pulsing them together in a food processor or using a sieve. Sift them at least 2 times. I usually do both, first combining them in a food processor then sifting them once.
To make sure all my macarons are similar in size, I use a macaron template. Just google some and print it out, it's a life saver 🙂 I like to make my macarons smaller, around 1 - 1.5" wide.
MACARONAGE or simply put - process of mixing/folding the batter. It's the crucial part. Some people swear on counting number of folds, but that's not how I roll. Firstly, I like to mix the almonds/sugar/egg white paste with a little bit of meringue just to loosen it up - you don't have to be careful at this stage, mix it just so that everything is combined nicely. Then pop in the rest of the meringue and now the real process begins. Using a silicone/rubber spatula, fold the two together, in circular motion, scraping the sides and the bottom and folding it to the top - and then "cutting" through the middle to get rid of air bubbles. You do this patiently, until you get to the "ribbon stage". When you pick up your spatula the batter should be lava-like, falling like a ribbon and those lines should be visible for at least 10-15 seconds before they blend into each other.
Once you pipe them, whack the baking sheet on the counter a couple of times to get rid of any air bubbles. You need to let them sit for at least 15 minutes or up to an hour (depending on where you live) so they can form a skin on top. You know they're done drying when you touch them and they don't stick. Half an hour usually works for me.
I don't recommend making macarons on rainy and humid days. The meringue won't dry, they'll probably crack.. ugh, have I told you yet how temperamental they are?
There is a pretty good chance that you won't succeed in making these little guys the first time. Maybe not even the second time - let that not discourage you! They are finicky and you really need to practice it! That way you'll know exactly how the batter is supposed to look like, how long you need to bake them and how high (low) temperature needs to be. If you're anything like me, you'll probably cry and have a breakdown. But - they are totally worth it (although it might not seem like that at the time lol ). And even if you don't get them perfect, they will still be delicious - trust me! 😉
That is all I can think of at this moment, hope I didn't miss any of the important stuff and I really hope it helps you! If you have any further questions or insecurities don't hesitate to ask, I will gladly help you!
If you make these Pistachio macarons, let me know by tagging me on Instagram @anasbakingchronicles or tell me all about it in the comments section down below. I LOVE seeing your creations!
Happy baking! 🙂
📖 Recipe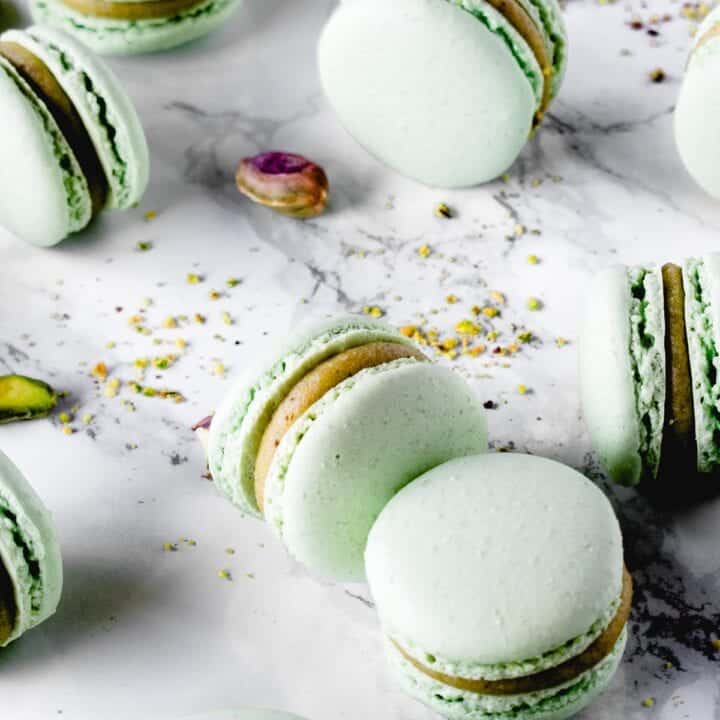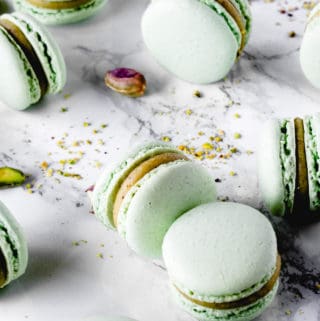 Pistachio Macarons
serves
50
filled macarons
Description
Sweet and chewy macarons filled with the most delicious filling ever - Pistachio White Chocolate Ganache! Yum! *I highly recommend reading all the tips above the recipe to get every information possible.
ingredients
Macarons
200

g

egg whites

(divided)

pinch of

salt

275

g

granulated sugar

70

g

water

275

g

ground almonds

275

g

powdered sugar

gel food colouring

vinegar
Pistachio Filling
300

g

white chocolate

(min. 28% cocoa solids)

100

g

pistachio butter

(salted)

200

g

heavy cream
Instructions
Macarons
Line your baking sheets with parchment paper or silicone mat and, if using, put your template beneath. To make it stick, use a little bit of a finished meringue to glue the parchment to the sheet.

Make sure your equipment is grease free - wipe everything with vinegar.

Place ground almonds and powdered sugar in a food processor and pulse it until combined, around 10-15 times. Don't mix it because you are risking releasing oils from the almonds, only use a pulse method.

Sift the dry mixture into a large bowl to get rid of any big almond bits. Add half of your egg whites (100 g) and using a rubber/silicone spatula, mix together to form a paste. This is the stage where you can add your food colouring as desired. Cover with cling film until you need it.

In a small saucepan, combine granulated sugar and water. DON'T STIR IT because you're risking crystalizing. Using a sugar thermometer, bring the syrup to 112°C.

Once the syrup has reached 112°C, get the remaining egg whites mixing in a stand mixer, fitted with the whisk attachment, with a pinch of salt. Continue heating the sugar syrup until it reaches 118°C (soft-ball stage).

Take the syrup off the heat, and while the mixer is still going on medium-high speed, pour the syrup in the meringue in a steady and slow motion, making sure you're pouring it on the sides of the bowl, and not on the whisk attachment.

Once you're done pouring the sugar syrup, continue mixing the meringue until it comes to room temperature and forms stiff and glossy peaks.

Using a rubber spatula, fold the meringue to the almond paste you made ahead, making sure you get to the ribbon stage.

Place the batter in a piping bag fitted with a round nozzle, I use Wilton 2A - the smaller nozzle gives you more control.

Pipe the macarons on your prepared baking sheets. When all your macarons are piped, whack the baking sheet on the counter at least 3 times to get rid of any air bubbles. Leave them at room temperature to dry and form a skin before baking them.

Once they formed a skin, bake them in a preheated fan oven at 150°C for 18-20 minutes. You can check the doneness by touching them and if they wiggle from the feet - they are not done.

When they are done, leave them to cool completely before trying to pull them off of baking paper.
Pistachio Filling
Place pistachio butter butter and finely chopped chocolate in a medium sized bowl. Bring heavy cream just barely to a simmer and pour over chopped chocolate. Cover it with a plate and leave it 1-2 minutes. Stir with a spatula until combined and smooth. Alternatively, you can do this in a microwave in 30 sec intervals. 

Cover it with cling film touching the surface to prevent skin forming and leave it in the fridge to cool for a couple of hours. You can also make it the night before and leave it overnight to cool and thicken. It should be a spreadable consistency. Just before using it, whip it with a hand mixer for a couple of minutes, until paler in colour and fluffy.
Assembly
Place the filling in a piping bag with a round nozzle and piping a blob in the middle - sandwich together the best looking macarons.

Place them in an airtight container in the fridge over night, ideally at least 24h before consuming.
Notes
I recommend making pistachio ganache before the shells so it has time to thicken.
Not all ovens are the same. If you experience browning of the shells, then you're oven is too hot, so I recommend lowering the temperature for 10 degrees.
Either way, it's better to bake them longer on a lower temperature than risk burning them 🙂
IMPORTANT
All the recipes are developed and tested using only metric measurements and a kitchen scale. The U.S. cup and spoon measurements are provided for your convenience, but I highly recommend getting a digital kitchen scale and measuring in metrics. It's easy and always guarantee the same results in baking!
Nutrition
Nutrition Facts
Pistachio Macarons
Amount per Serving
% Daily Value*
* Percent Daily Values are based on a 2000 calorie diet.
The nutritional information and US conversions are calculated automatically. I cannot guarantee the accuracy of this data. If this is important to you, please verify with your favourite nutrition calculator and/or unit conversion tool.
Have you tried this recipe?
Tag me on Instagram @anasbakingchronicles or use the hashtag #anasbakingchronicles - I love seeing your creations!