These buttery, melt-in-your-mouth orange shortbread cookies are such a classic, and incredibly easy to make!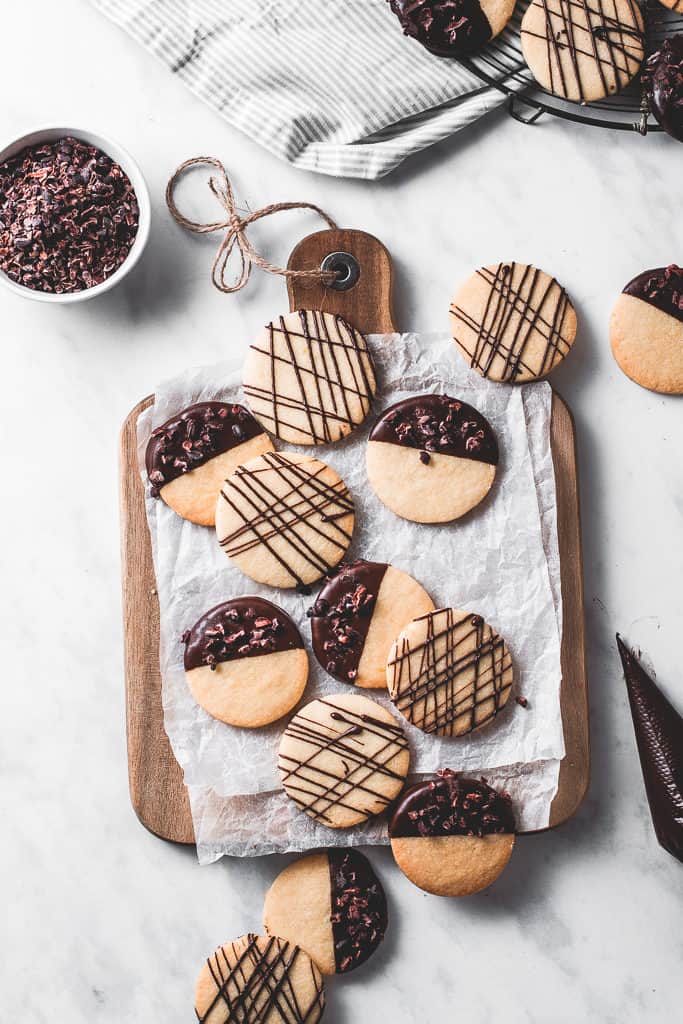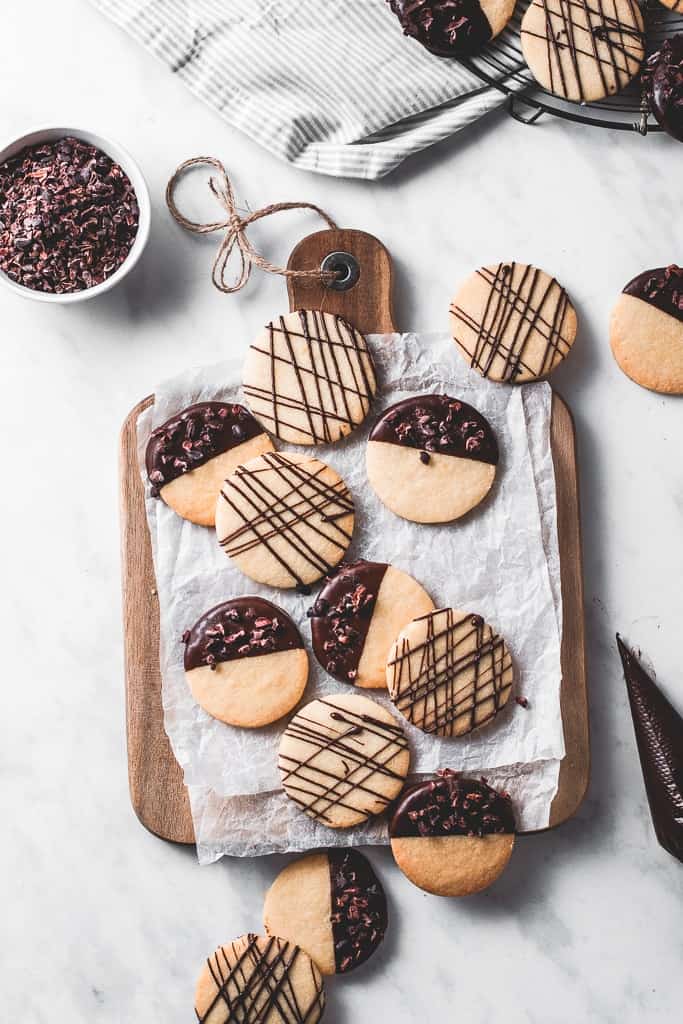 I'm building a cookie collection for upcoming holidays and these orange shortbread cookies grabbed a spot in the first row! Especially dipped in gorgeous dark chocolate - what's not to love about them, right?
HOW TO MAKE THESE CHOCOLATE DIPPED ORANGE SHORTBREAD COOKIES
I used a classic 3-2-1 formula that you can find in lots of cookbooks - as I have. I didn't really know there are so many types of cookies. At first I thought shortbread and sugar cookie were the same, but nope, I was wrong. For one, shortbread cookies don't use eggs! So there you have it, this recipe is egg free. And it can be dairy free if you substitute vegan butter - but I'm sorry to say you'll be missing out on delicious buttery flavour that these cookies are known for.
So, I used 3 parts flour, 2 parts butter and 1 part sugar - and that's in WEIGHT, NOT CUPS. If you're serious about baking, then I advise you to buy a kitchen scale. It's much easier to use than cups and guarantee the same result in baking EVERY. SINGLE. TIME.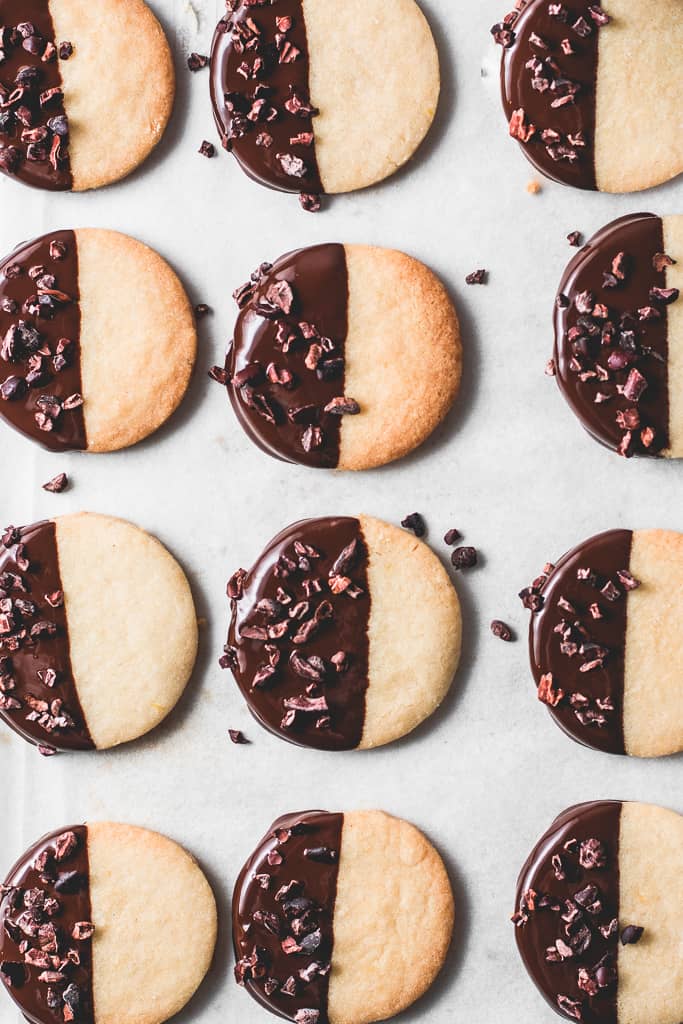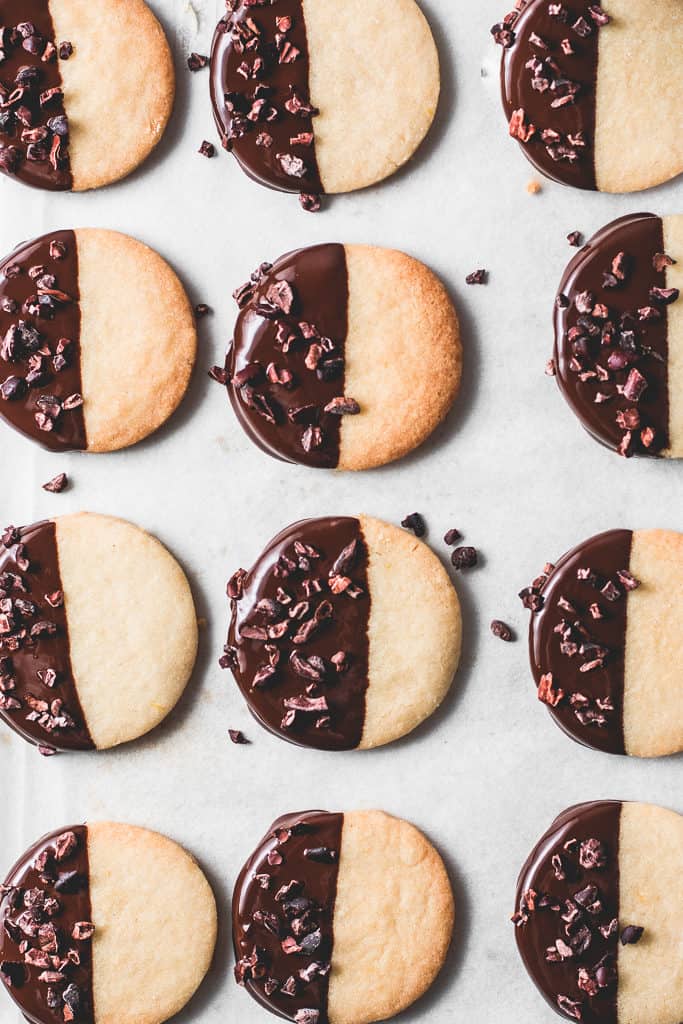 Since my brother is obsessed with anything orange flavoured (and I am too a little bit), I had to flavour these with lots of orange zest. To spice things up a bit, and make the cookies look prettier, I dipped them in melted dark chocolate and sprinkled with cocoa nibs. There's this annoying thing about dipping cookies (or anything) in chocolate - it needs to be tempered if you want it to look glossy and sharp.
WHAT IS TEMPERED CHOCOLATE?
Simply put, it's chocolate that's been melted, then cooled, then melted again to reach a specific temperature. Why do we need chocolate to be at exact temperature? Because we want chocolate to be hard at room temperature. For example, when you're eating a chocolate bar, you can break it and hear that 'snap'. The chocolate is hard and not bendy, it doesn't melt when you touch it. I'm not an expert and I'm obviously having a hard time explaining this, lol.
But, luckily, you have lots of videos and articles about tempered chocolate. One of my favourites is this one by Alex aka "the French guy cooking". Mostly because it's very entertaining -I laughed more than I should, I admit, but it's also full of valuable information and examples of what (un)tempered chocolate looks like.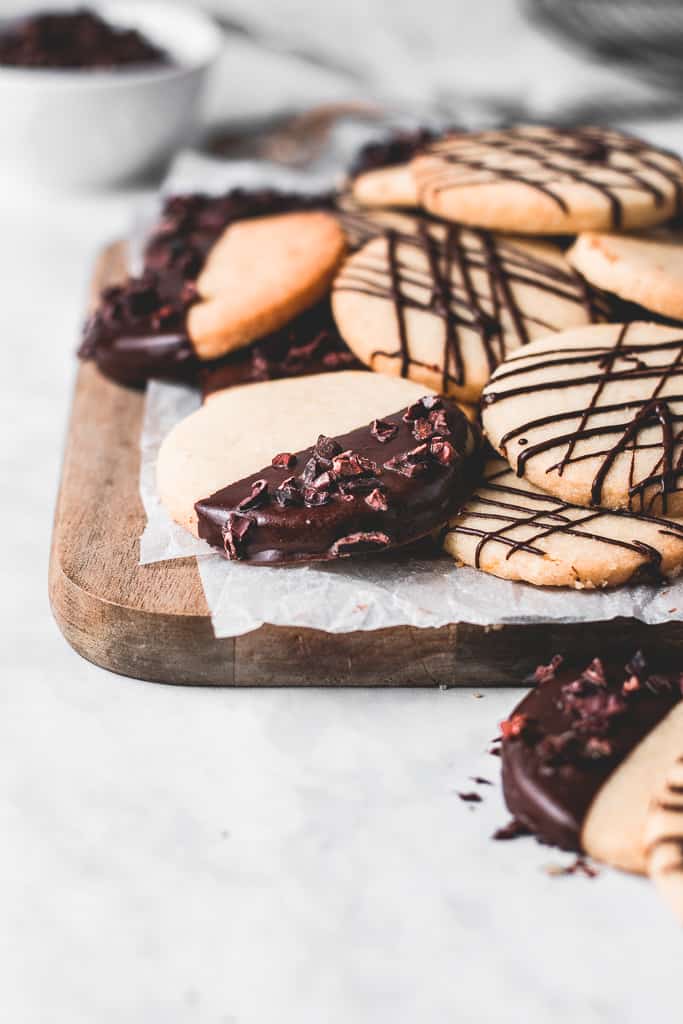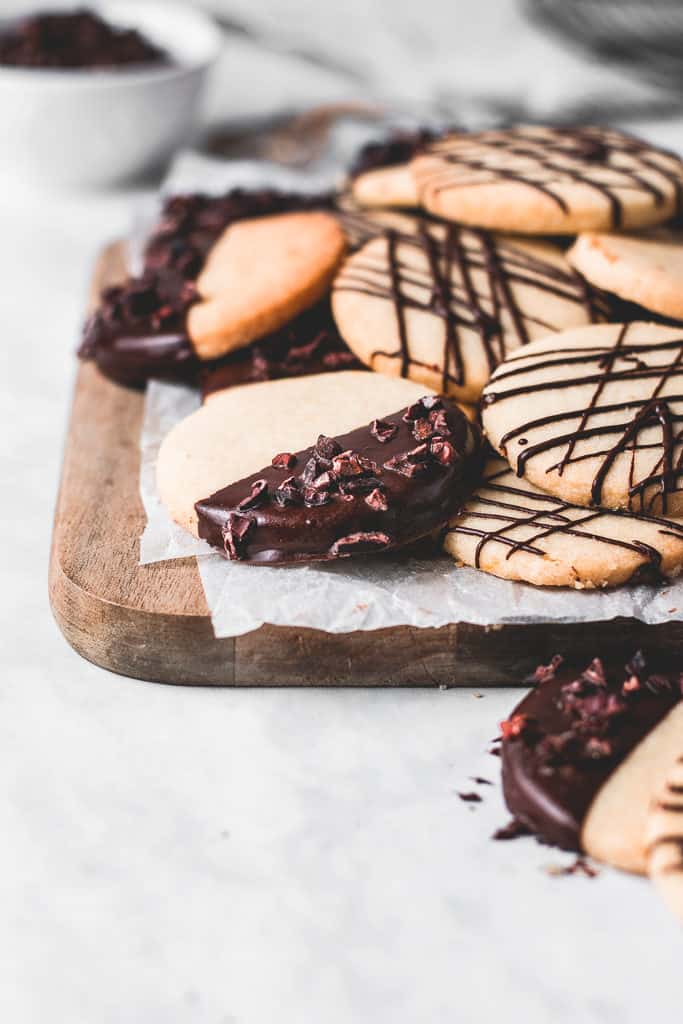 If you take a look at the image below, you can see that my chocolate wasn't tempered and that it got messy. (Let's call it a shabby chic, rustic look, shall we?) I tried, I really did, but it's not the easiest thing in the world. Even the professional bakers have problems with it - just check out Claire Saffitz's video(s) on Bon Appetit YT channel. I absolutely love Claire and you'll feel so much better when you realize you're not a failure and it's okay to just give up tempering, haha.
TIP: If your chocolate isn't tempered, just pop the cookies in the fridge so the chocolate can harden. If you're going to keep your cookies in an airtight container, I suggest you put parchment paper beneath every layer of cookies as you're stacking them on top of one another. That will minimize cookies sticking to each other and make things less messy.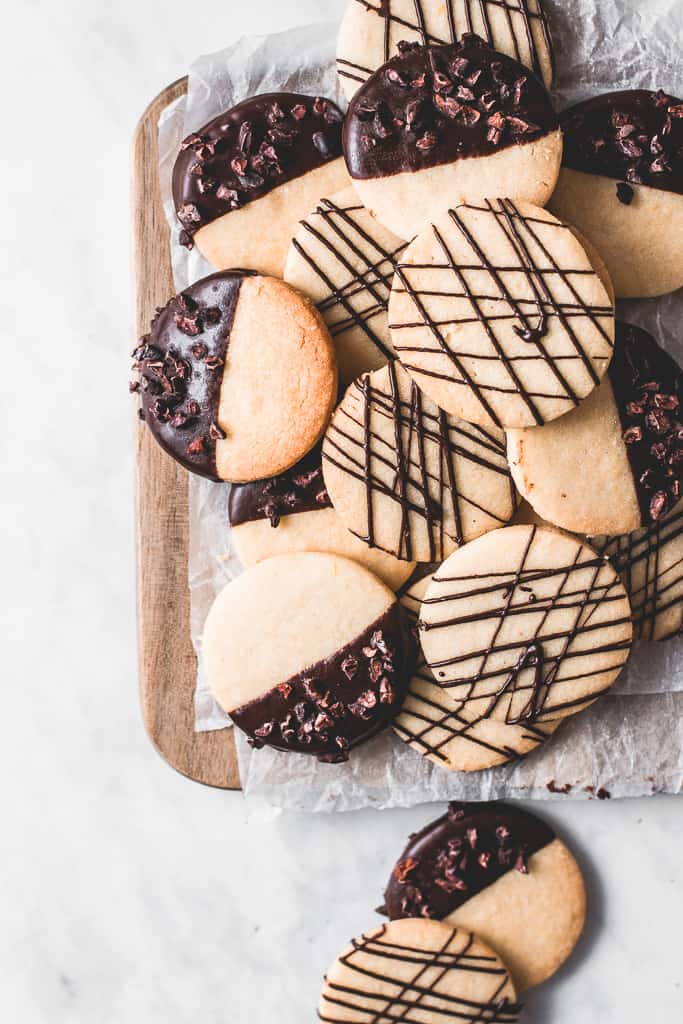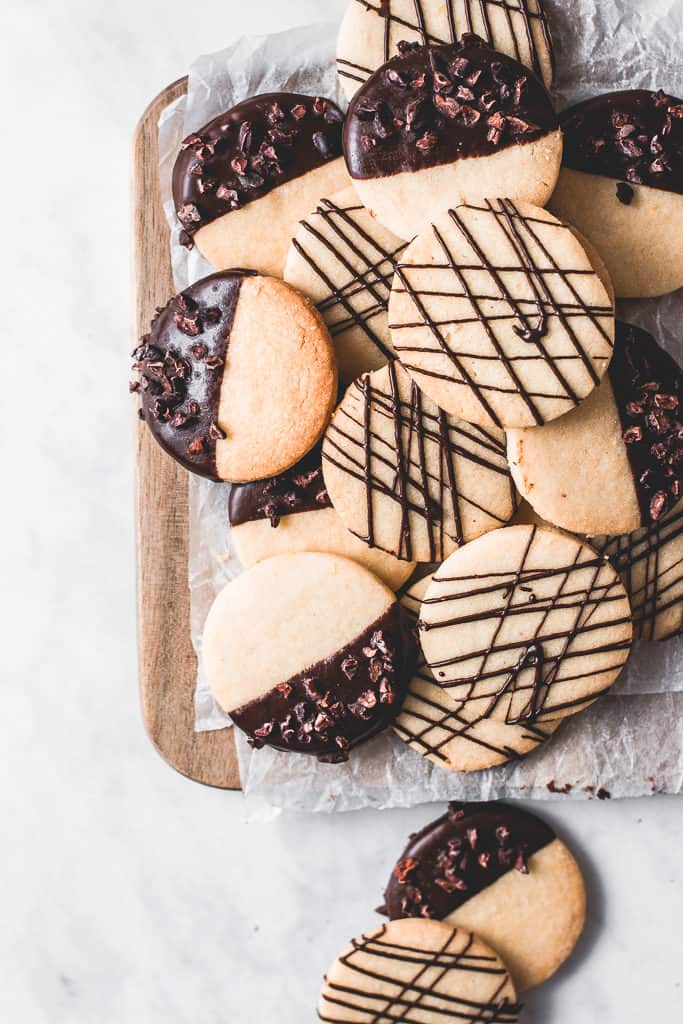 IF YOU'RE A COOKIE LOVER, THEN CHECK OUT MY FAVOURITES...
Browned Butter Chocolate Chip Cookies
Soft Chocolate Cookies with White Chocolate Chunks
Soft and Chewy Coconut Cookies
Linzer Cookies with homemade raspberry jam
Easy Oatmeal Chocolate Chip Cookies
If you make these delicious and buttery cookies, let me know by tagging me on Instagram @anasbakingchronicles or tell me all about it in the comments section down below. I love seeing your creations! If you have any questions, don't hesitate to ask. Happy baking!
Love,

📖 Recipe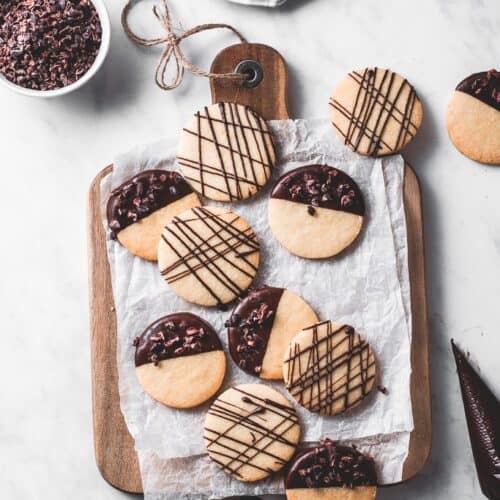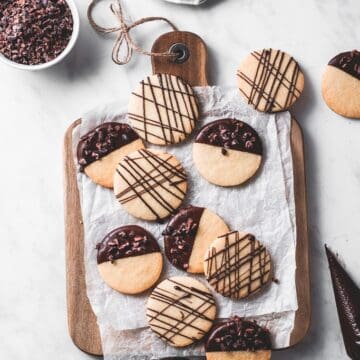 chocolate orange shortbread cookies
Description
These buttery, melt-in-your-mouth orange shortbread cookies are dipped in chocolate and incredibly easy to make - a classic with a twist!
ingredients
300

g

flour

185

g

unsalted butter

100

g

caster sugar

zest

from

one large orange

¼

teaspoon

salt

200

g

dark chocolate chips

(min. 55% cocoa solids)

cocoa nibs

(optional, for garnish)
Instructions
Preheat your fan oven to 160˚C (325˚F) or 175˚C (350˚F) if you're not using a fan assisted oven. Line your cookie sheet with baking paper.

In a bowl of a stand mixer, fitted with a paddle attachment, beat together unsalted butter, sugar and orange zest until combined. You don't want to add any extra air or fluff, so beat it until just combined.

In a medium sized bowl sift together flour and salt, then add them to the butter-sugar mixture. Mix on low speed (or by hand) until it all starts coming together to form a dough. Don't overmix. It's fine if it's not homogenous.

Transfer the dough on a sheet of cling film, flatten to form a disk while wrapping it in cling film and put in the fridge to chill for 30-60 minutes.

Once the dough has chilled, roll it between two sheets of baking paper to 4-5 mm (¼ inch) thickness. Alternatively, you can roll the dough on a lightly floured surface. Using a 5 cm (2 inch) round cookie cutter, cut out the cookies and place them on a prepared baking tray. (You'll need two or do it in two batches).

Bake for 10-15 minutes, until the edges start to brown. Cookies will be fragile at this point, leave them on the tray for 2-3 minutes to cool a little bit, then transfer them to a cooling rack to cool completely.

For the dipping chocolate: melt 80 g in a microwave, in 30 sec bursts, or over a bain marie until just melted. Then add the rest of the chocolate chips, mix it together and leave at room temperature, stirring often until it's all combined and smooth. You want chocolate to be slightly cooler than body temperature and glossy.

Dip the cookies in chocolate and place them on a baking tray with parchment paper to cool. If you want to drizzle your cookies with chocolate, then put it in a small piping bag, snip the end of to a small round and drizzle away. 🙂
Notes
You can use a hand mixer, if you don't have a stand mixer.
If you still don't own one, I advise you to buy a kitchen scale – they're cheap and easy to use, and always guarantee the same results in baking! 🙂
If dipped chocolate doesn't harden at room temperature, put the cookies in the fridge for a little bit before eating. That happens when chocolate isn't tempered, which isn't easy to do.
You can make bigger cookies or use entirely different shape, it's up to you. Just remember you'll might have to prolong the baking time for bigger cookies.
IMPORTANT
All the recipes are developed and tested using only metric measurements and a kitchen scale. The U.S. cup and spoon measurements are provided for your convenience, but I highly recommend getting a digital kitchen scale and measuring in metrics. It's easy and always guarantee the same results in baking!
Nutrition
Nutrition Facts
chocolate orange shortbread cookies
Amount per Serving
% Daily Value*
* Percent Daily Values are based on a 2000 calorie diet.
The nutritional information and US conversions are calculated automatically. I cannot guarantee the accuracy of this data. If this is important to you, please verify with your favourite nutrition calculator and/or unit conversion tool.
Have you tried this recipe?
Tag me on Instagram @anasbakingchronicles or use the hashtag #anasbakingchronicles - I love seeing your creations!