Easy to make and incredibly delicious, this flourless chocolate cake is naturally gluten free -- made with blanched almond flour and melted dark chocolate for rich and moist chocolate experience.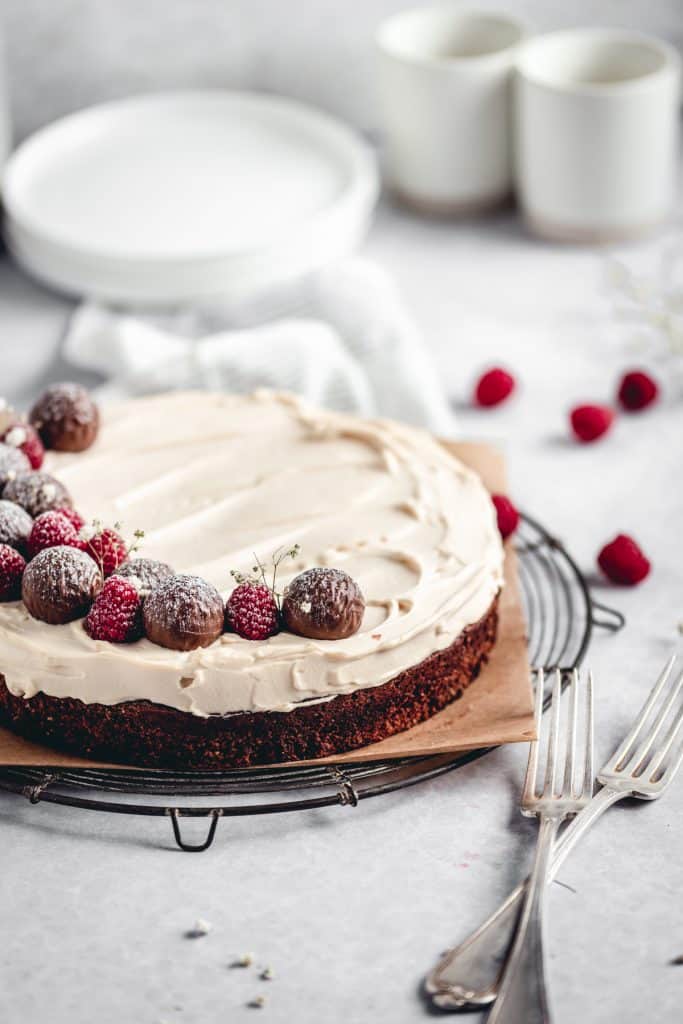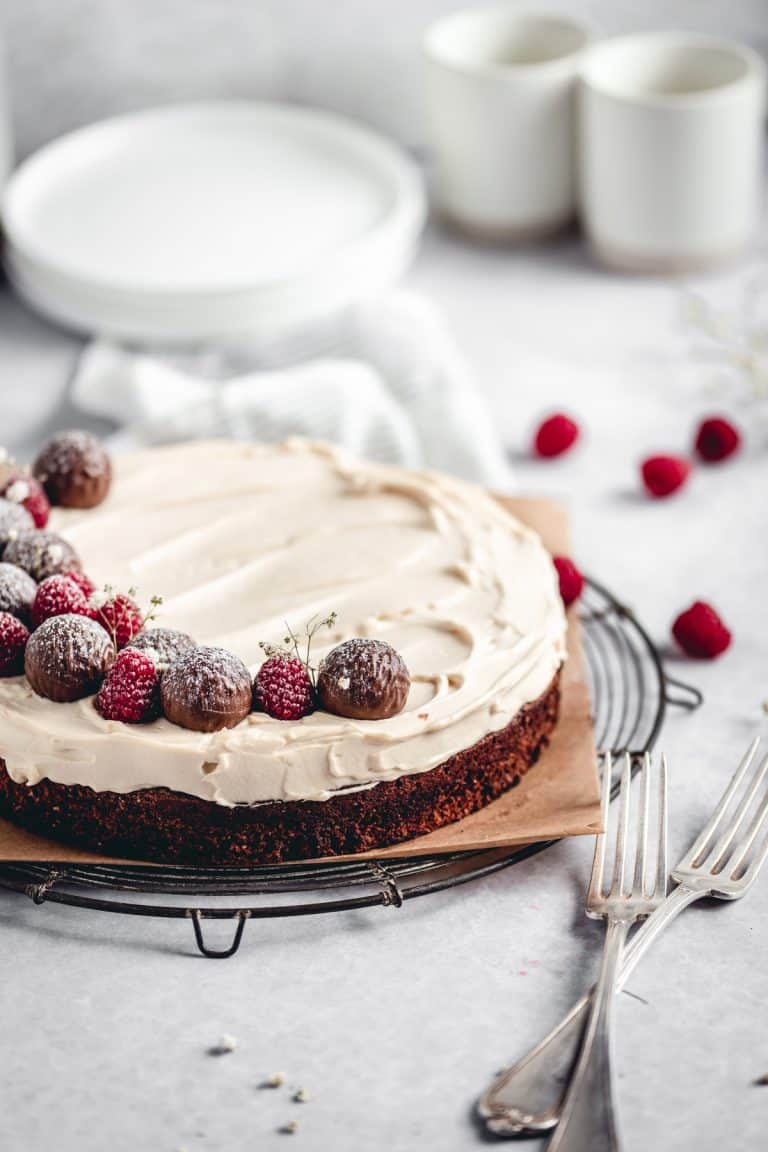 I haven't been consistent on the blog the last two months, but I'm here with this Flourless Chocolate Cake to make up for the "lost" time! 🙂 I got caught up in some personal issues, but I also got some great, dreamy opportunities work-wise which makes me incredibly happy.
St. Patrick's day is approaching and although it's not something we celebrate in Croatia (apart from having it as an excuse to drink more), it has inspired me to spice up this cake.
I LOVE Irish cream liqueur and Irish Cream coffee. Luckily, the flavour goes so well with chocolate that I had to pair them together. Hope you'll like it!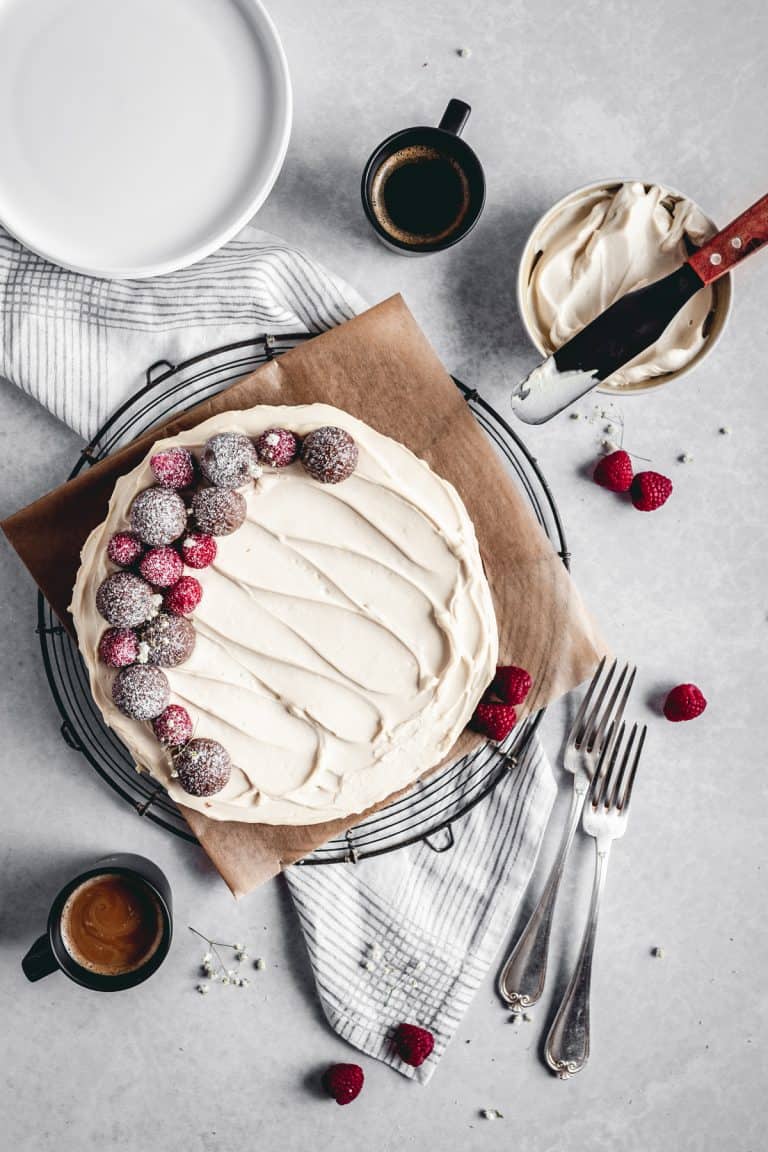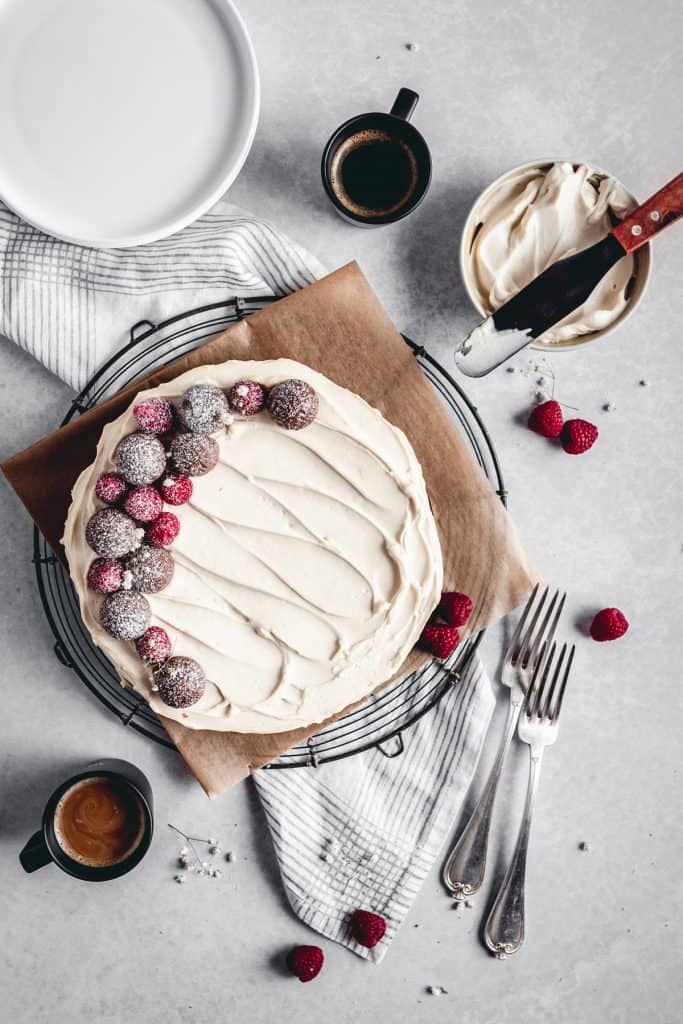 Here's a break down of ingredients you need for this cake
EGGS: I always use LARGE eggs in my recipes, unless it's stated otherwise. In this recipe we're not using any leavening agents, rather relying on the eggs to provide rise and structure. That's why it's imperative to beat the yolks and whites separately.
CHOCOLATE: Well, you can't call something a flourless chocolate cake if there isn't chocolate in it! Use the best quality chocolate you can find. I always suggest using chocolates with 55-60% cocoa solids. They're considered semi sweet and give really nice, rich chocolate flavour to the cake.
BUTTER: Use european style butter, with min. 82% fat. Butter or any kind of fat are flavour carriers, not to mention butter itself has an amazing flavour. Aside from that, it provides tenderness to the batter and keeps the cake nice and moist since we're not adding any other dairy product.
BROWN CANE SUGAR: That's what the bag says, literally. I tried to google it to give some reference. It's finer and lighter in colour than demerara sugar, but coarser and more dry than light soft brown sugar. I think demerara or turbinado sugar would be great substitutes or simply some white caster sugar. I like using brown sugar because it contributes to the level of moistness, as well as gives nicer flavour.
ALMOND FLOUR: That is, blanched ground almonds. They provide structure to the cake, as well as some lovely texture and flavour. They also impact the moistness of the cake, because as any nut, almonds are full of healthy fats.
VANILLA EXTRACT: Vanilla really enhances chocolate flavour and it's always good to add some. Use the best possible extract you can find, don't use essence and artificial flavouring. I have a post on making your own vanilla extract if you want to take a look. 🙂
SALT: Every sweet recipes needs a little bit of salt to enhance the flavour, especially when chocolate is involved. Flakey sea salt on top of chocholate chip cookies has everyone raving about it lately and you know what? I ain't mad -- they're right! For convenience I use table sea salt in my recipes.
ORANGE ZEST (optional): This cake is a version of Torte Caprese, from an island Capri in Italy. And I say version, because I've never really tried it, so I can't vouch it's the same. Traditionally Torte Caprese has orange liqueur in it, and we all know how I'm partial to adding citrus to my desserts so I couldn't skip adding some orange zest. But you do you.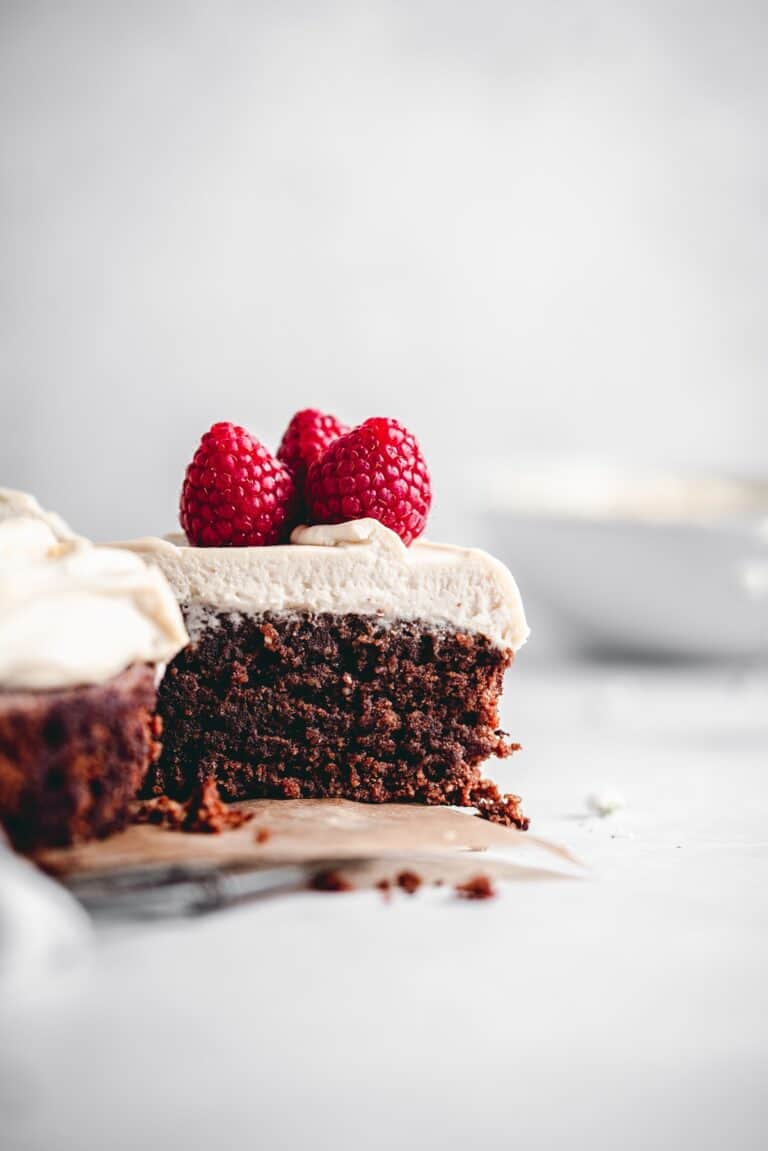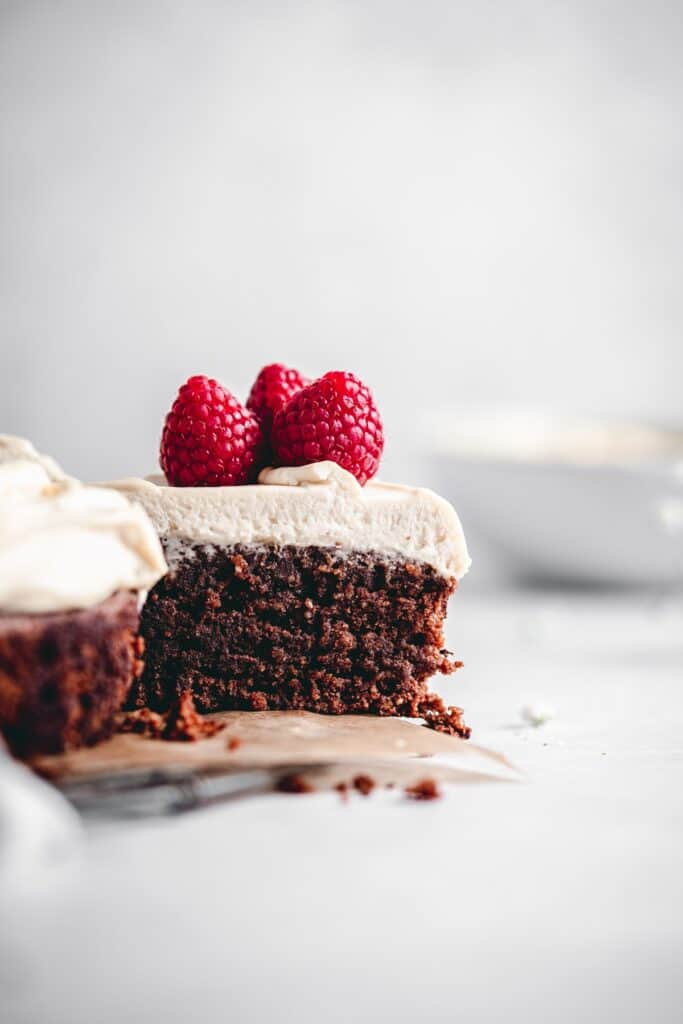 Is this a gluten free chocolate cake?
Yes!
What is even better, it's naturally gluten free, because we're using blanched, ground almonds instead of other gluten free flours.
I feel like you can't find good gluten-free flour everywhere, but we all have ground almonds! 🙂
a couple of tips for making this recipe
As I mentioned before, we don't use any leavening agents in this recipe. We're solely relying on the eggs to do the job. Before beating egg whites, make sure your equipment is grease free, so you get nice stiff peaks. We're not making meringue, which means there is no sugar to provide stability to the egg whites and you have to watch like a hawk those egg whites turning cloudy and stiff.
On the other hand, you need to beat the egg yolks with sugar until sugar almost dissolves. The mixture will be quite pale and when you run through it with a spatula, it should fall like ribbons.
Try to fold everything as gently as possible to avoid knocking the air out. It's best to use a silicone/rubber spatula or a big metal spoon.
If you're a coffee lover, add a couple of tablespoons of strong espresso to the frosting - the two go so well together!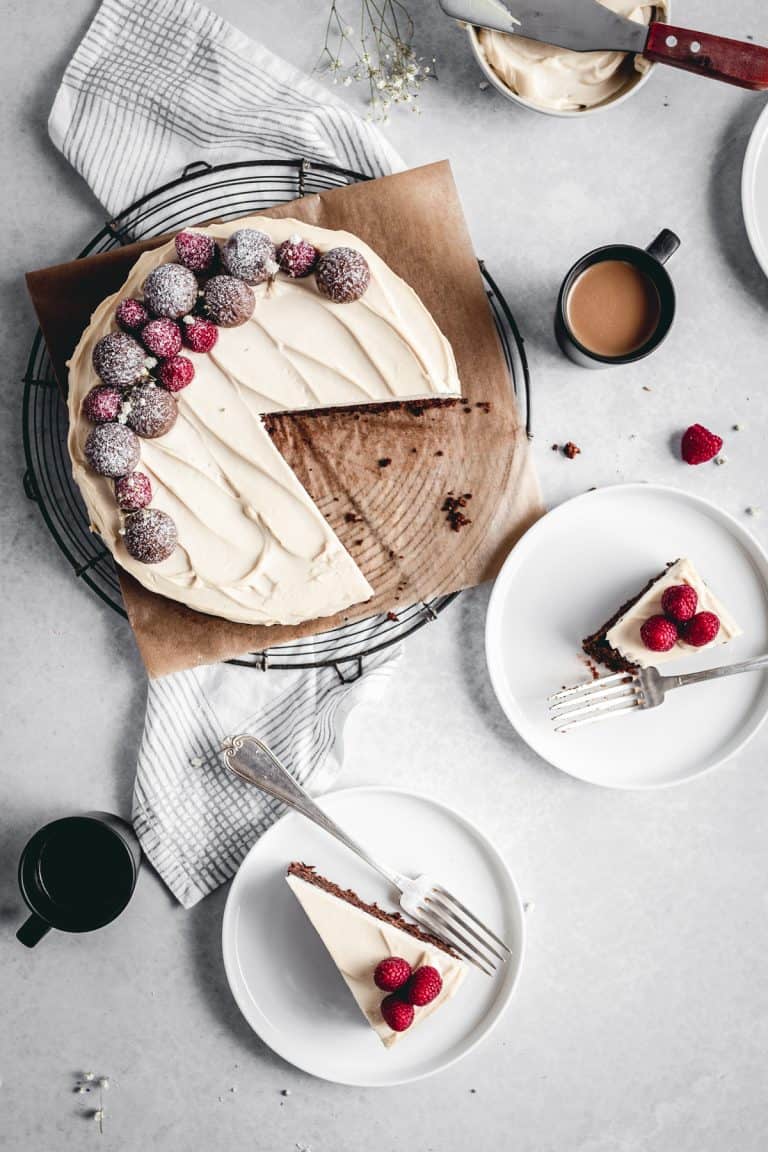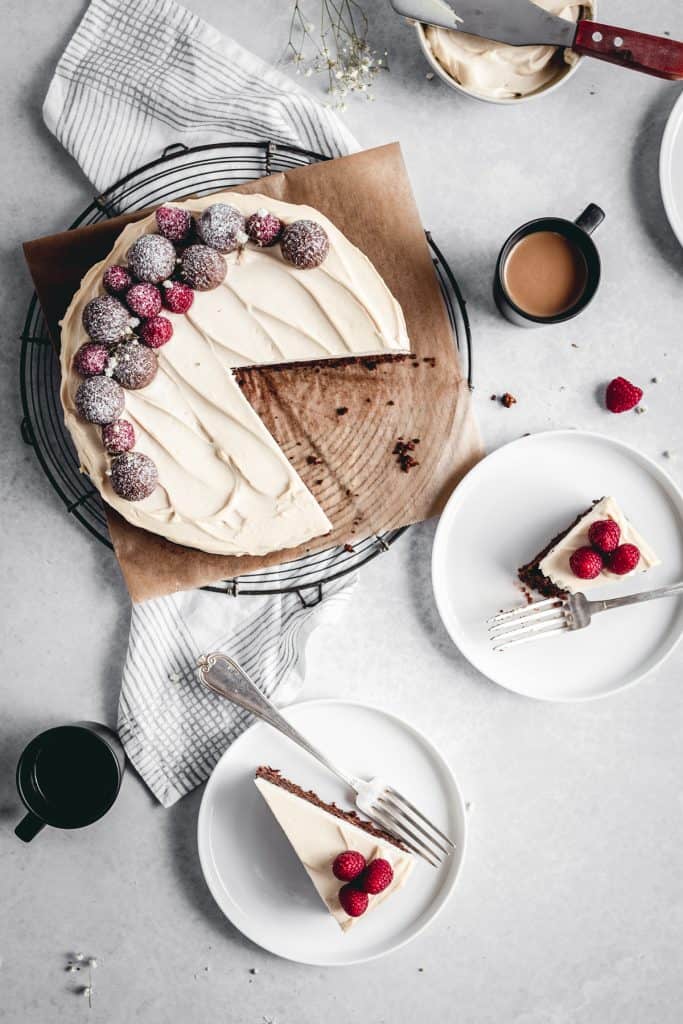 IF YOU'RE INTERESTED IN MORE DELICIOUS CHOCOLATE RECIPES, CHECK OUT THESE:
Berry Chocolate Layer Cake
White Chocolate Chunk Chocolate Cookies
Cookie Butter Swirl Brownie
Homemade Chocolate Brioche Babka
Chocolate Pistachio Raspberry Cake
S'mores Banana Blondie
Earl Grey Chocolate Cupcakes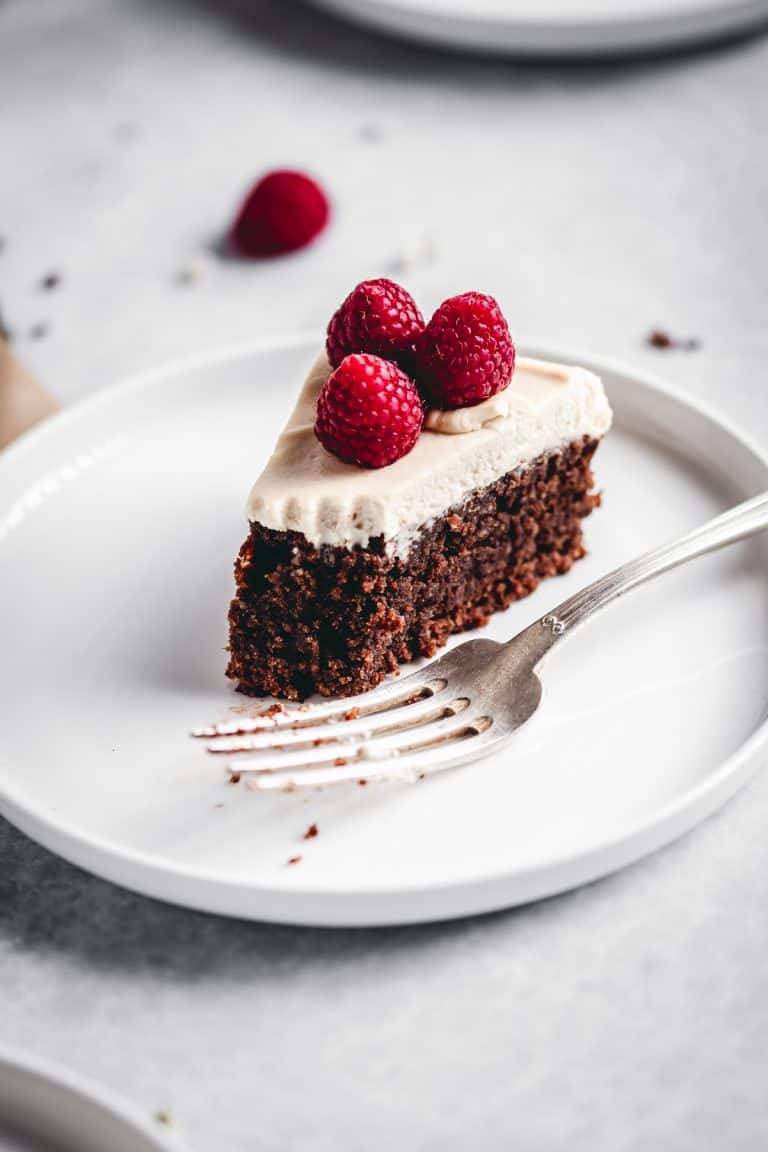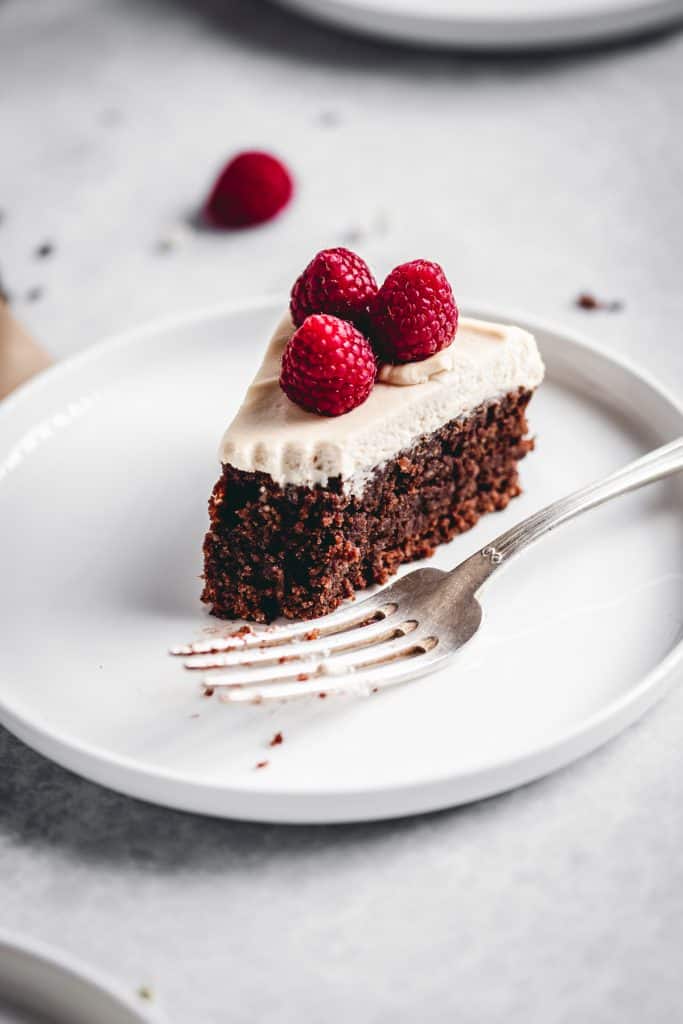 If you make this incredibly moist and delicious Flourless Chocolate Cake let me know by tagging me on Instagram @anasbakingchronicles or tell me all about it in the comments section down below. Seeing my recipes come to life in YOUR kitchens, always makes me incredibly happy! If you have any questions, don't hesitate to ask. Happy baking!
Love,
Ana
📖 Recipe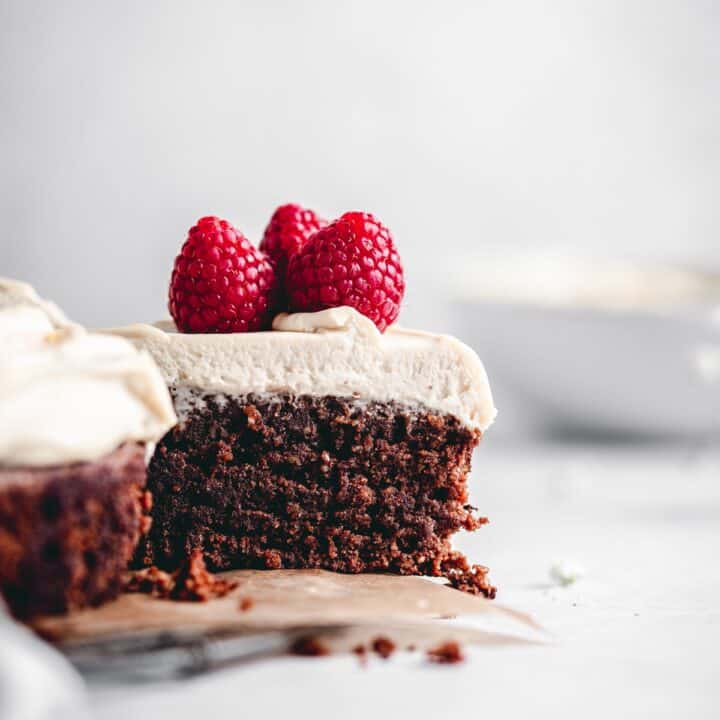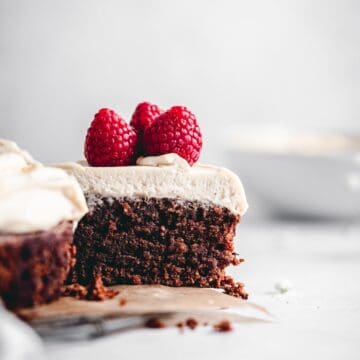 flourless chocolate cake with Irish cream mascarpone frosting
Description
Easy to make and incredibly delicious, this flourless chocolate cake is naturally gluten free -- made with blanched almond flour and melted dark chocolate for rich and moist chocolate experience.
ingredients
flourless chocolate cake
4

large

eggs

(room temperature)

250

g

almond flour

(blanched ground almonds)

180

g

unsalted butter

200

g

good quality dark chocolate

(at least 55% cocoa solids)

175

g

brown cane sugar

½

teaspoon

salt

1

teaspoon

vanilla extract

orange zest

(optional)
irish cream mascarpone frosting
250

g

mascarpone cheese

(cold)

300

g

heavy cream

(min. 36% milk fat, cold)

75

g

powdered sugar

4-5

tablespoons

Irish cream liqueur

(ex. Bailey's)
Instructions
for the flourless chocolate cake
Preheat fan oven to 160˚C (325˚F) or 175˚C (350˚F) if you're not using a fan oven. Grease and line the bottom of a 9 inch (23 cm) round cake tin with parchment paper. Set aside.

Over a pot of simmering water, melt together chocolate (cut into chunks) and butter, stirring with a silicone spatula to combine them. When it's done, leave aside to cool a little bit.

Separate eggs into yolks and whites. Using a hand or a stand mixer, beat the yolks with sugar and vanilla for 5-6 minutes, or until the mixture becomes voluminous, pale and silky.

In another bowl, mix egg whites with salt until you get stiff peaks. Be careful, because it's easy to overmix the egg whites when there is no sugar involved.

Add cooled chocolate/butter mixture to the egg yolks and carefully fold everything with a silicone spatula or a metal spoon. Since there is no raising agents in this recipe, we rely solely on the eggs and air beaten into them. Make sure everything is nicely combined and there are no egg yolk streaks in the mixture.

Next, fold in the almond flour, until everything combines.

Lastly, add the egg whites -- but add them in batches, so you don't knock the air out.

Pour the batter into a prepared tin and bake in a preheated oven for 40-50 minutes.* The cake is done when you poke a skewer in the middle and it comes out with just a few crumbs.

Once the cake is done, let it slowly cool in the pan on a wire rack for 10-15 minutes, before removing from the pan to cool completely.
for the irish cream mascarpone frosting
In a bowl of a standing mixer, beat cold mascarpone with powdered sugar until creamy. Add cold heavy cream and beat until everything is combined and creamy, soft peaks. Then add 4-5 tablespoons of Irish cream liqueur (more or less to your liking) and fold it with a silicone spatula, so you don't overmix the frosting.
Notes
*Not all ovens are the same. I suggest to check the cake at 35 min mark and then adjust the baking time accordingly. Get to know your oven! ?
If you still don't own one, I advise you to buy a kitchen scale – they're cheap and easy to use, and always guarantee the same results in baking! ?
Keep the cake in the fridge, because of the dairy frosting. Since it's really moist, it won't dry out, just make sure to cover in plastic wrap to avoid fridge odours.
IMPORTANT
All the recipes are developed and tested using only metric measurements and a kitchen scale. The U.S. cup and spoon measurements are provided for your convenience, but I highly recommend getting a digital kitchen scale and measuring in metrics. It's easy and always guarantee the same results in baking!
Nutrition
Nutrition Facts
flourless chocolate cake with Irish cream mascarpone frosting
Amount per Serving
% Daily Value*
* Percent Daily Values are based on a 2000 calorie diet.
The nutritional information and US conversions are calculated automatically. I cannot guarantee the accuracy of this data. If this is important to you, please verify with your favourite nutrition calculator and/or unit conversion tool.
Have you tried this recipe?
Tag me on Instagram @anasbakingchronicles or use the hashtag #anasbakingchronicles - I love seeing your creations!