This is the softest and tastiest chocolate cake you'll EVER going to eat. Paired with silky berry buttercream and drizzles of homemade berry jam in between - it's THE CAKE for holidays!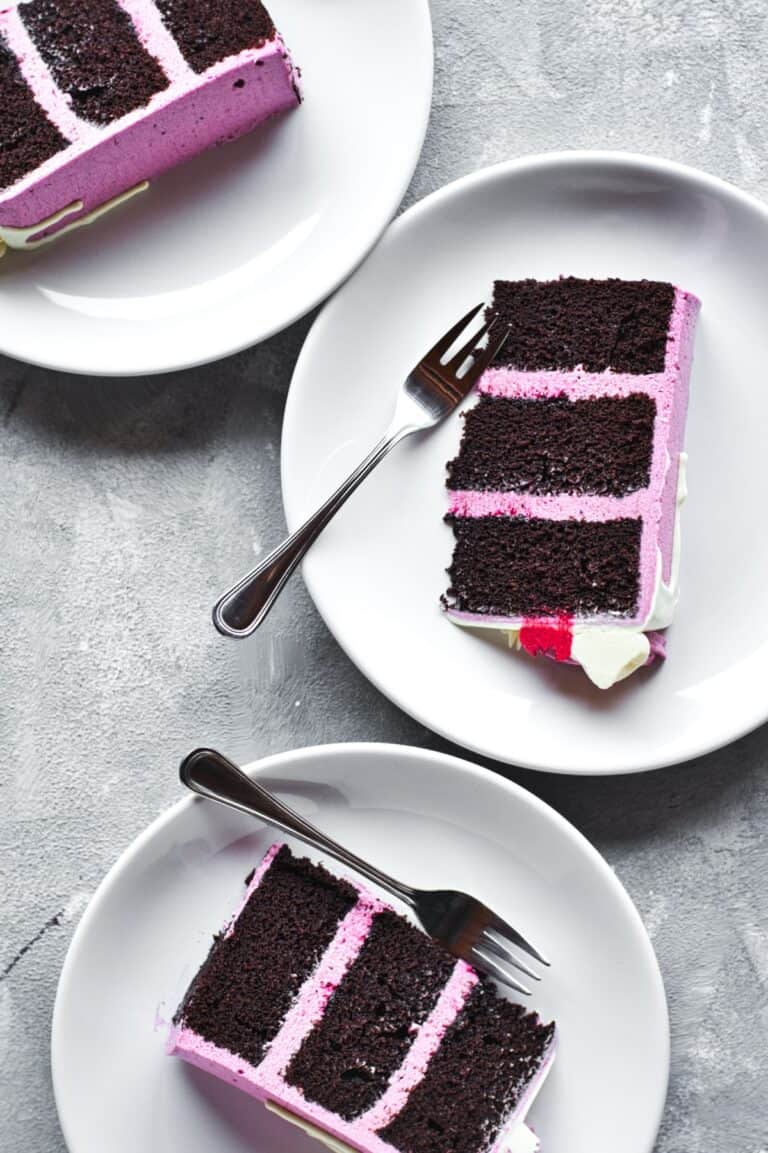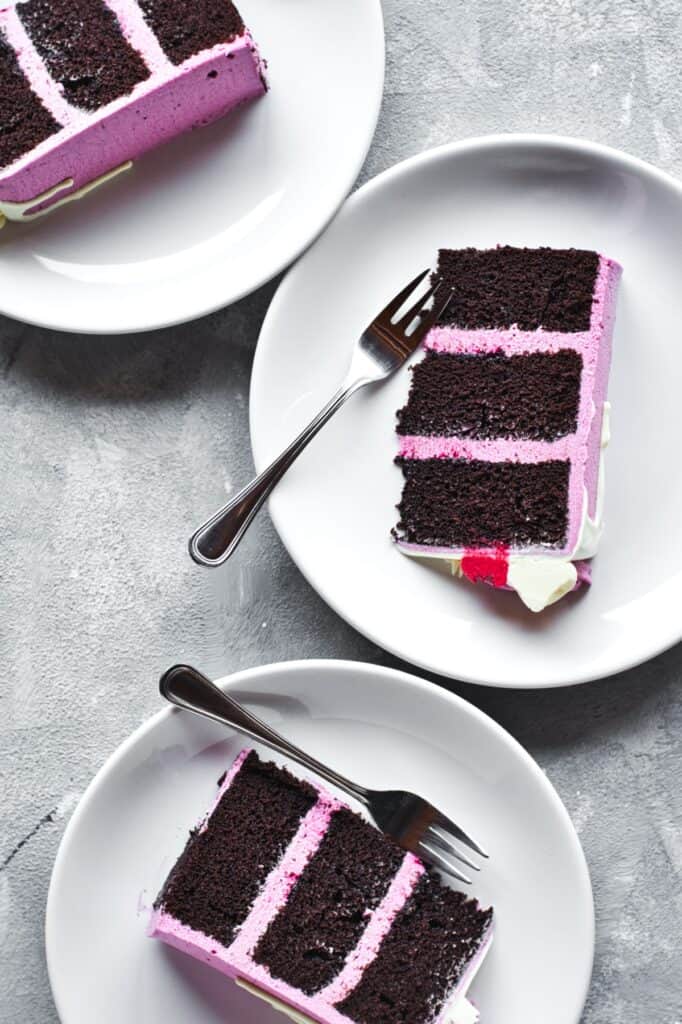 I baked this Chocolate Berry Cake twice in one week. Now, I think that says a lot. 😉 Actually, if I'm being honest, I baked this chocolate cake four times in the last three weeks. Lol. But that only means this cake is absolutely PERFECT! And you can be sure it has been tested multiple times, so the recipe is foolproof.
I've also used it in my Chocolate Oreo Cake recipe where I talked a little bit about sciency stuff related to it. Like, baking soda, cocoa powder etc. If you want to know more, check it out! Or if you're just a massive Oreo lover and want to satisfy that sweet tooth.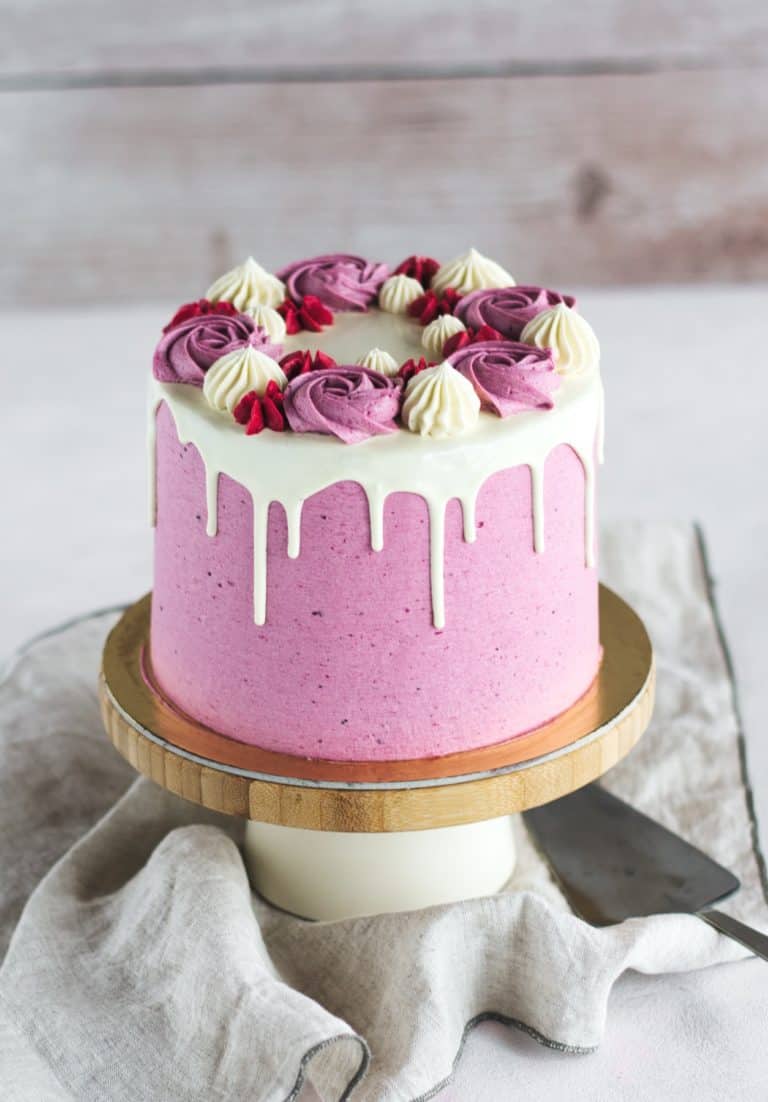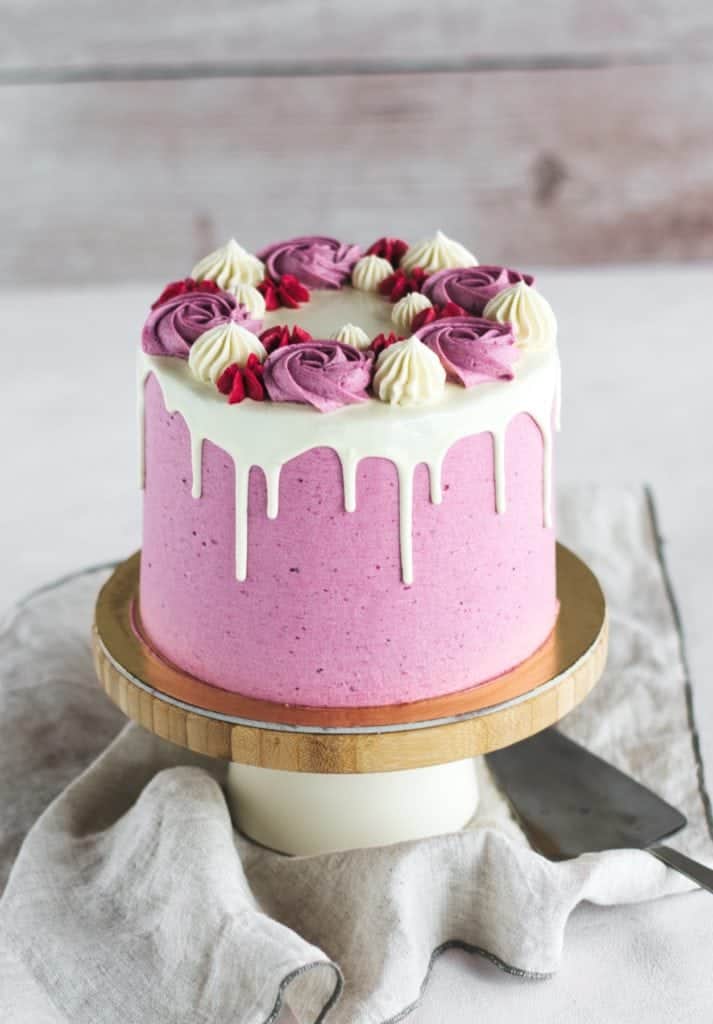 The first time I made this cake was to present myself in a bloggers meetup. What I've forgotten to tell you is that I've been nominated as one of top 4 dessert food blogs in the Balkan region. Yaay!  🙂 I didn't really forget, I just omitted that information on purpose because... Well, suffice it say - I'm shy. And not the one to brag. But it was amazing meeting all those wonderful foodie people that just get you!
Although I said I'm not the one to brag (and I'm really not), I was amazed at their reactions to my cake. Seriously, guys, this cake got so much compliments that I didn't know how to act anymore because I was tremendously HAPPY! Literally EVERYONE loved it and I couldn't feel more proud. Cold feet were officially gone, lol.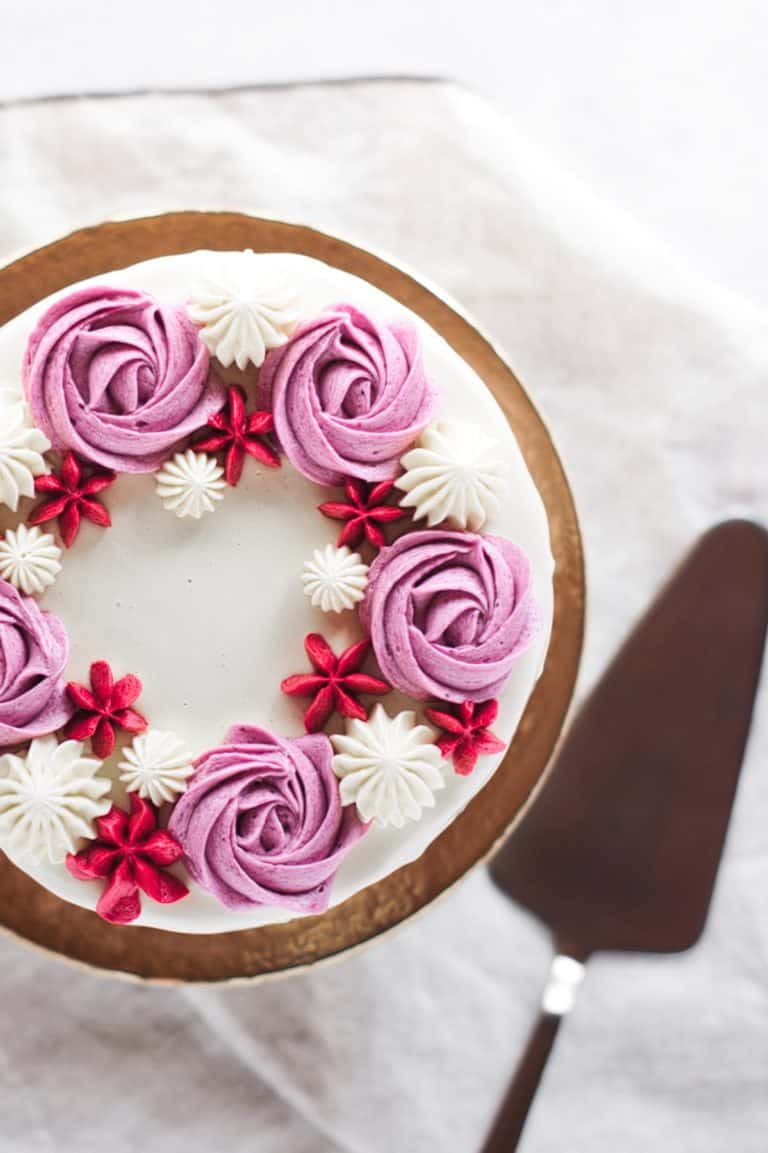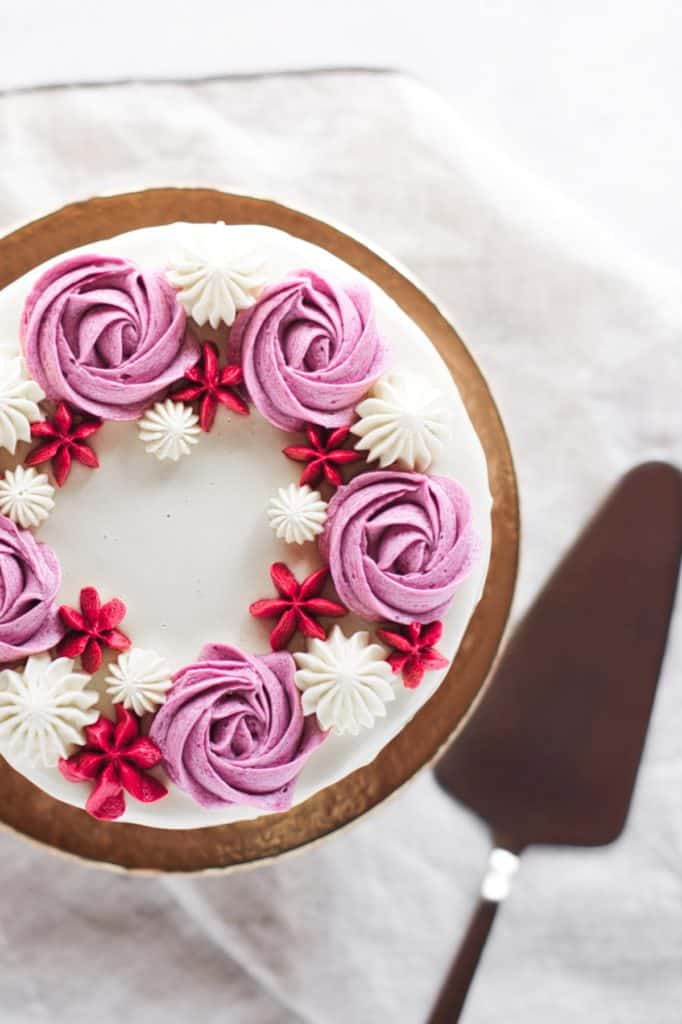 So, naturally, after such a great success - I had to made this Chocolate Berry Cake AGAIN, for my family and for YOU. I just needed some good pictures so you can see how MOIST (I know, but... get used to it) and fluffy this cake is. I think it deserves to be called FLUFFALICIOUS.
And don't let me start on the buttercream! Do you see this colour? Totally natural and so beautiful.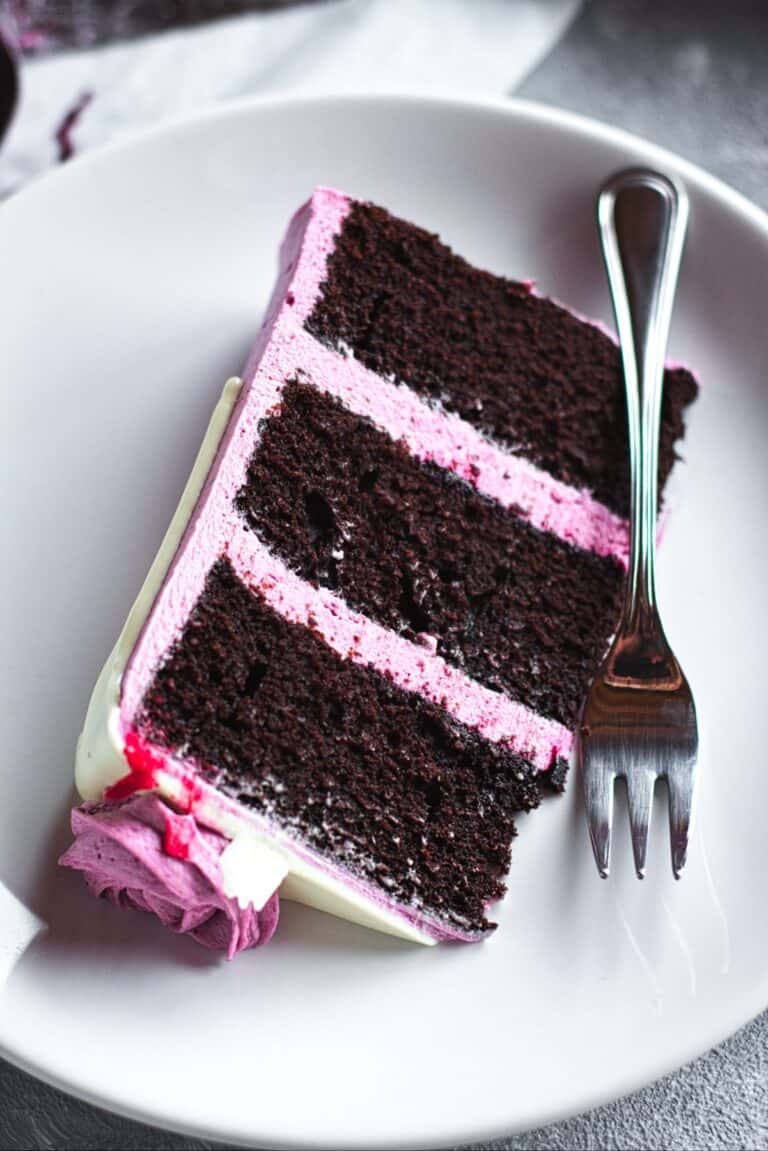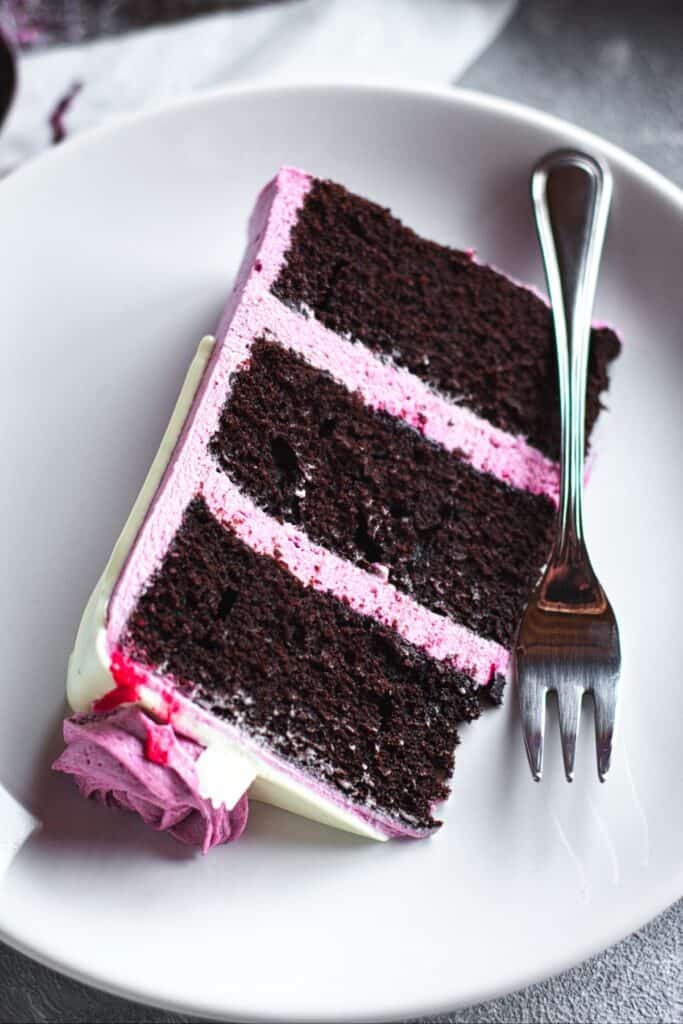 HOW TO MAKE BERRY BUTTERCREAM
To get that beautiful natural purple shade (and amazing taste) you need to make berry jam. Don't be afraid, it's really simple! I used a pack of frozen forest berries, which usually comes in size of 450 g and consists of raspberries, blackberries, blueberries, black currants and red currants. You can sometimes even find strawberries in there. 🙂
What you need to do is to cook the frozen berries (do not thaw them) with some granulated sugar over a medium to high heat until it thickens. Yes, it's THAT SIMPLE. You want to get it to boiling, then turn the heat down and let it simmer in order to water to evaporate. What you get is this thick, gloopy jam that will give you this beautiful colour and tangy, but sweet taste! Make sure to cover it with cling film to avoid skin forming and let ti cool to room temperature before mixing with buttercream.
TOP TIPS: 
Always remember to strain the jam through a sieve after cooking, when it's still on the thinner side. Nobody likes to feel berry seeds in their mouth, am I right? 😉
Be careful how much of that jam you put in you buttercream. Fat and water are kind of FRENEMIES. There's a thin line between beautifully emulsified and curdled.
There are a lot of holidays in front of us, so I hope you give this cake a chance! You'll be amazed at how incredibly beautiful chocolate pairs with berries!
If you do try it, make sure to let me know by tagging me on Instagram @anasbakingchronicles or tell me all about it in the comment section down below. Happy baking! x
📖 Recipe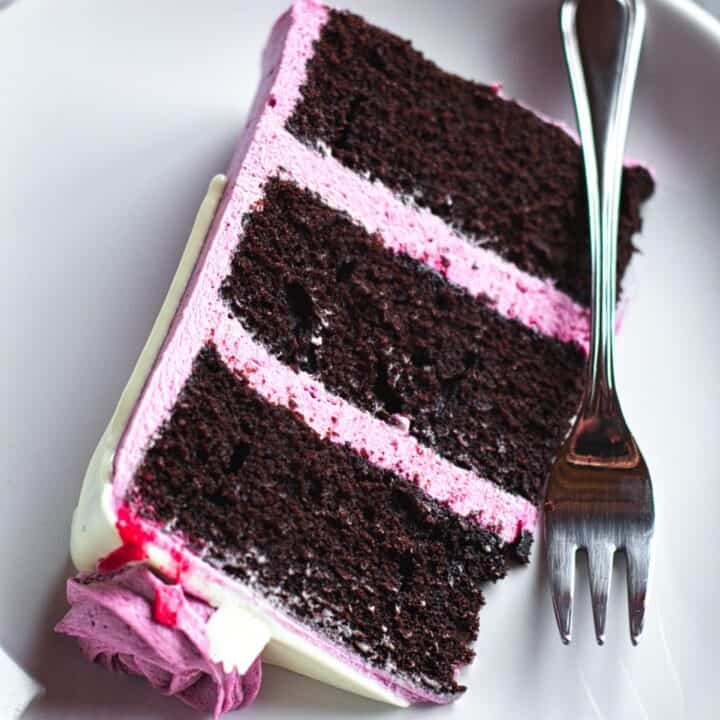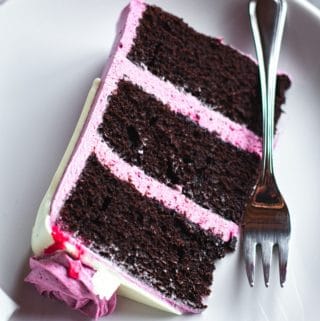 Chocolate Berry Cake
Description
This is the softest and tastiest chocolate cake you'll EVER going to eat. Paired with silky berry buttercream and drizzles of homemade berry jam in between - it's THE cake for holidays
ingredients
Chocolate Cake:
2

large

eggs

(room temperature)

115

g

vegetable oil

((I used sunflower))

200

g

full-fat sour cream

(room temperature)

½

teaspoon

vanilla extract

170

g

all-purpose flour

75

g

dutch-processed cocoa powder

2 + ¼

teaspoons

baking powder

½

teaspoon

salt

225

g

granulated sugar

65

g

brown cane sugar

100

g

hot water
Berry jam:
450

g

frozen berries (forest fruit)

120

g

granulated sugar
Berry Buttercream
55

g

all-purpose flour

225

g

granulated sugar

½

teaspoon

salt

380

g

whole milk

350

g

unsalted butter

4-6

tablespoons

berry jam

2

teaspoons

vanilla extract
White Chocolate Ganache Drip:
100

g

white chocolate

((min. 28% cocoa butter))

50

g

heavy cream (36% fat)

powdered white food colouring

splash of vodka
Instructions
For Chocolate Cake:
Preheat your fan oven to 160°C (325°F) or 175°C if you're not using a fan oven. Grease and line with parchment paper three 6" round cake tins. Alternatively, you can use two 8" cake tins.

In a medium bowl sift together flour, cocoa powder, baking powder and salt. Add sugars, whisk until combined and set aside.

In a small bowl or a measuring jug, whisk together eggs, vegetable oil, sour cream and vanilla extract. These are your wet ingredients.

In a small pot, bring your water to a boil or simmer, it's important that it's hot. Add the wet ingredients to dry ones, stir a little bit, it'll be somewhat dry. Then add the boiling water and whisk until combined. I usually add the water in two stages to minimize clumps forming.

Divide the batter evenly among the 3 tins and bake for 23-25 minutes or until skewer inserted in the middle comes out with few moist crumbs. Do not overbake it.

Once they're done, let the cakes cool for 10-15 minutes on a wire rack before removing them from the pans to cool completely.
For the Berry Jam:
Cook frozen fruits with sugar over a medium-high heat until it reaches boiling. Turn the heat down and let it simmer for approx. 15 minutes or until it thickens. It's better to be thicker than looser, the plan is to lose a lot of water content and have concentrated flavour.


Strain the jam through a sieve to get rid of berry seeds and make it smooth and beautiful. Cover it with cling film and leave it to cool in the fridge.
Berry Buttercream:
In a small saucepan (I always use heavy-bottomed one to prevent burning) combine flour, sugar, salt and milk. Cook over medium-high heat, stirring constantly with a whisk until it thickens. This can take about 15 minutes. The moment you realize it's thicker, cook for another 3-4 minutes.

Once it's done, strain it through a sieve into a plate, put a cling film over it touching the surface to prevent "skin" forming and let it cool to room temperature. This is your pudding base. You can do this in a fridge, but before using it let it come to room temperature.

Using a stand mixer fitted with the paddle attachment, beat the butter for 5 minutes until it's pale and fluffy. Then add spoonful by spoonful of previously made pudding. Mix until it's all nicely incorporated and with no lumps. Add vanilla extract with berry jam and mix until everything is combined. Be careful not to add too much jam, otherwise your buttercream might curdle.
White Chocolate Ganache Drip:
Place finely chopped chocolate in a bowl. Bring heavy cream just barely to a simmer and pour over chopped chocolate. Cover it with a plate and leave it 1-2 minutes. Stir with a spatula until combined and smooth. Alternatively, you can do this in a microwave for 30 seconds.

Make it 10 minutes before pouring over the chilled cake so it has time to cool and thicken a bit.
Assembly:
Using a cake leveler or a long serrated knife level the tops of your cakes if needed.

In the middle of your cake board or a serving plate put some buttercream to stop the cake from moving around.

Place one cake layer on a cake board or a serving plate. Using a small offset palette knife or a piping bag, spread the frosting over the cake and drizzle some berry jam over the frosting. Top it with the next cake layer and repeat the process.

Place final layer on top, upside down, and do a thin crumb coat on the cake. Chill for 20-30 minutes in the fridge before final decorating.

Once cooled, frost and smooth the top and sides of the cake with remaining frosting, leaving some for rosettes on top.

Chill the cake for a half an hour to an hour before putting the chocolate drip on top. It has to be cold so the drip doesn't go all the way down.

Using a piping bag fitted with your favourite nozzles (I used Wilton 1M, 4B and 2D) pipe some rosettes on top after the ganache has set.
Notes
If you don't have a stand mixer, you can use a hand mixer.
Not all ovens are the same. I suggest to check the cakes at 18 min mark and then adjust the baking time accordingly. Get to know your oven! 
If you still don't own one, I advise you to buy a kitchen scale - they're cheap and easy to use, and always guarantee the same results in baking!  
Cake is best eaten at room temperature. You can keep it in a fridge, wrapped in cling film, but take it out of it at least half an hour before serving. 
IMPORTANT
All the recipes are developed and tested using only metric measurements and a kitchen scale. The U.S. cup and spoon measurements are provided for your convenience, but I highly recommend getting a digital kitchen scale and measuring in metrics. It's easy and always guarantee the same results in baking!
Nutrition
Nutrition Facts
Chocolate Berry Cake
Amount per Serving
% Daily Value*
* Percent Daily Values are based on a 2000 calorie diet.
The nutritional information and US conversions are calculated automatically. I cannot guarantee the accuracy of this data. If this is important to you, please verify with your favourite nutrition calculator and/or unit conversion tool.
Have you tried this recipe?
Tag me on Instagram @anasbakingchronicles or use the hashtag #anasbakingchronicles - I love seeing your creations!