This Chocolate Pistachio Raspberry Cake is a holiday treat winner! Rich and moist chocolate cake, paired with silky pistachio buttercream and homemade raspberry jam. So festive and easy to make!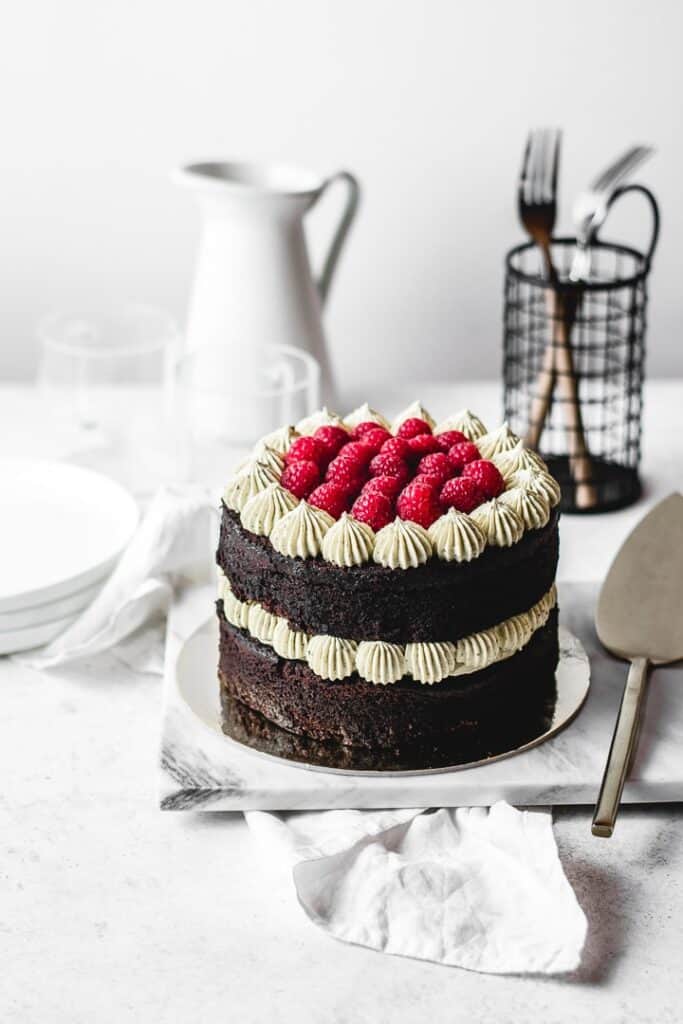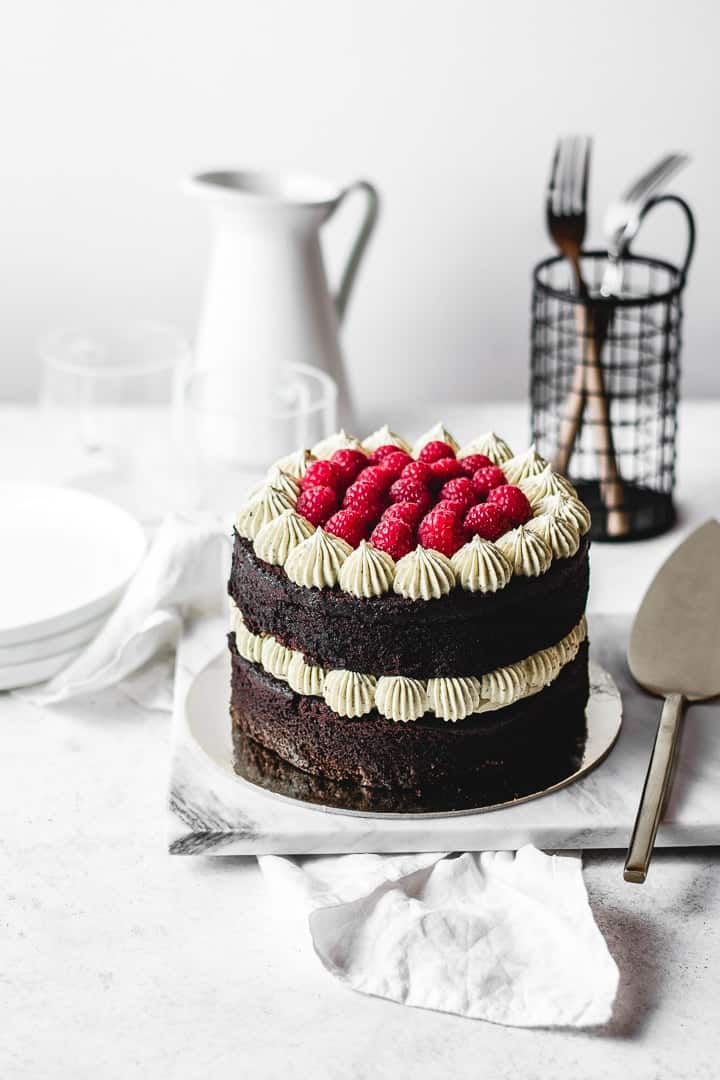 I'm back home! Yaaay! I was welcomed with pouring rain, cold weather, fresh air and some technical issues on the blog. But you know what? I wouldn't want it any other way.
I know there are a lot of you out there dreaming of being travel bloggers/influencers, but I'm that boring gal that's happiest at home. Except when in the mountains skiing or visiting the country where I'm pretty sure my heart lies - the UK. Love you, London!
I made this delicious Chocolate Pistachio Raspberry Cake before my trip to Thailand. I was so in a hurry and naturally, everything went wrong. I didn't have the strength and enough inspiration to produce the best content I could. But, nevertheless, this was one tasty cake. And the flavour combination is just so festive, so I hope you consider making it for Christmas! 🙂
I'm not terribly happy with these images. I tried to do so much, in so little time, before my departure to Thailand. But I really hope these process shots help you understand my instructions! 🙂
For the chocolate cake, I used my tried and true chocolate cake recipe. It's rich, it's moist, it's fluffy - it's everything you need in life, to be honest. Just as good on its own, but even better when paired with delicious ingredients such as pistachios and raspberries. I talked about it in my Chocolate Oreo Cake, so take a look there for nerdie stuff. Also, that cake is insanely delicious - every kid's dream.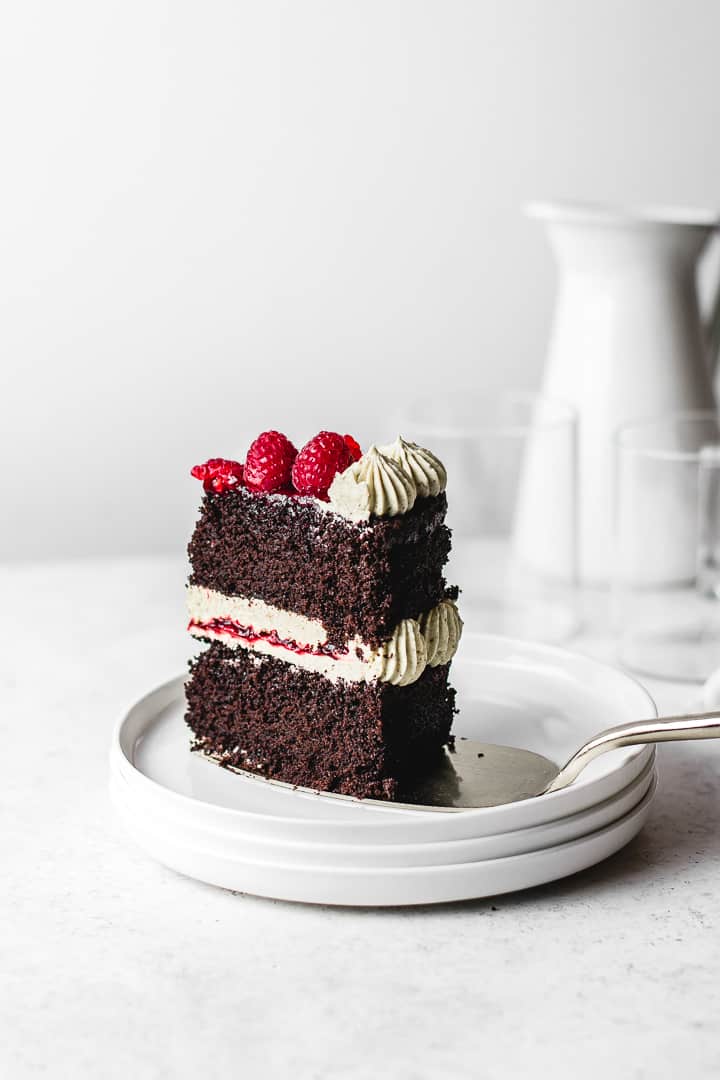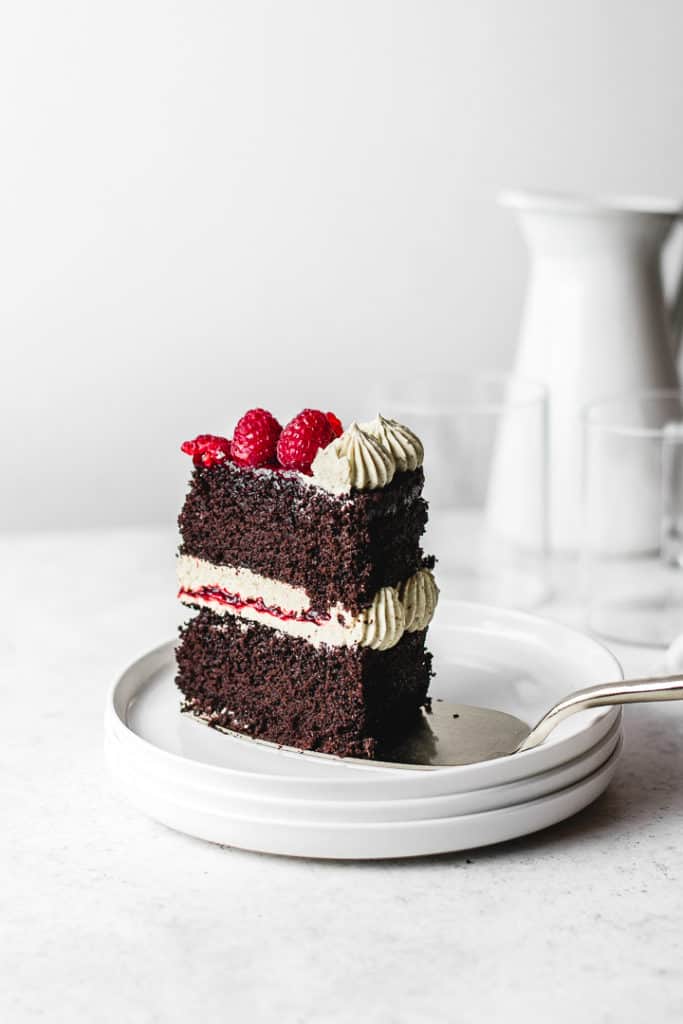 HOW TO MAKE PISTACHIO BUTTERCREAM?
As you may already now, I use exclusively Ermine or Flour Buttercream. Some might also call it Heritage frosting. All due respect to silkiness of the meringue based buttercreams, but they are still too sweet for me and often taste like plain butter.
If this is how you feel, too, then look no further because Flour Buttercream is the way to go! You can read more on that here. Did you know that this is the original frosting for Red Velvet Cake? Yup, cream cheese is a scam. But a delicious one, so we won't hold it against them.
To get the best possible Pistachio flavour, I use pistachio butter or pistachio paste. Luckily for you, it's not one of those ingredients only a handful of people can get their hands on. I'm sure you can get it premade in a health food shop, but I made my own and it's super easy to make!
HOW TO MAKE PISTACHIO BUTTER / PISTACHIO PASTE
You'll need two ingredients and a sharp food processor.
Roasted & salted pistachios.
A little bit of vegetable oil.
I use salted pistachios for two reasons. Firstly, they're easier to find here in Croatia, than the unsalted ones. Secondly, salt is well known flavour enhancer and I put it in all of my recipes. So, this way, I got a punchy pistachio flavour and didn't need to add salt separately. 🙂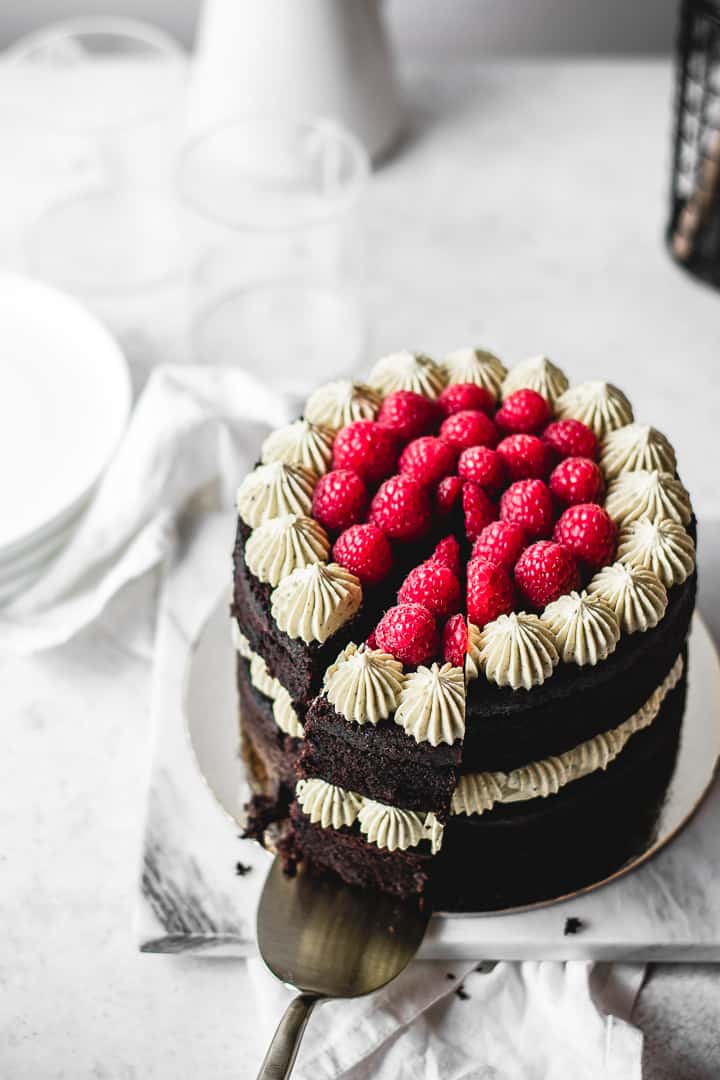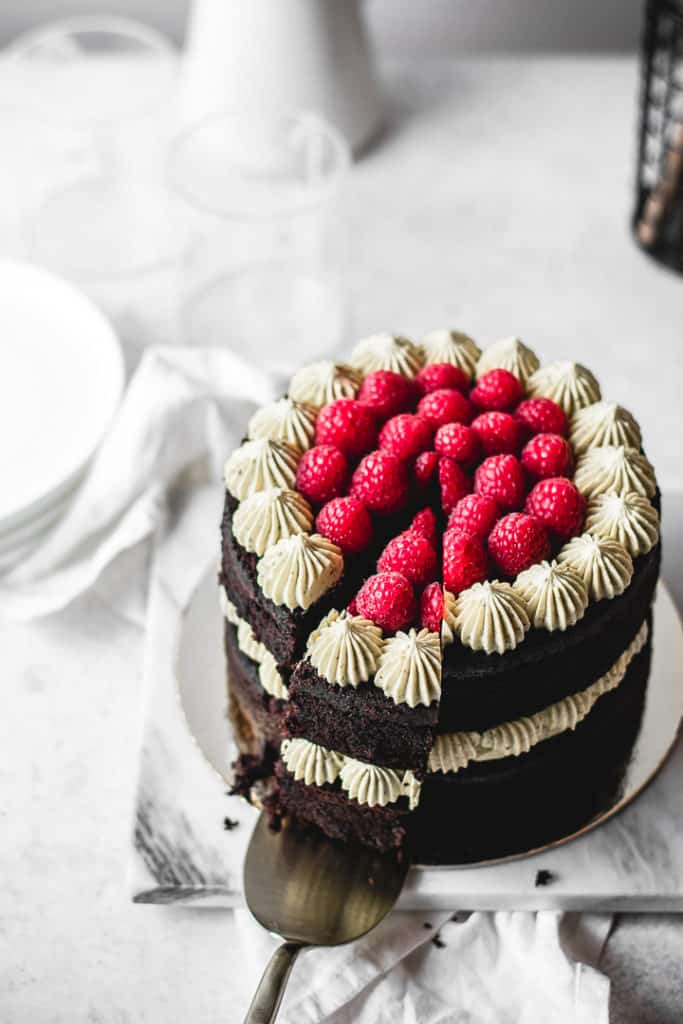 I suggest pulsing the pistachios until grounded, then add a couple of teaspoons of vegetable oil and pulse again. Everything will become smooth and creamy in a matter of seconds!
Pistachios have higher carb content than other nuts, so pulsing them in a food processor might take some time. And that means you could potentially ruin your food processor by overheating it. That's where the magic of vegetable oil comes in!
Just make sure not to add water. Water and fat don't do well together and you'll end up with a grainy, wannabe pistachio spread, because they aren't able to emulsify.
LOOKING FOR MORE FESTIVE, CELEBRATORY CAKES? CHECK OUT SOME OF MY FAVOURITES
Dulce de Leche Banana Cake
Lemon Elderflower (Royal Wedding) Cake
Earl Grey Tea Cake
Chocolate Berry Cake
Funfetti Birthday Vanilla Cake
Vanilla Raspberry Layer Cake
Chocolate Hazelnut Winter Wonderland Cake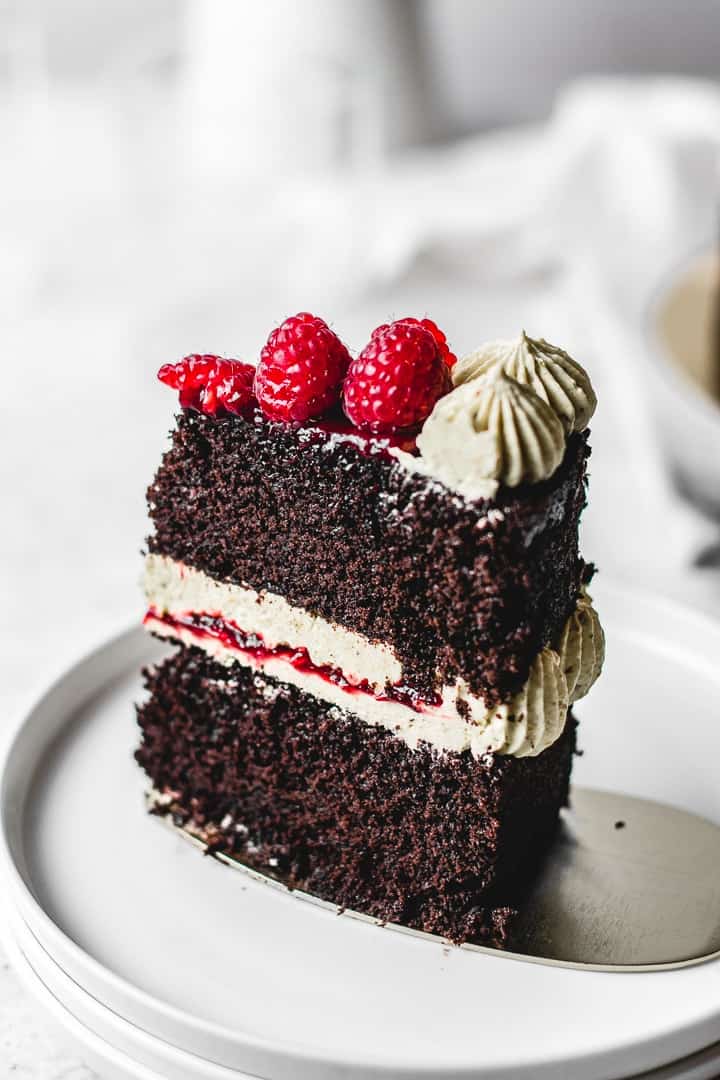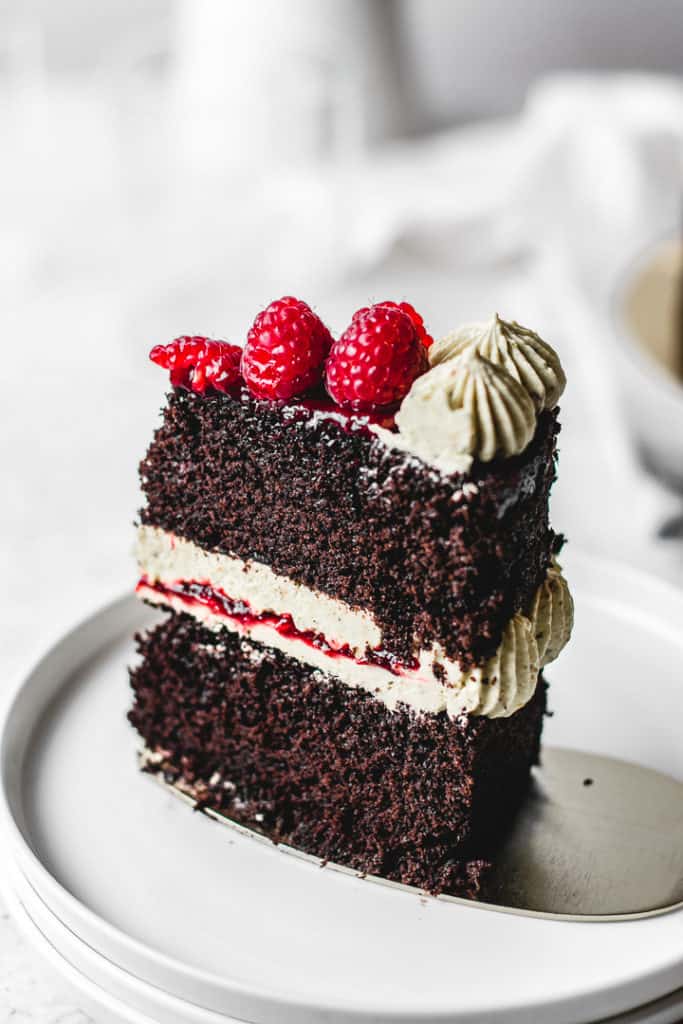 If you make this amazing cake, let me know by tagging me on Instagram @anasbakingchronicles or tell me all about it in the comments section down below! I love seeing your creations! If you have any questions, don't hesitate to ask! Happy baking!
Love,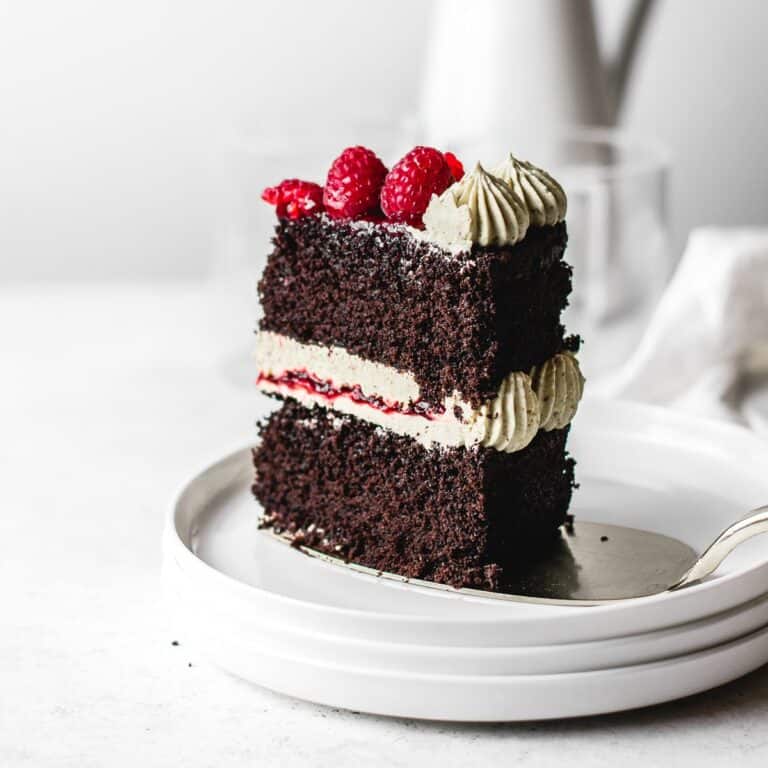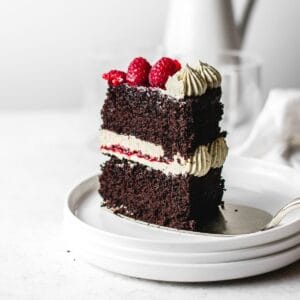 Chocolate Pistachio Raspberry Cake
Description
ingredients
chocolate cake
2

large

eggs

(room temperature)

115

g

vegetable oil

((I used sunflower))

200

g

full-fat sour cream

(room temperature)

½

teaspoon

vanilla extract

170

g

all-purpose flour

75

g

dutch-processed cocoa powder

2 + ¼

teaspoons

baking powder

½

teaspoon

salt

225

g

granulated sugar

65

g

brown cane sugar

130

g

hot water
raspberry jam filling
450

g

frozen raspberries

120

g

granulated sugar
pistachio buttercream
35

g

all-purpose flour

160

g

granulated sugar

280

g

whole milk

250

g

unsalted butter

150

g

pistachio butter

1

teaspoon

vanilla extract
pistachio butter
150

g

roasted salted pistachios

(shelled)

1-2

teaspoons

vegetable oil
Instructions
for the chocolate cake
Preheat your fan oven to 160°C (325°F) or 175°C if you're not using a fan oven. Grease and line with parchment paper two 7" (18 cm) round cake tins. Alternatively, you can use two 8" cake tins or 3 6" tins.

In a medium bowl sift together flour, cocoa powder, baking powder and salt. Add sugars, whisk until combined and set aside.

In a small bowl or a measuring jug, whisk together eggs, vegetable oil, sour cream and vanilla extract. These are your wet ingredients.

In a small pot, bring your water to a boil or simmer, it's important that it's hot. Add the wet ingredients to dry ones, stir a little bit, it'll be somewhat dry. Then add the boiling water and whisk until combined. I usually add the water in two stages to minimize clumps forming.

Divide the batter evenly among the tins and bake for 25-30 minutes or until skewer inserted in the middle comes out with few moist crumbs. Do not overbake it.

Once they're done, let the cakes cool for 10-15 minutes on a wire rack before removing them from the pans to cool completely.
for raspberry jam
Cook frozen fruits with sugar over a medium-high heat until it reaches boiling. Turn the heat down and let it simmer for approx. 15 minutes or until it thickens. It's better to be thicker than looser, the plan is to lose a lot of water content and have concentrated flavour.


Strain the jam through a sieve to get rid of the seeds and make it smooth and beautiful. Cover it with cling film and leave it to cool in the fridge.
for pistachio butter
In a small, sharp food processor, mix shelled, salted and roasted pistachios for approx. 10 minutes or until it transforms into a butter/paste. If it seems like it's not coming together, add a teaspoon or two of vegetable oil to help it combine into a smooth paste. DO NOT ADD WATER.
for pistachio buttercream
In a small saucepan (I always use heavy-bottomed one to prevent burning) combine flour, sugar, salt and milk. Cook over medium-high heat, stirring constantly with a whisk until it thickens. This can take about 15 minutes. The moment you realize it's thicker and bubbles form on the top, cook for another 3-4 minutes. 

Once it's done, transfer it to a bowl (you can strain through a sieve if you're afraid of possible lumps) put a cling film over it touching the surface to prevent "skin" forming and let it cool to room temperature. This is your pudding base. You can do this in a fridge, but before using it let it come to room temperature.

Using a stand mixer fitted with the paddle attachment, beat the butter for 5 minutes until it's pale and fluffy. Then add spoonful by spoonful of previously made pudding. Mix until it's all nicely incorporated and with no lumps. Add vanilla extract with pistachio butter and mix until everything is combined.

Cover with cling film and leave at room temperature until you're ready to assemble the cake.
Assembly:
Using a cake leveler or a long serrated knife level the tops of your cakes if needed.

In the middle of your cake board or a serving plate put some buttercream to stop the cake from moving around.

Place one cake layer on a cake board or a serving plate. Using a small offset palette knife or a piping bag, spread the frosting over the cake. Using a piping bag fitted with the Wilton 6B french star tip, pipe blobs around it to make a border. Fill it some raspberry jam and cover with a little bit of buttercream to stop the next layer from sliding.

Place the next layer on top and repeat the process. Only this time, when you drizzle raspberry jam on top, cover it with fresh raspberries.

Chill the cake for a half an hour to an hour just so everything has time to set.
Notes
If you don't have a stand mixer, you can use a hand mixer.
Not all ovens are the same. I suggest to check the cakes at 22 min mark and then adjust the baking time accordingly. Get to know your oven!
If you still don't own one, I advise you to buy a kitchen scale - they're cheap and easy to use, and always guarantee the same results in baking!  
Cake is best eaten at room temperature. You can keep it in a fridge, wrapped in cling film, but take it out of it at least half an hour before serving. 
IMPORTANT
All the recipes are developed and tested using only metric measurements and a kitchen scale. The U.S. cup and spoon measurements are provided for your convenience, but I highly recommend getting a digital kitchen scale and measuring in metrics. It's easy and always guarantee the same results in baking!
Nutrition
Nutrition Facts
Chocolate Pistachio Raspberry Cake
Amount per Serving
% Daily Value*
* Percent Daily Values are based on a 2000 calorie diet.
The nutritional information and US conversions are calculated automatically. I cannot guarantee the accuracy of this data. If this is important to you, please verify with your favourite nutrition calculator and/or unit conversion tool.
Have you tried this recipe?
Tag me on Instagram @anasbakingchronicles or use the hashtag #anasbakingchronicles - I love seeing your creations!