These Lamingtons are the perfect combination of soft and moist vanilla cake, strawberry jam and luscious chocolate icing with coconut coating. Perfect for the holidays or a Sunday afternoon!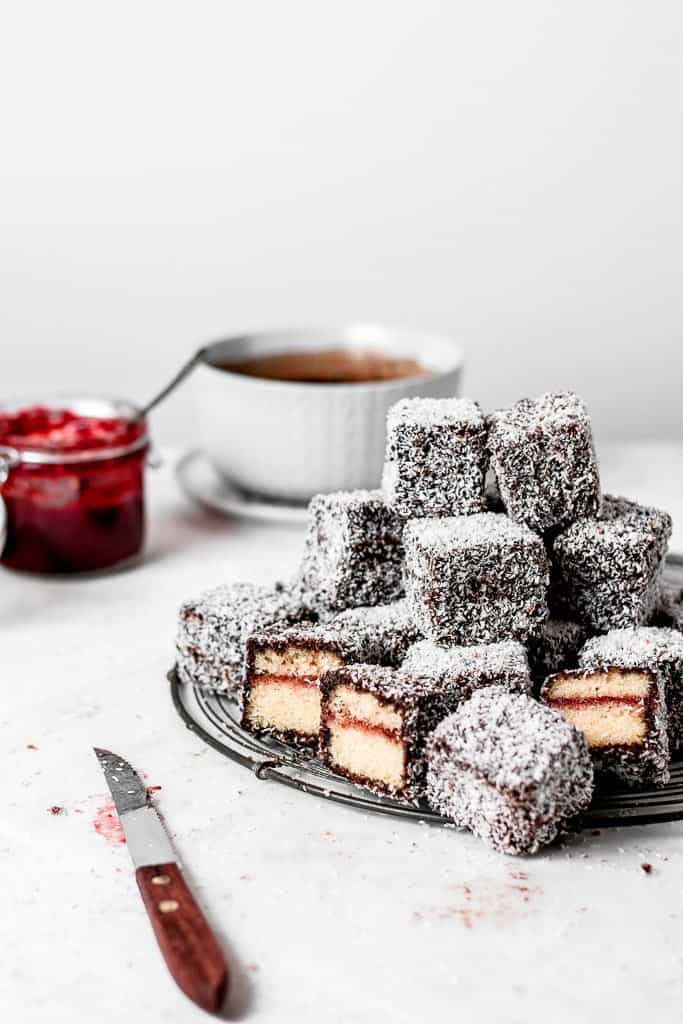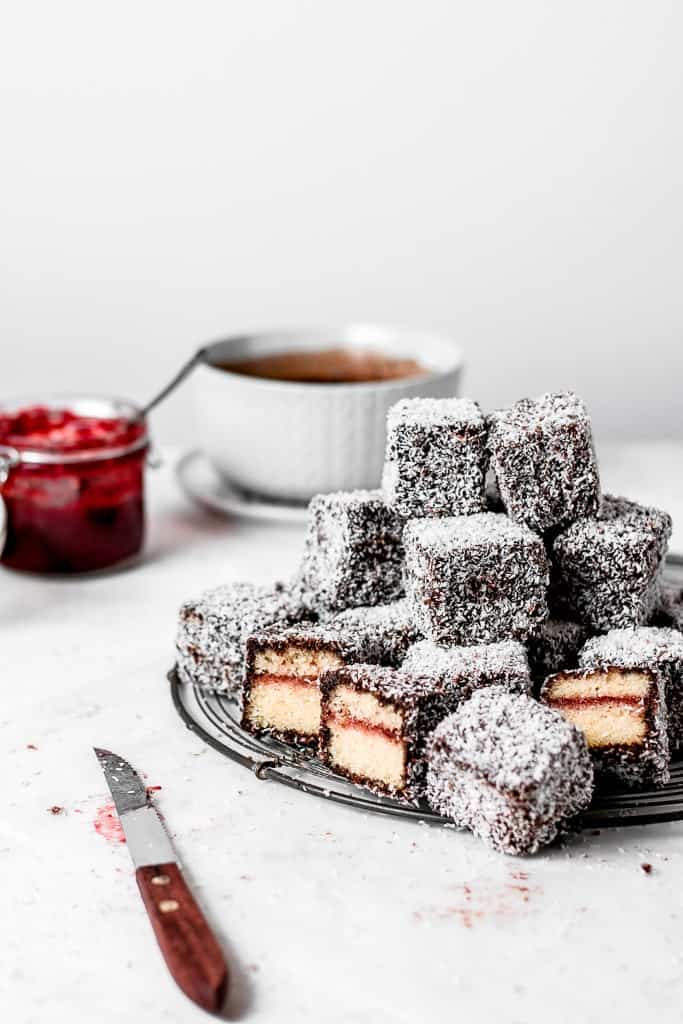 Lamingtons are one of the first things I've learnt to bake. In Croatia and ex-Yugoslavia countries we call them "čupavci" and always make them plain, without any filling. The name is derived from their ragged looks due to the coconut coating. Honestly, I was shocked to find out they were actually an Australian national cake. We've made them since forever and they are well known and loved in the Balkans.
Since there are a lot of Croatians in Australia, my theory is that they had brought the recipe to Australia and not the other way around, mmmkaay? 😛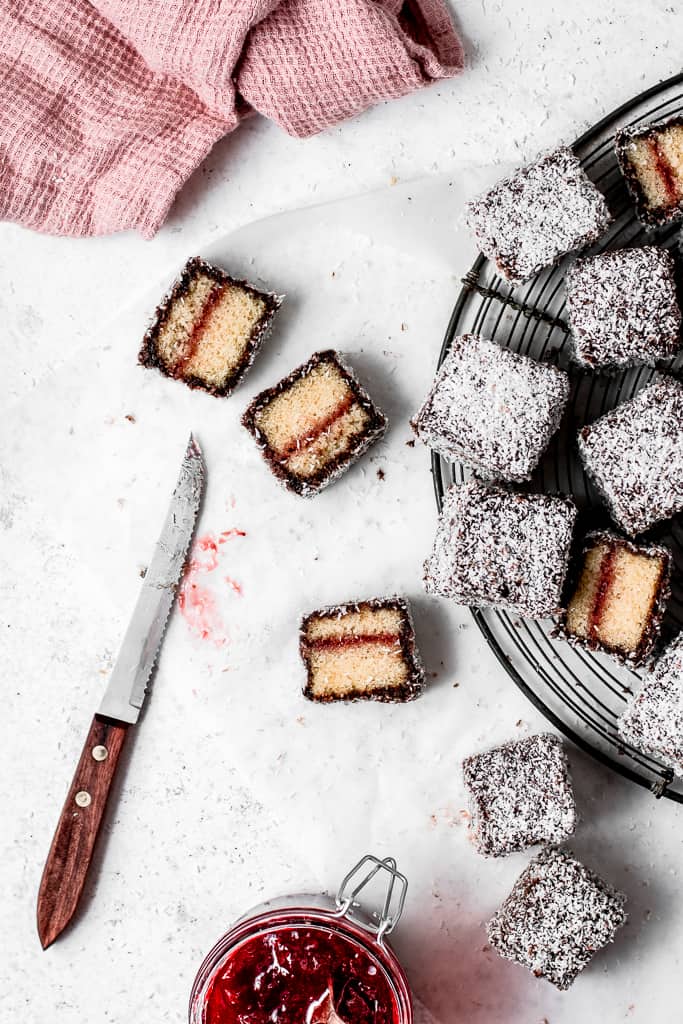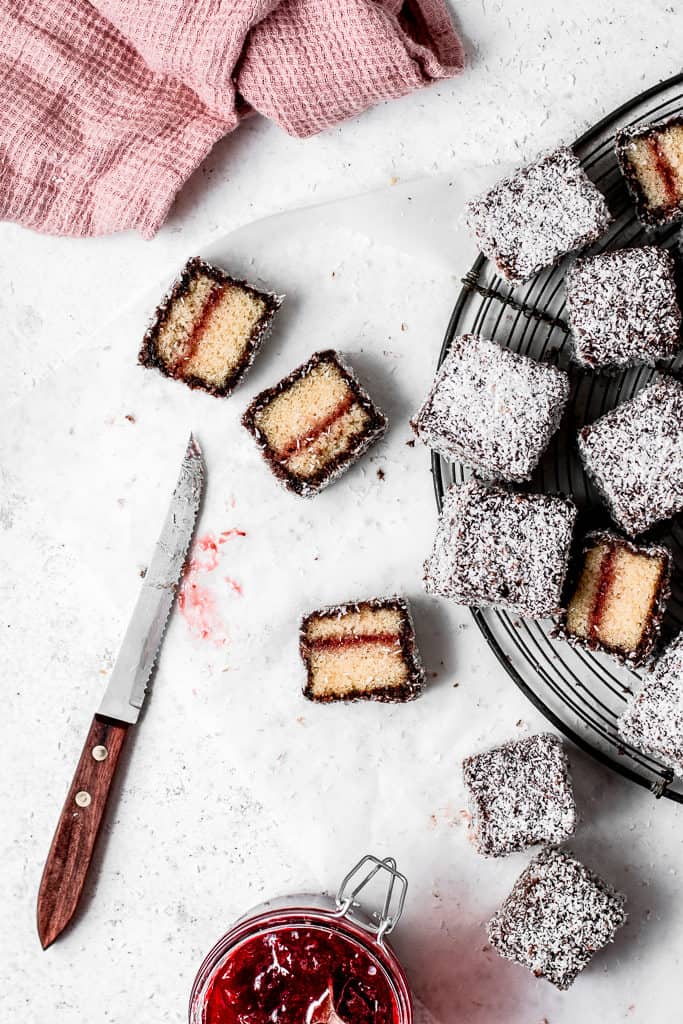 WHAT ARE LAMINGTONS?
They are these perfect squares of vanilla cake which are then dipped in chocolate and rolled in unsweetened dessicated coconut. That's the plain version anyways and the one very dear to my heart.
But then I learnt the Aussie version and they often fill their lamingtons with jam, chocolate or custard. All three sound amazing, to be honest. But I had some leftover strawberry jam from making my Strawberry Lemonade Macarons (which are amazeballs), so I decided to make the filled lamington version for the very first time.
HOW DO I MAKE THEM? IS IT HARD?
NO. Not at all! They are an incredibly easy dessert, which kids often like to do, too. Especially if you skip the filling part. 🙂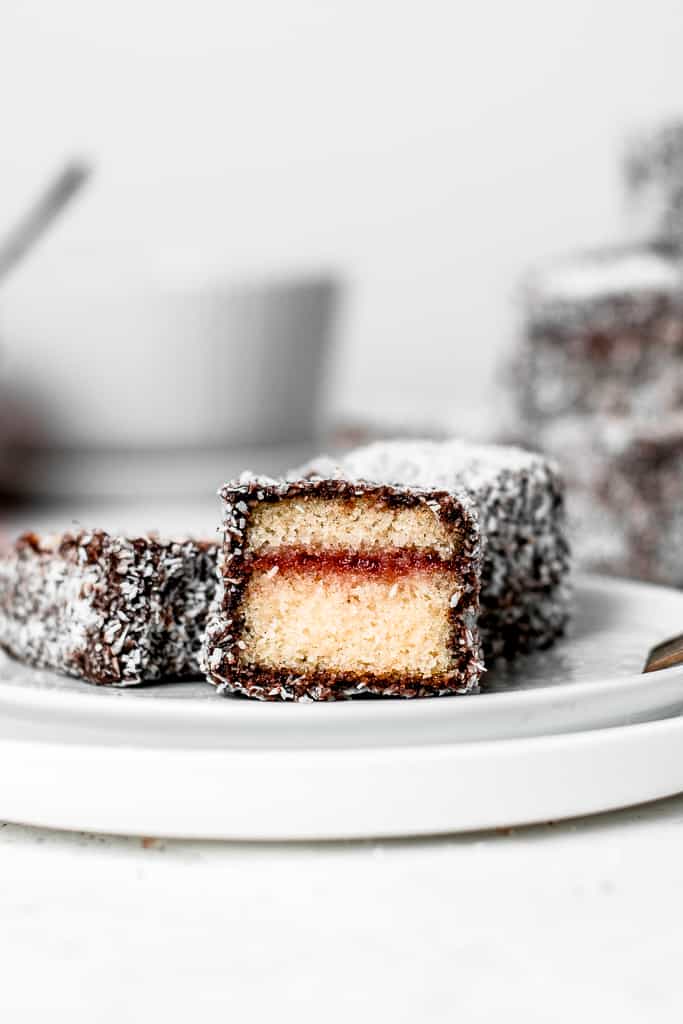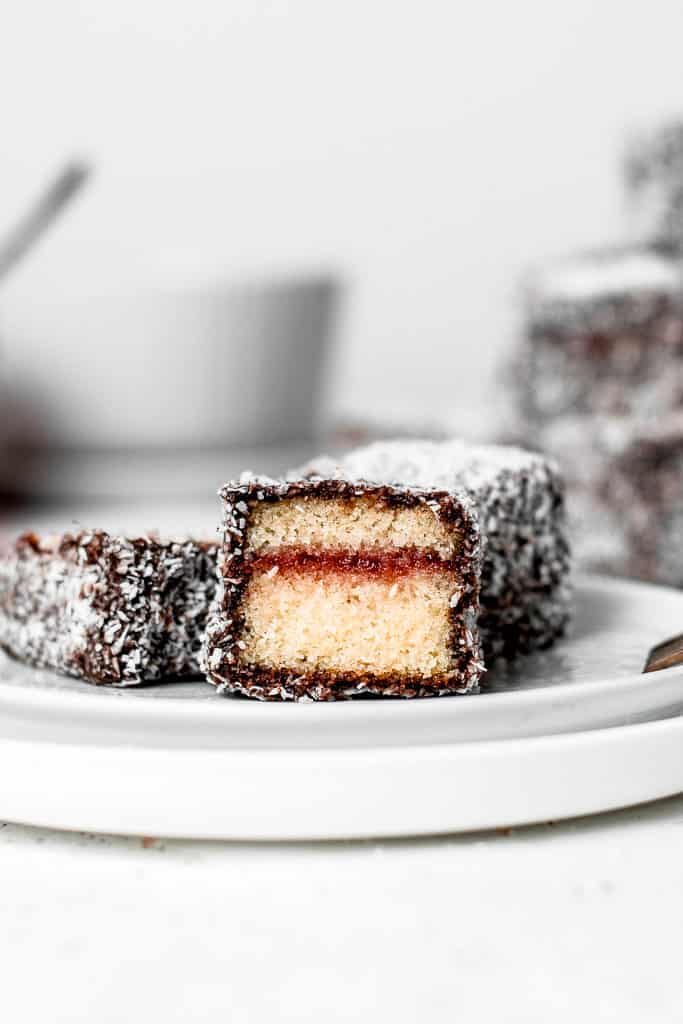 Since this was my first time doing a filled version, I was a bit of afraid of dipping them in chocolate. Usually, I just use two forks to dip the lamingtons in chocolate icing - and I do it with no fear at all. Only this time, I was worried if the layers sandwiched with strawberry jam would stick together or end up sliding.
That's where my trick comes in! I decided to freeze the squares before dipping them to ensure they are firm enough. This worked like a charm!
For filling the lamingtons, it's best to cut the whole cake in half horizontally. You can do this with a serrated knife or a cake leveler like I did. Funny story, I actually measured everything with a ruler to "make sure they are all the same". They absolutely did not turn out uniform aaand I even halved them wrong. *facepalm* So... there's that. The moral of the story: don't worry about it, just eyeball everything. 😉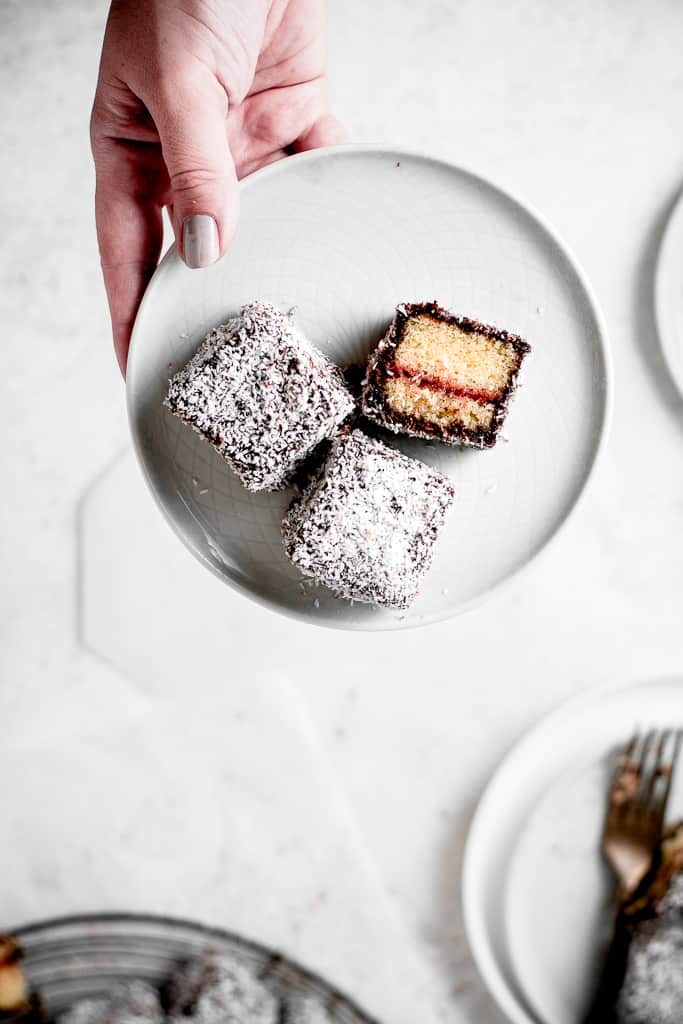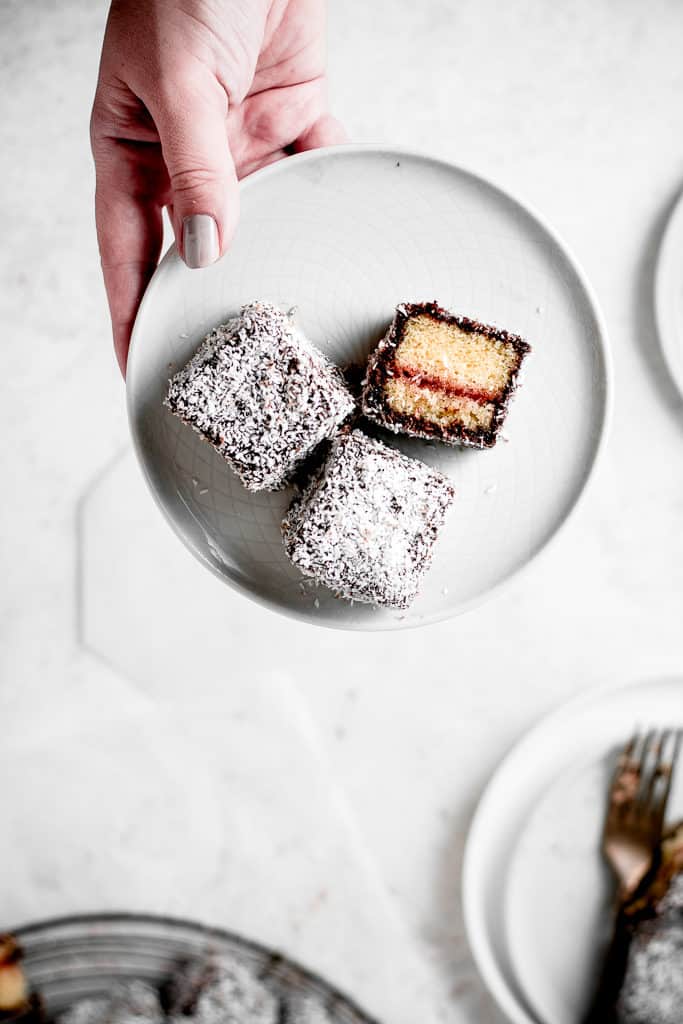 I actually didn't really like the chocolate icing recipe I used before, so I adapted David Lebovitz's recipe and it's really amazing. Sooo chocolatey and good! Thanks, David!
ARE YOU LOOKING FOR MORE EASY AND DELICIOUS DESSERTS?
Coconut & Lime loaf cake
Soft Coconut Sugar Cookies
Rocky Road Baked Donuts
Soft Chocolate Cookies with White Chocolate Chunks
Caramel Applesauce Cupcakes
If you make these super cute and delicious lamingtons, let me know by tagging me on Instagram @anasbakingchronicles or tell me all about it in the comments section down below. I love seeing your creations! If you have any questions, don't hesitate to ask. Happy baking!
Love,

📖 Recipe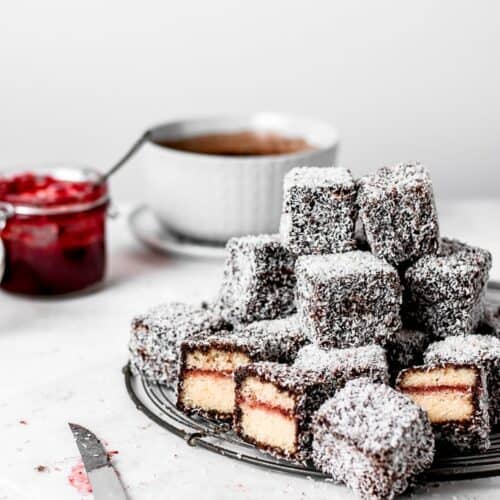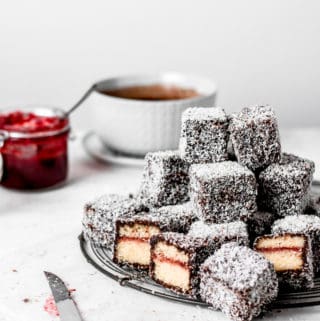 Lamingtons with homemade Strawberry jam
Description
Soft and moist vanilla cake, sandwiched with homemade strawberry jam and dipped intp luscious chocolate icing and coconut.
ingredients
230

g

all-purpose flour

220

g

caster sugar

100

g

unsalted butter

(room temperature)

70

g

vegetable oil

3

large

eggs

(room temperature)

150

g

full fat milk

(room temperature)

2

teaspoons

baking powder

2

teaspoons

vanilla extract

¼

teaspoon

salt
homemade quick strawberry jam
400

g

fresh or frozen strawberries

juice

of

half a lemon

100

g

caster sugar
chocolate icing
170

g

dark chocolate

(min. 55% cocoa solids)

200

g

full fat milk

40

g

unsalted butter

200

g

powdered sugar

20

g

unsweetened cocoa powder

4-5

tablespoons

hot water

200

g

unsweetened dessicated (shredded) coconut
Instructions
for the cake
Preheat your fan oven to 160°C (325°F) or 175°C (350˚F) if you're not using a fan oven. Grease and line with parchment paper 8x8 inch (20x20 cm) square tin.

In a medium bowl sift together flour, baking powder and salt. Whisk until combined and set aside. In a measuring jug combine whole milk and vanilla extract. These are your wet ingredients.

In a bowl of a stand mixer fitted with a paddle attachment, cream the butter, vegetable oil and sugar on a medium-high speed until paler in colour. (approx. 2-3 min) Stop the mixer and scrape down the bowl.

Turn the mixer to medium-low speed and add eggs one at a time – making sure it's fully incorporated after each addition. Stop the mixer and scrape down the bowl.

Add your dry and wet ingredients, alternating between one another, starting and finishing with dry ones. (3 additions of dry and 2 of wet ingredients)

Pour the batter in prepared tin and bake for 25-35 minutes or until skewer inserted in the middle comes out with few moist crumbs. Do not overbake it.

Once it's done, let the cake cool for 10-15 minutes on a wire rack before removing it from the pan to cool completely. The cake will continue to cook in the pan, so it's important that the skewer is not entirely clean. Otherwise, your cake will overbake and that will cause dryness.
for strawberry jam
Cook strawberries with sugar and squeeze of a lemon juice over a medium-high heat until it reaches boiling. Using a potato masher, mash strawberries. Turn the heat down and let it simmer for approx. 15 minutes or until it thickens. It's better to be thicker than looser, the plan is to lose a lot of water content and have concentrated flavour. I like to have small strawberry pieces here and there, but if you want your jam to be extra smooth then strain it through a sieve or blitz with a hand blender. Cover it with cling film and leave it to cool in the fridge.
for the chocolate icing
Make the chocolate icing by melting together the chocolate, butter and milk over a bain maire (a heatproof bowl set over a pan of simmering water).

Remove the bowl from the pan of simmering water when smooth, then whisk in the powdered sugar and cocoa powder you have previously sifted to get rid of lumps.

In the very end add boiling hot water. You want to get just the right consistency, not too thin to make the lamingtons soak too much of liquid and become mushy, and too thick.
assembly
Once your cake is cold, trim the edges with a serrated knife and cut the cake horizontally using the same knife or a cake leveler.

Fill the cake with strawberry jam and then cut it into 16 or more squares. Then put it in the freezer for 15 minutes to become firm, which will make the dipping in chocolate part easier.

Pour the dessicated coconut onto a large deep plate.

Using two forks, dip a piece of sponge into the chocolate icing mixture, making sure that all sides are coated, and allow any excess icing to drain off. Then roll the chocolate-coated sponge in dessicated coconut and place the lamington on a wire rack to dry.

Repeat with the remaining sponge pieces. If the icing mixture becomes too thick, whisk in some milk or water to thin it out. Let the lamingtons set on a wire rack for about an hour or put them in the fridge to speed up setting process.
Notes
If you don't have a stand mixer, you can use a hand mixer.
Not all ovens are the same. I suggest to check the cake at 25 min mark and then adjust the baking time accordingly. Get to know your oven!
If you still don't own one, I advise you to buy a kitchen scale – they're cheap and easy to use, and always guarantee the same results in baking!  
Lamingtons are best eaten at room temperature. You can keep them in a fridge, in an airtight container or wrapped in cling film, but take them out of it at least half an hour before serving.
You can cut the cake into more squares, it depends how big or small you want them to be. If you wish to make lamingtons without filling, you can skip the freezing step before dipping into chocolate icing!
IMPORTANT
All the recipes are developed and tested using only metric measurements and a kitchen scale. The U.S. cup and spoon measurements are provided for your convenience, but I highly recommend getting a digital kitchen scale and measuring in metrics. It's easy and always guarantee the same results in baking!
Nutrition
Nutrition Facts
Lamingtons with homemade Strawberry jam
Amount per Serving
% Daily Value*
* Percent Daily Values are based on a 2000 calorie diet.
The nutritional information and US conversions are calculated automatically. I cannot guarantee the accuracy of this data. If this is important to you, please verify with your favourite nutrition calculator and/or unit conversion tool.
Have you tried this recipe?
Tag me on Instagram @anasbakingchronicles or use the hashtag #anasbakingchronicles - I love seeing your creations!