World's favourite cookie, at the same time both soft and crispy - with a delicious and refreshing summer flavour! I bring you two versions of strawberry lemonade macarons!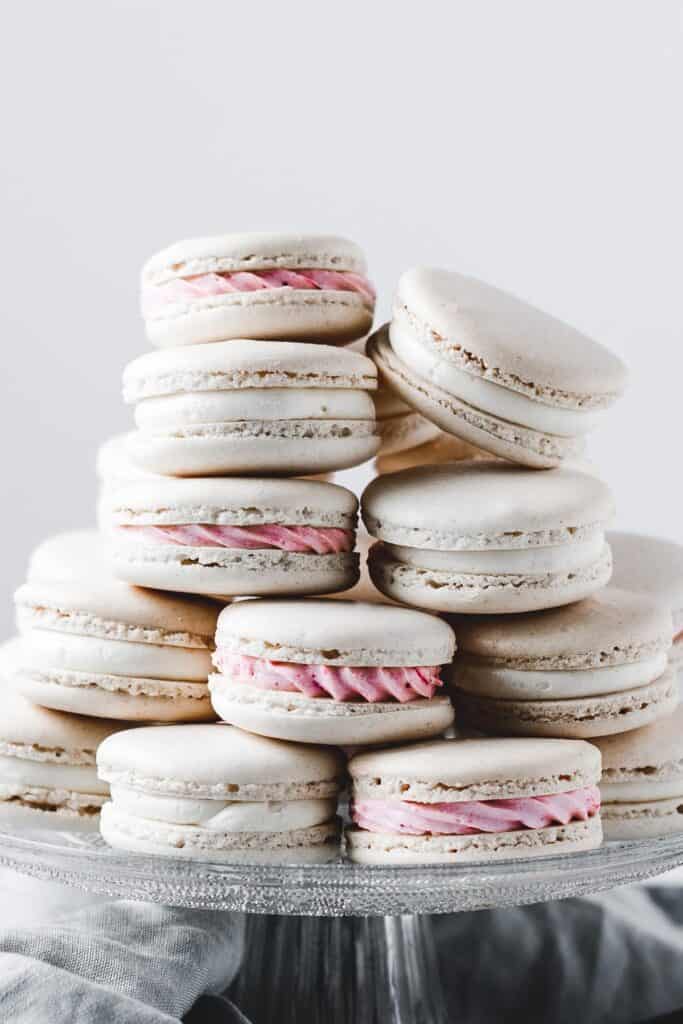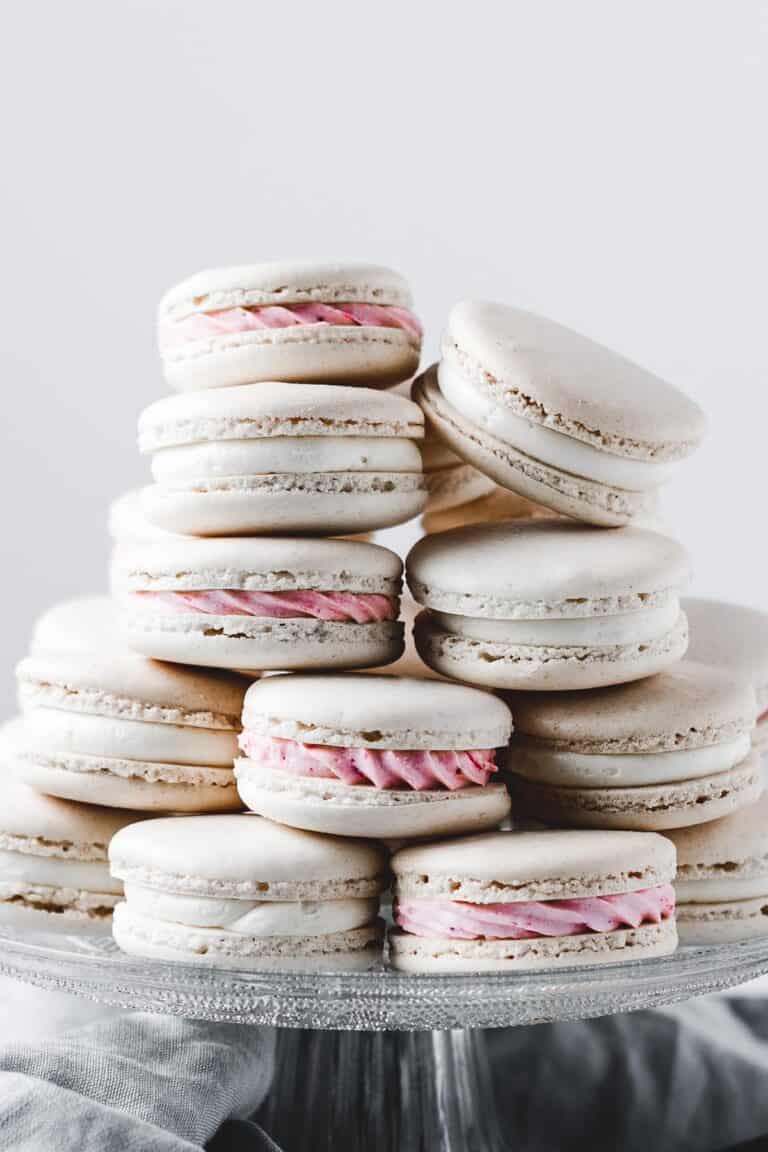 After a couple of months break, I am back in the kitchen! I talked about it more on my instagram account @anasbakingchronicles , but to make long story short... I was apartment hunting, found one close to work, it needed a kitchen reno (which I was fine with), but the landlady screwed me over (sorry for the language) and now I'm back at the beginning, finding a suitable home.
But I couldn't pause my blogging anymore, so I decided to use my annual leave and spend it at my (old) kitchen, doing lots of baking and stuff I love!
Also, I'm barely surviving without AC and sooo looking forward to fall!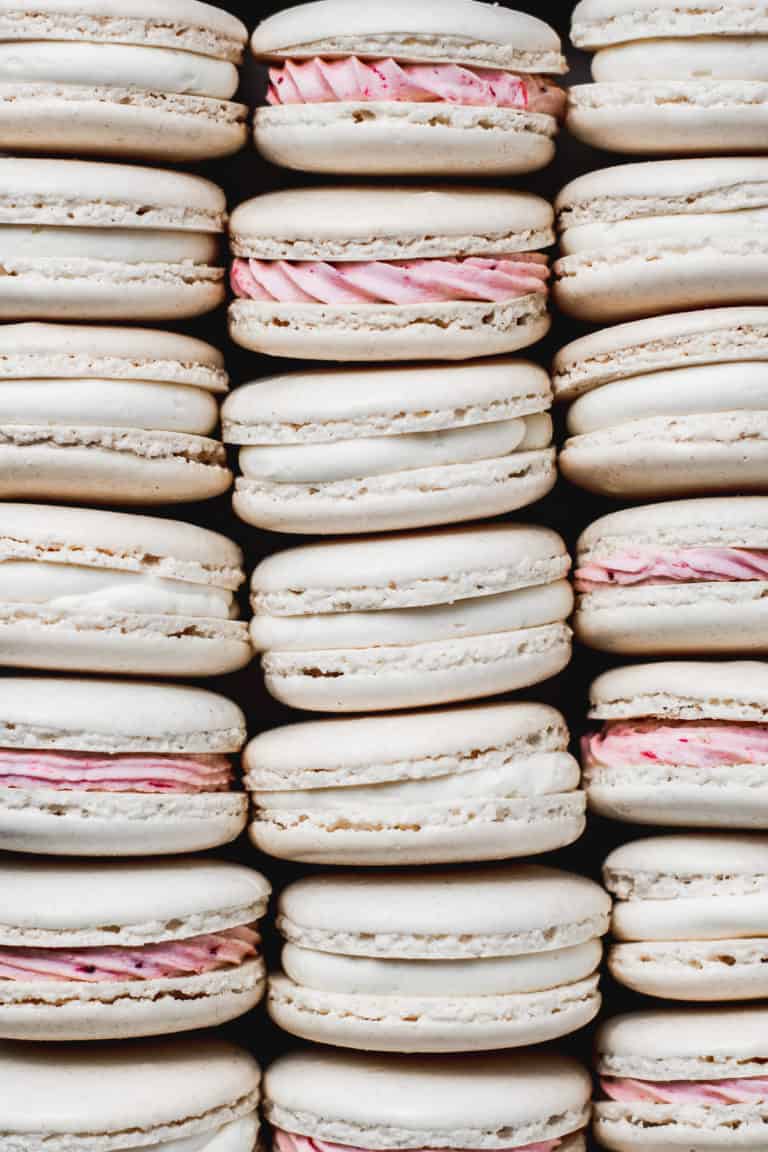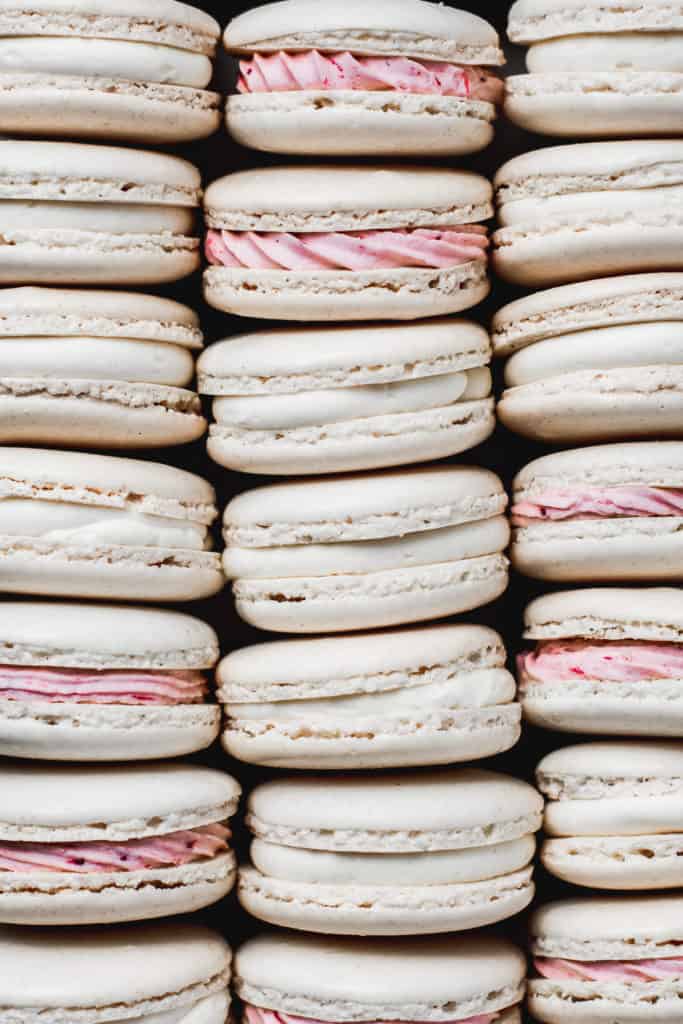 One of the first things I wanted to make (seriously, I had a strong urge) were MACARONS! I haven't made them in ages and I wanted to bake something just for the sake of it, not because it's trendy or instagram-worthy etc. Although I had hoped they would turn out great, so I can share it with you. 😉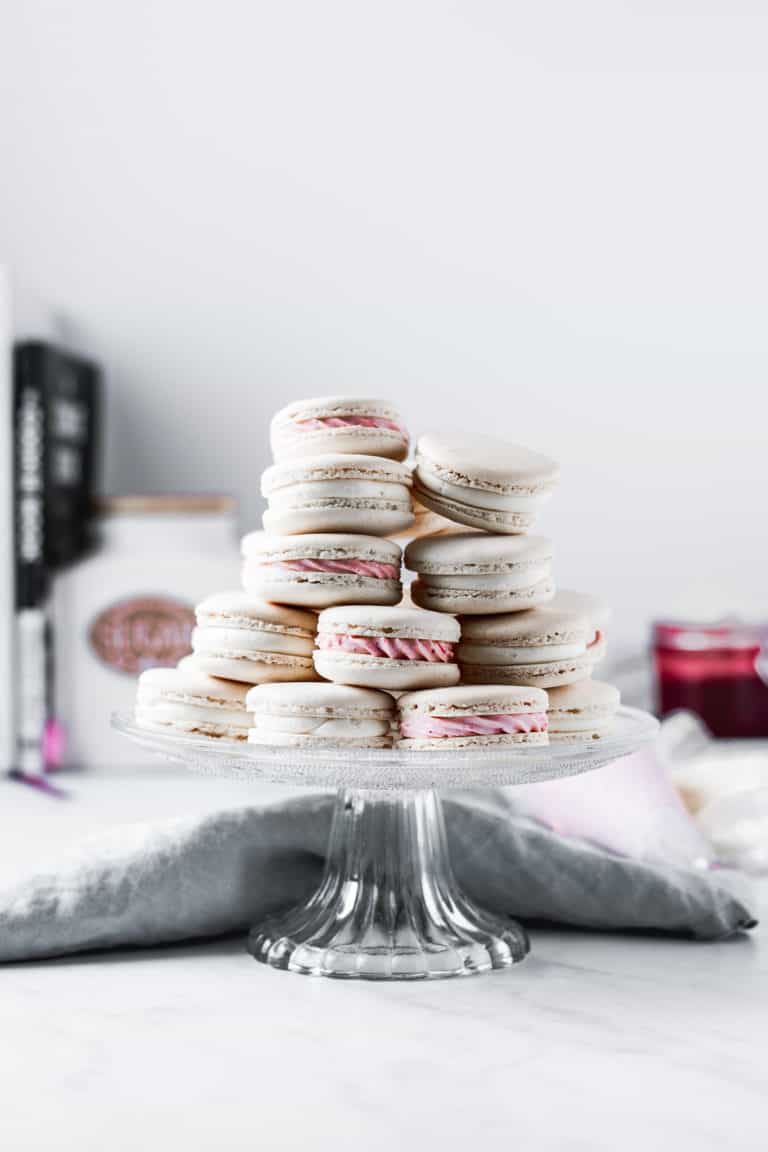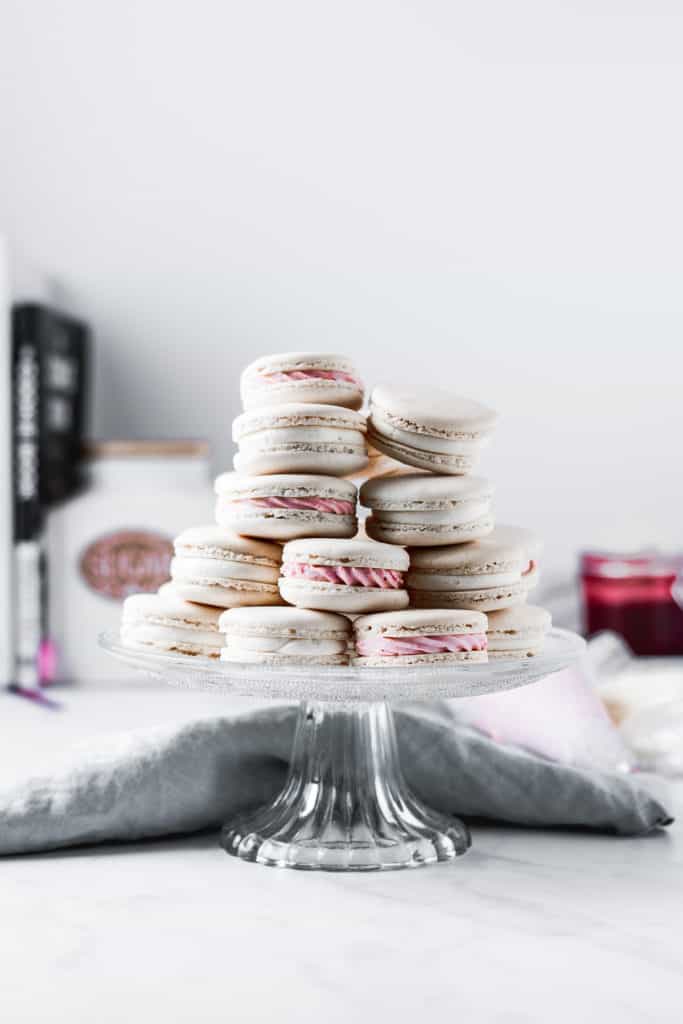 HOW TO MAKE THESE STRAWBERRY LEMONADE MACARONS
I know, I know... Most of you love to eat them, but have an annoyingly strong fear of making them. Who wouldn't?! They are so finicky - if you undermix them they are ugly and domed without feet. Overmix them and they will spread everywhere, crack... ugh! Even the weather outside will affect your result. True story. And you can't really do much about it, except avoid making macarons when it's raining or extra humid - at all cost. That's my mantra, at least. It saves lots of nerves, guaranteed!
But don't worry, I gathered all my tips and tricks to make this process easier. I actually wrote them last year and you can check them here on my Pistachio macarons recipe - which is to die for, just fyi. I definitely recommend reading all those tips before you attempt to make these strawberry lemonade macarons. They will save you lots of thinking and stressing over things you're not sure of! 🙂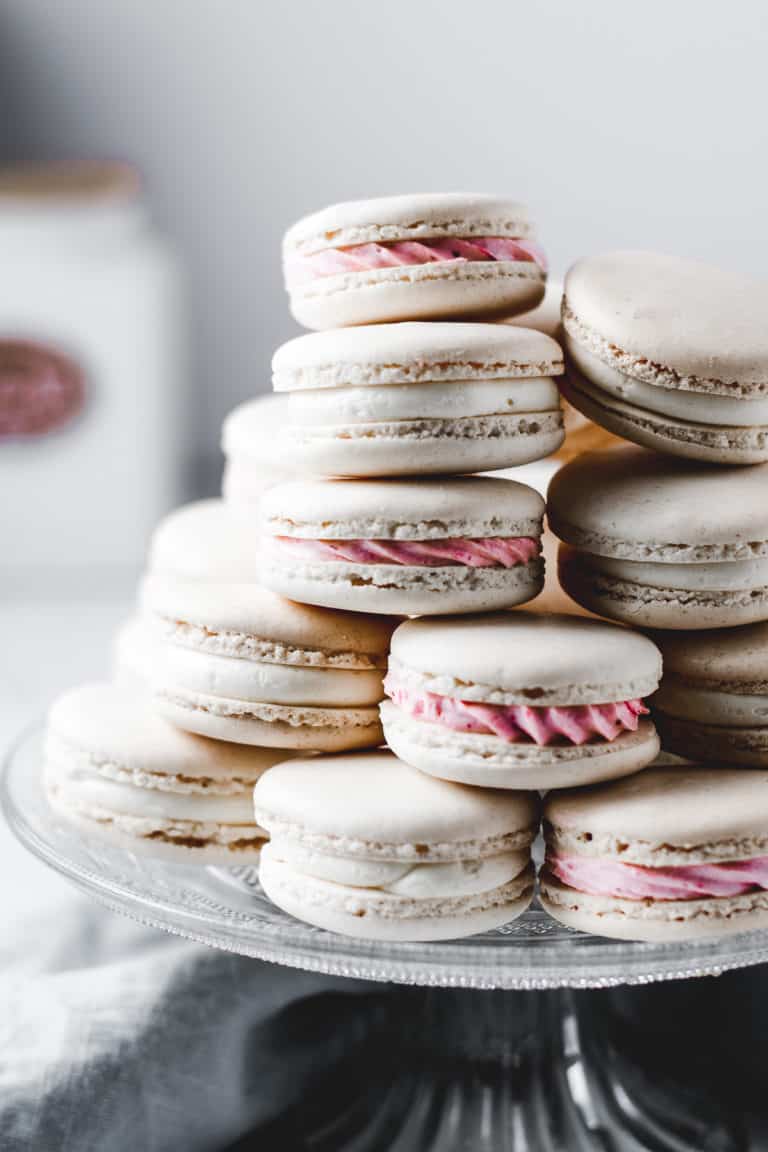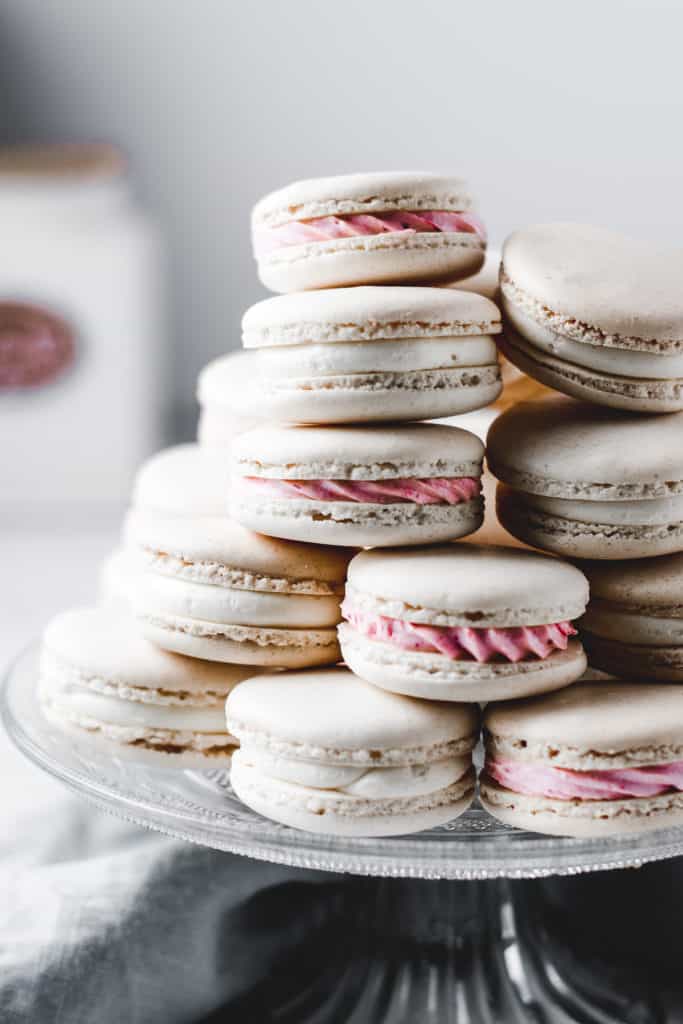 What do you mean you made two versions?
Well, thanks for asking, lemme tell you. LOL.
I am a BIG, BIG fan of lemon curd. I could eat it by the spoonful, honestly. At first, I imagined making white macaron shells with pink strawberry buttercream and lemon curd in the middle. Then, when I was about to assemble them, I had the best idea ever (ding ding ding!). I'll just divide my buttercream in two, flavour one with lemon curd and the other with homemade strawberry jam. Et voila! Two flavours were made! So similar, but so different. One filled with light strawberry buttercream and lemon curd, the other filled with amazing lemon curd buttercream and strawberry jam.
It all depends on what you love more. Lemon curd or strawberry jam? 🙂
LOOKING FOR MORE EASY FRUITY DESSERTS? I GOT YOU COVERED!
Perfect Lemon cheesecake
Lemon & Poppyseed cake with Blueberry glaze
Raspberry Vanilla layer cake
Victoria Sponge Cake
If you make these amazing macarons let me know by tagging me on Instagram @anasbakingchronicles or tell me all about it in the comments section down below! I love seeing your creations! If you have any questions, don't hesitate to ask! Happy baking!
Love,

📖 Recipe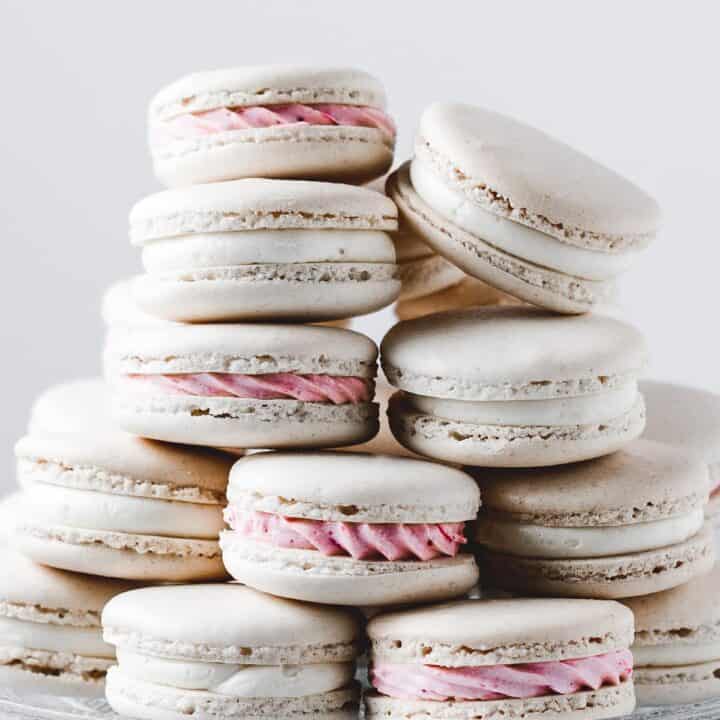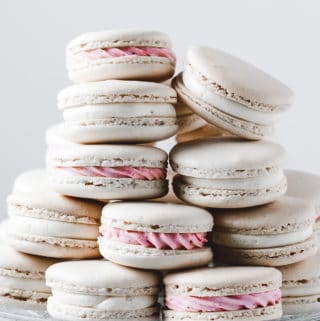 strawberry lemonade macarons
serves
35
filled macarons
Description
ingredients
macarons
145

g

egg whites

(divided)

pinch of

salt

200

g

granulated sugar

70

g

water

200

g

ground almonds

200

g

powdered sugar
lemon curd
4

large

egg yolks

1

large

egg

125

g

lemon juice

160

g

caster sugar

zest of three lemons

60

g

unsalted butter

(cold)
strawberry jam
400

g

fresh or frozen strawberries

juice of half a lemon

100

g

caster sugar
buttercream
120

g

caster sugar

250

g

full fat milk

30

g

all purpose flour

¼

teaspoon

salt

225

g

unsalted butter

(room temperature)

3-4

tablespoons

lemon curd

((in half of the buttercream))

3-4

tablespoons

strawberry jam

((in half of the buttercream))
Instructions
for macarons
Line your baking sheets with parchment paper or silicone mat and, if using, put your template beneath. To make it stick, use a little bit of a finished meringue to glue the parchment to the sheet.

Make sure your equipment is grease free - wipe everything with vinegar and paper towels.

Place ground almonds and powdered sugar in a food processor and pulse it until combined, around 10-15 times. Don't mix it continuously because you're then risking releasing oils from the almonds, only use a pulse method. 

Sift the dry mixture into a large bowl to get rid of any big almond bits. Add half of your egg whites (73 g) and using a rubber/silicone spatula, mix together to form a paste.
Cover with cling film until you need it.

In a small saucepan, combine caster sugar and water. DON'T STIR IT because you're risking crystalizing. Using a sugar thermometer, bring the syrup to 112°C.

Once the syrup has reached 112°C, get the remaining egg whites mixing in a stand mixer, fitted with the whisk attachment, with a pinch of salt. Continue heating the sugar syrup until it reaches 118°C (soft-ball stage).

Take the syrup off the heat, and while the mixer is still going on medium-high speed, pour the syrup in the meringue in a steady and slow motion, making sure you're pouring it on the sides of the bowl, and not on the whisk attachment.

Once you're done pouring the sugar syrup, continue mixing the meringue until it comes to room temperature and forms stiff and glossy peaks.

Using a rubber spatula, fold the meringue to the almond paste you made previously. At first, use just a little bit of meringue to loosen up the almond/egg white paste - you can be vigorous at this stage. Then, add the rest of the meringue, folding carefully until you get to the ribbon stage.

Place the batter in a piping bag fitted with a round nozzle, I use Wilton 2A - the smaller nozzle gives you more control.

Pipe the macarons on your prepared baking sheets. When all your macarons are piped, whack the baking sheet on the counter at least 3 times to get rid of any air bubbles. If there are any left, just poke them with a skewer. Leave them at room temperature to dry and form a skin before baking them. This could take anywhere from 15 min to an hour (depends on how humid your space is).

Once macarons formed a skin, bake them in a preheated fan oven at 150°C for 15-20 minutes. You can check the doneness by touching them and if they wiggle from the feet - they are not done. 

When they are done, leave them to cool completely before trying to pull them off of baking paper.
for lemon curd
In a glass heatproof bowl, using a whisk, combine egg yolks, an egg, sugar, lemon juice and zest. Place the bowl over a bain-marie (a pan of simmering water). Cook on medium to high heat, whisking constantly so you don't scramble eggs, until it thickens. It takes around 10-15 minutes. It's ready when it can coat the back of a wooden spoon. It will thicken more once cooled. 

Once it's done, add the cooled cubed butter and whisk until everything is incorporated and smooth. Strain the curd through a sieve to get rid of any lumps that may have happened and place in a glass jar. Refrigerate for a couple of hours, until it thickens to a spreadable consistency.
for strawberry jam
Cook strawberries with sugar and squeeze of a lemon juice over a medium-high heat until it reaches boiling. Using a potato masher, mash strawberries. Turn the heat down and let it simmer for approx. 15 minutes or until it thickens. It's better to be thicker than looser, the plan is to lose a lot of water content and have concentrated flavour. I like to have small strawberry pieces here and there, but if you want your jam to be extra smooth then strain it through a sieve. Cover it with cling film and leave it to cool in the fridge.
buttercream
In a small saucepan (I always use heavy-bottomed one to prevent burning) combine flour, sugar, salt and milk. Cook over medium-high heat, stirring constantly with a whisk until it thickens. This can take about 15 minutes. You want it to be sort of like pastry cream thick. The moment you realize it's thicker, cook for another 3-4 minutes. Once it's done, put a cling film over it touching the surface to prevent "skin" forming and let it cool to room temperature. This is your pudding base. You can do this in a fridge, but before using it let it come to room temperature.

Using a stand mixer fitted with the paddle attachment, beat the butter for 5 minutes until it's pale and fluffy. Then add spoonful by spoonful of previously made pudding. Mix until it's all nicely incorporated and with no lumps.

Divide finished buttercream in two bowls. In first one add 3-4 tablespoons of lemon curd and mix with a spatula until everything is combined. In the other one, add couple of tablespoons of jam. Be careful not to add too much jam, otherwise your buttercream might curdle. Leave the buttercream at room temp, covered with cling film, before using.
Assembly
Once your macarons have cooled, pair the best matching ones. Fill two large piping bags fitted with a nozzle you prefer (I used Wilton 2A for white ones and 4B for pink ones) with buttercream fillings. Put the strawberry jam and lemon curd in two small piping bags - no nozzle needed.

Pipe a circle of buttercream, leaving a small hole in the middle. For macarons with strawberry buttercream, fill them with lemon curd. Macarons with lemon buttercream fill with strawberry jam.

After you're done, sandwich your macarons and place them in an airtight container in the fridge over night, ideally 24h before consuming.
Notes
I recommend making strawberry jam and lemon curd before the shells, so it has time to thicken and cool.
Not all ovens are the same. If you experience browning of the shells, then you're oven is too hot. 
Either way, it's better to bake them longer on a lower temperature than risk burning them 🙂
IMPORTANT
All the recipes are developed and tested using only metric measurements and a kitchen scale. The U.S. cup and spoon measurements are provided for your convenience, but I highly recommend getting a digital kitchen scale and measuring in metrics. It's easy and always guarantee the same results in baking!
The nutritional information and US conversions are calculated automatically. I cannot guarantee the accuracy of this data. If this is important to you, please verify with your favourite nutrition calculator and/or unit conversion tool.
Have you tried this recipe?
Tag me on Instagram @anasbakingchronicles or use the hashtag #anasbakingchronicles - I love seeing your creations!