Crispy on the outside, but soft and chewy on the inside, these coconut cookies with chocolate coconut nests are the perfect thing for Easter!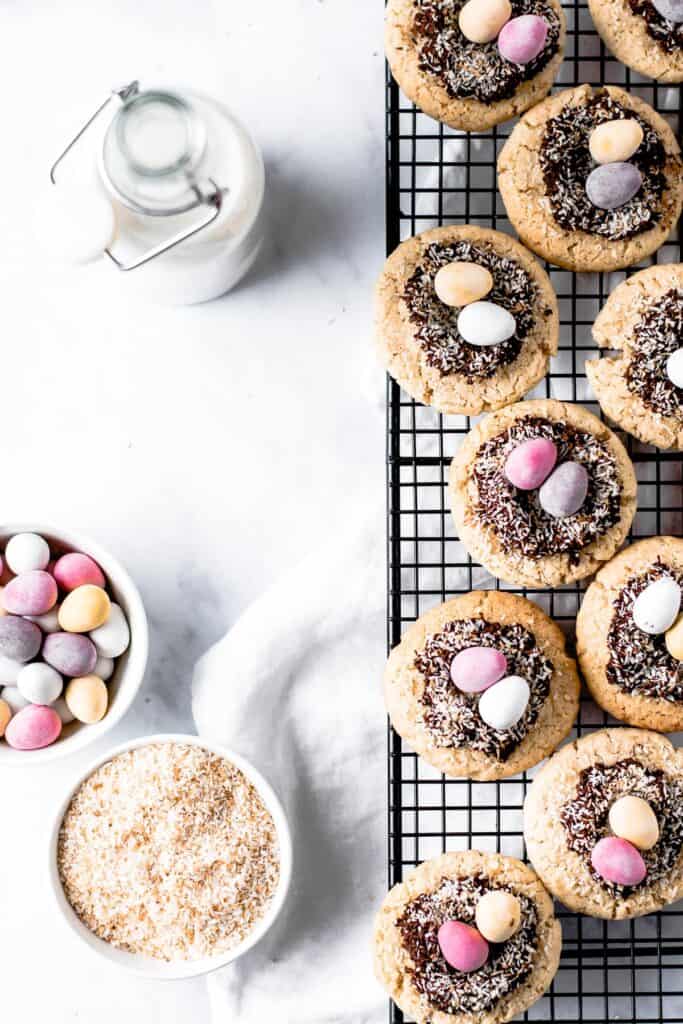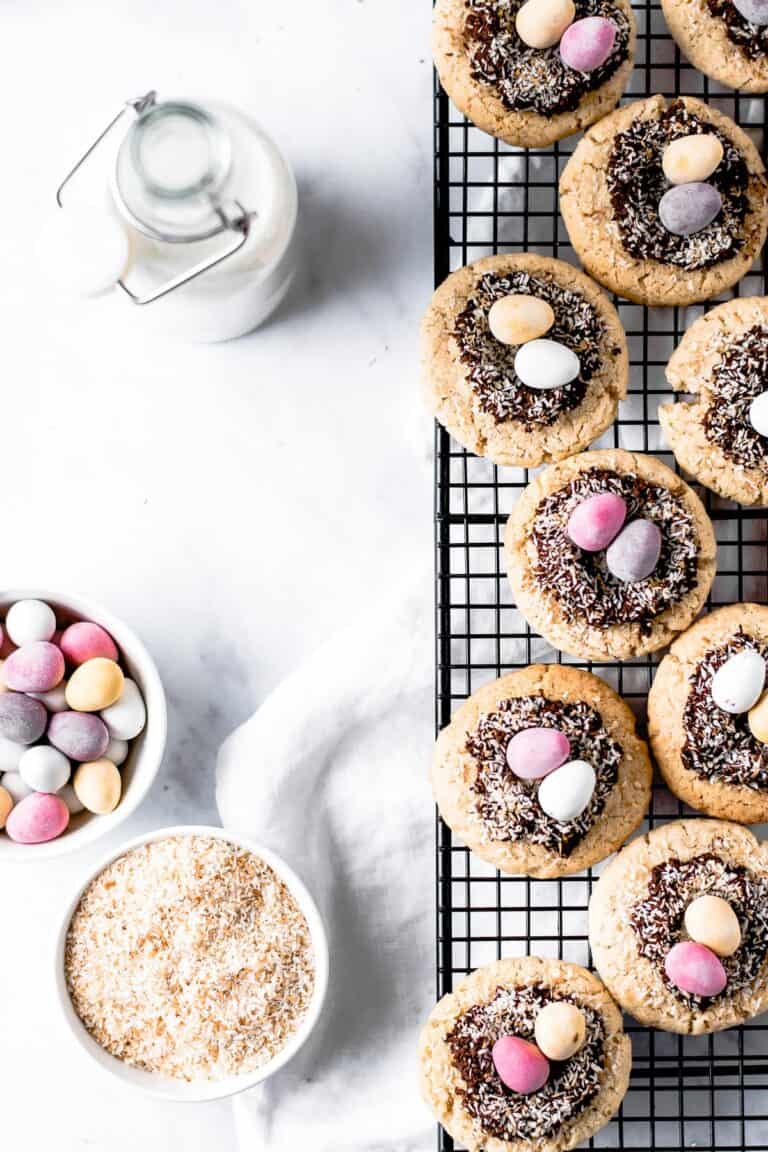 I had real fun making these. After a week of lying around and feeling like I have a flu (my doctor has put me on a special diet due to some gut health issues), I just had to get back in the kitchen at the first sign of some energy.
I had this idea for awhile and Easter is coming so... I had to hurry up a bit. These coconut cookies are perfectly sweet, slightly dense (just how I like 'em) and have just the right amount of crispy, soft and chewy!
HOW TO MAKE THESE SOFT AND CHEWY COCONUT SUGAR COOKIES
If you hadn't noticed already, I'm all for soft and chewy. Can't help it. I ate cookie dough as a child, thought it was weird - until I discovered a thing called THE INTERNET and learnt that A LOT of people likes it, too. Lol. So yeah, give me all the chewy desserts!
These are kind of like vamped soft and chewy sugar cookies. Coconut gives them that summery vibe and makes them smell (and taste) oh-so-delicious. It also contributes to that chewiness.
ONE SECRET TIP: Make sure to toast your coconut! I used fine shredded, unsweetened coconut and toasting it brought so much more flavour. So coconut-y!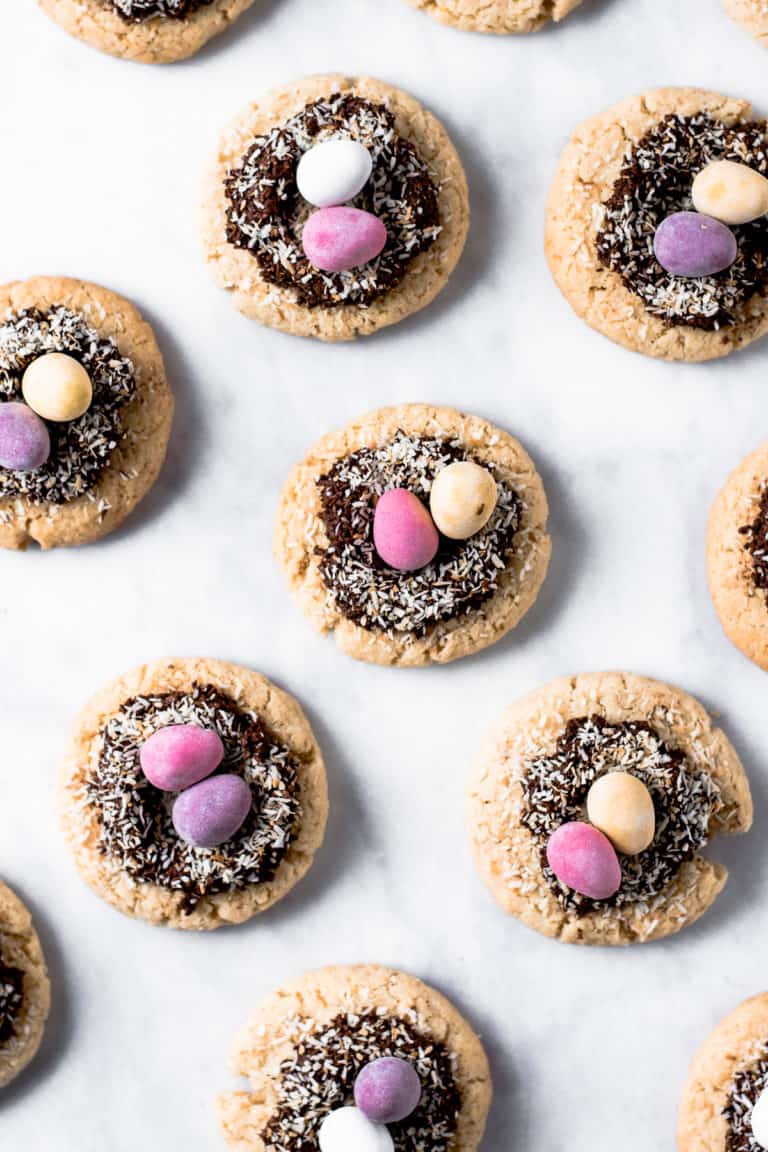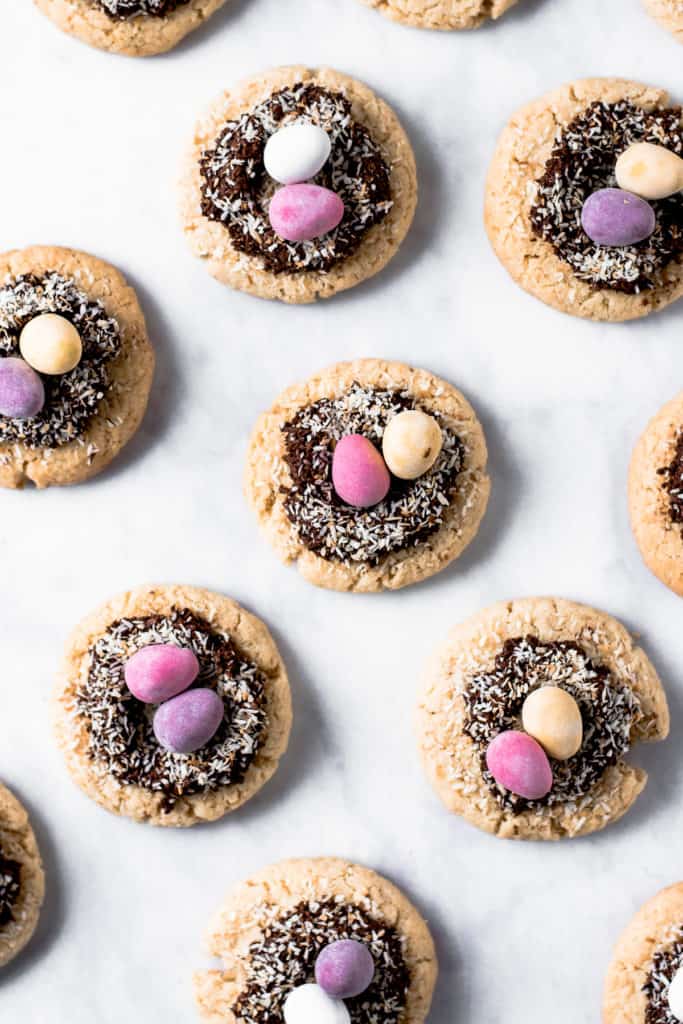 In order to get that beautiful soft and chewy texture in a cookie, it's imperative to use two types of sugar. White granulated sugar affects the crispiness and browning of a cookie. Brown sugar, with its molasses addition, adds a lot of moisture and flavour to the dough.
But there still has to be balance, too much brown sugar would kill the coconut flavour and you'd think you're eating a chocolate chip cookie. I used light brown sugar, and the amount listed in this recipe is just right!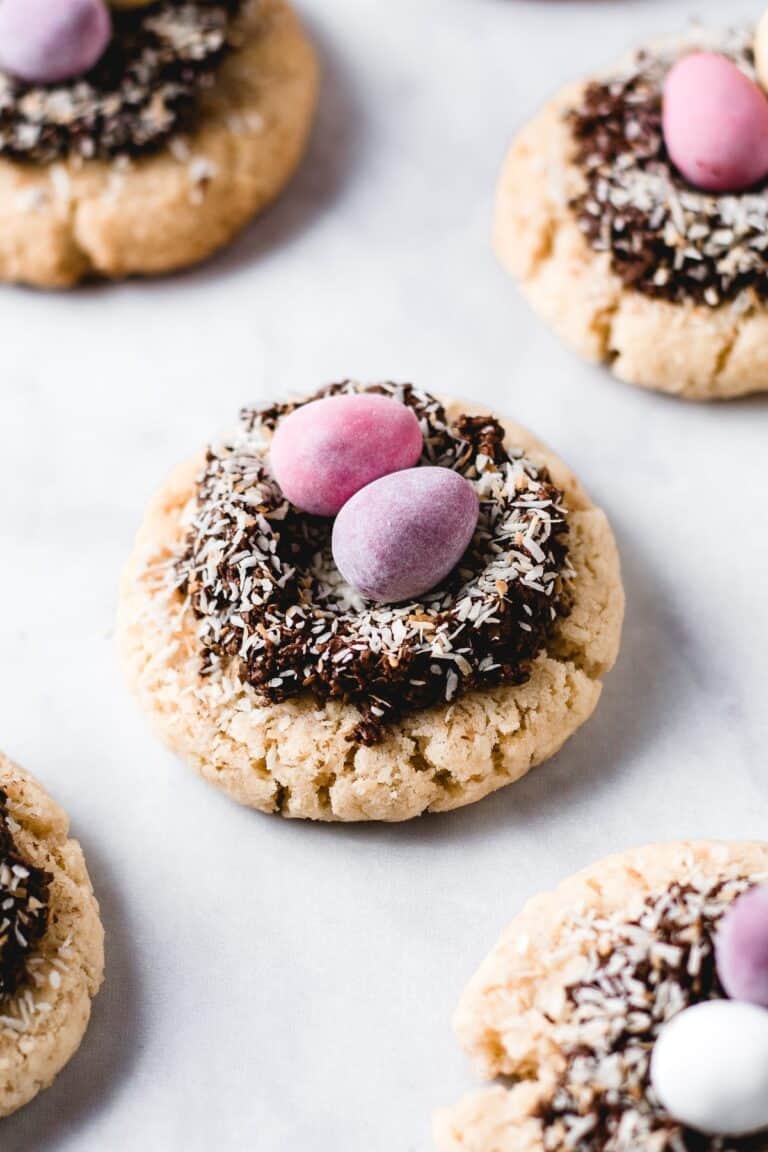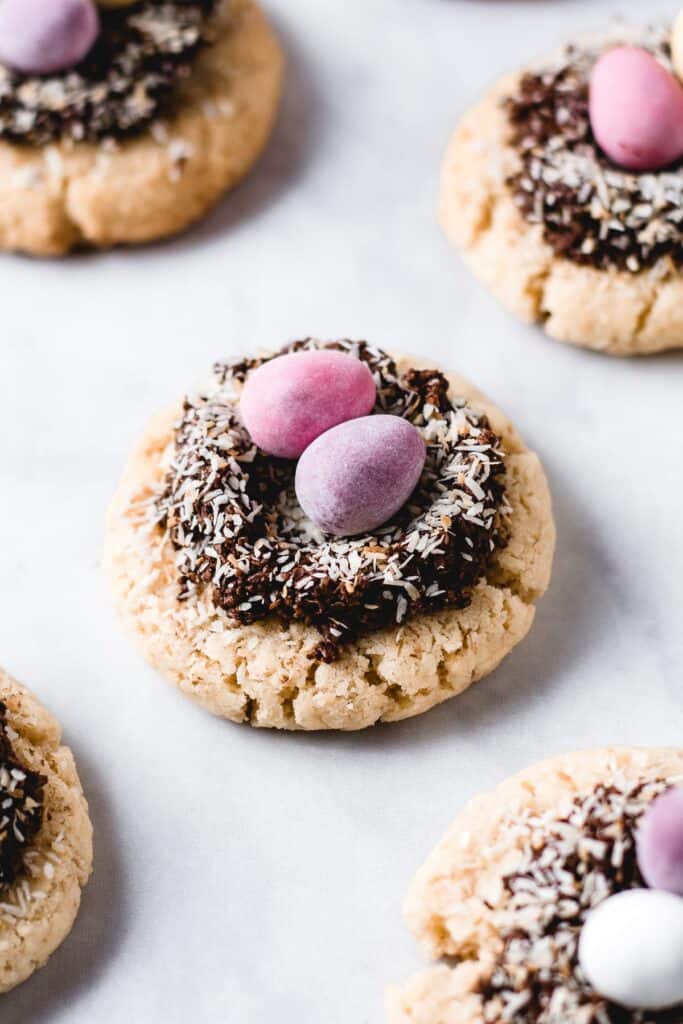 You will absolutely love these because they:
DON'T require chilling the dough (woot-woot!)
are super quick and easy
will make your house smell wonderfully delicious and summery
Have I convinced you yet? You don't even need to make these chocolate nests. They are here just for Easter, but these cookies are good for all year round! Especially snacking in front of the tv. ( I actually dreamt of doing this while binging on Outlander while I was feeling sick, lol)
ANOTHER TIP: Since these cookies require some cookie ball forming, I suggest to use latex gloves to make this process cleaner and easier! I've never used cookie scoops, although I'd love to try it sometimes. If you decide to use it and it's bigger than 30 g (1oz), make sure to extend the baking time for a couple of minutes!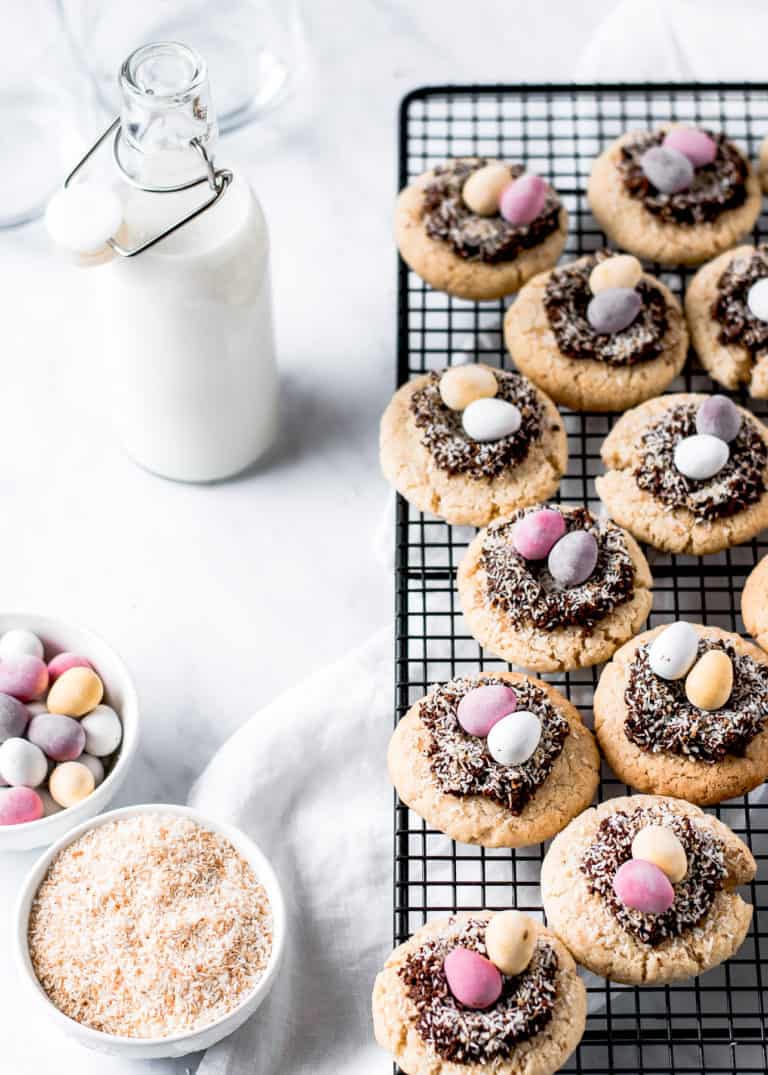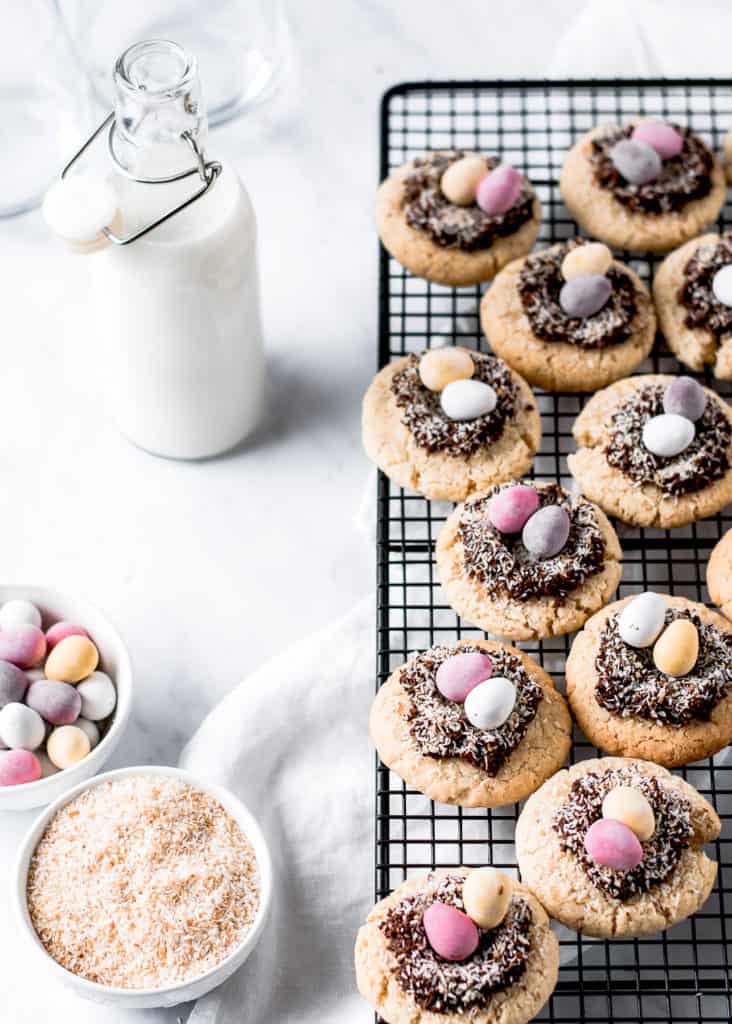 LOOKING FOR MORE COOKIE RECIPES THIS EASTER?
Brown Butter Chocolate Chip Cookies
Linzer cookies with homemade Raspberry jam
Easy Oatmeal Chocolate Chip Cookies
If you make this recipe, let me know by tagging me on Instagram @anasbakingchronicles or tell me all about it in the comments section down below! I love seeing your creations! If you have any questions, don't hesitate to ask! Happy baking! 🙂
Love,
A.
📖 Recipe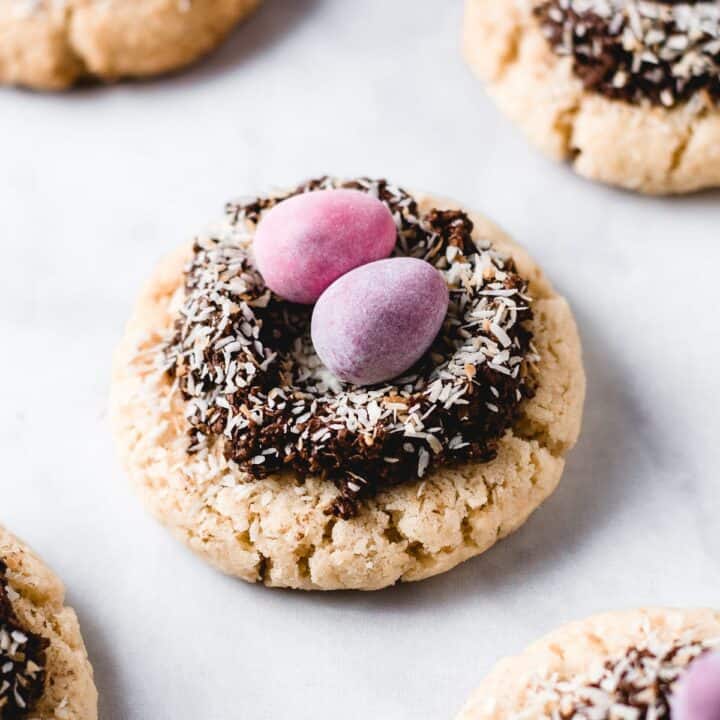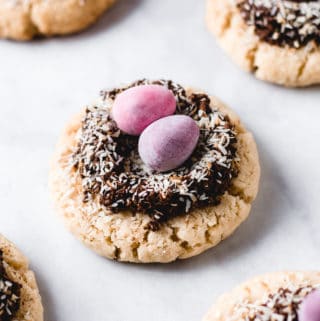 Soft Coconut Easter Nest Cookies
Description
Crispy on the outside, but soft and chewy on the inside, these coconut cookies with chocolate coconut nests are the perfect thing for Easter!
ingredients
soft coconut sugar cookies
280

g

all-purpose flour

100

g

fine shredded coconut

(toasted, unsweetened)

½

teaspoon

baking powder

¼

teaspoon

baking soda

¼

teaspoon

salt

200

g

unsalted butter

(room temperature)

115

g

white granulated sugar

85

g

light soft brown sugar

1

large

egg

(room temperature)

½

teaspoon

vanilla extract
chocolate coconut nests
150

g

dark chocolate

250

g

fine shredded coconut

(toasted and unsweetend)
Instructions
In a pan, on a medium to high heat, toast unsweetened fine shredded coconut stirring with a wooden spoon all the time so they don't burn. This will take approx. 3-4 minutes. Leave aside to cool a little bit.

Preheat your oven to 175˚C or 350˚F. Line your baking sheet with baking paper.


In a medium size bowl sift your flour, baking powder, baking soda and salt. Add toasted coconut and combine everything with a whisk. Set aside.

Using a hand mixer, or a stand mixer, beat together butter and sugars until lightly pale and fluffy, approx. 2-3 minutes. Add in egg and vanilla extract and mix until everything is combined.

Next, add your dry ingredients and mix until just combined. Use a silicone spatula to bring all together, rather than mixing until for too long. The dough will be a little sticky, that's fine.

Form 30 g balls of cookie dough, place on baking sheet leaving approx 2 inches between them so the cookies can spread. You can use latex gloves while forming the cookie balls so it's less messy.

Bake for 8 minutes. After 8 minutes, lightly press still hot cookies with a glass to flatten them a bit.

Then, using the back of a measuring teaspoon make small indents for the nests. You can leave this step out if you don't wish to make chocolate nests.

Transfer them to a cooling rack to cool completely before decorating.
chocolate coconut nests
Melt chocolate over a bain marie and mix with 200 g of coconut. Leave it to cool a little bit in the fridge. This is finicky, but you don't have to be precise. I used latex gloves and formed little balls in my hand, put them into cookie indents and pressed with my finger to make it come to the sides. Sprinkle with remaining coconut.
Notes
Use latex gloves to make forming cookie balls and chocolate nests less messy.
Keep the cookies in an airtight container to prolong their freshness and softness. 
Toasting coconut really enhances the flavour of the cookies, so please don't skip it! 🙂
IMPORTANT
All the recipes are developed and tested using only metric measurements and a kitchen scale. The U.S. cup and spoon measurements are provided for your convenience, but I highly recommend getting a digital kitchen scale and measuring in metrics. It's easy and always guarantee the same results in baking!
The nutritional information and US conversions are calculated automatically. I cannot guarantee the accuracy of this data. If this is important to you, please verify with your favourite nutrition calculator and/or unit conversion tool.
Have you tried this recipe?
Tag me on Instagram @anasbakingchronicles or use the hashtag #anasbakingchronicles - I love seeing your creations!