This Coconut Lime cake is super moist and tender, made with real coconut milk and lime juice. You can even make it dairy free if you substitute butter for coconut oil!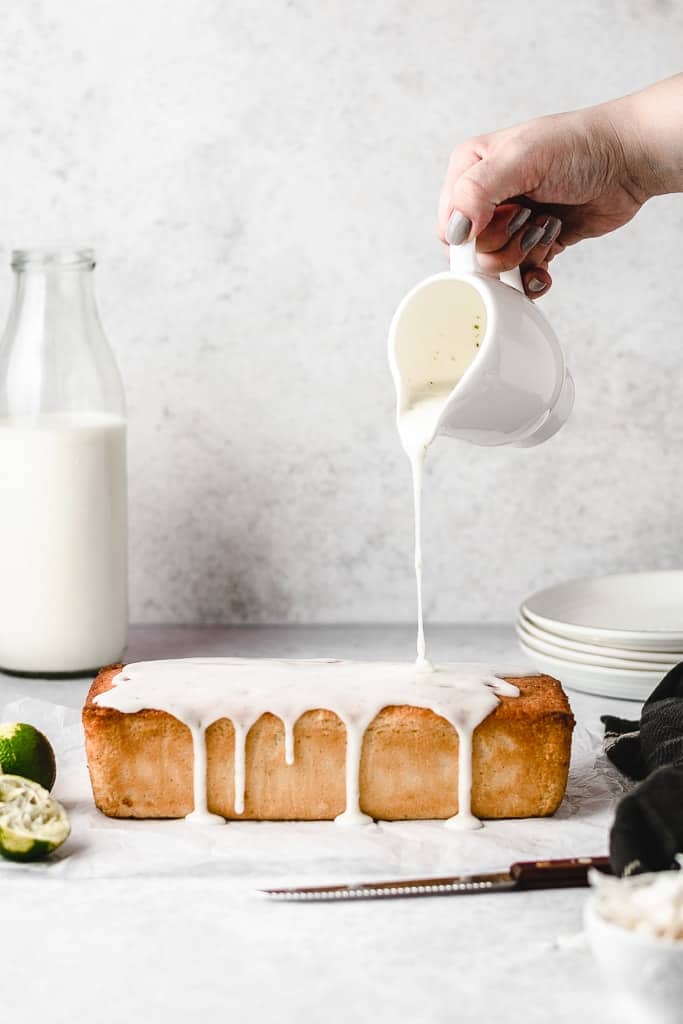 There was a #catchfoodmove challenge going on on Instagram. I knew I wanted to capture some kind of drizzle and that's how this cake came to life!
I've been thinking about these refreshing and beautiful flavours for quite some time now. I'm so glad I decided to bring them to life through a loaf cake. Layer cakes can be daunting to some and I don't want any excuse as to why not to make this cake, because it's THAT GOOD. Ya hear me?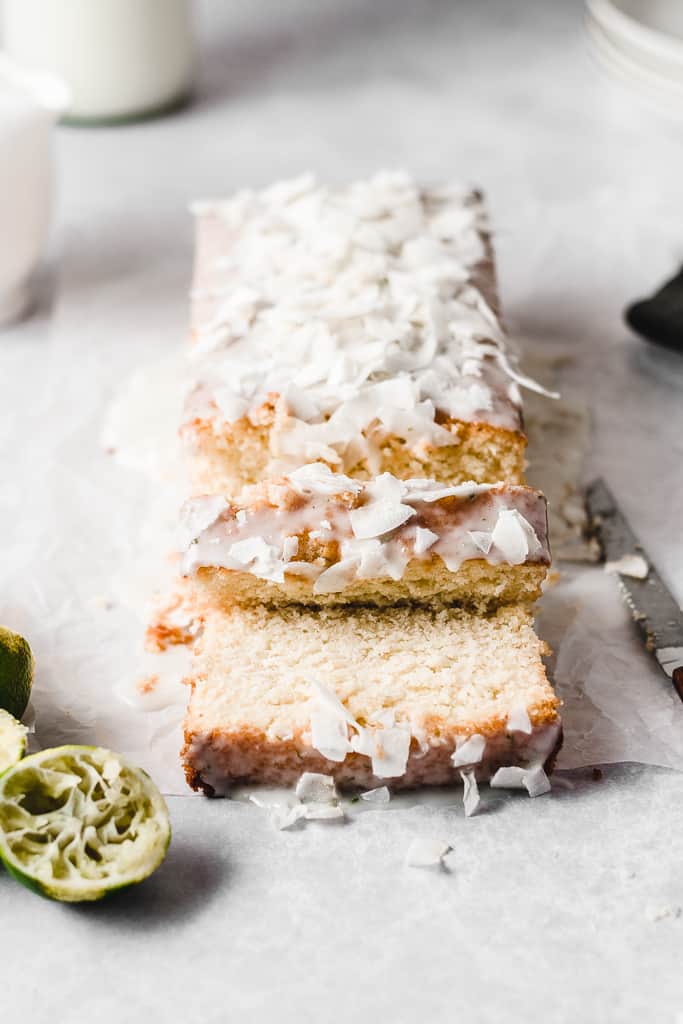 WHAT MAKES THIS CAKE SO MOIST AND FLAVOURFUL?
Well, the right ingredients of course! There are lots of recipes that claim to be xx flavour and then you found out that they just used some artificial flavouring to get it. I'm not against extracts, but some things are just better made with real flavours. Like this gorgeous coconut lime cake!
Make sure to use thick, canned coconut milk. You know, the one that's usually split when you open it. With thick cream on top and water underneath. That's perfect! I always pour it into a bowl and then combine it using a whisk. You'll need some for the glaze, too. The rest you can just return to the can and keep in the fridge for a couple of days. Maybe use it in curry? Just a hungry thought. 🙂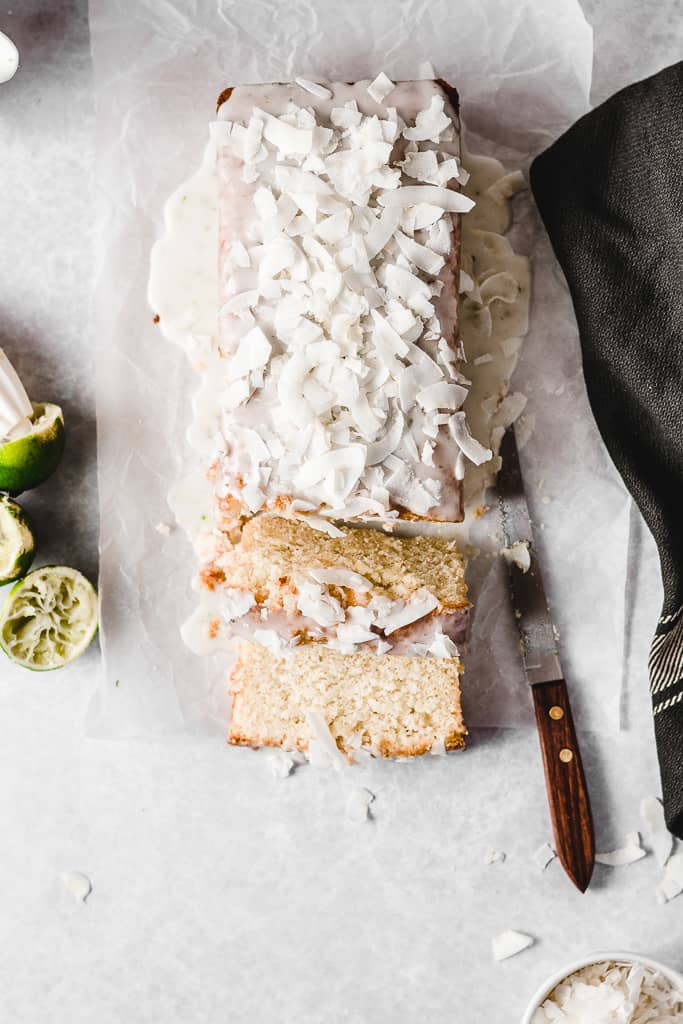 Limes. You'll need four of them. We need both the zest and the juice. Yup, this cake is packed full with all these refreshing flavours! If you want to make it more adult-y, maybe add some rum to the batter or to the glaze? That would be amazing! I'm totally writing this down as an idea. 🙂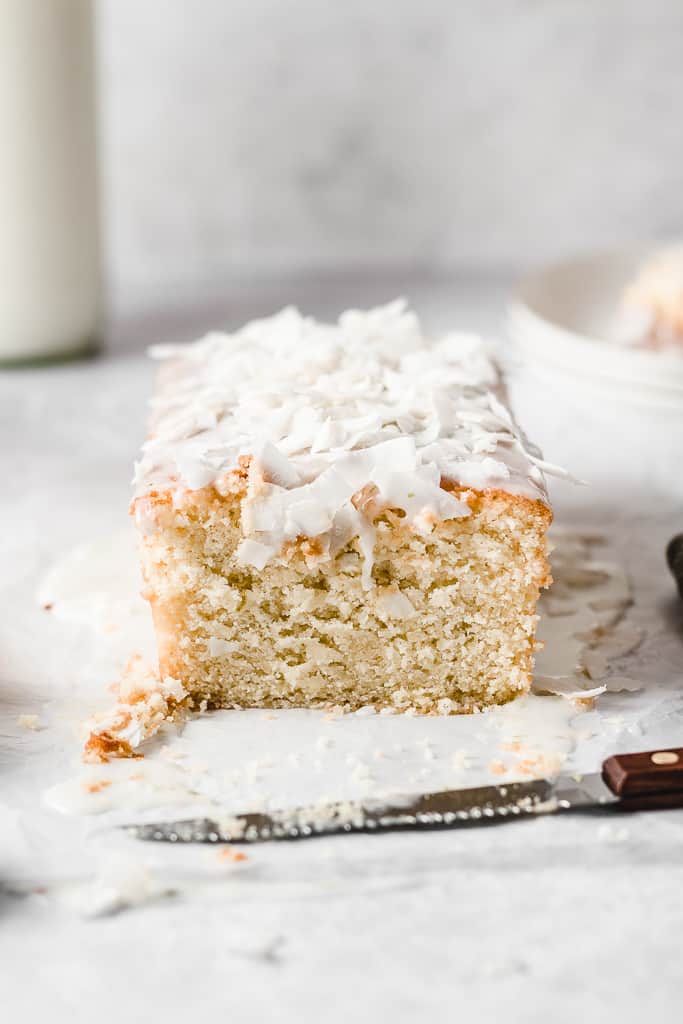 CAN I MAKE THIS COCONUT LIME CAKE DAIRY FREE?
The answer is simple - YES! I like to mix butter with coconut oil, because I'm a massive fan of butter. But you can use all coconut oil in this recipe, just make sure it's room temperature and not melted, so you can whip it with sugar.
You can even go as far and make it egg free, which almost makes it vegan, right? I suggest using aquafaba instead of eggs, like I did in my Vegan Red Velvet Cupcakes recipe. Three large eggs weigh approx. 180 grams, so I recommend using the same amount of aquafaba. If you still didn't get a kitchen scale - it's time! 🙂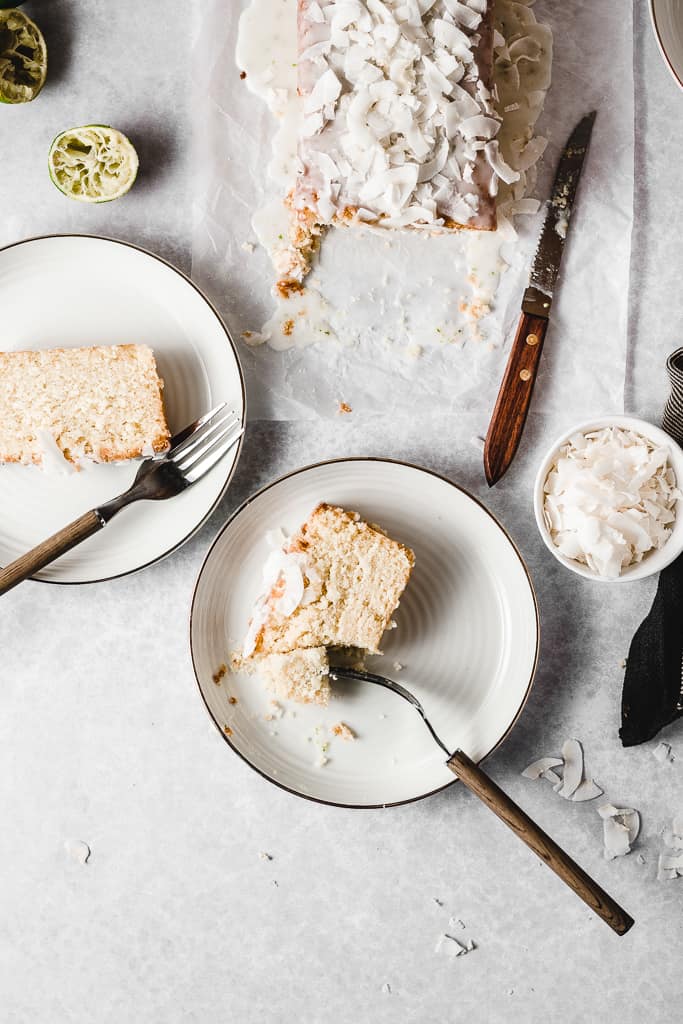 LOOKING FOR MORE EASY HOMEMADE RECIPES? THEN CHECK OUT SOME OF MY FAVOURITES...
Soft Coconut Sugar Cookies
Lemon & Poppyseed Cake with Blueberry glaze
Brown Butter Chocolate Chip Cookies
Rocky Road Baked Donuts

If you make this gorgeous coconut lime cake, let me know by tagging me on Instagram @anasbakingchronicles or tell me all about it in the comments section down below. I love seeing your creations! If you have any questions, don't hesitate to ask. Happy baking!
Love,
Ana
📖 Recipe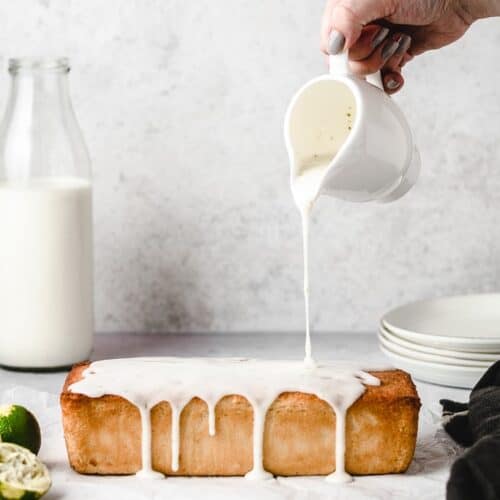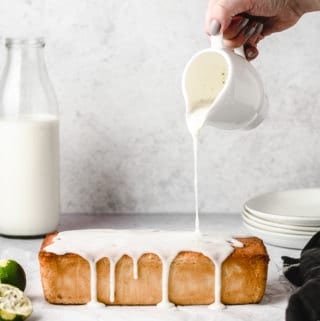 Coconut & Lime Cake
Description
This Coconut Lime cake is super moist and tender, made with real coconut milk and lime juice. You can even make it dairy free if you substitute butter for coconut oil!
ingredients
3

large

eggs

(room temperature)

210

g

all-purpose flour

60

g

shredded/dessicated coconut

(unsweetened)

225

g

caster sugar

2

teaspoons

baking powder

½

teaspoon

salt

100

g

unsalted butter

(room temperature)

50

g

coconut oil

(room temp, spreadable)

150

g

coconut milk

(canned, thick)

75

g

lime juice

(approx. 4 limes)

zest of three limes
for the coconut lime glaze
150

g

powdered sugar

(sifted)

lime zest

1-3

tablespoons

coconut milk/cream

coconut flakes

(optional)
Instructions
Preheat your fan oven to 160°C (325°F) or 175°C (350°F) if you're not using a fan oven. Grease and line with parchment paper (for easier removing) a loaf tin. Mine was approx. 26x12cm, which is approx 10×5 inches. If you have a smaller one, you will have some leftover batter which you can bake as cupcakes.

 In a medium bowl sift together flour, baking powder and salt. Add dessicated coconut. Set aside. In a measuring jug combine coconut milk and lime juice. These are your wet ingredients.

In a bowl of a stand mixer fitted with a paddle attachment, cream the butter, coconut oil, lime zest and sugar on a medium-high speed until paler in colour. (approx. 3 min) Stop the mixer and scrape down the bowl.Turn the mixer to medium-low speed and add eggs one at a time – making sure it's fully incorporated after each addition. Stop the mixer and scrape down the bowl.

Add your dry and wet ingredients, alternating between one another, starting and finishing with dry ones. (3 additions of dry and 2 of wet ingredients)

Fill your prepared loaf tin with cake batter about ¾ of the way full to leave some space for rising.

Bake in a preheated oven for 45 to 50 minutes or until skewer inserted in the middle comes out with few moist crumbs.

Once the cake is done, leave it to cool in the tin, on a wire rack, for about 15 minutes. 

After it has cooled a little bit, transfer it to a cooling rack to cool completely before you pour on the glaze. 
for the glaze
Sift your powdered sugar into a medium sized bowl. Add the rest of the ingredients and combine using a small whisk. If you feel like the glaze is too hard, add some more milk. If you feel like it's too runny, add some more sugar.
assembly
Pour freshly made glaze over a cold cake. Top with coconut flakes, cut yourself a slice and enjoy! 
Notes
If you don't have a stand mixer, you can use a hand mixer.
Not all ovens are the same. I suggest to check the cake at 35 min mark and then adjust the baking time accordingly. Get to know your oven!
If you still don't own one, I advise you to buy a kitchen scale – they're cheap and easy to use, and always guarantee the same results in baking!
Cake is best eaten at room temperature. You can keep it in a fridge, wrapped in cling film, but take it out of it at least half an hour before serving.
IMPORTANT
All the recipes are developed and tested using only metric measurements and a kitchen scale. The U.S. cup and spoon measurements are provided for your convenience, but I highly recommend getting a digital kitchen scale and measuring in metrics. It's easy and always guarantee the same results in baking!
Nutrition
Nutrition Facts
Coconut & Lime Cake
Amount per Serving
% Daily Value*
* Percent Daily Values are based on a 2000 calorie diet.
The nutritional information and US conversions are calculated automatically. I cannot guarantee the accuracy of this data. If this is important to you, please verify with your favourite nutrition calculator and/or unit conversion tool.
Have you tried this recipe?
Tag me on Instagram @anasbakingchronicles or use the hashtag #anasbakingchronicles - I love seeing your creations!