I bring you quick and easy recipe for homemade chocolate ice cream - using only 4 ingredients! PERFECT for satisfying your sugar cravings during the summer!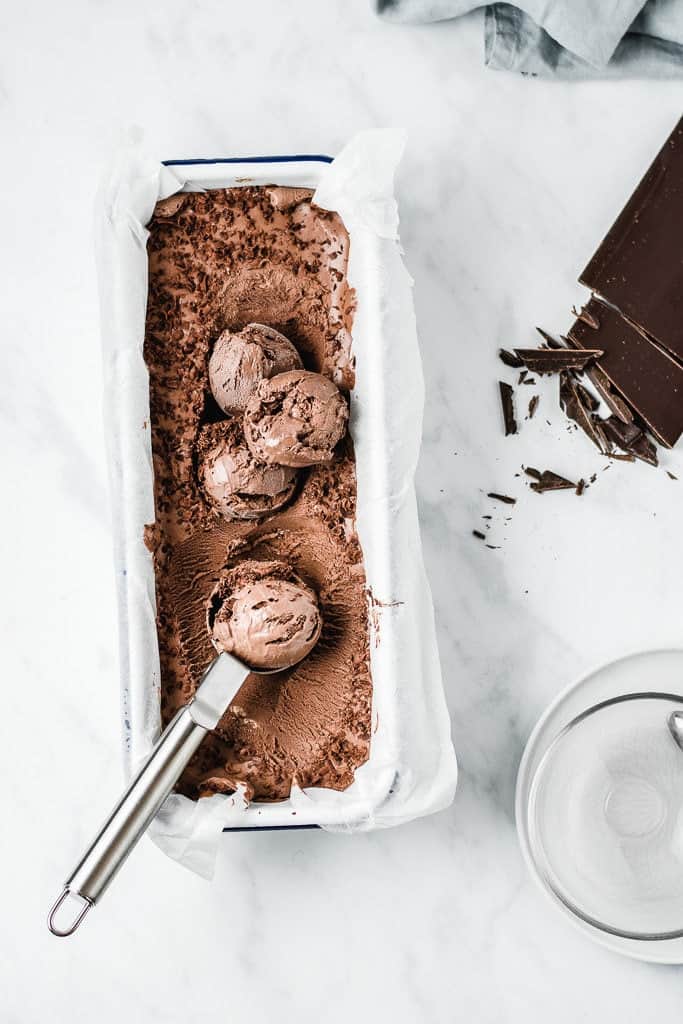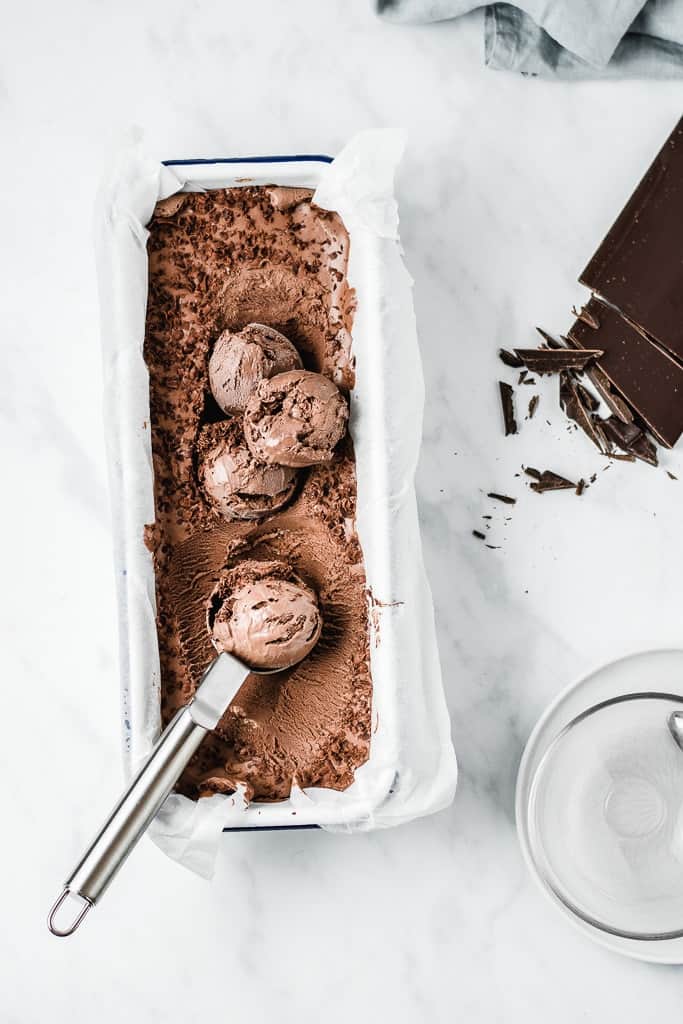 Unfortunately, the summer is still very much ON. And I say this, because I'm really sick of these heat waves, headaches, sweating... should I go on? Yes, clearly, you get to swim and have that amazing salty messy hair, but that would be awesome if it lasted like 3-4 weeks, instead of 3-4 months. Don't you now hate on me, I'm a fall girl all the way. Perfect weather, beautiful and cozy clothes and all the gorgeous baking (welcome apples, pumpkin, warm spices, caramel, gah!) - I can't wait for it!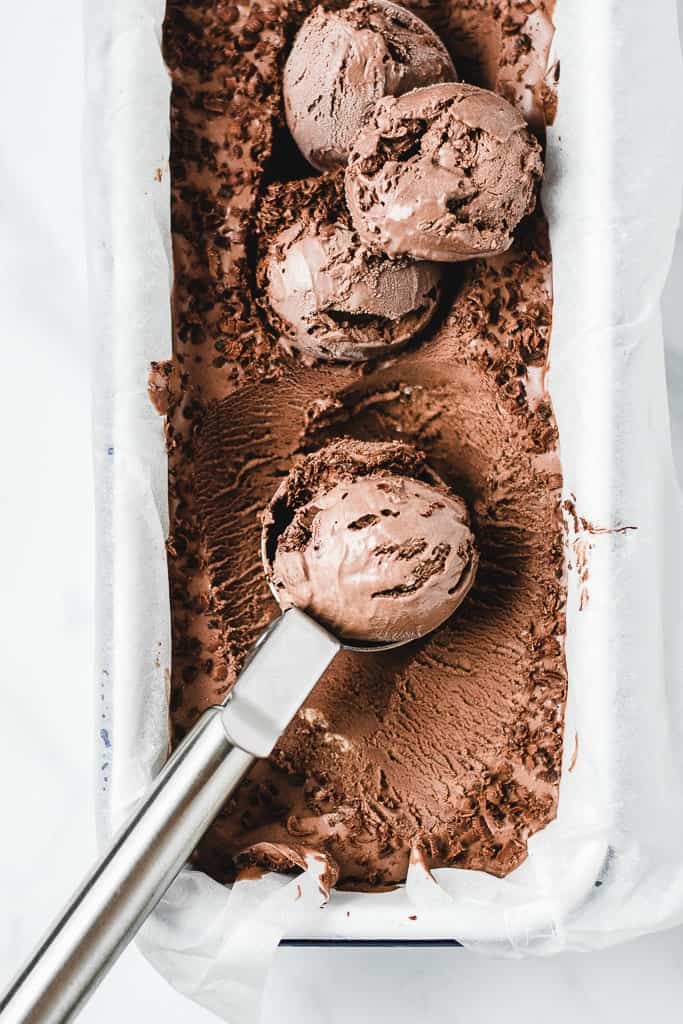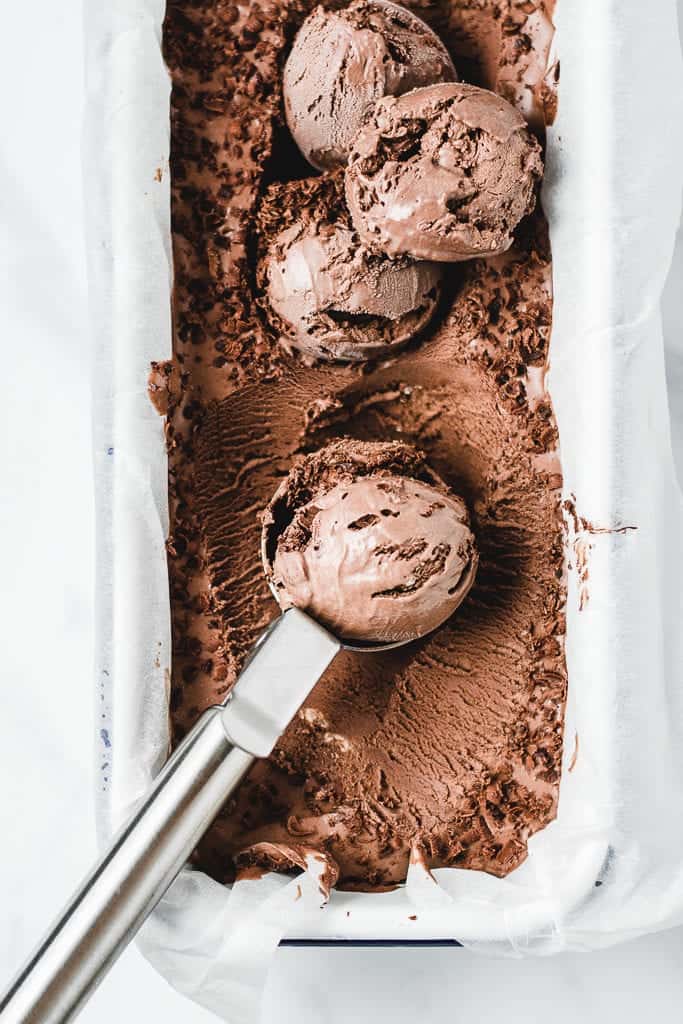 But in the mean time, we do need to survive another month of summer. And with that in mind, I bring you delicious, easy, homemade chocolate ice cream recipe! I was intrigued by the no churn ice cream ever since I saw Jenna's recipe on her blog Butternut Bakery. After feasting my eyes on her images, I finally caved in and decided to make some myself. I did a lot of googling and realized that you only need two ingredients to make ice cream, plus flavouring. Really? Yup, I kid you not.
WHAT INGREDIENTS DO YOU NEED FOR THIS CHOCOLATE ICE CREAM?
Although that churro ice cream sounds amazing, (I mean, churros and cinnamon, hello?), I wanted to go down a more classical route since this was my first time making an ice cream. Hence, the double chocolate ice cream was born.
Why am I calling it a double chocolate? That's because I used both melted chocolate and dutch-processed cocoa powder. Kaboom! Delicious. Dutch-processed cocoa powder gives more deep, chocolatey flavour than natural cocoa powder. If you want to know more about cocoa powder, then check out my Chocolate Oreo Cake. (Let's not comment on the images, I'm planning a reshoot soon!)
Okay, so these are the four ingredients you need:
1. Heavy cream (with at least 36% fat)
2. Condensed milk
3. Melted dark chocolate
4. Dutch-processed cocoa powder
Optional: vanilla extract and pinch of salt!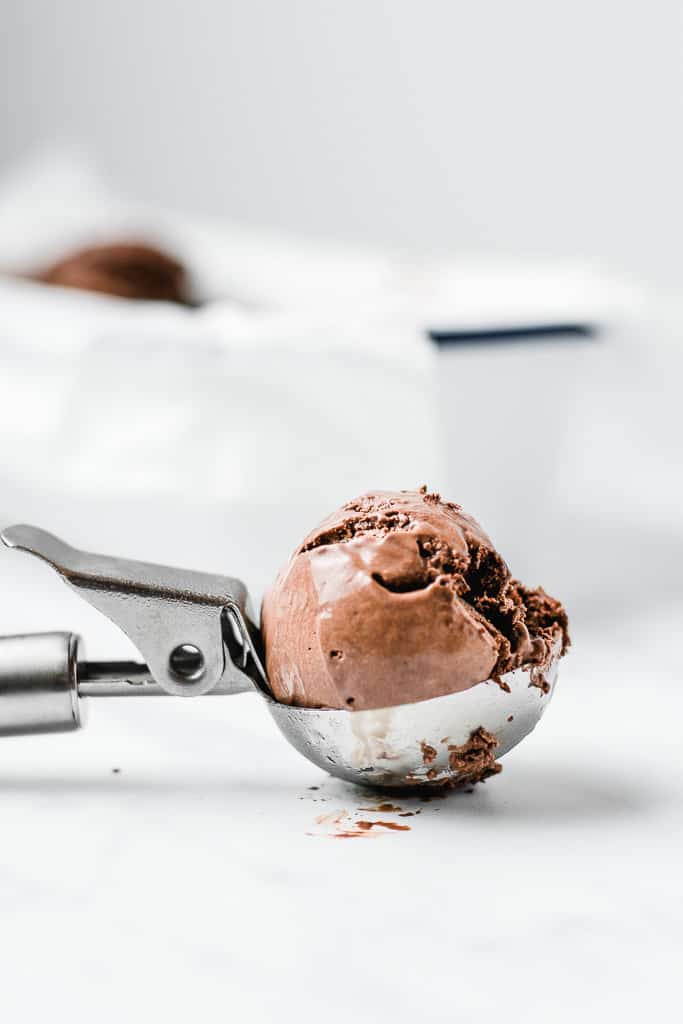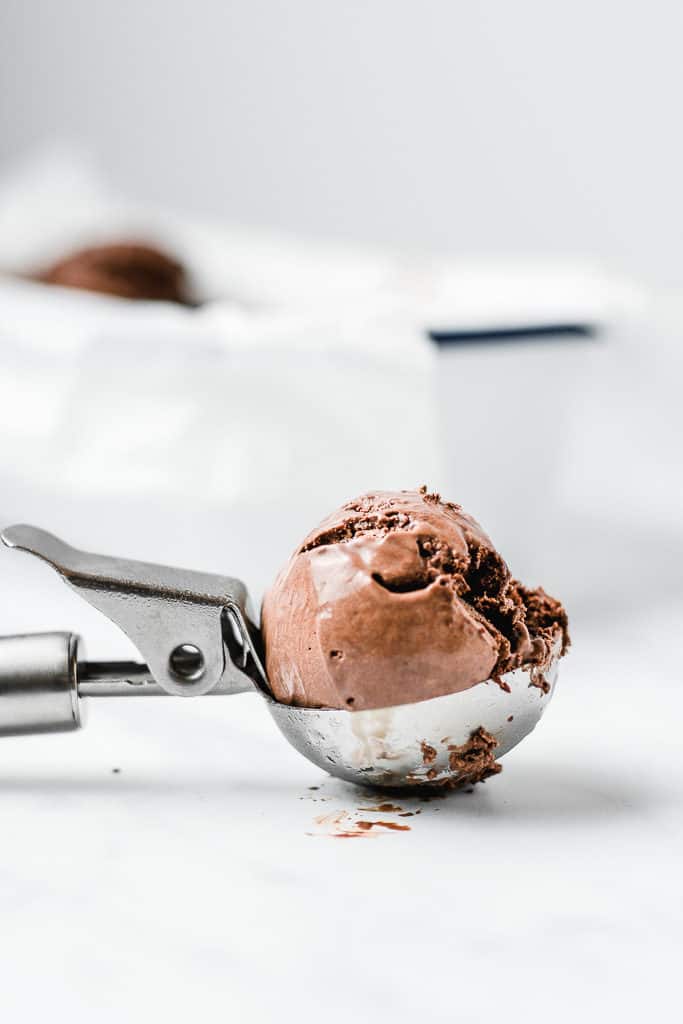 HOW TO MAKE THIS DELICIOUS ICE TREAT?
Using the ingredients I just told you, you're going to make an incredibly creamy ice cream, with an intense chocolate flavour - almost mousse like. Now, this is definitely not a beautiful, Italian style, classic - egg yolk ice cream. But it's a damn good delicious replacement, trust me!
All you need to do is beat some very cold heavy cream into a snow white fluffiness, add to it melted but cooled chocolate and cocoa powder (for an extra kick) and lastly... fold in your condensed milk which acts as a sweetener. Chill it in the freezer and 4-6 hours later, you'll have homemade ice cream. It's that simple!
Tip for my Croatian readers: you can buy real condensed milk in Harissa. Do not use things like "unsweetened condensed milk", because that's just evaporated milk, it's not thick enough and will not work in this recipe.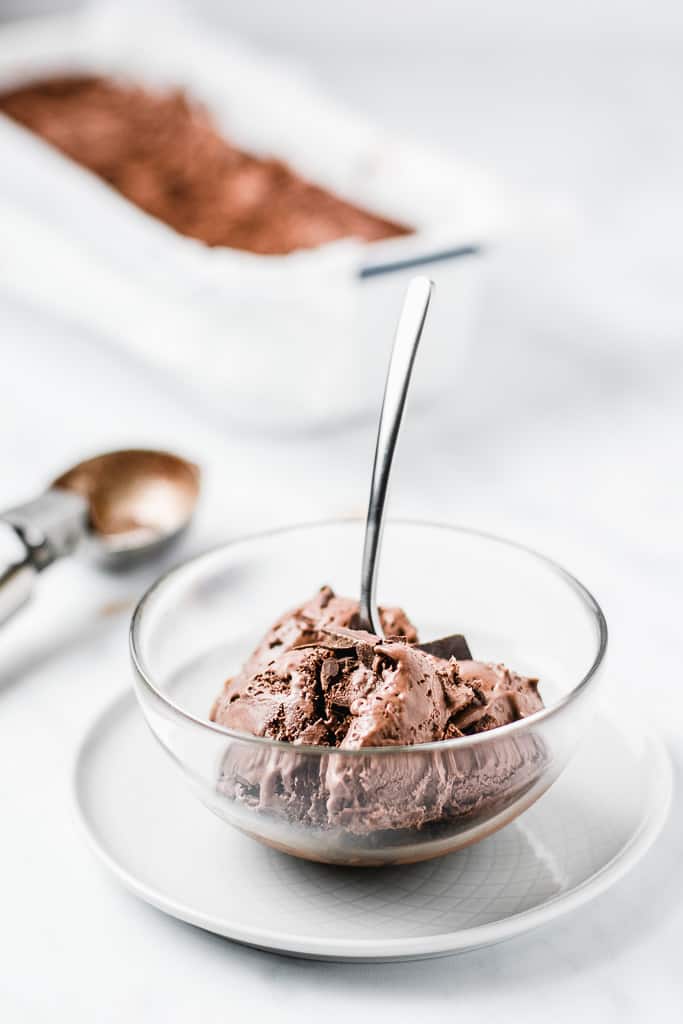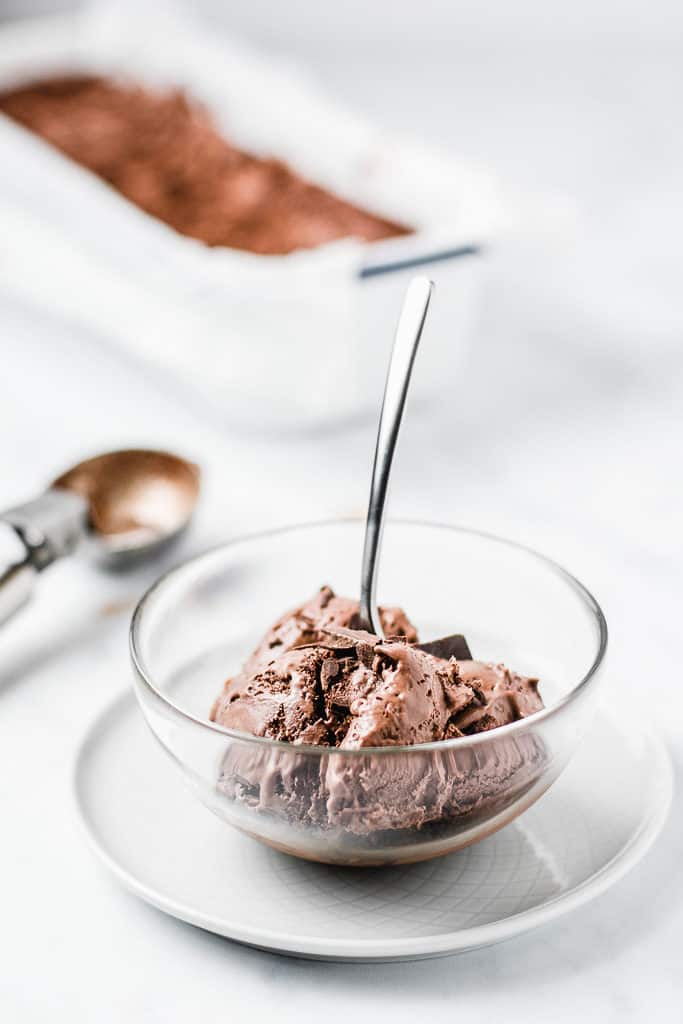 LOOKING FOR MORE EASY AND DELICIOUS RECIPES?
Soft Coconut Sugar Cookies
Brown Butter Chocolate Chip Cookies
Fluffy doughnuts with orange vanilla pastry cream
Earl Grey Chocolate Cupcakes
If you make this recipe let me know by tagging me on Instagram @anasbakingchronicles or tell me all about it in the comments section down below! I love seeing your creations! If you have any questions, don't hesitate to ask! Happy baking!
Love,

📖 Recipe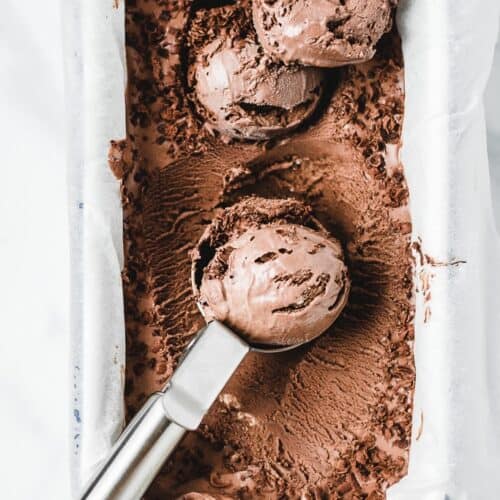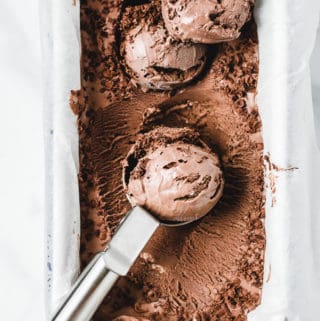 no churn chocolate ice cream
Description
Quick and easy recipe for homemade chocolate ice cream. Perfect for your sugar cravings during summer!
ingredients
500

ml

heavy cream

(very cold)

1

can (397 g)

condensed milk

150

g

dark chocolate

(melted and cooled)

30

g

dutch processed cocoa powder

(sifted)

1

teaspoon

vanilla extract

(optional)
Instructions
Chop dark chocolate finely, put it in a heatproof bowl and melt over a bain marie ( a pot of simmering water) stirring occasionally or in a microwave. (If using microwave make sure you heat it in 30 sec bursts, so it doesn't burn). Let it come to room temperature.

Measure and sift cocoa powder to get rid of lumps. In a medium-large bowl put very cold heavy cream and beat it using a stand or a hand mixer. You want something between soft and stiff peaks. (Not too soft, that it doesn't keep its shape and not to stiff like it's buttery almost). Add cooled melted chocolate and cocoa powder and mix just until everything is combined, you don't want to lose all that air you just beat into it.

Next, fold in condensed milk using a silicone spatula. Pour the ice cream mixture into a loaf pan or a any kind of pan you have, that is large enough. Mine was around 26x13cm (10x5 inch), but 9x5 inch will also do. For easier cleaning you can line the pan with parchment paper. Decorate the top with chocolate shavings.

Put the ice cream in the freezer for at least 4h hours. After that, dunk your ice cream scoop in some warm water and scoop away! Enjoy! 🙂
IMPORTANT
All the recipes are developed and tested using only metric measurements and a kitchen scale. The U.S. cup and spoon measurements are provided for your convenience, but I highly recommend getting a digital kitchen scale and measuring in metrics. It's easy and always guarantee the same results in baking!
The nutritional information and US conversions are calculated automatically. I cannot guarantee the accuracy of this data. If this is important to you, please verify with your favourite nutrition calculator and/or unit conversion tool.
Have you tried this recipe?
Tag me on Instagram @anasbakingchronicles or use the hashtag #anasbakingchronicles - I love seeing your creations!