Enjoy the spookiest night of the year with the fluffiest cake! This Chocolate Oreo Cake is every chocoholic's dream. Three layers of perfect fluffy chocolate cake paired with delicious Oreo Buttercream – you'll LOVE it!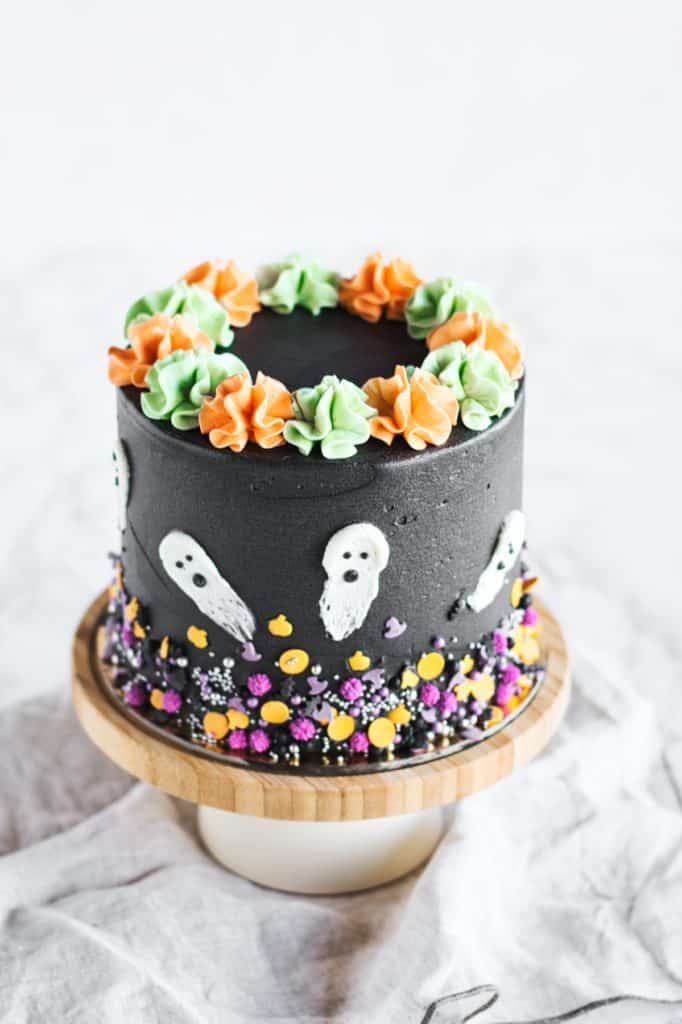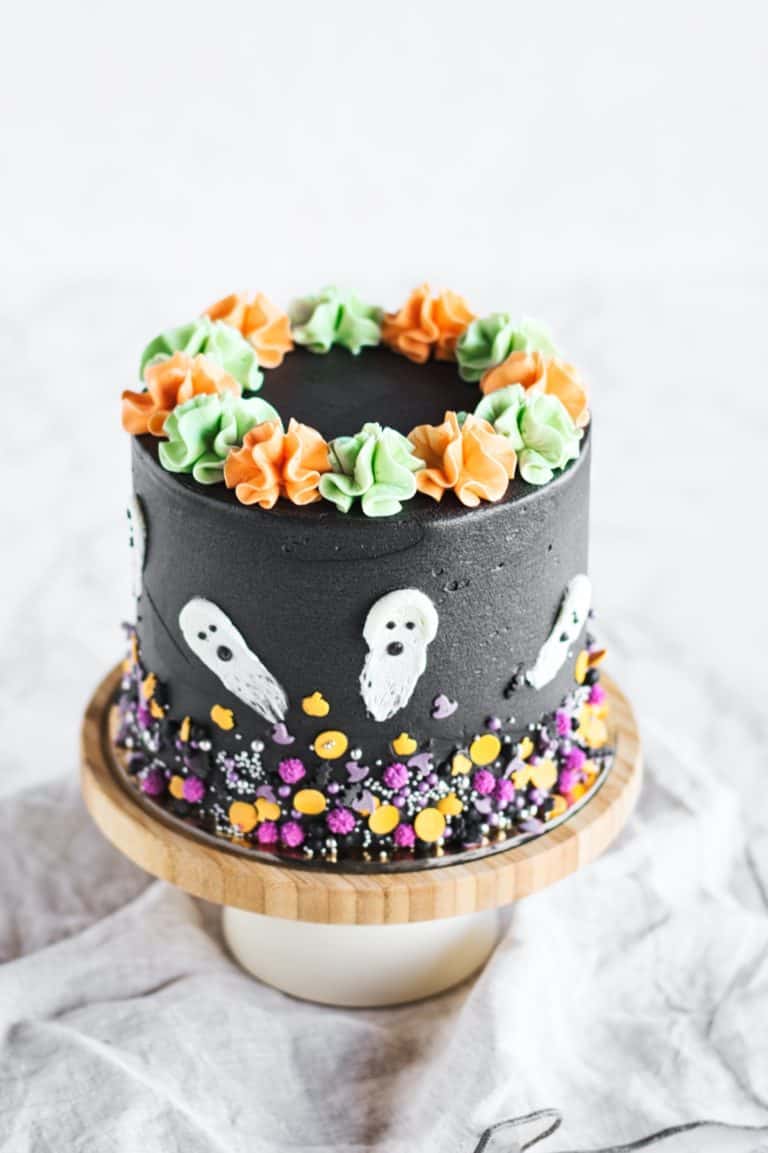 Halloween is just around the corner! Are you excited? Seeing that not everybody likes pumpkin flavour, I decided to make a Chocolate Oreo Cake because – who doesn't like Oreos? I mean, c'mon.
chocolate cake recipe
Aaaand, I really wanted to get to the bottom of chocolate cakes. Now, I tried a lot of recipes, some were from my fellow blogger friends, as well. And, I can't say that any of them was bad. Really, I can't.
Some actually had a really nice texture, fluffiness (is that a word?) and they were really moist. Most of the people found them very tasty.
But there was just this thing that bothered me and that is –  the AFTERTASTE. I was pretty sure that I don't really like chocolate cakes, except my Cherry Chocolate Cake - which is more fudgy and brownie-like. And who doesn't like brownies, right? I know I am. 😉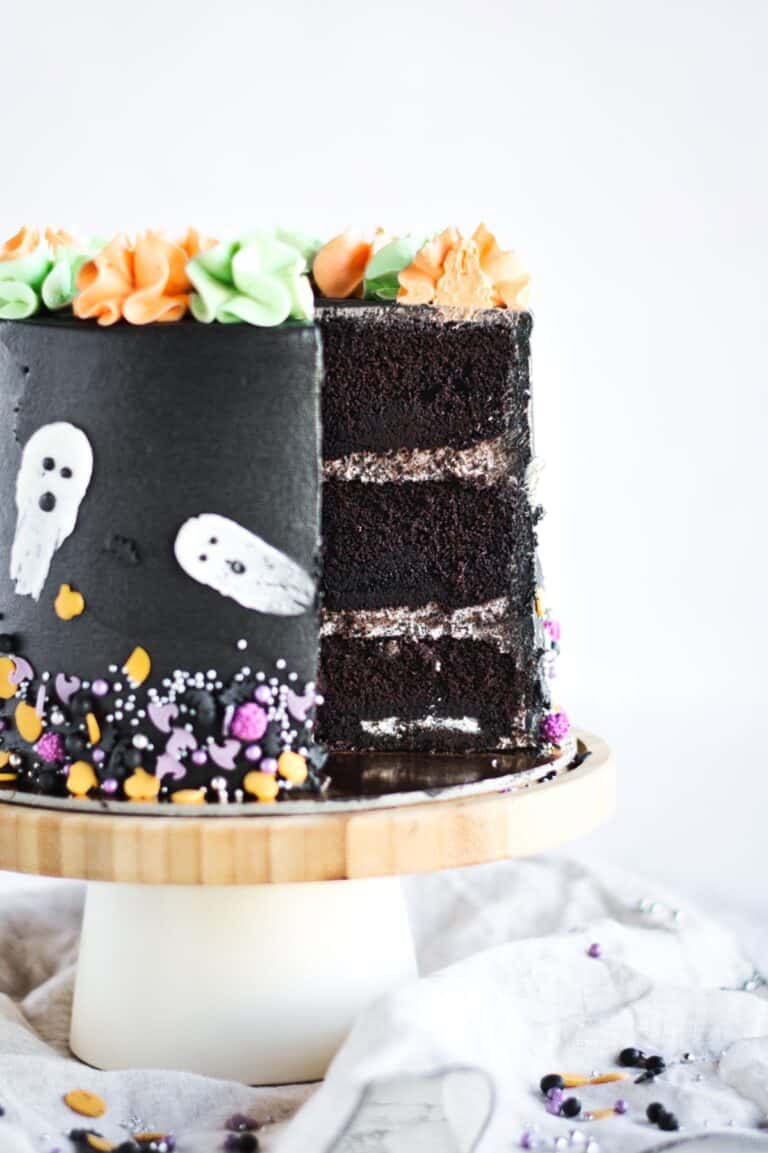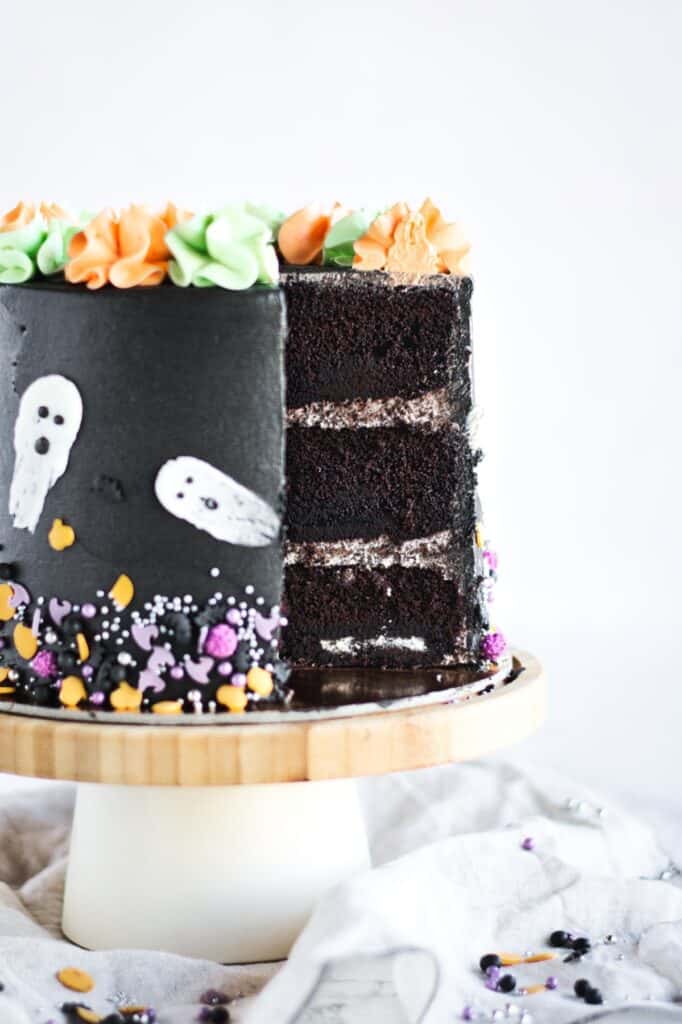 Back to chocolate cake recipes, ahemm.
Every one of the cakes had the same aftertaste. Hm… metallic? Soapy? I can't even describe it, but it was a bad one.
I wondered if there was something wrong with my ingredients, since I'm from Croatia (Europe) and most of the recipes I tried came from people living in the United States or Canada. But everything seemed spot on. So what was the problem?
And then one day, while I was analyzing the recipes, it hit me… every one of these recipes had an enormous amount of baking soda in them. That's exactly what they tasted like.
That's the reason why those cakes had a bad aftertaste. It seemed like there's just something not quite right with them. Or maybe I'm just too sensitive? I don't know. What I do know is – I don't like to taste baking soda in my desserts.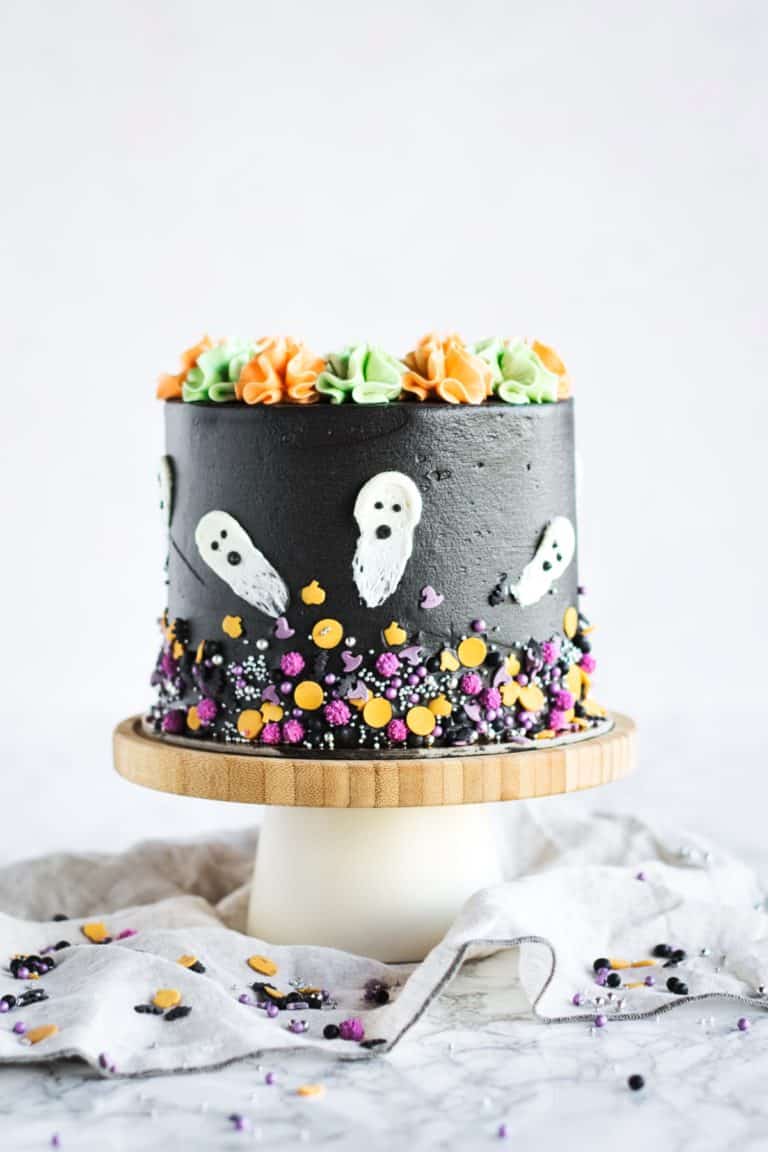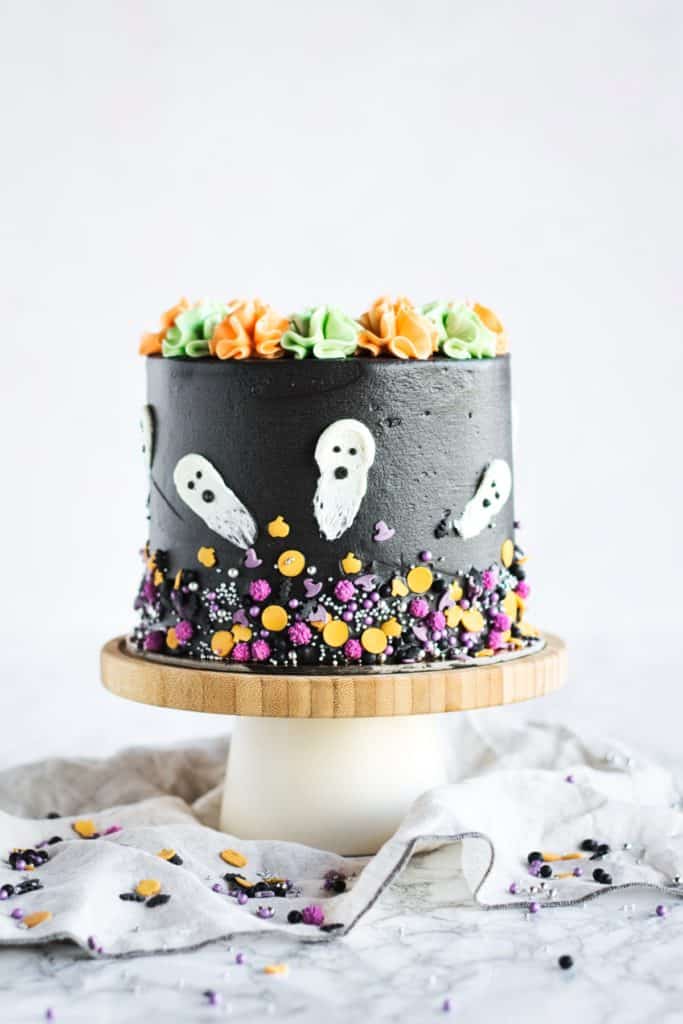 I've discovered and learnt a lot while reading about leavening agents and their effect in baking. I won't smother you with information YET (I'm planning on doing a Baking Basics separate post), but I will share some basic conclusions. Bear with me. Explore your inner nerdiness!
Baking Powder vs. Baking Soda
This is something that gets discussed A LOT in the baking world. There are often questions like:
1. Can I substitute baking soda for baking powder?
2. Aren't they the same thing? (No, they are not)
3. What's the difference between them?
4. Why some bakers use both in a recipe?
Etc.
First of all, both baking soda and baking powder are chemical leavening agents. In addition, they are used to lift baked goods such as cakes, cookies etc. To simplify it, they make things fluffy and airy, instead of dense and heavy.
Baking soda NEEDS some kind of an acidic ingredient (natural cocoa powder, lemon juice, vinegar, buttermilk...) to make carbon dioxide and thus, make your cake rise. Baking powder represents a combination of baking soda and some kind of dry acidic element (most likely cream of tartar). It's also often double-acting, unlike baking soda. But, more on that some other time soon.
For the time being, it's important that you understand that they are definitely NOT THE SAME THING. And you can't substitute one for another just like that. Personally, I prefer using baking powder in cakes because... Someone already came up with the perfect ratio of alkaline and acidic ingredients to produce carbon dioxide. Why the heck should I mess with that? Lol.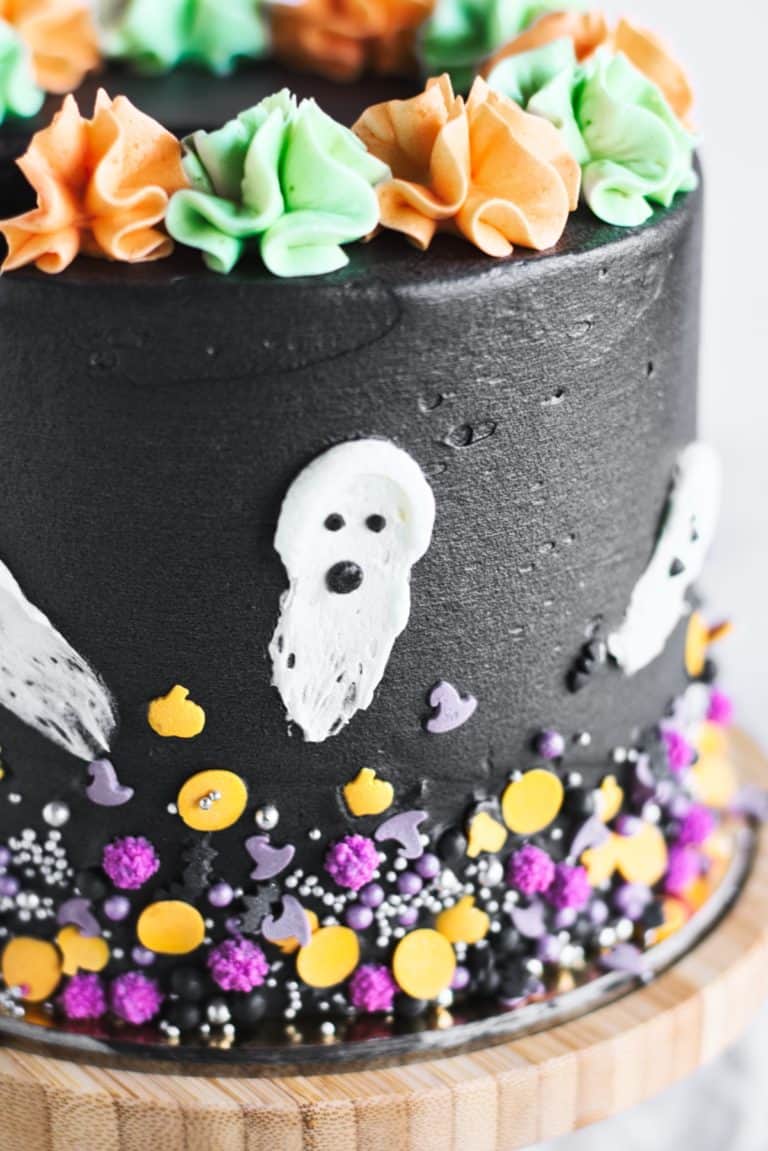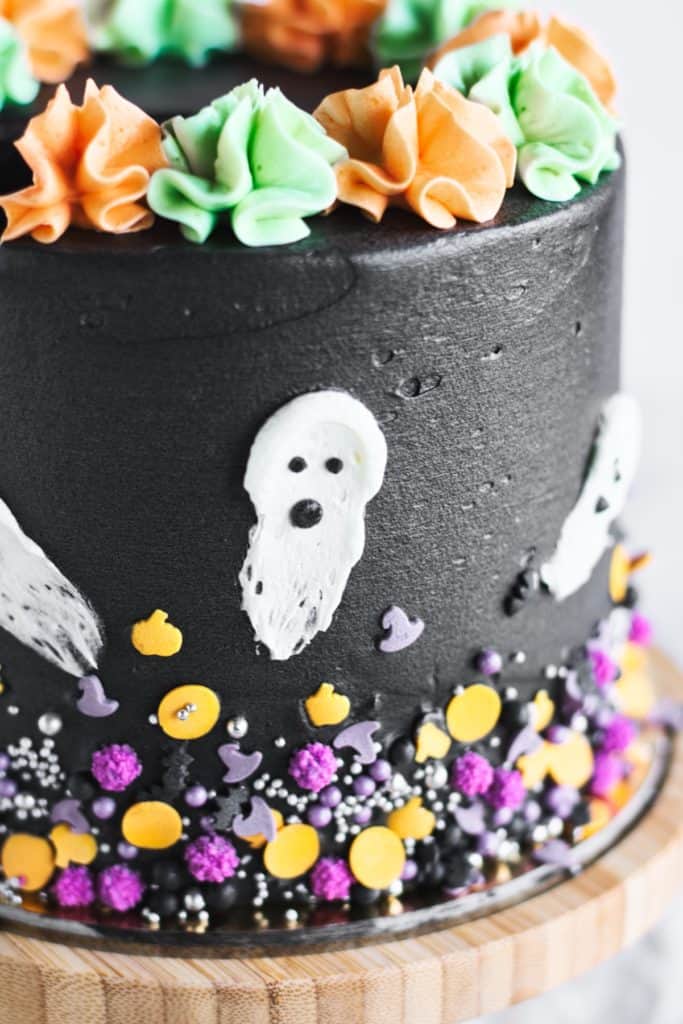 What about cocoa powder?
That's a whole 'nother topic, which I'm excited to talk about when the time comes, I just need to test some things to have all the necessary information for YOU. 🙂
But for now, you need to know that there are two types of unsweetened cocoa powder: Natural and Dutch-processed cocoa powder.
The latter is alkalized, which means it's not acidic. Furthermore, it's darker in colour and you'll often find that it's "fat-reduced". From personal experience, this kind of cocoa powder has a much more intense chocolate flavour.
On the other hand, natural cocoa powder is usually used with baking soda, it's lighter in colour, and it was actually his reaction with baking soda and white vinegar that produced reddish colour in a Red Velvet Cake - hence the name. 😉
You can use natural cocoa powder in a recipe instead of dutch-processed one, but not the other way around - because of leavening agents.
If a recipe calls for natural cocoa powder and uses baking soda as a leavening agent, and you can't see any acidic ingredients which can react with baking soda instead of natural cocoa powder - then it's not safe to use dutch-processed one as a substitute.
Your cakes may become flat, dense and  - they can have that soapy, baking soda taste, which for me personally is THE WORST.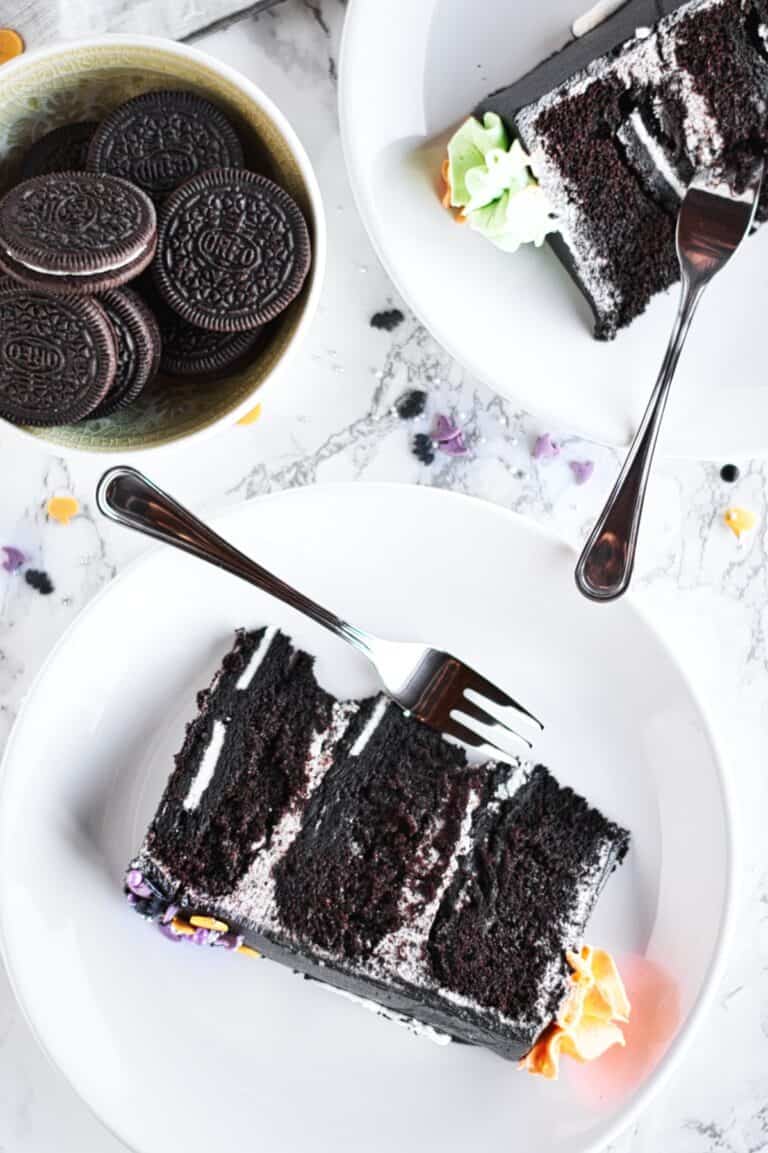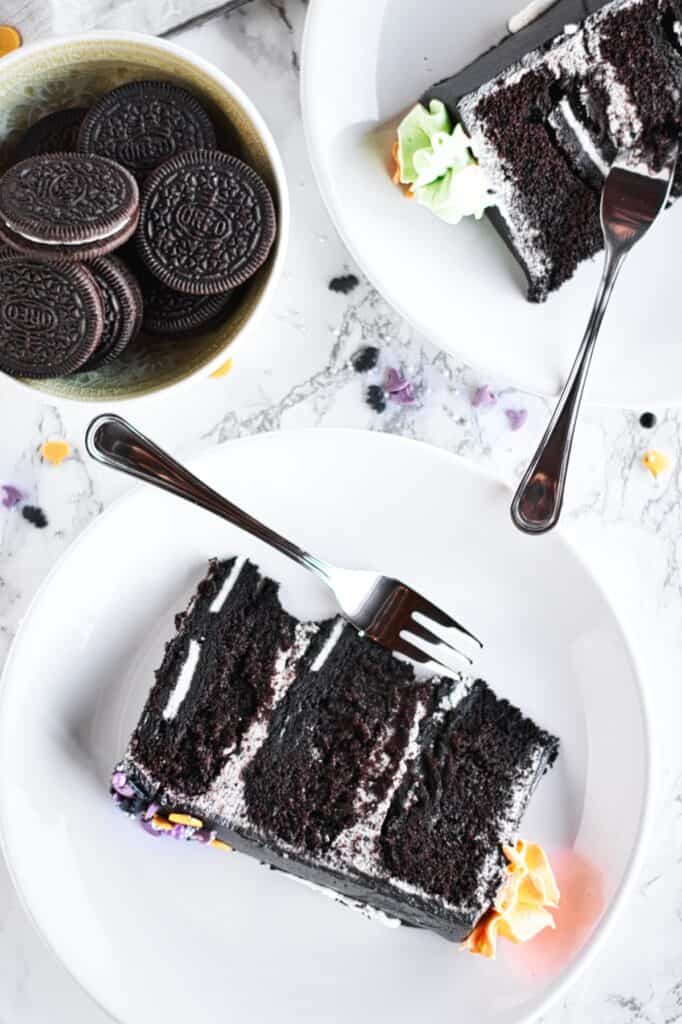 Why should I use hot water or hot coffee?
You'll find that most chocolate cake recipes have some kind of hot liquid in them. It's usually hot water or hot coffee. That's because you need TO BLOOM cocoa powder.
In other words, when mixed with hot liquid, cocoa powder releases the best chocolate flavour. It also makes sure that there are no lumps and it makes everything smooth, beautiful and extra chocolatey.
Some prefer coffee over water because it's said that coffee enhances the chocolate flavour. But, to be honest, I haven't noticed the difference, so I just use water.
I hope you'll try this recipe - you will be amazed at how chocolatey and beautiful it is! Also, it's really easy to make and you'll make some chocoholic REALLY HAPPY!
If you do try it, make sure to let me know by tagging me on Instagram @anasbakingchronicles or tell me all about it in the comment section down below. Happy baking! 🙂
📖 Recipe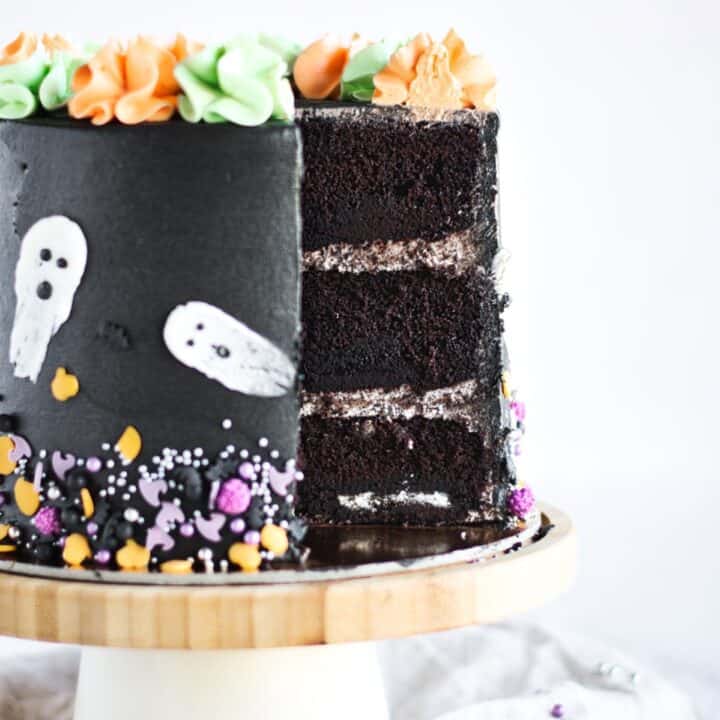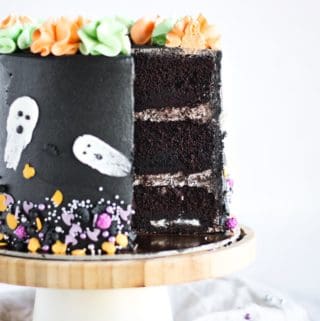 Chocolate Oreo Layer Cake
Description
ingredients
2

large

eggs

(room temperature)

115

g

vegetable oil

200

g

full-fat sour cream

(room temperature)

½

teaspoon

vanilla extract

170

g

all-purpose flour

75

g

dutch-processed cocoa powder

2 ¼

teaspoons

baking powder

½

teaspoon

salt

225

g

granulated sugar

65

g

raw cane sugar

((turbinado, demerara))

130

g

hot water
Oreo Buttercream
55

g

all-purpose flour

225

g

granulated sugar

380

g

whole milk

½

teaspoon

salt

350

g

unsalted butter

(room temperature)

2

teaspoons

vanilla extract

(good quality)

100-150

g

oreo cookie crumbs

gel food colouring
Instructions
Chocolate Cake:
Preheat your fan oven to 160°C (325°F). Grease and line with parchment paper three 6" round cake tins. On the bottom of each pan put a layer of Oreo cookies. I used 7 cookies for each pan - six outside and one in the middle. Alternatively, you can use two 8" cake tins.


In a medium bowl sift together flour, cocoa powder, baking powder and salt. Add sugars, whisk until combined and set aside.

In a small bowl or measuring jug, whisk together eggs, vegetable oil, sour cream and vanilla extract. These are your wet ingredients.

In a small pot, bring your water to a boil or simmer, it's important that it's hot. Add the wet ingredients to dry ones, stir a little bit, it'll be somewhat dry. Then add the boiling water and whisk until combined. I usually add the water in two stages to minimize clumps forming.

Divide the batter evenly among the 3 tins and bake for 22-25 minutes or until skewer inserted in the middle comes out with few moist crumbs. Do not overbake it.

Once they're done, let the cakes cool for 10-15 minutes on a wire rack before removing them from the pans to cool completely.

Oreo Buttercream
Using a food processor, blitz Oreo cookies until fine crumb. You don't need to remove the filling, blitz everything together. Put it in a bowl and set aside.

In a small saucepan combine flour, sugar, salt and milk. Cook over medium-high heat, stirring constantly with a whisk until it thickens.

Once it's done, put a cling film over it touching the surface to prevent "skin" forming and let it cool to room temperature. This is your pudding base. You can do this in a fridge, but before using it let it come to room temperature

Using a stand mixer fitted with the paddle attachment, beat the butter for 5 minutes until it's pale and fluffy. Then add spoonful by spoonful of previously made pudding. Mix until it's all nicely incorporated and with no lumps. Add vanilla extract and mix until everything is combined.

If you wish to decorate the cake with black buttercream, now is the time to split it between colours and fillings.

Leave approximately ⅓ to ½ of the buttercream for filling and crumb coating the cake. Put in a small bowl and mix with Oreo crumbs.

Using leftover buttercream, leave about 2-3 tablespoons of white buttercream for the ghosts and some for the rosettes on top. The rest of the buttercream mix together with cooled melted dark chocolate in a bowl of a standing mixers. Using black gel food colouring paint it black. I needed almost half of my bottle, but it didn't affect the taste.
Assembly:
Using a cake leveler or a long serrated knife level the tops of your cakes if needed.

In the middle of your cake board or a serving plate put some buttercream to stop the cake from moving around.

Place one cake layer on a cake board or a serving plate. Using a small offset palette knife or a piping bag, spread the frosting over the cake. Top it with the next cake layer and repeat the process.

Place final layer on top, upside down, and do a thin crumb coat on the cake. Chill for 20-30 minutes in the fridge before final decorating.

Once cooled, frost and smooth the sides with the black buttercream using and if desired, put sprinkles around the bottom. Put the cake in the fridge until buttercream sets before putting on the ghosts.

Once the cake is chilled, put the white buttercream in a small piping bag with a round nozzle. I used Wilton 2A. Go around the cake, piping small balls where you want your ghosts to appear. Using a tip of small offset spatula press the white ball of frosting and pull it down. Using a small round nozzle pipe the eyes and mouth with black buttercream.

On the top, using a Wilton 1M tip pipe the rosettes in Halloween colours, I used orange and green.
Notes
If you don't have a stand mixer, you can use a hand mixer.
Not all ovens are the same. I suggest to check the cakes at 20 min mark and then adjust the baking time accordingly. Get to know your oven! 
If putting Oreo cookies at the bottom of the cake batter, use a serrated knife when cutting the cake afterwards. Alternatively, you can blitz oreo cookies in a food processor to small chunks and mix with the batter.
If you still don't own one, I advise you to buy a kitchen scale - they're cheap and easy to use, and always guarantee the same results in baking!  
I used almost half of black gel food colouring bottle, but it didn't affect the taste. Alternatively, you can use powder colouring or active charcoal - but I've never used it myself because I can't get to it.
IMPORTANT
All the recipes are developed and tested using only metric measurements and a kitchen scale. The U.S. cup and spoon measurements are provided for your convenience, but I highly recommend getting a digital kitchen scale and measuring in metrics. It's easy and always guarantee the same results in baking!
The nutritional information and US conversions are calculated automatically. I cannot guarantee the accuracy of this data. If this is important to you, please verify with your favourite nutrition calculator and/or unit conversion tool.
Have you tried this recipe?
Tag me on Instagram @anasbakingchronicles or use the hashtag #anasbakingchronicles - I love seeing your creations!