Extremely soft and moist orange almond cake, topped with delicious mascarpone cream cheese glaze and garnished with toasted almond flakes and candied orange peel. YUM!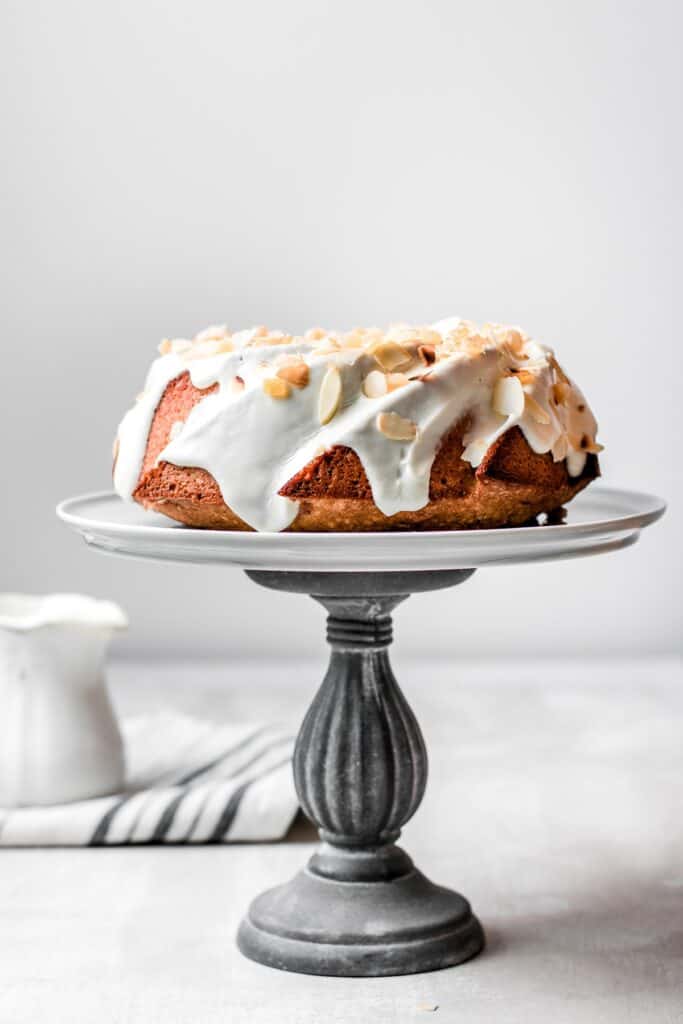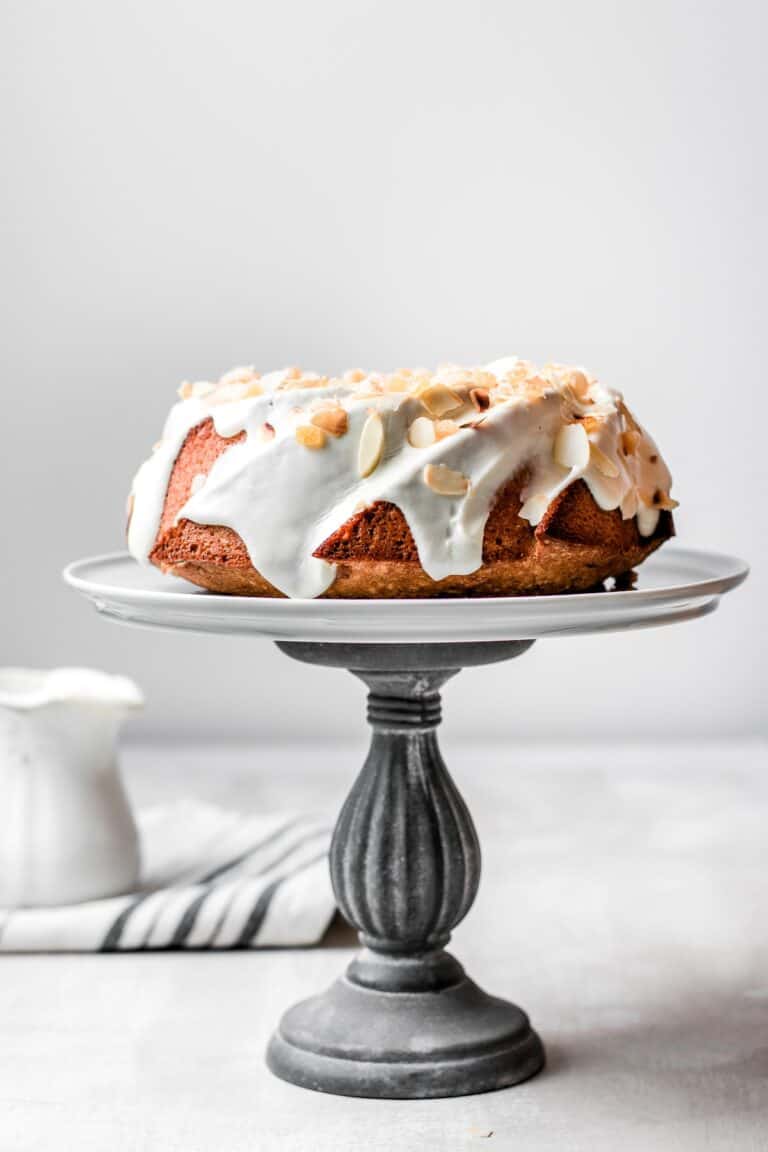 It took me long enough to write this recipe, but it's finally here! Okay, I... might have forgotten about it a bit and... that might be the reason I'm late. But it doesn't matter, because it's never too late for an amazingly delicious recipe! Citrus season is still on, so I reckon we're good! 😉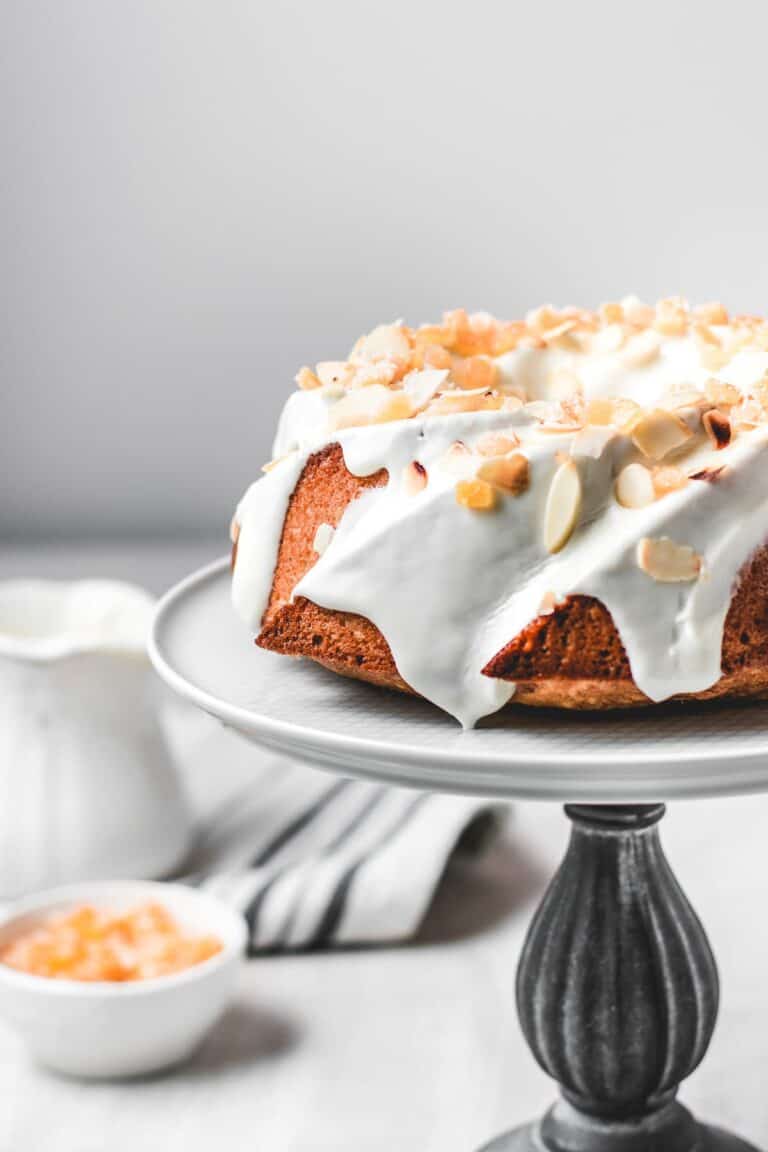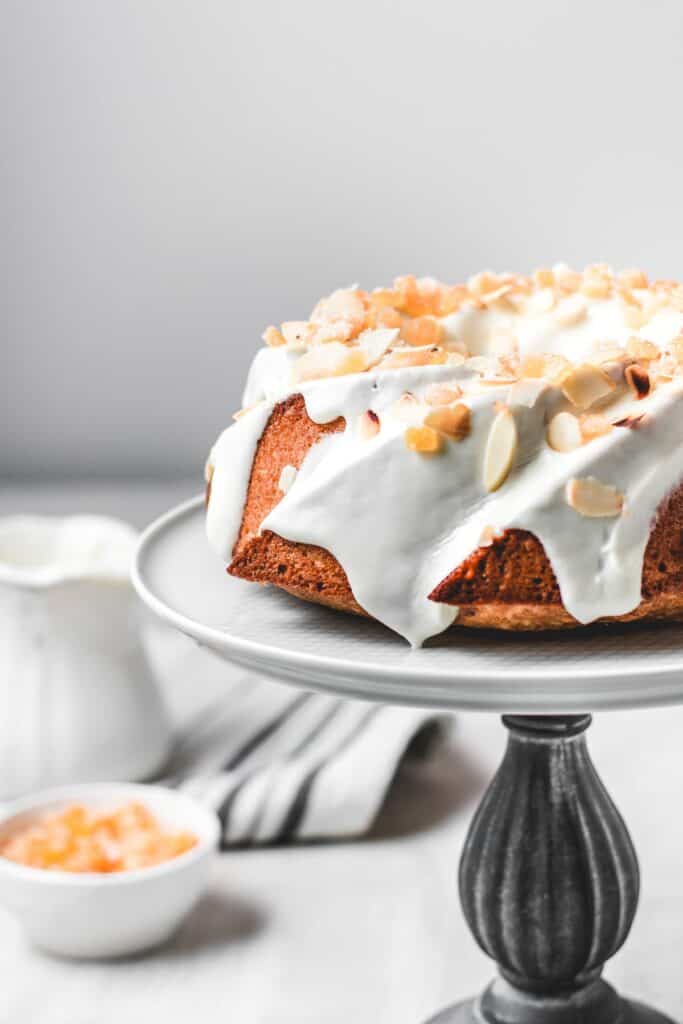 HOW TO MAKE THIS EASY AND DELICIOUS ORANGE ALMOND CAKE
First off, you'll need a bundt pan. If you want to impress someone (your guests, for example) use the prettiest you've got. Why? Because the pan defines how your cake is going to look. It's so easy, no need for stacking layers, frosting, etc. Using the right pan will deliver simple beauty on the plate! 🙂
Now, the question is, what kind of bundt pan to use? Well, I had silicone one, although I'm not really a fan. But I really wanted this shape and that's the only one I could get. I feel like cakes bake better in a "normal" tin. But feel free to use whatever you have on hand. The only thing that matters is - MAKE SURE TO GREASE IT VERY WELL.
The worst thing that can happen with bundt cake is that it sticks to the pan and you'll end up with half of cake. Literally. That has happened to me, don't make the same mistake! Lol. The other important thing that will prevent your cake from cracking in half is to let it cool almost completely.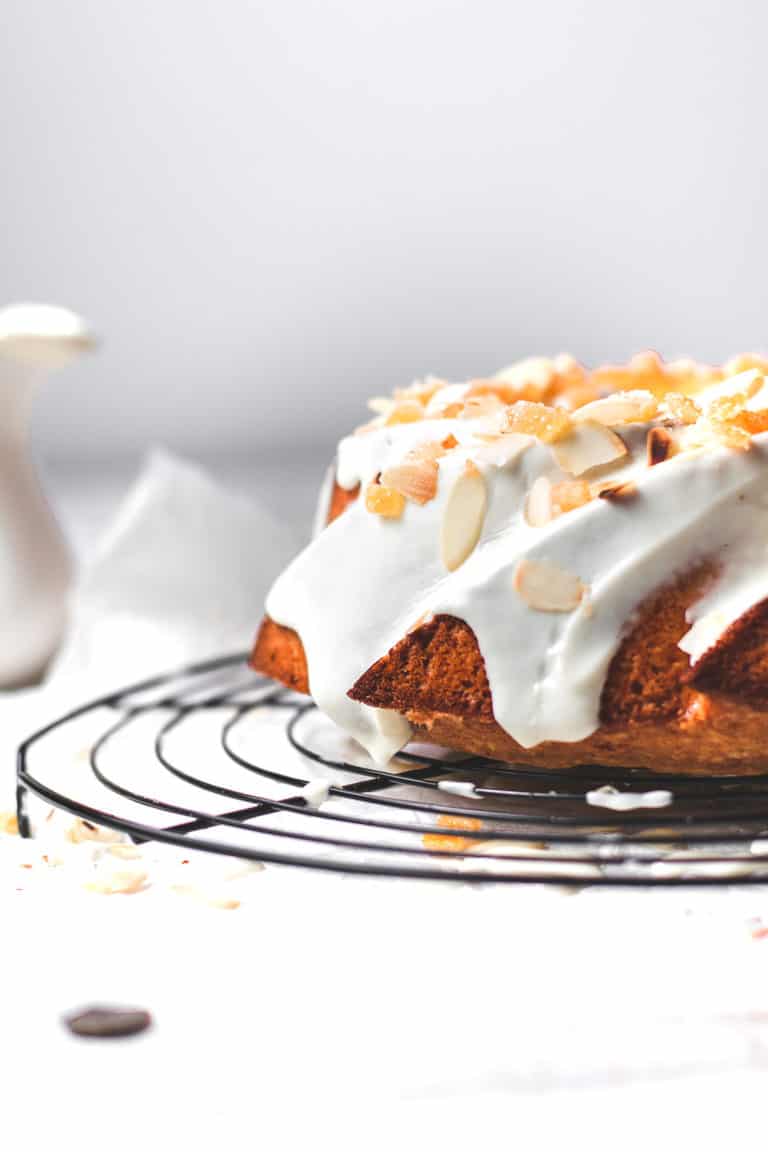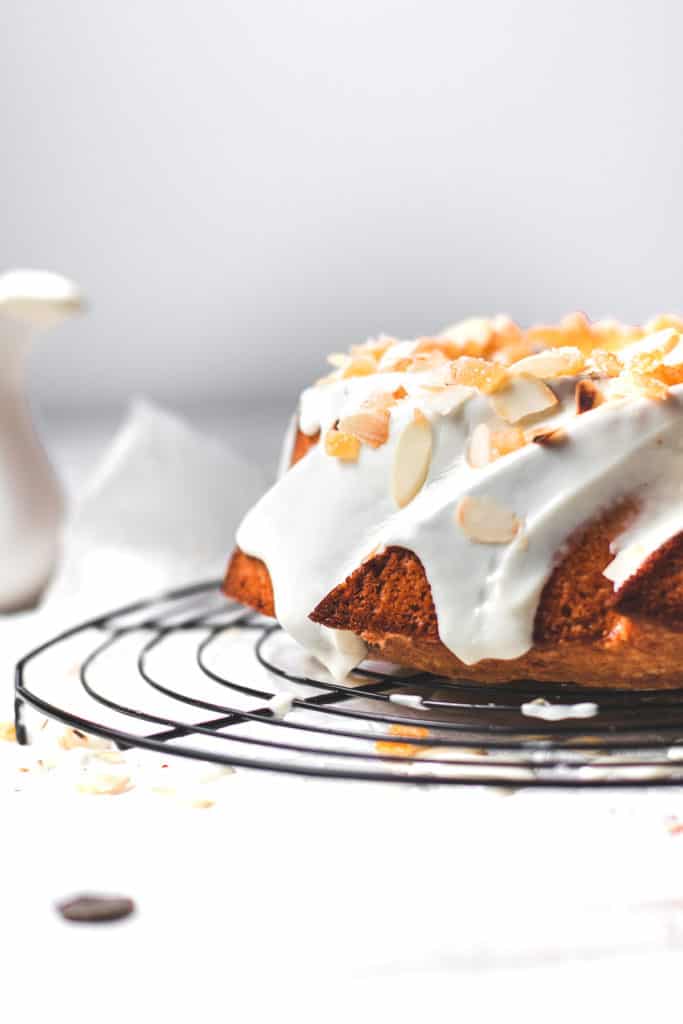 So we've covered the technicality of this recipe. Now, THE FLAVOUR. Orange and Almond is a pairing very popular in Croatia. In my hometown, Dubrovnik, candied orange peel smothered in sugar is its trademark, along with caramelised almonds. That used to be (and still is) one my favourite snacks of all time! 🙂
While this combination of flavours is not a very surprising one, it just goes so well together! Almonds are full of healthy fat and that makes cake very moist and tender. On the other hand, orange is refreshing and zingy, which makes this cake so light.
For the glaze, I chose to combine mascarpone and cream cheese. Mascarpone is really creamy but lacks that tang that cream cheese has, so the two together make such good combo!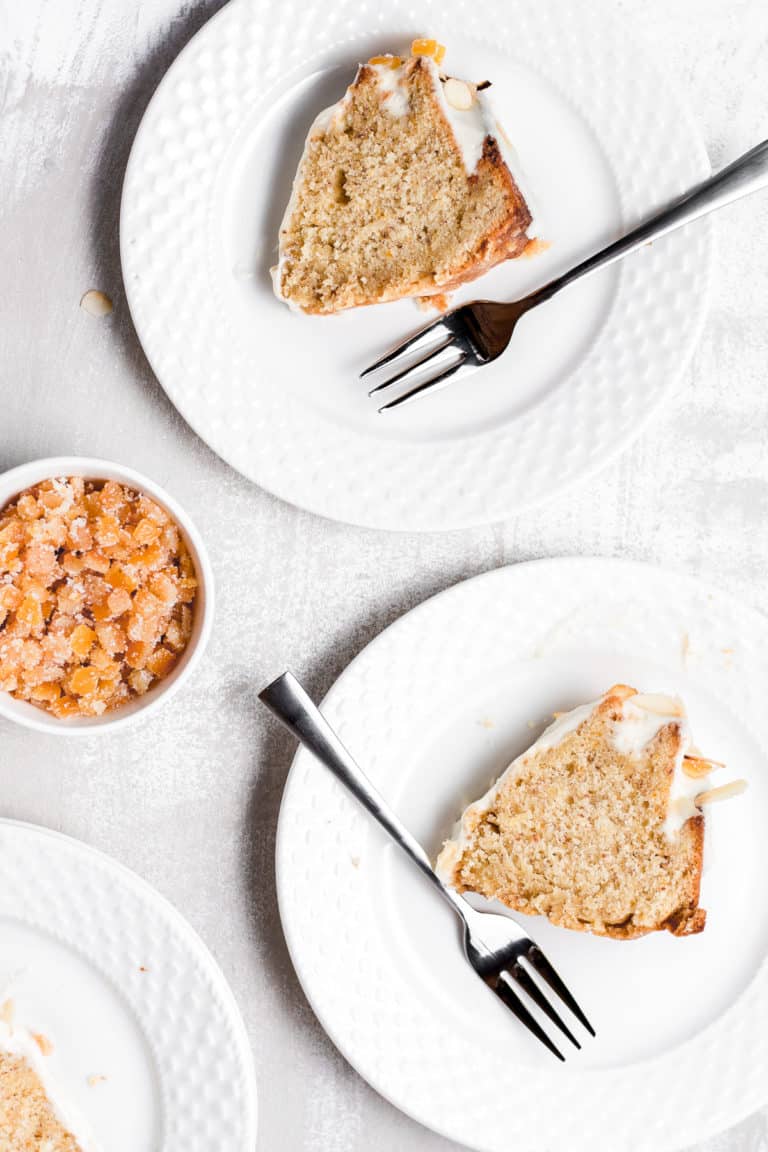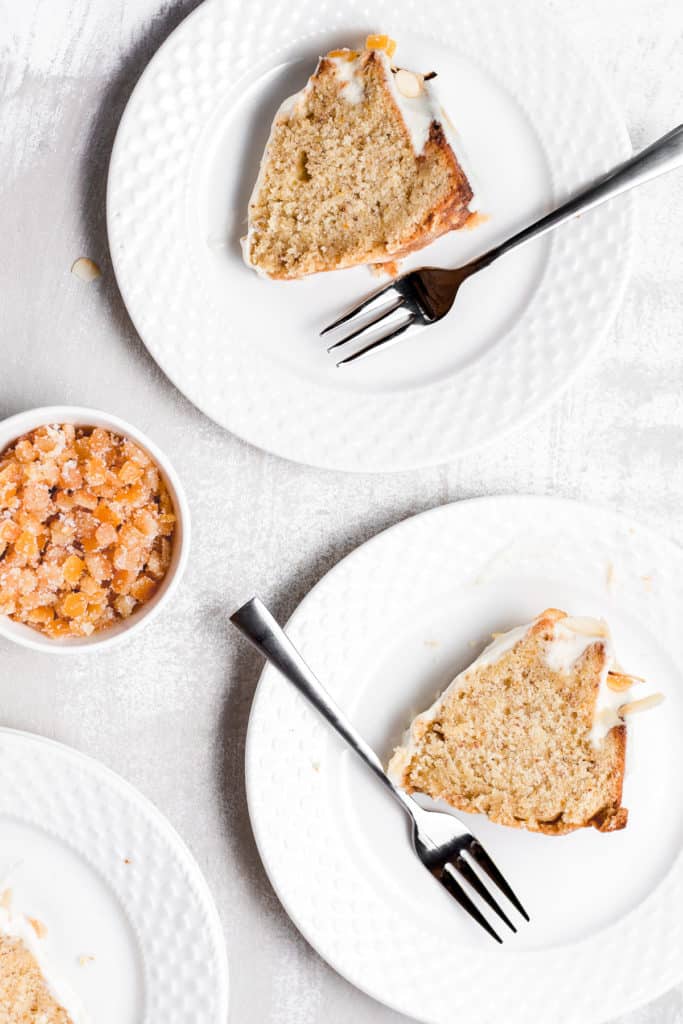 You're gonna love this recipe because:
a) it's so easy to make
b) looks beautiful without trying too hard
c) it's super moist and delicious
Have I convinced you yet? 🙂 You'll for sure get some standing ovations and your friends and family are going to think you're an amazing baker! 🙂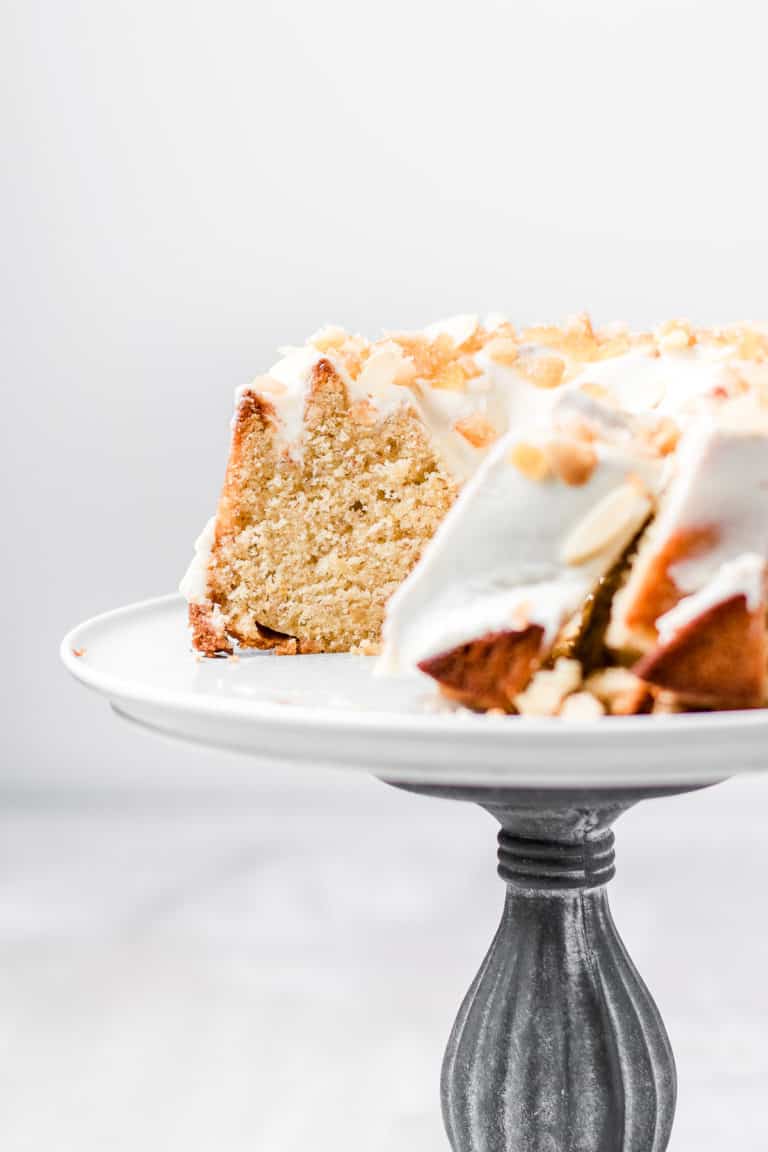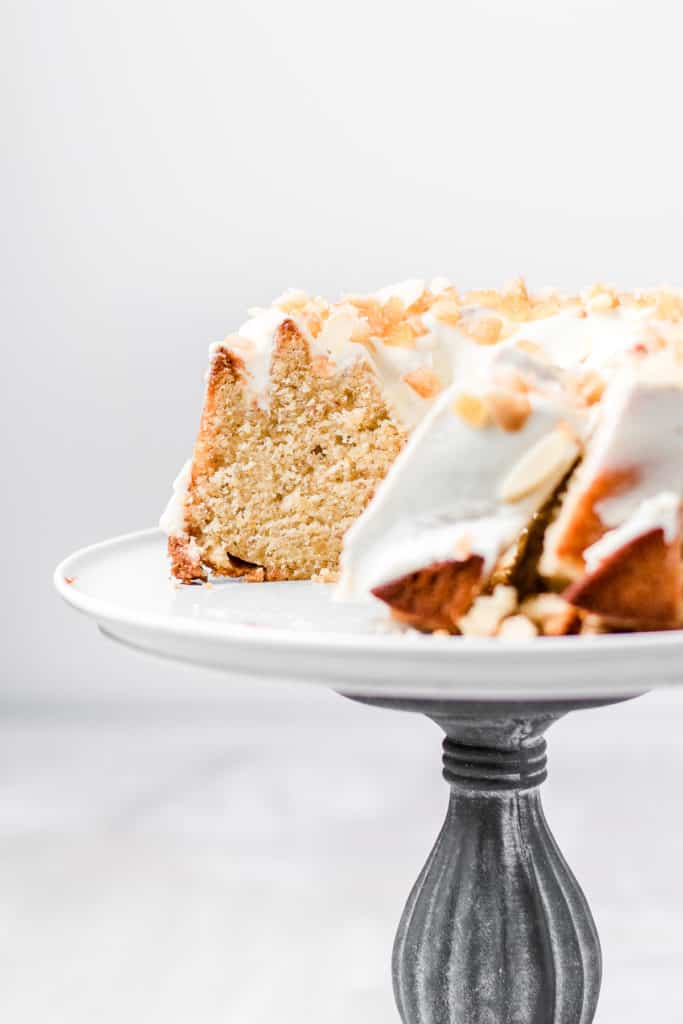 LOOKING FOR MORE FRUITY DESSERTS? TAKE A LOOK AT THESE:
Raspberry Vanilla Layer Cake
Lemon & Poppyseed cake with Blueberry glaze
Earl Grey Tea Layer Cake
If you make this gorgeous bundt cake, let me know by tagging me on Instagram @anasbakingchronicles or tell me all about it in the comments section down below! I love seeing your creations! If you have any questions, don't hesitate to ask! Happy baking!
Love,
A.
📖 Recipe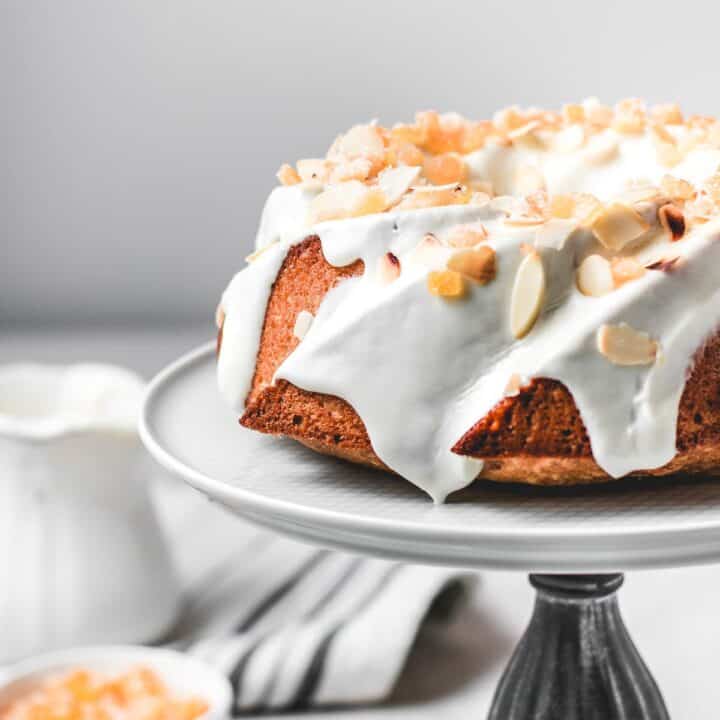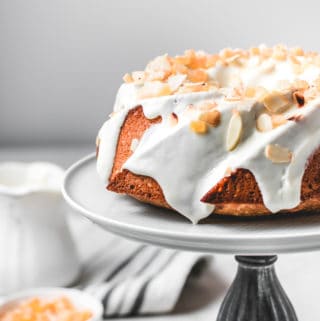 Orange Almond Bundt Cake with Mascarpone Cream Cheese glaze
Description
ingredients
Bundt cake:
3

large

eggs

(room temperature)

300

g

all-purpose flour

130

g

ground almonds

½

teaspoon

salt

2 ½

teaspoon

baking powder

((12 g))

280

g

brown cane sugar

100

g

unsalted butter

(room temperature)

70

g

sunflower oil

180

g

sour cream

(room temperature)

100

g

freshly squeezed orange juice

orange zest of two large oranges

1

teaspoon

vanilla extract
Mascarpone Cream Cheese Glaze
100

g

mascarpone

50

g

cream cheese

orange juice of one medium sized orange

100

g

powdered sugar

1

teaspoon

vanilla extract

40-70

g

warm milk
Instructions
for bundt cake:
Preheat your fan oven to 165C or 325F. Heavily grease your large bundt cake pan and put it aside. I used silicone one, so I just greased it using a spray and put it on a baking tray for stability.

In a medium bowl sift together flour, baking powder and salt. Add ground almonds and whisk until combined. Set aside.

In a measuring jug combine sour cream, lemon juice and vanilla extract. These are your wet ingredients.

In a bowl of a stand mixer fitted with a paddle attachment, cream the butter, oil, orange zest and sugar on a medium-high speed until paler in colour. (approx. 3 min) Stop the mixer and scrape down the bowl.

Turn the mixer to medium-low speed and add eggs one at a time – making sure it's fully incorporated after each addition. Stop the mixer and scrape down the bowl.

Add your dry and wet ingredients, alternating between one another, starting and finishing with dry ones. (3 additions of dry and 2 of wet ingredients)

Fill your prepared bundt pan with cake batter about ¾ of the way full to leave some space for rising.

Bake for 45 to 50 minutes or until skewer inserted in the middle comes out with few moist crumbs.

Once the cake is done, leave it to cool in the tin, on a wire rack, for about 45 minutes. At this stage the cake is very fragile and it might crack if you try to get it out while hot.

After it has cooled a little bit, transfer it to a cooling rack to cool completely before you pour on the glaze.
for mascarpone cream cheese glaze:
In a medium sized bowl, using a whisk, mix together mascarpone and cream cheese until it combines and becomes creamy.

Add sifted powdered sugar, vanilla extract and orange juice. Mix until combined. It will be on the thick side.

Warm the milk, it shouldn't be too hot. Add the milk to the glaze in intervals to see how much you need to get pourable consistency.
assembly:
Pour the prepared glaze over a cooled bundt cake. Decorate with toasted almond flakes and candied orange peel.
Notes
If you don't have a stand mixer, you can use a hand mixer.
Not all ovens are the same. I suggest to check the cake at 35 min mark and then adjust the baking time accordingly. If it gets too much browning at the top, cover it with aluminium foil. Get to know your oven!
If you still don't own one, I advise you to buy a kitchen scale – they're cheap and easy to use, and always guarantee the same results in baking!  
Cake is best eaten at room temperature. You can keep it in a fridge, wrapped in cling film, but take it out of it at least half an hour before serving. 
1 tablespoon = 1 tablespoon = 15 ml
1 teaspoon = 1 teaspoon = 5 ml
IMPORTANT
All the recipes are developed and tested using only metric measurements and a kitchen scale. The U.S. cup and spoon measurements are provided for your convenience, but I highly recommend getting a digital kitchen scale and measuring in metrics. It's easy and always guarantee the same results in baking!
The nutritional information and US conversions are calculated automatically. I cannot guarantee the accuracy of this data. If this is important to you, please verify with your favourite nutrition calculator and/or unit conversion tool.
Have you tried this recipe?
Tag me on Instagram @anasbakingchronicles or use the hashtag #anasbakingchronicles - I love seeing your creations!