This royal wedding inspired Lemon Elderflower Cake is going to rock your world! Zingy lemon cake, paired with light and fluffy elderflower buttercream and filled with rich lemon curd - combination worthy of any celebration!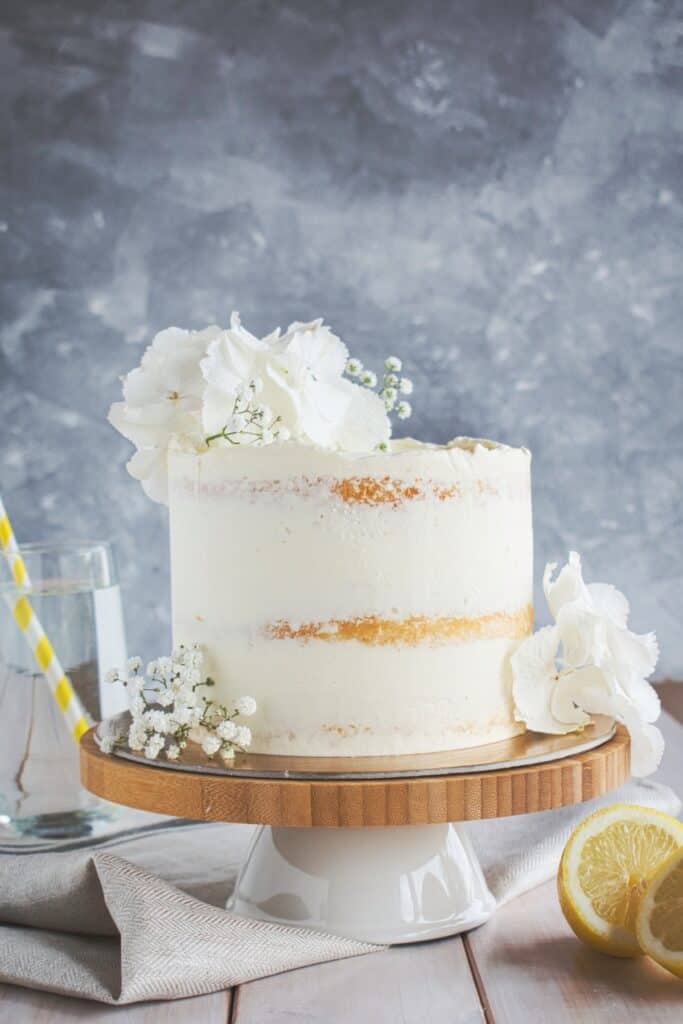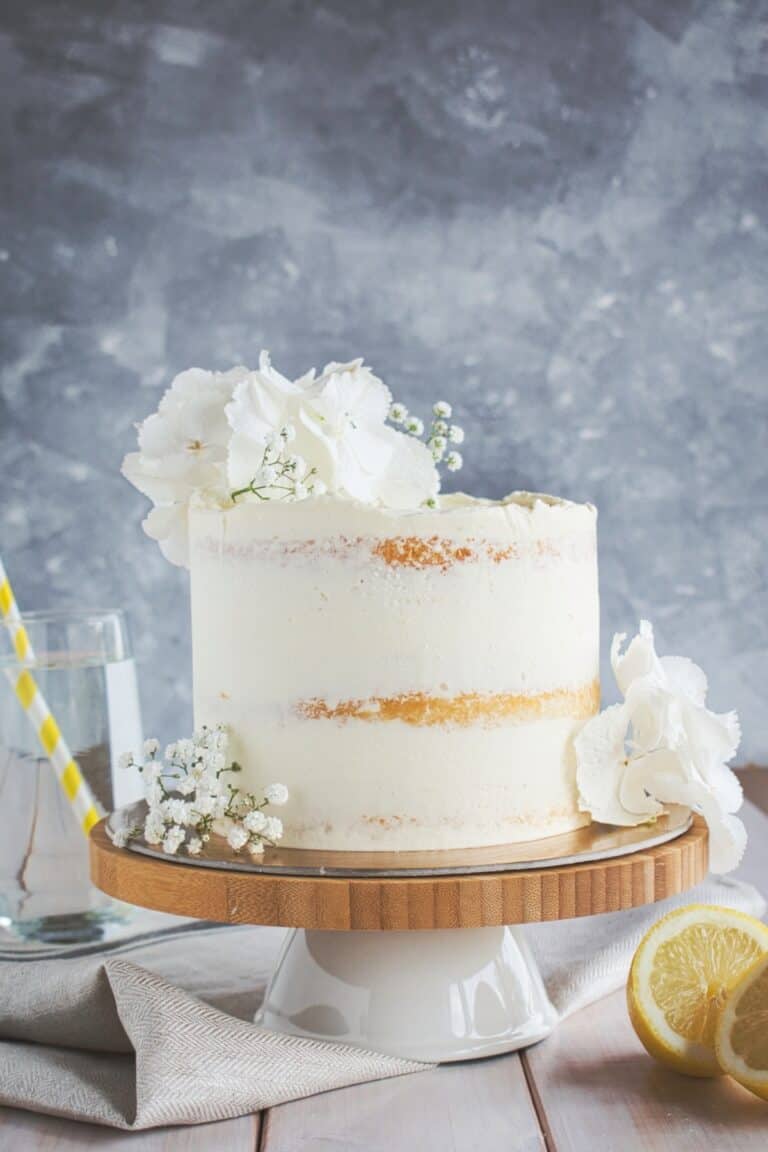 Who else watched the ENTIRE royal wedding? I remember getting up and then spending the entire morning (and then some more) wrapped up in my pajamas, on the couch, in front of my laptop. Lol. Oh, the perks of living in Europe - I at least got to watch it LIVE. I must admit, I wasn't a big fan of Meghan Markle. Mostly because of her character from Suits, Rachel. I couldn't stand her, as much as I tried - and believe me I did. But I gave her a second chance. After all, if Prince Harry likes her - why the heck shouldn't I? 😉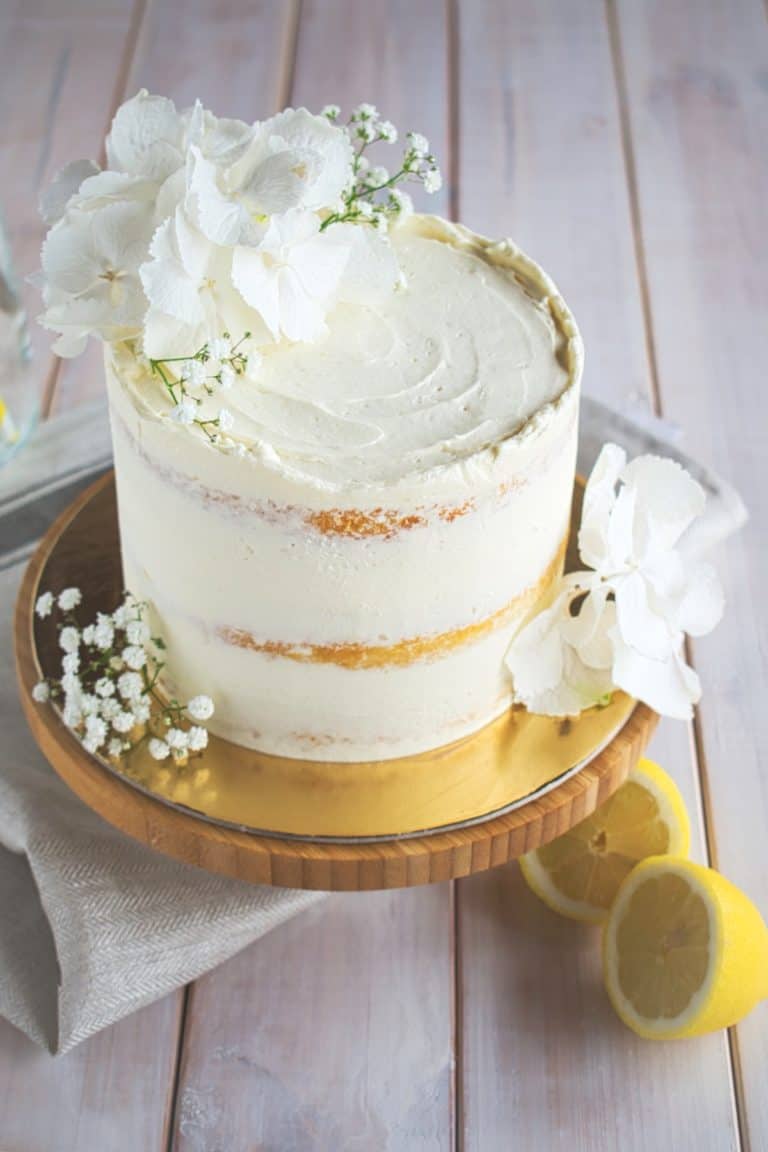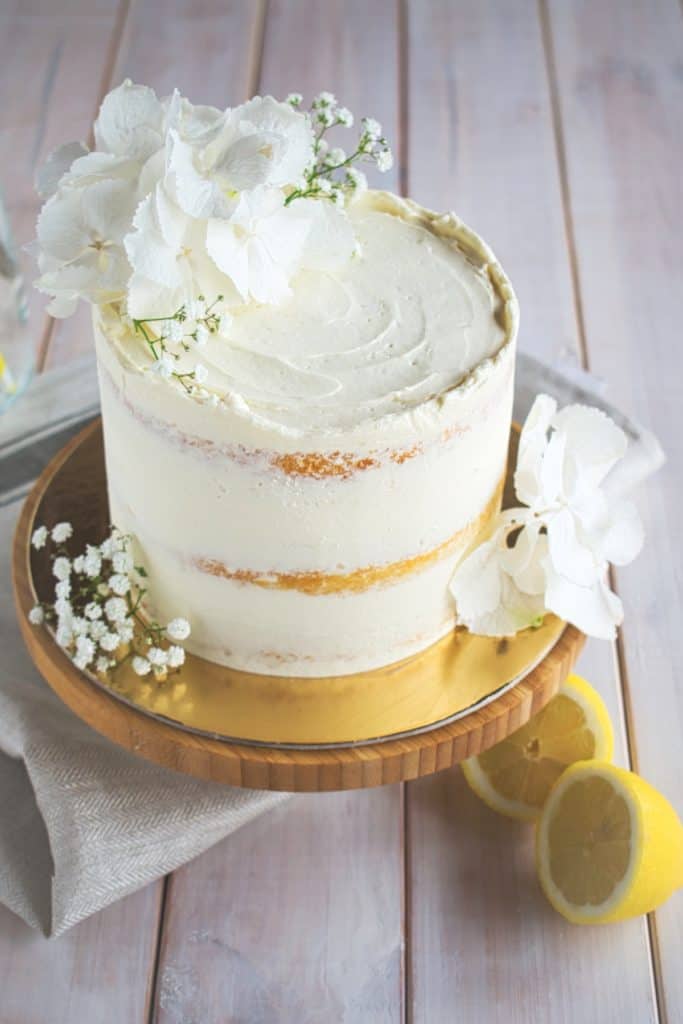 While all the normal people were wondering about Meghan's wedding dress (which I really liked btw), who will attend the wedding, how many people are going to be there, whether her father will be among those people, how will they pay an homage to belated Princess Diana and bunch of other stuff - the baker in me really wanted to know which cake they will have and how it'll be decorated.
And, yes, I know - the information was available on time - but I was so wrapped up in creating this blog that I didn't pay any attention to the news, until the BIG DAY has arrived. (Look at me, getting excited about someone else's wedding like it's my own haha)
When I first heard what flavour they'd chosen, I was amazed. I mean, Lemon & Elderflower. Come on, it sounds so dreamy and classy. I LOVE Elderflower. The refreshing drink made out of elderflower cordial/syrup and cold water is my go-to drink each May! And don't get me started on lemon. Possibly my all-time favourite flavour! Okay, I really shouldn't get ahead of myself - BUT - I really do love lemon.
What I really loved about the cake and the wedding (erm, except EVERYTHING) was the fact that they'd chosen seasonal flavours and there was no fondant anywhere - woohoo! As you already probably guessed - I'm not a fan of fondant. Although it's considered an edible decoration, to me it just doesn't taste good and looks really unnatural. The only time I'll opt for sugarpaste is for small decoration or toppers, which - I admit - can look quite nice and cute.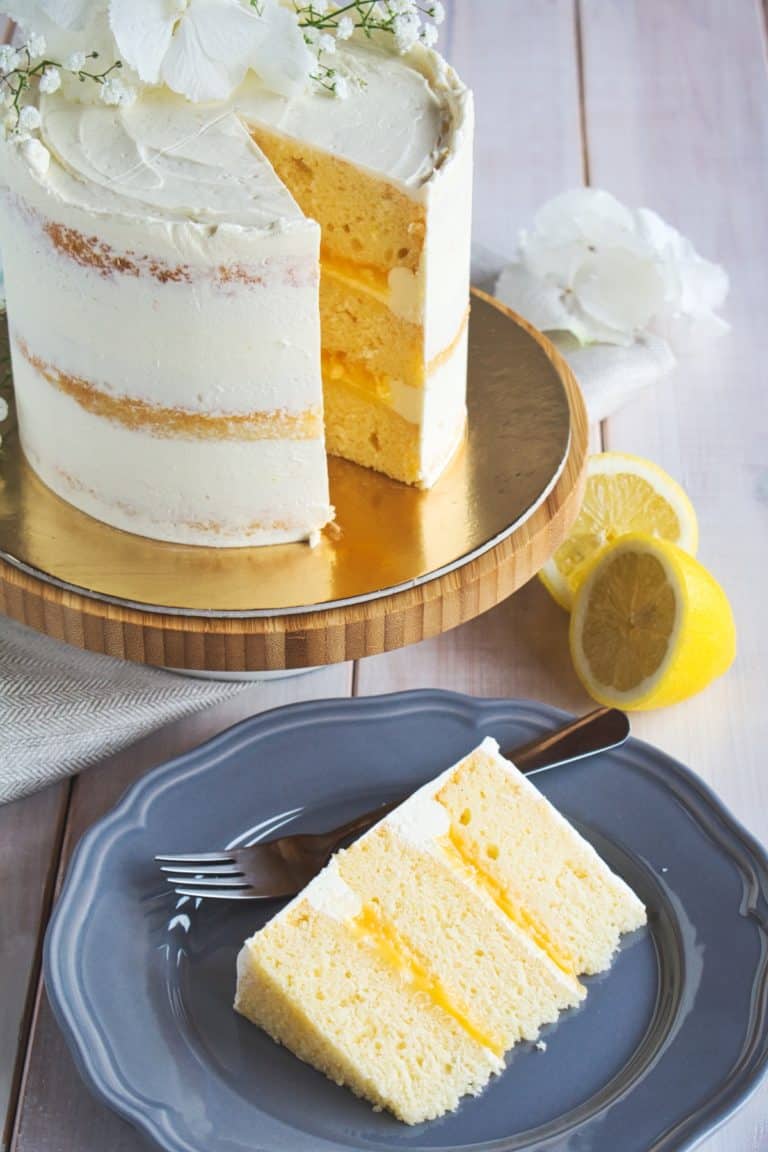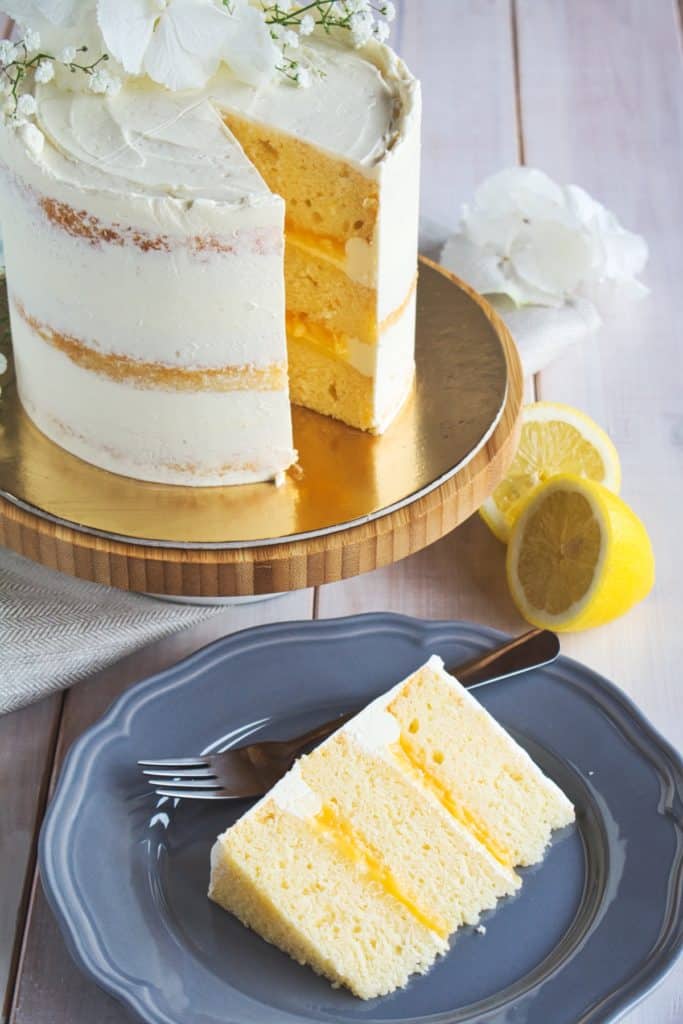 Claire Ptak from Violet Cakes, the creator and baker of the royal wedding cake, went for rustic, buttercream decorated cake. At first, I didn't know what to think. I was glad she used buttercream but the design left me confused for awhile. After months of trying to perfect the smoothness and sharp edges on a cake (which I still haven't done), here comes Claire with a different trend. I took me some time but, eventually, I gave in and loved it. So, inspired by Claire's rustic style, I decided to leave my cake naked but keep those edges intact.
The original cake was made with Swiss Meringue Buttercream, but I made mine with my favourite - Ermine/Flour Buttercream. It was so light and elderflower-y, you'll love it! If you don't know what I'm talking about, here is some explanation - although I'm planning on writing an entire post dedicated just to this awesome frosting, so stay tuned! 🙂
For this cake, I played around with my lemon cake recipe. I wanted to add elderflower in the cake batter so I don't need to soak the sponges with syrup later, like Claire did. Since elderflower cordial is already quite sweet, I reduced the amount of sugar in the recipe and replaced it with cordial. It worked like a charm! It wasn't too sweet and that elderflower cut through really nicely.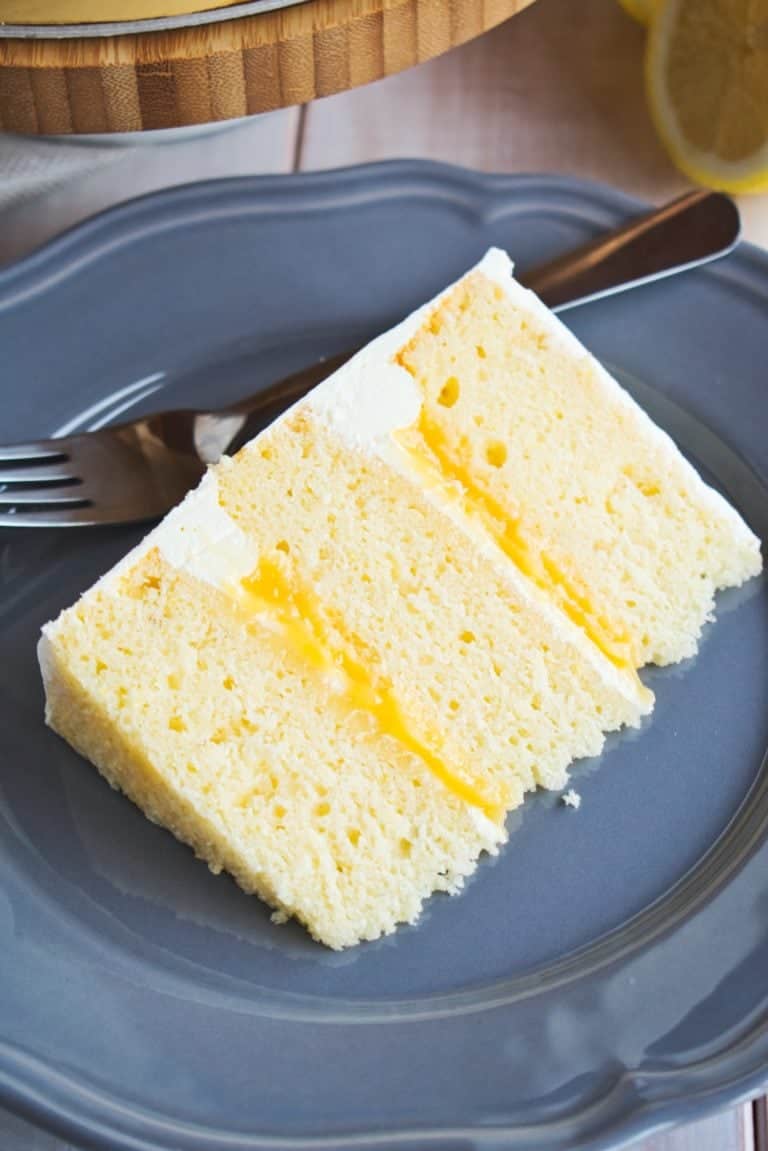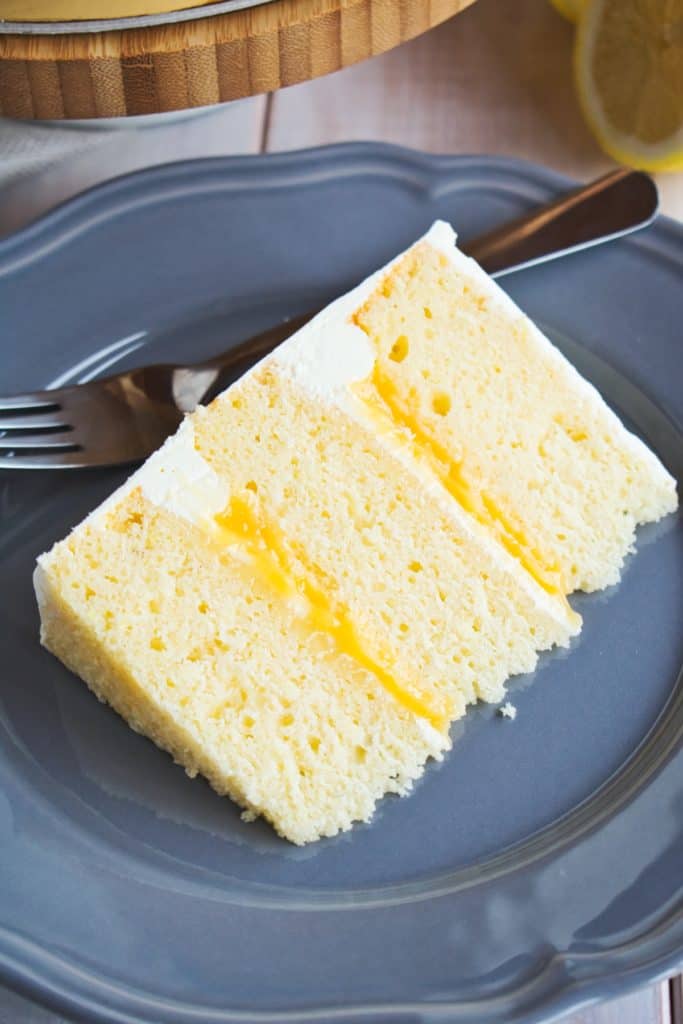 When filling the cake, be sure to cover each cake layer with buttercream, make a dam, and then fill it with lemon curd. I'm a massive fan of lemon curd, but its richness can be overpowering, so the next time I make this cake, I'll put a tad thicker layer of buttercream underneath, just to taste that elderflower more.
DECORATING THE CAKE
As far as the flower decorating is concerned, I generally don't like to decorate cakes with things that are not going to be eaten. Although a large number of flowers are considered edible and non-toxic, people still don't use them for eating purposes. The non-toxic/edible label is just there for some kind of a safety guarantee. Nevertheless, I felt that the flowers are a must on this cake, to make it more wedding-y. Haha. Unfortunately, I didn't have any peonies on hand but my favourite local florist gave me a gorgeous, fresh, white hydrangea as a replacement - and I loved it! Hope you do, too 🙂 Just remember to tape the flower stem with something before putting it on the cake. I recommend decorating the cake with flowers just before serving so they stay fresh.
You're going to love this cake because it's refreshing and zingy but at the same time rich and classy - perfect combo!
I hope you'll try this recipe, and if you do, leave me a comment below with your thoughts on it or tag me on Instagram @anasbakingchronicles so I can see your creations! 🙂
📖 Recipe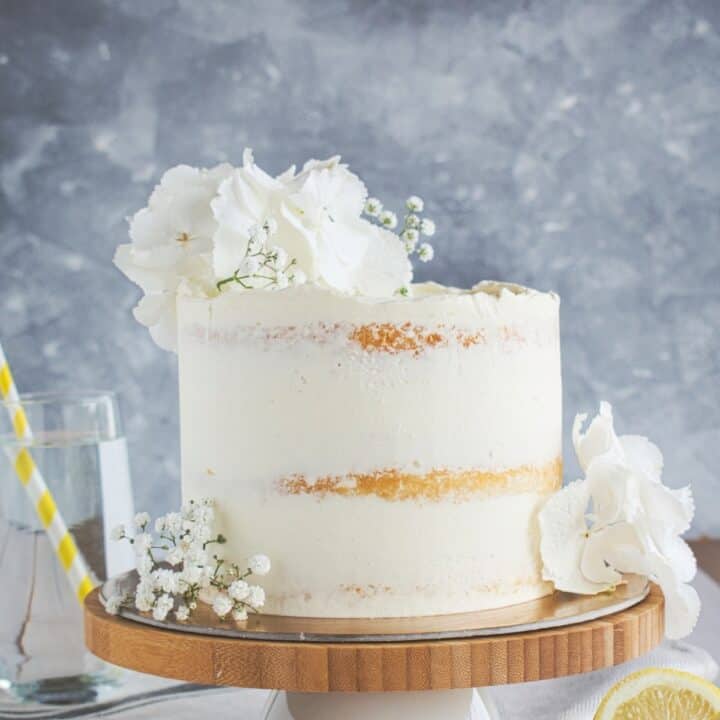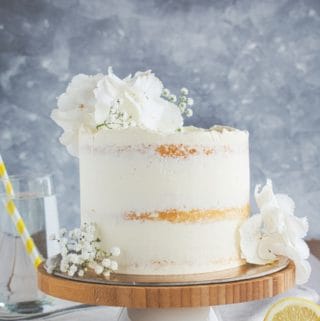 Lemon Elderflower Cake
Description
This royal wedding inspired Lemon Elderflower Cake is going to rock your world! Zingy lemon cake, paired with light and fluffy elderflower buttercream and filled with rich lemon curd – combination worthy of any celebration!
ingredients
Cake
3

large

eggs

(room temperature)

240

g

all-purpose flour

2

teaspoon

baking powder

½

teaspoon

salt

140

g

unsalted butter

(room temperature)

lemon zest from 2 lemons

200

g

granulated sugar

60

g

elderflower cordial

140

g

sour cream

(room temperature)

70

g

lemon juice

(freshly squeezed)

½

teaspoon

vanilla extract
Elderflower Buttercream
35

g

all-purpose flour

120

g

granulated sugar

¼

teaspoon

salt

300

g

whole milk

250

g

unsalted butter

(room temperature)

3-4

tablespoon

elderflower cordial
Lemon Curd
4

large

egg yolks

1

large

egg

125

g

freshly squeezed lemon juice

(approx. 3 lemons)

160

g

granulated sugar

lemon zest from 3 lemons

60

g

unsalted butter

(cooled)
Instructions
Lemon Elderflower Cake
Preheat your fan oven to 160°C (325°F). Grease and line with parchment paper three 6" round cake tins.

In a medium bowl sift together flour, baking powder and salt. Whisk until combined and set aside.

In a measuring jug combine sour cream, lemon juice, elderflower cordial and vanilla extract. These are your wet ingredients.

In a bowl of a stand mixer fitted with a paddle attachment, cream butter, lemon zest and sugar on medium-high speed until pale and fluffy. (approx. 3 min) Stop the mixer and scrape down the bowl.

Turn the mixer to medium-low speed and add eggs one at a time - making sure it's fully incorporated after each addition. Stop the mixer and scrape down the bowl.

Alternatively add your dry and wet ingredients, starting and finishing with dry ones. (3 additions of dry and 2 of wet ingredients)

Divide the batter evenly among the 3 tins and bake for 20-25 minutes or until skewer inserted in the middle comes out mostly clean.

Once they're done, let the cakes cool for 10-15 minutes on a wire rack before removing them from the pans to cool completely.
Elderflower Ermine Buttercream
In a small saucepan combine flour, sugar, salt and milk. Cook over medium-high heat, stirring constantly with a whisk until it thickens.

Once it's done, put a cling film over it touching the surface to prevent "skin" forming and let it cool to room temperature. This is your pudding base. You can do this in a fridge, but before using it let it come to room temperature.

Using a stand mixer fitted with the paddle attachment, beat the butter for 5 minutes until it's pale and fluffy. Then add spoonful by spoonful of previously made pudding. Mix until it's all nicely incorporated and with no lumps. Add the elderflower cordial and beat for another 30 seconds.
Lemon Curd
In a glass heatproof bowl, using a whisk, combine egg yolks, an egg, sugar, lemon juice and zest. Place the bowl over a bain-marie (a pan of simmering water). 

Cook on medium to high heat, whisking constantly so you don't scramble eggs, until it thickens. It takes around 10-15 minutes. It's ready when it can coat the back of a wooden spoon. It will thicken more once cooled.

Once it's done, add the cooled cubed butter and whisk until everything is incorporated and smooth. Strain the curd through a sieve to get rid of any lumps that may have happened and place in a glass jar.

Refrigerate for a couple of hours, until it thickens enough so you can spread it on top of a cake.
Assembly
Using a cake leveler or a long serrated knife level the tops of your cakes if needed.

In the middle of your cake board or a serving plate put some buttercream to stop the cake from moving around.

Spread a nice layer of buttercream on top of the first layer and pipe a border around the outside to hold the lemon curd in. Repeat with the next layer.

Place final layer on top, upside down, and do a thin crumb coat on the cake. For a naked look, leave it like that.

If you want to decorate a whole cake with buttercream, place the crumb coated cake in the fridge for 20-30 minutes before final decorating. The recipe yields enough to coat the whole cake with buttercream.
Notes
If you don't have a standing mixer you can use a hand mixer.
Not all ovens are the same. I suggest to check the cakes at 18 min mark and then adjust the baking time accordingly. Get to know your oven! 😉
You can keep lemon curd in a fridge for a week! 
IMPORTANT
All the recipes are developed and tested using only metric measurements and a kitchen scale. The U.S. cup and spoon measurements are provided for your convenience, but I highly recommend getting a digital kitchen scale and measuring in metrics. It's easy and always guarantee the same results in baking!
The nutritional information and US conversions are calculated automatically. I cannot guarantee the accuracy of this data. If this is important to you, please verify with your favourite nutrition calculator and/or unit conversion tool.
Have you tried this recipe?
Tag me on Instagram @anasbakingchronicles or use the hashtag #anasbakingchronicles - I love seeing your creations!