These delicious Berry Meringue Cookie Bars are the perfect choice when you need a quick and easy dessert! With lemon zest in the dough and berry jam filling, it's the perfect balance of sweet and tangy.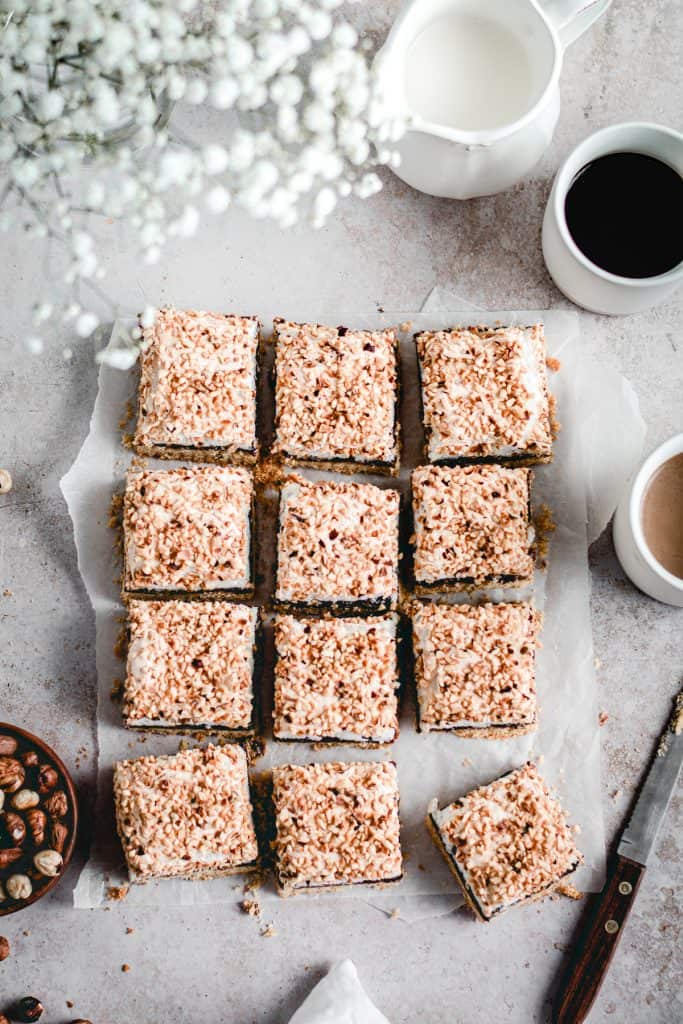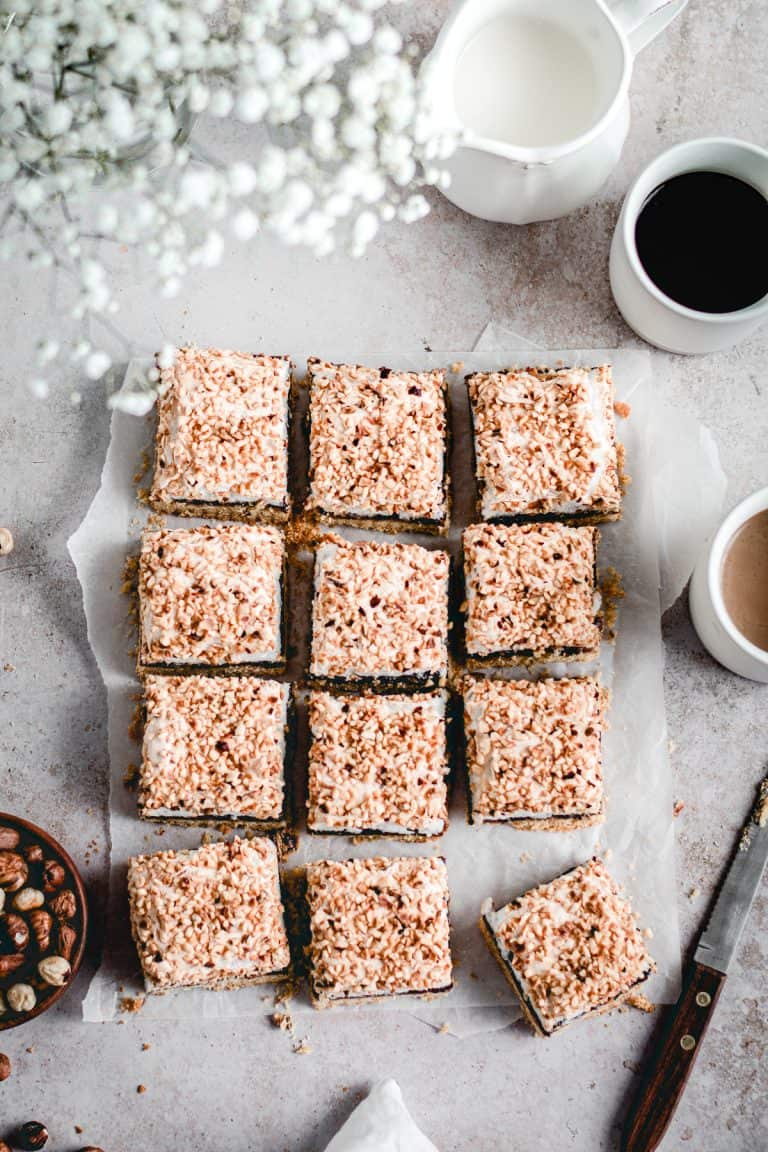 These lovely Berry Meringue Cookie Bars are a family favourite. In Croatia they're known as "Londoneri" or loosely translated "London bars". Don't ask me why is that, I don't know - but I don't mind because I love London! 🙂
I didn't know how to name them properly in English, I was searching for jam bars, cookie jam bars, jam shortbread bars... but the dough isn't really shortbread, so I opted for cookie bars.
They are considered a classic among the Christmas cookies, but we like them all year round and for all the other holidays, such as Easter. T
o be honest, I didn't like them as a kid. They were always the last resort, only good when there's nothing better around haha. But things change when you grow up and start experimenting in the kitchen. 🙂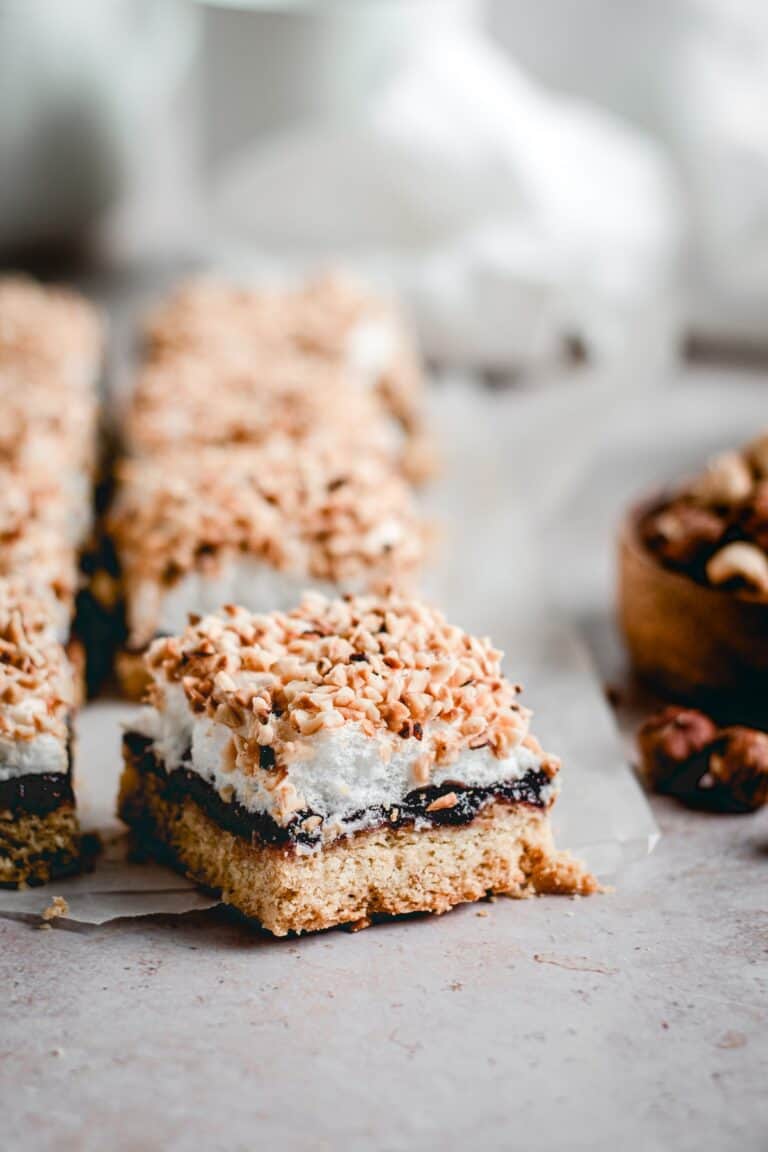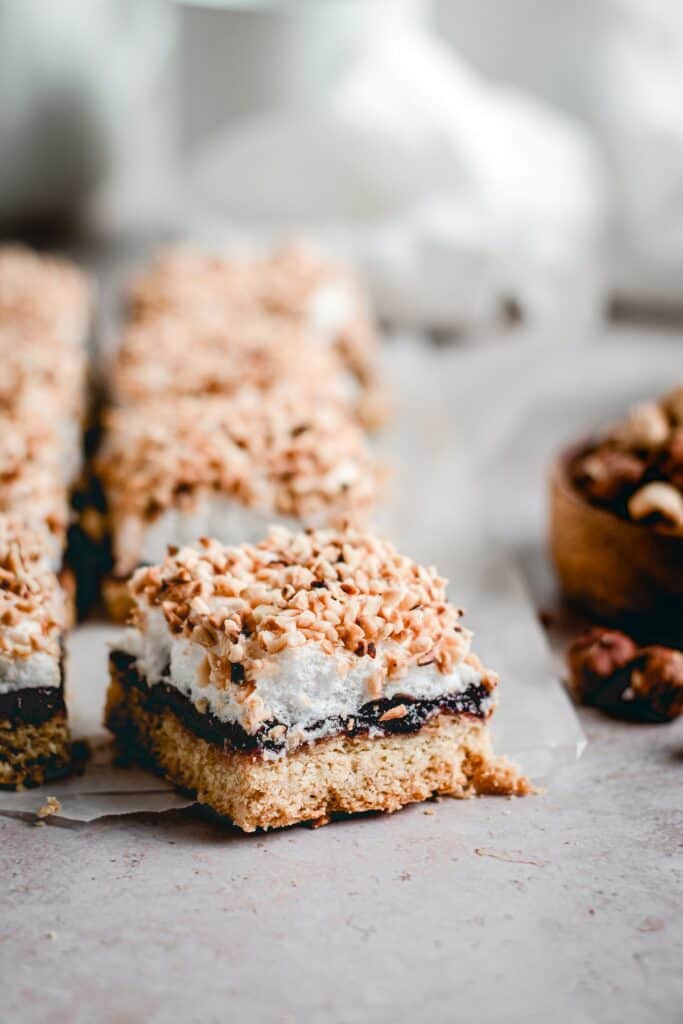 How to make berry meringue cookie bars
The whole process is very easy and requires just a couple of basic ingredients every avid baker has in his pantry. You'll need butter, flour, eggs, sugar, salt, baking powder and jam! Easy and basic, right?
I always like to add lemon zest in almost everything I bake, especially doughs like this one. But if you don't have any on hand, you can leave it out or use orange, clementine, or even lime!
This dough is like enriched shortbread dough, because it has a lot of egg yolks in it. It's soft, so don't worry if you can't roll it out. You can just put little snippets of dough in the pan and then patch it all out with your hands. It'll work like a charm!
You can make your own jam for the filling, but for these bars I like to use store bought mixed berry jam because it tends to be firmer. It's important that you heat up the jam prior to using if it's too stiff, so you don't tear up the dough when you smear it all over.
These bars have two baking stages. The first one is half-baking just the dough on normal-high temperature.
Then you cover it with jam filling and meringue topping and continue to bake it, only this time on lower temperature in order to dry the meringue and lightly continue to bake the dough.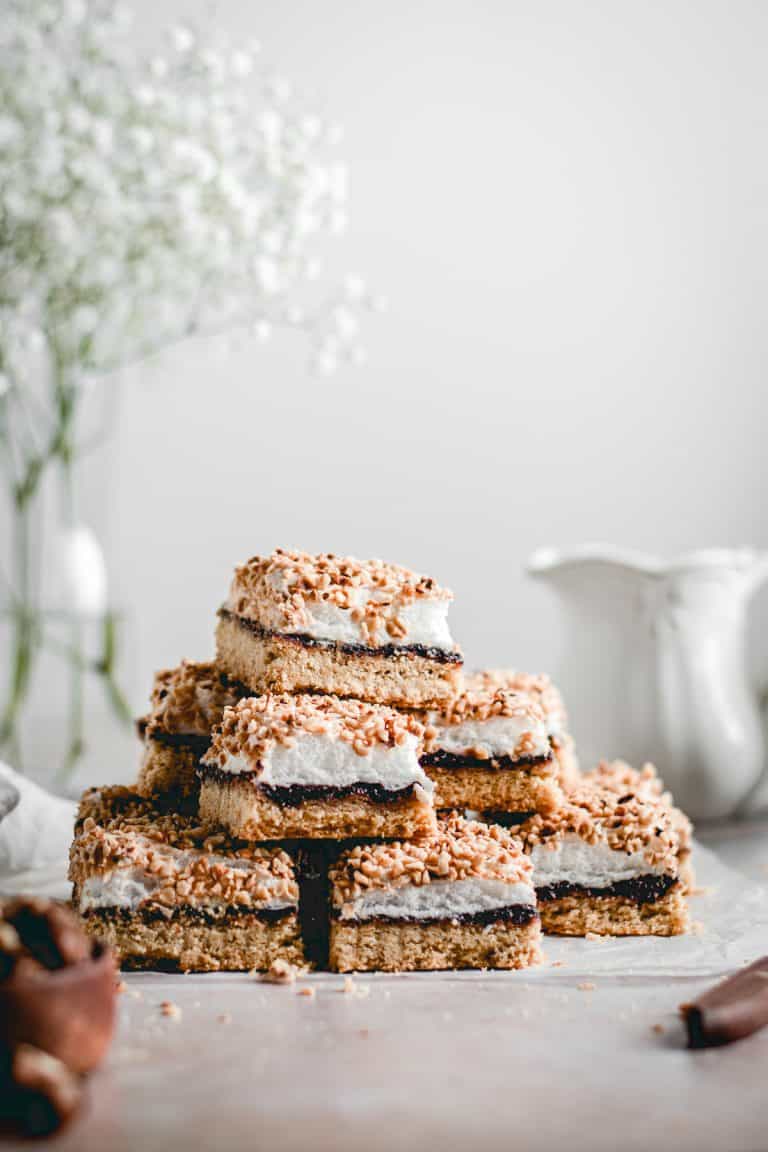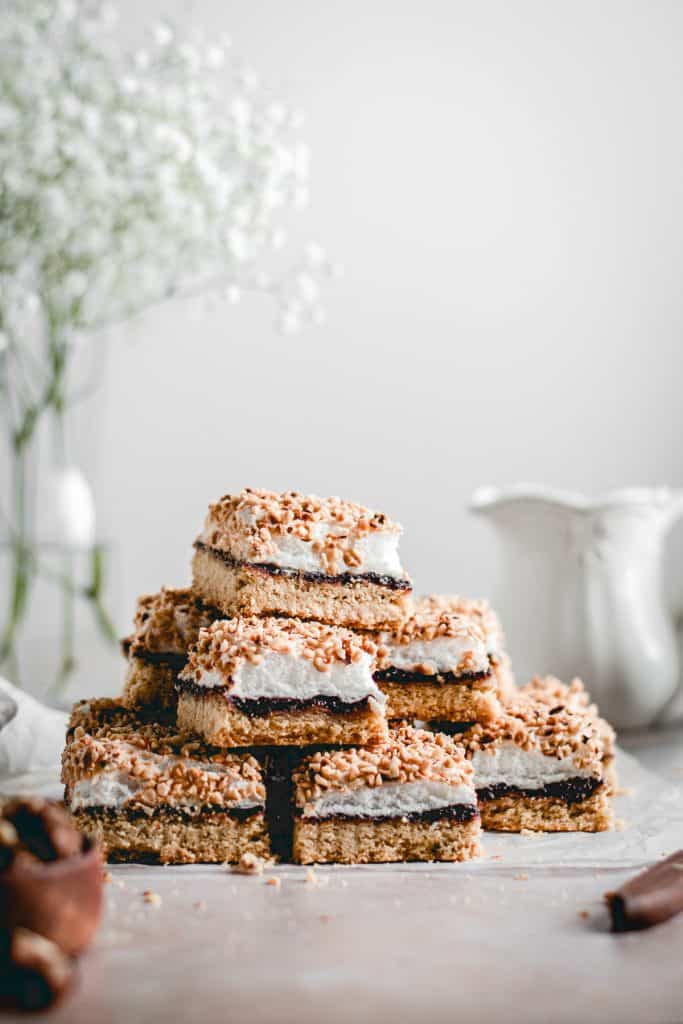 What is Swiss Meringue and how to make it
Swiss meringue is one of three (arguably four) ways to make meringue - which is essentially sweetened egg whites.
It's made by heating fresh egg whites and sugar over a pot of simmering water (bain marie) and then beating it until it forms stiff, glossy peaks and comes to room temperature.
To make sure everything goes smoothly when making meringue, it's essential that all your meringue equipment is completely GREASE FREE. So I suggest wiping both the bowl and the whisk with some vinegar and paper towel.
If you want to know a bit more about this, check out my Pistachio macaron recipe.
How do I store these berry meringue cookie bars?
Well, if a miracle happens and you're not through all of them in a day, I'd suggest keeping them at room temperature, covered with plastic wrap or in an airtight container.
If it's humid where you live and you didn't dry out the meringue thoroughly (we all love some soft meringue), it might weep a little bit, so don't be alarmed. That's just sugar trying to show his way out. 🙂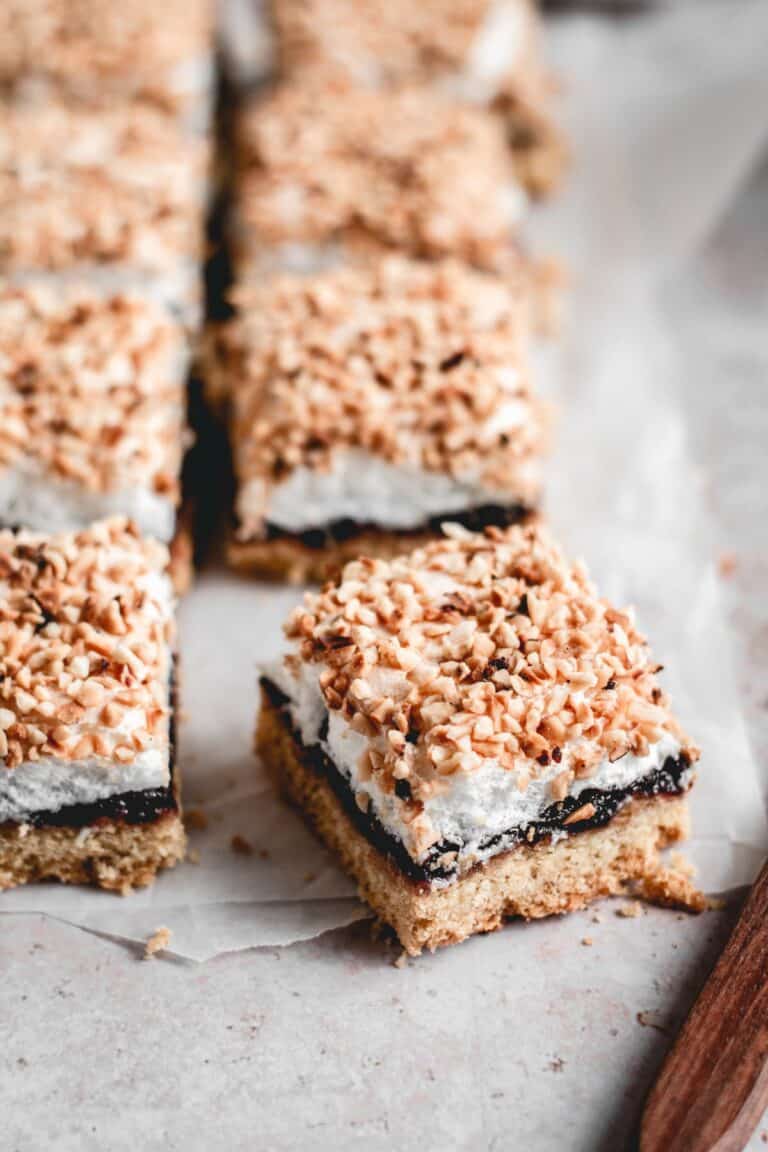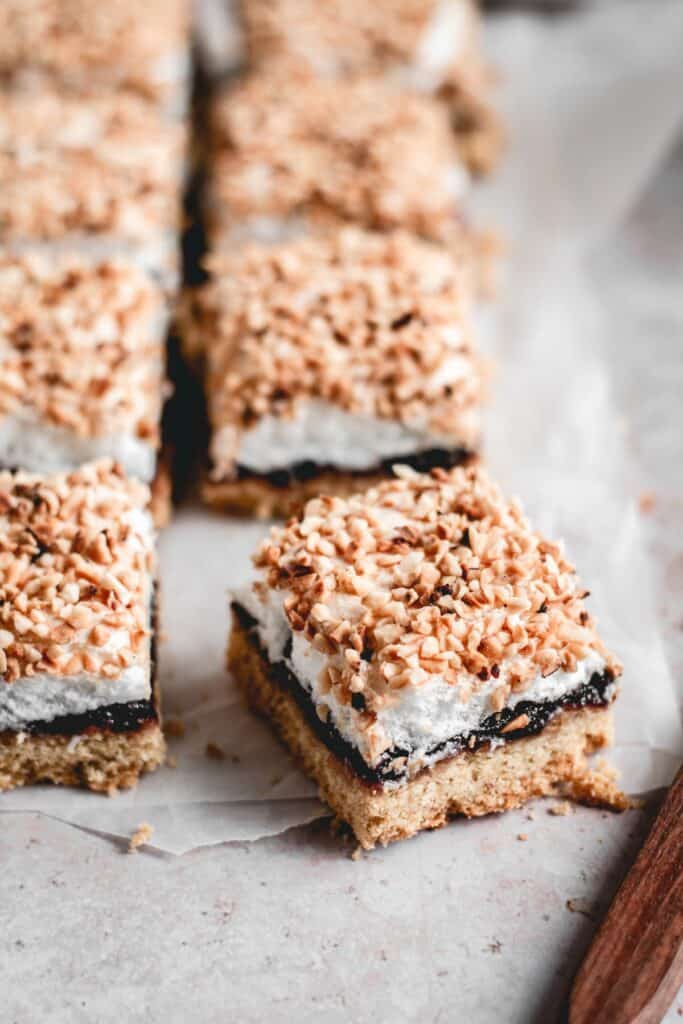 Looking for more easy, comforting recipes?
Soft & Easy Cinnamon Rolls
Yogurt Lemon Pie Bars
S'mores Banana Blondie
Cookie Butter Swirl Brownie
Coconut Lime Loaf Cake
If you make these delicious Berry Meringue Cookie Bars let me know by tagging me on Instagram @anasbakingchronicles or tell me all about it in the comments section down below. Seeing my recipes come to life in your kitchens, always makes me incredibly happy! If you have any questions, don't hesitate to ask. Happy baking!
Love,
Ana
📖 Recipe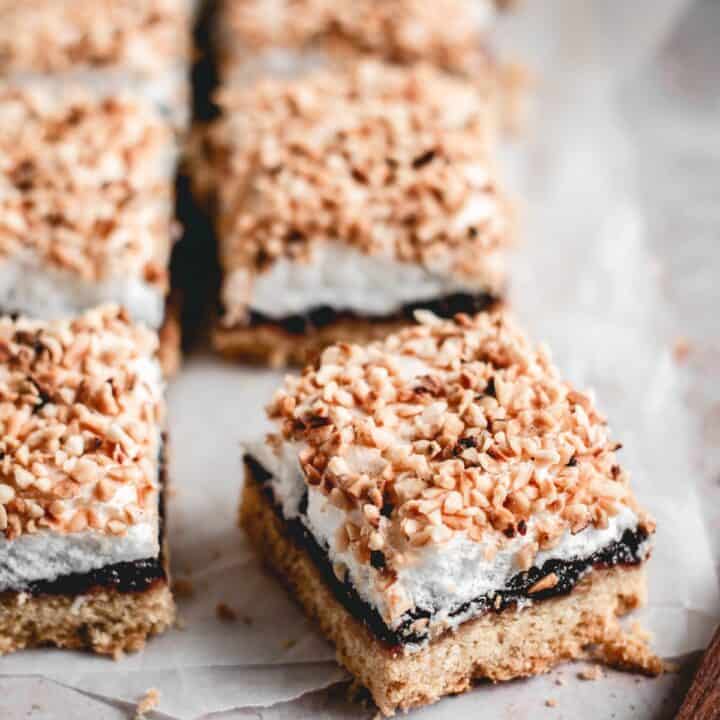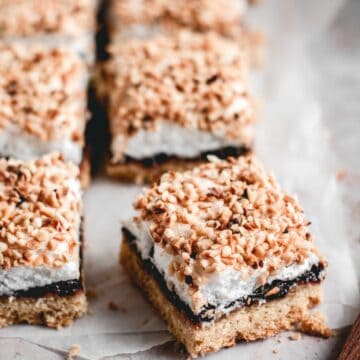 berry meringue cookie bars
Description
These delicious berry meringue cookie bars are the perfect choice when you need a quick and easy dessert! With lemon zest in the dough and berry jam filling, it's the perfect balance of sweet and tangy.
ingredients
shortbread cookie dough
5

large

egg yolks

180

g

unsalted butter

(room temperature)

100

g

caster sugar

300

g

all-purpose flour

1 + ½

teaspoon

baking powder

¼

teaspoon

salt

½

teaspoon

vanilla extract

zest of two lemons
meringue topping
5

large

egg whites

200

g

caster sugar

½

teaspoon

salt

100

g

chopped roasted hazelnuts

(skinned)

+

berry jam
Instructions
for the dough
Preheat fan oven to 160˚C (325˚F) or 175˚C (350˚F) if you're not using a fan oven.

In a bowl of a stand mixer, using a paddle attachment, beat butter, sugar and lemon zest until it combines and goes a little bit paler and fluffier, but not like when making a cake. (approx. 1-2 min) Add egg yolks, one by one, and beat until combined. Afterwards, mix in vanilla extract.

In a separate bowl sift together flour and baking powder. Add salt and whisk altogether. Add dry ingredients in two batches, beating just until everything combines and it forms a dough.

The dough will be sticky, that's fine. Try to roll the dough between two parchment papers to fit a 22x33 cm (9x13 inch) pan, keeping the dough on one of them for sticking reasons. If you find it hard or if it keeps tearing, don't worry, just patch everything using your hands. Using gloves might come in handy.

Bake the dough in a preheated oven for 15 minutes. While the dough is baking, prepare your fillings and toppings.

Depending on the jam you're using, heat it a little bit to make it spreadable. This way you're avoiding tearing the dough.

When the dough is ready, cover it with layer of jam/preserve. It shouldn't be too thick, I usually use about 200 g of jam.
meringue topping
Clean the bowl of your stand mixer, as well as the whisk attachment, using a little bit of lemon juice or vinegar and a clean paper towel. This way we're eliminating traces of grease which could make making meringue impossible.

Combine the egg whites, sugar and a pinch of salt in a prepared bowl and put over a bain marie (a pot of simmering water). Stir constantly with a whisk to make sure the egg whites cook evenly. The mixture is done when it's hot and the sugar is completely dissolved. Rub a little bit of the mixture between your clean thumb and forefinger to test for graininess. If you can feel sugar granules, cook the egg whites some more.

Ideally, the mixture should reach 70°C or 160°F. But if you don't have a thermometer, just make sure it's hot and smooth.

Wipe the bottom of the bowl, place it on your stand mixer and mix on high speed using a whisk attachment until you get stiff peak meringue and the sides of the bowl are cool to the touch. This could take anywhere from 5 to 15 minutes.

Spread meringue over the jam layer, sprinkle with hazelnuts and bake everything for approx. 30 min on 140˚C (300˚F) for a fan oven or 160˚C (325˚F) if not using a fan oven. The goal is to dry out the meringue, while not overbaking the dough.

When it's done, leave it to cool in the pan on a wire rack before cutting into it.
Notes
If you still don't own one, I advise you to buy a kitchen scale – they're cheap and easy to use, and always guarantee the same results in baking! 🙂
IMPORTANT
All the recipes are developed and tested using only metric measurements and a kitchen scale. The U.S. cup and spoon measurements are provided for your convenience, but I highly recommend getting a digital kitchen scale and measuring in metrics. It's easy and always guarantee the same results in baking!
Nutrition
Nutrition Facts
berry meringue cookie bars
Amount per Serving
% Daily Value*
* Percent Daily Values are based on a 2000 calorie diet.
The nutritional information and US conversions are calculated automatically. I cannot guarantee the accuracy of this data. If this is important to you, please verify with your favourite nutrition calculator and/or unit conversion tool.
Have you tried this recipe?
Tag me on Instagram @anasbakingchronicles or use the hashtag #anasbakingchronicles - I love seeing your creations!