These Apple butter Pecan Swirl buns are a perfect fall treat! Made with rich brioche dough and filled with delicious apple butter filling with crushed pecans. Your home will smell like a bakery, guaranteed!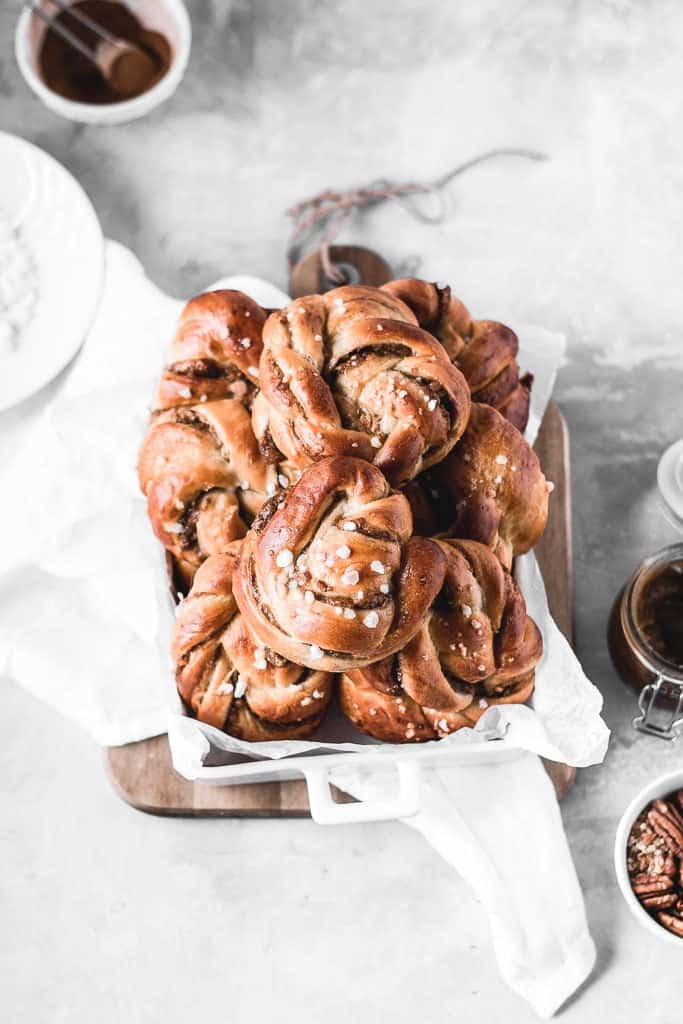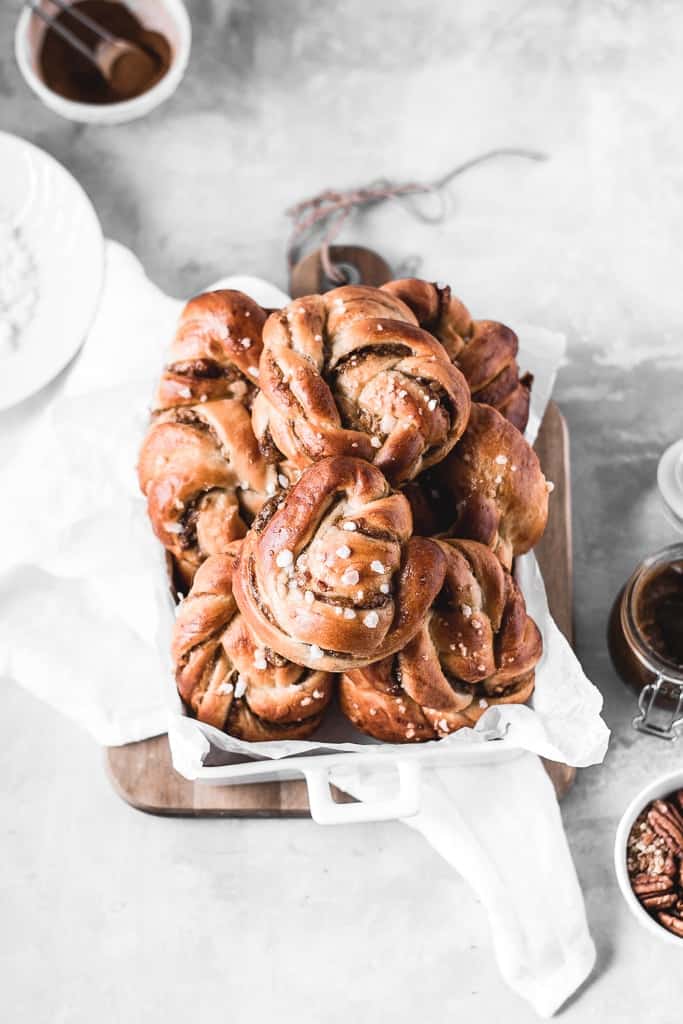 I continue with my current obsession - sweet yeast doughs. Aren't they just the best for this time of year? Soft and fluffy dough, filled with basically anything you like and shaped into a whatever shape you want. It's heaven for a cold Sunday morning, when you're too lazy to get out of your PJs and you just wanna watch old movies the entire day. I'm here for that! And these Apple butter Pecan swirl buns are, too. 😉
WHAT IS APPLE BUTTER?
Apple butter is not really a butter. It's a highly concentrated apple spread and it's in fact vegan. You'll find different recipes on the internet, but at the same time similar. Some people peel the apples, some add apple cider to the mix, some apple cider vinegar. Some add more spices, some less. If you decide to make this gorgeous spread, you'll soon realize you can make it your own, because it's made out of simple ingredients you probably already have at home.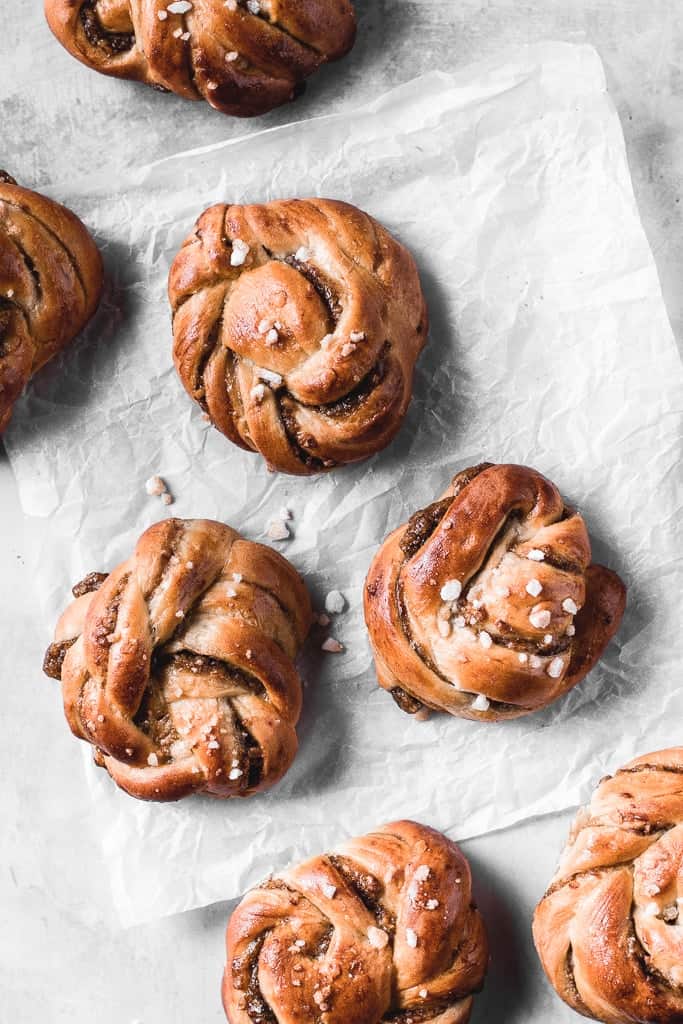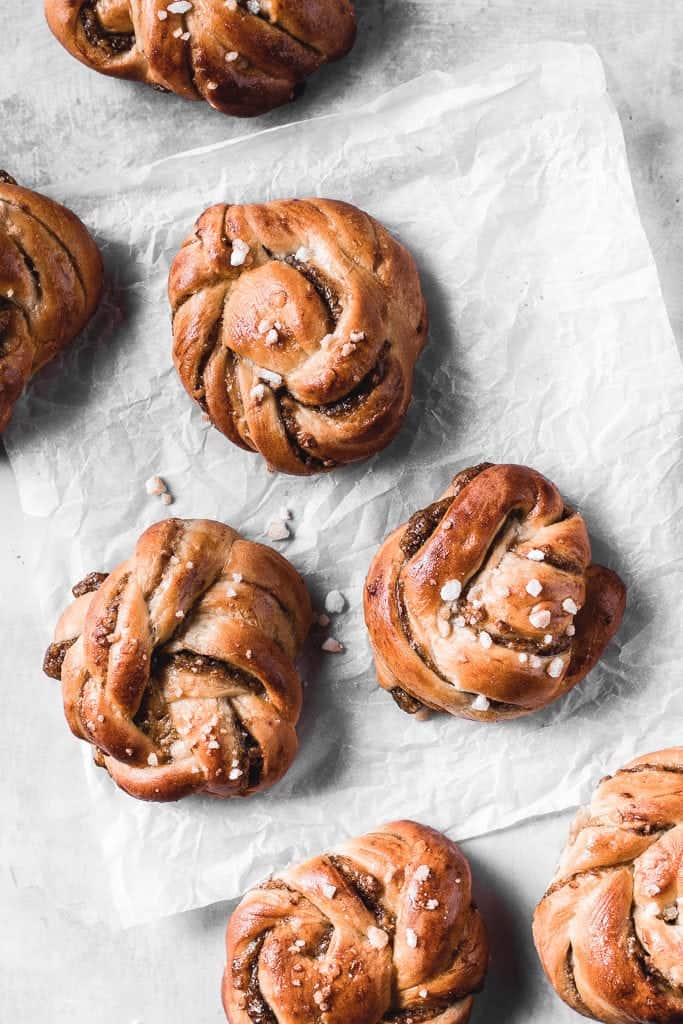 HOW TO MAKE APPLE BUTTER ON THE STOVETOP
I chose to make it using unpeeled apples, because the majority of apple flavour is actually hidden in their peel. You won't find bits and bobs of it in your mouth, because we're going to make that apple butter extra smooth by blitzing it with a hand (immersion) blender. 😉
I didn't want to suffocate the apples by adding tons of cinnamon and other spices. What I wanted is to really taste APPLES, in all their glory. I suggest using tart apples that hold their shape well. That way you control the sweetness and overall flavour. I used Granny Smith apples, but you can use whatever you prefer. For extra apple flavour, I added some apple cider vinegar and just a little bit of cinnamon to enhance the flavour. You don't want it to be overpowering.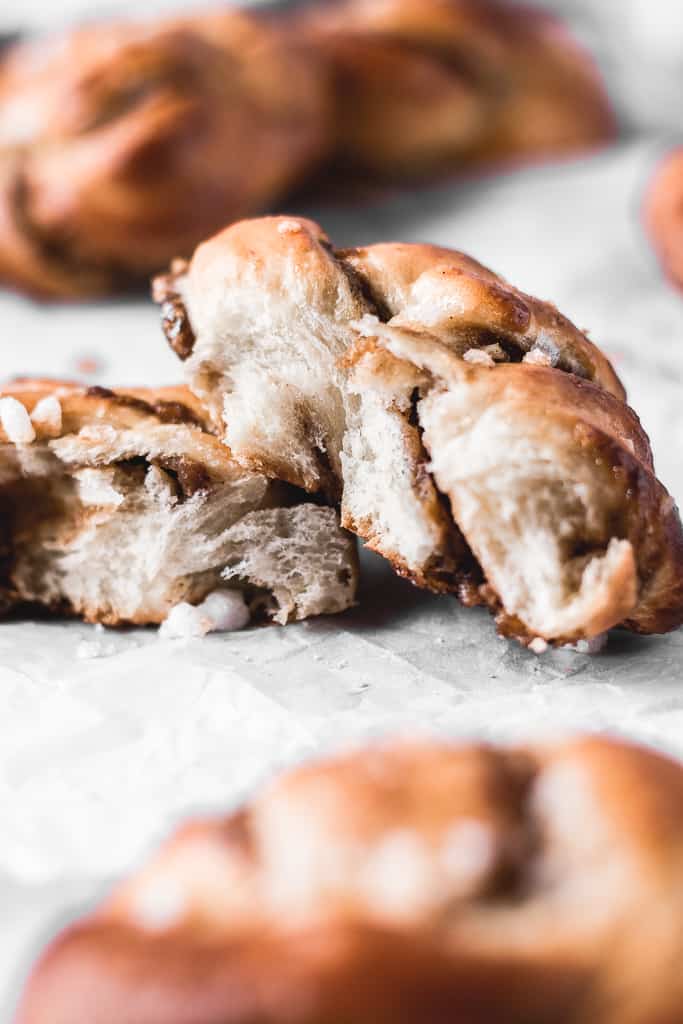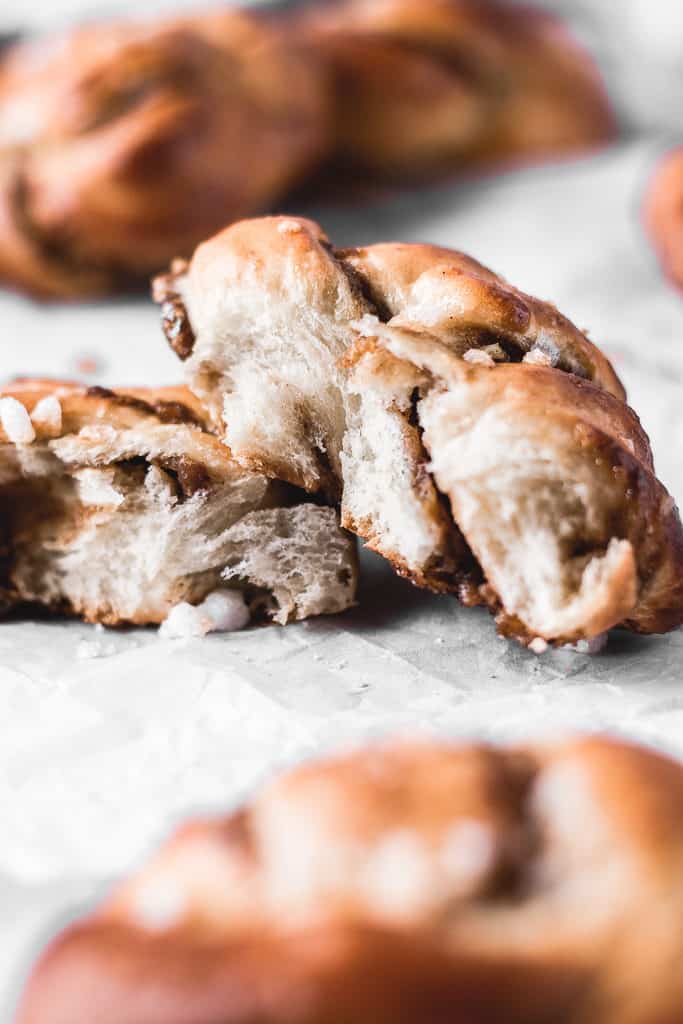 My choice of sweetner was light soft brown sugar - it pairs beautifully with apples.
Now, the most important thing is to cook it long enough. That's why you'll see a lot of recipes using pressure cookers. I don't have that, so I made it on the stovetop. It's fairly easy and doesn't require THAT much time.
Just toss all the ingredients in a pan and let it come to a simmer. Then, reduce the heat to low and let it simmer until apples are really soft. Make sure to stir the mixture occasionally, so it doesn't burn on the bottom. When your apples are extra mushy and soft, it's time to blend them into a smooth puree. Then, all you have to do is cook that puree until you get really thick, spreadable constistency. Again, stirring every now and then, so it doesn't catch on the bottom.
It's really simple and I hope you try it!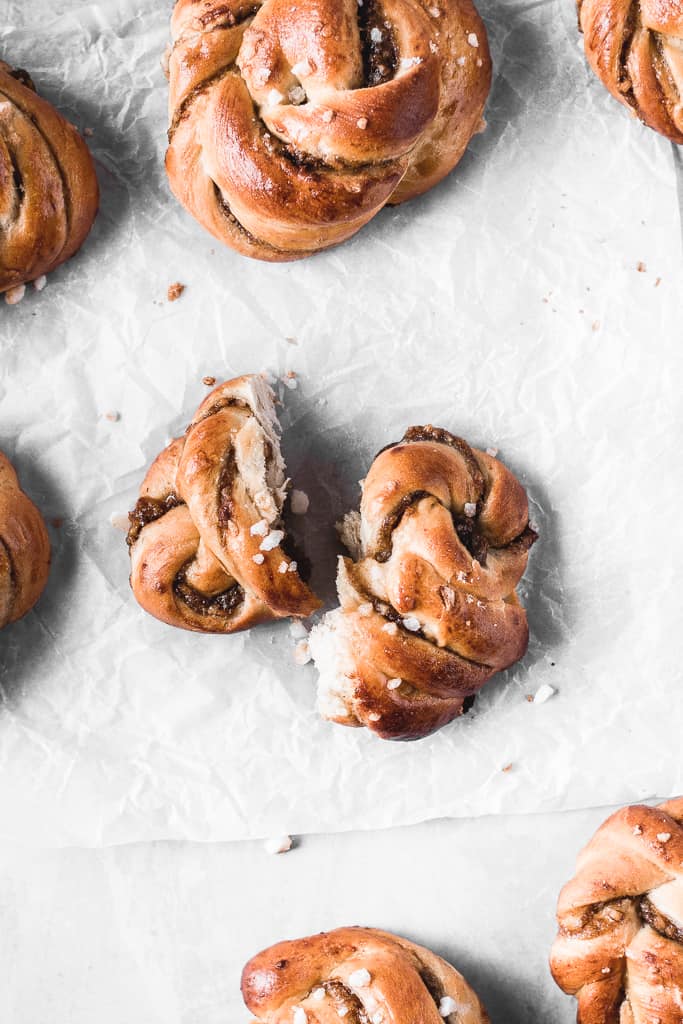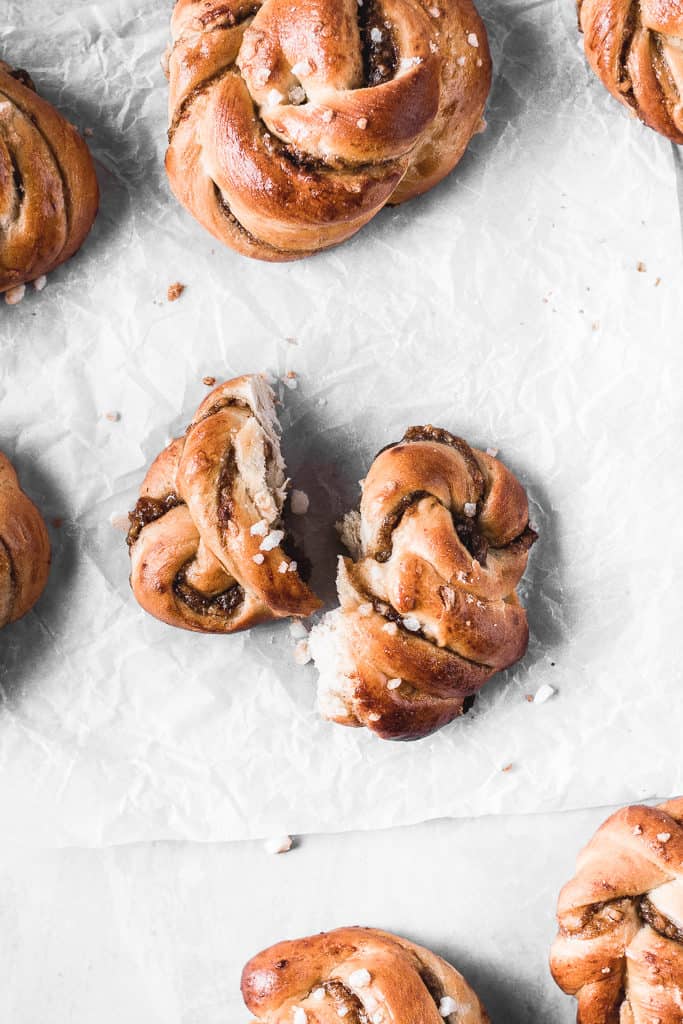 BAKING TIP: I decided to sprinkle the buns with pearl sugar just before baking. I actually didn't have any on hand, so I decided to make my own pearl sugar. You can do it by placing sugar cubes in a ziploc bag and bashing it with a rolling pin. I find this method to be more efficient, than putting the sugar cubes in a food processor. The latter just makes powdered sugar.
FOR MORE COMFORTING SWEET TREATS, CHECK OUT THESE:
The Softest Homemade Cinnamon Rolls
Homemade Chocolate Brioche Babka
Apple Crumble Cheesecake
Dulce de Leche Banana Layer Cake
Pumpkin Spice Latte Cupcakes
If you make these lovely swirl buns, let me know by tagging me on Instagram @anasbakingchronicles or tell me all about it in the comments section down below. I love seeing your creations! If you have any questions, don't hesitate to ask. Happy baking!
Love,

📖 Recipe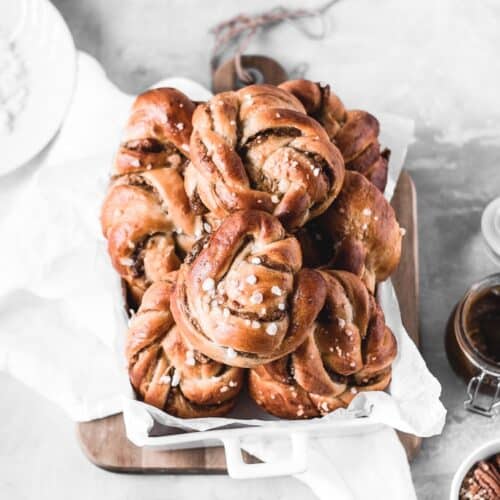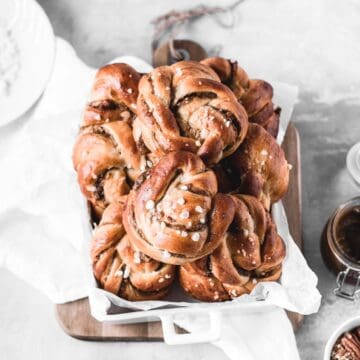 apple butter pecan swirl buns
Description
These apple butter pecan swirl buns are made from soft, rich brioche dough and delicious apple butter filling. They can be left to rise overnight in the fridge for a delicious breakfast!
ingredients
for the brioche dough
550

g

all-purpose flour

(sifted)

3

large

eggs

(room temperature)

130

g

warm water

((45-50C))

50

g

warm milk

1

packet

active dry or instant yeast

((9 or 7 g))

120

g

caster sugar

150

g

unsalted butter

(room temperature)

1

teaspoon

salt
for the apple butter
1

kg

granny smith apples

(diced)

100

g

apple cider vinegar

150

g

water

135

g

light soft brown sugar

1

teaspoon

cinnamon

½

teaspoon

salt

1

teaspoon

vanilla extract

100

g

crushed pecans

pearl sugar
Instructions
for the brioche dough
Preheat your fan oven to 160°C (325°F) or 175°C (350°F) if you're not using a fan oven. Grease and line with parchment paper two baking sheets.

In a bowl of a stand mixer sift together flour, salt and sugar. Set aside while you prepare the rest.

If you're using active dry yeast (like me), you need to activate it first. Heat your milk and water over a medium heat until it reaches about 50°C. Put active dry yeast in a small bowl and cover with a couple of tablespoons of that warm milk and water mixture and a teaspoon of sugar. Mix it with a teaspoon and leave it to rest for 5 minutes or until it becomes all frothy and bubbly on top.

Cut your butter into cubes and set aside.

Once you got everything ready, pour your yeast and milk/water mixture to the flour. Add three eggs. Using your stand mixer fitted with the dough hook, knead it on low-medium speed for about 10-15 minutes or until it starts pulling from the sides and is elastic.

With the mixer still running, add the butter one cube at a time and mix until fully incorporated into the dough. Then continue mixing for a further 10-15 minutes or until it's elastic and no longer sticking to the bowl. On a lightly floured surface, knead the dough a little bit to form a ball and place into a lightly greased bowl. Cover with cling film and let it rise slowly in the fridge, overnight or up to 48 hours.
for the apple butter
Place the apples (diced, but not peeled), apple cider vinegar, brown sugar, cinnamon and salt in a medium-large pan. Cook over medium-low heat, uncovered, stirring occasionally, until the apples have become very soft. This could take about 30-40 minutes.

Then, use a hand blender to puree the apple mixture (or ladle it into a regular blender in batches) until smooth.

Place the puree back into the pot and continue to cook, uncovered and stirring every now and then so it doesn't burn and catch on bottom. Cook it until thick, smooth and deep brown colour - about 45-60 minutes.

Transfer the mixture to a jar (or a couple of smaller ones), leave it to cool to room temperature, then keep it refrigerated.
assembling swirl buns
Remove the dough from the fridge onto a lightly floured surface and divide into two equal sized pieces. Using a floured rolling pin, roll out each piece (one at a time) into a rectangle roughly 30x40cm (17x12 inch).

Using a small offset palette knife, spread apple butter over the half of the rolled dough, sprinke with crushed pecans and cover with the other half of the dough. Cut the dough into stripes. (I got 8) Then, cut each stripe in half lenghtwise, but not all the way to the top. They should look like trousers. Swirl each stripe then braid them together to one swirly log. After that, just shape the bun by keeping the "top" part in the middle and swirling the rest around it. Make sure the ends are hidden on the bottom for a nice looking bun.

Gently place the buns onto a prepared baking tray. Cover them with cling film and place in a warm place for about an hour and a half to two hours or until the dough has about doubled in size. Repeat with the second piece of dough. 

*You can leave buns from the other half of dough to rise in the fridge overnight, so you can have it fresh the next day.

When your buns have doubled in size, give them an egg wash, sprinkle with pearl sugar and bake them in a preheated oven for about 25 minutes or until golden brown on top.
Notes
Not all ovens are the same. If you experience browning at the top and are afraid it's too much, put a baking paper sheet over it or cover in aluminium foil. Just be careful when pulling the pan out of the oven - aluminium foil gets really hot!
They are best eaten the same day. I suggest keeping them in an airtight container if you wish to eat them the next day as well. If you don't have an airtight container, tightly wrapped cling film would also do the trick. 
If you still don't own one, I advise you to buy a kitchen scale – they're cheap and easy to use, and always guarantee the same results in baking! 
I'm not entirely sure how much pecans I ended up using, because I didn't measure it. This is a rough estimate, you do you and put the amount you think is appropriate.
You can keep apple butter in the fridge for up to two weeks.
If you don't have pearl sugar, you can "make" it, by placing sugar cubes in a ziploc bag and bashing it with a rolling pin. 
IMPORTANT
All the recipes are developed and tested using only metric measurements and a kitchen scale. The U.S. cup and spoon measurements are provided for your convenience, but I highly recommend getting a digital kitchen scale and measuring in metrics. It's easy and always guarantee the same results in baking!
Nutrition
Nutrition Facts
apple butter pecan swirl buns
Amount per Serving
% Daily Value*
* Percent Daily Values are based on a 2000 calorie diet.
The nutritional information and US conversions are calculated automatically. I cannot guarantee the accuracy of this data. If this is important to you, please verify with your favourite nutrition calculator and/or unit conversion tool.
Have you tried this recipe?
Tag me on Instagram @anasbakingchronicles or use the hashtag #anasbakingchronicles - I love seeing your creations!