Three layers of rich and soft chocolate cake, paired with light and airy chocolate buttercream and filled with luscious dark chocolate ganache. It doesn't get more chocolatey than this!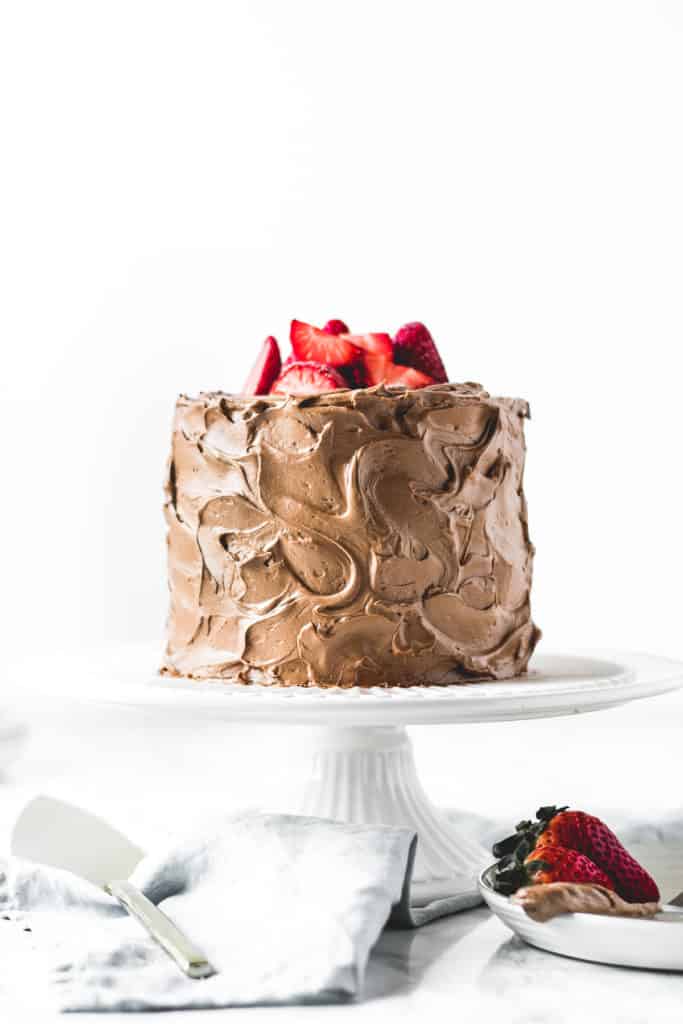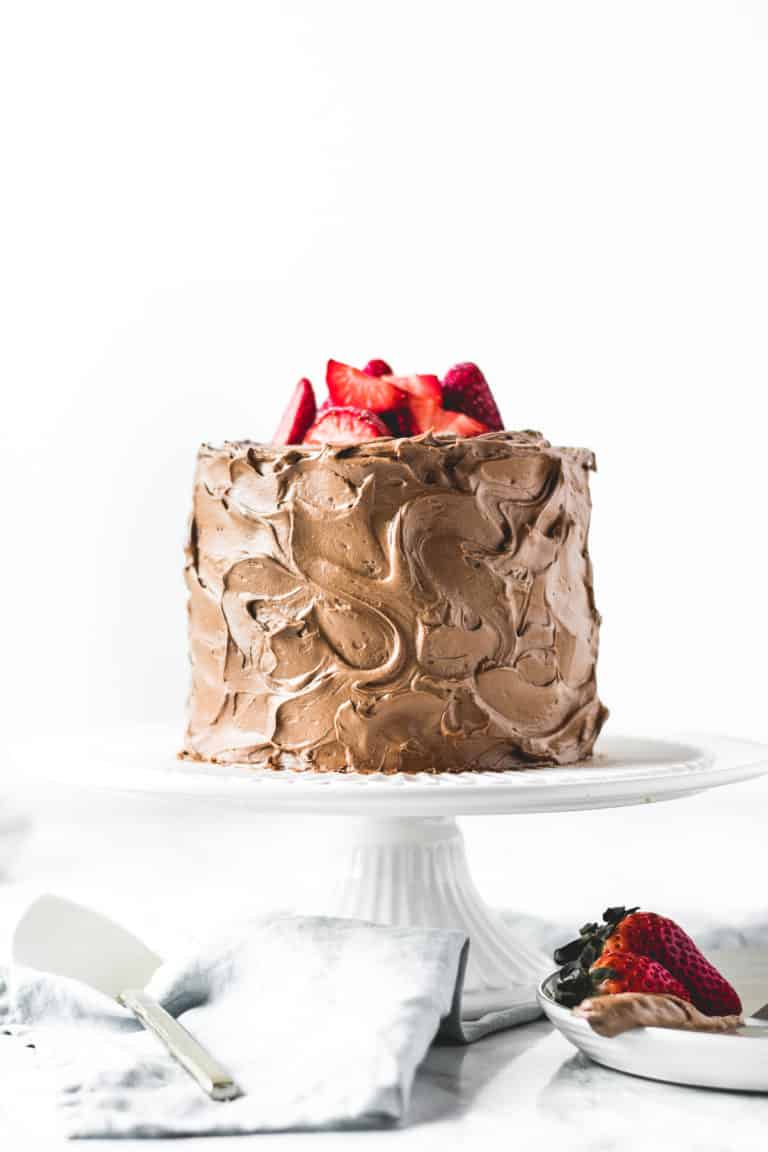 Brace yourselves chocoholics. It's here! The Ultimate Triple Chocolate Cake is finally here! Can I get a woot-woot? I'm actually really proud that I'm writing this post IN TIME. #feelingorganized , definitely. Also, birthday season is on (since 2019 is still "fresh") and I didn't want to deprive you of a recipe that might make someone you love very, VERY HAPPY. 🙂
From the look of it, you can tell I wanted to keep it simple, but nonetheless appealing and beautiful. Do you agree? The strawbs on top make the whole cake POP. So gorgeous.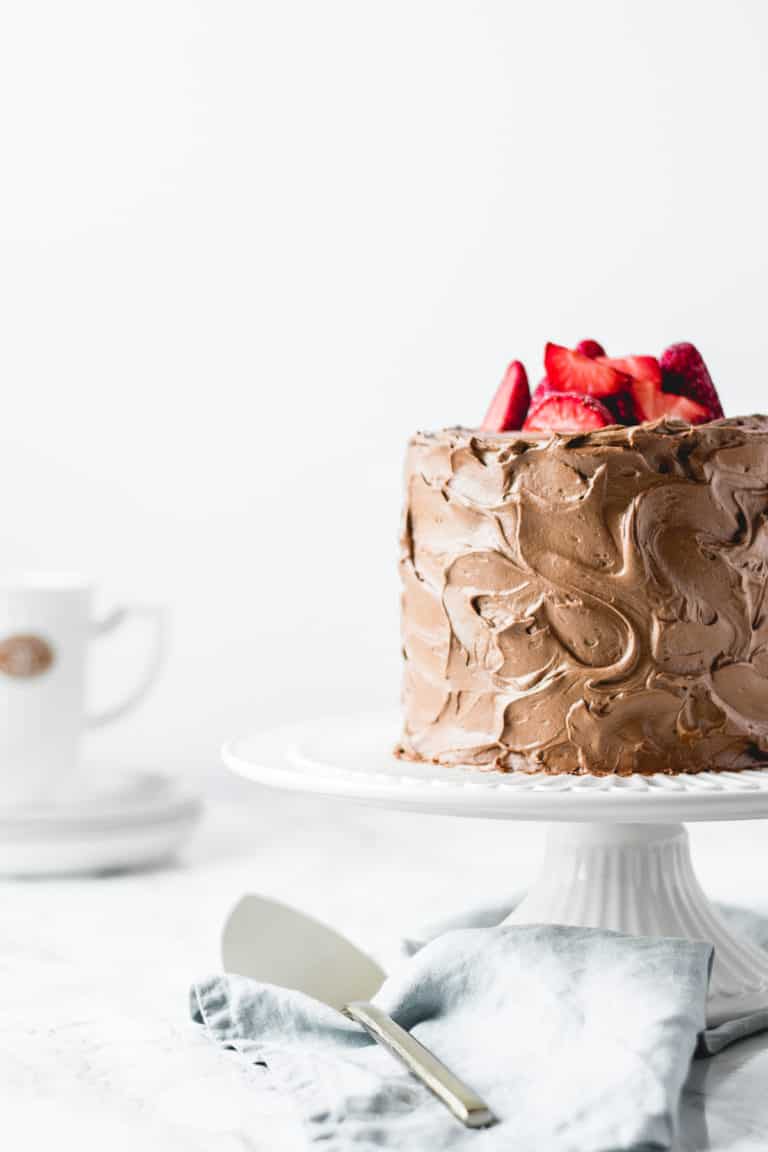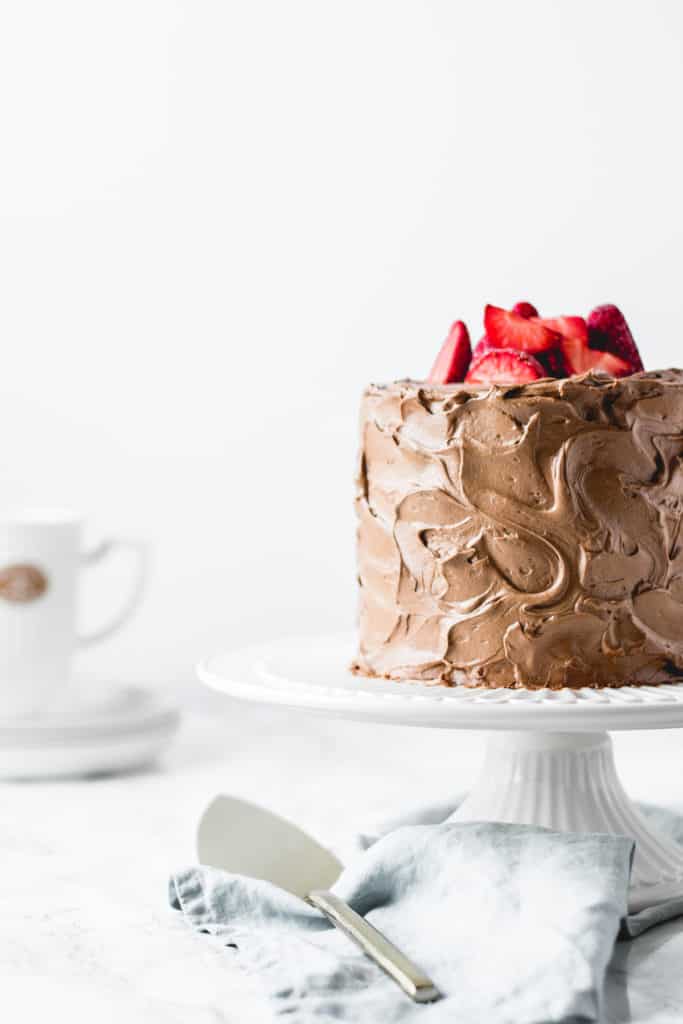 About this chocolate cake
This is my GO-TO chocolate cake recipe. It's absolutely perfect. And I'm not the one to use that word easily.
It's like it has brownie flavour, but a wonderful fluffy texture. So rich in flavour, but then again - not that heavy on the mouth. It's just delightful! And works as a cupcake recipe as well! 😉
I won't go into sciency details behind this recipe, because I'd already done that. You can check it out on my post about Chocolate Oreo Cake.
I wrote about baking powder vs. baking soda and some other stuff regarding this recipe. If you're a nerd like me, don't skip it! 🙂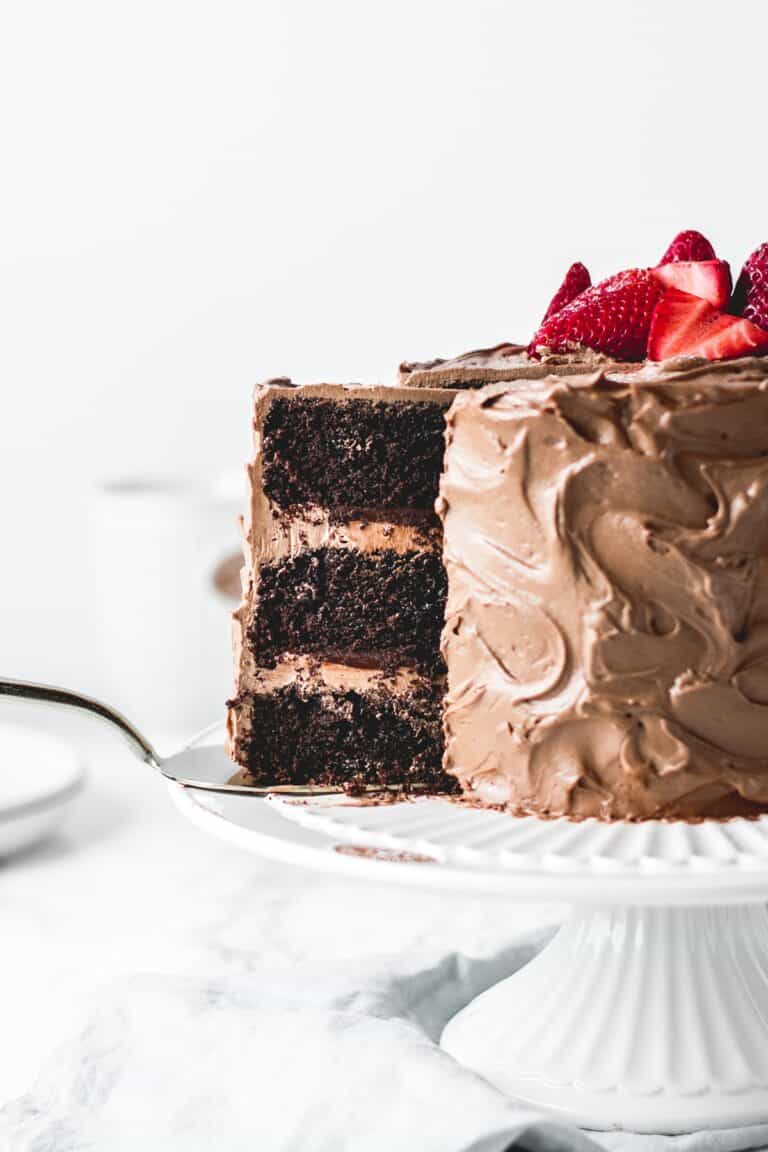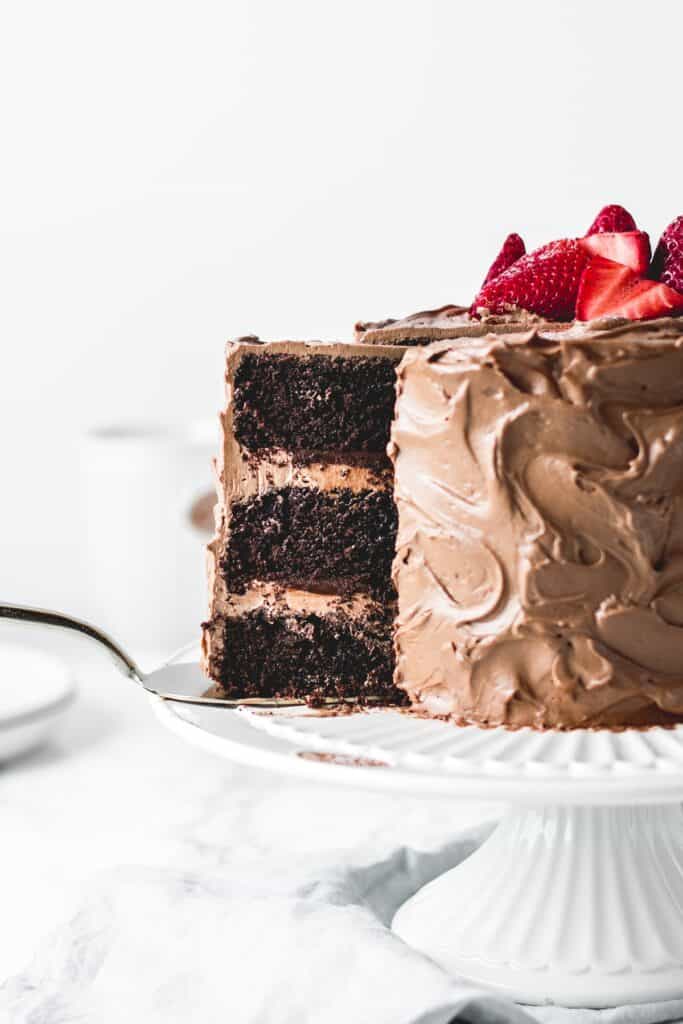 Chocolate Ermine Frosting
So we've covered cake. Now - let's talk about buttercream.
I get that everyone has a different taste, so I don't intend to be disrespectful in any way. But, I have to tell you, when I see a recipe that says - you need more sugar to get the right consistency - I freak out!
I'm not kidding, I go slightly mad (fyi, just started singing Queen) because.. you're not supposed to sacrifice flavour to get the look you want. Not ever. Never ever ever. That's my philosophy and I stand by it 100%.
Let me hear ya - taste over looks!
Now that we agree, I give you the best chocolate buttercream recipe.
As you may already know, I use exclusively Flour/Ermine Buttercream. You can read more about it in this post with step-by-step instructions and images.
In order to keep it short and simple, I'll just tell you this: it's light. It's not too sweet. You can actually taste the flavour you're going for without overpowering sugar.
That said, it flavours beautifully. You can add jams, chocolate, extracts, zests... anything! Many people describe it as a sweet whipping cream. And I take that as a compliment.
But unlike whipping cream, it's sturdy. You can stack cakes and pipe rosettes. It also doesn't crust. I can go on and on about this frosting, but blabbing is one thing. Tasting is the REAL THING.
You know what you gotta do! 😉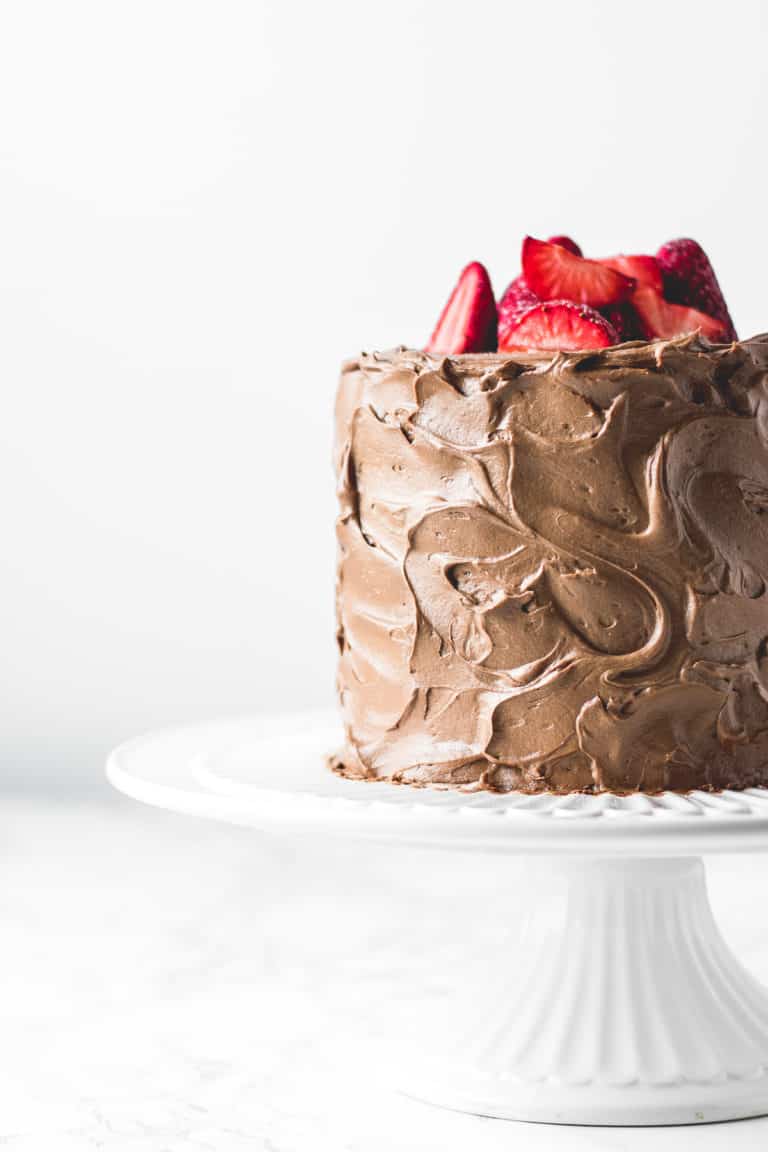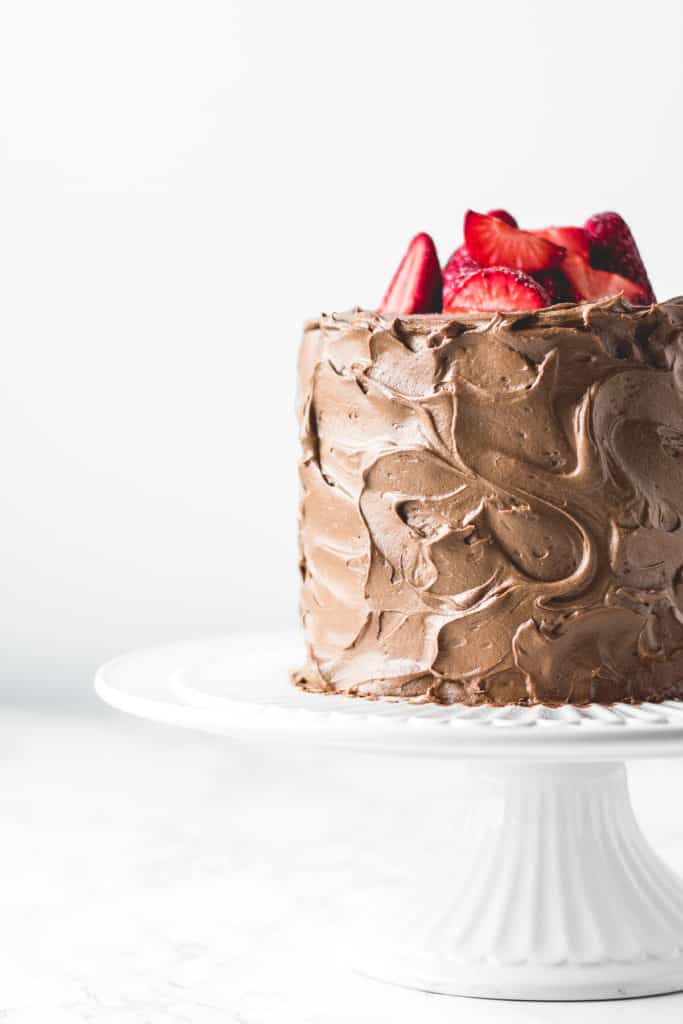 You need to make this recipe because it WILL become your favourite. I'm 100% sure about it! It's so easy to make, doesn't require any fancy equipment and you'll make a lot of people happy - guaranteed!
You're a chocoholic? Take a look at some of my favourites:
Chocolate Hazelnut Cake
Chocolate Berry Cake
Milk Chocolate Orange Cookies
Chocolate Chip Banana Bundt Cake
Caramel Popcorn Chocolate Cake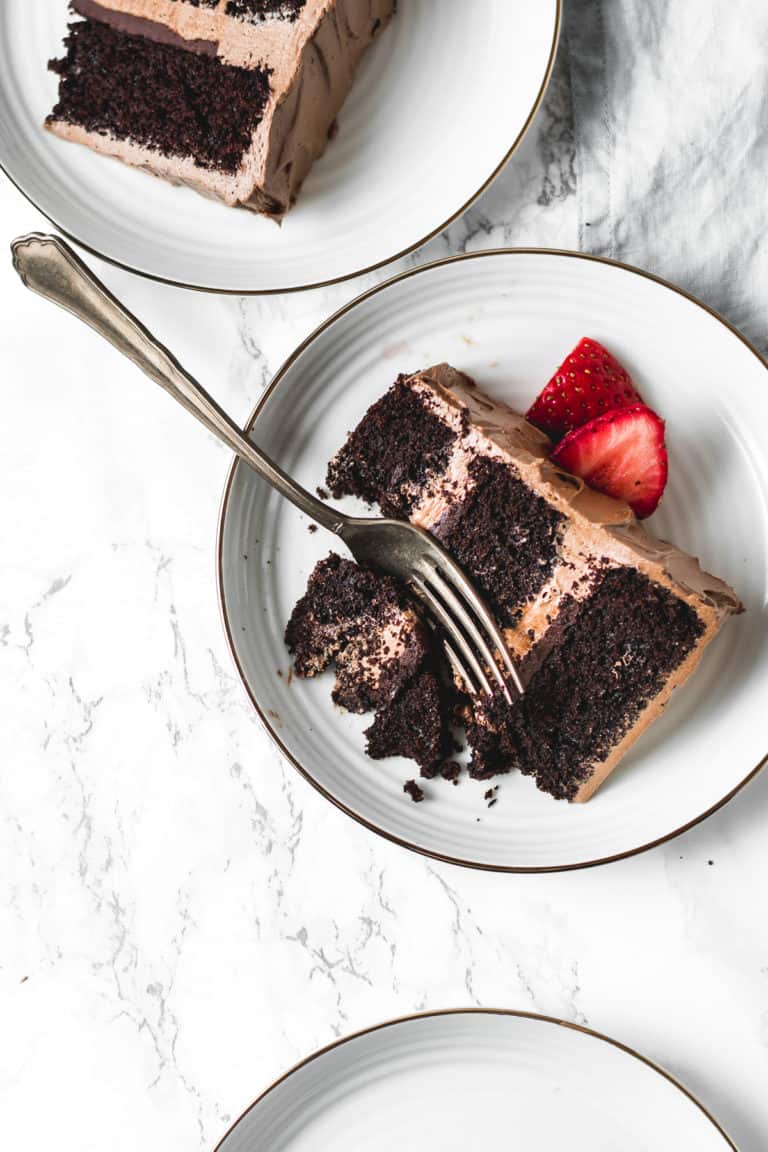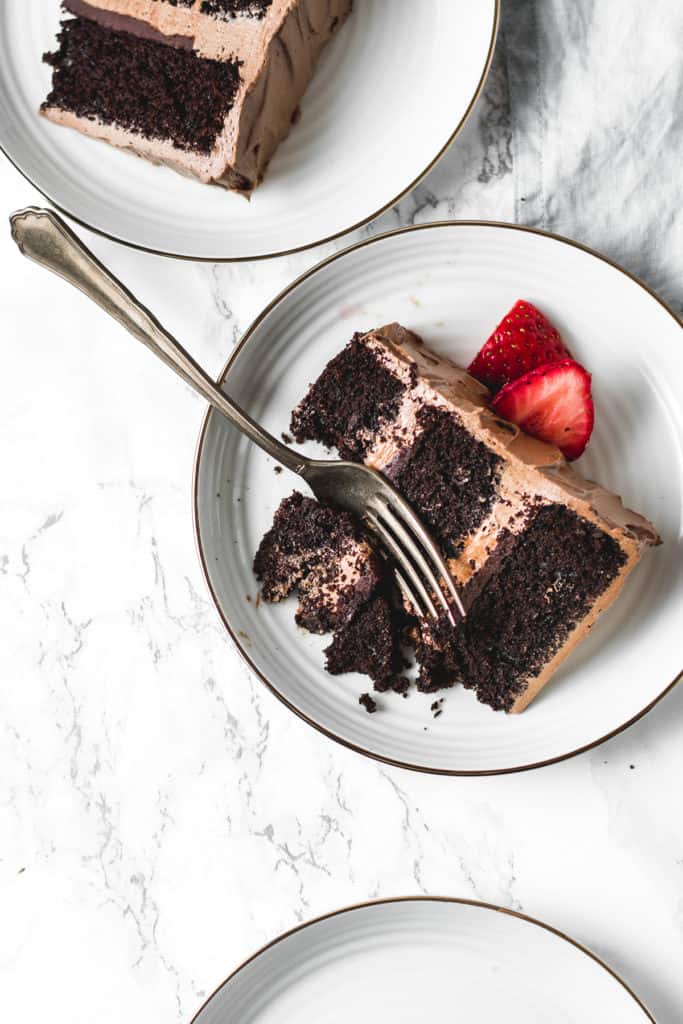 If you make this gorgeous cake, let me know by tagging me on Instagram @anasbakingchronicles or tell me all about it in the comments section down below! I love seeing your creations! If you have any questions, don't hesitate to ask! Happy baking! 🙂
Love,
Ana
📖 Recipe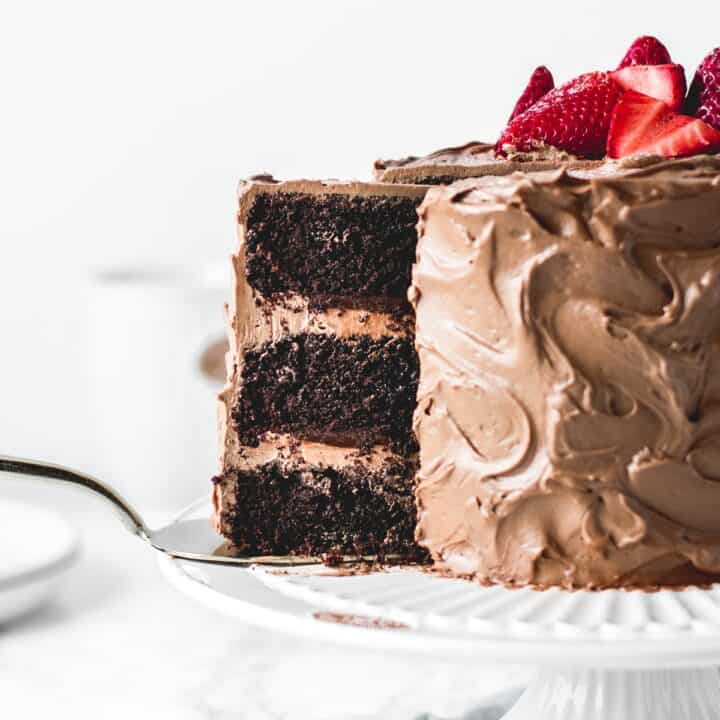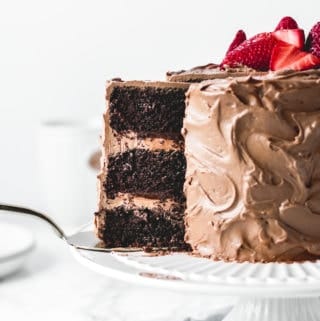 Ultimate Triple Chocolate Cake
Description
Three layers of rich and soft chocolate cake, paired with light and airy chocolate buttercream and filled with luscious dark chocolate ganache. It doesn't get more chocolatey than this!
ingredients
Chocolate Cake
2

large

eggs

(room temperature)

115

g

vegetable oil

((I used sunflower))

200

g

full-fat sour cream

(room temperature)

½

teaspoon

vanilla extract

170

g

all-purpose flour

75

g

dutch-processed cocoa powder

2 + ¼

teaspoons

baking powder

½

teaspoon

salt

225

g

granulated sugar

65

g

brown cane sugar

130

g

hot water
Dark Chocolate Ganache Filling
100

g

god quality dark chocolate

((55-60% cocoa solids))

150

g

heavy cream

30

g

unsalted butter
Chocolate Buttercream
55

g

all-purpose flour

225

g

granulated sugar

½

teaspoon

salt

390

g

whole milk

350

g

unsalted butter

1

teaspoon

vanilla extract

300

g

good quality dark chocolate

(melted and cooled)
Instructions
Chocolate Cake
Preheat your fan oven to 160°C (325°F) or 175°C if you're not using a fan oven. Grease and line with parchment paper three 6" round cake tins. Alternatively, you can use two 8" cake tins.

In a medium bowl sift together flour, cocoa powder, baking powder and salt. Add sugars, whisk until combined and set aside.

In a small bowl or a measuring jug, whisk together eggs, vegetable oil, sour cream and vanilla extract. These are your wet ingredients.

In a small pot, bring your water to a boil or simmer, it's important that it's hot. Add the wet ingredients to dry ones, stir a little bit, it'll be somewhat dry. Then add the boiling water and whisk until combined. I usually add the water in two stages to minimize clumps forming.

Divide the batter evenly among the 3 tins and bake for 23-25 minutes or until skewer inserted in the middle comes out with few moist crumbs. Do not overbake it.

Once they're done, let the cakes cool for 10-15 minutes on a wire rack before removing them from the pans to cool completely.
chocolate ganache filling
Place finely chopped chocolate in a bowl. Bring heavy cream and butter just barely to a simmer and pour over chopped chocolate. Cover it with a plate and leave it 1-2 minutes. Stir with a spatula until combined and smooth. Alternatively, you can do this in a microwave for 30 seconds.

Cover with cling film, leave it at room temperature to thicken to a spreadable consistency before assemblying the cake.
Chocolate Ermine Buttercream:
In a small saucepan (I always use heavy-bottomed one to prevent burning) combine flour, sugar, salt and milk. Cook over medium-high heat, stirring constantly with a whisk until it thickens. This can take about 15 minutes. The moment you realize it's thicker, cook for another 3-4 minutes.

Once it's done, put a cling film over it touching the surface to prevent "skin" forming and let it cool to room temperature. This is your pudding base. You can do this in a fridge, but before using it let it come to room temperature.

Using a stand mixer fitted with the paddle attachment, beat the butter for 5 minutes until it's pale and fluffy. Then add spoonful by spoonful of previously made pudding. Mix until it's all nicely incorporated and with no lumps. Add vanilla extract with cooled melted chocolate and mix until everything is combined. You might need to scrape the bowl a couple of times to ensure the chocolate is well incorporatedd and there are no white streaks.

Cover with cling film and leave it at room temperature until assemblying the cake.
You'll probably have some leftover ganache, but it's hard making a smaller quantity than this.
Assembly
Using a cake leveler or a long serrated knife level the tops of your cakes if needed.

In the middle of your cake board or a serving plate put some buttercream to stop the cake from moving around.

Place one cake layer on a cake board or a serving plate. Using a small offset palette knife or a piping bag, spread the frosting over the cake layer and make a dam around it. Pour ganache in the middle, level it with a palette knife. Top it with the next cake layer and repeat the process.

Place final layer on top, upside down, and do a thin crumb coat on the cake. Chill for 20-30 minutes in the fridge before final decorating.

Once cooled, frost and smooth the top and sides of the cake with remaining frosting. Then, using the back of your small offset palette knife, make swirls until you're satisifed with the "rustic" look. Add some strawberries on top to add interest and enhance the flavour.
Notes
If you don't have a stand mixer, you can use a hand mixer.
Not all ovens are the same. I suggest to check the cakes at 18 min mark and then adjust the baking time accordingly. Get to know your oven! 
If you still don't own one, I advise you to buy a kitchen scale - they're cheap and easy to use, and always guarantee the same results in baking!  
Cake is best eaten at room temperature. You can keep it in a fridge, wrapped in cling film, but take it out of it at least half an hour before serving. 
IMPORTANT
All the recipes are developed and tested using only metric measurements and a kitchen scale. The U.S. cup and spoon measurements are provided for your convenience, but I highly recommend getting a digital kitchen scale and measuring in metrics. It's easy and always guarantee the same results in baking!
Nutrition
Nutrition Facts
Ultimate Triple Chocolate Cake
Amount per Serving
% Daily Value*
* Percent Daily Values are based on a 2000 calorie diet.
The nutritional information and US conversions are calculated automatically. I cannot guarantee the accuracy of this data. If this is important to you, please verify with your favourite nutrition calculator and/or unit conversion tool.
Have you tried this recipe?
Tag me on Instagram @anasbakingchronicles or use the hashtag #anasbakingchronicles - I love seeing your creations!