Soft and zingy, lemon poppyseed cake, covered with delicious blueberry glaze. It's a perfect cake for a lazy or busy weekend!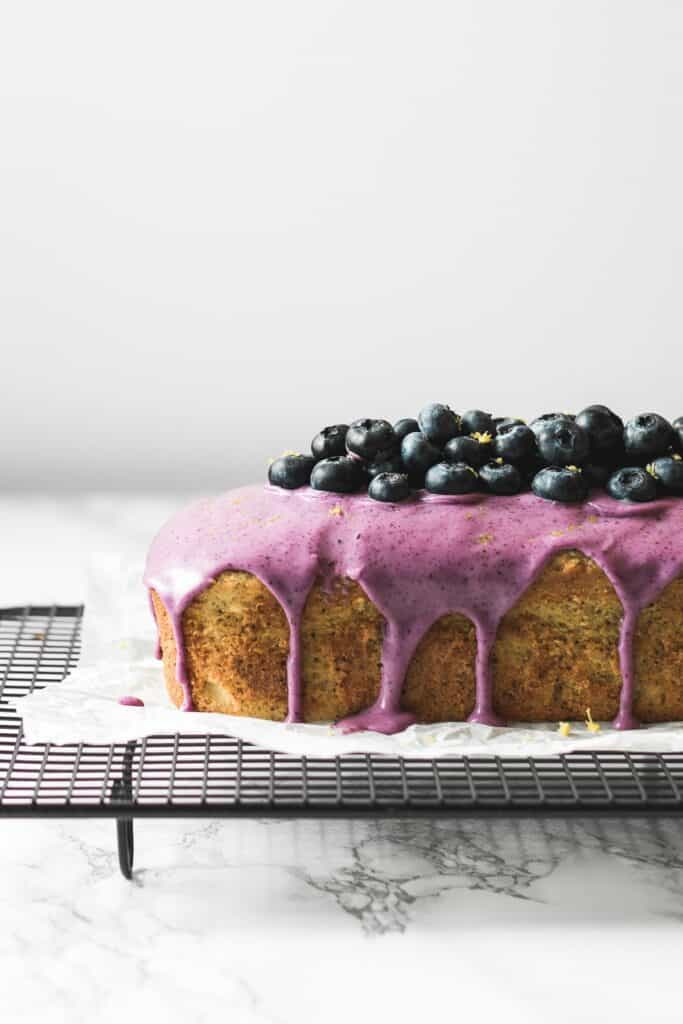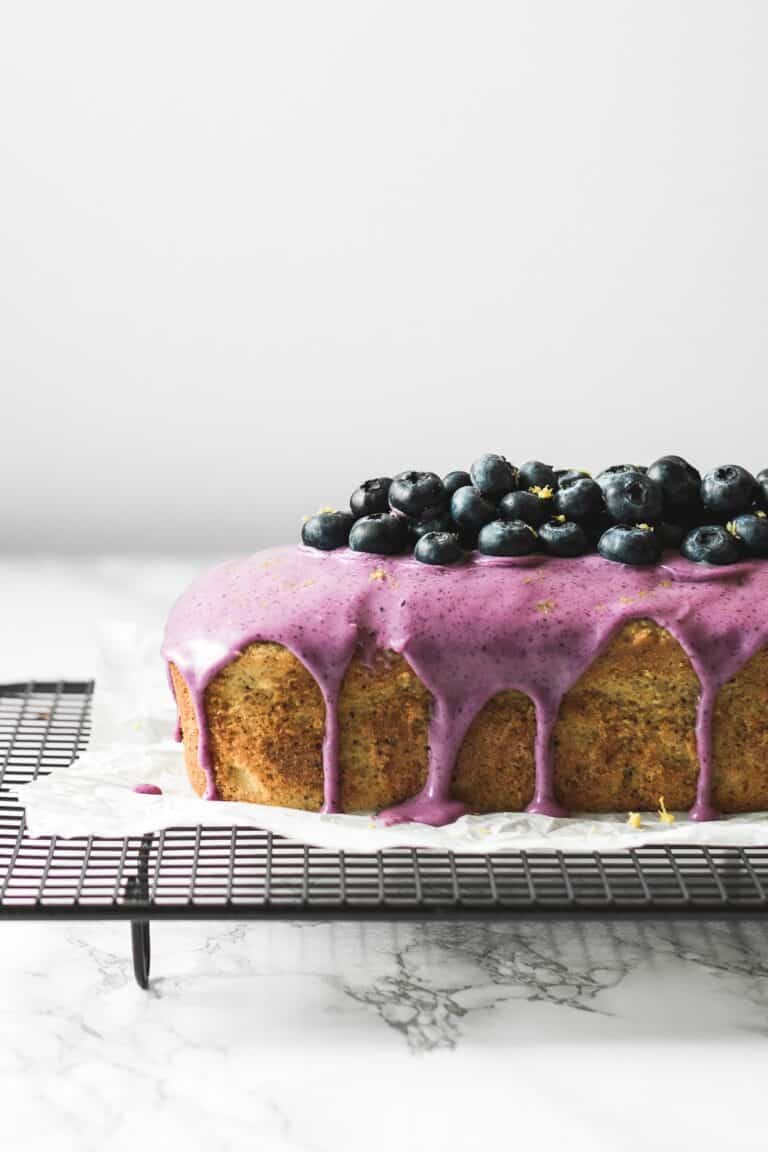 I can't imagine a better way to welcome spring, than with this amazing lemon poppyseed cake and that gorgeous glaze. I mean, what a beautiful colour! That natural shade that bluebs make is just so gorgeous! Just like in this Chocolate Berry Cake. Berries are awesome, don't you agree? 🙂
This time I won't smother you with nonsense life information. Let's get right onto cake ingredients so you can make this cake ASAP!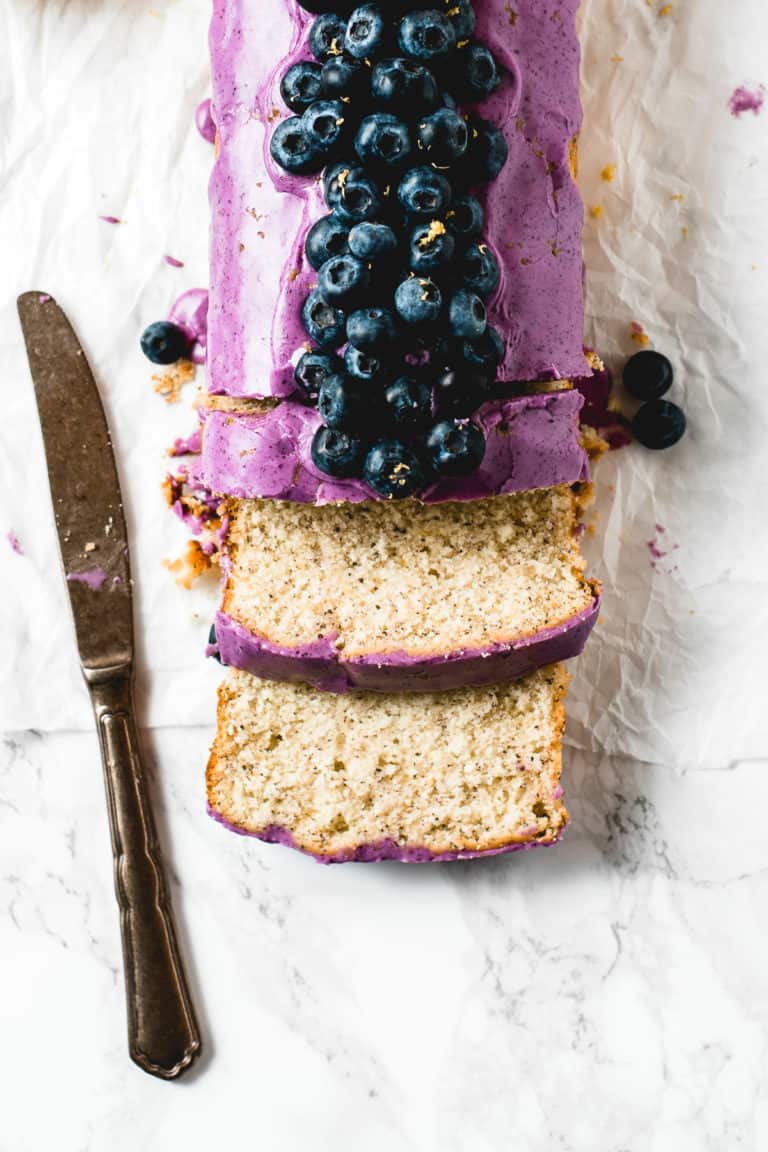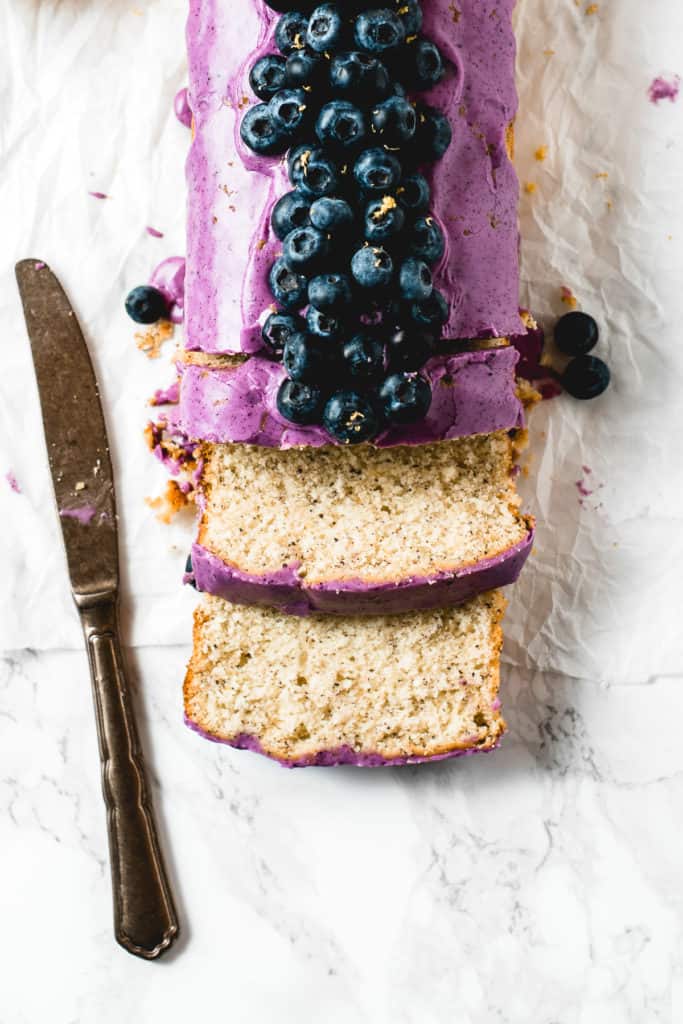 WHAT DO YOU NEED TO MAKE THIS LEMON POPPYSEED CAKE?
A loaf tin. Measurements of the one I used are roughly 26x12x7cm. Which is approx. 10x5x2.5 inches. I actually used a small school ruler to measure this haha. If you have a smaller one, that's fine. You'll have some leftover batter, but you could easily make some cupcakes and treat yo'self. 😉
Eggs - they give structure to your cake. I always use large eggs, but you could get away with medium ones.
Flour - all of my cakes call for all-purpose or plain flour.
Sugar - not only does it add sweetness to your cake, but it also affects moisture, texture and makes that beautiful golden colour.
Fat - I used mixture of sunflower oil and butter. Butter for taste and oil for extra fluffiness and softness.
Sour cream - I tend to use full fat sour cream in my cakes (instead of, for example, milk) because it gives a nice tenderness to a cake and provides more moisture.
Lemons - use the best you can get with a thicker peel, because their zest is better and more flavourful.
Blue poppyseeds - I just love their flavour and playful look in the cake. They absorb liquid a lot, so be careful if you'll want to put more because that can affect the texture of the cake and make it drier.
Blueberries - they pair so nicely with lemons. I made a blueberry jam from frozen blueberries to put in the glaze. But also, to spread on to the slice. That counts as breakfast, right? 😉
Vanilla extract, salt, baking powder - because every cake needs this staples. 🙂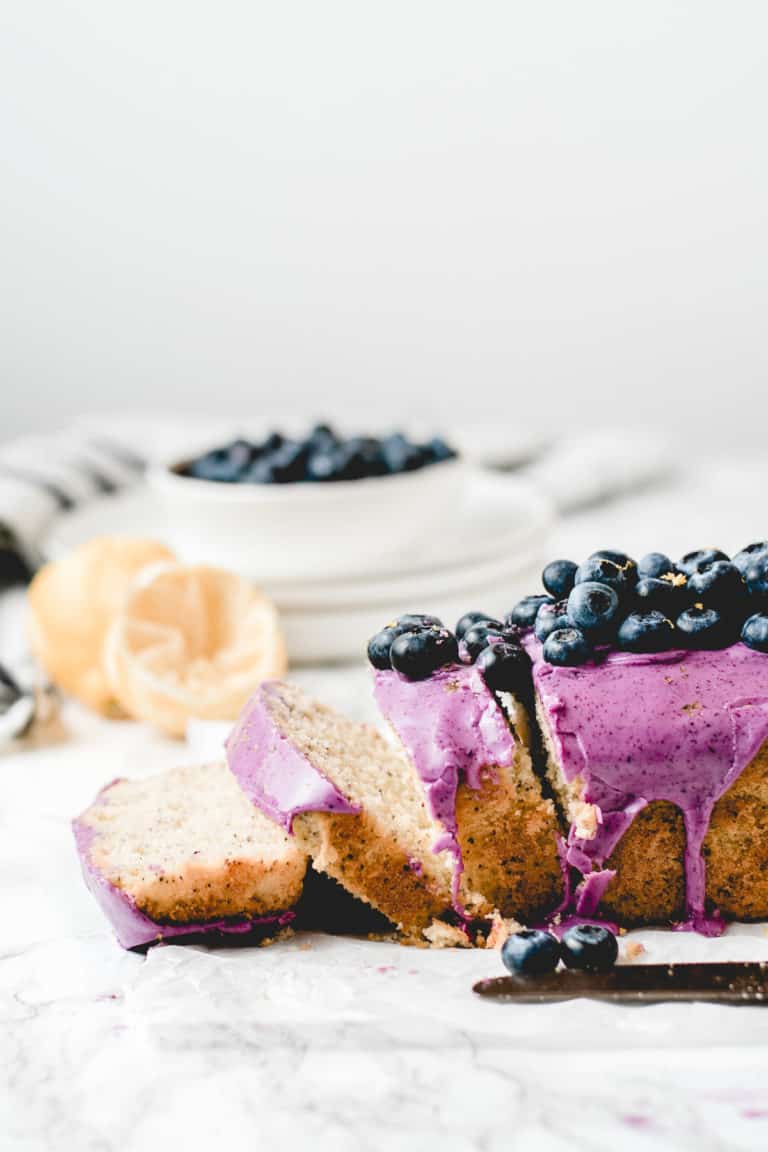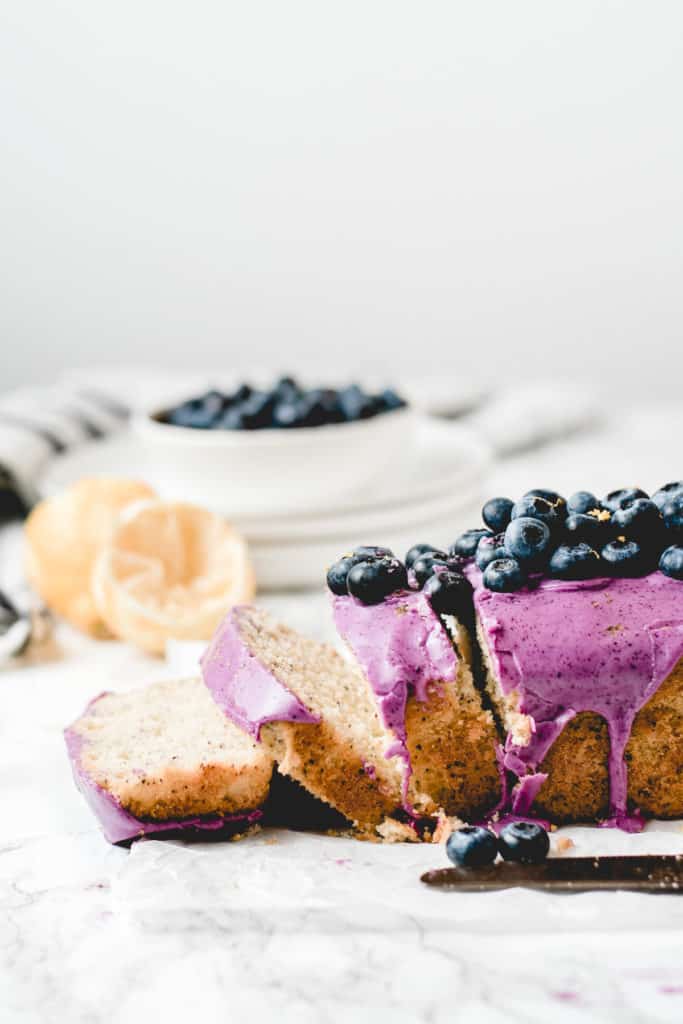 With just a couple of ingredients, you're good to go! 🙂 I love loaf cakes because they don't require any skill, they're not time consuming and you can make one really quickly for when you crave something sweet or as a treat for sudden Sunday guests!
If you make this recipe, let me know by tagging me on Instagram @anasbakingchronicles or tell me all about it in the comments section down below! If you have any questions, don't hesitate to ask! Happy baking!
Love,
A.
IF YOU'RE INTO LEMONY DESSERTS, THEN YOU MIGHT WANT TO CHECK OUT THESE:
Lemon Elderflower (royal wedding) Cake
Perfect Lemon Cheesecake
Almond & Lemon Cake


📖 Recipe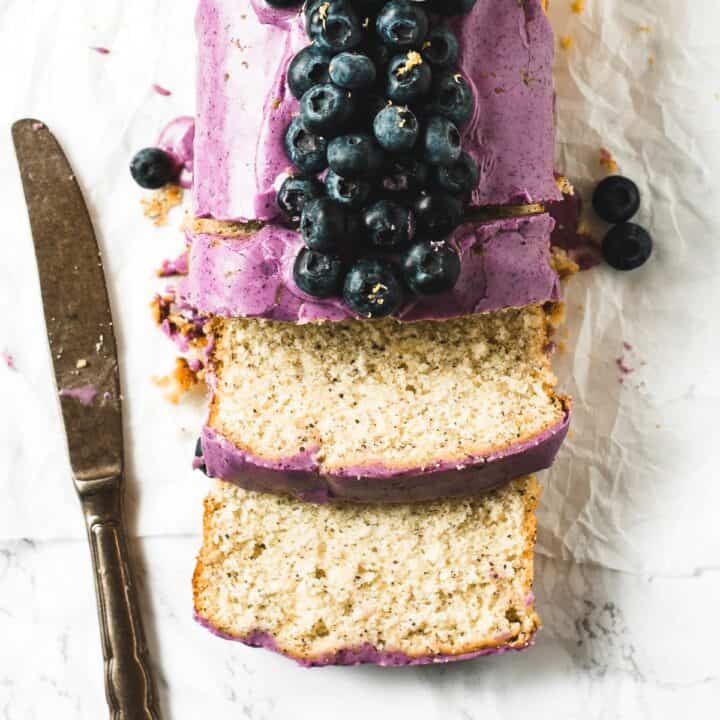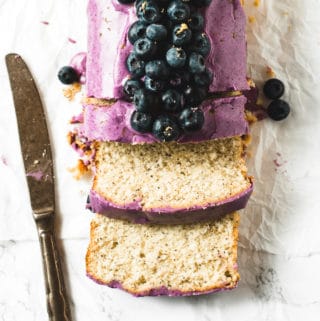 Lemon Poppyseed Cake with Blueberry Glaze
Description
Soft and zingy, lemon poppyseed cake, covered with delicious blueberry glaze. It's a perfect cake for a lazy or busy weekend!
ingredients
Lemon Poppyseed Cake
3

large

eggs

(room temperature)

240

g

all-purpose flour

225

g

white granulated sugar

2

tablespoon

blue poppyseeds

2

teaspoon

baking powder

(10 g)

½

teaspoon

salt

80

g

unsalted butter

(room temperature)

80

g

vegetable oil

(( I used sunflower))

150

g

full fat sour cream

(room temperature)

½

teaspoon

vanilla extract

75

g

lemon juice

(freshly squeezed)

lemon zest from two lemons
Blueberry sauce/jam
350

g

frozen blueberries

120

g

white granulated sugar
Blueberry glaze
150

g

powdered sugar

(sifted)

1

tablespoon

blueberry jam

1

tablespoon

heavy cream

1-2

tablespoon

milk

(as needed to get the right consistency)
Optional:
150

g

fresh blueberries

(for garnish)
Instructions
for lemon poppyseed cake
Preheat your fan oven to 160°C (325°F) or 175°C if you're not using a fan oven. Grease and line with parchment paper (for easier removing) a loaf tin. Mine was approx. 26x12cm, which is approx 10x5 inches. If you have a smaller one, you will have some leftover batter which you can bake as cupcakes. 🙂


In a medium bowl sift together flour, baking powder and salt. Add poppyseeds and whisk until combined. Set aside.

In a measuring jug combine sour cream, lemon juice and vanilla extract. These are your wet ingredients.

In a bowl of a stand mixer fitted with a paddle attachment, cream the butter, oil, lemon zest and sugar on a medium-high speed until paler in colour. (approx. 3 min) Stop the mixer and scrape down the bowl.

Turn the mixer to medium-low speed and add eggs one at a time – making sure it's fully incorporated after each addition. Stop the mixer and scrape down the bowl.

Add your dry and wet ingredients, alternating between one another, starting and finishing with dry ones. (3 additions of dry and 2 of wet ingredients)

Fill your prepared loaf tin with cake batter about ¾ of the way full to leave some space for rising.

Bake for 45 to 50 minutes or until skewer inserted in the middle comes out with few moist crumbs.

Once the cake is done, leave it to cool in the tin, on a wire rack, for about 15 minutes.

After it has cooled a little bit, transfer it to a cooling rack to cool completely before you pour on the glaze.
for blueberry jam
Cook frozen blueberries with sugar over a medium-high heat until it reaches boiling. Turn the heat down and let it simmer for approx. 15 minutes or until it thickens. It's better to be thicker than looser, the plan is to lose a lot of water content and have concentrated flavour.

Once thicker, you can either strain it through a sieve or blend it with a stick blender. I chose the latter, because blueberries are thicker than other berries and I wanted to keep all that flavour.

Blend it until smooth and put in a clean glass jar to cool before using.
for blueberry glaze
Sift your powdered sugar into a medium sized bowl. Add the rest of the ingredients and combine using a small whisk. If you feel like the glaze is too hard, add some more milk. If you feel like it's too runny, add some more sugar.
Assembly:
Pour freshly made glaze over a cold cake. Top with blueberries, cut yourself a slice and enjoy! 🙂
Notes
If you don't have a stand mixer, you can use a hand mixer.
Not all ovens are the same. I suggest to check the cake at 35 min mark and then adjust the baking time accordingly. Get to know your oven!
If you still don't own one, I advise you to buy a kitchen scale – they're cheap and easy to use, and always guarantee the same results in baking!  
Cake is best eaten at room temperature. You can keep it in a fridge, wrapped in cling film, but take it out of it at least half an hour before serving. 
1 tablespoon = 1 tablespoon = 15 ml
1 teaspoon = 1 teaspoon = 5 ml
IMPORTANT
All the recipes are developed and tested using only metric measurements and a kitchen scale. The U.S. cup and spoon measurements are provided for your convenience, but I highly recommend getting a digital kitchen scale and measuring in metrics. It's easy and always guarantee the same results in baking!
The nutritional information and US conversions are calculated automatically. I cannot guarantee the accuracy of this data. If this is important to you, please verify with your favourite nutrition calculator and/or unit conversion tool.
Have you tried this recipe?
Tag me on Instagram @anasbakingchronicles or use the hashtag #anasbakingchronicles - I love seeing your creations!