This is the lightest and the creamiest cheesecake you'll ever, EVER eat! It perfectly balances the tartness and the sweetness of the cake and has a texture that melts in your mouth. Scrumptious!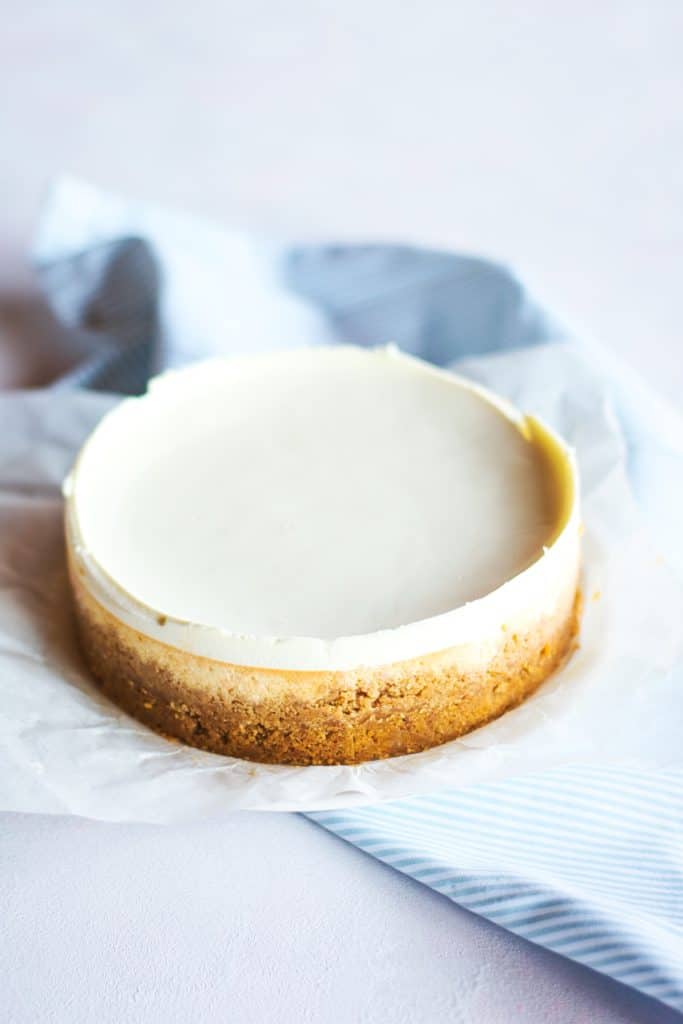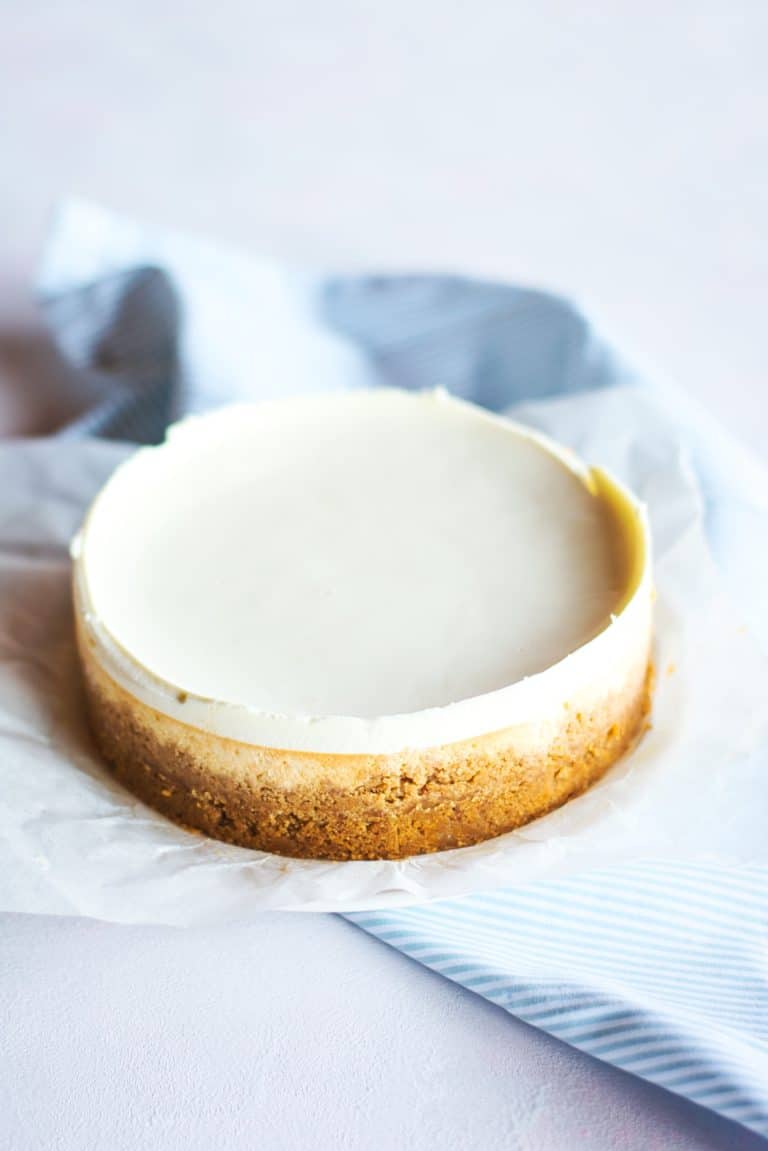 Cheesecake is one of the first things I've learnt to bake. I've been baking it for years now and - if I may say so - I pretty much perfected it. And yes, for me, the only REAL cheesecake is the BAKED ONE . While no bake versions are a quick, refreshing and satisfying solution for your sweet tooth, especially during the summer, they just don't deliver in terms of flavour.
Over the years I've come across a lot of recipes. I get that people mainly think of a vanilla cheesecake as the classic one. But there has to be some lemon in there to call it a cheesecake, right? Though, in my case - there has to be A LOT of lemon. Haha.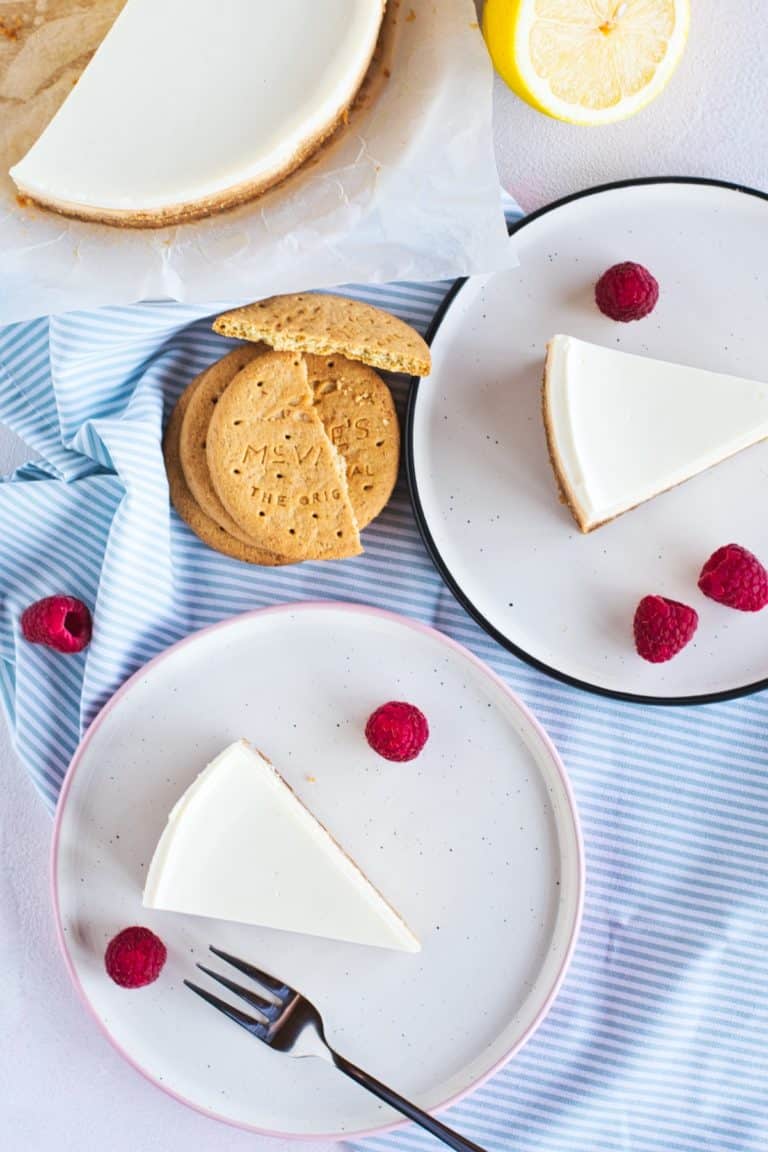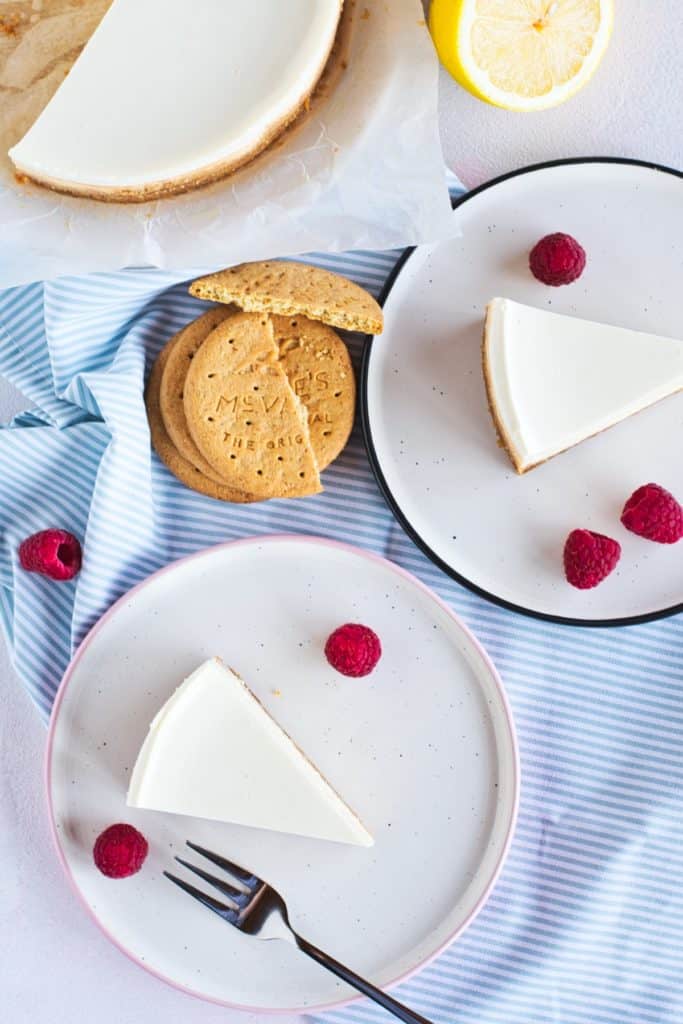 The first time I tried a cheesecake was about 10-12 years ago. I think the whole cheesecake mania in Croatia started at that time. But I'm not a reliable source on that information since I was 12 at the time lol. I remember my grandma making it during the summer, after she had tried it in a restaurant and got blown away with the flavour. Rest assured, everybody was waiting for lunch to be over just to have a piece of that lemony, cheesy goodness. Fast-forward a couple of years and my cheesecake baking era has begun. 😀
Although I haven't eaten a New York style Cheesecake, considering what I've read and learnt about it, I'm positive that this here isn't one. As opposed to a dense and heavy texture that a NY style cheesecake must have - according to a various online resources, mine is quite light and airy.
I'm not going to lie, there was a lot of ups and downs during the learning process. Heck, I rebelled and didn't want to bake it for almost a year because it was boring to me, and then a month ago I started "experimenting" and I baked the WORST cheesecake ever. I overbaked it, it was dry, it cracked (because I didn't put the sour cream on top) and it lacked in flavour. * facepalm*
But hey, s*it happens.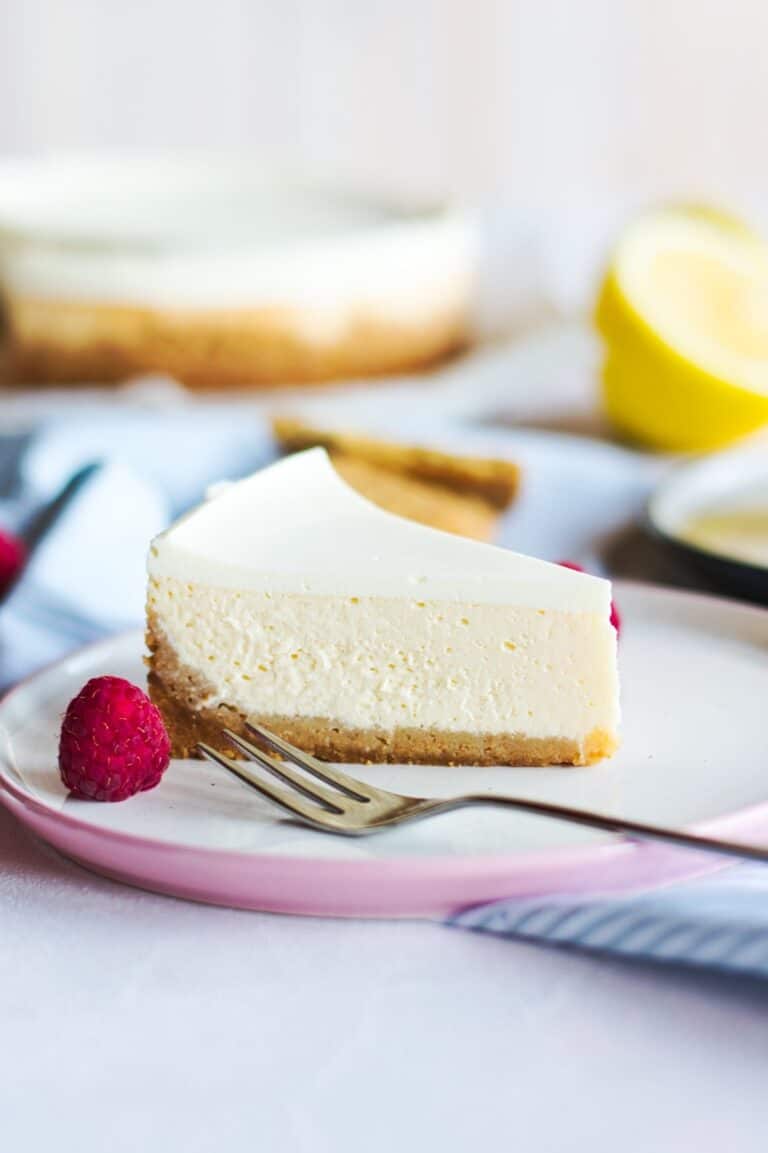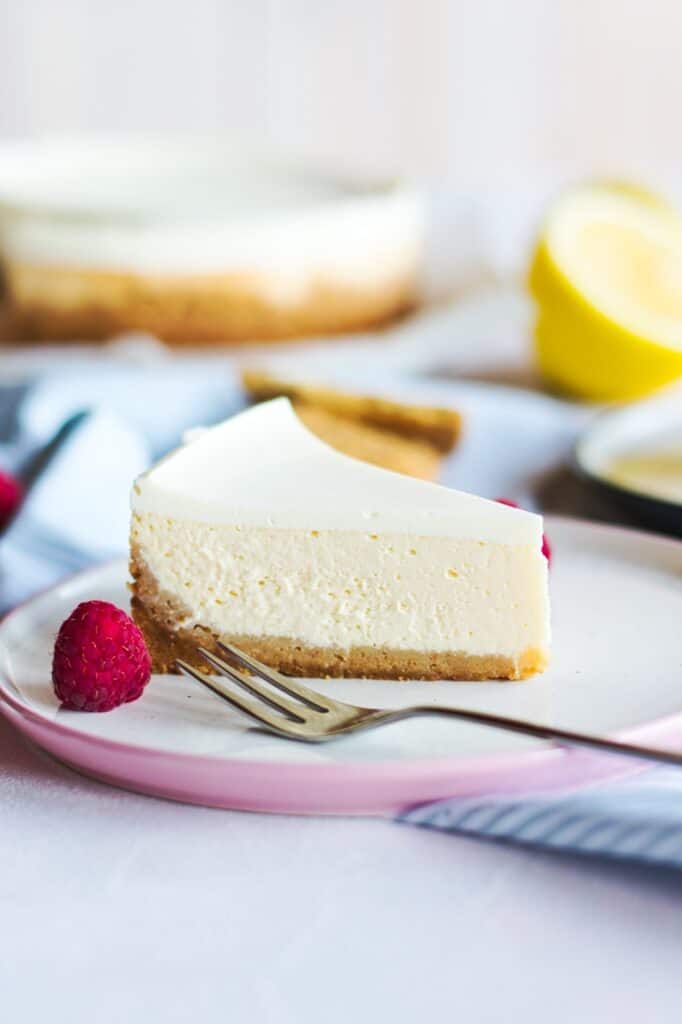 That experimenting only made me realize that the recipe I was using didn't need any improvement, it is perfect. I baked it again a couple of days later, just following my regular recipe and got standing ovations saying this is the best cheesecake they've EVER eaten. I was back in the game! 🙂
That said, I would still like to try a NY Cheesecake just to know what all the fuss is about. It's definitely on my bucket list.
HOW TO MAKE MY LEMON CHEESECAKE
First of all, you'll need to make the cookie crust. McVitie's Digestive cookies work best, its USA equivalent would be Graham crackers. Combined with melted butter, a little sugar and a dash of cinnamon - as my secret ingredient - they make a perfect crust. To avoid getting it soggy, you need to bake it for about 5-6 minutes.
Now for the cheesecake batter. Everything needs to be ROOM TEMPERATURE. First, mix together the cream cheese, sugar and lemon juice. Then add eggs one at a time. I use a hand mixer for this because I have better control that way in getting everything mixed thoroughly. You don't have to be worried about getting too much air or anything, like in those other cheesecake recipes. The batter will be thin, but you needn't worry - that's how it is supposed to look like. It's baked until set on the sides, with a formed skin on top but still a little wobbly in the middle when you shake it.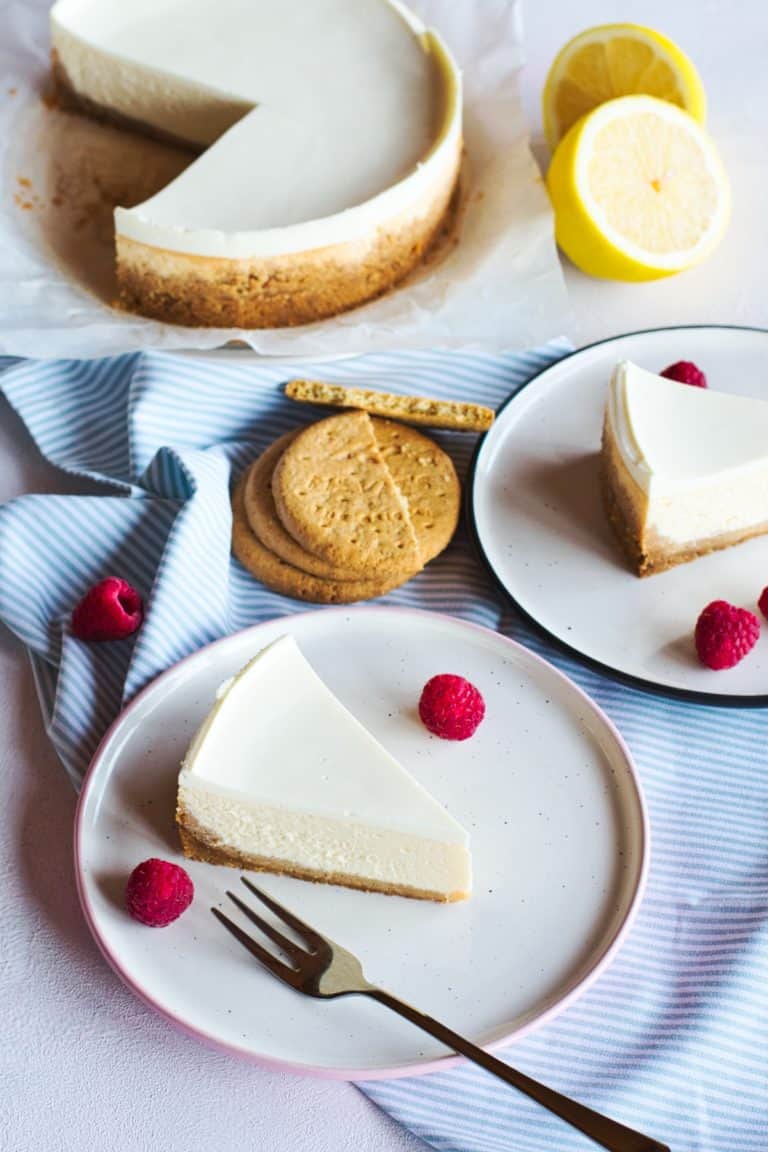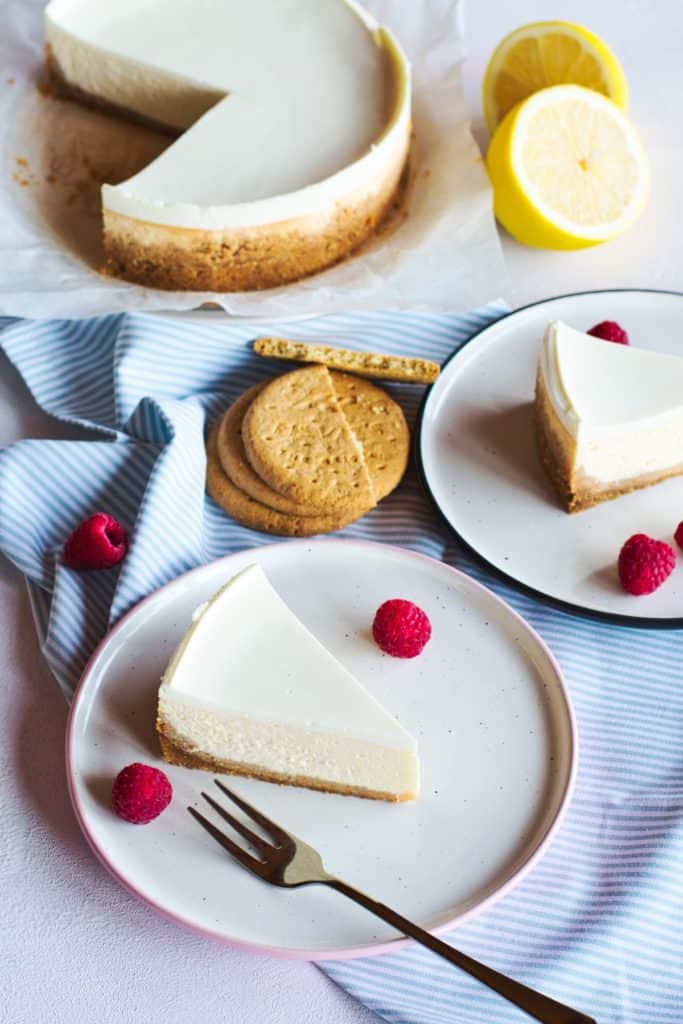 DON'T OVERBAKE IT. I suggest checking it every 5 minutes after 20 minute mark until you get it just right. That might need a couple of tries.
As for the sour cream topping, it prevents possible cracks on the top because it allows the cheesecake to cool gradually. Besides that, it adds a special dimension to the cake when you look at it and see three beautiful layers. 🙂 For the topping to be smooth, just combine the sour cream, vanilla and sugar with a spatula, gently. Once the cheesecake is baked, spread it gently over the top and return the pan in the oven, which you turned off, for 15 minutes.
I always make it the night before so it has time to chill in the fridge - that way it's the best!
You'll love this cheesecake because it's so easy to make and has the fluffiest texture you've ever seen!
If you give it a go, please tell me all about it or tag me on Instagram , I'd love to see what you've been up to 🙂
Happy baking!
📖 Recipe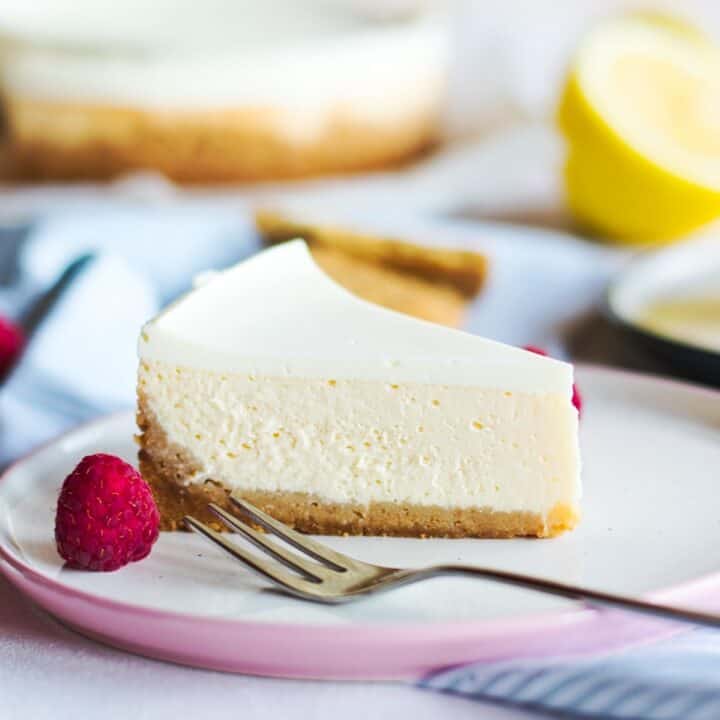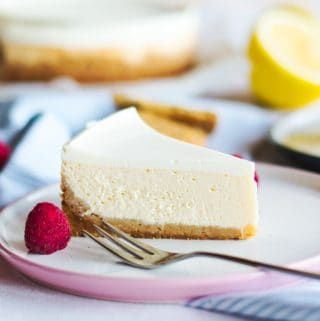 The Perfect Lemon Cheesecake
Description
This is the lightest and the creamiest cheesecake you'll ever, EVER eat! It perfectly balances the tartness and the sweetness of the cake and has a texture that melts in your mouth. Scrumptious!
ingredients
Cookie Crust
250

g

Digestive cookies

(crumbs)

125

g

melted butter

(unsalted)

¼

teaspoon

cinnamon

2

tablespoon

granulated sugar
Cheesecake
600

g

cream cheese

(room temperature)

150

g

granulated sugar

125

g

lemon juice

(freshly squeezed)

4

large

eggs

(room temperature)
Sour Cream Topping
360

g

sour cream (20% fat)

(room temperature)

30

g

granulated sugar

1

teaspoon

vanilla extract
Instructions
Preheat your fan(convection) oven to 150°C (300°F) or 165°C for a regular top/bottom oven. Line the bottom of a 9 or 10 inch (23-25cm) springform pan with baking paper. Set aside.

Using a food processor ground your cookies. In a separate bowl, combine them with melted butter, cinnamon and granulated sugar using a spoon. Press the mixture into the bottom and up the sides of the pan a little bit. Bake for 5-6 minutes then set aside to cool.

In a large bowl, using a hand mixer, combine the cream cheese, sugar and lemon juice until combined and smooth. Add one egg at the time, scraping the sides of the bowl to make sure everything is thoroughly combined.

The mixture will be quite thin, but you don't have to worry about it. Pour it over a cooled and baked cookie crust. Bake for 30-40 minutes, it depends on the pan and thickness of the cheesecake. The smaller pan will yield a higher cheesecake, thus will need more time to bake. 

In a small bowl, gently combine the room temperature sour cream, sugar and vanilla extract using a silicone/rubber spatula. Set aside until your cheesecake is baked.

Once it's done, the cheesecake will have a skin on top, be set on the sides and still a little wobbly in the middle. Turn off the oven.

Pour the sour cream on top, gently, and return to the oven which is still warm but turned off for 15 min.

After 15 minutes, place the pan on a cooling rack and leave it to cool to room temperature. Then put the cheesecake in the fridge to cool for at least 8 hours, overnight is best.

You can serve it with some fresh berries or berry sauce, but I like it plain the best. Enjoy! 🙂
IMPORTANT
All the recipes are developed and tested using only metric measurements and a kitchen scale. The U.S. cup and spoon measurements are provided for your convenience, but I highly recommend getting a digital kitchen scale and measuring in metrics. It's easy and always guarantee the same results in baking!
The nutritional information and US conversions are calculated automatically. I cannot guarantee the accuracy of this data. If this is important to you, please verify with your favourite nutrition calculator and/or unit conversion tool.
Have you tried this recipe?
Tag me on Instagram @anasbakingchronicles or use the hashtag #anasbakingchronicles - I love seeing your creations!