This Almond & Lemon Cake is truly magnificent. Soft and moist almond cake with a hint of cinnamon, filled with lemon cream cheese frosting and coated in lemon buttercream.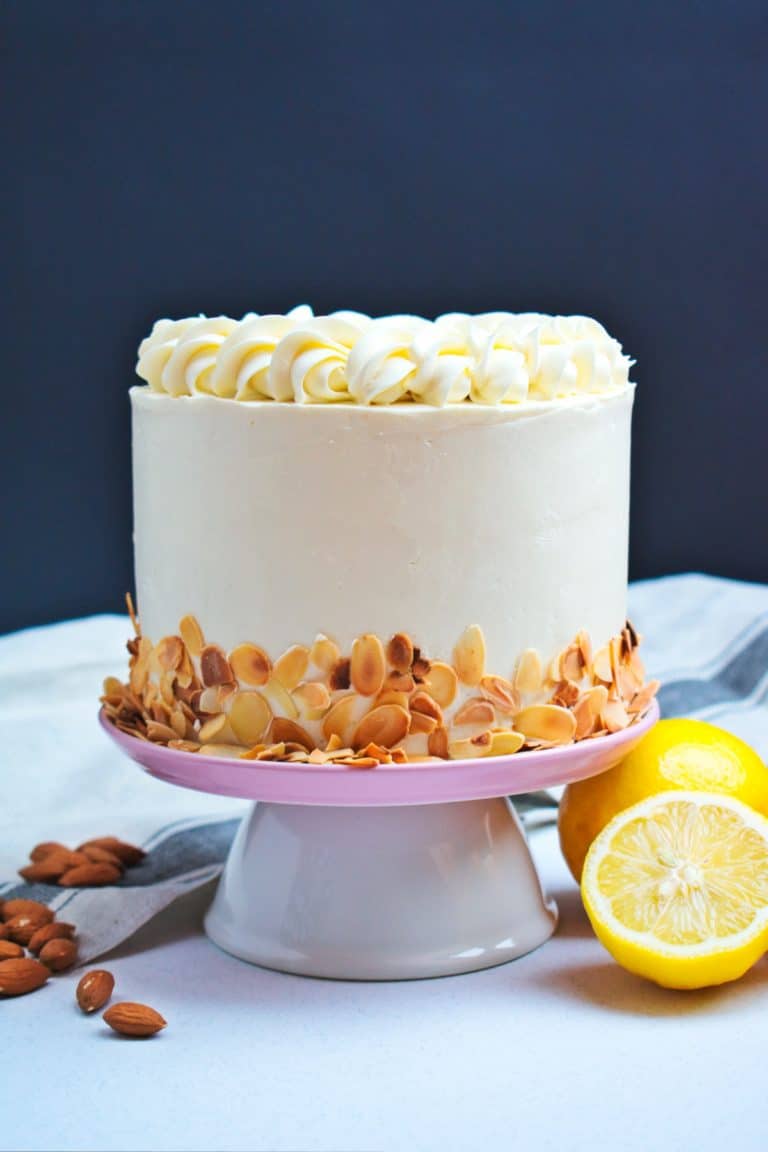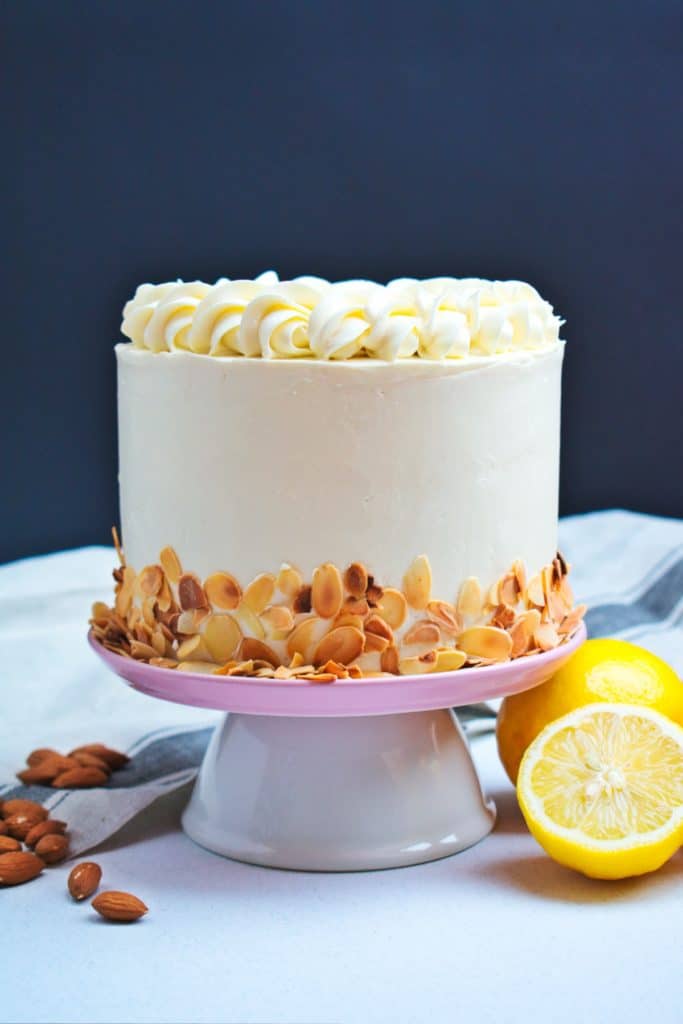 I made this Almond and Lemon Cake specifically for my sister. I was so bored and I just wanted to bake something, but since I'm not the only one eating the stuff, I have to take to account others' preferences and wishes. And these flavours were her wishes.
This is the first recipe I created from scratch, using ratios and science. I was so happy, like.. this is ME! I made this, I created this - and you love it! Oh, God, I was over the moon with all the feelings. This is still my sister's favourite cake. For me, I can't really tell. It's like with the children - you can't really tell which is your favourite, they are all yours. That is the way I feel about my cakes and recipes. Except, I can say that I prefer one flavour combination over the other without making it look bad. Can I?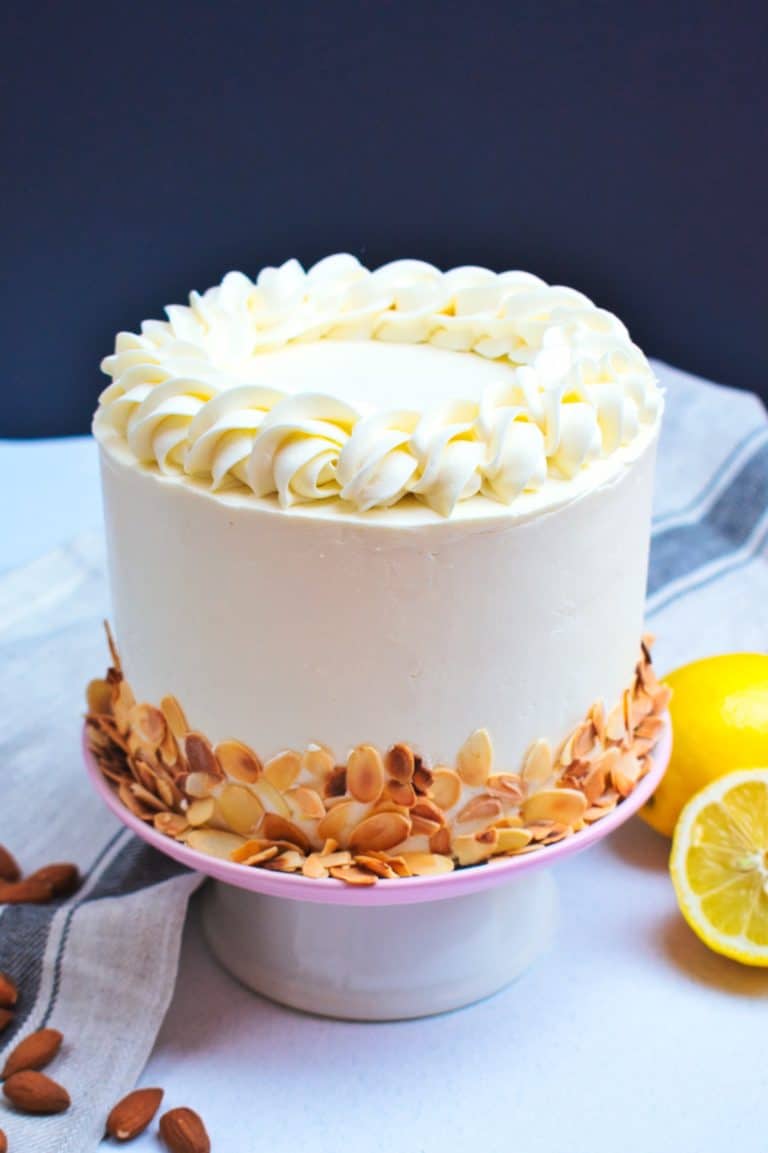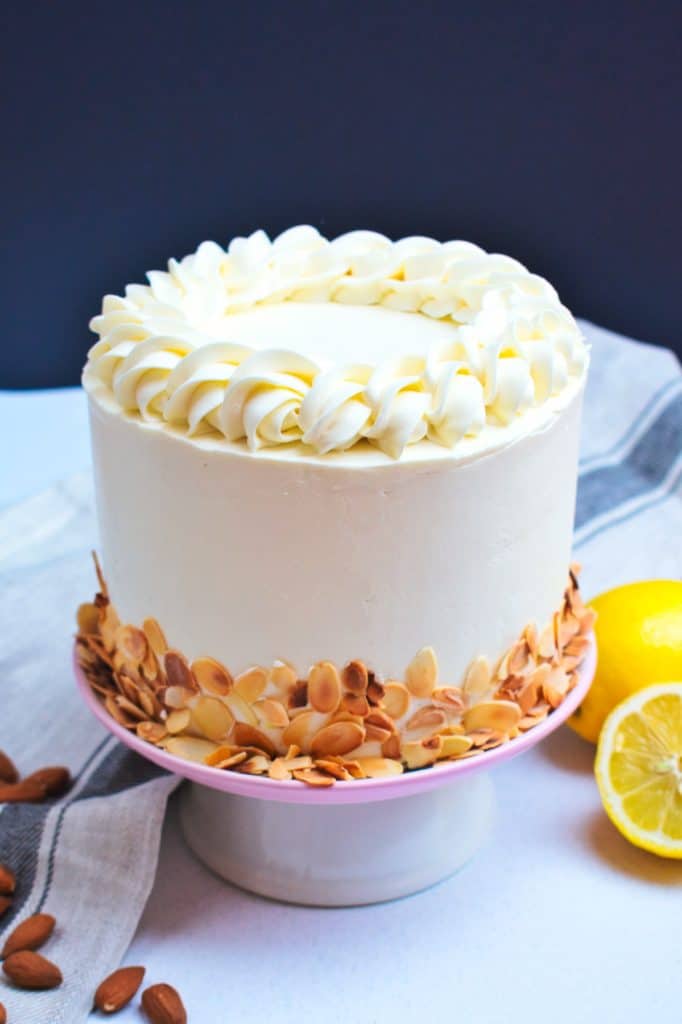 Additionally, I was very proud of taking this picture. It was an obvious improvement after all the reading about food photography. I was ecstatic. Of course, when I look at it now I see lots of mistakes and things I could've done differently. Each of my cakes are a chance for me to improve my skills, try something new and implement something I've learnt. I'm still very much at the beginning, but I look forward to see how far I'll come. Right now, I'm exploring DIY backdrops. Seriously, I'm constantly reading, searching, watching youtube videos... dreaming! I ain't got the money for all the things I want - but hey - a girl can dream. Baby steps, right? Not all food photographers were born that way. 🙂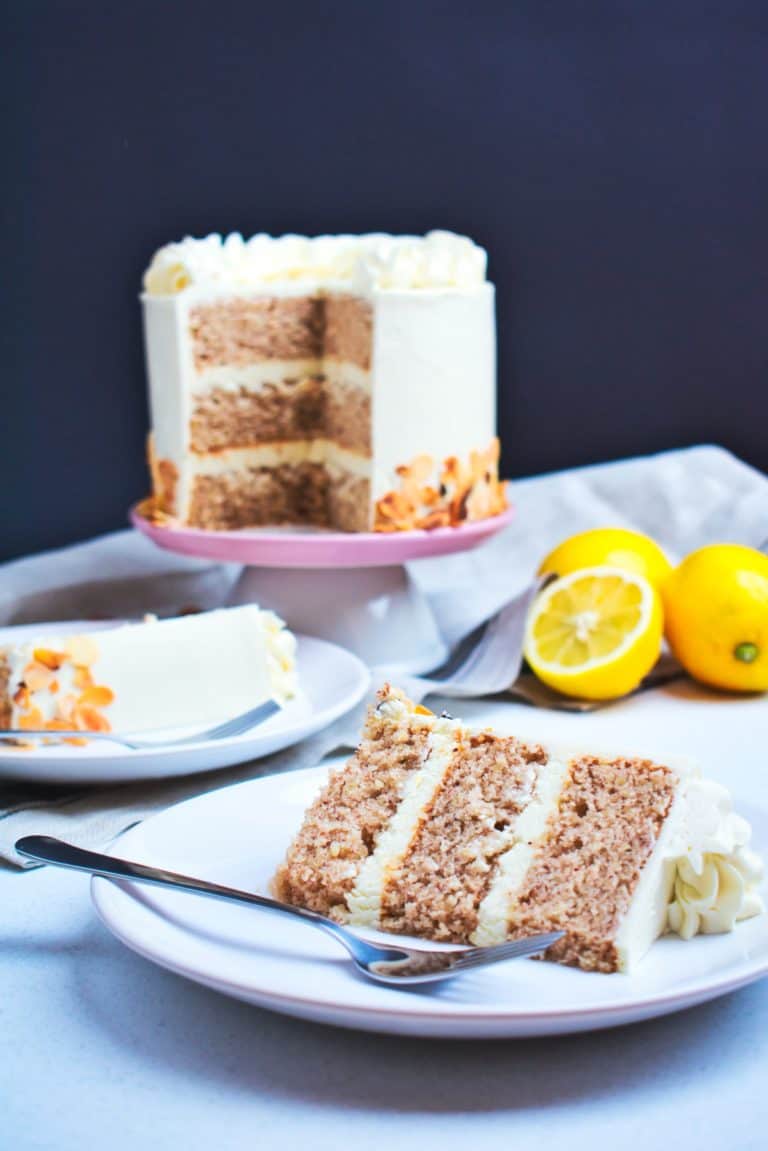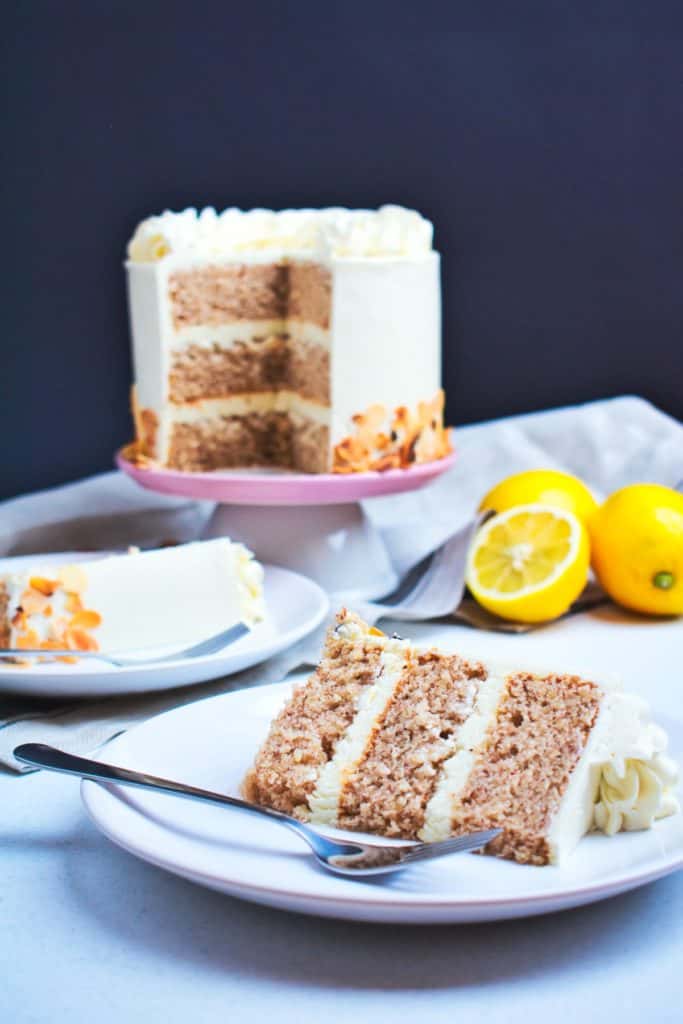 All about this cake speaks SPRING to me. The warm almond cake, enriched with cinnamon, and then that refreshing, zingy lemon in the cream cheese frosting. The flavours are just so decadent and go so well together!
I've avoided lots of powdered sugar in this cream cheese recipe in order to avoid the frosting being too liquid. For me, white chocolate brings just enough sweetness to this frosting, since the cake itself is already sweet and delicious. I suggest you use some quality white chocolate, with at least 28% cocoa solids. The best you can find! I had a chance to make some things with Callebaut chocolate and it's really terrific, but it's also expensive. So I just find the best I can in supermarkets - always check the label for cocoa content!
The amount of this cream cheese frosting is enough to fill and crumb coat a cake. I used buttercream to decorate the cake just because it has a smoother finish, but you can definitely up the cream cheese frosting ingredients for 30-50% and frost the whole cake with it.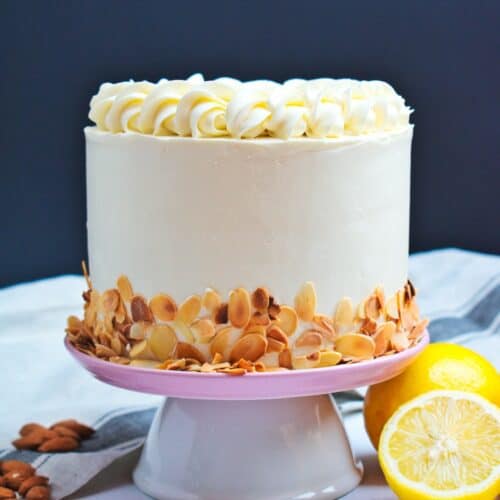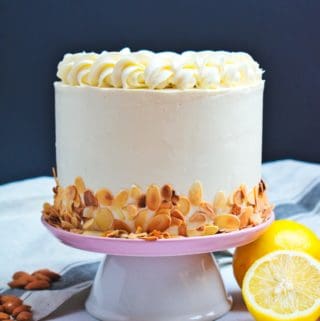 Almond & Lemon Cake
Description
This Almond & Lemon Cake is truly magnificent. Soft and moist almond cake with a hint of cinnamon, filled with lemon cream cheese frosting and coated in lemon buttercream.
Ingredients
Almond Cake
2

large

eggs

(room temperature)

125

g

unsalted butter

(softened)

235

g

granulated sugar

120

g

sour cream

(room temperature)

50

g

whole milk

(room temperature)

190

g

all-purpose flour

(sifted)

100

g

ground almonds

1

tsp

cinnamon

2

tsp

baking powder

½

tsp

salt

½

tsp

almond extract

½

tsp

vanilla extract
Lemon Cream Cheese Filling
300

g

cream cheese

(spreadable kind)

100

g

mascarpone cheese

190

g

white chocolate

30

g

powdered sugar

(sifted)

lemon juice from one medium sized lemon

zest of one lemon
Buttercream
30

g

all-purpose flour

140

g

granulated sugar

250

g

whole milk

a

pinch

of salt

225

g

unsalted butter

(softened)

¼

tsp

almond extract

1

tbsp

lemon juice

½

tsp

vanilla extract
Instructions
Almond Cake:
Preheat your fan oven to 160°C or 325°F. Grease and line with parchment three 6-inch cake tins.

In a medium bowl sift together flour, baking powder, cinnamon and salt. Add the ground almonds and whisk until combined. Set aside.

In a measuring jug combine sour cream and milk. These are your wet ingredients.

In a bowl of a stand mixer fitted with a paddle attachment, cream butter and sugar on medium-high speed until pale and fluffy. (approx. 3 min) Stop the mixer and scrape down the bowl.

Turn the mixer to medium-low speed and add eggs one at a time - making sure it's fully incorporated after each addition. Stop the mixer and scrape down the bowl.

Add your dry and wet ingredients, alternating between one another, starting and finishing with dry ones. (3 additions of dry and 2 of wet ingredients) Between each addition mix the batter just enough to get it combined, no more than 15 sec, to avoid overmixing the batter.

Divide the batter evenly among the 3 tins and bake for 20-25 minutes or until skewer inserted in the middle comes out mostly clean.

Once they're done, let the cakes cool for 10-15 minutes on a wire rack before removing them from the pans to cool completely.
Lemon Cream Cheese Frosting:
Melt white chocolate over a bain-marie and let it cool to room temperature.

Using a hand mixer or a stand mixer with whisk attachment mix together cream cheese and mascarpone cheese with lemon juice and zest. Add cooled melted white chocolate and mix until it's all incorporated. Lastly, add sifted powdered sugar and mix until combined.
Buttercream:
In a small saucepan combine flour, sugar, salt and milk. Cook over medium-high heat, stirring constantly with a whisk until it thickens.

Once it's done, put a cling film over it touching the surface to prevent "skin" forming and let it cool to room temperature. This is your pudding base. You can do this in a fridge, but before using it let it come to room temperature.

Using a stand mixer fitted with the paddle attachment, beat the butter for 5 minutes until it's pale and fluffy. Then add spoonful by spoonful of previously made pudding. Mix until it's all nicely incorporated and with no lumps. Add the vanilla extract, lemon juice and almond extract, and beat for another 30 seconds.
Assembly:
Using a cake leveler or a long serrated knife level the tops of your cakes if needed.

In the middle of your cake board or a serving plate put some buttercream to keep the cake from moving.

Place one layer on your cake board or a serving plate and top with cream cheese frosting. Repeat with the next layer.

Place final layer on top and do a thin crumb coat on the cake. Chill for 20-30 minutes in the fridge before final decorating.

Frost the top and sides of the cake with the buttercream and decorate as you wish. I made a "rope" design using Wilton 1M tip.
Notes
If you don't have a stand mixer, you can use a hand mixer.
Not all ovens are the same. I suggest to check the cakes at 20 min mark and then adjust the baking time accordingly. Get to know your oven!
If you still don't own one, I advise you to buy a kitchen scale – they're cheap and easy to use, and always guarantee the same results in baking! 
Cake is best eaten at room temperature. You can keep it in a fridge, wrapped in cling film, but take it out of it at least half an hour before serving. 
The nutritional information and US conversions are calculated automatically. I cannot guarantee the accuracy of this data. If this is important to you, please verify with your favourite nutrition calculator and/or unit conversion tool.
Have you tried this recipe?
Tag me on Instagram @anasbakingchronicles or use the hashtag #anasbakingchronicles - I love seeing your creations!