Soft and moist Pumpkin Spice mini cakes, made with homemade butternut squash puree and drizzled with silky Coffee White Chocolate Ganache.
These last few weeks were one of the most stressful ones I've ever had. Granted, I'm not that old so I assume there's more coming along the way. Well, bring it on I say!
If you're following me on Instagram, you'll know that this stress is due to starting a 9 to 5 job. Which is normally great news – because I'm not going to be a poor student anymore. But then again, it's acutally not that great when it comes to blogging and other hobbies. You guys, the struggle with managing free time is REAL! Mostly because there isn't much left to manage, you feel me?
It's safe to say that I didn't fully appreciate my student life and the fact that I was able to do what I want - when I want it. Let's give an applause to all those teachers whom we used to laugh when they said that there will come a day when we'll cry for the school days. As hard as it is to admit it, they were right. But I'm the determined to get my s*it together and rock this adult life. Preferably with as minimal amount of time needed to get used to it. So far, three weeks have gone by and my adjusting rate is zero. Let's hope this fourth is the one I see some improvement in time managing and life in general, lol.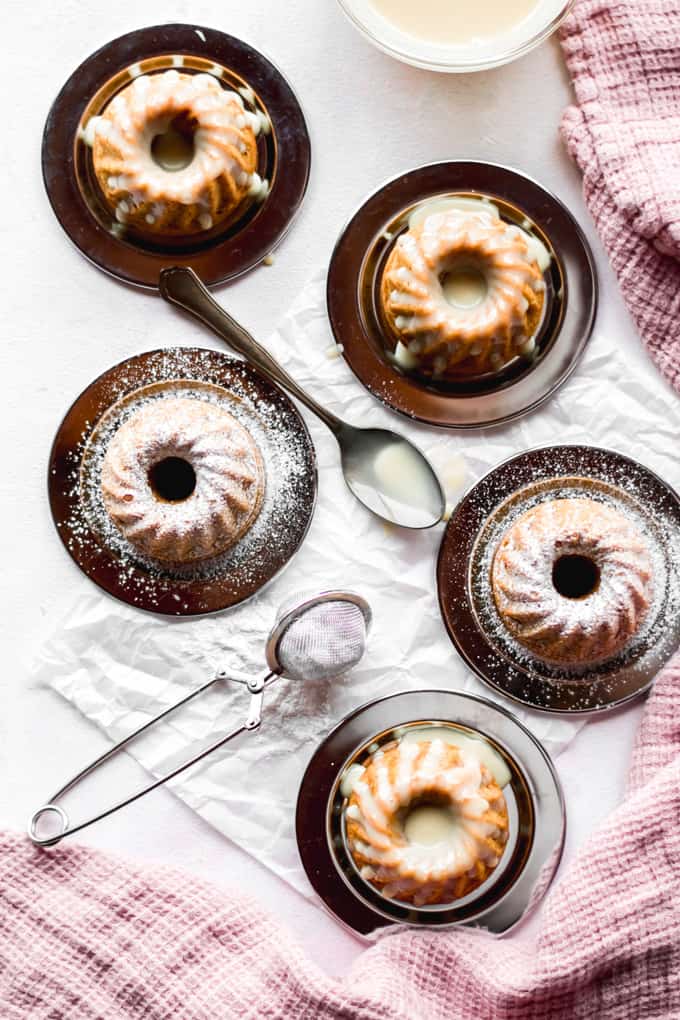 Anywhooo... let's get on to these little balls of yumminess!
Can I call them balls? Is it appropriate? Nevermind that, these Pumpkin Spice Latte mini bundt cakes are extremely addictive and cute.  You can make them as cupcakes, as well. I just had these silicone moulds that I wanted to try so bad, because.. well, I'm a sucker for anything miniature. On that note, I don't like silicone moulds. It's really hard to get the cakes out of them, or maybe I'm just incompetent. Who knows? What I do know is, almost half of them broke in half while I tried to get them out. Argh, so annoying. My verdict? Get the "normal" mini bundt cake pans!
I decided to make pumpkin spice cakes and added the 'latte' element in a form of coffee white chocolate ganache drizzle. I just love coffee flavoured desserts and this combo worked like a charm!  That is, if we put aside the fact that I was in a hurry and didn't let the ganache to thicken properly.  Will I ever do things right on time? Don't make the same mistake as I did! I also decided to sprinkle some with powdered sugar for non-coffee lovers. And because it looks like snow, so... yeah, cute.
Also, I had to make pumpkin puree. That is, butternut squash puree. That's the winter squash readily available in Croatia and I learnt that its taste is similar to pumpkin. Thank you, Google!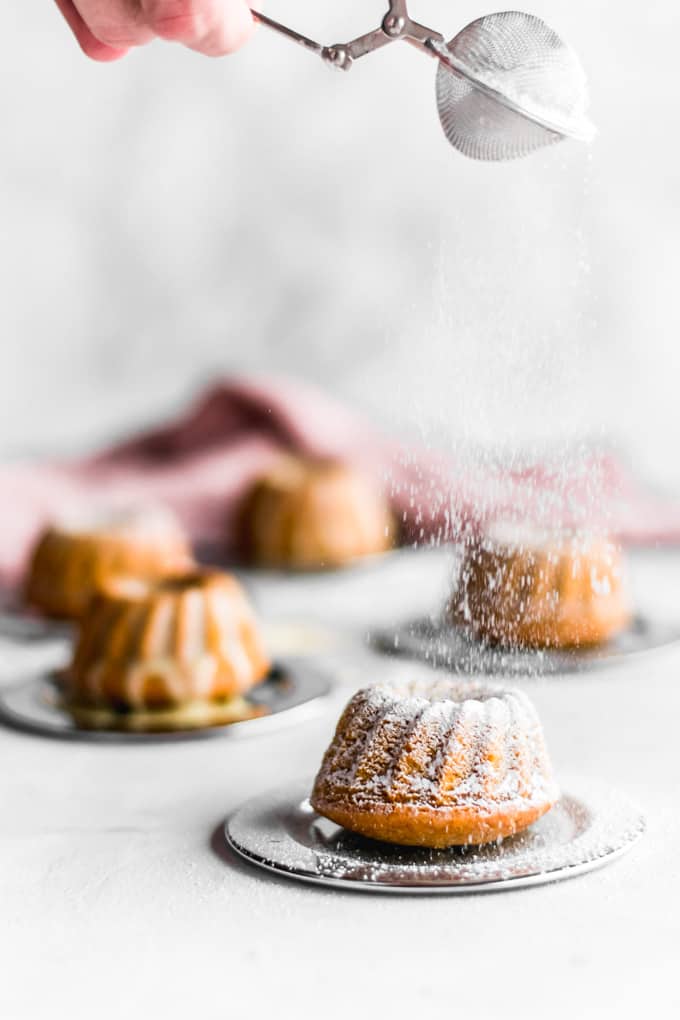 HOW TO MAKE BUTTERNUT SQUASH/PUMPKIN PUREE?
I know you guys in North America have it canned and at your disposal at anytime, so feel free to use that one instead. As for the rest of us, making pumpkin puree is seriously so easy! All you need is an oven, a spoon and a baking tray. Oh, and some squashes - of course.
Just cut each butternut squash (or pumpkin) in half, lenghtwise. I didn't core the seeds the first time, because I've read that it's easier that way, but next time I'll definitely remove the seeds before baking. Makes for a much tidier process later. Put it on a baking tray lined with baking paper, with cut side facing down. Bake them at 180C or 350F for about an hour. It really depends on their size and how hot is your oven. You want the squash to be so soft, that when you press it with your finger, it leaves an indentation. Is that a right word? After that, you just have to leave them to cool a bit, otherwise you will burn yourself, and scoop it out with a spoon. I also blitzed it using a hand blender to ensure it's really smooth.
You can check it out on my instagram story highlights @anasbakingchronicles 🙂
And that's it! Easy-peasy. I hope you'll enjoy this recipe, it's seriously delicious and perfect for a Sunday (or whatever day) sweet afternoon snack. You can even have it for breakfast - it has squash in it so it's kind of healthy, right? 😉
xx
📖 Recipe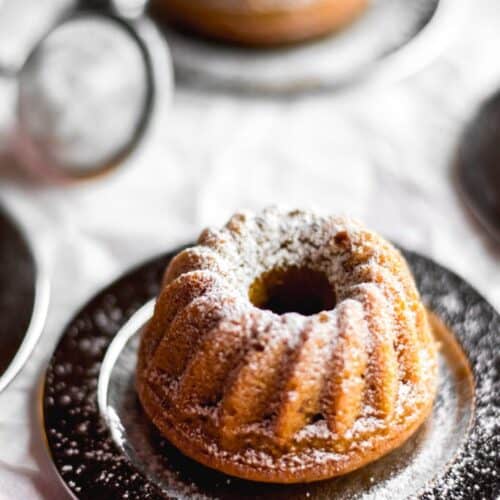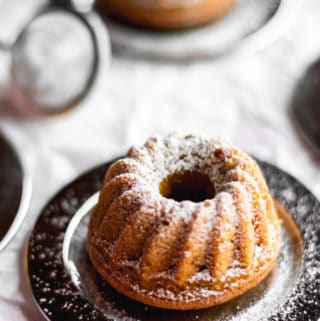 Pumpkin Spice Latte Mini Bundt Cakes
Description
Soft and moist Pumpkin Spice mini cakes, made with homemade butternut squash puree and drizzled with Coffee White Chocolate Ganache.
ingredients
Mini bundt cakes:
180

g

all-purpose flour

1 ½

teaspoon

baking powder

½

teaspoon

salt

1

teaspoon

ground cinnamon

½

teaspoon

ground ginger

¼

teaspoon

ground nutmeg

⅛

teaspoon

ground cloves

1

large

egg

(room temperature)

100

g

light soft brown sugar

80

g

white granulated sugar

200

g

butternut squash/pumpkin puree

(room temperature)

115

g

vegetable oil

½

teaspoon

vanilla extract
Coffee White Chocolate Ganache
100

g

white chocolate

40

g

heavy cream

3

tablespoon

strong black coffee

(room temperature)
Instructions
For mini bundt cakes:
Preheat your fan oven to 160°C or 325°F. Grease your mini bundt cake pans. I used silicone, but recommend using non-silicone ones.


In a medium sized bowl sift and combine flour, baking powder, salt, cinnamon, ginger, nutmeg and cloves. Set aside.

In another bowl, whisk together sugars and egg until lightly pale and fluffy. Add vegetable oil, butternut squash/pumpkin puree, vanilla extract and whisk until everything is combined.

Add the flour and spices mixture to your dry ingredients. Mix together using a whisk just until everything is fully combined.

Using a piping bag or a spoon, divide the batter evenly between pans, filling them ¾ of the way full. Bake for 18-22 minutes or until they are springy on the top. Don't overbake it.

Once they're done, leave them to cool in the pans on a cooling rack for at least 15 minutes before trying to take them out. This depends on a type of cake pan you've used.

Leave them to cool completely before drizzling them with coffee white chocolate ganache.
For the coffee drizzle:
Place heavy cream and good quality white chocolate chips ( or finely chopped white chocolate) in a small bowl and heat it in a microwave for 25-30 seconds. Stir it with a silicone spatula until everything melts.


Add 3 tablespoons of room temperature strong black coffee/espresso and stir everything until combined. Cover it with cling film and leave it to cool in the fridge for an hour, or until it thickens to a pourable consistency that stays on (not like mine)
Notes
Not all ovens are the same. I suggest to check the cakes at 18 min mark and then adjust the baking time accordingly. Get to know your oven! 
If you still don't own one, I advise you to buy a kitchen scale - they're cheap and easy to use, and always guarantee the same results in baking!  
IMPORTANT
All the recipes are developed and tested using only metric measurements and a kitchen scale. The U.S. cup and spoon measurements are provided for your convenience, but I highly recommend getting a digital kitchen scale and measuring in metrics. It's easy and always guarantee the same results in baking!
The nutritional information and US conversions are calculated automatically. I cannot guarantee the accuracy of this data. If this is important to you, please verify with your favourite nutrition calculator and/or unit conversion tool.
Have you tried this recipe?
Tag me on Instagram @anasbakingchronicles or use the hashtag #anasbakingchronicles - I love seeing your creations!