This is one of those traditional bakes that everyone's going to love. Soft and fluffy vanilla cake layers filled with light and airy diplomat cream and fresh strawberries. Delicious!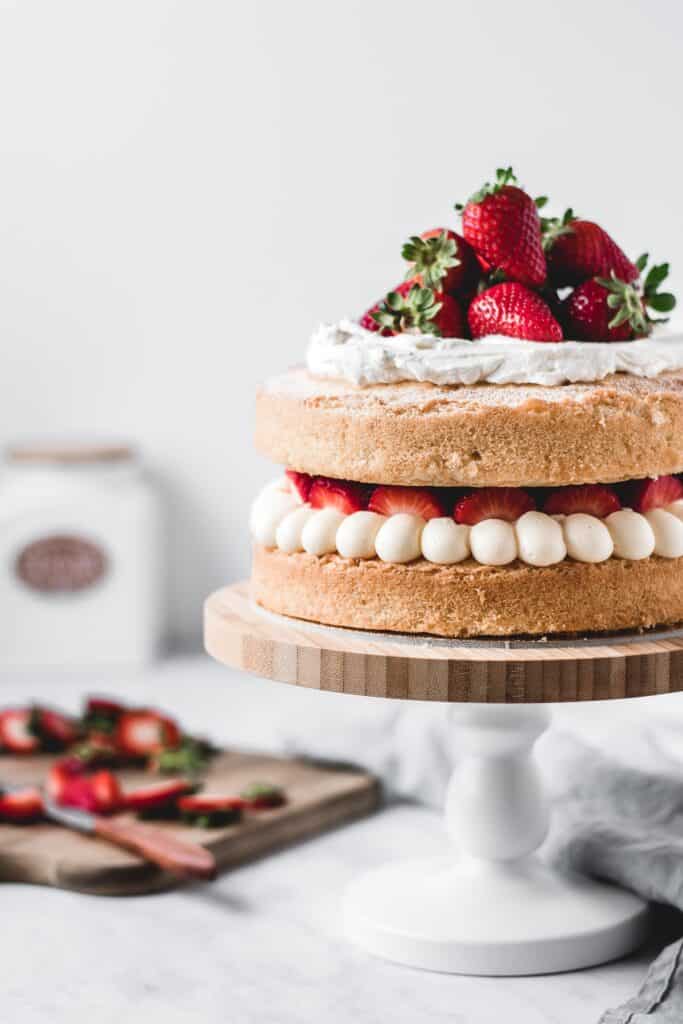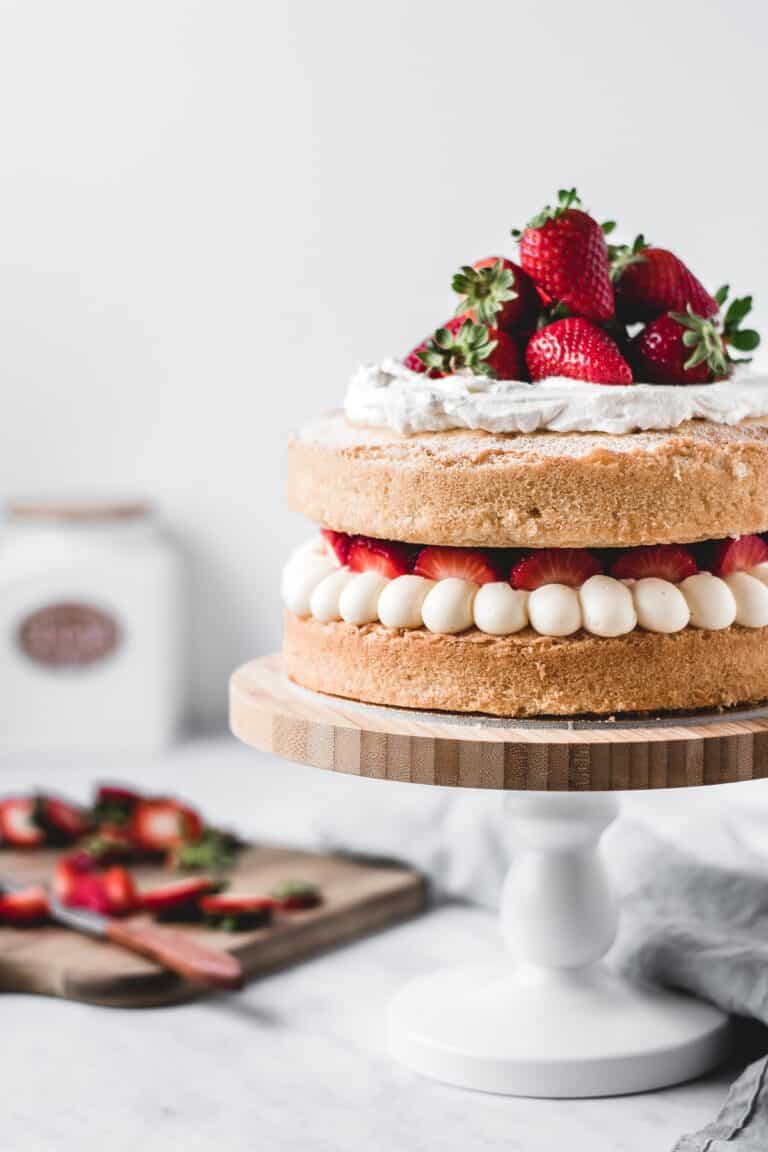 I wanted to make this cake ever since I saw Mary Berry in Great British Bake Off making one. I loved the fact that it is super simple, but so pretty - a real showstopper!
THE STORY OF VICTORIA SPONGE CAKE
According to numerous online sources (one of which is Wikipedia ), Queen Victoria absolutely loved some sponge cake with her afternoon tea. Who doesn't, right? She was one smart lady. FYI, I love the movie Young Victoria with Emily Blunt. I watch it at least once a year (oops). It's great!
On the nerdie side, did you know that Queen Victoria was the longest ruling monarch of United Kingdom until a couple of years ago when Queen Elizabeth II overtook that position? Yup. Women rulers! I've always loved history. I thought about studying it, but I knew that won't get me far in life - sad, but true.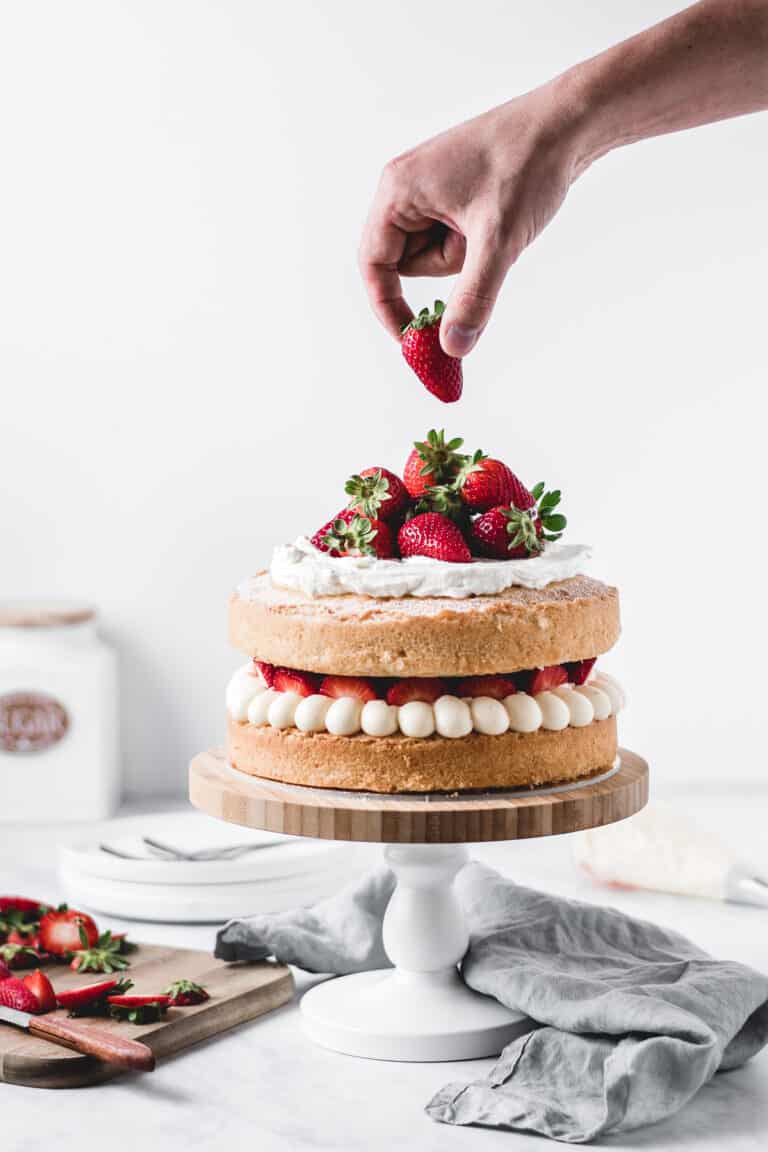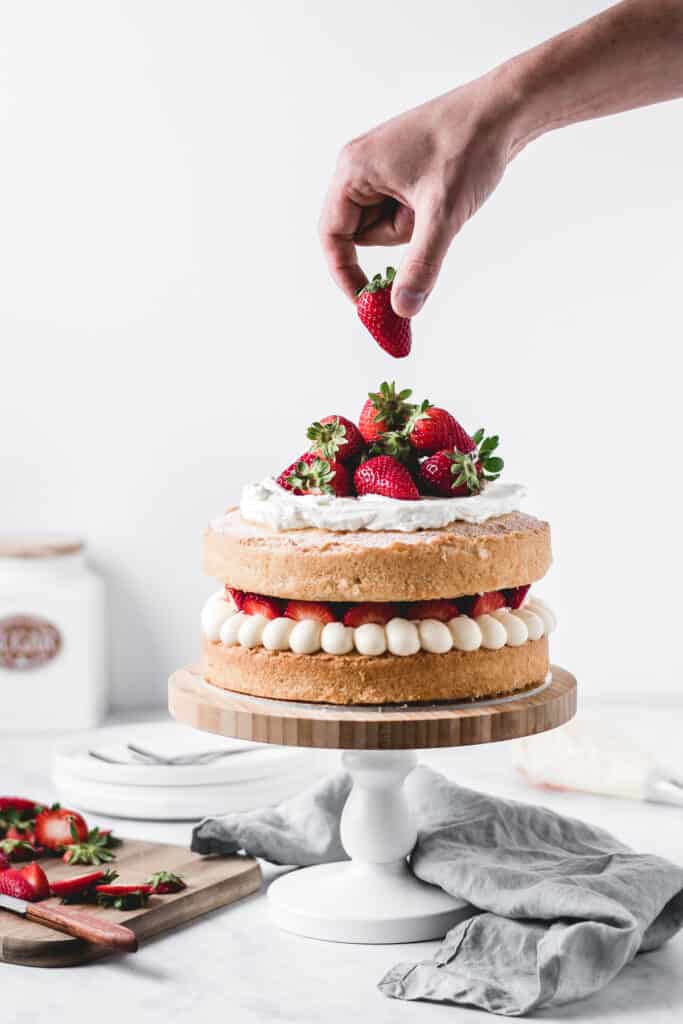 Sorry for the rant. Now, CAKE. Yass. Aside from Victoria Sponge Cake, you'll also find mentions of Victoria Sandwich. That's because two cake layers are sandwiched together to form a cake. Ha! Pretty self explanatory, I know. When I made this cake, even my little sis compared it to a toast sandwich. That brought such smile to my face. 🙂
The two cake layers are traditionally sandwiched together with strawberry jam and whipped cream. There is no special decoration, but a dusting of powdered sugar. It really is a perfect Sunday afternoon treat. I decided to step away from the tradition a little bit and to fill the cake with Diplomat cream (Crème Diplomat) and loads of fresh strawberries. Sounds delicious, right? It totally is!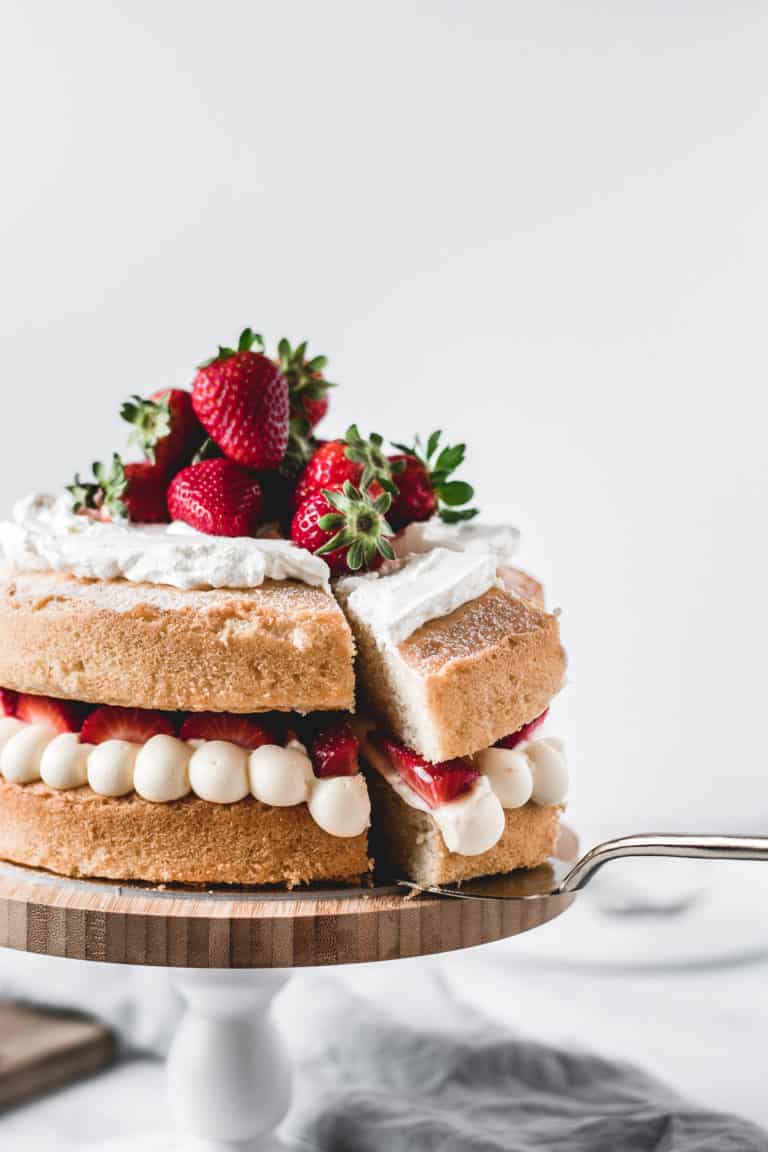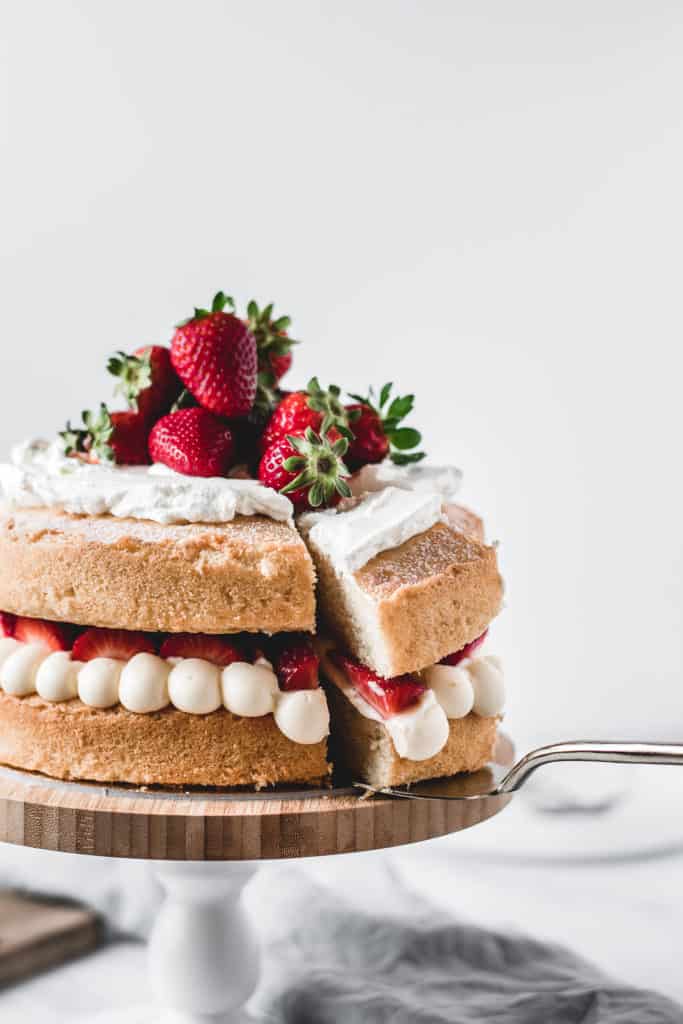 WHAT IS DIPLOMAT CREAM AND HOW TO MAKE IT
Although it sounds fancy, especially written in French (Crème Diplomat) this cream filling is one of the easiest out there. I often use it as a filling for profiteroles - yum! It's basically pastry cream lightened with some whipped cream. Yup, simple as that!
Pastry cream is such a basic recipe that could be used in various desserts. But, I did have some trouble with it - at least in the past. I hated the fact that it was always rock hard and often times I could taste the cornflour. Besides that, there was always lack of sugar, always. I mean, I get that this isn't supposed to be an overly sweet cream (nobody likes that), but it still has to be sweet cause, erm, it's a dessert. *roll-eyes*
So, one time I ran out of cornflour and made it with all-purpose flour instead. That was a total game changer because that filling finally wasn't so stiff! I talked about it here in my doughnut recipe. Buuut... a blogger friend reminded me that making a pastry cream with cornflour/cornstarch will make it gluten-free. So I gave it another chance. For this recipe I actually wanted a stiffer pastry cream because we're mixing it with whipped cream.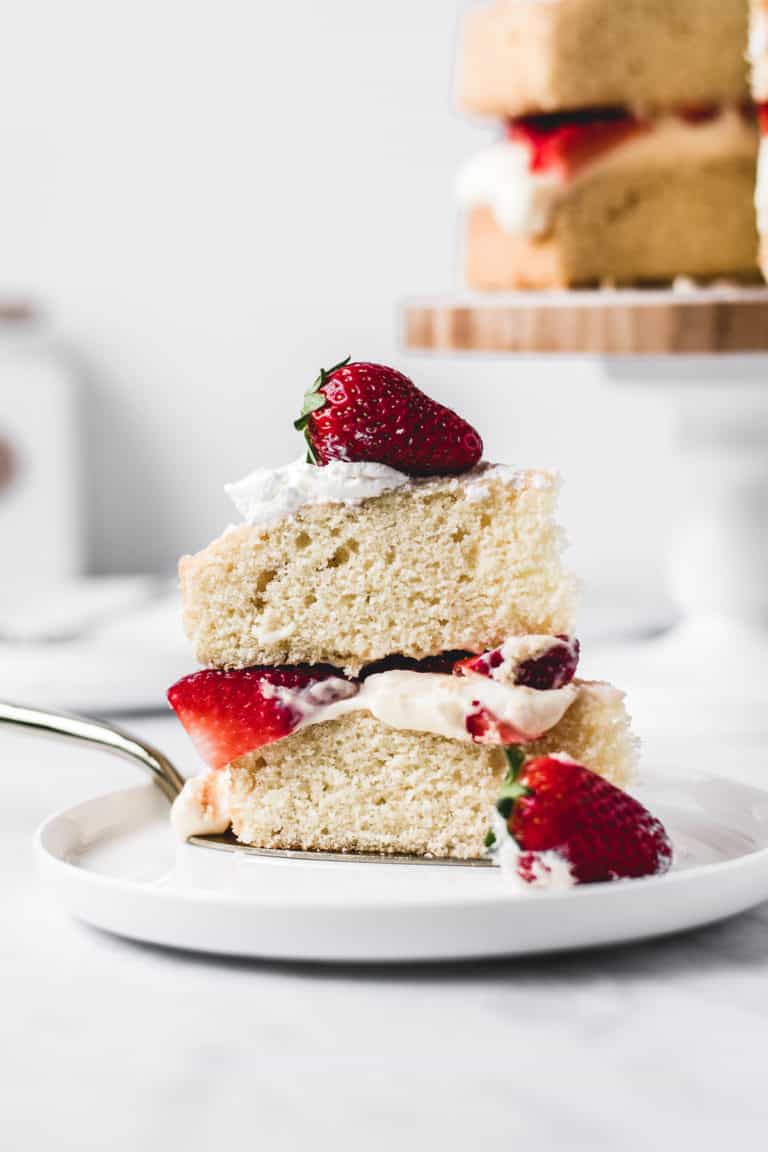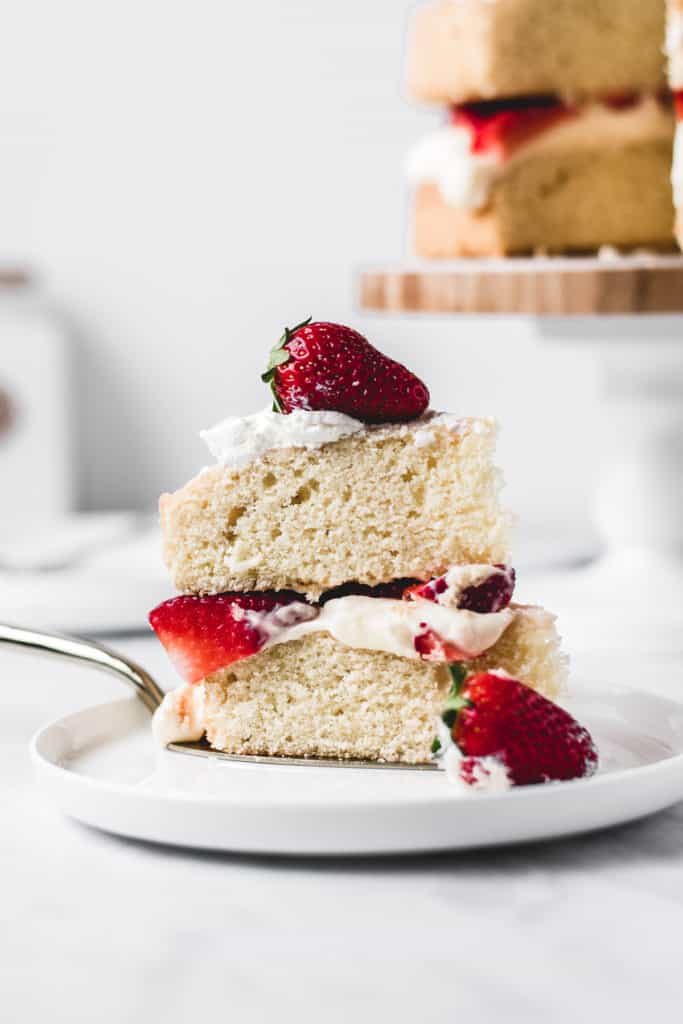 To make pastry cream you'll need: milk, egg yolks, egg, cornflour, salt, sugar, vanilla extract. The process begins with mixing together egg, egg yolks, sugar and salt with just a little bit of milk to thin it out. Whisk everything for 1-2 minutes, it doesn't have to be fluffy or pale. In addition, bring to a boil the rest of the milk and combine the two together.
Now this is the crucial part. Since the milk is hot and your eggy mixture isn't, if you just plop your milk in it it might scramble the eggs. That's why we need to be careful and temper the mixture. How to do that? Easy! Well, the first time you may need some help. While you are whisking the egg mixture, pour the hot milk in a slow and steady stream - whisking constantly. You don't need to pour all of milk in it, ½ or ⅔ will be just fine.
Whisk everything and transfer it back into the saucepan in which you boiled your milk. Cook it for a couple of minutes, again - whisking constantly (your muscles will be grateful, lol). When it thickens and there are bubbles showing on the top - it's done! Now is the part to add the vanilla extract and that's it! You made your very own pastry cream - so delicious!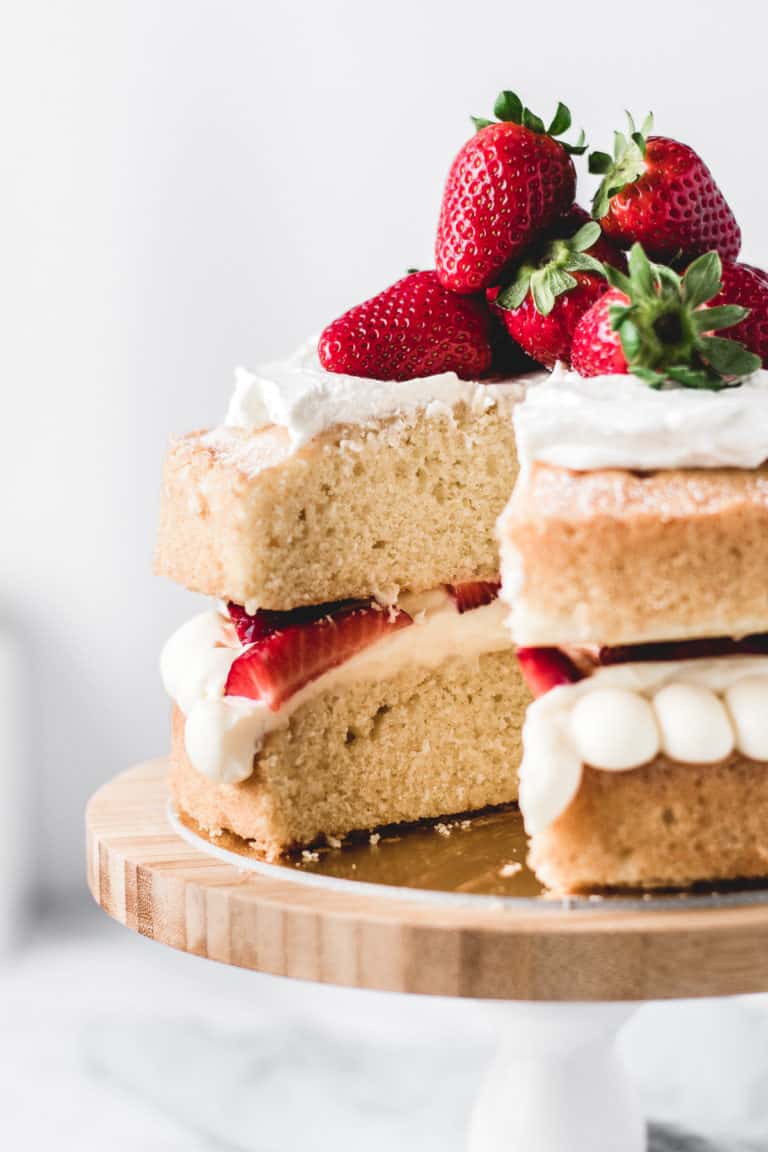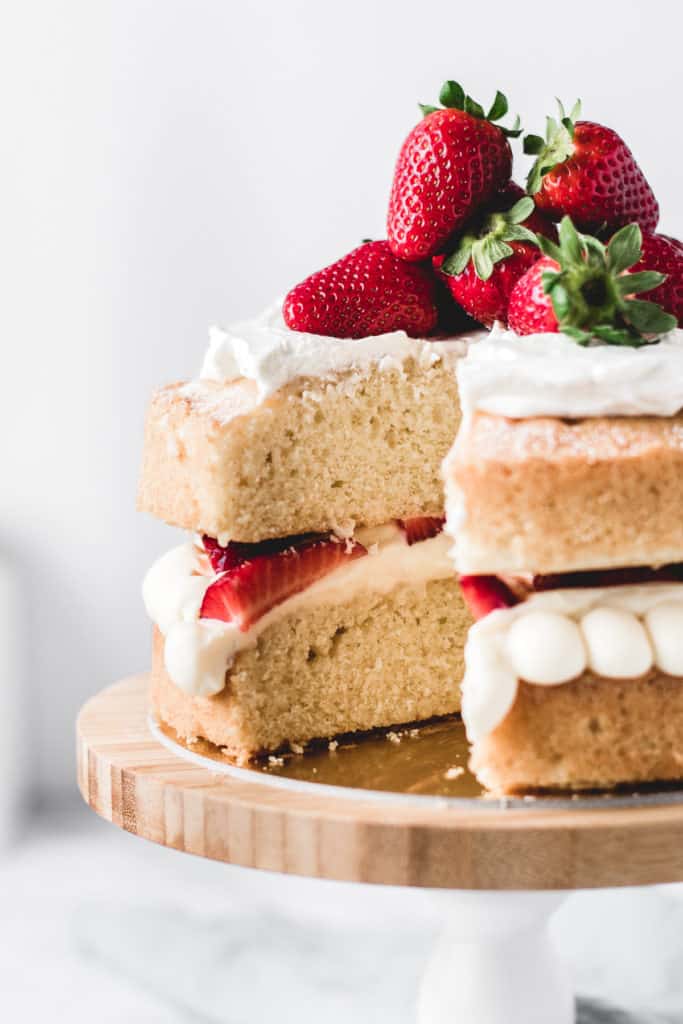 TOP TIPS:
When making fillings with cornflour (cornstarch), such as this pastry cream, make sure to "cook the flavour off". In other words, when your pastry cream thickens, continue cooking it for another couple of minutes (vigorously whisking constantly, so it doesn't burn) to avoid the aftertaste.
I suggest straining your pastry cream through a sieve to get rid of any lumps there might be. Afterwards, cover with cling film touching the surface to avoid "skin" forming et voila! Your pastry cream is done 🙂
Finally, all that is left to do is to mix it up with some whipped heavy cream and you got yourself Diplomat cream!
IF YOU ARE INTO FRUITY DESSERTS, CHECK OUT THESE:
Chocolate Berry Cake
Lemon & Poppyseed Cake with Blueberry glaze
Raspberry Vanilla Layer Cake
Orange Almond Bundt Cake with Mascarpone glaze
If you make this easy and delicious victoria sponge cake, let me know by tagging me on Instagram @anasbakingchronicles or tell me all about it in the comments section down below! I love seeing your creations! If you have any questions, don't hesitate to ask! Happy baking! 🙂
Love,
A.
📖 Recipe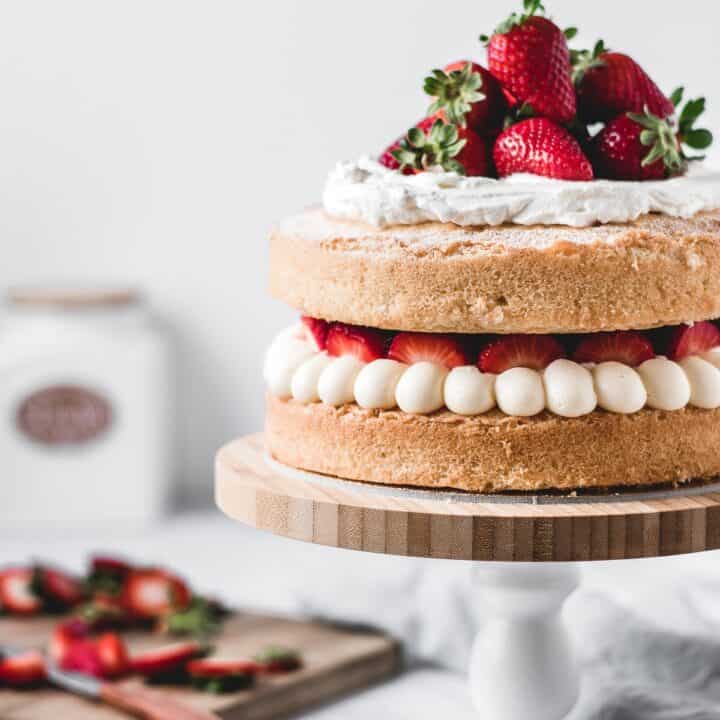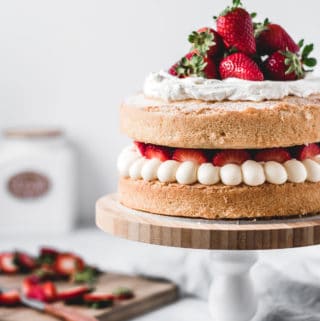 Classic Victoria Sponge Cake
Description
This is one of those traditional bakes that everyone's going to love. Soft and fluffy vanilla cake layers filled with light and airy diplomat cream and fresh strawberries. Delicious!
ingredients
for cake layers
4

large

eggs

(weighed, room temperature)

250

g

all-purpose flour

2

teaspoon

baking powder

250

g

unsalted butter

(room temperature)

250

g

white granulated sugar

50

g

full fat sour cream

2

teaspoon

vanilla extract

¼

teaspoon

salt
for diplomat cream
4

large

egg yolks

1

large

egg

150

g

white granulated sugar

¼

teaspoon

salt

45

g

cornstarch

500

g

full fat milk

1

tablespoon

vanilla extract

200

g

heavy cream

(cold)
Decoration
150

g

heavy cream

300

g

fresh strawberries
Instructions
for cake layers
Preheat your fan oven to 160°C (325°F) or 175°C if you're not using a fan oven. Grease and line with parchment paper two 8" (20 cm) round cake tins.


In a medium bowl sift together flour, baking powder and salt. Whisk until combined and set aside.
In a measuring jug combine sour cream and vanilla extract. These are your wet ingredients.


In a bowl of a stand mixer fitted with a paddle attachment, cream the butter and sugar on a medium-high speed until pale and fluffy. (approx. 3 min) Stop the mixer and scrape down the bowl.

Turn the mixer to medium-low speed and add eggs one at a time – making sure it's fully incorporated after each addition. Stop the mixer and scrape down the bowl.

Add your dry ingredients, mix until everything is just combined. In the end add sour cream and vanilla extract.

Divide the batter evenly among the 2 tins and bake for 20-25 minutes or until skewer inserted in the middle comes out with few moist crumbs. Do not overbake it.

Once they're done, let the cakes cool for 10-15 minutes on a wire rack before removing them from the pans to cool completely. They will continue to cook in the pan, so it's important that the skewer is not entirely clean. Otherwise, you're cake will overbake and that will cause dryness.
for diplomat cream
In a medium sized bowl, using a whisk, mix together egg yolks, egg, sugar, cornstarch and salt. Add a couple of tablespoons of previously measured milk to thin the mixture out.

In a heavy bottomed saucepan bring the milk to a simmer. Pour over the egg mixture in a slow and steady stream, whisking constantly so you don't scramble the eggs. This is called tempering.

Pour the eggy milk mixture back into the saucepan and heat it until it thickens, whisking constantly. This will take approx. 5-6 minutes. When it's done, strain it through a sieve to a bowl. Add vanilla extract and mix until everything is incorporated.

Cover with cling film touching the surface to prevent "skin" forming. Leave the pastry cream to cool in the fridge. It will thicken quite a bit, that's okay.

Using a hand mixer, mix very cold heavy cream to a soft peak. Add it to cold pastry cream and mix everything until combined. Scrape and fold with a silicone spatula at the end so there are no white streaks of heavy cream.
assembly
In the middle of your cake board or a serving plate put some diplomat cream to stop the cake from moving around. Choose your prettiest cake layer as the top one.

Place one cake layer on a cake board or a serving plate. Using a small offset palette knife spread the diplomat cream over the cake. Using a piping bag fitted with Wilton 2A round tip make little blobs around the edge. Place sliced strawberries on top of the filling and put a second cake layer on top.


Decorate it either with leftover diplomat cream or whipped heavy cream and the rest of fresh strawberries.
IMPORTANT
All the recipes are developed and tested using only metric measurements and a kitchen scale. The U.S. cup and spoon measurements are provided for your convenience, but I highly recommend getting a digital kitchen scale and measuring in metrics. It's easy and always guarantee the same results in baking!
The nutritional information and US conversions are calculated automatically. I cannot guarantee the accuracy of this data. If this is important to you, please verify with your favourite nutrition calculator and/or unit conversion tool.
Have you tried this recipe?
Tag me on Instagram @anasbakingchronicles or use the hashtag #anasbakingchronicles - I love seeing your creations!