These Cherry Pop Tarts with sprinkled Chocolate glaze are a perfect snack. Sweet and tangy cherry filling, cloaked in flaky, all-butter pie crust and then topped with simple chocolate glaze - heavenly combination! Ooh, let's not forget sprinkles!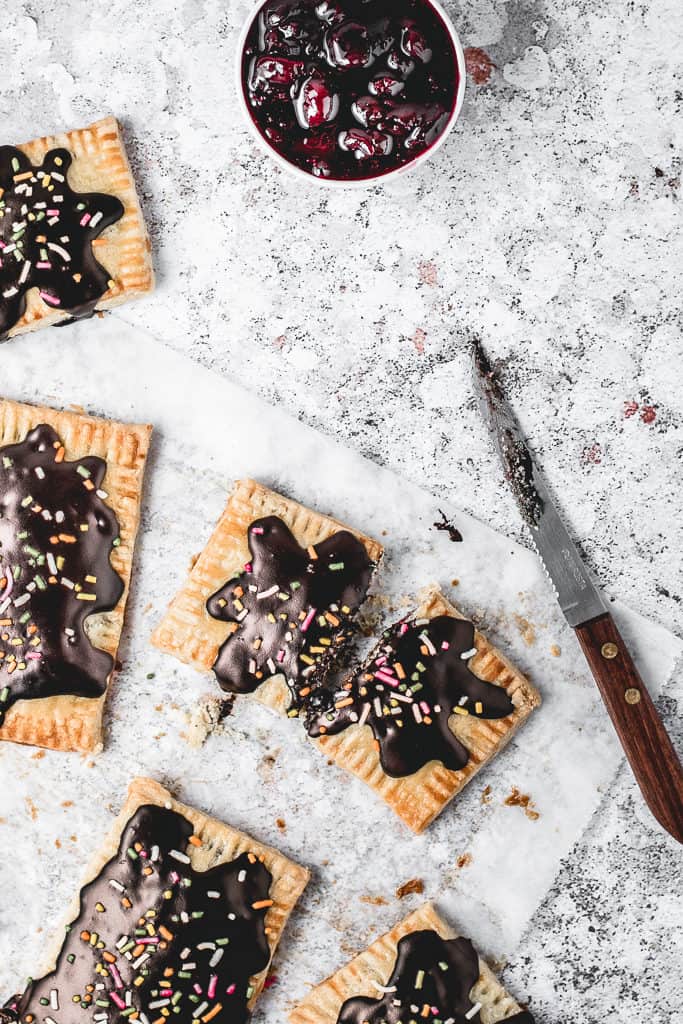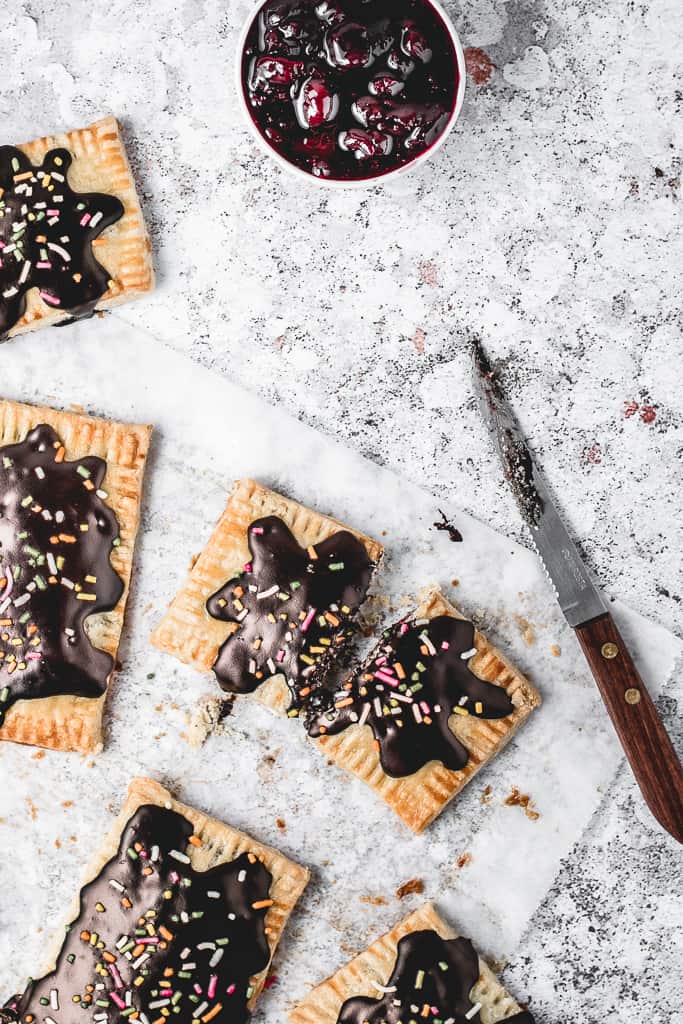 These are essentially handpies, but there's a lot more excitement going on when you rename them to Pop tarts. I've never had one myself, because that's not something we have in Croatia. But seeing all the hype on Instagram and Youtube, I realized that these are like small pies, just in cute rectangle shape. "Yes, I know how to make these!" - were the thoughts that got me into making these Cherry Pop tarts. 🙂
All you need is a good recipe for flaky all butter pie crust , ooey-gooey filling of your choice (ahmm...cherries?) and delicious sugar glaze. Ooh, and let's not forget all the fun that sprinkles bring! They are not optional. 😉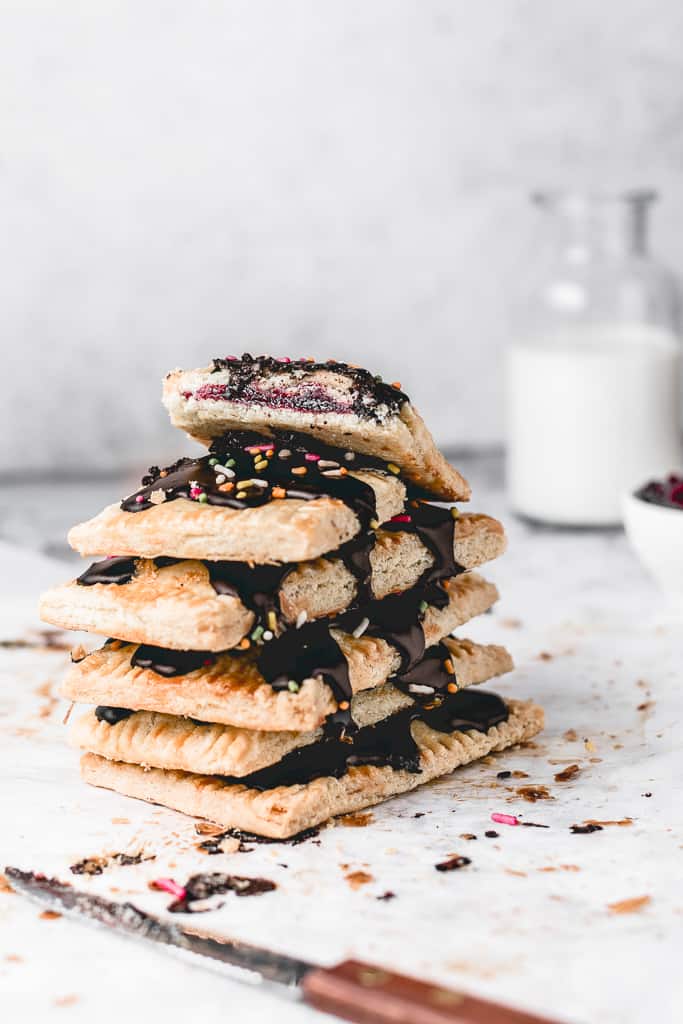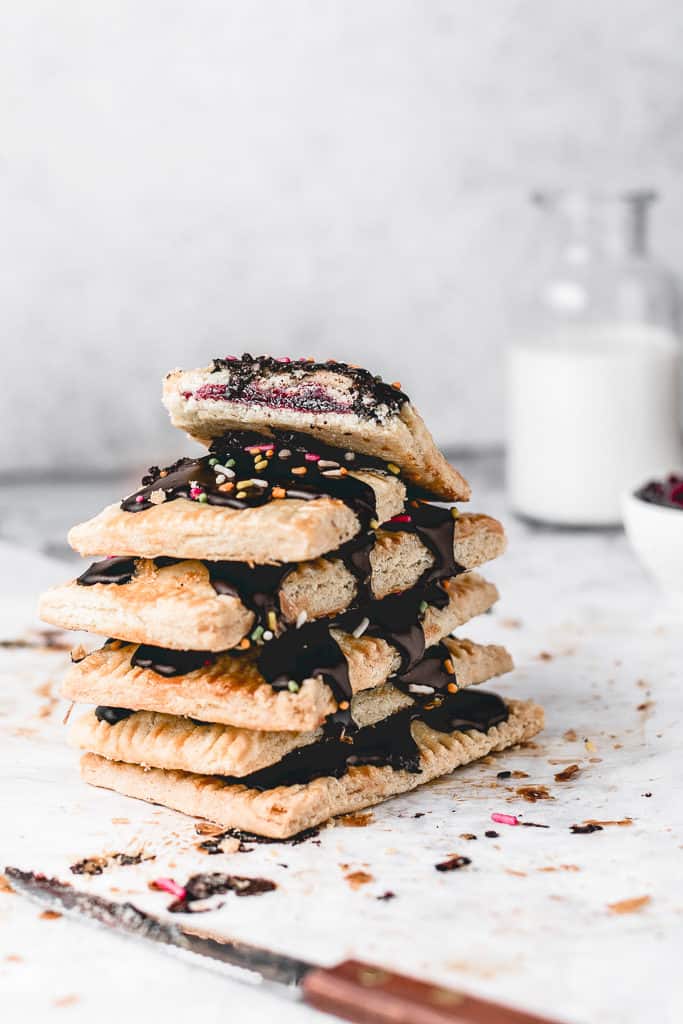 HOW TO MAKE FLAKY ALL BUTTER PIE CRUST
I've talked about it in my recipe for Spiced Nectarine & Blackberry Galette. I don't want to repeat myself, but in conclusion, for a delicious flaky pie cursy you need only FOUR ingredients. Well, five if you count salt as an ingredient.
Basically, there are two ways to make it. In a food processor or by hand. Naturally, I went with the food processor method because it's faster and easier. The goal is to keep the butter cold the whole time - that's why the rubbing cold butter into flour by hand method sometimes isn't the best choice, because the heat from your hands coudl melt the butter.
Why do we want our butter (and ultimately, the dough) cold? Well, it's the reason for all the yummy flakiness! Also, you don't want to combine the flour and butter thoroughly. You want to see small bits of butter in your dough, because that also means more flakiness.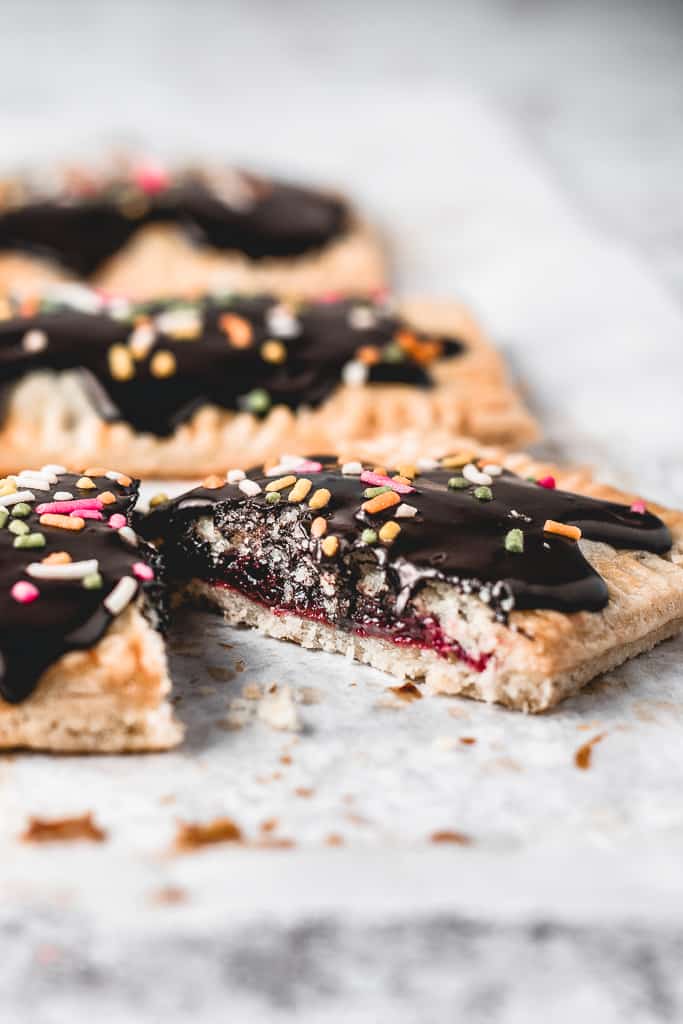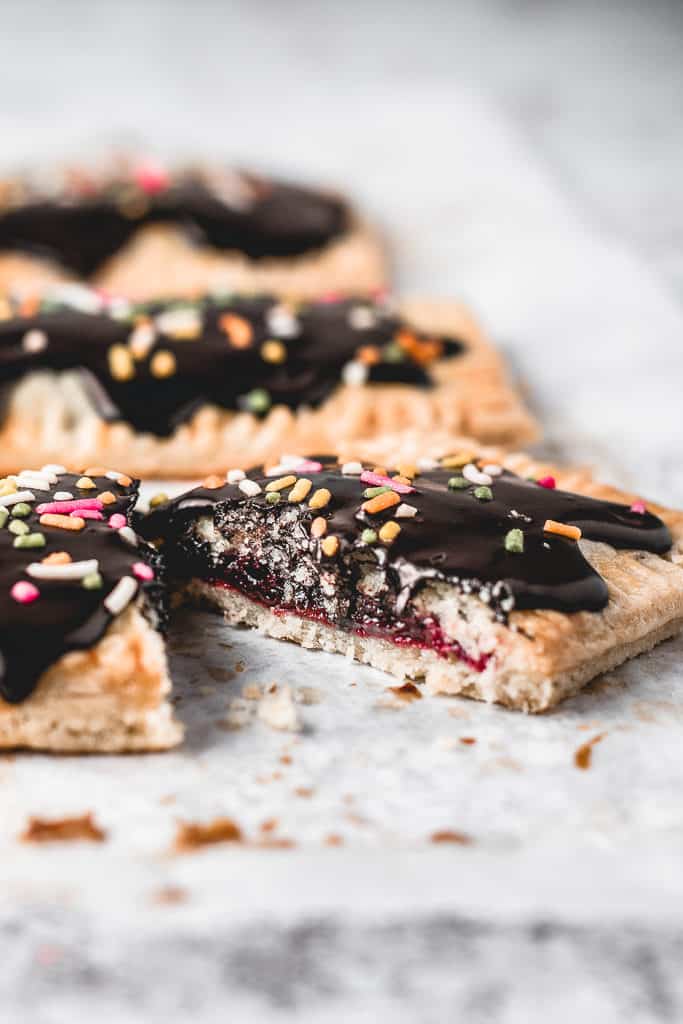 HOW TO MAKE FILLING FOR CHERRY POP TARTS
Easy! I used frozen sour cherries, because the season for fresh is over. Also, it's much easier to get pitted frozen cherries, than to remove pits one by one. Aaand, you have frozen fruits all year long - so you can make these any time you want!
But you can totally substitute the fresh cherries if you wish so. 🙂
I like to feel a bit of cherry when I bite into this gorgeous cherry pop tart, so I don't smash them. I just cook them on a medium-high heat, with some sugar and a dash of cinnamon, until they start to boil. Then just thicken them with some diluted corn or tapioca starch, cook some more until the desired consistency et voila! You have a perfect pop tart filling.
You can do this with basically any fruit you like. Have fun! Just make sure if you're using sweet cherries, instead of sour one, to maybe cut down on sugar a little bit and add some lemon zest and juice for an extra kick.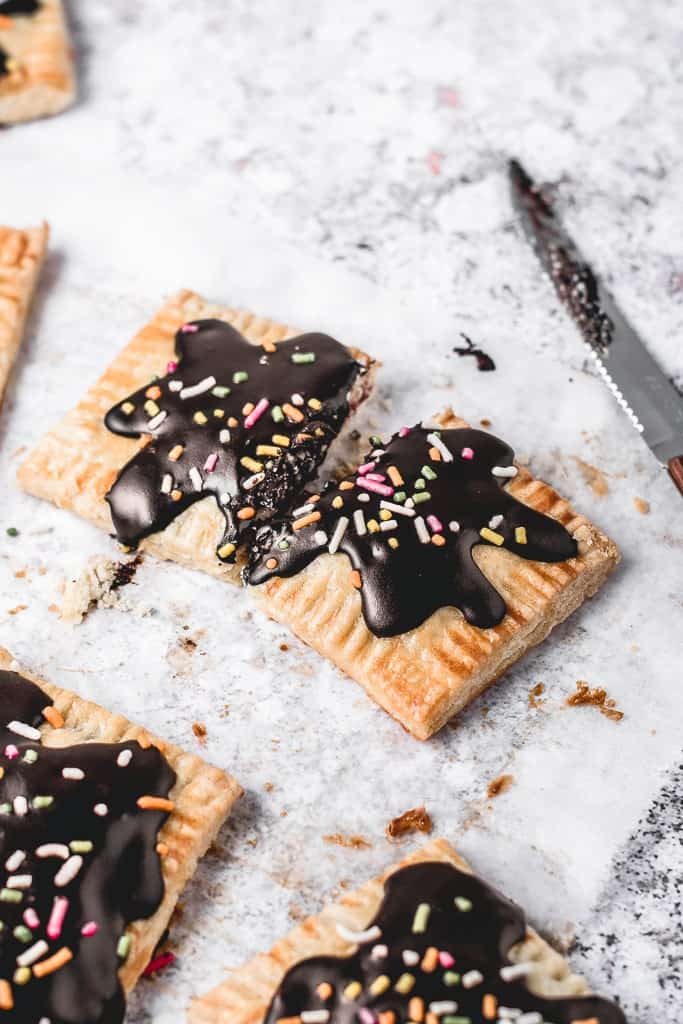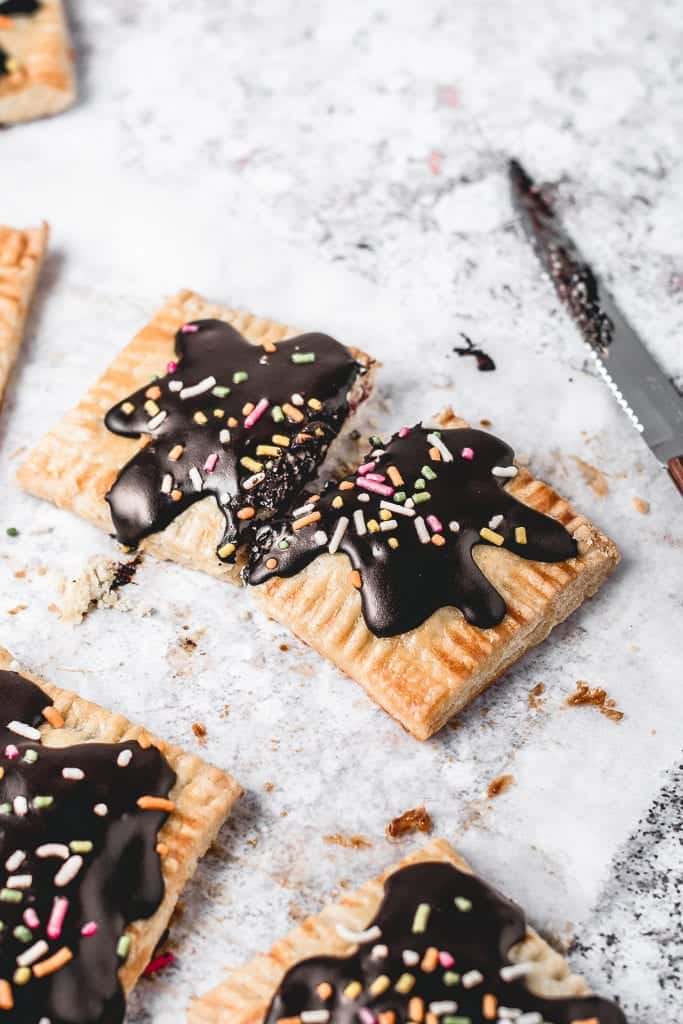 IF YOU'RE INTO CHOCOLATE DESSERTS, YOU MUST CHECK THESE OUT:
Chocolate Cherry Layer Cake
Soft Chocolate Cookies with White Chocolate Chunks
Lamingtons with homemade Strawberry jam
Rocky Road Baked Donuts
If you make these flaky, delicious cherry pop tarts, let me know by tagging me on Instagram @anasbakingchronicles or tell me all about it in the comments section down below. I love seeing your creations! If you have any questions, don't hesitate to ask. Happy baking!
Love,

📖 Recipe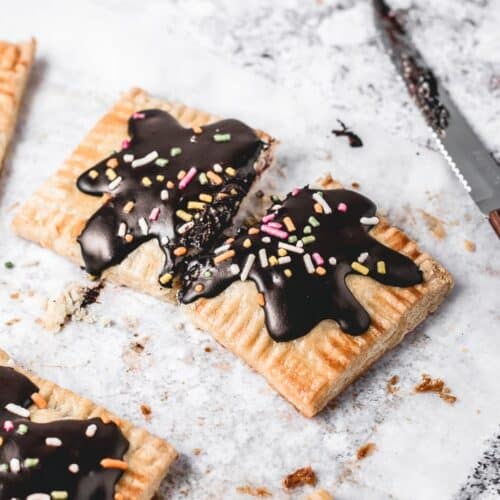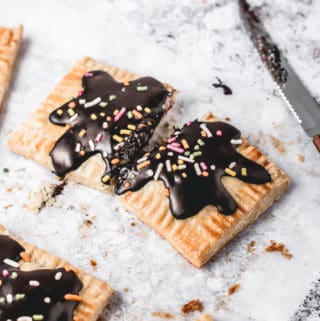 cherry pop tarts with chocolate glaze
Description
These Cherry Pop Tarts with sprinkled Chocolate glaze are a perfect snack. Sweet and tangy cherry filling, cloaked in flaky, all-butter pie crust and then topped with simple chocolate glaze - heavenly combination! Ooh, let's not forget sprinkles!
ingredients
for the pie crust
300

g

cold butter

(chopped into small cubes)

450

g

all-purpose flour

(sifted)

¼

teaspoon

salt

50

g

powdered sugar

(sifted)

6-7

tablespoons

ice cold water
for the filling
200

g

frozen pitted sour cherries

120

g

light soft brown sugar

¼

teaspoon

cinnamon

2-3

teaspoons

cornstarch
chocolate glaze
100

g

powdered sugar

(sifted)

20

g

cocoa powder

2-3

tablespoons

water

¼

teaspoon

vanilla extract
Instructions
In a food processor, sift your flour, salt and powdered sugar. Add cold cubes of butter. Pulse until the mixture is like a coarse sand, with a few bigger chunks of butter. Add 6 tablespoons of ice cold water and pulse until the dough starts clumping together, not more than that. If it doesn't start coming together, then add another tablespoon of ice cold water. When it's done, it should still be crumbly - that's fine, because we want to combine it together with our hands.

Transfer the dough onto a lightly floured surface and using your hands knead it a little bit (just a little!) until it forms a homogenous dough. Divide the dough into two, form into a disk, wrap in cling film and leave it in the fridge for at least an hour or up to three days.

Preheat your oven to 175°C (350°F) and line a baking sheet with baking paper.

In a small saucepan combine frozen cherries and sugar and bring to boil over medium heat. Simmer for a few minutes.

Dilute the cornstarch with 1 tablespoon of water and pour over the cherries mixing constantly with a large wooden spoon until everything is incorporated. Bring the mixture to a boil and cook for a few minutes.

If the filling is too thick/thin you can add some more water/cornstarch. That depends on the water content of frozen cherries.

Once it thickens quite a bit, cook for another few minutes to get rid of cornstarchy flavour, then transfer it to a bowl and cover with cling film touching the surface to prevent "skin" forming. You can put it in the fridge to cool completely.

Once your dough is chilled, leave it on the counter for a few minutes, then roll it in a 3 mm thick rectangle. Using a ruler, cut 7x12 cm (3x5 inch) rectangles. Transfer them to prepared baking sheet.

Carefully place about a tablespoon of the cherry filling in the middle of half your rectangles. Using a small brush, add some egg wash around your filling - that will act as a glue.

Prick the rectangles that are going to be the top of your pop tart with a fork three times - this will ensure that the dough doesn't puff up. Gently place each rectangle on top of the filled rectangle. Using a fork, go around the edges and press lightly to ensure the dough sticks together and also, to give it a pretty look.

When all your pop tarts are done, give them a little egg wash for a nice golden colour and sheen.

Bake in a preheated oven for 15-20 minutes, or until golden brown and cooked on the bottom. When they're done, they will be slightly soft - that's fine. Leave them on the baking sheet for 2 minutes, then transfer to a cooling rack.
for the chocolate glaze
In a small-medium sized bowl, sift powdered sugar and cocoa powder. Add some water and vanilla extract, then combine everything using a whisk. If you want your glaze to be thicker, add less water/more sugar. If you want it to be thinner, add some more water - depends on what you like!

Put the glaze in a piping bag, snip the end off and glaze your pop tarts
Notes
If you don't have a food processor, you can make the dough with your hands by rubbing cubes of butter into the flour. It's important to keep the dough as cold as possible!
If you still don't own one, I advise you to buy a kitchen scale – they're cheap and easy to use, and always guarantee the same results in baking! 
IMPORTANT
All the recipes are developed and tested using only metric measurements and a kitchen scale. The U.S. cup and spoon measurements are provided for your convenience, but I highly recommend getting a digital kitchen scale and measuring in metrics. It's easy and always guarantee the same results in baking!
Nutrition
Nutrition Facts
cherry pop tarts with chocolate glaze
Amount per Serving
% Daily Value*
* Percent Daily Values are based on a 2000 calorie diet.
The nutritional information and US conversions are calculated automatically. I cannot guarantee the accuracy of this data. If this is important to you, please verify with your favourite nutrition calculator and/or unit conversion tool.
Have you tried this recipe?
Tag me on Instagram @anasbakingchronicles or use the hashtag #anasbakingchronicles - I love seeing your creations!