Easiest of the pies, stone fruit galette is the absolute winner of every summer. I bring you a recipe for a delicious nectarine and blackberry galette, spiced with cardamom - it's a keeper!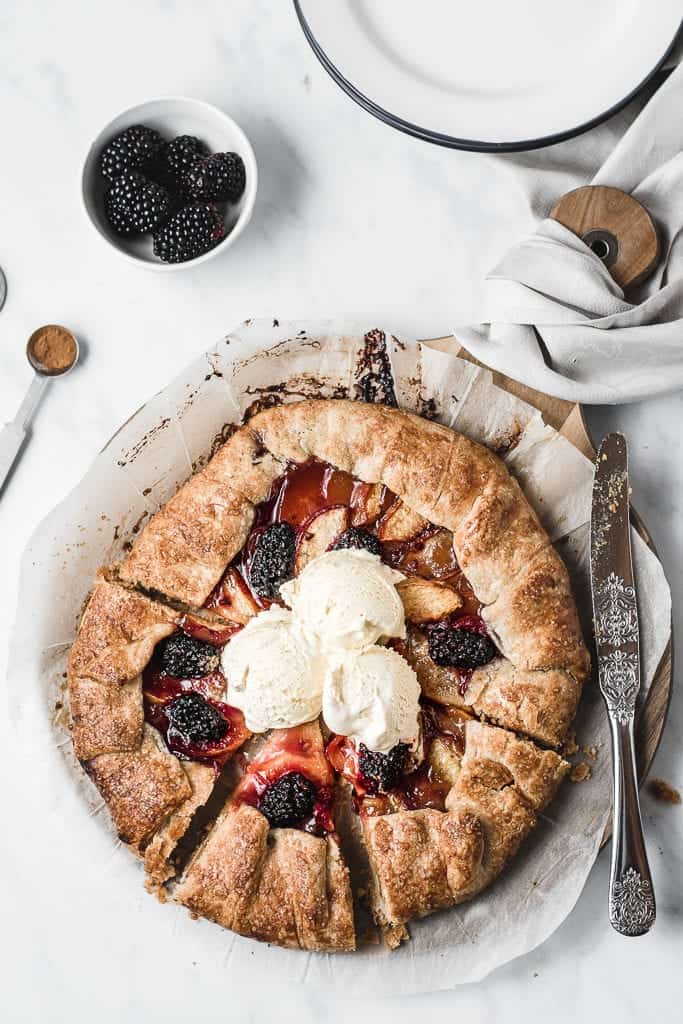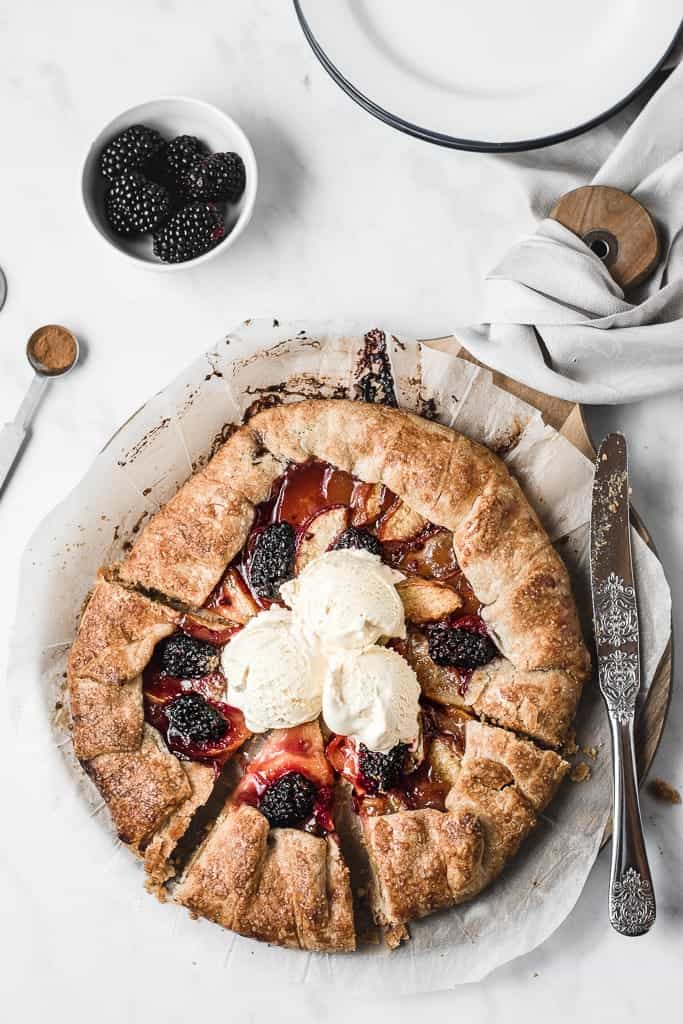 Stone fruit season is coming to an end, but you can still make this gorgeous galette to wrap up the summer in the most delicious way possible. 🙂
Galette is one of the easiest types of pies, because it requires almost no skill at all. All you need to do is to pile fruit in the middle of rolled pie dough and fold the edges! You can make it even easier by buying premade pastry, but homemade is just so much better - trust me!
HOW TO MAKE FLAKY BUTTERY PIE CRUST
The key is to keep the dough very cold and not let it form any gluten. That's why we need to use cold butter and ice cold water. I always chop the butter into cubes earlier and place them in the fridge, so I know they are entirely cold prior to using.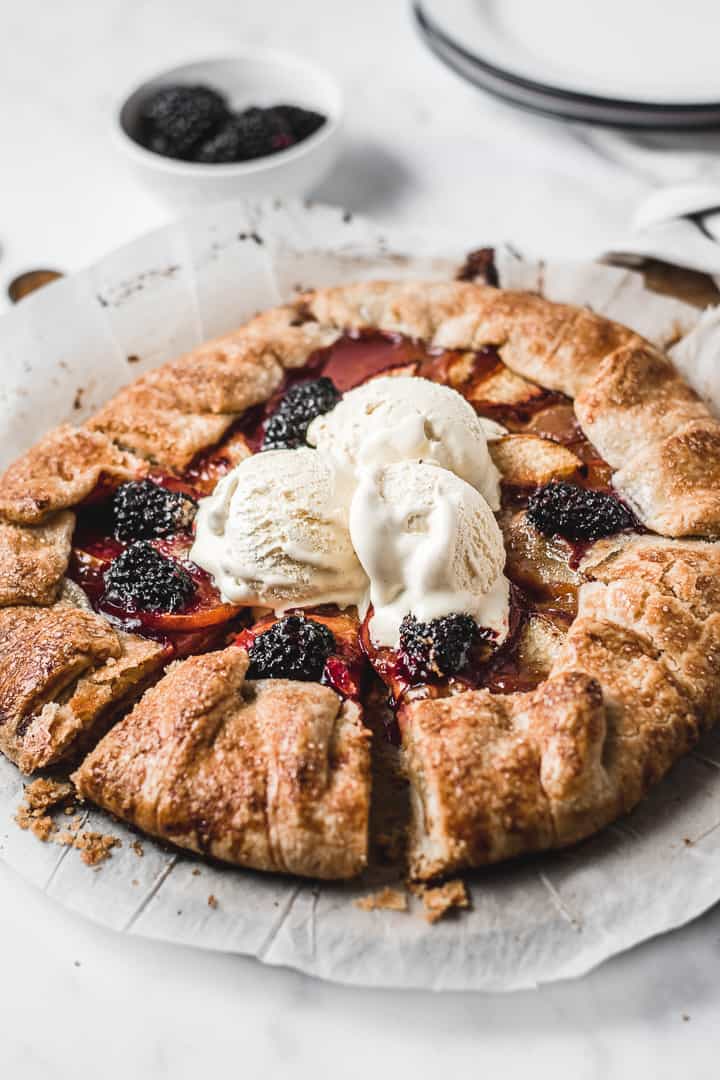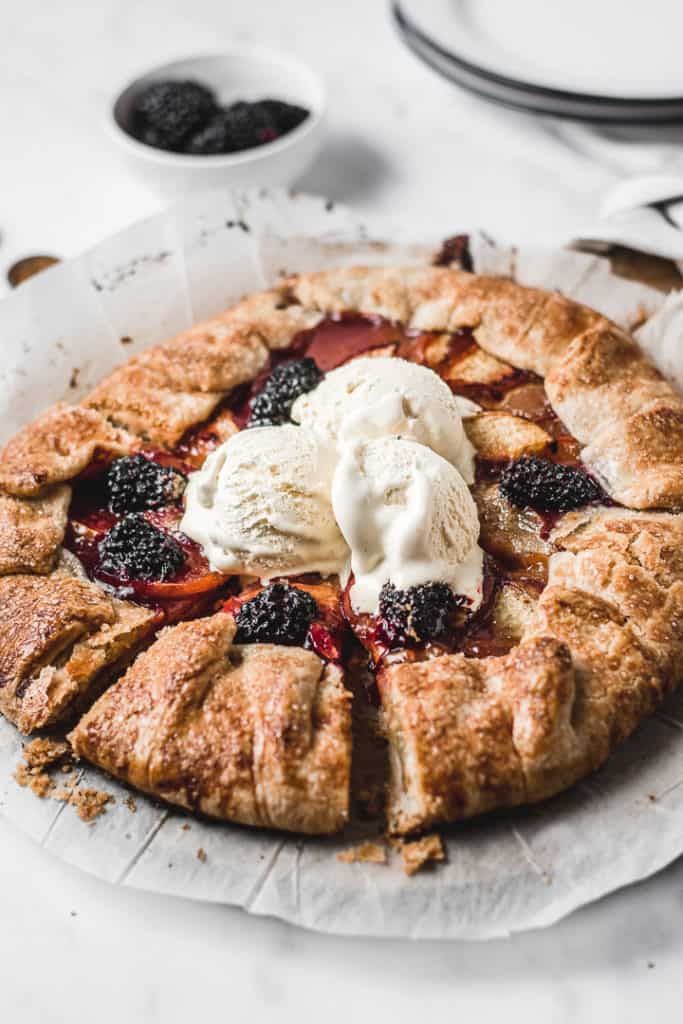 You can make the crust in a food processor or by hand. I've done it both ways and prefer the food processor just because it's quicker and your thumbs don't hurt haha. When you're making the dough with your hands, you need to rub the butter into the flour, until you reach almost sand like texture. The rubbing sometimes causes some thumb pain, but the result is totally worth it! 🙂
The first step is to combine flour, sugar, salt and butter. For extra flaky and buttery crust, you want to pulse them (or rub them) until they're barely combined and you still see some chunks of butter. Oh, that will be so delicious! After that, we mix in some ice cold water, until the dough starts clumping together. As soon as you see the first "ball" shaped, stop with the mixing. It will seem like it's all just crumbs, but worry not - you'll shape everything with just a couple of squeezes of your hand.
Then form the dough into a disk, cover in cling film and leave it to rest in the fridge.
I actually used Cupcake Jemma's recipe and she has a video that can help you make it by hand, click here. 🙂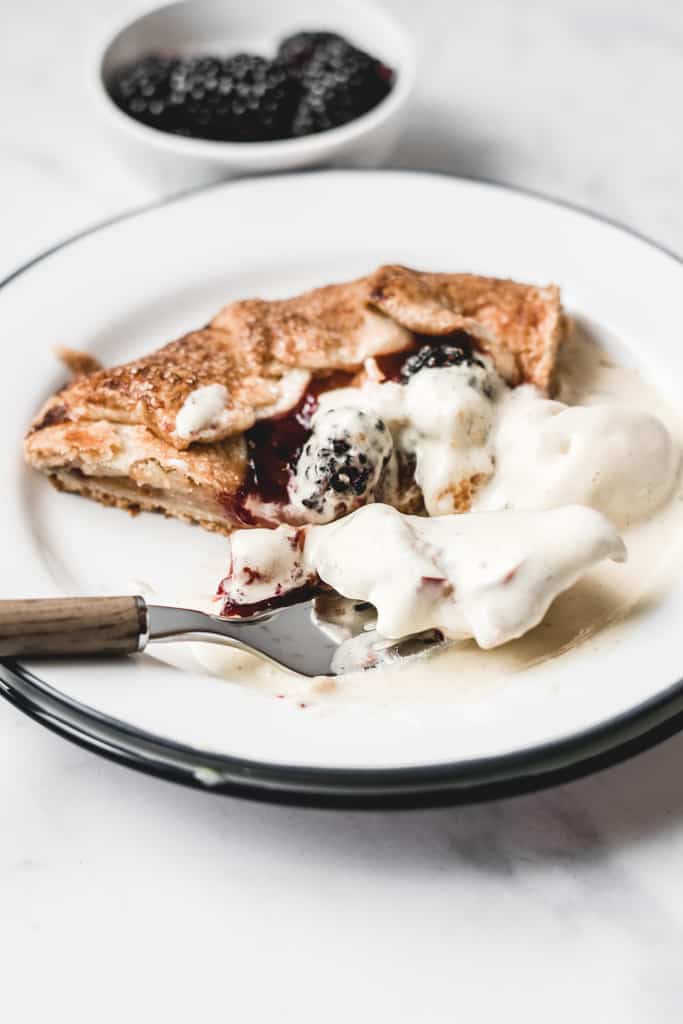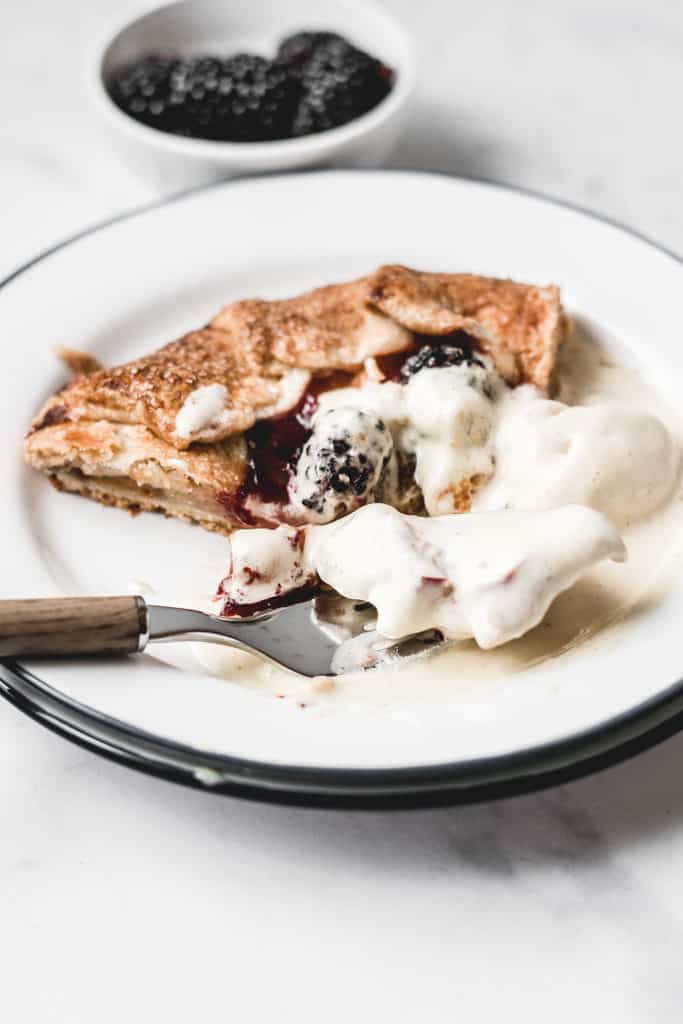 TIPS FOR THE GALETTE FILLING
You can use basically any fruit you like. Peaches are especially popular, but cherries, blueberries, plums, pluots... they all work really well in a galette!
If you want to create a pattern like I did, then you'll have a thinner filling. Although, now that I think about it, I could've maybe just put another layer of fruit on top. Hm. I'll try that nex time. For a thicker, rich filling use more nectarines (or other fruit) and just toss them in the middle.
I like to drain the juices from my fruit, but keep it for later because I don't want to lose all the spices and beautiful flavour. I combine the juice with melted butter in the end and pour over the fruit. It's delicious and I didn't experience any sogginess!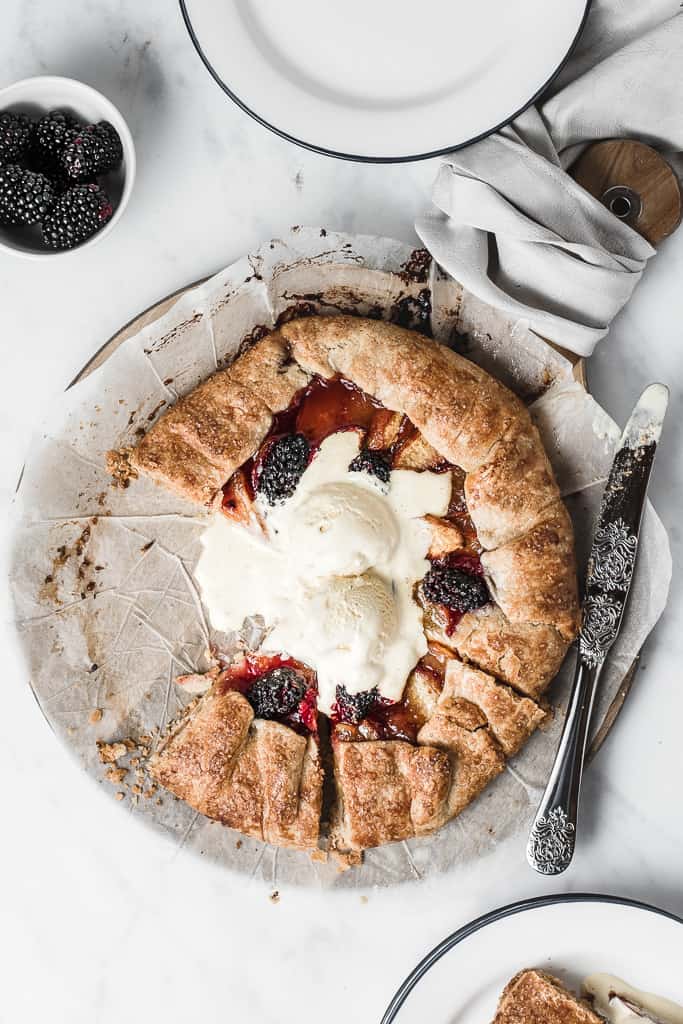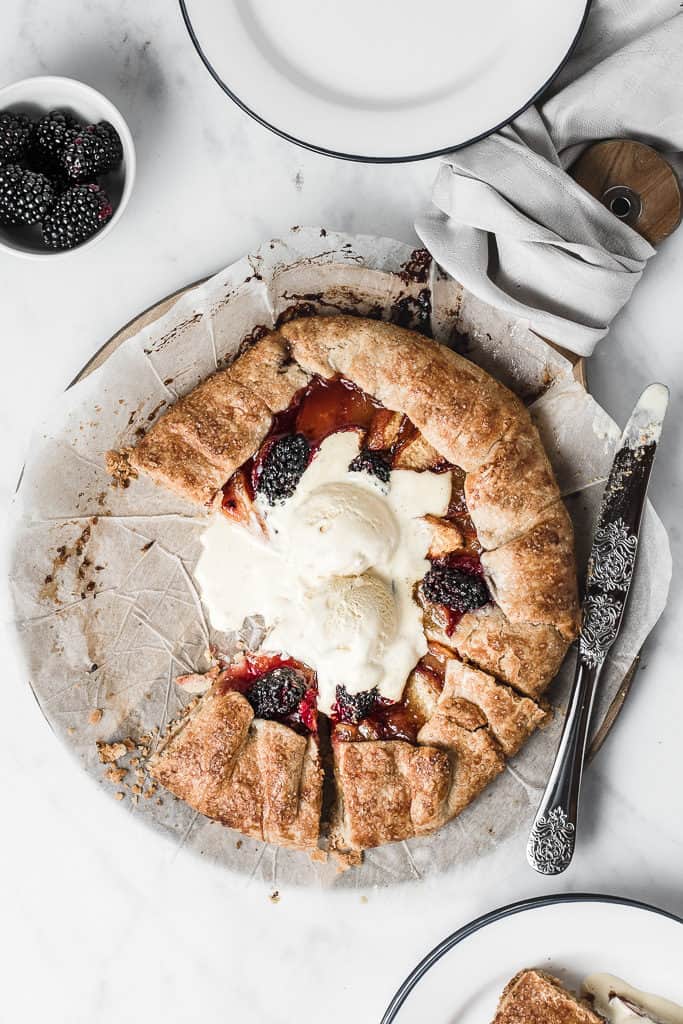 LOOKING FOR MORE EASY, DELICIOUS DESSERTS? THEN CHECK OUT THESE…
The Softest Homemade Cinnamon Rolls
Brown Butter Chocolate Chip Cookies
Fluffy doughnuts with orange vanilla pastry cream
Orange Almond Bundt Cake with Mascarpone Cream Cheese Glaze
If you make this delicious galette, let me know by tagging me on Instagram @anasbakingchronicles or tell me all about it in the comments section down below. I love seeing your creations! If you have any questions, don't hesitate to ask. Happy baking! 
Love,

📖 Recipe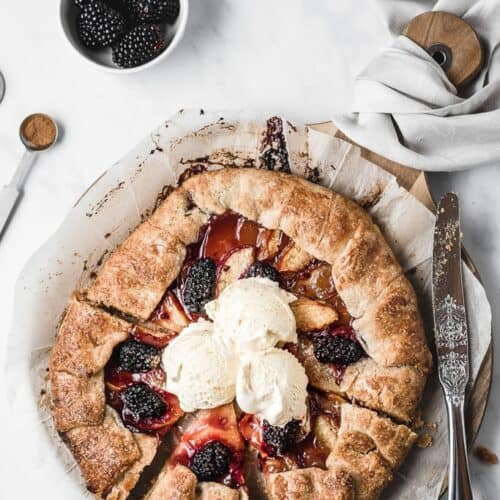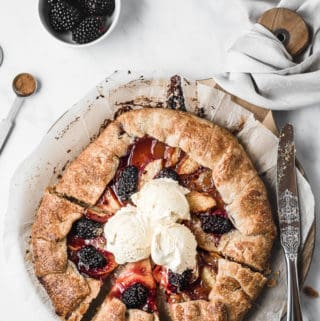 Spiced Nectarine and Blackberry Galette
Description
Quick and easy galette with fresh nectarines and blackberries, spiced with cardamom and cinnamon. Delicious!
ingredients
for the pie crust
150

g

cold butter

(chopped into small cubes)

225

g

all-purpose flour

¼

teaspoon

salt

20

g

powdered sugar

(sifted)

3-4

tablespoons

ice cold water
for the filling
325

g

sliced nectarines

((approx. 3 nectarines))

75

g

fresh blackberries

¼

teaspoon

cinnamon

½

teaspoon

cardamom

60

g

light soft brown sugar

2

teaspoons

cornstarch

25

g

unsalted butter

(melted)
for the egg wash
1

egg

1

tablespoon

demerara sugar
Instructions
In a food processor, sift your flour, salt and powdered sugar. Add cold cubes of butter. Pulse until the mixture is like a coarse sand, with a few bigger chunks of butter. Add 3 tablespoons of ice cold water and pulse until the dough starts clumping together, not more than that. If it doesn't start coming together, then add another tablespoon of ice cold water. When it's done, it should still be crumbly - that's fine, because we want to combine it together with our hands.

Transfer the dough onto a lightly flour surface and using your hands just combine it until it forms a homogenous dough. Form into a disk, wrap in cling film and leave it in the fridge for at least an hour or up to three days.

Preheat your oven to 180°C (350°F) and line a baking sheet with baking paper.

In a medium sized bowl, combine sugar, cardamom, cinnamon and cornstarch with the whisk. Add sliced nectarines and blackberries and combine everything with a wooden spoon or a spatula. Set aside.

Once your dough is chilled, leave it on the counter for a few minutes, then roll it in a 4-5 mm thick (⅛ inch) circle. Strain your fruit to get rid of the liquid, but save it. Place the nectarines and blackberries on the dough, making sure to leave a couple of centimeters form the edge. You can shape it slice by slice, or just spoon eveything without a pattern.

Fold the edges over the filling and press slightly to seal them together. Brush the edges with beaten egg and sprinkle with demerara sugar.

Melt the butter and combine with couple of tablespoons of that liquid you saved from the fruit. Pour over the fruit. Put in the oven and bake for about 35-40 minutes, or until the edges are golden and fruit caramelised.

Leave it on the cooling rack to cool for 5-10 minutes, then serve warm with a scoop of vanilla ice cream. 🙂
Notes
If you don't have a food processor, you can make the dough with your hands. The recipe for the pie crust is adapted from Cupcake Jemma and you can check her video here - where she makes it with her hands. 🙂
If you still don't own one, I advise you to buy a kitchen scale – they're cheap and easy to use, and always guarantee the same results in baking! 
IMPORTANT
All the recipes are developed and tested using only metric measurements and a kitchen scale. The U.S. cup and spoon measurements are provided for your convenience, but I highly recommend getting a digital kitchen scale and measuring in metrics. It's easy and always guarantee the same results in baking!
The nutritional information and US conversions are calculated automatically. I cannot guarantee the accuracy of this data. If this is important to you, please verify with your favourite nutrition calculator and/or unit conversion tool.
Have you tried this recipe?
Tag me on Instagram @anasbakingchronicles or use the hashtag #anasbakingchronicles - I love seeing your creations!