This Cherry Chocolate Cake is pure heaven. Fudgy and moist chocolate cake filled with sour cherry filling and vanilla buttercream – delish!
I really love chocolate. Some may say I'm a chocoholic. But I'm not sure that I love everything chocolate flavoured. I know, shocking.
When those nasty sugar cravings come along, semi-sweet chocolate is my go to choice in calming them down. In restaurants I often choose some chocolatey dessert (I play safe) but the truth is… none of them can compare to the taste of a perfect chocolate bar. Except maybe brownies. I'm a sucker for those. That is probably one of the best chocolate things I've ever eaten and they were on my mind when I tinkered around with this recipe. I guess I'm just one of those people that likes fudgy and dense chocolate cakes more than fluffy and airy ones. *sorry – not sorry*
I knew the cake was a success when my little sister loved it and she is not a chocolate fan (weird, I know). I was sooo happy. She finished a whole slice all by herself. I couldn't stop smiling. I actually think I was glowing. Generally speaking, I'm really happy when people like my cakes, but I guess you could say I'm even happier when my little sis loves it. I don't know what the deal is but that is just how I feel. It must be some kind of a special sister bond.
Enough blabbing, let's get back to cake talk.
I decided to experiment with melted chocolate in cake batter because I wanted to make it fudgy, more like a brownie. And it worked! I also used butter instead of vegetable oil, which is usually used in chocolate cakes, because… it's butter. Food that makes other food more delicious, am I right?
Since this cake is on a denser side, it may not rise as much. I usually bake my cakes in sandwich tins which are 1.5″ high. So, if you want a taller cake, you should make an extra layer.
I made this cake with frozen cherries filling because they weren't in season at the time. Additionally, I think you could pull it off with just putting some fresh delicious cherries on top of a vanilla buttercream layer. There is nothing better than using seasoned fruits, do you agree? Just make sure to make a dam of buttercream around each cake layer to keep those cherries inside.
And as far as buttercream is concerned, this is my go to vanilla buttercream! It's not to sweet or too buttery and it has a beautiful, silky texture.  I'll be making a separate post dedicated just to this gorgeous frosting.
When it comes to decorating this cake, I have to to tell you – throwing sprinkles is not an easy job. At least 3 times I shoved my fingers in frosting! Lol. *facepalm*  But in the end, I somehow managed to do it and I really love this festive and cute look. Which is odd for me because I'm rarely satisfied with the outcomes of my cakes. I know people are sick of drip cakes but I just discovered them like a year ago and still think they are pretty awesome.
Let me know what you think, and if you make this cake definitely tell me or tag me on Instagram – I'd love to know how it turned out!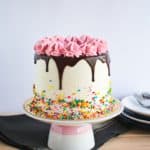 Cherry Chocolate Cake
Fudgy chocolate cake with sour cherry filling and delicious ermine vanilla buttercream! Yum!
Ingredients
Chocolate Cake
2

large

eggs

room temperature

180

g

unsalted butter

room temperature

40

g

soft brown sugar

180

g

granulated sugar

140

g

all-purpose flour

sifted

55

g

Dutch-processed cocoa powder

sifted

1

tsp

baking powder

1/2

tsp

salt

80

g

melted dark chocolate (min. 50% )

90

ml

hot water

120

g

sour cream

room temperature

1 1/2

tsp

vanilla extract
Cherry filling
200

g

frozen sour cherries

80

g

granulated sugar

2

tsp

tapioca starch

1

tbsp

water
Vanilla Ermine Frosting
35

g

all purpose flour

150

g

granulated sugar

280

g

whole milk

1/4

tsp

salt

250

g

unsalted butter

room temperature

2

tsp

vanilla extract
Chocolate Ganache Drip
75

g

semi sweet chocolate

75

g

heavy cream
Instructions
Chocolate Cake
Preheat your fan oven to 165°C (320°F). Grease and line with parchment paper three 6" round cake tins.

In a medium bowl mix sifted cocoa powder with hot water. Whisk until combined and smooth. Leave it aside to cool to room temperature.

Whisk together sifted flour, baking powder and salt. Set aside. Add sour cream, melted chocolate and vanilla extract to cocoa mixture. Whisk together until combined. These are your wet ingredients.

Using a stand mixer fitted with a paddle attachment, cream butter and sugar on medium-high until pale and fluffy - approximately 3 minutes. Stop the mixer and scrape down the bowl. Turn the mixer to medium-low speed and add eggs one at a time - making sure it's fully incorporated after each addition. Stop the mixer and scrape down the bowl.


Alternatively add your dry and wet ingredients, starting and finishing with dry ones. (3 additions of dry and 2 of wet ingredients)

Divide the batter evenly among the 3 tins and bake for 25 minutes or until skewer inserted in the middle comes out mostly clean.

Once they're done, let the cakes cool for 10-15 minutes on a wire rack before removing them from the pans to cool completely.
Cherry Filling
In a small saucepan combine frozen cherries and sugar and bring to boil over medium heat. Simmer for a few minutes.

Dilute the tapioca starch with water and pour over the cherries mixing constantly with a large wooden spoon until everything is incorporated.

Bring the mixture to a boil and cook for a few minutes. If the filling is too thick you can add some more water. That depends on the water content of frozen cherries.

Once thickened, transfer it to a bowl and cover with cling film touching the surface to prevent "skin" forming.

You can put it in the fridge to cool completely.
Vanilla Ermine Buttercream
In a small saucepan combine flour, sugar, salt and milk. Cook over medium-high heat, stirring constantly with a whisk until it thickens.

Once it's done, put a cling film over it touching the surface to prevent "skin" forming and let it cool to room temperature. This is your pudding base. You can do this in a fridge, but before using it let it come to room temperature.

Using a stand mixer fitted with the paddle attachment, beat the butter for 5 minutes until it's pale and fluffy. Then add spoonful by spoonful of previously made pudding. Mix until it's all nicely incorporated and with no lumps. Add the vanilla extract and beat for another 30 seconds.
Chocolate Ganache Drip:
Place finely chopped chocolate in a bowl. Bring heavy cream just barely to a simmer and pour over chopped chocolate. Cover it with a plate and leave it 1-2 minutes. Stir with a spatula until combined and smooth.

Make it 10 minutes before pouring over the chilled cake so it has time to cool and thicken a bit.
Assembly:
Using a cake leveler or a long serrated knife level the tops of your cakes if needed.

In the middle of your cake board or a serving plate put some buttercream to keep the cake from moving.

Spread a thin layer of buttercream on top of the layer and pipe a border around the outside to hold the cherry filling in. Repeat with the next layer.

Place final layer on top and do a thin crumb coat on the cake. Chill for 20-30 minutes in the fridge before final decorating.

Frost the top and sides of the cake with remaining frosting.

Chill the cake for an hour before putting the chocolate drip on top. It has to be cold so the drip doesn't go all the way down.
Recipe Notes
*If you don't have a standing mixer you can use a hand mixer.
**Not all ovens are the same. I suggest to check the cakes at 20 min mark and then adjust the baking time accordingly. Get to know your oven!