While being incredibly easy to make, this Blueberry Ginger Coffee Cake pairs sweetness of the blueberries with citrusy notes of spicy ginger. It's fluffy, it's light, it has a crunchy streusel topping and absolutely perfect for warm, spring weather!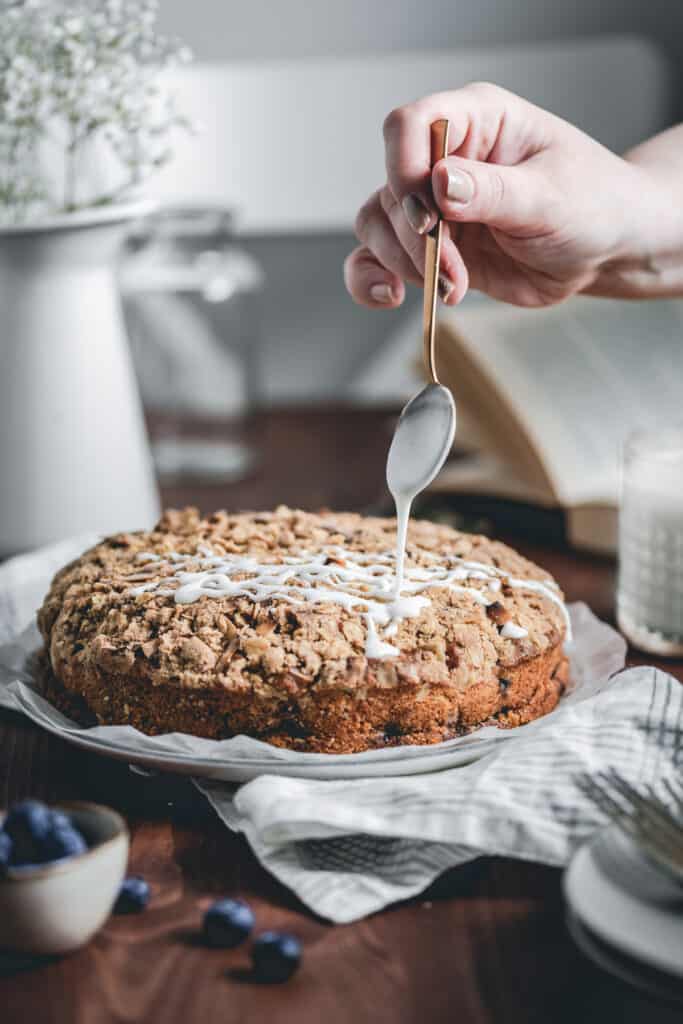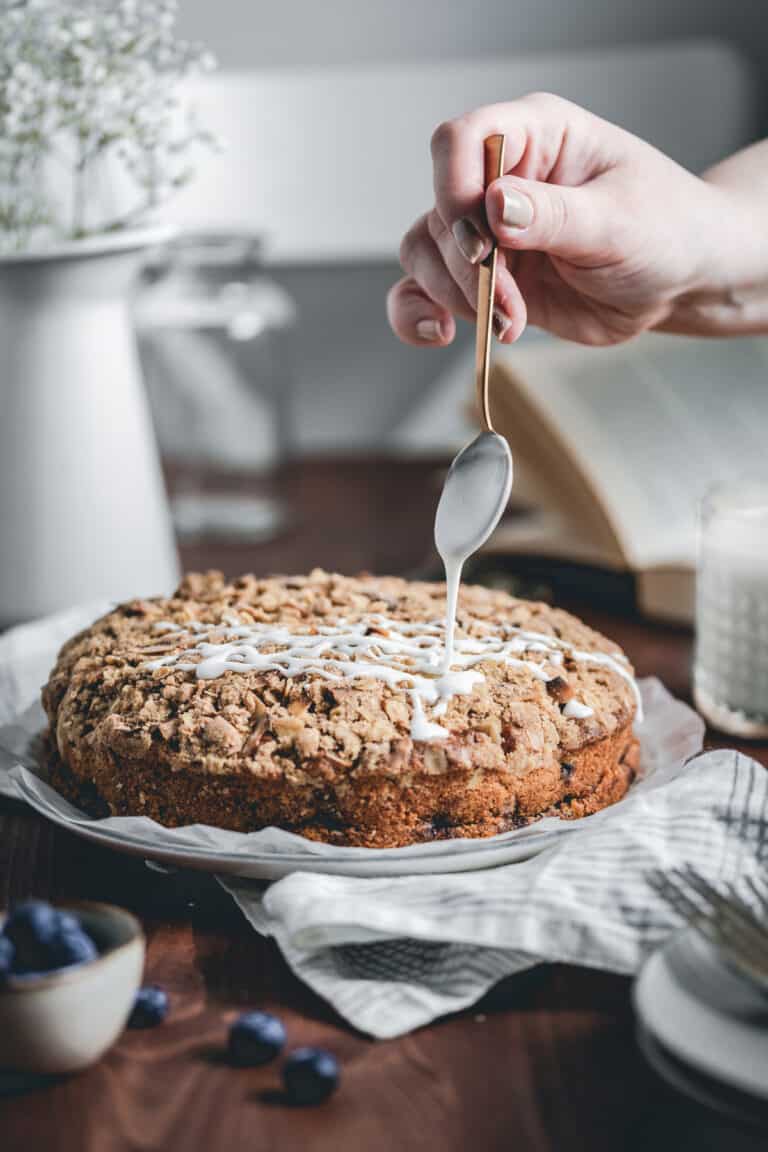 I was never much of a blueberry fan growing up. I'm not sure if I can give you a logical explanation for it. It's probably one of those "kid" stuff that you forget or grow out of once you become older.
But one thing I always loved was lemon and anything citrusy, refreshing and slightly sour. When I tried ginger for the first time, I absolutely loved the idea of it. Spicy and refreshing? Oh, count me in! Since I already made the well known, delicious combination of lemon and blueberries in a form of a loaf cake, this time my mind wandered into a different direction, leading me to the almighty ginger.
The idea for this cake came from the Croatian adored Yogurt Sour Cherry Cake, which most of the people make during spring, because it's incredibly easy. I think Americans would refer to this kind of dessert as coffee cake, so that's why I added it to the name. (Oh, I remembered the times when I thought coffee cakes actually have coffee in them, haha. Live and learn!) That cake is a little bit on the denser side, which I usually love, but this time I wanted to make something fluffier and lighter, while still keeping it moist.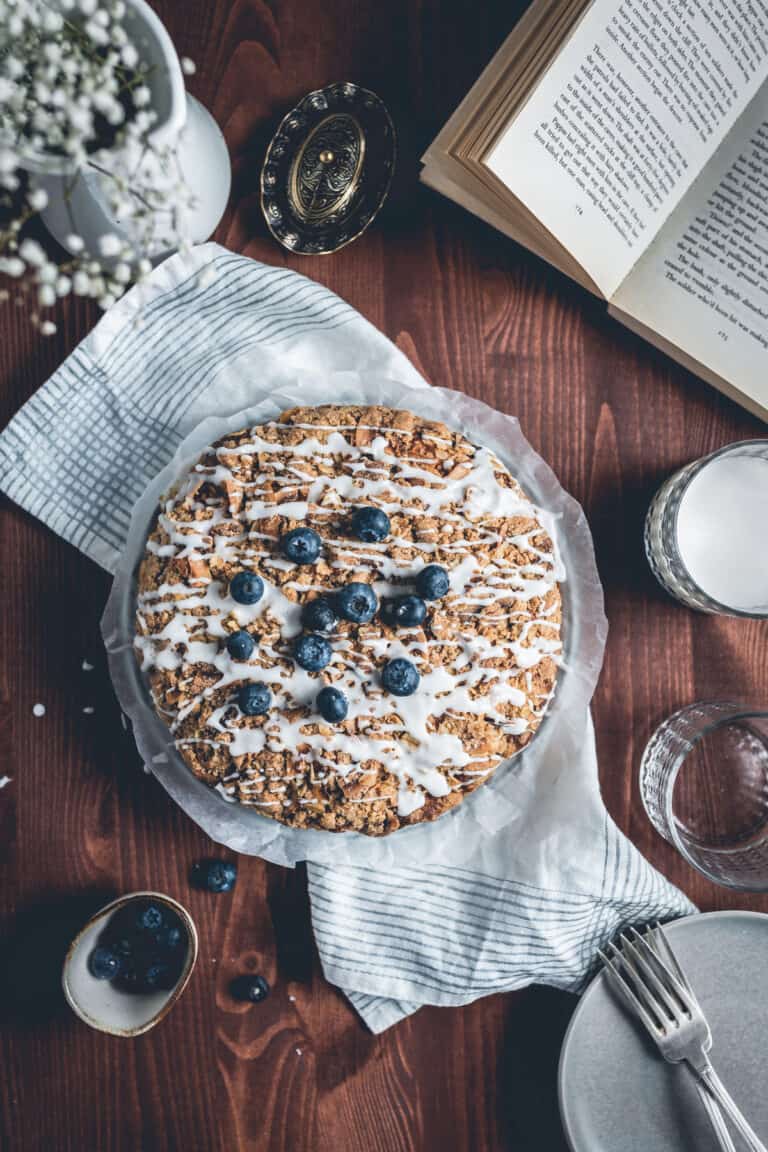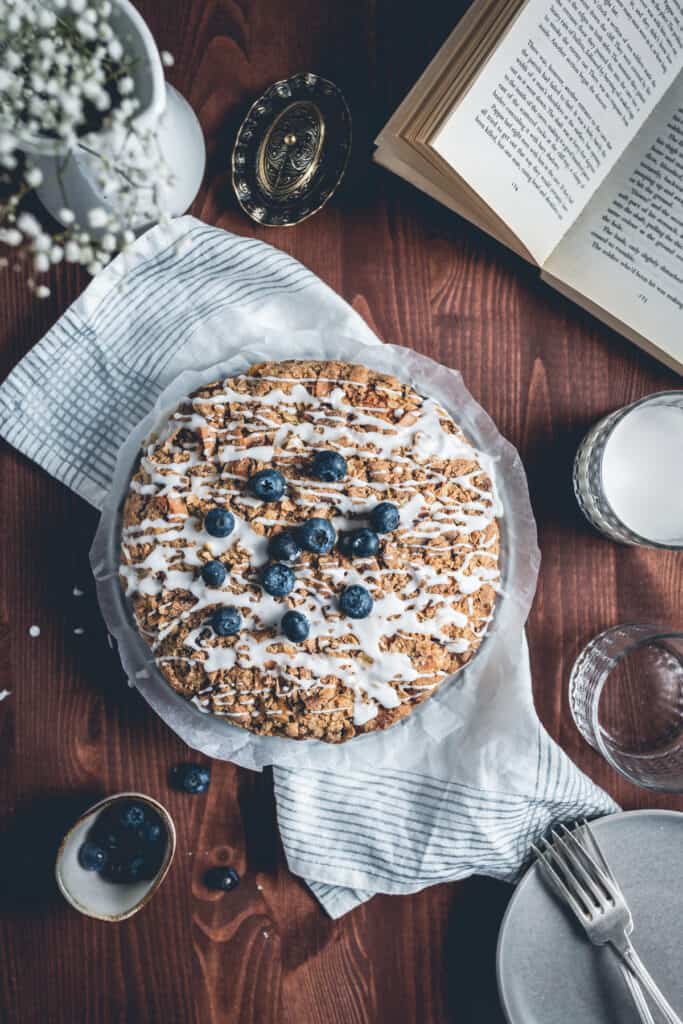 Ingredients you'll need for this Blueberry Ginger Cake
They're simple:
1. all-purpose flour
2. large egg
3. light soft brown sugar
4. some sunflower oil (but feel free to use any flavorless vegetable oil)
5. greek yogurt (full fat)
5. baking powder and fine sea salt
6. ground ginger
7. last but not least, blueberries
Having such a strong flavor like ginger and using greek yogurt, made me choose sunflower oil as the fat component, instead of my favorite - butter. Oils tend to make cakes fluffier and keep them moist for longer, especially if you decide to use less sugar. Though sugar's primary use is to give sweetness to the batter, it also provides a lot of moisture. With this recipe I wanted a less sweet cake than how I usually make my layer cakes. So, using oil and greek yogurt also made sense tin order to provide for the lack off sugar's moisture.
Can I use frozen blueberries?
Short answer - yes. But. The first time I tested this recipe, I used frozen blueberries. I let them thaw in the sieve, over a bowl, at room temperature. I actually used some paper towel to dry them a little bit, but it was too much of a fuss. It didn't seem like I was accomplishing anything, so I didn't bother to continue with that. I also tried to cover them in a little bit of flour to avoid them sinking to the bottom. It was messy trying to add flour to partially wet blueberries. They didn't sink, but I'm not sure if the flour helped or the fact they were much smaller than the fresh ones.
Which leads me to this tip: I would use more blueberries than listed if I'm using small, frozen ones. Maybe 300-325g.
The only bad thing that happens when you use thawed frozen blueberries, is that they make your batter light purple. Which when baked turns into a slightly greyish color. Which I find isn't a problem if you're making it for the family or yourself. 🙂
Having made a successful cake with fresh blueberries on the second try, I didn't want to test it further using frozen blueberries without thawing. It seemed like a bit of a waste of ingredients, especially during these uncertain corona-virus times when some people have a hard time accessing some baking ingredients or food in general.
So, if you try to bake the cake with frozen blueberries, without thawing them, let us know how it went in the comments section down below! 🙂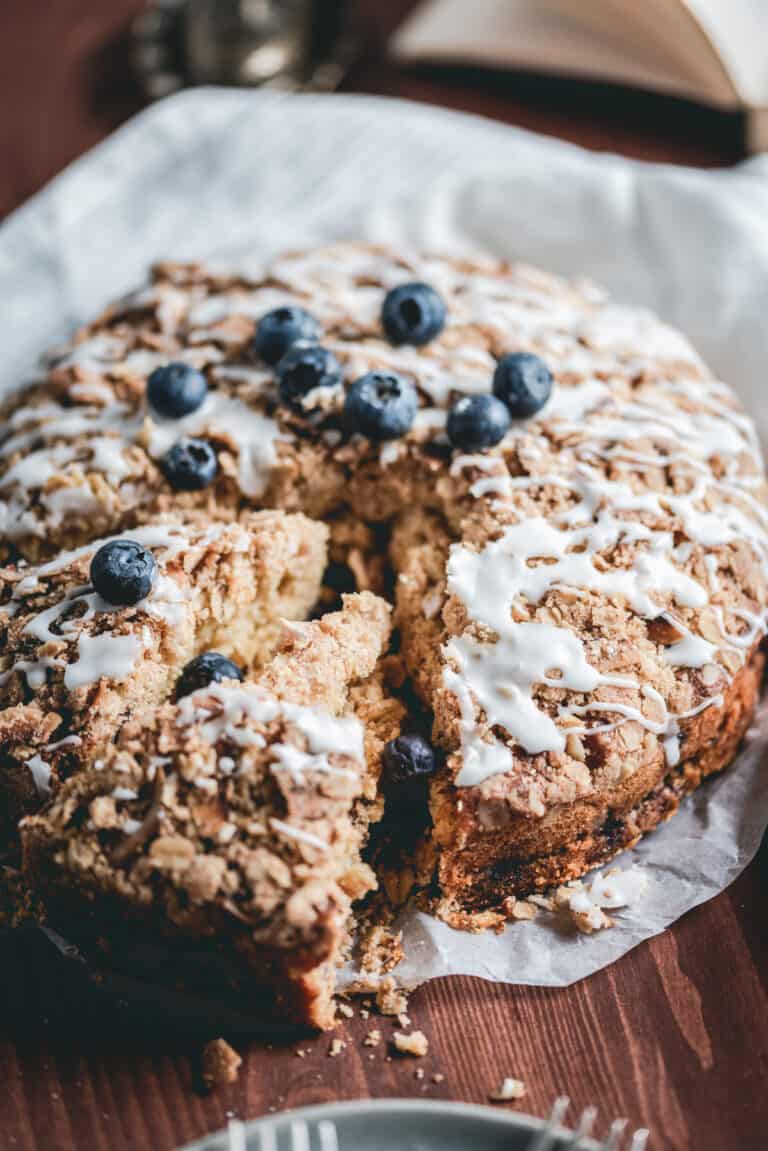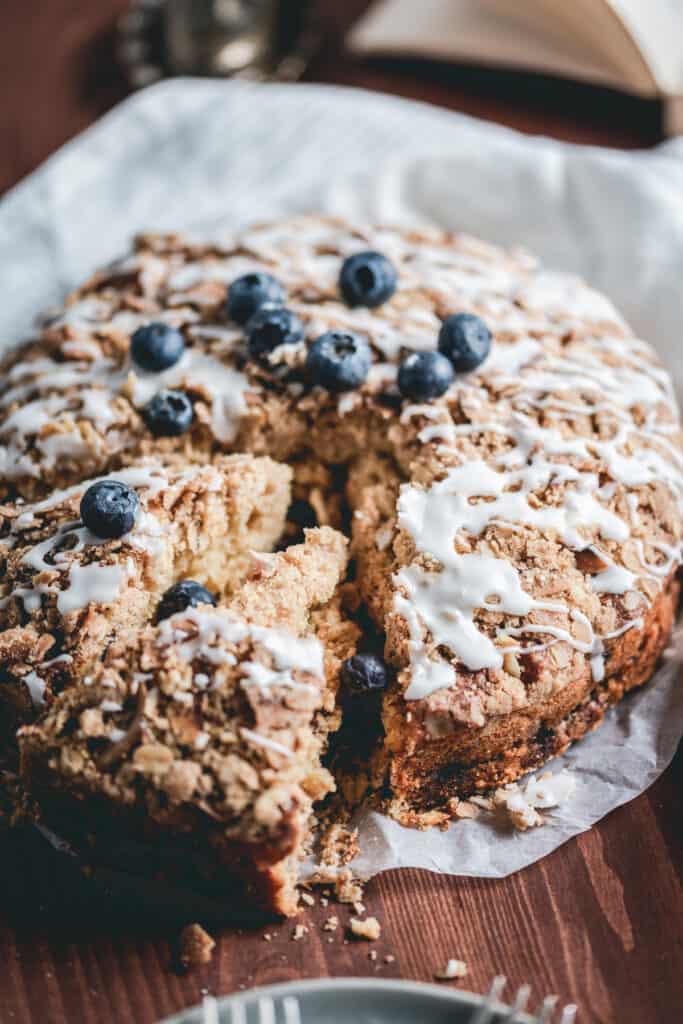 Making streusel topping
Having made a couple of fruit crumbles over the last few weeks, I became kind of obsessed with the crunchy, streusel topping, so I knew I wanted to include it in this Blueberry Ginger Cake.
Making the streusel topping is incredibly easy and you can really throw in anything you like. The basic ingredients you need are flour, sugar and butter in 2:1:1 ratio. I learnt that from Jamie Oliver and always use it as a base point, but it's a common find information.
However, I did have some leftover brown butter from making my Chewy Oatmeal Chocolate Chip Cookies. I thought it was on the verge of being burnt, so I didn't use it for cookies. But once it cooled down, it wasn't so bad, so I used it in the streusel topping. And let me tell you - it was absolutely delicious.
For more added crunch and deliciousness, I decided to throw in some rolled oats, coconut flakes and some ground cinnamon. But you do you! You can add some almond flakes if you 're a fan. Or, you can remove these additions altogether if you love plain the best - it's up to you. 🙂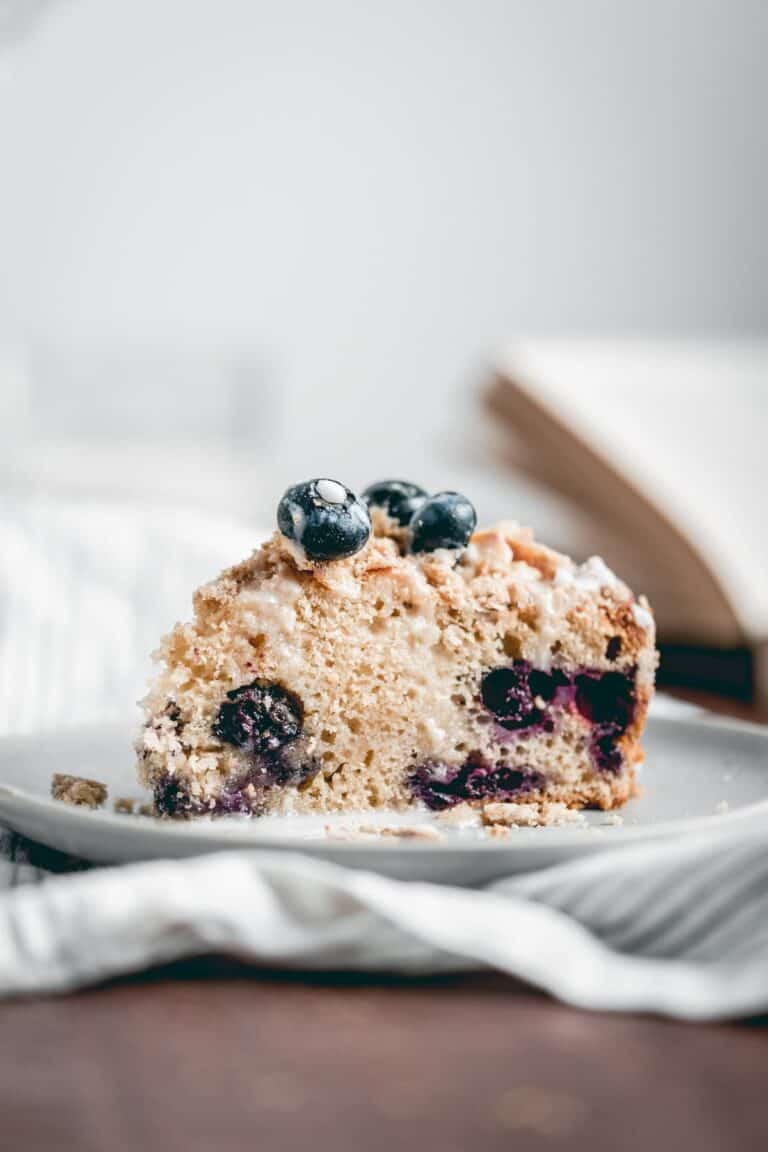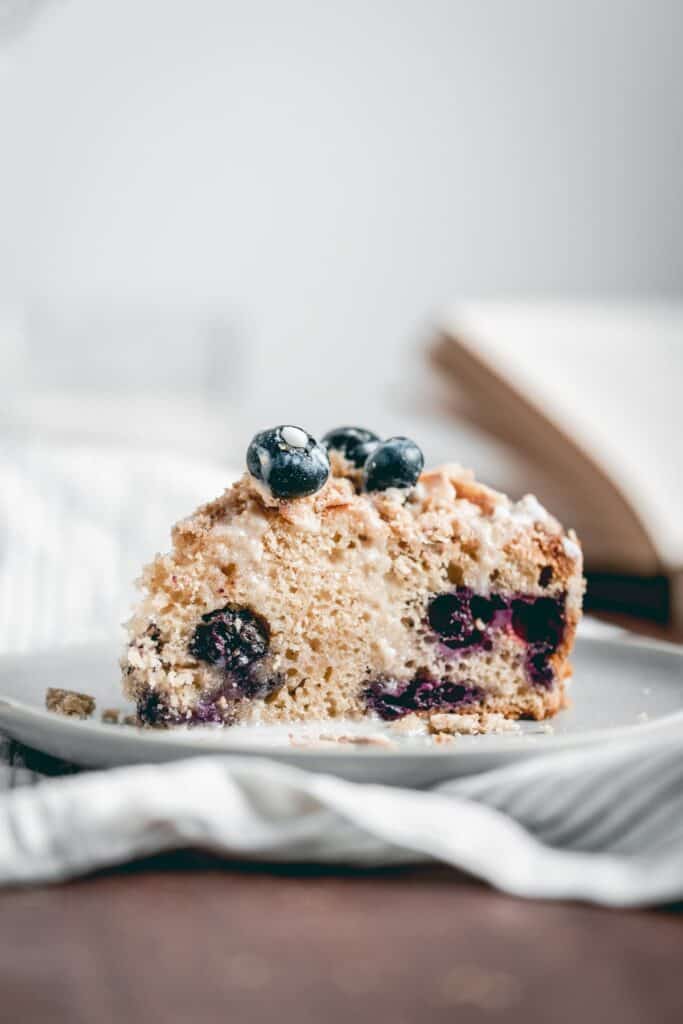 Here are some other great recipes you might like this Spring:
Classic Victoria Sponge Cake
Coconut Lime Loaf Cake
Strawberry jam Lamingtons
Perfect Lemon Cheesecake
Raspberry Vanilla Layer Cake
If you make this gorgeous Blueberry Ginger Cake let me know by tagging me on Instagram @anasbakingchronicles or tell me all about it in the comments section down below. Seeing my recipes come to life in your kitchens, always makes me incredibly happy! If you have any questions, don't hesitate to ask. Happy baking!
Love,

📖 Recipe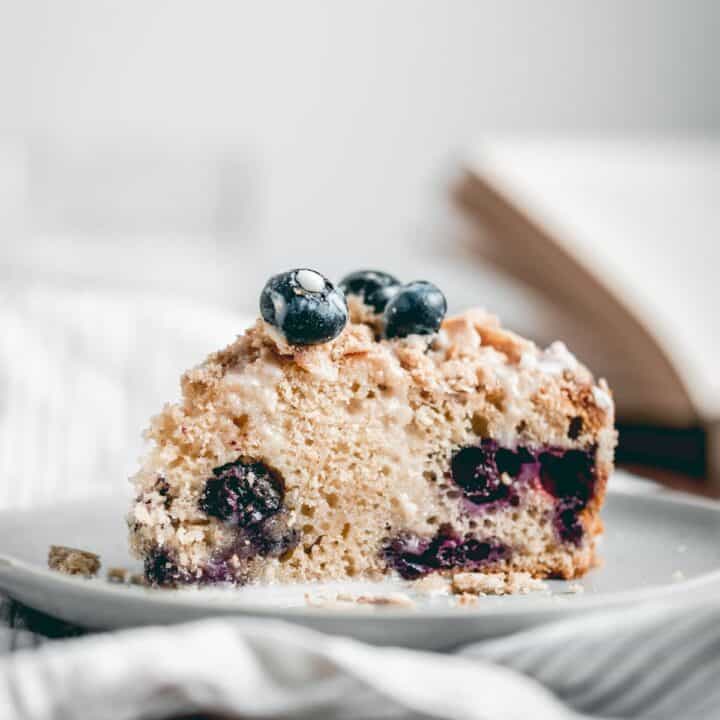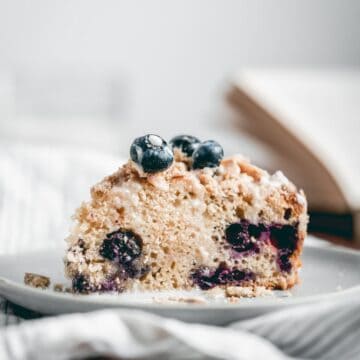 Blueberry Ginger Coffee Cake
Description
While being incredibly easy to make, this Blueberry Ginger Coffee Cake pairs sweetness of the blueberries with citrusy notes of spicy ginger. It's fluffy, it's light, it has a crunchy streusel topping and absolutely perfect for warm, spring weather!
ingredients
200

g

all-purpose flour

1 + ½

teaspoon

baking powder

1

teaspoon

ground ginger

½

teaspoon

fine sea salt

160

g

light soft brown sugar

65

g

sunflower oil

(or any vegetable, flavorless oil)

125

g

full fat greek yogurt

½

teaspoon

vanilla extract

1

large

egg

250

g

fresh blueberries* + 1 tablespoon flour

(see the tip for frozen in the post)
streusel topping
50

g

brown butter

50

g

light soft brown sugar

100

g

all-purpose flour

40

g

rolled oats

handful of coconut flakes

¼

teaspoon

ground cinnamon
sugar glaze
100

g

powdered sugar

a couple of tablespoons of whole milk
Instructions
Preheat the oven to 175˚C (350˚F) or 160˚C (325˚C) if using a fan oven. Grease the sides and line the bottom of an 8 inch (20cm) round cake pan with baking paper. (I used one with loose bottom for easier removing).

Make streusel topping by mixing together all-purpose flour, rolled oats, melted brown butter, coconut flakes, cinnamon and light soft brown sugar sugar. Squeezing it with your hands, you should be able to form small clumps to scatter over the cake.

Sift the flour, baking powder, ground ginger and salt into a medium sized bowl. Set aside.

In the bowl of your stand mixer fitted with the whisk attachment, beat together egg, oil and sugar on medium-high speed, until it gets pale and fluffy (approx. 2-3 min). Next, add greek yogurt and mix until it's combined with the rest.

Add your dry ingredients in two stages, for easier mixing and beat it on low speed to avoid overmixing, until it's thoroughly incorporated.

Lastly, add in fresh blueberries that have been mixed with one tablespoon of flour, to avoid them sinking on the bottom and mix with a silicone spatula.

Pour the batter into the prepared pan, smooth it out with a palette knife and sprinkle with streusel topping.

Bake the cake in a preheated oven for 45-50 minutes, or until skewer inserted in the middle comes out with a few moist crumbs. Let the cake cool in the pan for 10-15 minutes, before removing it from the pan on the cooling rack to cool completely.

Make sugar glaze by mixing sifted powdered sugar and whole milk. Add tablespoon by tablespoon until you get the desired consistency.

Drizzle the glaze over the cake and serve with some extra fresh blueberries.
Notes
Not all ovens are the same. I suggest you check the cake after 35 minute mark and then adjust the time accordingly. Get to know your oven! ?
If you don't have a stand mixer, you can use an electric hand mixer.
The cake is best when eaten at room temperature. Keep it in an airtight container or double wrapped in cling film to keep it fresh for a couple of days.
If you still don't own one, I advise you to buy a kitchen scale – they're cheap and easy to use, and always guarantee the same results in baking! 🙂
IMPORTANT
All the recipes are developed and tested using only metric measurements and a kitchen scale. The U.S. cup and spoon measurements are provided for your convenience, but I highly recommend getting a digital kitchen scale and measuring in metrics. It's easy and always guarantee the same results in baking!
Nutrition
Nutrition Facts
Blueberry Ginger Coffee Cake
Amount per Serving
% Daily Value*
* Percent Daily Values are based on a 2000 calorie diet.
The nutritional information and US conversions are calculated automatically. I cannot guarantee the accuracy of this data. If this is important to you, please verify with your favourite nutrition calculator and/or unit conversion tool.
Have you tried this recipe?
Tag me on Instagram @anasbakingchronicles or use the hashtag #anasbakingchronicles - I love seeing your creations!