Soft and Chewy Oatmeal Chocolate Chip Cookies, crispy on the outside and soft and chewy on the inside. Made with brown butter and chocolate chunks, they're THE cookie you need in your life!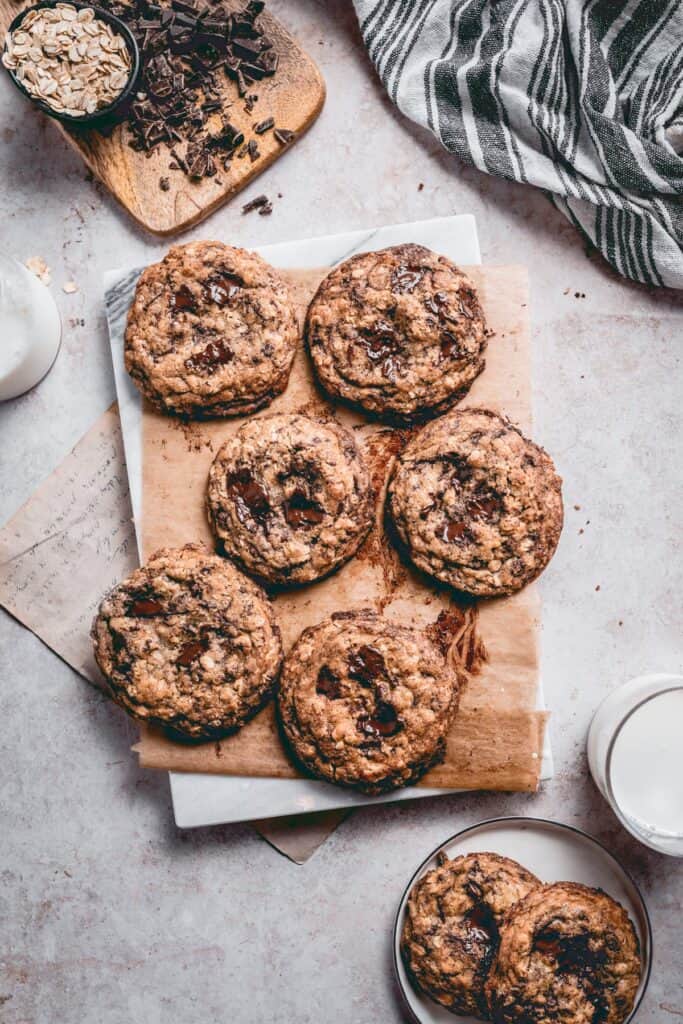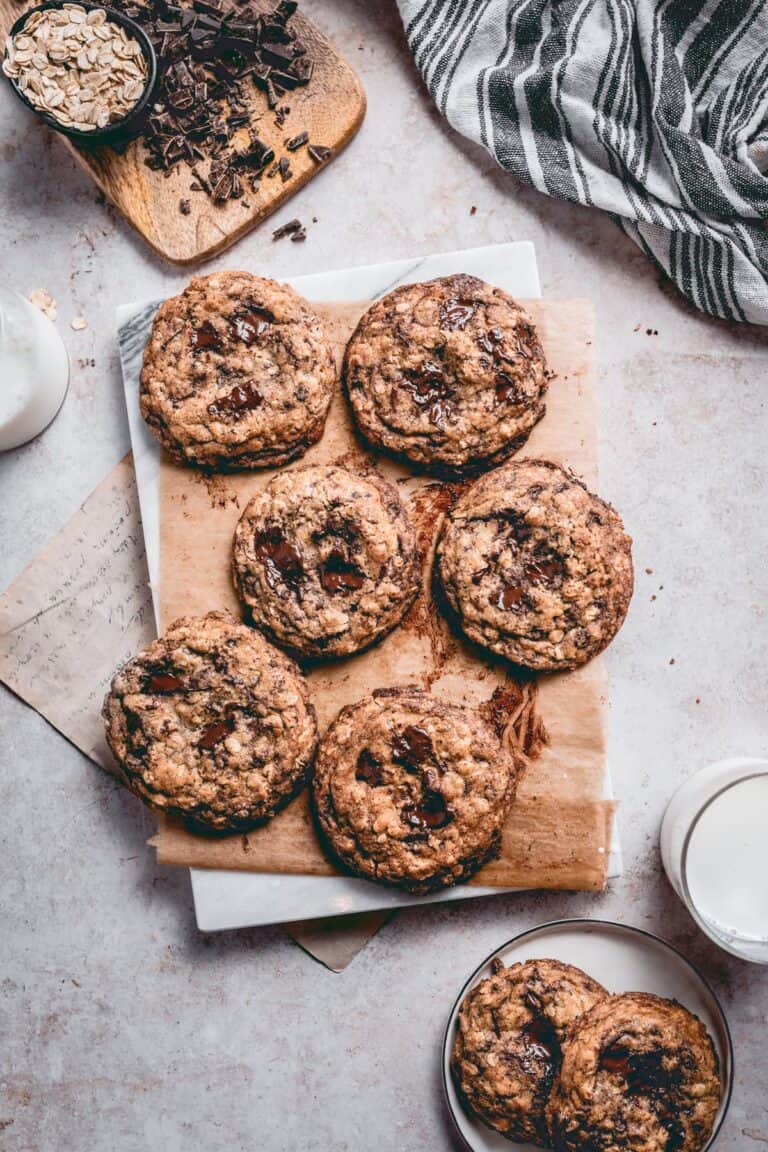 The question of the day is: how many of these oatmeal chocolate chip cookies I've eaten on the day I've baked and shoot them? Four. The answer is four. In my defense, they were my lunch AND dinner, so... yeah. Quarantine life - don't judge. ?
I have Easy Oatmeal Chocolate Chip Cookie recipe on the blog since the beginning ( my second ever post, June 2018). It's my grandma's recipe, which she probably teared up from a magazine - I love seeing all those teared up pages and little notes that grandmas have. 🙂 As much as we love those cookies because they're so easy and quick to make, I knew I could do better with all the new knowledge and baking experience. Ever since I made a copycat version of Ben's Cookies, my love for cookies started to grow and it might even fall into the "obsessed" category. Who, me? Yup. The cake girl started to enjoy developing cookie recipes.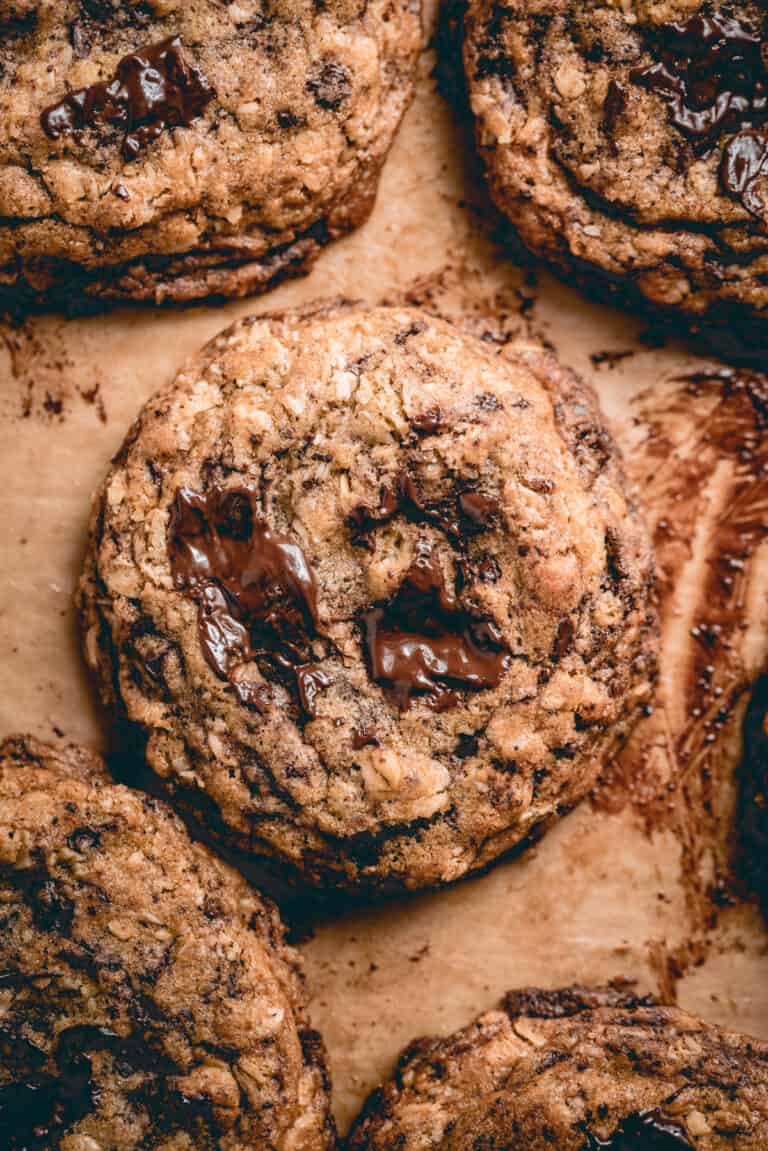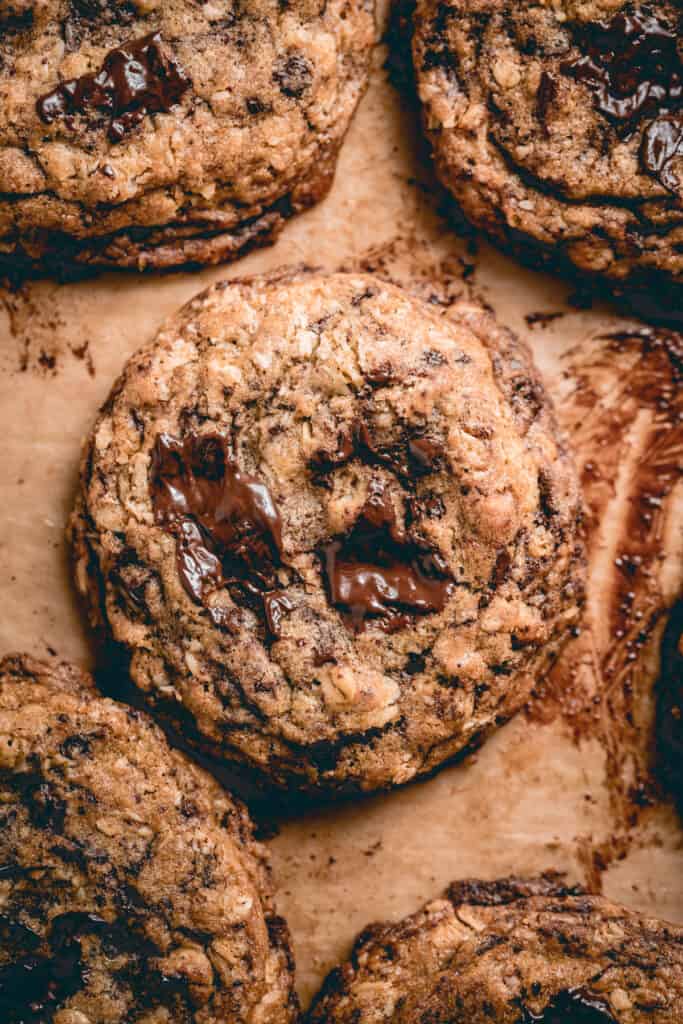 How to make soft and chewy Oatmeal Chocolate Chip Cookies
This time I started with my favourite - brown butter. Yum! Melted butter ensures getting soft and chewy cookie, and I also increased the quantity. Because more butter = more flavour = more chewiness.
I also increased the amounts of other ingredients, except flour. Just like with brownies or lava cakes, we want to get just enough flour to know it's a cookie, but to still be really soft and chewy inside. I also learnt more about baking powder and baking soda in these last two years, so I changed that quantity as well. Something Thomas Joseph from Everyday Food said really stuck with me: baking soda = spreads and baking powder = puffs. It's also important that when using baking soda, there's acidic element in the recipe so the two can react and work as a leavener. That's why this time I used brown sugar, which also helps with the softness of the cookie.
The main difference compared to my old, easy oatmeal chocolate chip cookie recipe, is that this dough really needs chilling to reach its full potential. I recommend at least two hours. The longer it sits, the better the flavour - and that's really true because I tested it. 🙂
Baking at high temperature ensures you get a crispy exterior with a soft inside. I recommend baking one cookie dough ball as a test to see how long do you need to bake them, because ovens can vary. For me, 12 minutes is the sweet spot.
On the other hand, if you like your oatmeal chocolate chip cookies thin and crispy, then by all means, bake them as soon as you make the dough. They will spread in the oven and become really crispy! 🙂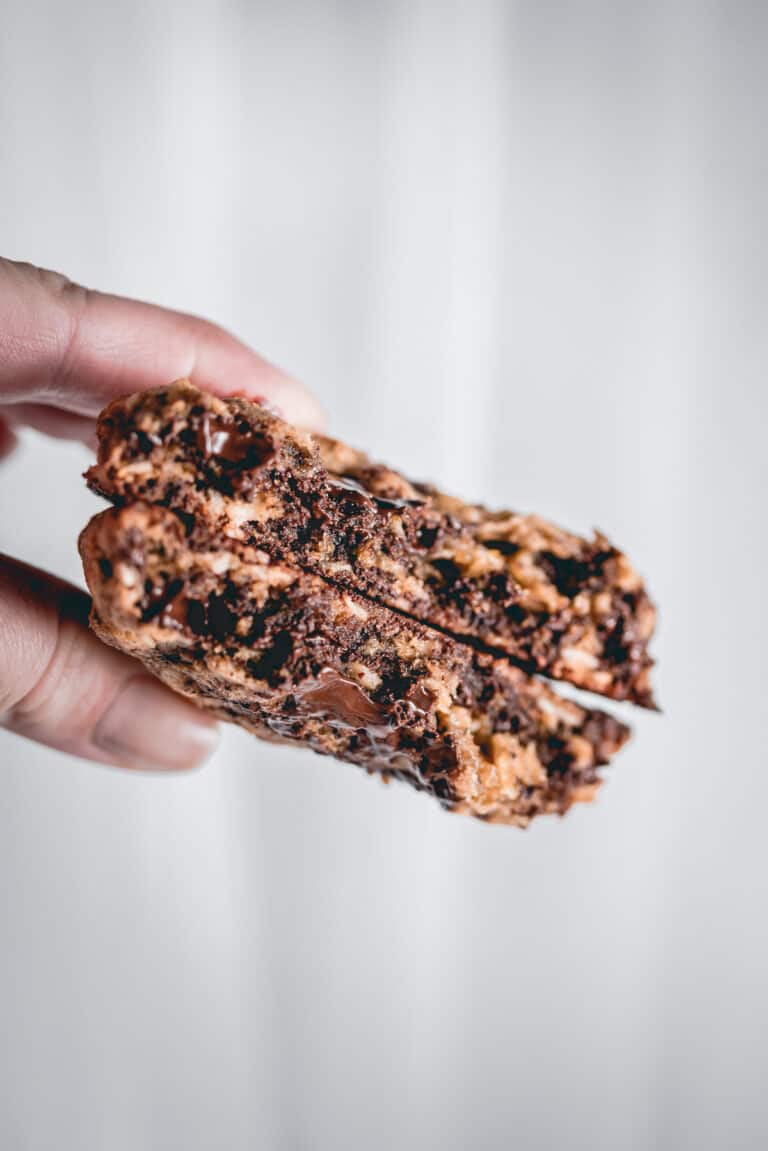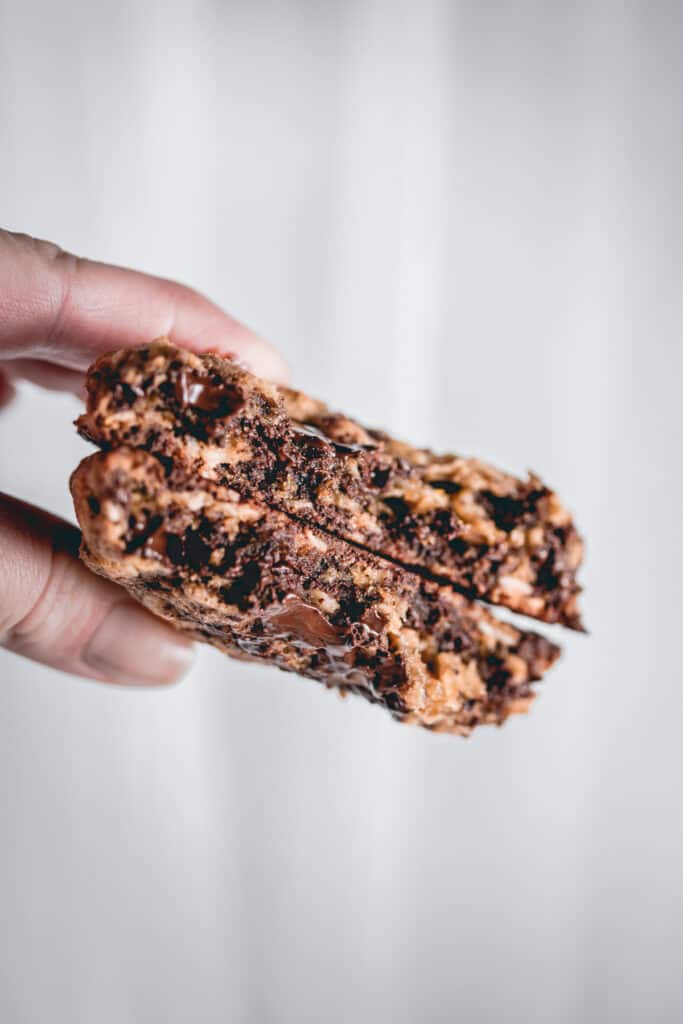 Okay, but how do you get those pools of chocolate on top?
I hear ya. That was something that bugged me, too, seeing all the food bloggers make incredible looking cookies and mine were like, meh. Is the chocolate I'm using bad? Should I use chocolate chips or chunks of chocolate bar?
It's important to go for good quality chocolate, with higher cocoa percentage, because the viscosity is higher and the chocolate melts easier.
Have you ever experienced milk or white chocolate burning, instead of melting? Yes, that's the high sugar content doing and low cocoa butter. It has nothing to do with your baking skills. 🙂
We don't have chocolate chips in Croatia, but after I've tried some, to be honest - I like the coarsely chopped chocolate bar with all its shards and chunks better. It has better flavour, melts better and I love the look of it!
The trick to get the chocolate puddles on top (which could've been bigger in my case, but I was lazy and chopped the chocolate too small) is to put some chocolate chunks (or one big one that covers almost the whole cookie) on top of your cookie dough balls before they go into oven.
And then, when they're done, use the back of a teaspoon to press onto the (small) chocolate chunks to help them look molten. 🙂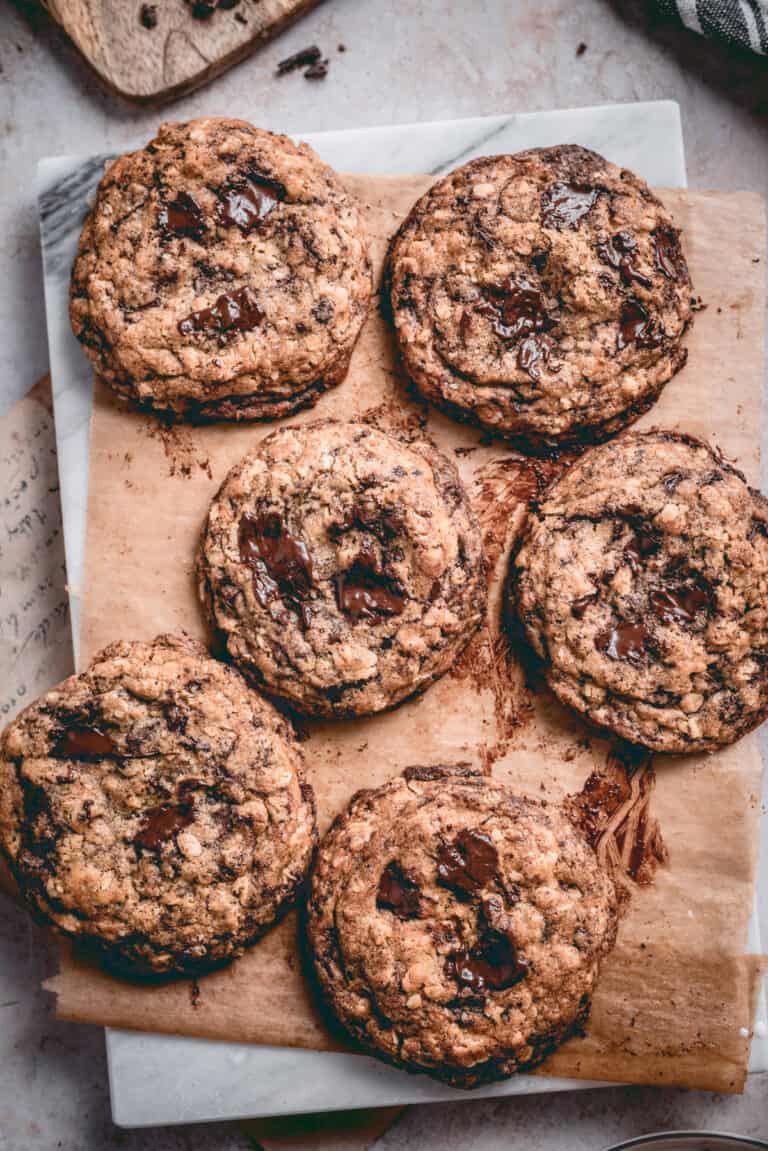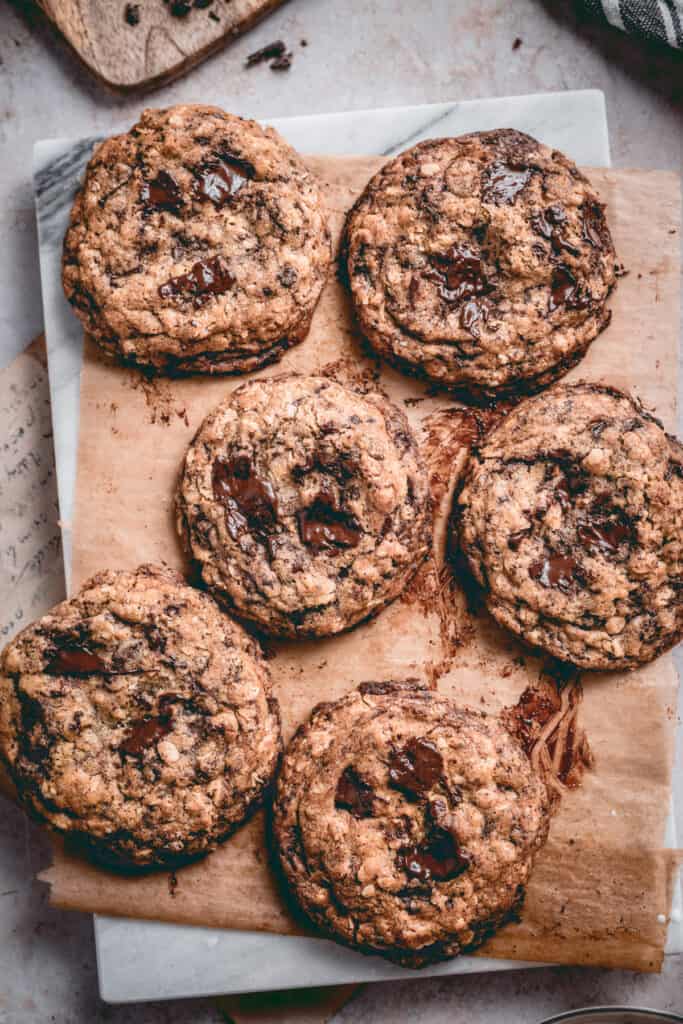 For more cookie recipes, check out some my favourites:
Milk Chocolate & Orange Cookies (Ben's Cookies)
Linzer Cookies with Raspberry Jam
Soft Chocolate White Chocolate Chunk Cookies
Berry Meringue Cookie Bars
If you make these amazing Oatmeal Chocolate Chip Cookies, let me know by tagging me on Instagram @anasbakingchronicles or tell me all about it in the comments section down below. Seeing my recipes come to life in your kitchens, always makes me incredibly happy! If you have any questions, don't hesitate to ask. Happy baking!
Love,

📖 Recipe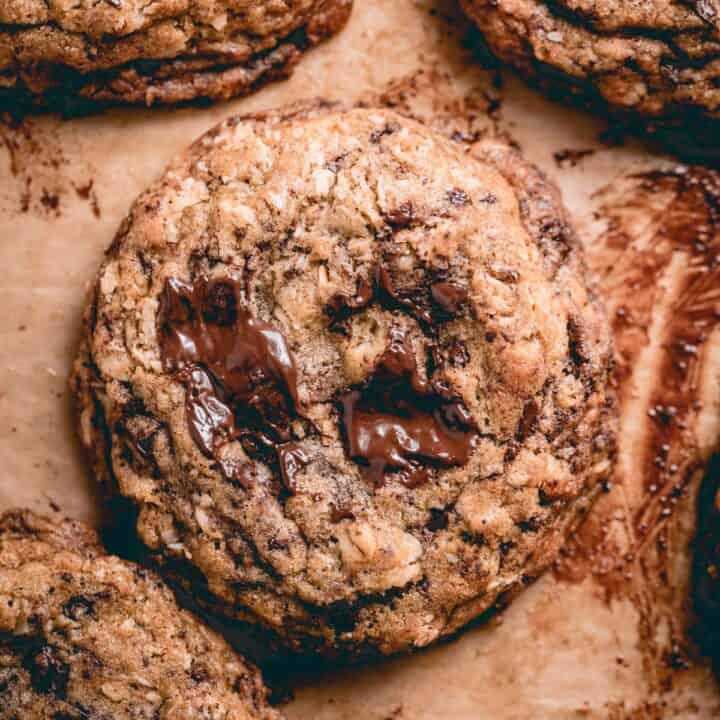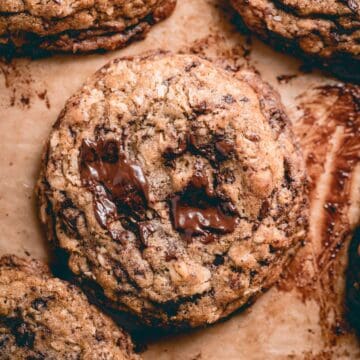 Chewy Oatmeal Chocolate Chip Cookies
Description
Quick and easy recipe for soft and chewy oatmeal chocolate chip cookies!
ingredients
225

g

unsalted butter

2

large

eggs

(room temperature)

250

g

light soft brown sugar

175

g

all purpose flour

180

g

rolled oats

250 + 50

g

55% dark chocolate

(chopped into chunks)

1

teaspoon

vanilla extract

½

teaspoon

baking soda

1

teaspoon

baking powder

½

teaspoon

fine sea salt
Instructions
Preheat your oven to 185°C (or 365°F) if using a fan oven or 200°C (395°F) if using conventional oven.

Place sliced butter into a light-coloured, heavy bottomed pan or skillet. Melt over medium-high heat, stirring continuously, until it becomes foamy, then turns clear and starts showing brown specks. You'll also notice nutty aroma. It's done after approx. 5 min, at medium brown stage. Transfer the browned butter to a medium sized bowl and allow to cool a little bit.

While the butter is cooling, prepare the rest. In a medium sized bowl whisk together the flour, baking soda, baking powder and salt.

Using a sharp knife, chop good quality dark chocolate to uneven chunks (mix of small and slightly bigger ones). 250 g of chocolate goes directly to the cookie dough, while the other 50 g is saved to put on top of the cookie dough balls, prior to baking. To get that chocolate pools on top. 🙂

Once the brown butter has cooled and it's not hot to the touch, add the sugar, vanilla extract and eggs and mix it using a whisk until it's incorporated, smooth and slightly paler in colour. There 's no need to beat a lot of air to it.

Add the dry ingredients to the butter mixture and combine them using a wooden spoon or a rubber spatula, until combined and there are no traces of flour. A this point, the dough will be sticky and soft.

Next, add in rolled oats and chocolate chunks and combine with a wooden spoon, or better yet - using your hands. If you don't wish to get dirty, use latex gloves.

Cover the dough with some plastic wrap or aluminium foil and leave to chill in the fridge at least two hours. A day would be ideal, because the flavours really deepen and come through nicely. But a couple of hours in the fridge will do the trick for a chewy cookie that's soft on the inside and crispy on the outside.

(If you're into thin and crispy cookies, then form the cookie dough balls and bake straight away.)

Using your hands form 70-75g cookie dough balls and place them on a cookie sheet lined with baking paper leaving 2 inches (5 cm) between each cookie dough ball. Top each cookie dough ball with a couple of chocolate chunks.

Bake the cookies for 11-12 minutes. They will be soft in the middle when they're done, with golden brown, crispy edges. Leave them on the tray for a minute, to firm up a little bit, and then transfer them on a cooling rack to cool completely.

TIP: To get those pools on top, smush the visible chocolate chunks with a back of a teaspoon once the cookies are done and have had a minute to firm up. 🙂

Keep them in an airtight container to prolong the freshness.
IMPORTANT
All the recipes are developed and tested using only metric measurements and a kitchen scale. The U.S. cup and spoon measurements are provided for your convenience, but I highly recommend getting a digital kitchen scale and measuring in metrics. It's easy and always guarantee the same results in baking!
Nutrition
Nutrition Facts
Chewy Oatmeal Chocolate Chip Cookies
Amount per Serving
% Daily Value*
* Percent Daily Values are based on a 2000 calorie diet.
The nutritional information and US conversions are calculated automatically. I cannot guarantee the accuracy of this data. If this is important to you, please verify with your favourite nutrition calculator and/or unit conversion tool.
Have you tried this recipe?
Tag me on Instagram @anasbakingchronicles or use the hashtag #anasbakingchronicles - I love seeing your creations!