This Coconut Cream Pie has a coconut cookie crust, coconut caramel layer, delicious and silky coconut pastry cream made with real coconut milk and is topped with fluffy whipped cream!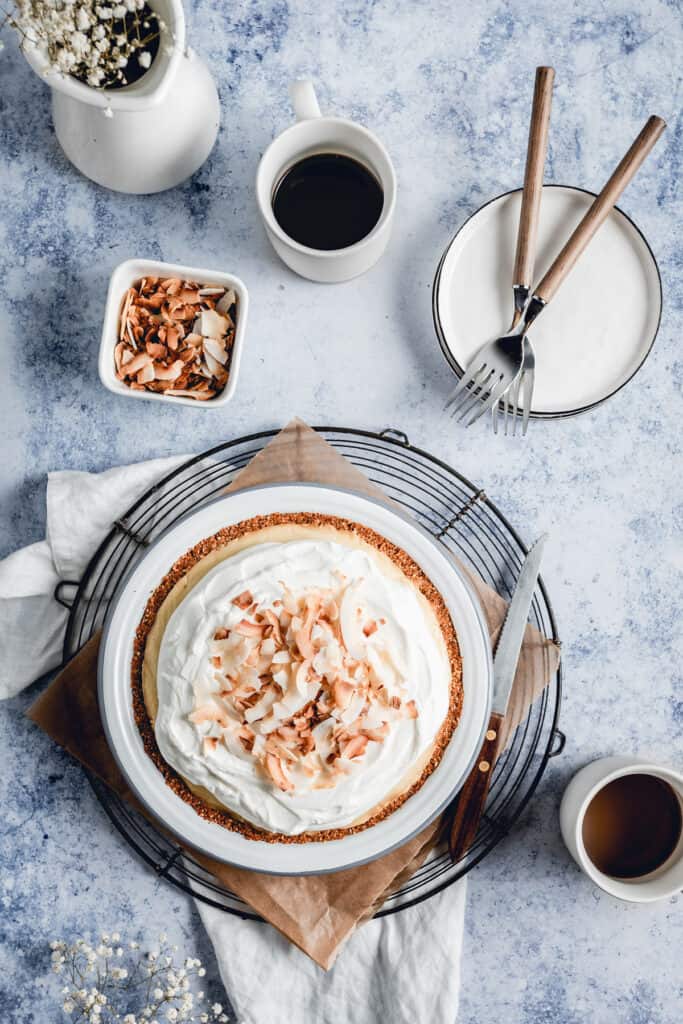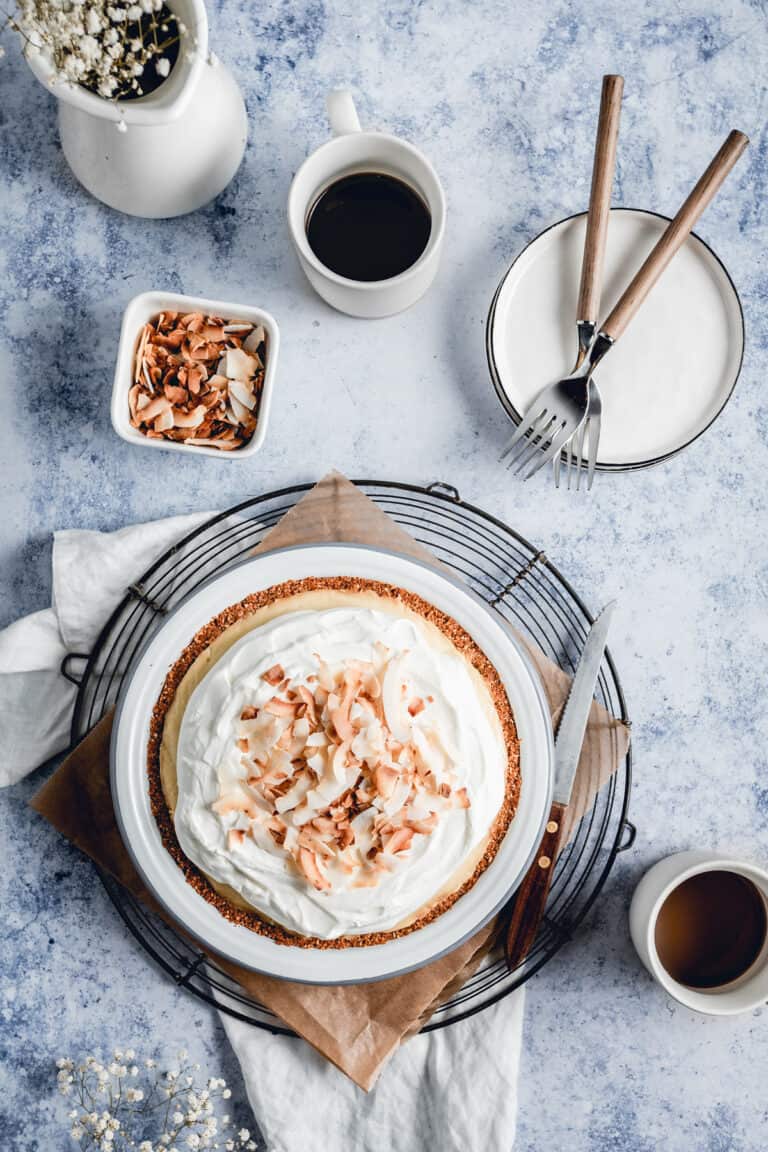 Ever since I got back from Thailand, I've been slightly obsessed with coconut and couldn't wait to make a creamy coconut cream pie. Did you know that real coconut milk comes in cartons, not cans? Huh, I was surprised, too.
Canned coconut milk is often too gloopy with fat and water content separated, which is then hard to emulsify. I've had no problems using it in cake batter, though. But I also never find it to smell good, unlike the coconut milk in carton. Omg, the smell is mesmerizing, as is the taste!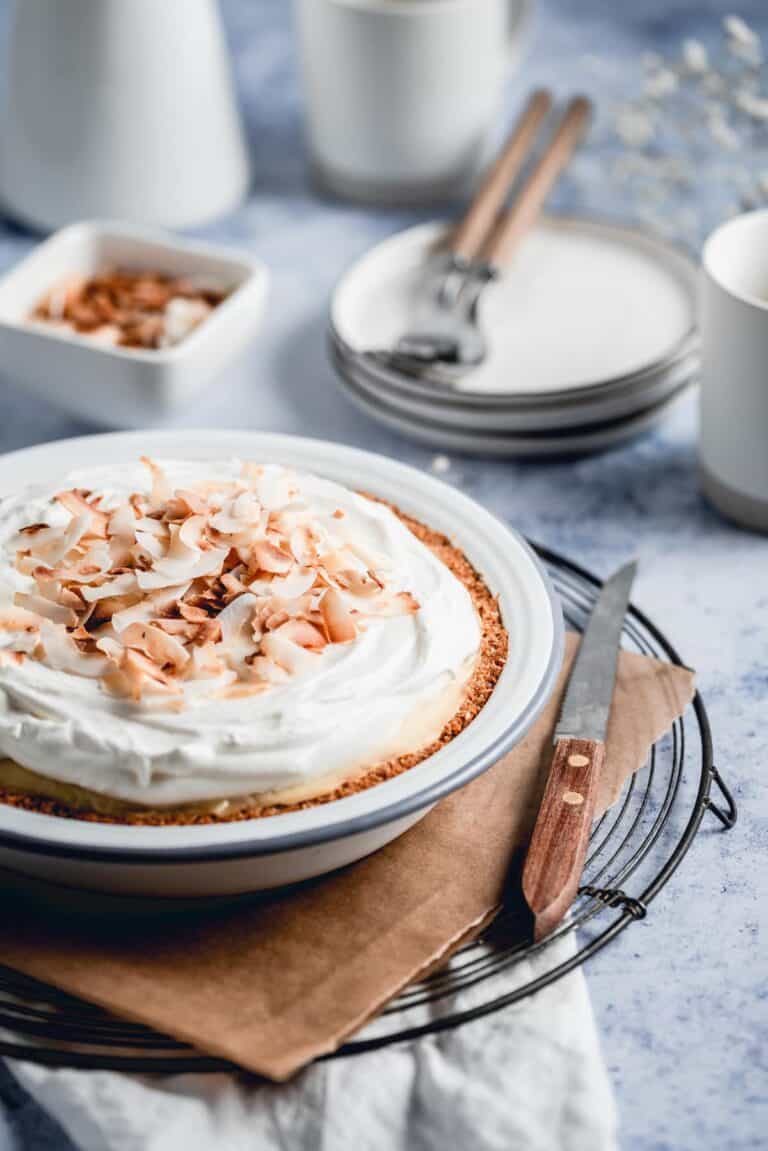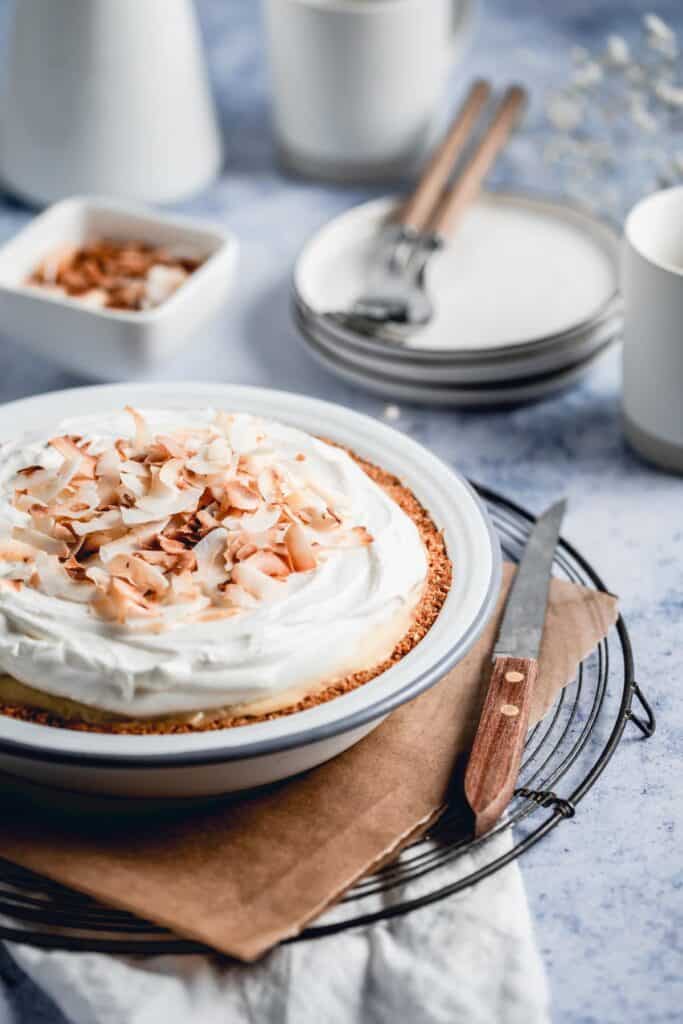 Coconut cream filling
After what I've discovered, making a coconut cream filling was a no brainer. I decided to use the best cartoned coconut milk I could find.
I used this brand, which is the only one (cartoned) currently available in Croatia, but I also found out that it's the cheapest one in Thailand. Which means there are even better coconut milks waiting for us in Southeast Asia. Guess I'll have to hurry up that trip to Vietnam. 😉
I based the coconut cream filling off of my pastry cream recipe. But I used slightly less cornstarch as a thickener, because I didn't want the filling to be too stiff. The coconut flavour from the milk really came through lovely.
I'm not a fan of coconut extracts and essences, they sometimes taste like sunscreen to me, but if you feel like there isn't enough coconut flavour and you have your favourite extract, go for it. 🙂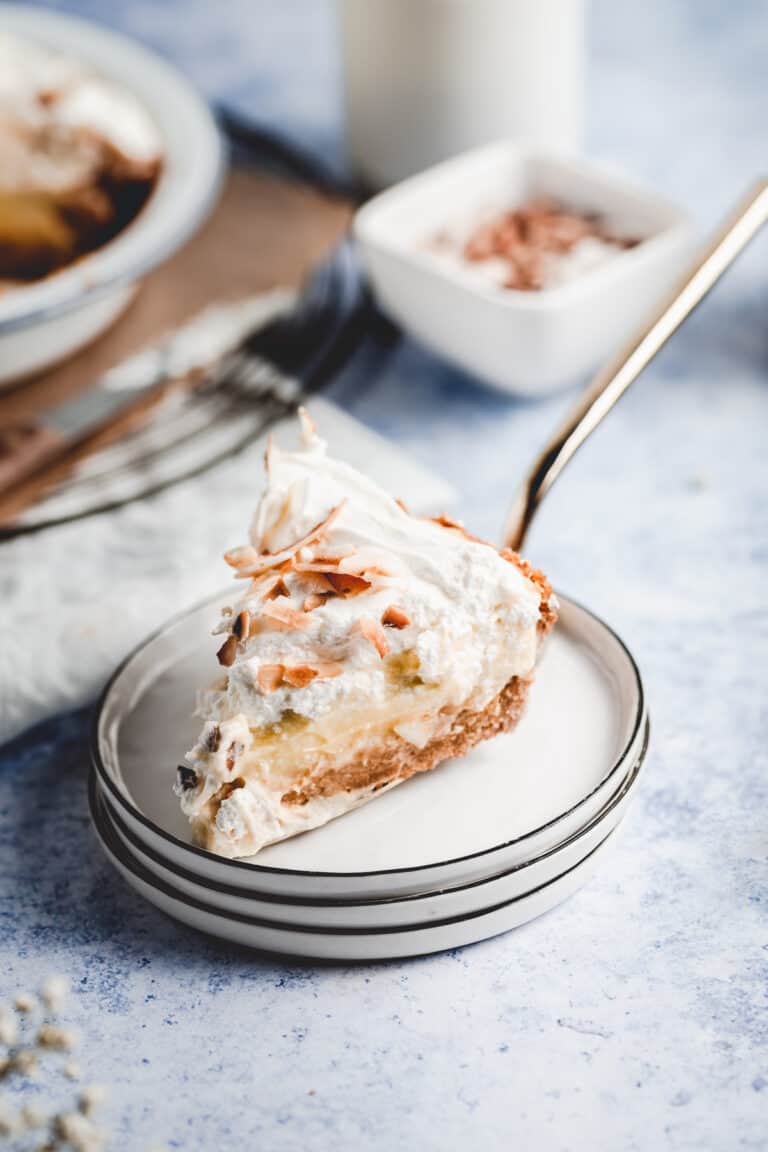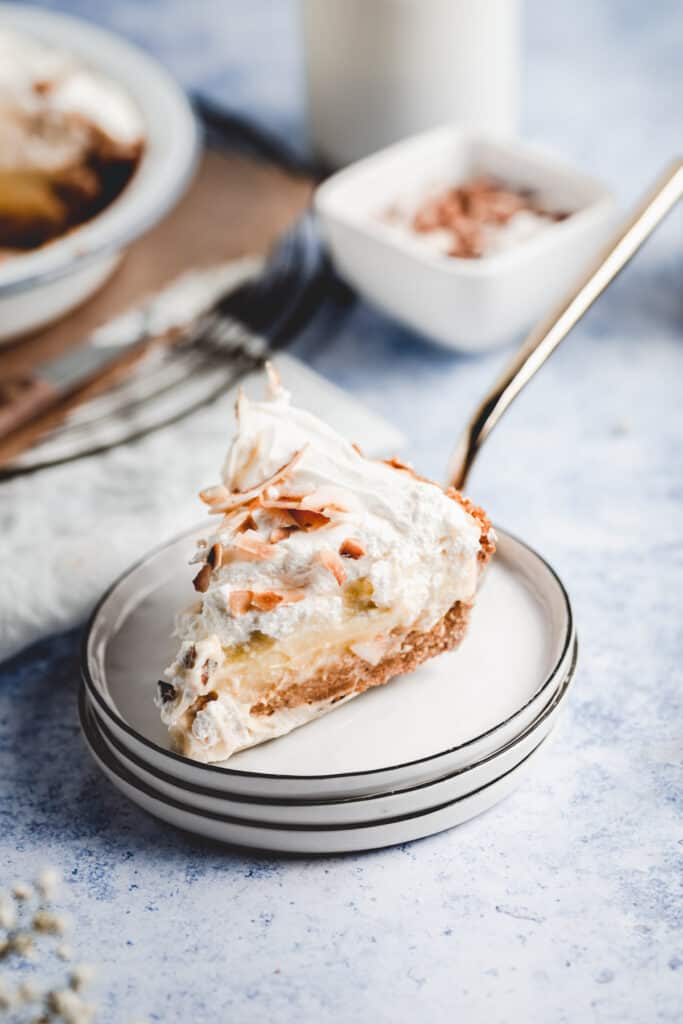 Before making this pie, I did a little research. I've never actually tasted or made Coconut Cream Pie before, because it's not a thing here in Croatia, unlike the USA.
We definitely do love creamy things, pastry cream/custard is a component most usually find in Croatian desserts, but the coconut part is certainly an unusual one. Which is why I was so excited to make it!
Coconut Caramel Secret Layer
From what I gathered reading various resources, the crust is usually a cookie crust, just like the one for cheesecakes. Loved that.
The recipe that was the most appealing to me was the one from Claire Saffitz from BA's kitchen. I absolutely love Claire and watching her videos on BA's YT channel is one of the things I do to relax, but also learn a ton of new things.
Claire added a layer of coconut caramel, which I thought was a brilliant addition to creamy coconut filling. However, I had some problems with the measurements. Everything was written in cups and tablespoons, which I find not very accurate in baking.
My caramel turned out really chewy, I probably added too much coconut trying to convert cups to grams. This was also my first time making dry caramel (and a successful one, if I may add - no burning), so maybe that had something to do with the consistency.
Nevertheless, I adapted the measurements. I added more cream and less coconut than the first time and it turned out much better, although not as "creamy" as Claire's.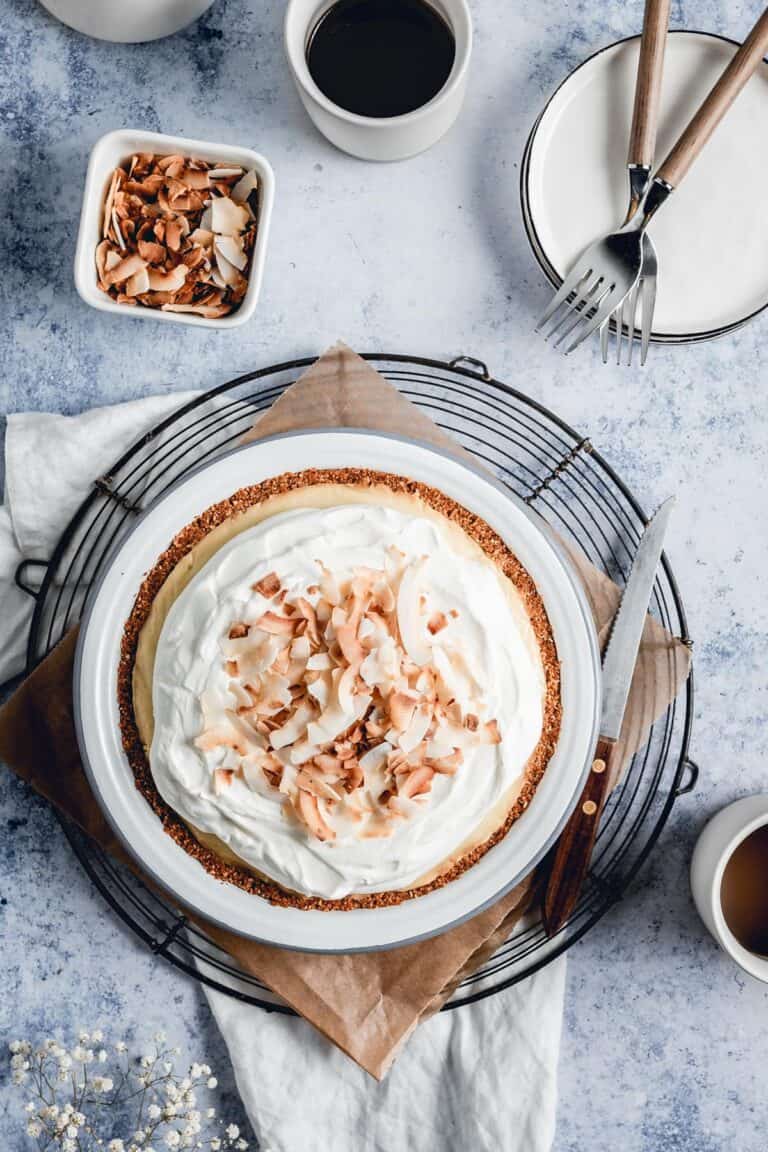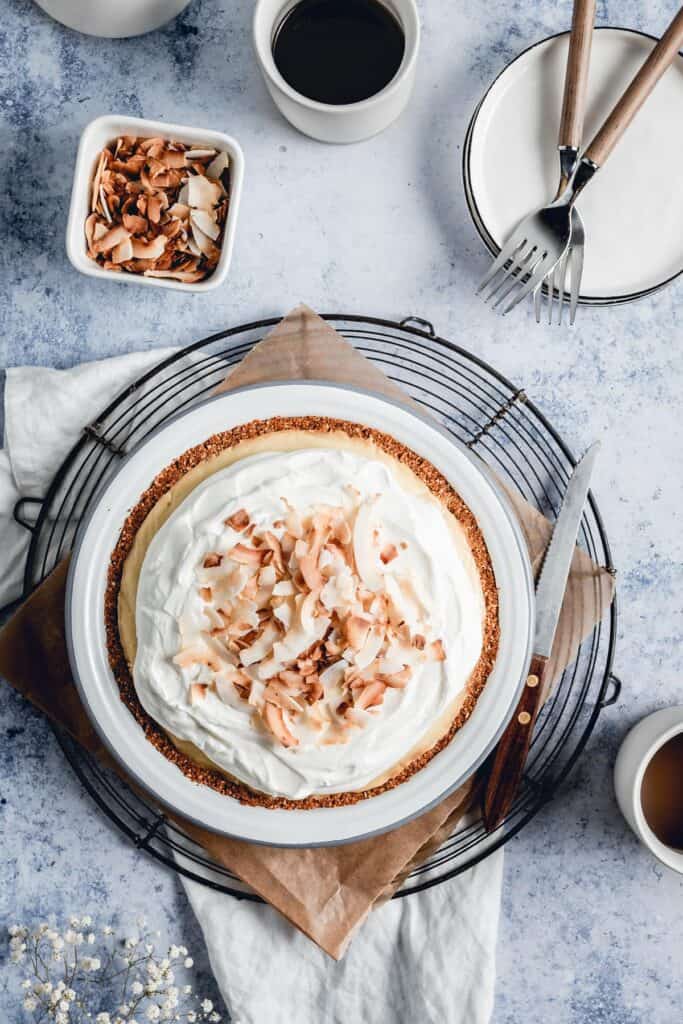 For more summer dessert recipes, check out some of my favourites!
Spiced Nectarine Blackberry Galette
Creamy Lemon Cheesecake
Strawberry Custard Brioche Tarts
Blueberry Ginger Coffee Cake
Double Chocolate No Churn Ice Cream
If you make this recipe let me know by tagging me on Instagram @anasbakingchronicles or tell me all about it in the comments section down below. I love seeing your creations! If you have any questions, don't hesitate to ask. Happy baking!
Love,
Ana
📖 Recipe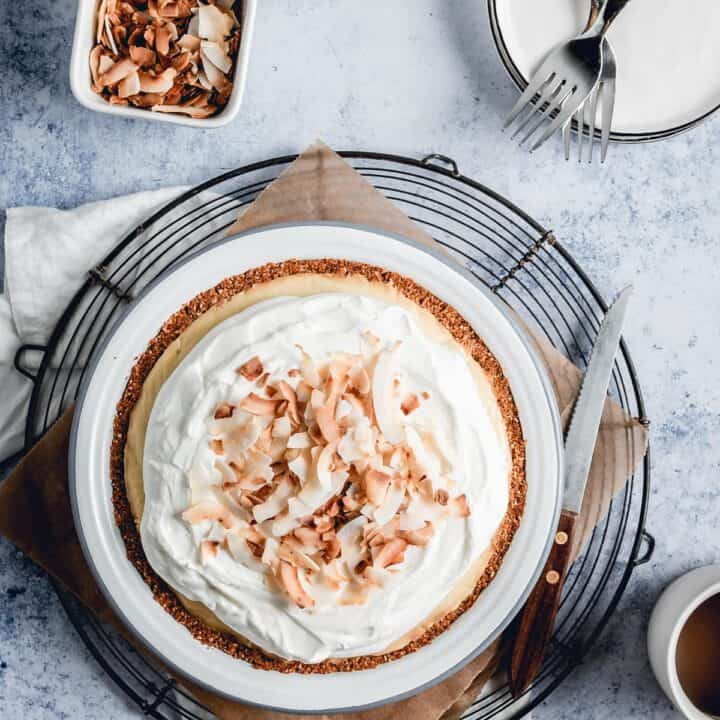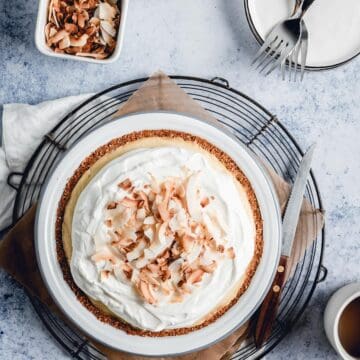 Caramel Coconut Cream Pie
Description
This Coconut Cream Pie has a coconut cookie crust, coconut caramel layer, delicious and silky coconut pastry cream made with real coconut milk and is topped with fluffy whipped cream!
ingredients
coconut cookie crust
130

g

digestive biscuits/graham crackers

70

g

unsweetened desiccated coconut

(toasted)

100

g

unsalted butter

(melted)

1

tablespoon

golden syrup*

¼

teaspoon

ground cinnamon
coconut caramel
70

g

caster sugar

100

g

heavy cream

30

g

desiccated coconut

(toast)
coconut custard filling
650

g

real coconut milk

4

large

egg yolks

1

large

egg

150

g

caster sugar

25

g

corn starch

¼

teaspoon

fine sea salt

1

teaspoon

vanilla extract

40

g

unsalted butter
topping
250

g

heavy whipping cream

toasted coconut flakes
Instructions
for the cookie crust
Start by toasting desiccated coconut in a pan over medium-high heat until golden brown. Toast enough to have for the cookie crust and coconut caramel. Leave aside for a few minutes to cool.

Preheat the oven to 175˚C (350˚F) or 160˚C (325˚F) for a fan oven.

Using a food processor grind the cookies. Place them in a medium sized bowl, combine with toasted desiccated coconut, cinnamon and mix with melted butter and golden syrup using a spoon. 

Press the mixture firmly into the bottom and up the sides of a 9-inch (23 cm) pie dish. Bake for 8-10 minutes, or until golden brown on the edges, then leave it to chill.
for the coconut caramel layer
Sprinkle a thin layer (approx. ⅓) of sugar into a heavy bottom saucepan. Cook over medium-high heat until most of it is melted. Then sprinkle another layer and stir with a heatproof spatula until it melts and combines with already melted sugar. Sprinkle the remaining third, stir until it melts and leave the caramel undisturbed to reach amber colour. This can take just a couple of seconds, depends on your heat and the pan. Be careful not to burn the caramel.

Once your caramel has reached dark amber colour, remove the pan from the heat and crefully pour heavy cream. There will be a lot of bubbling and steam, so make sure not to burn yourself. If the caramel starts to solidify, don't worry, just bring the pan back to low heat and let it all melt and combine.

Next, add in toasted coconut and salt. Leave it to cool a little bit and pour the caramel over chilled, baked cookie pie crust. Cover with cling film and leave in the fridge to chill.
for the coconut cream filling
In a medium sized saucepan, heat the coconut milk just until boiling point. In a separate bowl, combine the egg yolks, egg, cornstarch, sugar and salt using a whisk. Once the coconut milk has reached scalding point, start pouring it SLOWLY to egg mixture, whisking continuously, so you don't cook the eggs. About half to ⅔ of hot milk will do. Once you tempered the egg mixture, add it to the pot with remaining milk and continue cooking, whisking constantly, until it thickens.

Once it's done, stir in vanilla extract and butter and whisk until everything is combined. Strain the pastry cream to a clean bowl through a sieve, to get rid of any cooked egg bits and lumps.

Then, carefully scrape it to the chilled cookie crust with caramel layer. Use an offset palette knife to spread it in an even layer. Cover with plastic wrap touching the surface to prevent skin forming. Leave to cool completely in the fridge.

After your pie has completely chilled, beat heavy cream with a whisk or electric mixer to get soft peaks. Decorate with toasted coconut flakes or chocolate shavings.
Notes
Keep the pie in the fridge, covered in cling film to avoid pastry cream getting a dry crust. It can last a couple of days for sure, but I'm not sure if it will. 🙂
If you don't have golden syrup, you can use a tablespoon of light soft brown sugar.
If you still don't own one, I advise you to buy a kitchen scale – they're cheap and easy to use, and always guarantee the same results in baking!
Coconut Caramel layer is adapted from Claire Saffitz's Coconut Cream Pie recipe. 
IMPORTANT
All the recipes are developed and tested using only metric measurements and a kitchen scale. The U.S. cup and spoon measurements are provided for your convenience, but I highly recommend getting a digital kitchen scale and measuring in metrics. It's easy and always guarantee the same results in baking!
Nutrition
Nutrition Facts
Caramel Coconut Cream Pie
Amount per Serving
% Daily Value*
* Percent Daily Values are based on a 2000 calorie diet.
The nutritional information and US conversions are calculated automatically. I cannot guarantee the accuracy of this data. If this is important to you, please verify with your favourite nutrition calculator and/or unit conversion tool.
Have you tried this recipe?
Tag me on Instagram @anasbakingchronicles or use the hashtag #anasbakingchronicles - I love seeing your creations!