This cheesecake has all the best things. Crunchy cookie crust and delicious chocolate chip cookie dough with light and fluffy nutella cheesecake filling.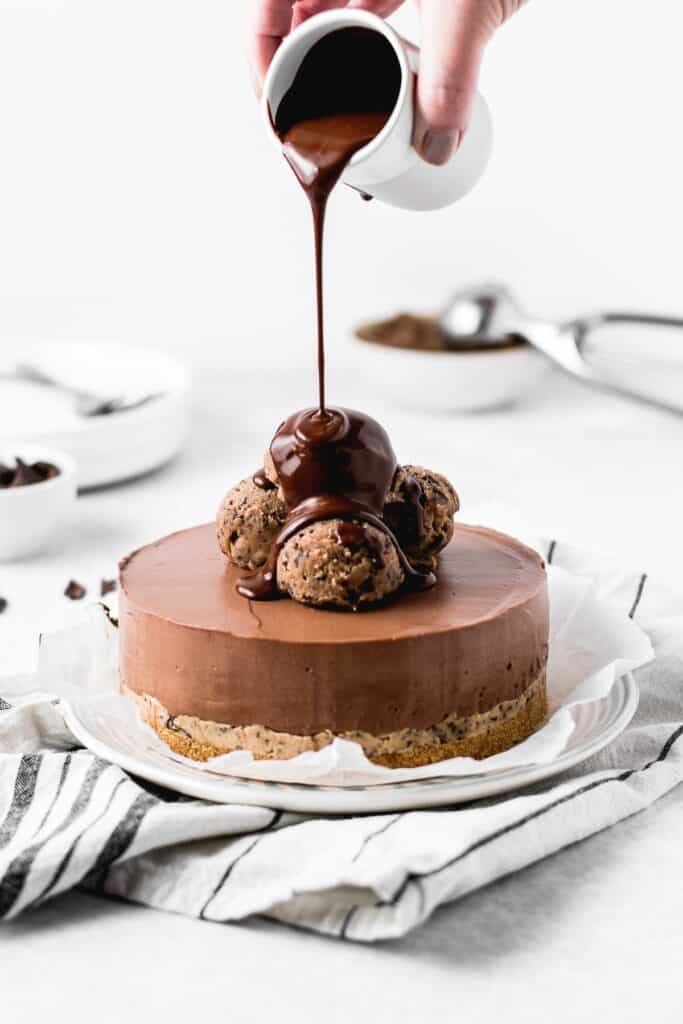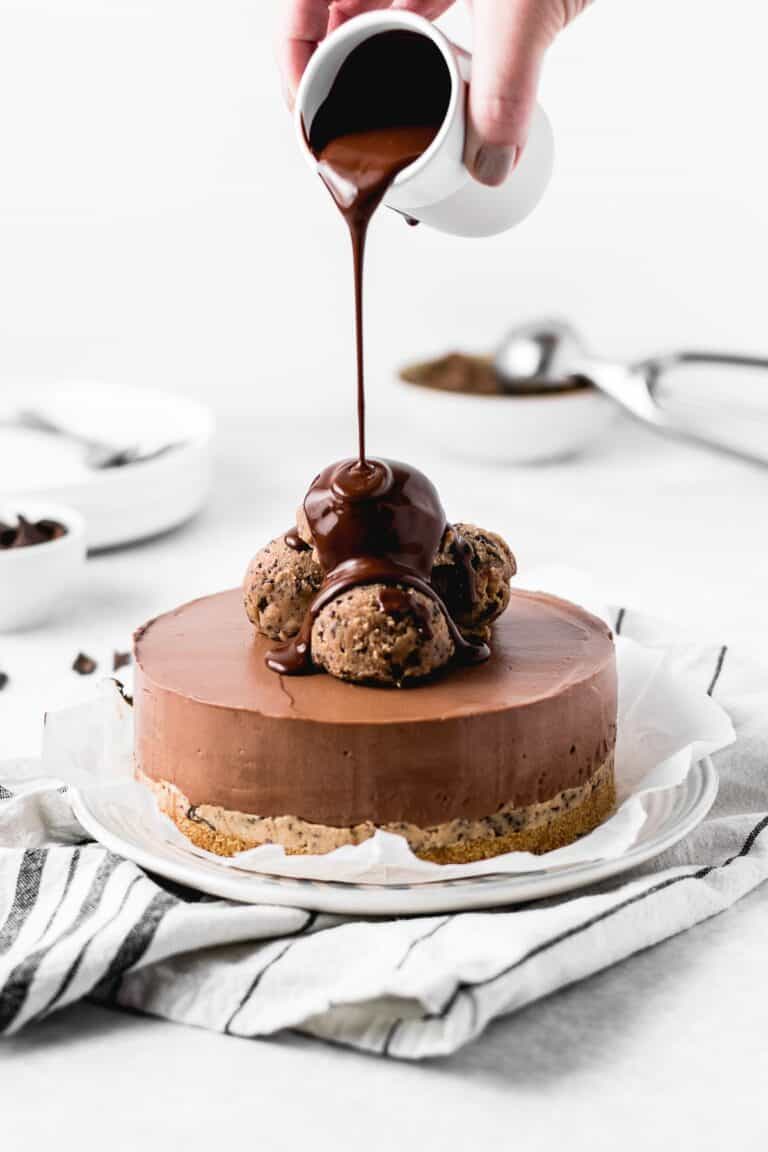 I'm usually a cake girl all the way. I mean, baked, delicious, moist fluffy cake layers. Aaaaah. SO good. But I'll make an exception for this chocolate nutella heaven! And that cookie dough... omg. Give me all the cookie dough! I've been eating it since I was a kid, so it was about time I made an actual edible version of it. And it's amazeballs! I could just stare at those beautiful ice cream looking cookie dough balls. 😀
Also, can I just say how proud I am at these images? This is like a win-win moment for me. I made something extra delicious and I took pictures that I'm actually satisfied with. Eek!
HOW TO MAKE EDIBLE COOKIE DOUGH
Most people think that eating raw cookie dough is bad for you because of the eggs. But that's not entirely true. The thing more dangerous than raw eggs is actually uncooked flour. I won't go into details, you can read more about it here.
To make our delicious cookie dough EDIBLE, we're going to substitute eggs with yogurt and we must toast the flour. You can do this in the oven or on the stove - like I did. Just toast it for about 4-5 minutes on a medium to high heat. You'll start to notice kind of a nutty aroma and the flour will turn slightly beige.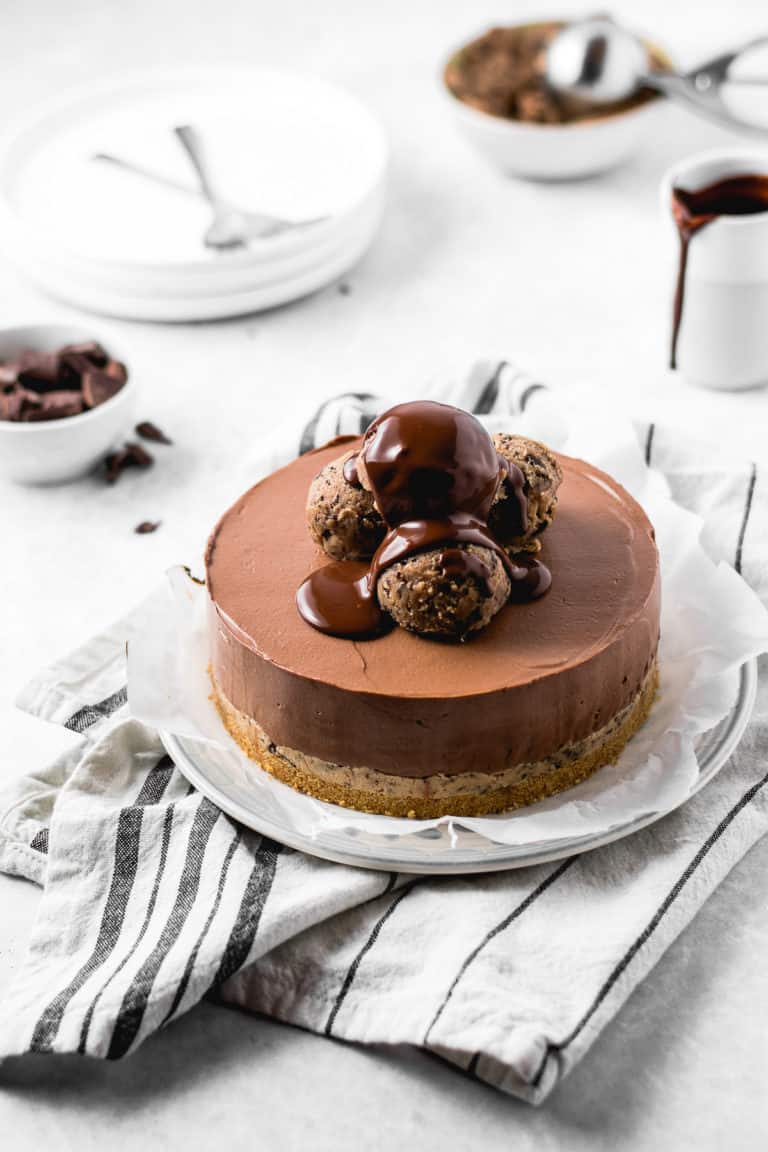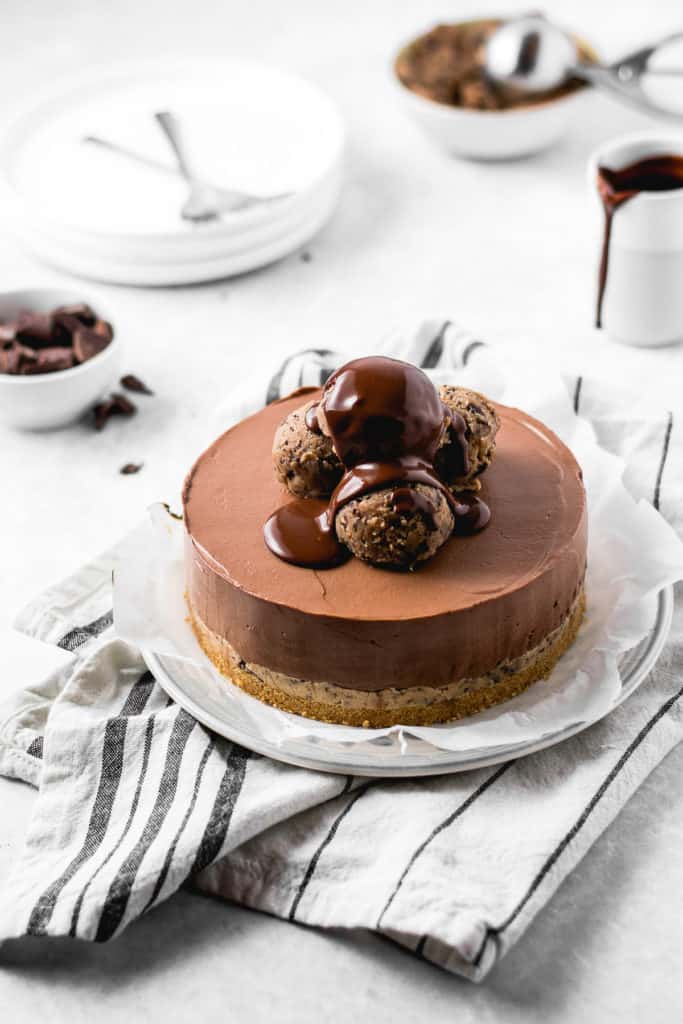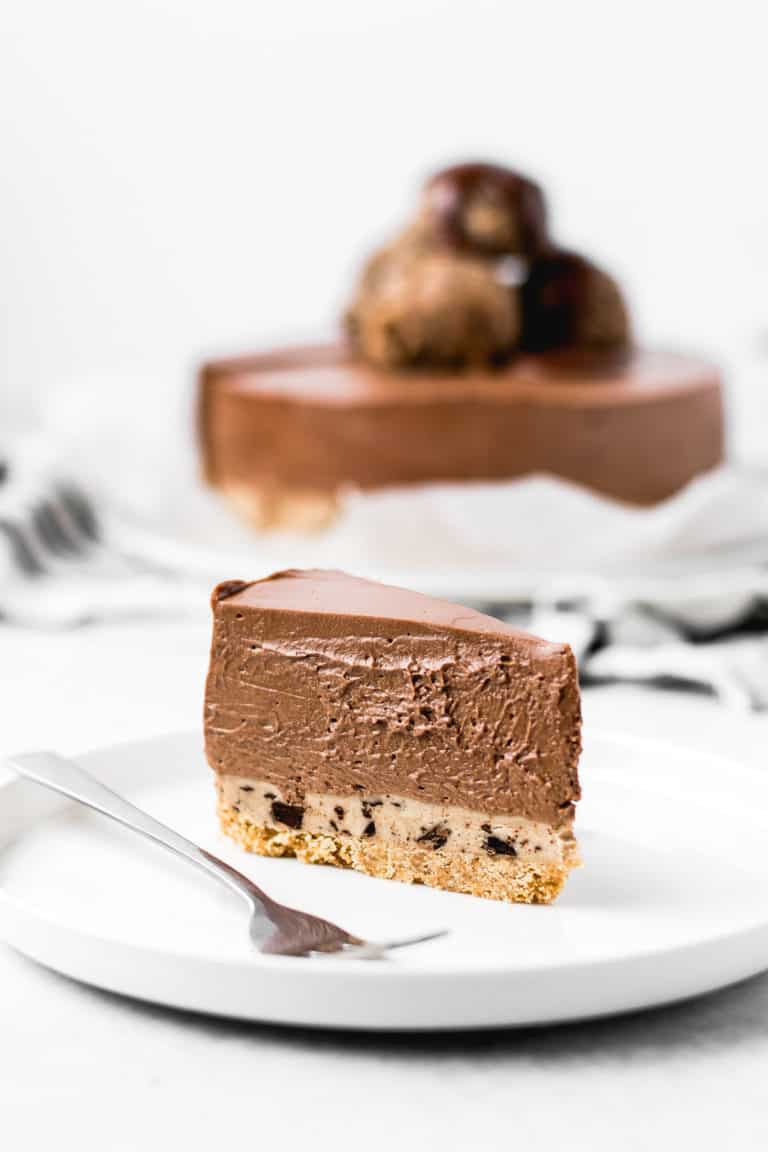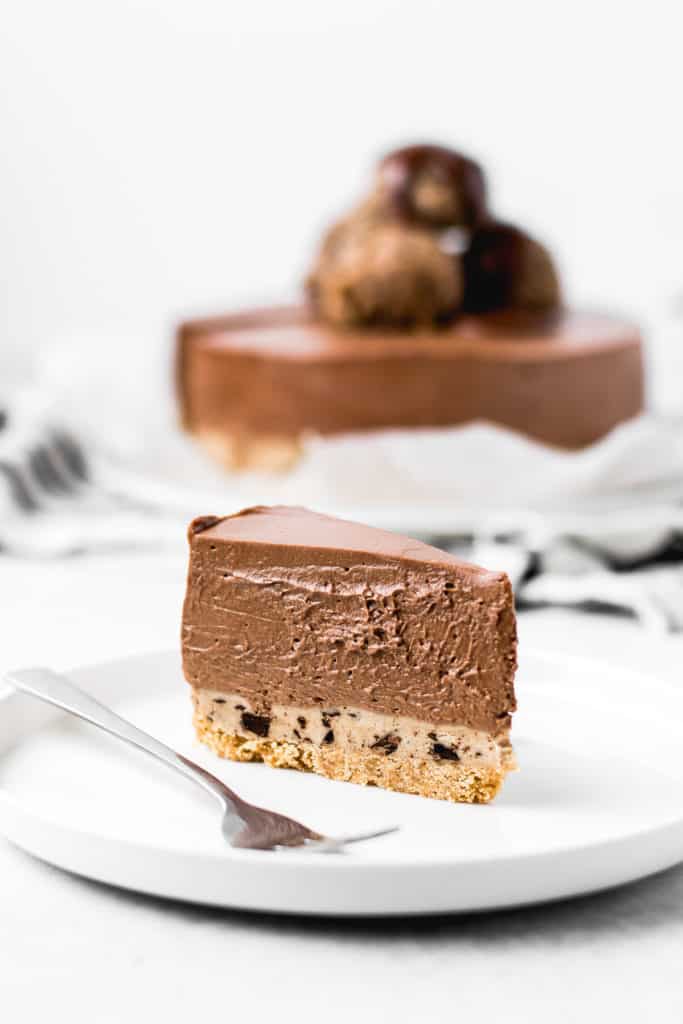 WHAT MAKES THIS CHEESECAKE STABILIZED
Well, lucky for you... this cheesecake doesn't need gelatin! Woot-woot! I really don't like using gelatin, it just makes creams and fillings so gummy. Like gummy bears. Yuck. I'm not a fan.
I said it's a Nutella cheesecake and I didn't lie. There's a whole lot of it in there, I promise. What makes this cheesecake sturdy is just a little bit of melted chocolate. 🙂 Since chocolate turns hard in the fridge, it makes our cheesecake stay stabilized by keeping together all the components.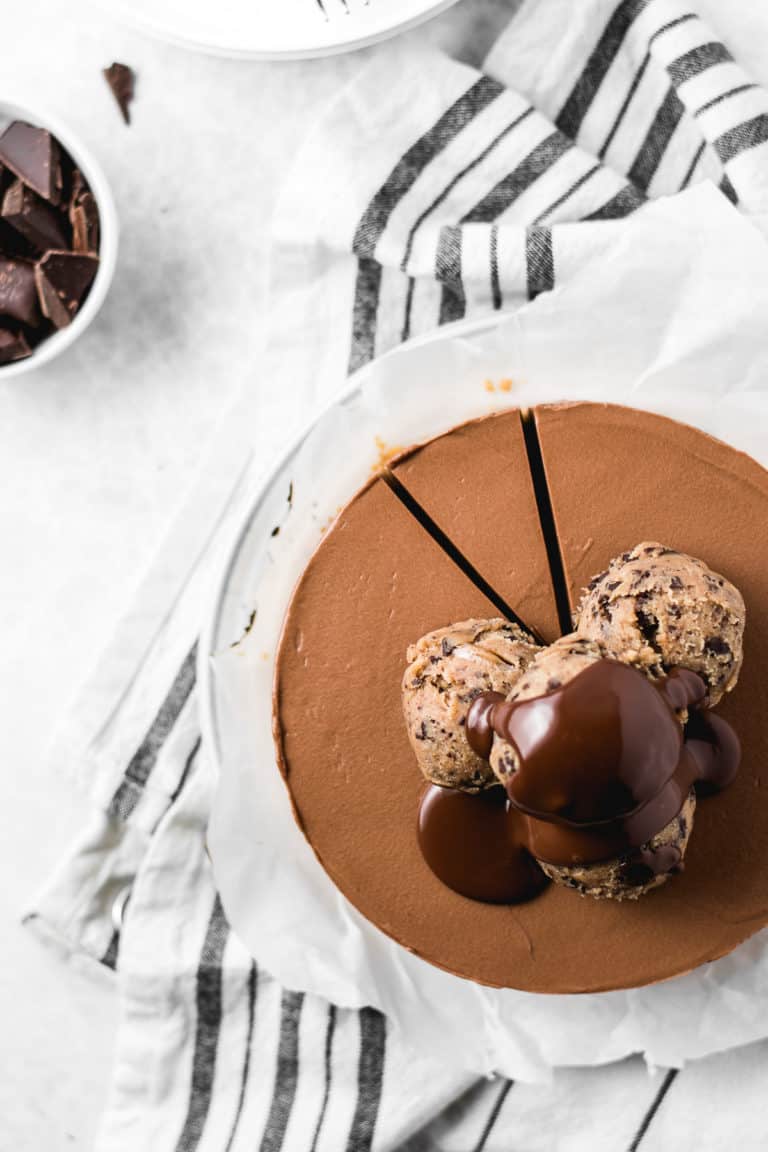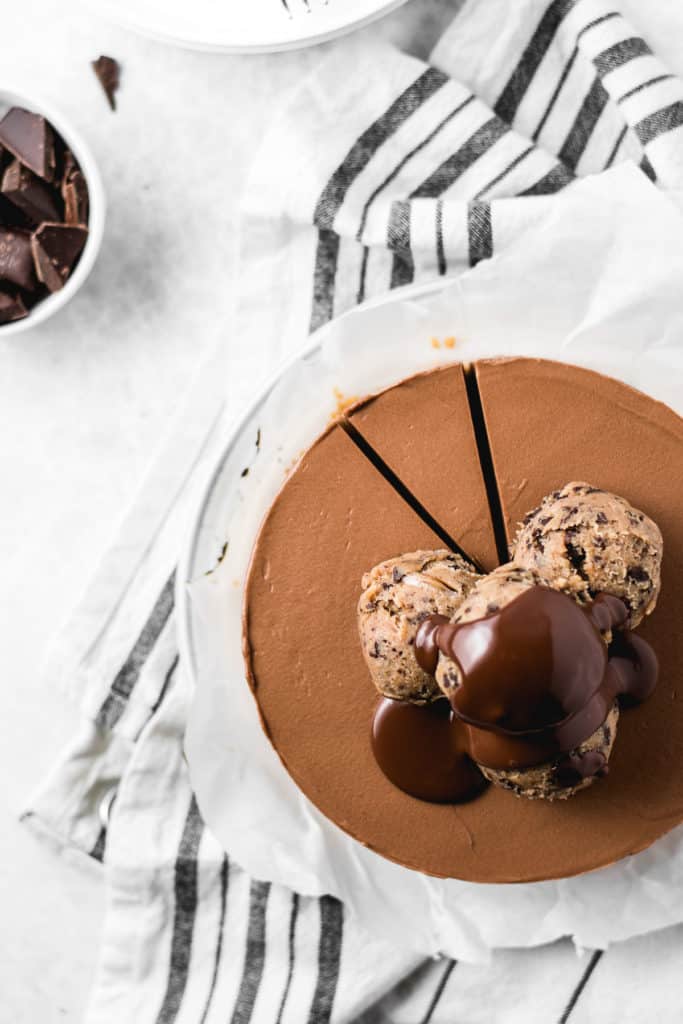 And to make cheesecake extra creamy, I combined cream cheese with gorgeous mascarpone cheese. You can see all the goodness in the image below. Layers of crunchy cookie crust, delicious chocolate chip cookie dough and luscious and fluffy nutella cheesecake filling.
You know you want it. I know it. I know that you want it. It's easy, it's quick and you don't need to bake it! Only refrigerate it for a couple of hours and that's it!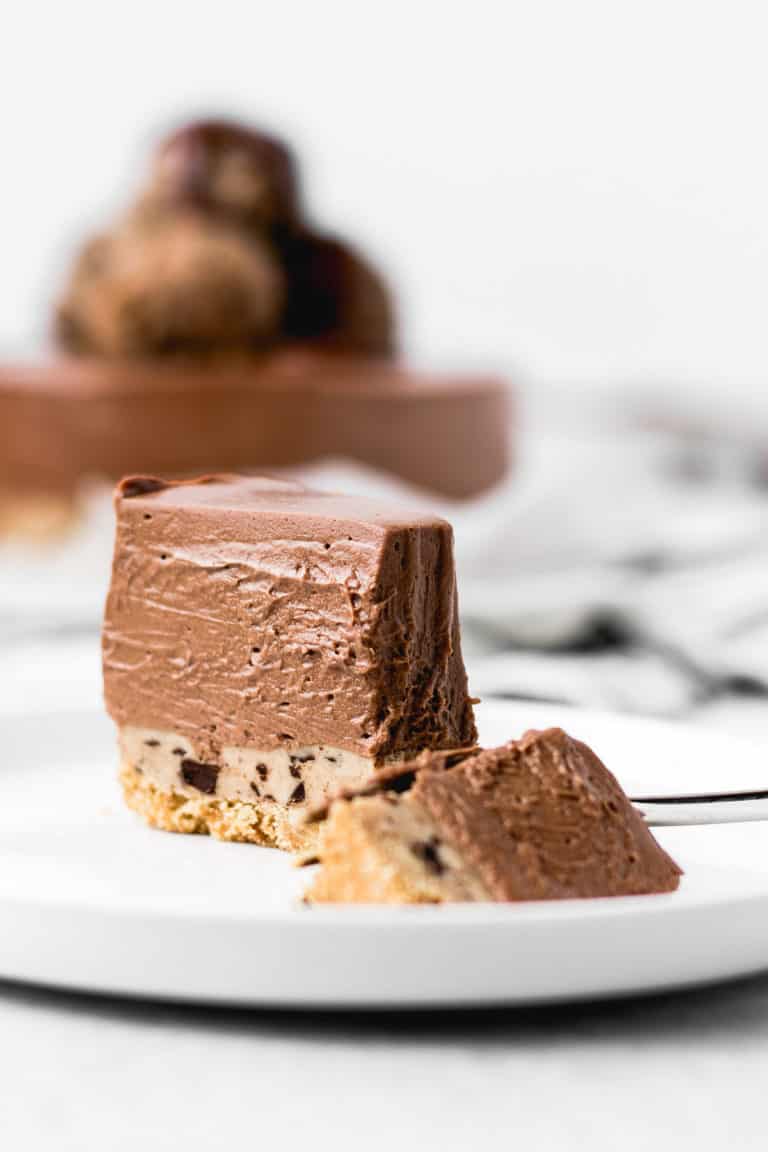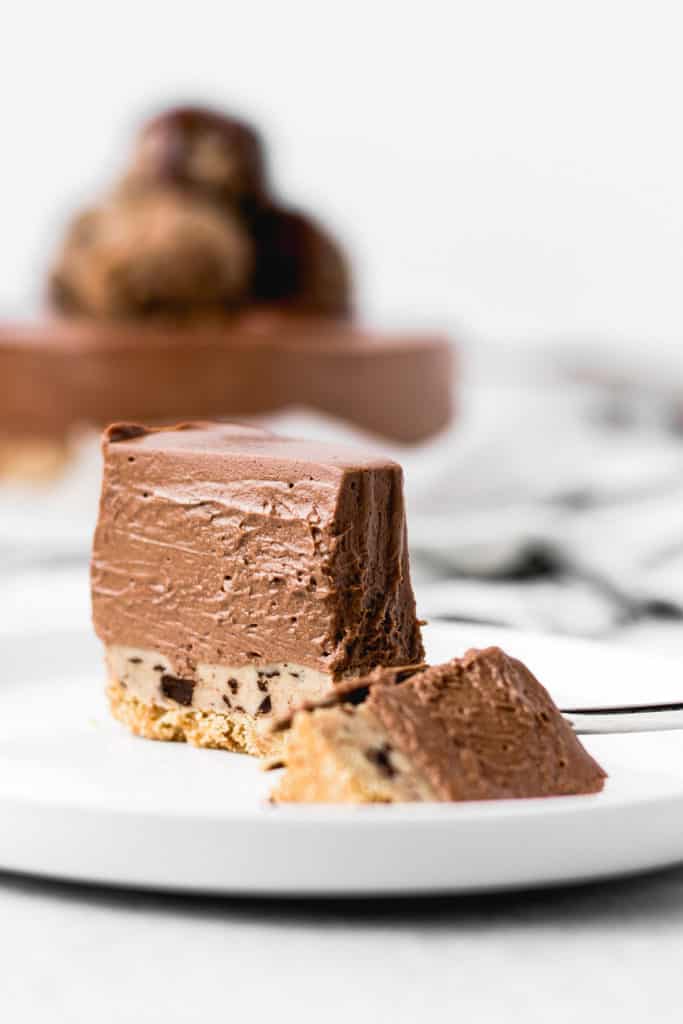 ARE YOU INTO CHOCOLATE DESSERTS? TAKE A LOOK AT SOME OF MY FAVOURITES:
Peanut butter & Chocolate Cupcakes
Chocolate Berry Cake
Ultimate Triple Chocolate Cake
Earl Grey Chocolate Cupcakes
If you make this recipe, let me know by tagging me on Instagram @anasbakingchronicles or tell me all about it in the comments section down below! I love seeing your creations! If you have any questions, don't hesitate to ask! Happy baking!
Love,
A.
📖 Recipe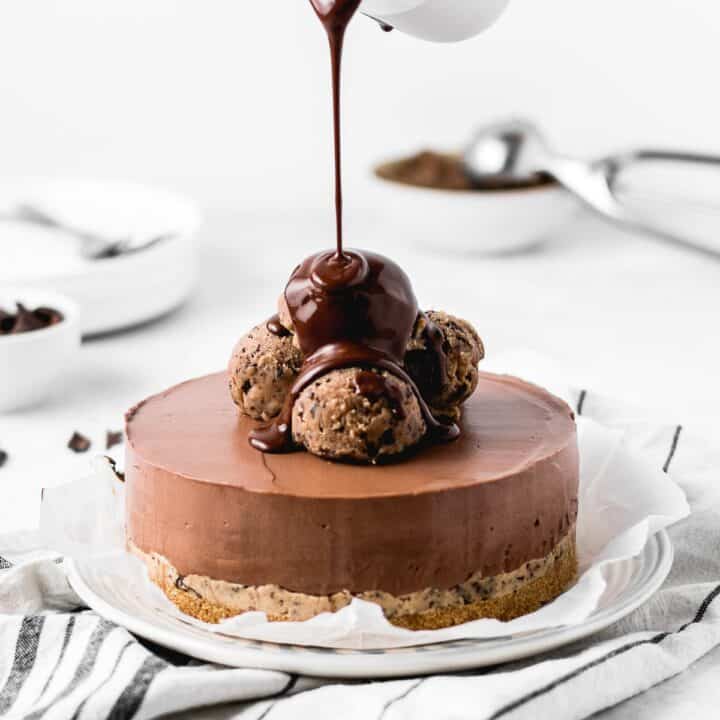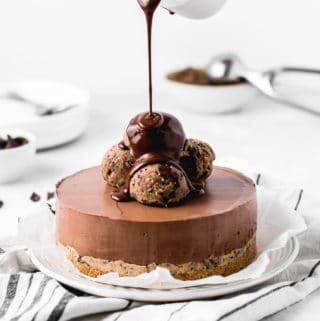 No bake Nutella Cookie dough Cheesecake
Description
ingredients
Buttery Cookie Crust
100

g

digestive cookies/graham crackers

50

g

unsalted butter

(melted)
Edible Cookie Dough
200

g

all-purpose flour

(toasted )

120

g

unsalted butter

(room temperature)

60

g

light soft brown sugar

60

g

granulated sugar

50

g

full fat/ greek yogurt

pinch

of

salt

½

teaspoon

vanilla extract

100

g

chopped dark chocolate
Nutella Cheesecake filling
180

g

cream cheese

(room temperature)

200

g

mascarpone cheese

(room temperature)

240

g

nutella

30

g

powdered sugar

(sifted)

50

g

good quality dark chocolate

(melted and then cooled)

150

g

heavy cream
Chocolate sauce
100

g

good quality dark chocolate

200

g

heavy cream
Instructions
for buttery cookie crust
Line the bottom of a 7 inch springform pan with baking paper that's bigger in diameter than the pan. Then put the ring on top.

Using a food processor ground your cookies. In a separate bowl, combine them with the melted butter using a spoon. Press the mixture into the bottom, making sure it's level. Put in the fridge for approx. 20 min to harden.
for edible cookie dough
Toast the flour for about 4-5 minutes on a medium to high heat, stirring all the time. It will change its colour a little bit. Leave it to cool before using.

In a medium sized bowl, using a hand mixer mix together butter and sugars until lighter and fluffier. (approx. 3 minutes) Add yogurt, vanilla extract and salt and mix until everything is combined.




Add cooled, toasted flour and mix just until everything is incorporated. In the end add finely chopped chocolate and mix until everything is combined.

The dough will be a little sticky. Cover the bowl in cling film and leave it in the fridge for about 20-30 min to harden a bit.
for nutella cheesecake filling
Melt chocolate over a bain marie or in a microwave (using 30 sec intervals so it doesn't burn) and leave it to cool, but it should still remain melted.



In a medium sized bowl, using a hand mixer, mix together cream cheese, mascarpone and vanilla extract. Add sifted powdered sugar and mix until combined. Next, add both the nutella and melted chocolate and mix until everything is incorporated and there are no white streaks left.

In a separate bowl, beat heavy cream until it reaches soft peaks. Then gradually fold it into the nutella cream cheese mixture using a silicone spatula.
Chocolate sauce
Place finely chopped dark chocolate in a medium sized bowl and pour over it almost boiling heavy cream. Cover it with a plate and leave it for 2-3 minutes. Stir with a silicone spatula to combine.
Assembly:
Once your buttery biscuit base is cooled, it's time to add the cookie dough layer on top.

Grab the bowl with cookie dough from the fridge, it should be a little firmer now. Get your latex gloves on and sprinkle the cookie dough in small chunks all over the base. Then press it down with your fingers to make one even layer. Put in the fridge for 15-20 minutes before putting on the filling.

After the cookie dough layer has cooled a bit, fill the pan with prepared filling. Use a small offset spatula to make the top even and smooth.

Put the cheesecake in the fridge for at least 4 hours to firm up a bit, before cutting into it and decorating it with leftover cookie dough and chocolate sauce.
Notes
You can use an 8 inch springform pan as well, just make sure to add a little bit more cookies for a cookie crust. (125 g + 63 g butter)
IMPORTANT
All the recipes are developed and tested using only metric measurements and a kitchen scale. The U.S. cup and spoon measurements are provided for your convenience, but I highly recommend getting a digital kitchen scale and measuring in metrics. It's easy and always guarantee the same results in baking!
The nutritional information and US conversions are calculated automatically. I cannot guarantee the accuracy of this data. If this is important to you, please verify with your favourite nutrition calculator and/or unit conversion tool.
Have you tried this recipe?
Tag me on Instagram @anasbakingchronicles or use the hashtag #anasbakingchronicles - I love seeing your creations!