Melt in your mouth banana cupcakes with crunchy cookie base and delicious vanilla frosting made with buttery cookie crumbs!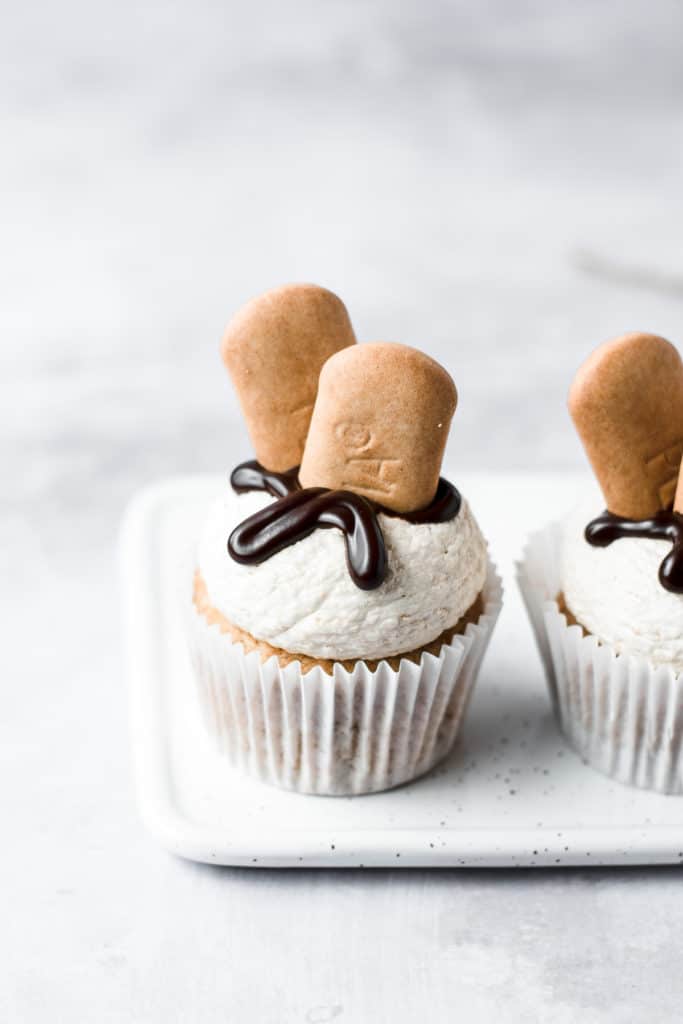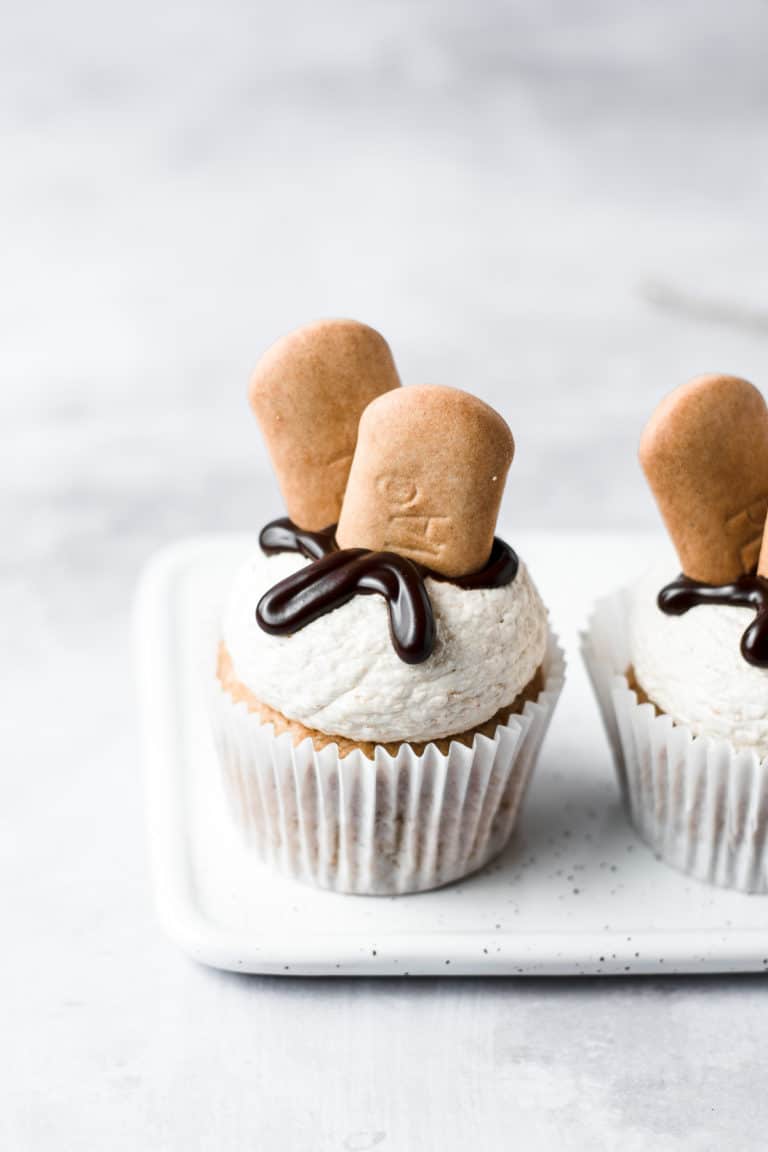 How delish does this sound? I was always a sucker for buttery cookies like Petit Beurre. They were one of my favourites growing up, especially crushed in a bowl and smothered with milk. The ones I used in this recipe are pretty similar to those. Same crispy texture and really similar flavour. We often use them crushed as a topping for crepes, alongside nutella and some fresh bananas.
And that's how I came up with this recipe! Banana, chocolate, buttery cookie crumbs? Hell yeah, it's a match made in heaven!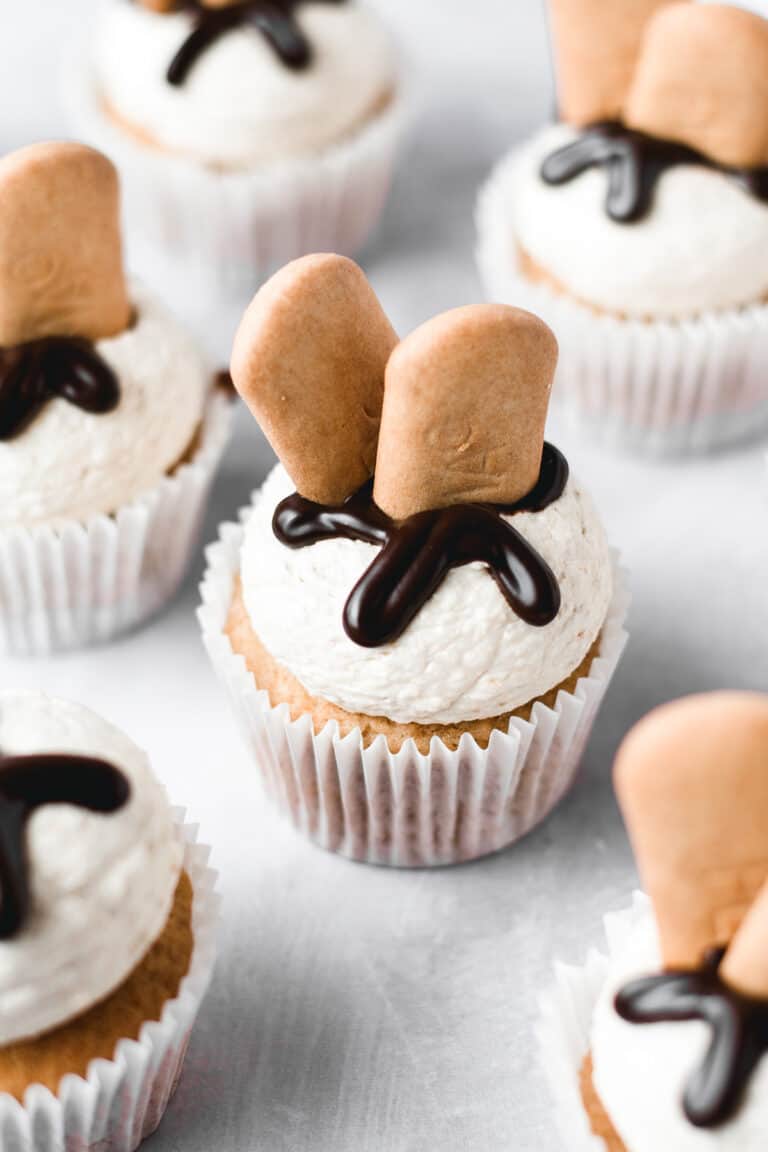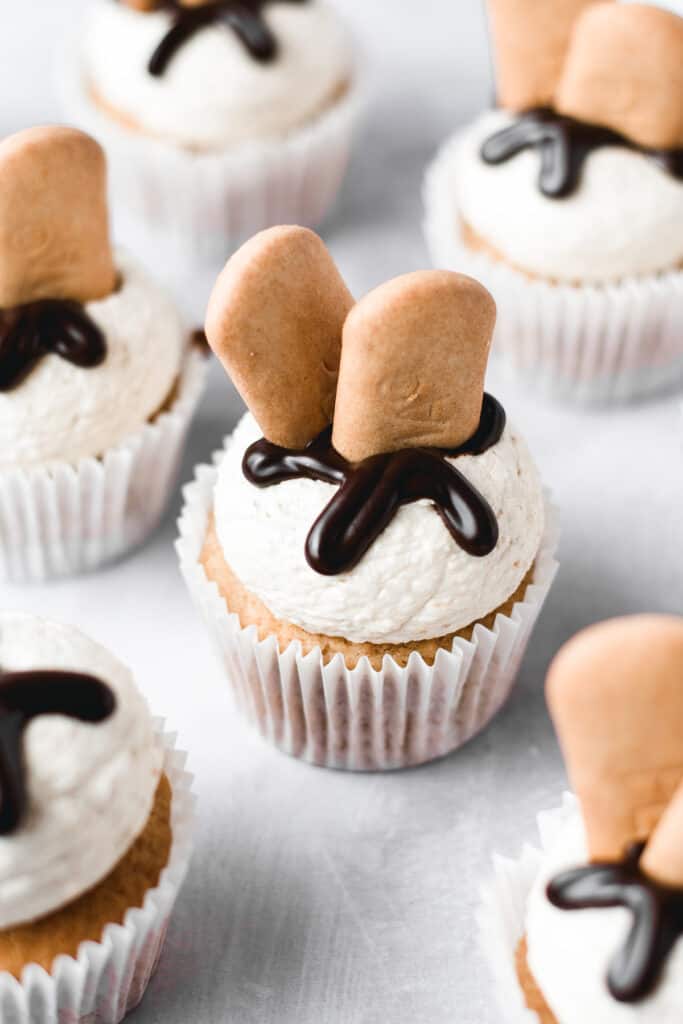 Also, can someone please enlighten me and tell me what is the difference between cookies and biscuits? I tried googling it but I end up with various results. I thought one is American and the other is British term for the same thing, but apparently there is more to this story.
I'm not a native and throughout my education I've been taught British English. So in a lot of things I lean towards their words and spelling. That's why you'll always see me write favourite, instead of favorite etc. Originally I wanted to name these Buttery Biscuit Banana Cupcakes - but then I got confused as to what a biscuit really is, so... yeah. I changed the name and I just hope someone tells me the difference!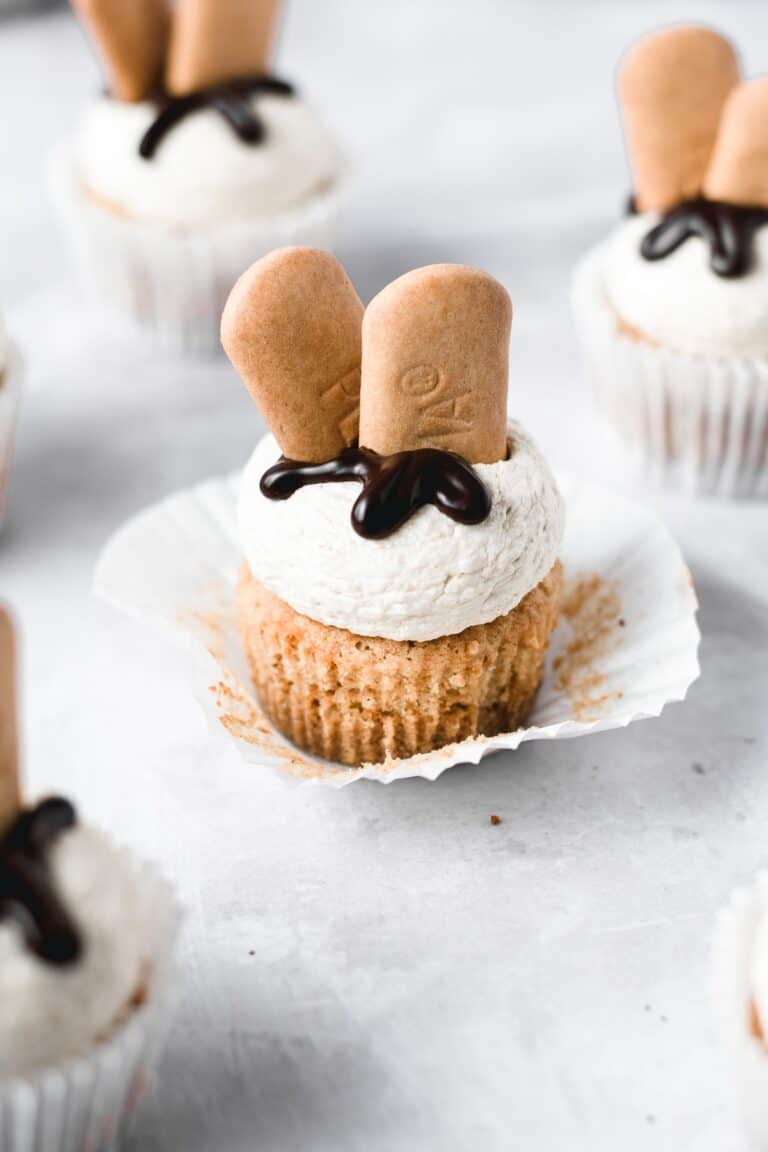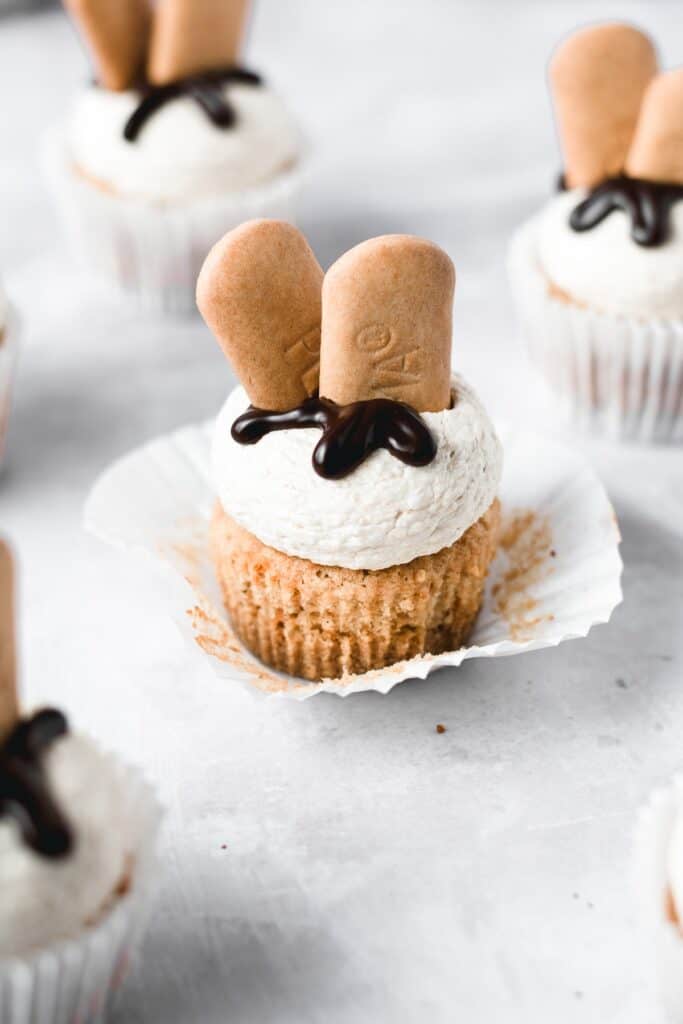 HOW TO MAKE THESE BANANA CUPCAKES
I wanted to make these cupcakes extra cookielicious. (Yes, I made that word right now.) That's why I decided to use cookie crumbs as flour! I'm not the one to brag, but how genius is this? I did combine it with flour because I didn't want to risk too crumbly texture. The ratio between the two in this recipe is spot on! But if you wish to use only flour, then omit the cookies and add enough flour to get to 180 grams. 🙂
Also, I used a bit less sugar than I would usually use for cupcakes because I knew the cookies will have brought their own sweetness to the batter. Science!
As a special crunchy element, I made a crunchy base - just like the one in a cheesecake! I was inspired by Cupcake Jemma's amazing cupcakes and I have to tell you - that cookie base is DA BOMB. I suggest not skipping it! 🙂
And the third cookie element is... cookie crumb buttercream. What?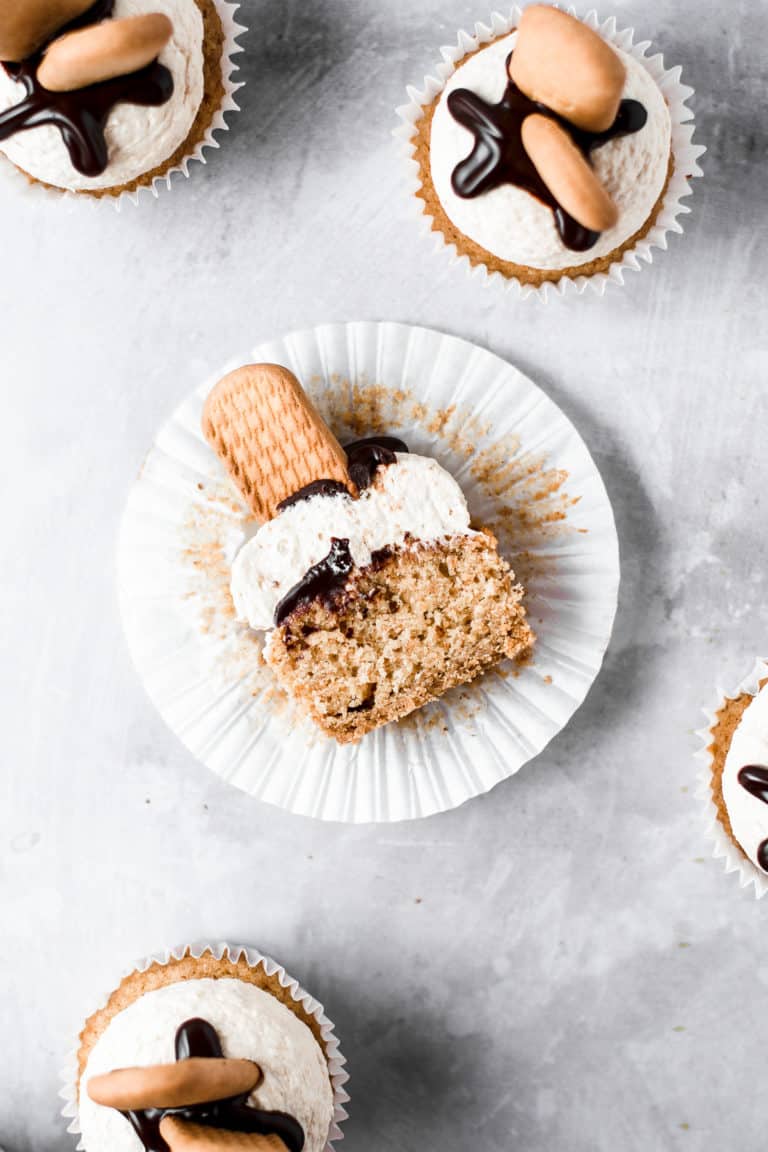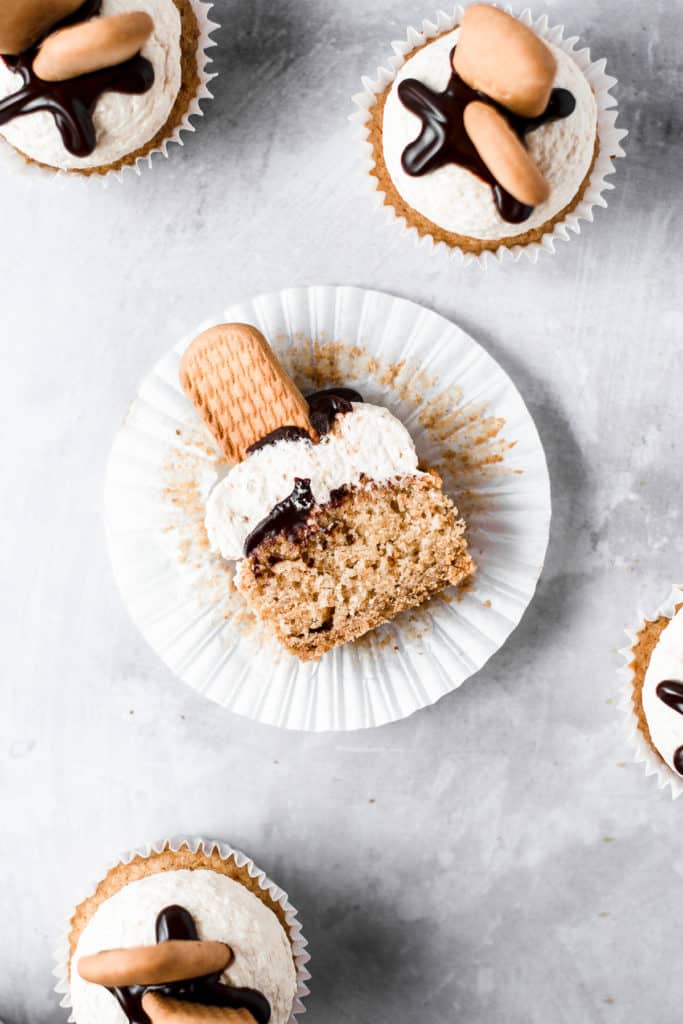 WHAT DO YOU MEAN YOU MADE COOKIE CRUMB BUTTERCREAM?
Well, I mean exactly what I said. I made a cookie flavoured buttercream. Yup, I did it. It's one of the easiest thing to do, honestly - I don't know why I didn't do it sooner! Except in my Chocolate Oreo Cake - that stuff is addictive. Just like this cookie buttercream which is eat-by-the-spoonful delicious!
What makes this buttercream so awesome is - you can use any cookie you like, as long as they are crispy and you can ground them to get really fine, dry crumbs. Putting fudgy and moist cookies could alternate the texture of buttercream.
Last thing to do - fill and cover your cupcakes in chocolate ganache, because.. well, ganache people! Need I say more?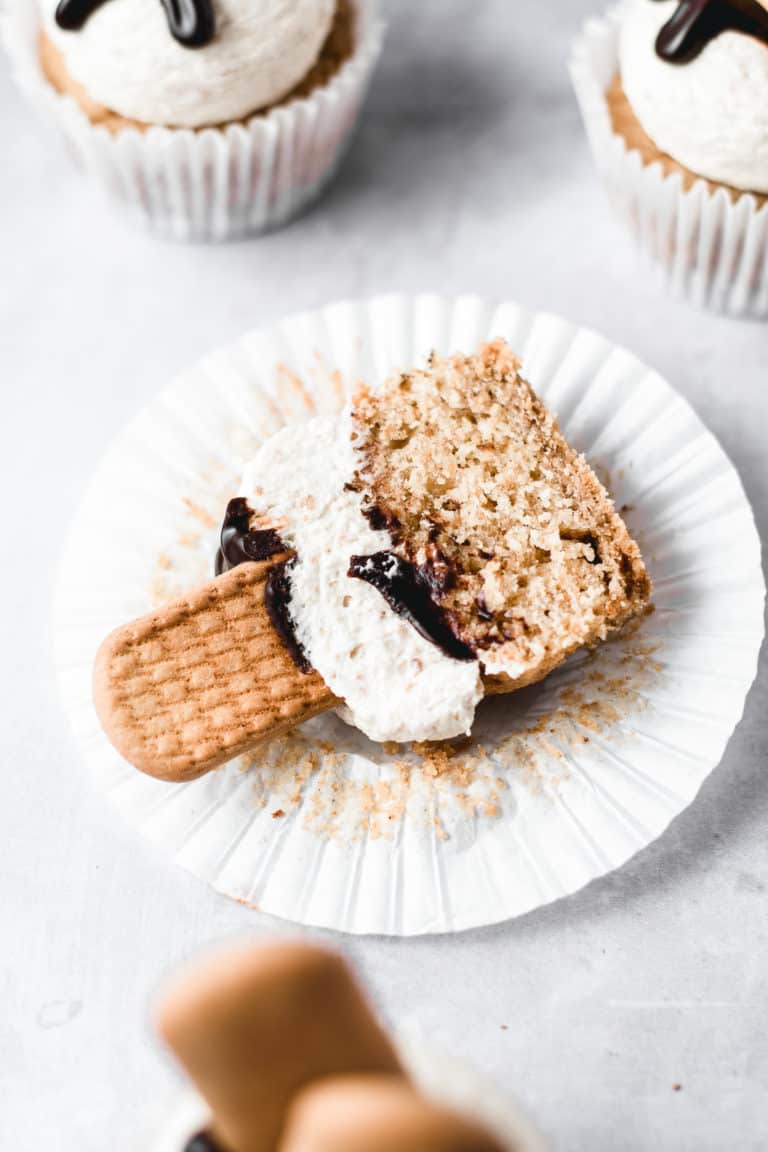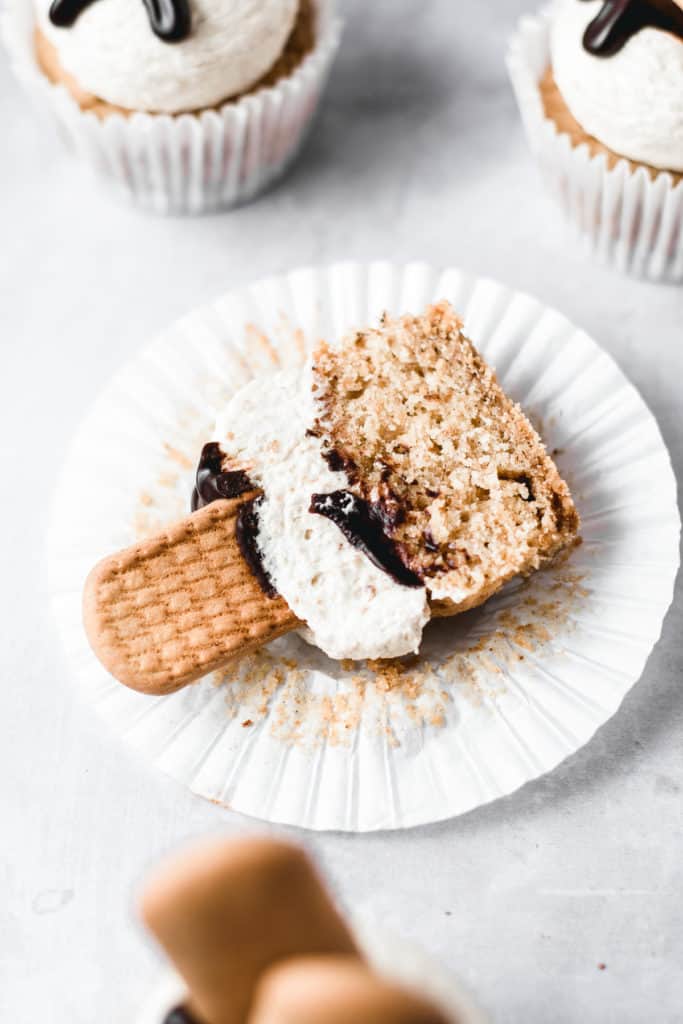 LOOKING FOR MORE EASY AND DELICIOUS RECIPES?
Soft Coconut Sugar Cookies
Orange Almond Bundt Cake
Brown Butter Popcorn Madeleines
Earl Grey Chocolate Cupcakes
If you make this recipe let me know by tagging me on Instagram @anasbakingchronicles or tell me all about it in the comments section down below! I love seeing your creations! If you have any questions, don't hesitate to ask! Happy baking!
Love,

📖 Recipe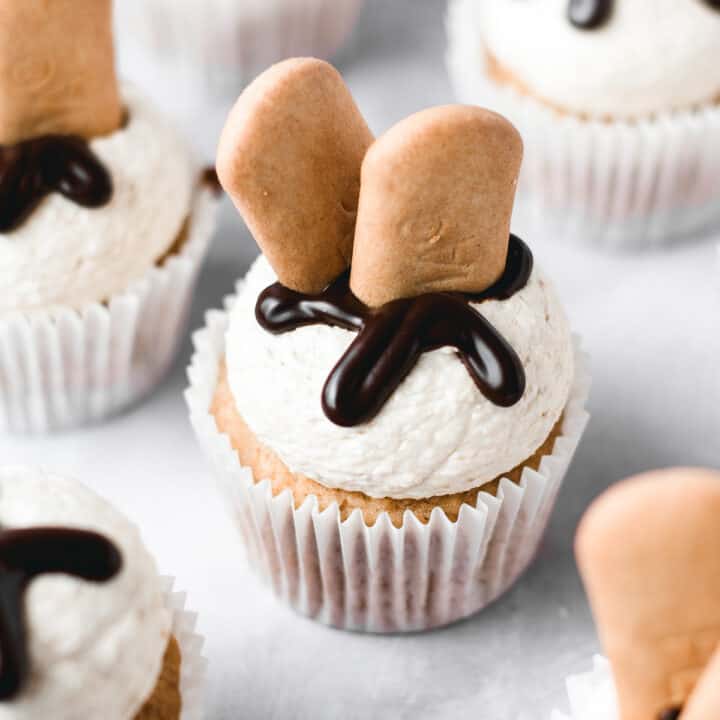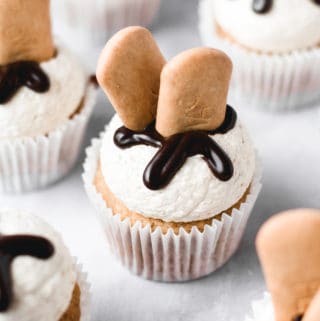 Banana cupcakes with Cookie crumb Buttercream
Description
ingredients
Crunchy base
150

g

crushed cookies

(petit beurre, graham crackers, digestive, choose your favourite)

75

g

unsalted butter

(melted)
Cupcakes
2

large

eggs

(room temperature)

100

g

all-purpose flour

150

g

crushed cookies

150

g

white granulated sugar

90

g

unsalted butter

(softened)

100

g

ripe banana

(mashed)

130

g

full fat sour cream

(room temperature)

¼

teaspoon

cinnamon

1 ½

teaspoon

baking powder

¼

teaspoon

salt

½

teaspoon

vanilla extract
Chocolate ganache sauce
100

g

good quality dark chocolate

200

g

heavy cream

¼

teaspoon

salt

(optional)
Vanilla Biscuit Buttercream
30

g

all-purpose flour

120

g

granulated sugar

250

g

whole milk

¼

teaspoon

salt

225

g

unsalted butter

(softened)

1 ½

teaspoon

vanilla extract

100

g

crushed cookies
Instructions
For the cupcakes:
Preheat your fan oven to 160°C (325°F) or to 175°C (350°F) if you're not using a fan oven. Line your cupcake pan with paper cases.

For crunchy base, combine crushed biscuits with melted butter - just like you would for a cheesecake. Add about a tablespoon in each paper case and press it down with something small, I used a small rolling pin.

Sift and combine flour, salt, baking powder and cinnamon to a medium sized bowl and combine with crushed biscuits. Set aside. These are your dry ingredients.

In a measuring jug, using a whisk, mix together sour cream and vanilla extract. These are your wet ingredients.

In a bowl of a stand mixer beat together butter and sugar until paler and fluffier, approx. 2 minutes. Add eggs one at a time, mixing well after each addition. Add mashed ripe banana and mix until everything is combined.

Add your dry and wet ingredients, alternating between one another, starting and finishing with dry ones. (3 additions of dry and 2 of wet ingredients)


Divide the batter evenly among the paper cases, filling them ¾ of the way full. Bake for 18-22 minutes or until they're springy on the top. You may have some leftover batter because of the crunchy base.

Once they're done, let them cool completely before frosting.
for chocolate ganache sauce
Place finely chopped dark chocolate in a medium sized bowl and pour over it almost boiling heavy cream. Cover it with a plate and leave it for 2-3 minutes. Stir with a silicone spatula to combine.


for vanilla biscuit buttercream
In a small saucepan combine flour, sugar, salt and milk. Cook over medium-high heat, stirring constantly with a whisk until it thickens. After it has boiled, cook for another 2 minutes.

Once it's done, transfer it to a bowl, put a cling film over it touching the surface to prevent "skin" forming and let it cool to room temperature. This is your pudding base. You can do this in a fridge, but before using it let it come to room temperature.

Using a stand mixer fitted with the paddle attachment, beat the butter for 5 minutes until it's pale and fluffy. Then add spoonful by spoonful of previously made pudding. Mix until it's all nicely incorporated and with no lumps. Add the vanilla extract with crushed biscuits and beat for another 30 seconds or until everything is combined.
Assembly:
Using an apple corer, core the middle of each cooled cupcake and fill it with chocolate sauce. Put the buttercream in a piping bag fitted with 2A tip (or whichever you prefer 🙂 ) and frost the cupcakes. Cover with chocolate ganache and decorate with some biscuits.


They are best eaten at room temperature. You can keep them in an airtight container at room temperature for 2 days or longer in the fridge. Just let them come to room temperature before eating them. Fridge makes cakes and cupcakes drier so bear that in mind.
Notes
You can use a hand mixer if you don't have a stand mixer.
If you still don't own one, I advise you to buy a kitchen scale - they're cheap and easy to use, and always guarantee the same results in baking! 🙂
Not all ovens are the same. I suggest to check the cupcakes at 18 minute mark and then adjust the baking time accordingly. Get to know your oven! 😉
IMPORTANT
All the recipes are developed and tested using only metric measurements and a kitchen scale. The U.S. cup and spoon measurements are provided for your convenience, but I highly recommend getting a digital kitchen scale and measuring in metrics. It's easy and always guarantee the same results in baking!
The nutritional information and US conversions are calculated automatically. I cannot guarantee the accuracy of this data. If this is important to you, please verify with your favourite nutrition calculator and/or unit conversion tool.
Have you tried this recipe?
Tag me on Instagram @anasbakingchronicles or use the hashtag #anasbakingchronicles - I love seeing your creations!